Hispanic Multicultural Children's Books – High School (YA)
Multicultural Children's Books for ages 13 to 18, featuring Hispanic or Hispanic American characters
---
Enchanted Air: Two Cultures, Two Wings: A Memoir
by Margarita Engle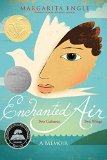 Margarita is a girl between two worlds: Feeling lonely in the noisy city of Los Angeles, she longs for the idyllic island of Cuba, her mother's home country. Her worlds collide when tensions between Cuba and the United States rise and eventually erupt at the Bay of Pigs Invasion. Will she ever be able to visit her beloved island again? Multi-award-winning Enchanted Air is Engle's deeply personal and hauntingly beautiful memoir-in verse.
---
Out of Darkness
by Ashley Hope-Pérez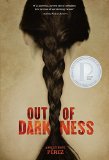 Out of Darkness is one of the 2016 Américas Award winning Children's Books. It tells the moving story of the ill-fated love between a Mexican girl and an African American boy in 1937. Wash Fuller tries to navigate the cruel world of racial divisions, Naomi Smith is terrorized by the sexual advances of her white stepfather, and tries to protect her younger twin siblings. Set against the historical backdrop  of the catastrophic East Texas school explosion, Pérez weaves the fictional stories of the two families together in this compelling novel about segregation, family, forbidden love and destructive forces.
More Américas Award Children's Books: 2016 Américas Award-Winning Children's Books 
---
Dream Things True
by Marie Marquardt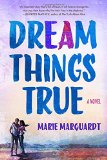 Evan and Alma's paths have crossed a few times in the fifteen years that they have lived in the same town. When Evan helps Alma stop her father's out-of-control truck, the two teenagers fall in love, trying to ignore their different backgrounds. Evan is the nephew of a senator and seems to have it all, Alma comes from a family of undocumented Mexican immigrants. Both dream of escaping their small town in Georgia, Evan's one-way ticket being soccer, Alma's her academic success. Dream Things True is a compelling debut novel about love and fear, highlighting the harsh reality of undocumented immigrants.
---
The Afterlife
by Gary Soto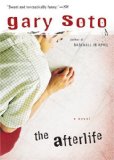 Chuy makes his way through the barrios of Fresno, California, thinking of a strategy to impress a girl, when he gets stabbed by a stranger. Floating above his dying body, he goes on a journey of personal exploration. He learns that his family and friends love him, saves a life, punishes a thug, and even stumbles on what may be true love. With simple and poetic text, The Afterlife is a funny and touching story about a life and death of a teenager in the barrios.
---
Burn Baby Burn
by Meg Medina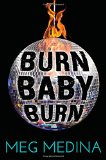 During the infamous violent summer of 1977, when New York City is affected by arson, a massive blackout, and a serial killer, 17-year-old Nora's life isn't going well either. Her drug-dealing brother physically abuses Nora and her mother, her absent father calls only on holidays, and the family is struggling to pay the rent. Nora likes Pablo, her new co-worker at the deli, but is not ready for a relationship, not least because the serial killer goes after young couples who stay out late. Burn Baby Burn is an intense coming-of-age novel about a teenage girl who discovers that the greatest danger lies within her own home.
---
Laughing Out Loud, I Fly
by Juan Felipe Herrera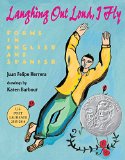 Award-winning Laughing Out Loud I Fly is a collection of over forty of Juan Felipe Herrera's stirring poems, written in both Spanish and English. Herrera's rich and vibrant poetry about the joy and the confusion of growing up between two cultures will speak to all teenagers growing up with both the Hispanic/Latino and the American culture.
---
The House on Mango Street
by Sandra Cisneros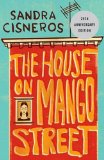 The House on Mango Street tells the remarkable story of Esperanza Cordero, a young Latina girl growing up in Chicago. In short poems and stories – some heartbreaking, others full of joy – Esperanza expresses her thoughts and feelings about her oppressive environment. Acclaimed by critics and often used in schools and universities, this classic has been translated all over the world and should be on every young adult's bookshelf.
---
The Ride
by Nancy Cathers Demme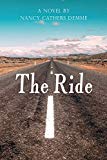 After setting fire to the barn where his abusive stepfather is working, 15-year-old Diego Ramirez flees his home in El Paso in 1952.  Believing he has killed the man, Diego steals his mother's life savings and hitchhikes through Texas. He encounters a bigoted truck driver, a woman who only gives rides to children of crippled spirit, a salesman who feeds Diego's dreams of success, and a lonely widow, who takes him in only to have to let him go. The Ride is a vividly written, suspenseful novel about loss, love and what it means to be human.
---
The Poet X
by Elizabeth Acevedo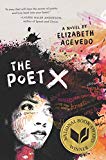 Growing up in her Dominican community in Harlem, Xiomara Batista has learned to let her fists and her fierceness do the talking. But her deepest thoughts she only shares with her diary in the form of poems, like the frustration about her strict religious mother and her feelings for a classmate. When Xiomara is invited to join her school's slam poetry club, she wants to attend but knows her mum would never allow her to. Multi-award-winning The Poet X is a powerful novel-in-verse about the struggles of a young Afro-Latina.
More Pura Belpré award-winning books: Pura Belpré Award Winners 1996 – 2018
---
Lawn Boy
by Jonathan Evison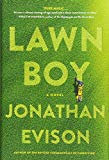 Young Chicano Mike Muñoz just got fired from his latest job as a lawn boy. He wants to change his life but just doesn't seem to get his foot on the first rung of that ladder to success. Only after a challenging trip, he can finally see the future and his place in it. Award-winning Lawn Boy is a vibrant coming-of-age novel about social class distinctions, cultural discrimination, and standing up for oneself.
More award-winning books: Multicultural 2019 ALA Youth Media Award-Winning Books
---
*You can buy any of the books on this site from Amazon USA, CAN or UK by clicking on the book titles or covers*
---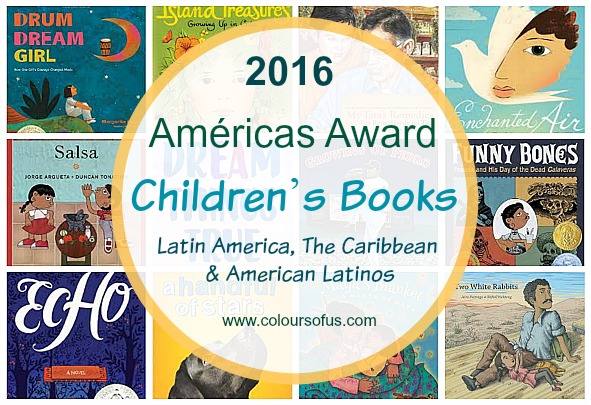 ---
More books with Hispanic or Hispanic American characters:
---
---