---
Multicultural Children's Books – Preschool

Multicultural Children's Books for ages 3 to 5, featuring children and families of diverse ethnicities
---
Whoever You Are
by Mem Fox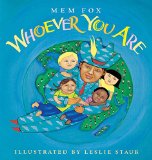 "Little one, / whoever you are, / wherever you are, / there are little ones / just like you / all over the world." Whoever You Are is a joyful celebration of our world's diverse cultures with all their differences and similarities. The colourful folk art paintings of children from all over the world perfectly reflect Fox's message that no matter where we come from, "joys are the same, / and love is the same. / Pain is the same, / and blood is the same."
Read-aloud tips from the author: Ten read-aloud commandments by Mem Fox
---
Mama, Do You Love Me?
by Barbara M. Joosse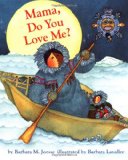 This exceptional book is a must on any list of multicultural children's books for preschoolers! Not only is Mama, Do You Love Me? one of the few diverse children's books that feature Inuit main characters, it also has a tender, warm-hearted storyline and stunning illustrations. This universal and timeless story of a child testing the limits of her independence, and a mother who reassuringly proves that a parent's love is unconditional and everlasting is a perfect first book for toddlers.
Also available: Papa, Do You Love Me?
More books about mothers: 14 Multicultural Children's Books about Mothers
---
How To
by Julie Morstad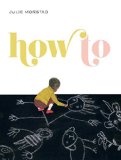 How To portrays children encountering new experiences in unexpected ways: How to wash your face (look up in the rain), how to wonder (gaze at the night sky), how to feel the breeze (ride a bike downhill), how to make music (whack pots and pans with a spoon)… With little text and whimsical drawings, this quirky book will become one of your preschooler's favourites.
---
Dreaming Up: A Celebration of Building
by Christy Hale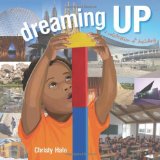 Dreaming Up: A Celebration of Building is a fun collection of illustrations, poetry and photographs that shows how young children's constructions, created as they play, are reflected in notable works of architecture from around the world.
---
Look at That Building!
by Scot Ritchie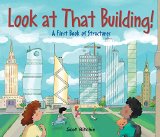 Another nice one on the building theme! In Look at That Building: A First Book of Structures five friends want to build a doghouse and head to the library to find out all about foundations, beams, frames and other building fundamentals. At the end of the book, readers are invited to make their own mini doghouse out of marshmallows, paper, glue and craft sticks.
More books about science and technology: 50+ Multicultural STEAM Books for Children
---
How to Grow a Friend
by Sara Gillingham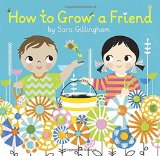 How to Grow a Friend has a lovely message about how to treat others and make friendships blossom. Young children learn that making a friend takes patience and care – just like growing a flower. Even though some of the metaphors may be too deep for your preschooler, this book is a good starting point to talk to your child about friendship.
More books about friendship: 18 Multicultural Children's Books About Friendship
---
Here Are My Hands
by Jr. Bill Martin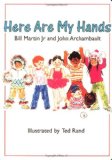 "Here is my head /for thinking and knowing. /Here is my nose /for smelling and blowing." With simple rhyming text and expressive illustrations Here Are My Hands invites young children to respond spontaneously and creatively as they learn the parts of the body. Featuring a diverse bunch of children, the book quietly celebrates what we all have in common.
---
Playtime Rhymes
by Marc Brown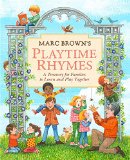 Playtime Rhymes is a compilation of twenty all-time favourite finger rhymes, from Whoops! Johnny to Itsy-Bitsy Spider and Wheels on the Bus. This super fun interactive book with its appealing gouache and pencils illustrations will get your preschooler wiggling, bending, stretching and dancing in no time.
---
Lemonade in Winter
by Emily Jenkins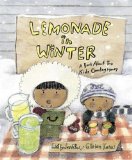 A lemonade stand in winter?? Pauline and her little brother John-John believe that this is an excellent idea! Lemonade in Winter with its catchy refrain is a great read-aloud book that teaches simple math to preschoolers. The sweet story is perfectly complemented by the beautiful sepia tone brush and ink illustrations.
---
Say Hello!
by Rachel Isadora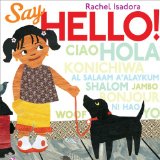 Say Hello is another one of our favourite books by Rachel Isadora! Little Carmelita greets everyone in her multicultural neighbourhood and learns to say hello in a variety of languages. The colourful cut-paper collages are a beautiful reflection of the rich diversity of America's neighbourhoods.
---
Happy in Our Skin
by Fran Manushkin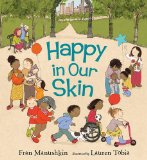 Happy in Our Skin is a cheery celebration of baby skin – from cocoa-brown to cinnamon, from peaches to cream – and of all the wonderful things their skin does – from enjoying hugs and tickles to protecting them inside and out. A colourful and light-hearted book about how amazing it is to be just who you are.
---
The Doorbell Rang // The Wind Blew
by Pat Hutchins
The Doorbell Rang, named a notable Book for Children by the ALA, is a refreshing read-aloud book about friendships and sharing that also introduces basic math concepts. Each time the doorbell rings more friends arrive to share mom's delicious cookies. With rhyming verse and colourful illustrations, Kate Greenaway Medal-winning The Wind Blew takes little ones on a merry chase after everything the wind blew away: umbrellas, balloons, scarves and even the judge's wig!
---
I See Spring // I See Summer // I See Fall // I See Winter
by Charles Ghinga
From puddle stomping in spring to picnics in the park in summer, from playing with leaves in fall to building a snowman in winter, the I See series follows multiethnic children's activities through the different seasons. The rhyming text and cute colourful illustrations will make your little one want to act out all of the described activities.
---
Machines at Work
by Byron Barton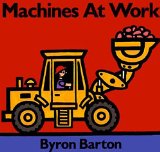 I love the fact that Machines at Work not only features workers of different skin colours but also shows women working on the construction site. The buzz of the day is conveyed through rhythmic text and bold, graphic pictures. Boys and girls alike will be delighted by this fun little book.

---
Peace is an Offering
by Annette LeBox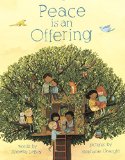 "Peace is an offering./A muffin or a peach./A birthday invitation./A trip to the beach." A diverse group of children finds peace in everyday things, from sunlight shining through the leaves to cookies shared with friends. With soothing poetic text and soft illustrations, Peace is an Offering reminds little readers that peace is always somewhere around if you only look for it.
More books about peace: 21 Multicultural Children's Books about Peace
---
Subway
by Anastasia Suen
Hop hop hop on the Subway! From turnstiles spinning and musicians performing on the platforms to people hopping on and off and tunnel lights flashing, the sights and sounds of the subway have an energy of their own. With cheerful text and brightly coloured pictures, this fun book celebrates the hustle and bustle of a subway ride.
---
Best-Ever Big Sister
by Karen Katz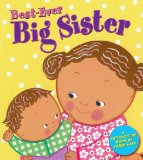 In bright folk-art style spreads with lift-flaps, Best-ever Big Sister compares all the things big sister can but baby cannot do yet, like eating with a fork, using the potty or riding a trike. At the end of this sweet book, the big sister lovingly reassures the baby that "one day you'll be big like me". A great book for children in need of a little ego-boost after the arrival of a new baby!
More books about new siblings: 20 Multicultural Picture Books About New Siblings
---
 On Mother's Lap
by Ann Herbert Scott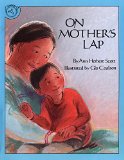 I love everything about this beautiful book! From the fact that it features an Inuit family to the fact that the little boy has a doll, from the simple text to the tender watercolour and pencil illustrations  A story about a little Inuit boy who discovers that there is room for himself and his baby sister on their mother's lap.
More books about Native Americans: 32 Native American Children's Books
---
My Friend Jamal // My Friend Amy
by Anna McQuinn
My friend Jamal tells the story of Jamal and Joseph, kindergarten buddies from two different cultures (Somalian and Polish) who like superheroes and basketball. In My friend Amy, little Monifa and Amy love a lot of the same things, despite their families being from different cultures (Black/Asian). Two poignant stories about diverse friendships, brightly illustrated with an unusual combination of photos and painted details.
More books about friendship: 18 Multicultural Children's Books About Friendship
---
Everyone Says I Love You
by Beegee Tolpa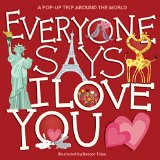 Everyone Says I Love You is a colourful pop-up book that features different countries and their ways of saying "I Love You". From the States to Italy and Africa children learn how people around the world express their love.
More books about love: 12 Multicultural Picture Books About Love
---
Good People Everywhere
by Lynea Gillen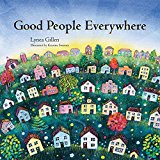 With engaging illustrations, Good People Everywhere shows people around the world doing good things, from cooking for the poor to comforting a friend. This award-winning picture book is a good start to inspire young children to be kind and caring. The only disappointment is the page about a child studying hard for a science test. To me, this isn't a helpful example of kindness and adds to the unhealthy academic pressure children experience from a young age. Apart from this, it's a great book. Includes activity pages to help children practice kindness and empathy.
More books about kindness & empathy: 19 Multicultural Children's Books teaching Kindness & Empathy
---
This Little Trailblazer: A Girl Power Primer
by Joan Holub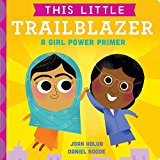 "Paving the way / to a future that's bright. / Helping the world / with their skills, smarts, and might. / Little trailblazers cause great big changes." With bright illustrations and some facts, This Little Trailblazer teaches young children about ten inspiring women who changed the world.
More books about amazing women: 30 Diverse Children's Anthologies About Trailblazing Women
---
*You can buy any of the books on this site from Amazon USA, CAN or UK by clicking on the book titles or covers*
---
More books with diverse characters:
---
---