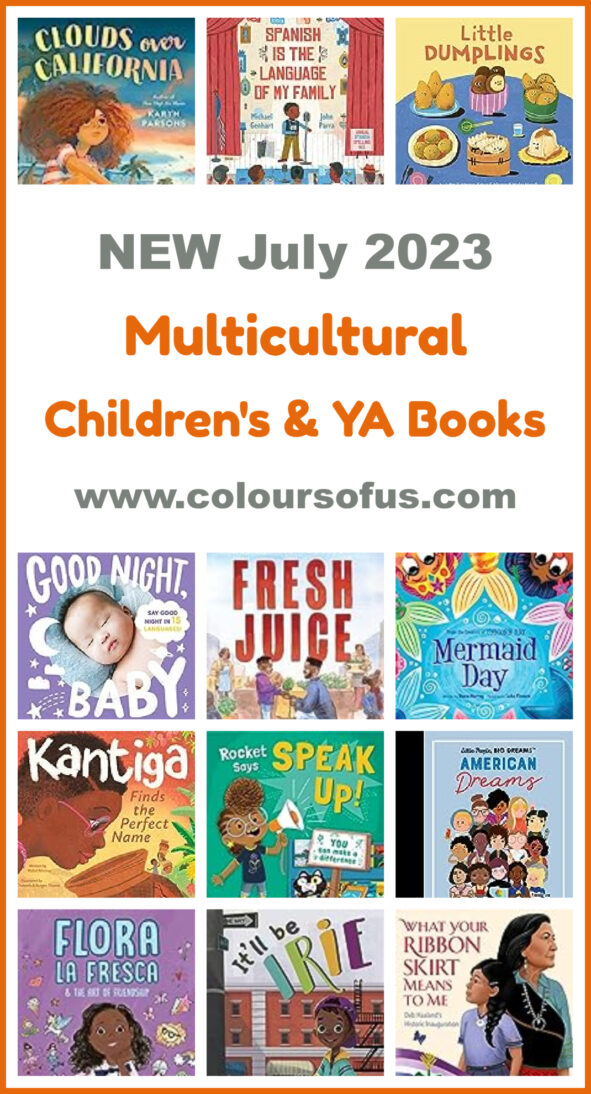 Here is our list of new multicultural children's and YA books for July 2023! Our favourite books this month are Good Night, Baby (Babies & Toddlers), Dancing Hands (Preschool), What Your Ribbon Skirt Means To Me (Elementary School), Clouds Over California (Middle School), and Their Vicious Games (High School). Enjoy browsing!
---
NEW Multicultural Children's & YA Books July 2023
---
---
Babies & Toddlers
---
Little Dumplings
by J. & K. Kuhlmann, H. Hazell
There are so many different kinds of dumplings to love! Little Dumplings is a sweet rhyming board book that introduces the youngest of readers to traditional dumplings eaten all over the world, from bao to pierogi, samosa, and more! Featuring more than thirty different dumplings, plus an illustrated guide to pronunciation and associated regions, this multicultural board book is perfect for sharing diverse culinary traditions and fostering a love of good food. ~ Diverse – Babies & Toddlers
---
Good Night, Baby
by Little Bee Books
Good Night, Baby is a photo-filled board book featuring adorable babies from around the world. The book introduces simple bedtime routines while teaching toddlers how to say "good night" in English, Chinese, French, Korean, Spanish, Arabic, German, Swahili, Navajo, Russian, sign language, Hindi, Portuguese, Japanese, and Italian. The beautiful photographs of sleepy children will calm any baby, and the pronunciation guide will help readers learn new languages with ease! ~ Diverse – Babies & Toddlers
---
I Am Ready for School! 
by Stephen Krensky
"I fit just right in every chair. / With toys and books for me to share." With reassuring rhyming text, I Am Ready For School introduces preschoolers to their first day of school where a welcoming teacher, a cheery classroom, and new friends await! The Empowerment series addresses the small victories of growing up and starting to embrace the world on their own terms with encouraging text and retro-fresh illustrations. ~ Diverse – Babies & Toddlers
More from the series: Now I Am Big! / I Can Do It Myself! / I Know a Lot! / I Am So Brave! / I Like to Share!
---
---
Preschool
---
Mermaid Day
by Diana Murray
"Hooray Hooray! It's Mermaid Day! Shake your tail fins! Splash and play!" On Mermaid Day, the mer-queen throws a fin-tastic party! She decorates her underwater castle and creatures of all kinds swim inside to celebrate together. Dolphins dance, narwhals play ring toss, and as night falls, the guests prepare to say goodnight to a mer-mazing day. But are all welcome to celebrate under the sea? Mermaid Day is a heartwarming and inclusive story that is the perfect companion to the bestselling Unicorn Day! ~ Diverse- Preschool
Related: 32 Black Mermaid Books for Children & Teenagers
---
Fresh Juice
by Rob Liu-Trujillo
When his father can't get over a cold, Art knows exactly what his daddy needs: some delicious sick-fighting juice! After looking through the fridge and cupboards, they discover they're missing a key ingredient–ginger. But finding some ginger will take them downtown, to the farmers' market, to the food co-op, to the West African grocery, and to an unexpected encounter that brings everyone together, and results in a tasty celebration. Fresh Juice is a vibrant celebration of mixed families and the many individuals who help make a neighbourhood feel like a community. ~ African – Preschool
Related: 70+ Picture Books about Mixed Race Families
---
Kantiga Finds the Perfect Name
by Mabel Mnensa
"There was once a beautiful little girl with a heart as big as her name, Kantiga. But Kantiga did not like her name." Hearing this, her gogo tells her a family tale of the magical clay pot that seems to be useless because it is cracked and broken. We learn how this flaw makes it more than perfect. Full of colour and South African folklore, Kantiga Finds The Perfect Name is an endearing tale about identity and belonging. ~ African – Preschool
Related: 23 Children's Books set in South Africa
---
Dancing Hands: A Story of Friendship in Filipino Sign Language
by J. Que & C. Marquez
"Our new neighbours' hands are dancing. Their hands move as if to music. What are they saying to each other?" Sam's new neighbours' hands make graceful movements she doesn't recognize, and she wonders what they are saying. Soon she meets her new neighbour, Mai, who teaches Sam some Filipino Sign Language. Along the way, they both discover the joys of making a new friend, a best friend. With playful illustrations that celebrate the beautiful movements of sign language, back matter discussing sign languages around the world, and endpapers teaching all the signs used in the book, Dancing Hands is an artful picture book about making friends and overcoming language barriers. ~ Diverse- Preschool
Related: 40 Filipino American Books for Children & Teenagers
---
It'll Be Irie: Staying True to Yourself
by Donn Swaby
Raymond can't wait to move to America. He is determined to be the most American American ever! But when he gets to his new school his Jamaican roots show through and he must figure out how to be the most Raymond Raymond ever. It'll Be Irie shows the challenges and discomfort of crossing cultures from both sides. Highly recommend to anyone who wants to give the little ones in their life the gift of celebrating who they are and learning to share their culture with others. ~ African – Preschool
Related: 100+ Children's & YA Books about Immigrants & Refugees
---
When Rubin Plays
by Gracey Zhang
Rubin loves the beautiful sounds that are played by the orchestra. He wants to learn to play the violin and make his own music. But when Rubin plays, it doesn't sound like he imagines it should. Rubin goes into the forest to practice alone and despite only getting the violin to screech, he finds an unlikely audience that loves his unique style. When Rubin Plays is an inspiring and lyrical picture book that offers confidence to everyone who longs to master something that can be difficult and shows that there is only one way to do something right: that is to do it your own special way. ~ Diverse- Preschool
From the same author: Lala's Words: A Story of Planting Kindness
---
Meet the Technovators! (Super Sema)
by Terrance Crawford
Meet Super Sema and her friends (and enemies!) in this exciting picture book based on the hit YouTube show! Super Sema — hero, sister, and STEM extraordinaire — is here to technovate and save the day! Join her, her friends, her family, even her enemies, and more in this exciting picture book that introduces readers to the fabulous world of Super Sema! ~ African – Preschool
Also available: SUPER SEMA 12-inch Talking and Singing Doll plus Accessories
---
---
Elementary School
---
Rocket Says Speak Up!
by Nathan Bryon
When Rocket finds out that her town's library is closing, she knows something must be done. Inspired by the activism of Rosa Parks, Rocket rallies support from her peers, and together they lead a peaceful protest that spreads awareness and raises enough money to save their beloved library. Rocket Says Speak Up! will inspire young readers to take a stand for what they believe in and will teach them that one small person can make a BIG difference. ~ African – Elementary School
More from the series: Rocket Says Look Up! // Rocket Says Clean Up!
---
The Worry Balloon
by Mónica Mancillas
On the first day of school, Isla's mind plays the 'what if' game. Scary thoughts come, the world goes dark, and everything feels stormy. With Mami at her side, Isla takes a deep breath and blows her worries away in a big balloon. But as school gets closer, Isla's worries come back like a tornado. Mami encourages her to imagine something happy, and Isla remembers there's nothing she can't handle. The storm might come again, but for now, her mind is quiet. The Worry Balloon is a thoughtful and reassuring picture book about a young girl experiencing anxiety and worry, providing different tools to practice mindfulness and strengthen one's mental health. ~ Hispanic – Elementary School
Related: 300+ Hispanic Children's YA Books
---
Maakusie Loves Music
by Chelsey June
Maakusie loves music! But what makes music in the Arctic so special? Join Maakusie as he practises katajjaniq (throat singing) and learns ajaja songs, drumming, and more! Grab your instruments or sing along! Written by renowned Canadian indie rock duo Jaaji and Chelsey June of Twin Flames, Maakusie Loves Music is a vibrant and engaging journey through the history of music in the Arctic that is sure to get your toes tapping. ~ Diverse – Elementary School
Related: 100 Native American Children's Books
---
Spanish Is the Language of My Family
by Michael Genhart
As a boy prepares for his school's Spanish spelling bee, he asks his grandmother for help with some of the words he doesn't know how to spell yet. When she studies with him, she tells him how different things were back when she was a girl, when she was only allowed to speak English in school. This only inspires him to study even harder and make his family proud. Based on stories author the author heard from his mother as a child, Spanish is the Language of My Family is an intergenerational story of family ties, cultural pride, and spelling bee victory. ~ Hispanic -Elementary School
Related: 300+ Hispanic Children's & YA Books
---
Like Lava in My Veins
by Derrick Barnes
Bobby Beacon's got fire flowing through his veins. And now he's psyched to attend a new school that'll help him get a better grip on his powers. But right off the bat, his new teacher is not too welcoming. That causes Bobby's hot temper to land him in the principal's office. It ain't easy to stay calm when people don't seem to understand you and are always pushing you to the edge. Good thing Bobby gets moved to a class with an understanding teacher who clues him in on ways to calm himself and shows him that caring for others is its own kind of superpower. Like Lava In My Veins is a vibrant picture book about a boy learning to control his sizzling superpowers. ~ African – Elementary School
Related: 21 Multicultural Children's Books About Feelings
---
What Your Ribbon Skirt Means to Me: Deb Haaland's Historic Inauguration
by Alexis Bunten
Pia rushes over to the Indigenous community center after school. It's where she goes every day to play outside with friends and do her homework. But today—March 18, 2021—is special: Auntie Autumn gathers all the children around their television to witness Secretary Deb Haaland in her ribbon skirt at the White House as she becomes the first Native American to serve as a cabinet secretary. Pia and the other kids behold her Native pride on an international stage. Together with their parents and Elders, the children explore the values woven into their own regalia, land, community, and traditions, making precious memories on this day they won't soon forget. What Your Ribbon Skirt Means To Me is both an homage to Secretary Deb Haaland's achievements, and a celebration of urban Indigenous community. ~ Diverse – Elementary School
Related: 100 Native American Children's Books
---
My Biggest Questions About God
by Dr. Tony Evans
My Biggest Questions About God provides easy-to-understand answers to the most important questions about Christianity, so that kids can come to know and trust the Lord. Topics include: Who is God and what is He like? Where did the world come from? How can I follow God? Why do bad things sometimes happen? How am I part of God's plan? This gorgeously illustrated book is a valuable resource for parents and youth leaders who want to help children build a firm foundation of faith. ~ Diverse – Elementary School
---
---
Middle School
---
Little People, BIG DREAMS: American Dreams
by Maria Isabel Sánchez Vegara
Dive deeper into the world of Little People, BIG DREAMS with American Dreams, a beautifully crafted compendium for an older audience, with in-depth stories and facts about 40 American dreamers. From inspiring artists and passionate activists to intrepid explorers and groundbreaking musicians, delves into the lives of iconic figures like Prince, Maya Angelou, Martin Luther King Jr., Michael Jordan, Amanda Gorman, Dwayne Johnson, and many more. Discover how these incredible people shaped America into the country it is today. Each of the beautifully written biographies is accompanied by a timeline, featuring extra information, important dates, and real photos. Diverse – Middle School
Related: 30 Diverse Children's Anthologies About Trailblazing Women
---
Once in a Blue Moon
by Sharon G. Flake
James Henry hasn't been the same since that fateful night at the lighthouse when his ma went searching for Dog. Now months later, he feels as small as the space between the numbers on a watch, nervous day and night, barely able to go outside. Even words have a hard time leaving his mouth. The only person he speaks to is Hattie, his courageous twin sister, who fiercely protects him, especially from bullies. James Henry wants nothing more than to be brave again. However, finding his voice will mean confronting the truth about what happened at the lighthouse-a step James Henry isn't sure he can take. Until a blue moon is forecast, and as Gran has said, everything is possible under a rare blue moon . . . Once In A Blue Moon is an evocative novel in verse about family, friendship, and journeys that leave us feeling renewed and more courageous. ~ African -Middle School
Related: 150 Children's Books Celebrating Black Boys
---
Clouds over California
by Karyn Parsons
Quiet and observant, it is hard for Stevie to make friends at her new school. Plus, her mind is too occupied with her parents' frequent arguments. To top it all off, Stevie's older cousin Naomi is coming to live with the family in an attempt to keep her from a "bad" crowd—The Black Panthers. But Stevie notices the positive effect the Black Panthers are having on Naomi's confidence —just like how Mom is making decisions for herself, even when Dad disapproves. Stevie feels herself beginning to change as well. But one thing remains the same: she loves both of her parents. Can her family stay in one piece despite the world shifting around them? From the author of acclaimed How High the Moon comes Clouds Over California, a heartfelt novel about how a girl's family and friendships are turned upside down as the world is changing in 1970s Los Angeles. ~ African -Middle School
Related: 115 Multicultural Middle Grade Novels for Summer Reading
---
Abeni's Song
by P. Djèlí Clark
On the day of the Harvest Festival, the old woman who lives in the forest appears in Abeni's village with a terrible message: You ignored my warnings. It's too late to run. They are coming."" Warriors with burning blades storm the village. A man with a cursed flute plays an impossibly alluring song. And everyone Abeni has ever known and loved is captured and marched toward far-off ghost ships set for even more distant lands. Only Abeni is magically whisked away by the old woman and begins her unwanted magical apprenticeship, her journey to escape the witch, and her impossible mission to bring her people home. Abeni's Song is the beginning of a timeless, enchanting fantasy adventure about a reluctant apprentice, a team of spirit kids, and the village they set out to save. ~ African – Middle School
Related: 52 Multicultural Middle Grade & Young Adult Fantasy Books
---
The Spin (2)
by Marcus Stroman
Everyone knows Marcus Stroman as a baseball player. He loves the sport, and yes, he probably has a shot at the pros. But "baseball player" doesn't totally define him. Why won't anyone also see him as a basketball player or a musician? While he loves being known for what he does well, he's struggling because people are trying to limit him to just one thing. Literally how high up a mountain does Marcus need to climb to be completely free of what everyone else sees? How can he protect himself from the online zings, the chatter, and the opinions? When you walk out on the field or that court, how much criticism is fair play? With some perspective from a new view, Marcus realizes that no matter what field, court, or classroom he's in, he has to block some shots. The Spin is the second book in this semi-autobiographical series from MLB pitcher Marcus Stroman. ~ African -Middle School
Related: 44 Children's Books About Extraordinary Black Athletes
---
Flora la Fresca & the Art of Friendship
by Veronica Chambers
Flora Violeta LeFevre, aka Flora "la Fresca" (so called because she tells it like it is, occasionally to her parents' chagrin) can always count on her best friend Clara Ocampo Londra to turn anything-from a day at the skate park to dreaded Saturday Spanish school ­into an exciting adventure. But then news break that Clara is moving, and Flora doesn't know how she'll survive without her. The girls use their larger-than-life imaginations to make the most of each passing day together. But things get complicated when Clara moves and starts making new friends, and an unlikely alliance blossoms between Flora and a new student. Flora La Fresca & The Art of Friendship is the first in an illustrated middle grade series about a Panamanian American girl who uses humour and a little mischief to navigate her best friend moving away. ~ Hispanic – Middle School
Related: 300+ Hispanic Children's & YA Books
---
Your Freedom, Your Power: A Kid's Guide to the First Amendment
by A. Matulli & C. Castro-Malaspina
In Your Freedom, Your Power, middle grade readers get a focused look at their rights through the lens of the First Amendment. The book engages children in learning more about their country and their rights and responsibilities. Each section answers key questions readers may have: Do I have the right to protest at school? Can I be punished at school for something I say on social media? Why can't I wear whatever I want? Can I text whatever I want? While answering these questions and explaining fundamental legal concepts every kid should know, this empowering book shares the fascinating stories behind some of the most important legal cases and social movements that have affected kids' lives and rights. ~ Diverse – Middle School
---
---
High School
---
My Week with Him
by Joya Goffney
Nikki can't wait to leave Texas and follow her dreams of a music career . . . After a painful betrayal by her sister and a heated argument with their mother, Nikki is kicked out and finds herself homeless. She decides to go to California to pursue her singing career. When her best friend, Malachai, discovers her plan to flee Texas, he begs her to spend the remainder of spring break with him. He believes that over the course of a week, he can convince her to stay in Texas, or to at least graduate high school. But their plans are interrupted when Nikki's little sister Vae goes missing. Nikki is forced to work alongside her difficult mother as they set off in search of Vae, with Malachai's support. Will Nikki find a reason to stay in Texas, or will this spring break be the last time she sees them? My Week With Him is a stirring coming-of-age, best friends-to-lovers romance about a girl who discovers the power of her own voice. ~ African – High School
---
Give Me a Sign
by Anna Sortino
Lilah is stuck in the middle. At least, that's what having a hearing loss seems like sometimes—when you don't feel "deaf enough" to identify as Deaf or hearing enough to meet the world's expectations. But this summer, Lilah is ready for a change. When Lilah becomes a counselor at a summer camp for the deaf and blind, her plan is to brush up on her ASL. Once there, she also finds a community. There are cute British lifeguards who break hearts but not rules, a YouTuber who's just a bit desperate for clout, the campers Lilah's responsible for (and overwhelmed by)—and then there's Isaac, the dreamy Deaf counselor who volunteers to help Lilah with her signing. Romance was never on the agenda, and Lilah's not positive Isaac likes her that way. But all signs seem to point to love. Unless she's reading them wrong? One thing's for sure: Lilah wanted change, and things here … Give Me A Sign is a big-hearted YA debut about first love and Deaf pride at a summer camp.  ~ Diverse – High School
---
A Song of Salvation
by Alechia Dow
Zaira Citlali is the god Indigo reborn. Indigo, whose song created the universe and unified people across galaxies to banish Ozvios, the god of destruction. Although Zaira has never been able to harness Indigo's powers, the Ilori Emperor wants to sacrifice her in Ozvios's honor. Unless she escapes and finds Wesley, the boy prophesized to help her defeat Ozvios and the Ilori, once and for all. Wesley just wants to work as a smuggler so he can save enough money to explore the stars. Once he completes his biggest job yet—bringing wanted celebrity Rubin Rima to a strange planet called Earth—he'll be set for life. But when his path crosses with Zaira, he soon finds himself in the middle of an intergalactic war with more responsibility than he bargained for. Together, Zaira, Wesley, and Rubin must find their way to Earth and unlock Zaira's powers if they're going to have any hope of saving the universe from total destruction. A Song Of Salvation is a gripping YA space opera about a reincarnated god and a grumpy pilot on a mission to save a beloved space DJ and stop an intergalactic war. ~ African – High School
From the same author: The Sound of Stars // The Kindred
---
Splintered Magic (The Mirror)
by L.L. Mc Kinney
Twins Trey and Tai are not like other high schoolers. Trey struggles to suppress his surging magical abilities, which continually impede his dream of making first chair cello in orchestra. A budding photographer, Tai just wants to take pictures and maybe find someone to take them with. But disturbing images keep appearing in Tai's camera lens, reigniting the twins' search for their mother, who mysteriously disappeared ten years earlier. As the two discover more clues, Trey and Tai also uncover strange secrets about their magical ancestors and about a cunning villain who threatens their very survival. Together, Trey and Tai must work to unearth the past and preserve the future of their family. The Mirror: Splintered Magic is the fourth book in the innovative YA fairy-tale quartet following one family—and the curse that plagues it—over several generations. ~ African – High School
More from the series: Broken Wish // Shattered Midnight // Fractured Path 
---
The King Is Dead
by Benjamin Dean
Heavy is the crown James has been born to wear, especially as the first Black heir to the British throne. But with his father's recent passing, and with a new boyfriend to hide, James is woefully unprepared for the sudden shine of public scrutiny. When his secrets come spilling forth across tabloid pages and the man he thought he loved has suddenly disappeared, James finds himself on the precipice of ruin. As every detail of his life becomes public knowledge, his sense of safety is shattered and the people he trusts the most become the likeliest suspects. What dangers lurk behind the palace walls—and will the new king find out before it's too late? The King Is Dead is a romantic thriller perfect for fans of Ace of Spades. ~ African – High School
---
Their Vicious Games
by Joelle Wellington
Adina Walker has known this the entire time she's been on scholarship at the prestigious Edgewater Academy—a school for the rich (and mostly white) upper class of New England. It's why she works so hard to be perfect and above reproach, no matter what she must force beneath the surface. One fight, one moment of lost control, leaves Adina blacklisted from her top choice Ivy League college and any other. Her only chance to regain the future she's sacrificed everything for is the Finish, a high-stakes contest sponsored by Edgewater's founding family in which twelve young, ambitious women with exceptional promise are selected to compete in three mysterious events: the Ride, the Raid, and the Royale. The winner will be granted entry into the fold of the Remington family, whose wealth and power can open any door. But when she arrives at the Finish, Adina quickly gets the feeling that something isn't quite right with both the Remingtons and her competition, and soon it becomes clear that the stakes aren't just make or break…they're life and death. Their Vicious Games is a searing thriller that's Ace of Spades meets Squid Game with a sprinkling of The Bachelor. ~ African – High School
---
*You can buy any of the books on this site from Amazon USA by clicking on the book titles or covers*
---
---