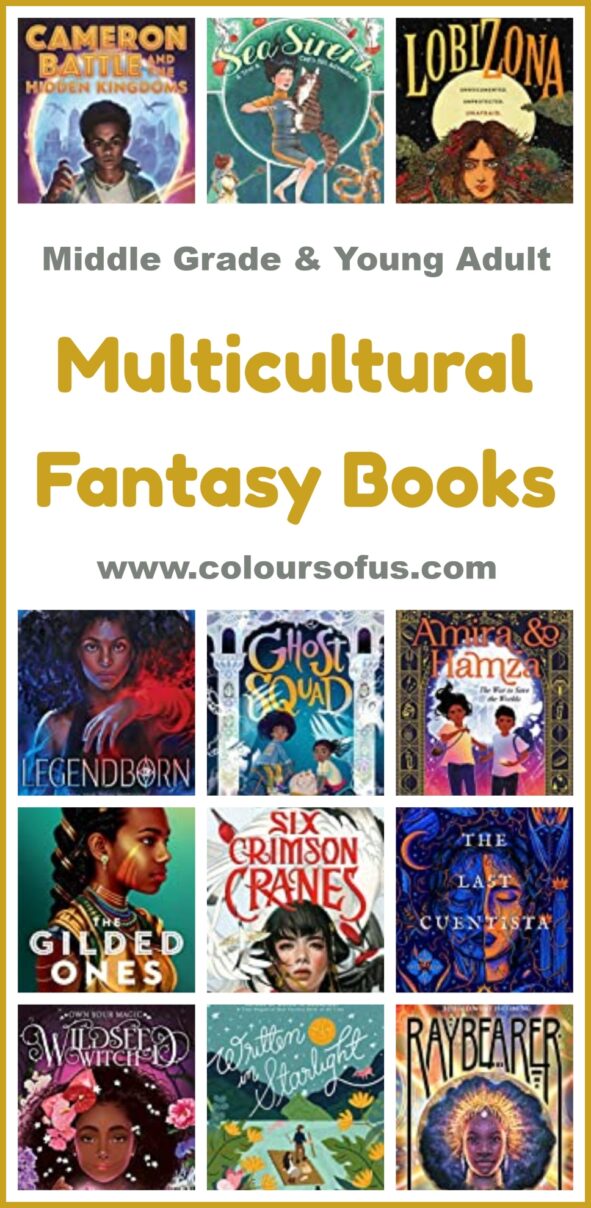 Fantasy is a popular genre among tweens and teens. The multicultural middle grade and young adult fantasy books on this list cover a wide range of ethnicities, styles and subjects, so there is something for every fantasy lover out there. Enjoy browsing!
---
52 Multicultural Middle Grade & Young Adult Fantasy Books
---
---
Middle School
---
Wildseed Witch
by Marti Dumas
Hasani's post-seventh-grade summer to-do list is pretty simple: get a bigger following for her makeup YouTube channel and figure out how to get her parents back together. What she does NOT expect is that an emotional outburst will spark a latent magical ability in her that attracts the attention of witches and lands her in a fancy charm school. While the other girls have always known they were destined to be witches, Hasani is a Wildseed––a stray witch from a family of non-witches, with no background knowledge, no way to control her magic, and a lot to catch up on. Wildseed Witch is a fun contemporary fantasy novel with an all-BIPOC cast. ~ Diverse – Middle School
---
The Shadow Crosser (A Storm Runner Novel)
by J.C. Cervantes
Zane Obispo has been looking forward to his training at the Shaman Institute for Higher Order Magic, and not only because it means he'll be reunited with his best friend, Brooks. Anything would be better than how he has spent the last three months: searching for the remaining godborns with a nasty demon who can sniff them out (literally). But when Zane tracks down the last kid on his list, he's in for a surprise: the "one" is actually a pair of twins, and they're trying to prevent a mysterious object from falling into the wrong hands. 
The Shadow Crosser
 is the epic finale to the 
Storm Runner
 trilogy, a tale of mystery, magic, and mayhem featuring gods from both Maya and Aztec mythology. 
~ Hispanic – Middle School
---
Aru Shah and the Song of Death
by Roshani Chokshi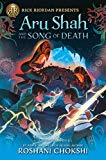 In this sequel to Aru Shah and the End of Time, the god of love's bow and arrow have gone missing, and the thief is turning people into heartless fighting-machine zombies. Aru gets framed as the thief and will be kicked out of the Otherworld if she doesn't find the arrow by the next full moon. Together with her soul-sister Mini, ultra-strong Brynne, and Aiden from across the street, she sets out to find the thief and discovers that the enemy isn't who they expected. Aru Shah and the Song of Death is a compelling fantasy novel that will leave fans enthralled. ~ Asian – Middle School
---
Solimar: The Sword of the Monarchs
by Pam Muñoz Ryan
On the brink of her Quinceañera, and her official coronation, Solimar visits the oyamel forest to sit among the monarch butterflies. The sun shines on her and sends the butterflies humming and swirling around her. After the magical frenzy, she realizes she's been given a gift―and a burden: she can predict the near future! She has also become a protector of the young and weak butterflies. This alone would be a huge responsibility, but tragedy strikes when a neighbouring king invades while her father and brother and many others are away. The remaining villagers are taken hostage―all except Solimar. Can this princess-to-be save her family, the kingdom, and the future of the monarch butterflies from a greedy and dangerous king? Fans of Esperanza Rising will find a new Mexican heroine to love in Solimar. ~ Hispanic – Middle School
Related: 24 Children's Books set in Mexico
---
Cameron Battle and the Hidden Kingdoms
by Jamar J. Perry
Cameron Battle grew up cherishing stories about the fabled kingdom Chidani that cut itself off from the world to save the Igbo people from danger. Passed down over generations, the Book is Cameron's only connection to his parents who disappeared one fateful night, two years ago. Ever since, his grandmother has kept the Book locked away, but it calls to Cameron. When he and his best friends Zion and Aliyah decide to open it again, they are magically transported to Chidani. But instead of a land of beauty and wonder, they find a kingdom in extreme danger, as the Queen's sister seeks to destroy the barrier between worlds. The people of Chidani have been waiting for the last Descendant to return and save them . . . is Cameron ready to be the hero they need? Inspired by West African and Igbo history and mythology, Cameron Battle and the Hidden Kingdoms is a gripping fantasy novel that celebrates one boy's journey to greatness. ~ African – Middle School
Related: 115 Multicultural Middle Grade Novels for Summer Reading
---
The Tea Dragon Society
by Katie O'Neill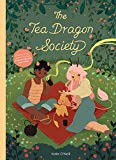 After discovering a lost tea dragon, blacksmith Greta learns about the dying art form of tea dragon care-taking from the kind tea shop owners. As she befriends them and their shy ward, Greta sees how the craft enriches their lives—and eventually her own. The Tea Dragon Society is a charming graphic novel with a diverse cast of LGBTQIA characters and people of colour. Includes  "Extracts from the Tea Dragons Handbook". ~ Diverse – Middle School
From the same series: The Tea Dragon Festival // The Tea Dragon Tapestry
Related: 80+ Multicultural Graphic Novels for Children & Teenagers
---
Where the Mountain Meets the Moon
by Grace Lin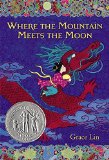 Opening each chapter with her own colourful drawings, Lin tells the enchanting story of a poor girl who sets out to find the secret to good fortune. On her magical adventure, Minli encounters danger, humour and wisdom, and befriends a dragon who cannot fly. A mixture of fantasy and Chinese folklore, Where the Mountain Meets the Moon is a beautiful and timeless story about the evils of greed and the joy that comes from being thankful. ~ Asian – Middle School
Related: 180+ Asian & Asian American Books For Children & Teenagers
---
Elementals: Scorch Dragons
by Amie Kaufman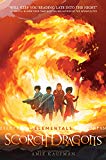 Scorch Dragons is the second book in this heart-stopping adventure series about siblings with magical shapeshifter powers. After the fateful battle between the ice wolves and the scorch dragons, Anders and his twin sister, Rayna, have been reunited. But there's no time to celebrate. The ice wolves have stolen the weather-altering Snowstone, and every dragon, including Rayna, is now in danger. ~ African – Middle School
First Book in the series:  Ice Wolves
---
Ghost Squad
by Claribel A. Ortega
Shortly before Halloween, Lucely Luna and her best friend, Syd, cast a spell that accidentally awakens malicious spirits, wreaking havoc throughout St. Augustine. Together, they must join forces with Syd's witch grandmother, Babette, and her tubby tabby, Chunk, to fight the haunting head-on and reverse the curse to save the town. Debut novel Ghost Squad is an action-packed supernatural fantasy that young readers won't be able to put down. ~ Hispanic – Middle School
---
Twinchantment
by Elise Allan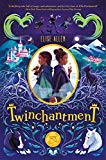 Generations ago, twins, black cats, and other potentially magical beings were outlawed in the kingdom of Kaloon. So from birth, twins Flissa and Sara had to pretend to be one princess, Flissara. But when a magical attack puts their mother's life in danger, the girls must break the rules that have protected them to save her. They set off on an epic quest to the Twists-a forbidden place full of dark magic-to find the evil mage who cursed the queen. The first book in a new series, 
Twinchantment
 brings to life a fantastical world of sisterhood, adventure, and incredible twists. 
~ African – Middle School
---
Paola Santiago and the Forest of Nightmares
by Tehlor Mejia
Six months after Paola Santiago confronted the legendary La Llorona in Paola Santiago and the River of Tears, life is nothing like she'd expected it to be. She is barely speaking to her best friends, Dante and Emma, and what's worse, her mom has a totally annoying boyfriend.  When Dante's abuela falls mysteriously ill, it seems that the dad Pao never knew just might be the key to healing the eccentric old woman. Pao's search for her father will see her encounter new monsters and ghosts, a devastating betrayal, and finally, the forest of her nightmares. Paola Santiago and the Forest of Nightmares tells a wild and wondrous story that combines creatures from folklore with modern-day challenges. ~ Hispanic – Middle School
Related: 24 Children's Books set in Mexico
---
Sea Sirens (A Trot & Cap'n Bill Adventure)
by Amy Chu
Trot, a Vietnamese American surfer girl, and Cap'n Bill, her cranky one-eyed cat, catch too big a wave and wipe out, sucked down into a magical underwater kingdom where an ancient deep-sea battle rages. The beautiful Sea Siren mermaids are under attack from the Serpent King and his slithery minions–and Trot and her feline become dangerously entangled in this war of tails and fins. Sea Sirens beautifully weaves together Vietnamese mythology, fantastical ocean creatures, a deep-sea setting, quirky but sympathetic main characters, and fast-paced adventure. ~ Asian – Middle School
From the same series: Sky Island (A Trot & Cap'n Bill Adventure)
---
Shuri: A Black Panther Novel
by Nic Stone
An original, upper-middle-grade series starring the break-out character from the Black Panther comics and films: T'Challa's younger sister, Shuri! Shuri is a skilled martial artist, a genius, and a master of science and technology. But, she's also a teenager. And a princess. This story follows Shuri as she sets out on a quest to save her homeland of Wakanda. ~ African – Middle School
---
---
Amari and the Night Brothers
by B.B. Alston
Amari Peters always believed her missing brother, Quinton, is alive. So when she finds a ticking briefcase in his closet, containing a nomination for a summer tryout at the Bureau of Supernatural Affairs, she's certain the secretive organization holds the key to locating Quinton. Now she must compete for a spot against kids who've known about magic their whole lives. With an evil magician threatening the supernatural world, and her own classmates thinking she's an enemy, Amari has never felt more alone. But if she doesn't pass the tryouts, she may never find out what happened to Quinton. First in a trilogy filled with Black Girl Magic, Amari and the Night Brothers is an exhilarating debut middle grade fantasy. ~ African – Middle School
Also available: Amari and the Great Game
---
The Last Cuentista
by Donna Barbara Higuera
Petra Peña wanted nothing more than to be a storyteller, like her abuelita. But Petra's world is ending. Earth has been destroyed by a comet, and only a few hundred scientists and their children – among them Petra and her family – have been chosen to journey to a new planet. Hundreds of years later, Petra wakes to this new planet – and the discovery that she is the only person who remembers Earth. A sinister Collective has taken over, bent on erasing the sins of humanity's past. Petra alone now carries the stories of our past, and with them, any hope for our future. Can she make them live again? The Last Cuentista is a gripping journey through the stars, to the very heart of what makes us human. ~ Hispanic – Middle School
Related: Pura Belpré Award Winners 1996 – 2021
---
The Hidden Witch
by Molly Knox Osterberg
Aster and his family are adjusting to his unconventional talent for witchery; unlike the other boys in his family, he isn't a shapeshifter. He's taking classes with his grandmother and helping to keep an eye on his great-uncle whose corrupted magic wreaked havoc on the family. When Aster's friend from the non-magical part of town, Charlie, narrowly escapes a curse, the friends must find the source of the curse before more people — normal and magical alike — get hurt. The Hidden Witch is gripping graphic novel adventure set in the world of magic and shapeshifting. ~ Diverse – Middle School
Related: 18 Multicultural Children's Books about Friendship
---
Amira & Hamza: The War to Save the Worlds
by Samira Ahmed
On the day of a rare super blue blood moon eclipse, twelve-year-old Amira and her little brother, Hamza, attend a special exhibit on medieval Islamic astronomy. While stargazer Amira is wowed by the amazing gadgets, a bored Hamza wanders off, stumbling across the forbidden Box of the Moon. Amira can only watch in horror as Hamza grabs the defunct box and it springs to life, setting off a series of events that could shatter their world—literally. Amira & Hamza is a thrilling fantasy adventure intertwining Islamic legend and history. ~ Asian – Middle School
Related: 33 Children's Books about Ramadan and Eid
---
The Land of Forgotten Girls
by Erin Entrada Kelly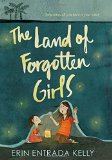 Abandoned by their father, sisters Soledad and Ming from the Philippines live in Louisiana with their evil stepmother. All they have is the stories their deceased mother used to tell them about the travels of her magical sister. The stories give the sisters hope, but for little Ming they also blur the lines between fact and fiction. Sol needs to find a way to pull her sister back into reality. Mixing fantasy and realism, 
The Land of Forgotten Girls
 is an enchanting middle-grade novel about sisterhood, hope and the power of imagination. 
~ Asian – Middle School
---
The Hungry Ghosts
by Miguel Flores
Witches have been banned from Arrett for years. Which is why Milly has tried to ignore the tingling light that appears in her palm anytime she conjures up a wish. She has too many responsibilities as the oldest girl at St. George's Orphanage to get caught up in magicks. Sweet, quirky Cilla, though, has always longed for that power, even if it could be dangerous for her. Milly has always kept an eye out for her, but then Cilla is kidnapped by an angry, exiled witch who believes she's the one with magicks—not Milly. The Hungry Ghosts is a captivating tale of magic, found family, and the power of being yourself—even when the world asks you to change. ~ Hispanic – Middle School
Related: Pura Belpré Award Winners 1996 – 2022
---
Pahua and the Soul Stealer
by Lori M. Lee
Pahua Moua is a lonely eleven-year-old Hmong girl with the unique ability to see spirits. One day she accidentally untethers an angry spirit from the haunted bridge in her neighbourhood. When her brother suddenly falls sick and can't be awoken, Pahua fears that the bridge spirit has stolen his soul. She returns to the scene of the crime with her aunt's old shaman tools, hoping to confront the spirit and demand her brother's return. With its unforgettable characters, unique nature-based magic system, breathtaking twists and reveals, and climactic boss battle, Pahua And The Soul Stealer offers everything a fantasy lover could want. ~ Asian – Middle School
Related: 180+ Asian & Asian American Books For Children & Teenagers
---
Tristan Strong Destroys the World
by Kwame Mbalia
Tristan Strong, just back from a victorious but exhausting adventure in Alke, the land of African American folk heroes and African gods, is suffering from PTSD. But there's no rest for the weary when his grandmother is abducted by a mysterious villain out for revenge. Tristan must return to Alke–and reunite with his loud-mouthed sidekick, Gum Baby–in order to rescue Nana and stop the culprit from creating further devastation. The second book in the New York Times best-selling and award-winning Tristan Strong trilogy, 
Tristan Strong Destroys The World
 is a well-paced action adventure that has enough depth to be enjoyed by older readers, too. 
~ African – Middle School
---
The Marvellers
by Dhonielle Clayton
11-year-old Ella Durand is the first Conjuror to attend the Arcanum Training Institute, a magic school in the clouds where Marvellers from around the world practice their cultural arts. But some Marvellers deem her magic "bad and unnatural." Ella befriends her elixirs teacher, Masterji Thakur, and fellow misfits Brigit and Jason. When dangerous criminal Ace of Anarchy escapes prison, supposedly with a Conjuror's aid, tensions grow in the Marvellian world and Ella becomes the target of suspicion. Worse, Masterji Thakur mysteriously disappears while away on a research trip. With the help of her friends and her own growing powers, Ella must find a way to clear her family's name and track down her mentor before it's too late. First in a new series, The Marvellers is a thrilling fantasy adventure with fantastical twists. ~ African – Middle School
---
Pilar Ramirez and the Escape from Zafa
by Julian Randall
12-year-old Pilar Ramirez's is intrigued by Abuela and Mami's silence around her cousin Natasha―who vanished in the Dominican Republic fifty years ago during the Trujillo dictatorship. When Pilar discovers a folder with her cousin's name on it, she gets sucked into the blank page within. She lands on Zafa, an island swarming with coconut-shaped demons, butterfly shapeshifters, and a sinister prison where her cousin is being held captive. Pilar has to go toe-to-toe with the fearsome Dominican boogeyman, El Cuco, in order to free Natasha and get back home. Pilar Ramirez and the Escape from Zafa is a gripping middle-grade fantasy that brings Dominican myths and legends to life. ~ Hispanic – Middle School
Related: 50 Children's & YA Books set in the Caribbean
---
Love Sugar Magic: A Sprinkle of Spirits
by Anna Meriano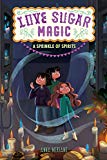 In this follow-up of the instant hit Love Sugar Magic: A Dash of Trouble, Leonora Logroño has finally been introduced to her family's bakery bruja magic. But since her special power hasn't shown up yet, her family still won't let her perform her own spells, and they expect her to keep the family magic secret, even from her best friend Caroline. Suddenly spirits are popping up all over town, causing all sorts of trouble! Is this Leo's fault? And can she reverse the spell before it's too late? Love Sugar Magic: A Sprinkle Of Spirits is a charming book that middle-graders will love. ~ Hispanic – Middle School
---
The Barren Grounds  // The Great Bear (The Misewa Saga)
by David Robertson
Morgan and Eli, two Indigenous children forced away from their families and communities, are brought together in a foster home in Winnipeg, Manitoba. They each feel disconnected and struggle to fit in at school and at their new home — until they find a secret place, walled off in an unfinished attic bedroom. A portal opens to another reality, Askí, bringing them onto frozen, barren grounds, where they meet Ochek and embark on a dangerous mission. Back at home, Eli and Morgan each struggle with personal issues: Eli is being bullied at school, while Morgan has to make an important decision about her birth mother. They turn to the place where they know they can learn the most, and make the journey to Misewa to visit their animal friends. Narnia meets traditional Indigenous stories of the sky and constellations in The Misewa Saga, an epic middle-grade fantasy series. ~ Diverse – Middle School
Related: 40+ Multicultural Book Series for Girls & Boys
---
The Way to Rio Luna
by Zoraida Cordova
Eleven-year-old Danny Monteverde believes in magic. Most of all, he believes that his older sister, Pili, is waiting for him somewhere in Rio Luna, the enchanted land in their favorite book of fairy tales. When the siblings were placed in separate foster homes, she promised that she'd come back for him, and they'd build a new life together in Rio Luna. Yet as the years pass, Danny's faith begins to dim. But then he finds a mysterious book in the library — a collection of stories with a map to Rio Luna . . . and to Pili. The Way To Rio Luna follows Danny on his adventure from New York to Ecuador to Brazil. ~ Hispanic – Middle School
Related: 115 Multicultural Middle Grade Novels for Summer Reading
---
---
High School
---
Ballad & Dagger (Outlaw Saints, 1)
by Daniel José Older
Many years ago, Mateo Matisse's island homeland disappeared into the sea. The survivors escaped to Brooklyn, New York. While the rest of his tight-knit community dreams of someday finding a way back home, Mateo–now a high school junior and piano prodigy– is focused on getting the attention of locally-grown musical legend Gerval. Mateo finally gets his chance on the night of the Grand Fete, an annual party celebrating the blended culture of pirates, Cuban Santeros, and Sephardic Jews that created San Madrigal all those centuries ago. But the evil that sank their island has finally caught up with them, and on the night of the celebration, Mateo's life is forever changed when he witnesses a brutal murder and is thrust into an ancient battle that spans years and oceans. The first novel in the Outlaw Saints duology, Ballad & Dagger transports readers to a world where magic, myth, and gods reign over the streets of Brooklyn. ~ African – High School
More 'Rick Riordan Presents' titles: Sal and Gabi Break the Universe // DragonPearl // Tristan Strong Punches a Hole in the Sky // Paola Santiago and the River of Tears // The Last Fallen Star
---
A Thousand Steps Into Night
by Traci Chee
In the realm of Awara, where gods, monsters, and humans exist side by side, Miuko is an ordinary girl resigned to a safe, if uneventful, existence as an innkeeper's daughter. But when Miuko is cursed and begins to transform into a demon with a deadly touch, she embarks on a quest to reverse the curse and return to her normal life. With her transformation comes power and freedom she never even dreamed of, and she'll have to decide if saving her soul is worth trying to cram herself back into an ordinary life that no longer fits her… and perhaps never did. A Thousand Steps Into Night is a Japanese-influenced fantasy brimming with demons, adventure, and plans gone awry. ~ Asian – High School
Related: 180+ Asian & Asian American Books for Children & Teenagers
---
The Gilded Ones
by Namina Forna
This is our absolute favourite on this list of multicultural middle grade and young adult fantasy books! 16-year-old Deka fears the blood ceremony that will determine whether she will become a member of her village. Already different from everyone else because of her unnatural intuition, Deka prays for red blood but on the day of the ceremony, her blood runs gold, the color of impurity–and Deka knows she will face a consequence worse than death. When a mysterious woman comes to her with a choice: stay in the village and submit to her fate, or leave to fight for the emperor in an army of girls just like her, Deka decides to leave the only life she's ever known. But as she journeys to the capital to train for the biggest battle of her life, she discovers that nothing and no one are quite what they seem to be–not even Deka herself. The Gildes Ones is the first book in a dark feminist fantasy series for fans of Children of Blood and Bone. ~ African – High School
---
The Gilded Ones #2: The Merciless Ones
by Namina Forna
It's been six months since Deka freed the goddesses in the ancient kingdom of Otera and discovered who she really is… but war is waging across the kingdom, and the real battle has only just begun. For there is a dark force growing in Otera that Deka and her army must stop. Yet hidden secrets threaten to destroy everything Deka has known. And with her own gifts changing, Deka must discover if she holds the key to saving Otera… or if she might be its greatest threat. The Merciless Ones is the much anticipated second installment of the epic fantasy series about a girl with the power to remake her world—or destroy it. ~ African – High School
---
A Song of Wraiths and Ruin
by Roseanne A. Brown
For Malik, the Solstasia festival is a chance to escape his war-stricken home and start a new life with his sisters in the prosperous desert city of Ziran. But when a vengeful spirit abducts his younger sister, Nadia, as payment to enter the city, Malik strikes a fatal deal—kill Karina, Crown Princess of Ziran, for Nadia's freedom. Inspired by West African folklore, A Song Of Wraiths And Ruin is the first in a gripping fantasy duology about a grieving crown princess and a desperate refugee who find themselves on a collision course to murder each other despite their growing attraction. ~ African – High School
---
Lobizona (Wolves of No World 1)
by Romina Garber
As an undocumented immigrant who's on the run from her father's Argentine crime-family, Manuela Azul is confined to a small apartment and a small life in Miami, Florida. But then her surrogate grandmother is attacked, lifelong lies are exposed, and her mother is arrested by ICE. Without a home, without answers, and finally without shackles, Manu investigates the only clue she has about her past―a mysterious "Z" emblem―which leads her to a secret world buried within our own. Lobizona takes readers on an adventure into a magical world. ~ Hispanic – High School 
---
Beasts of Prey
by Ayana Gray
There's no such thing as magic in the broken city of Lkossa, especially for sixteen-year-old Koffi, who holds a power within her that could only be described as magic—a power that if discovered could cost her life. Indentured to the notorious Night Zoo, Koffi knows the fearsome creatures in her care and paying off her family's debts to secure their eventual freedom can be her only focus. But the night those she loves are gravely threatened by the Zoo's cruel master, Koffi finally unleashes the power she doesn't fully understand, upending her life completely. Beasts of Prey is richly woven story about two Black teenagers who journey into a magical jungle to hunt down the vicious monster who is threatening their home. ~ African – High School
---
Black Sun (Between Earth and Sky)
by Rebecca Roanhorse
"A god will return / When the earth and sky converge / Under the black sun."  In the holy city of Tova, the winter solstice is usually a time for celebration and renewal, but this year it coincides with a solar eclipse, a rare celestial event proscribed by the Sun Priest as an unbalancing of the world. From the New York Times bestselling author of Star Wars: Resistance Reborn comes the first book in the Between Earth and Sky trilogy, inspired by the civilizations of the Pre-Columbian Americas and woven into a tale of celestial prophecies, political intrigue, and forbidden magic. ~ Diverse – High School
---
Blood Scion
by Deborah Falaye
15-year-old Sloane can incinerate an enemy at will—she is a Scion, a descendant of the ancient Orisha gods. Under the Lucis' brutal rule, her identity means her death if her powers are discovered. But when she is forcibly conscripted into the Lucis army, Sloane sees a new opportunity: to overcome the bloody challenges of Lucis training, and destroy them from within. Inspired by Yoruba-Nigerian mythology, Blood Scion follows one girl's journey of magic, injustice, power, and revenge. ~ African – High School
Related: The 50 Best Multicultural Young Adult Books of 2021
---
The Black God's Drums
by P. Djeli Clark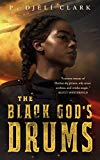 In an alternate New Orleans caught in the tangle of the American Civil War, the wall-scaling girl named Creeper yearns to join the crew of the airship Midnight Robber. Hiding her own dark secret, Creeper earns Captain Ann-Marie's trust with information about a Haitian scientist and his mysterious weapon. Soon, the crew are pulled into a perilous mission to stop the entirety of New Orleans being wiped out. The Black God's Drums is a fast-paced and mesmerizing fantasy novel that teenagers will love! ~ African – High School
Related: Multicultural 2019 ALA Youth Media Award-Winning Books
---
Daughters of Jubilation
by Kara Lee Corthron
In the Jim Crow South, white supremacy reigns and tensions are high. But Evalene Deschamps has other things to worry about. She has two little sisters to look after, an overworked single mother, and a longtime crush who is finally making a move. On top of all that, Evvie's magic abilities are growing stronger by the day. Her family calls it jubilation—a gift passed down from generations of Black women since the time of slavery. And as Evvie's talents waken, something dark comes loose and threatens to resurface… Daughters of Jubilation is a compelling fantasy novel that follows a Black teen as she finds her place among a family of women gifted with magical abilities. ~ African – High School
---
Raybearer
by Jordan Ifueko
Tarisai was raised in isolation by a mysterious, often absent mother known only as The Lady. Her mother sends her to the capital of the global empire of Aritsar to compete with other children to be chosen as one of the Crown Prince's Council of 11. If she's picked, she'll be joined with the other Council members through the Ray, a bond deeper than blood. That closeness is irresistible to Tarisai, who has always wanted to belong somewhere. But The Lady has other ideas, including a magical wish that Tarisai is compelled to obey: Kill the Crown Prince. Raybearer is an epic fantasy story of loyalty, fate, and the lengths we're willing to go for the ones we love. ~ African – High School
---
---
Steelstriker (Skyhunter Duology)
by Marie Lu
As a Striker, Talin was taught loyalty is life. Loyalty to the Shield who watches your back, to the Strikers who risk their lives on the battlefield, and most of all, to Mara, which was once the last nation free from the Karensa Federation's tyranny. But Mara has fallen. And its destruction has unleashed Talin's worst nightmare. With her friends scattered by combat and her mother held captive by the Premier, Talin is forced to betray her fellow Strikers and her adopted homeland. She has no choice but to become the Federation's most deadly war machine as their newest Skyhunter. Steelstriker is the riveting conclusion to the best-selling Skyhunter duet.  ~ Asian – High School
Related: 180+ Asian & Asian American Books for Children & Teenagers
---
A Song Below Water: A Novel
by Bethany C. Morrow
In a society determined to keep her under lock and key, Tavia must hide her siren powers. Meanwhile, Effie is fighting her own family struggles, pitted against literal demons from her past. Together, these best friends must navigate through the perils of high school's junior year. But everything changes in the aftermath of a siren murder trial that rocks the nation, and Tavia accidentally lets out her magical voice at the worst possible moment. Set against the challenges of today's racism and sexism, A Song Below Water is an enthralling modern fantasy about black mermaids, friendship, and self-discovery. ~  African – High School
---
Woven in Moonlight
by Isabel Ibañez
Ximena is the decoy Condesa, a stand-in for the last remaining Illustrian royal. Her people lost everything when the usurper, Atoc, used an ancient relic to summon ghosts and drive the Illustrians from La Ciudad. Now Ximena's motivated by her insatiable thirst for revenge, and her rare ability to spin thread from moonlight. Debut novel Woven in Moonlight is a lush tapestry of magic, romance, and revolución, drawing inspiration from Bolivian politics and history. ~ Hispanic – High School
Related: Pura Belpré Award Winners 1996 – 2022
---
Written in Starlight
by Isabel Ibañez
Catalina Quiroga has lost the Inkasisa throne, the loyalty of her people, and her best friend. Banished to the perilous Yanu Jungle, Catalina knows her chances of survival are slim. While running for her life, she is rescued by Manuel, the son of her former general. With his help, Catalina could find the city of gold that's home to the fierce Illari people and strike a deal with them for an army to retake her throne. But the elusive Illari are fighting a battle of their own―a mysterious blight is corrupting the jungle. Catalina must reckon with her duty and her heart to find her true calling, which is key to stopping the corruption before it destroys the jungle completely. Sequel to Woven in Moonlight, Written In Starlight is a breathtaking fantasy story full of adventure and romance. ~ Hispanic – High School 
---
This Woven Kingdom
by Tahereh Mafi
To all the world, Alizeh is a disposable servant, not the long-lost heir to an ancient Jinn kingdom forced to hide in plain sight.
The crown prince, Kamran, has heard the prophecies foretelling the death of his king. But he could never have imagined that the servant girl with the strange eyes, the girl he can't put out of his mind, would one day soon uproot his kingdom—and the world. Clashing empires, forbidden romance, and a long-forgotten queen destined to save her people—This Woven Kingdom is the first in an epic, romantic trilogy inspired by Persian mythology. ~ Asian – High School
Related: 180+ Asian & Asian American Books for Children & Teenagers
---
Within These Wicked Walls
by Lauren Blackwood
Andromeda is a debtera―an exorcist hired to cleanse households of the Evil Eye. She would be hired, that is, if her mentor hadn't thrown her out before she could earn her license. Now her only hope of steady work is to find a Patron―a rich, well-connected individual who will vouch for her abilities. When a handsome young heir named Magnus Rochester reaches out to hire her, she takes the job without question. Never mind that he's rude and demanding and eccentric, that the contract comes with a number of outlandish rules… and that almost a dozen debtera had quit before her. If Andromeda wants to earn a living, she has no choice. Within These Wicked Walls is a stunningly romantic and exciting fantasy novel. ~ African – High School
---
The Wild Ones
by Nafiza Azad
Sold to a man by her mother in exchange for a favour, Paheli escaped and met Taraana—a boy with stars in his eyes. He tossed Paheli a box of stars before disappearing. With the stars, Paheli gained access to the Between, a place of pure magic and mystery. Now, Paheli collects girls as battered as she was, and together they use their magic to travel the world and save other girls — and Taraana. The Wild Ones is a thrilling, feminist fantasy about a group of teenage girls with special powers who band together to save the life of the boy whose magic saved them all. ~ Diverse – High School
---
Skin of the Sea
by Natasha Bowen
Simi serves the gods as Mami Wata—a mermaid—collecting the souls of those who die at sea. But when a living boy is thrown overboard, Simi goes against an ancient decree and saves his life. To protect the other Mami Wata, Simi must journey to the Supreme Creator to make amends. But all is not as it seems. There's the boy she rescued, who knows more than he should. And something is shadowing Simi, something that would rather see her fail . . . Danger lurks at every turn, and as Simi draws closer, she must brave vengeful gods, treacherous lands, and legendary creatures. Because if she fails, she risks not only the fate of all Mami Wata, but also the world as she knows it. Skin of the Sea is the first book in an epic Black mermaid fantasy series in which one mermaid takes on the gods themselves. ~ African – High School
---
Six Crimson Cranes
by Elizabeth Lim
Forbidden magic runs through Shiori'anma's veins. Normally, the only princess of Kiata conceals it well, but on the morning of her betrothal ceremony, Shiori loses control. Her mistake seems like a stroke of luck, forestalling the wedding she never wanted, but it also catches the attention of Raikama, her stepmother. A sorceress in her own right, Raikama banishes the young princess, turning her brothers into cranes. She warns Shiori that she must speak of it to no one, or her brothers will die. Shiori searches for her brothers, and uncovers a dark conspiracy to seize the throne. Only Shiori can set the kingdom to rights, but to do so she must place her trust in a paper bird, a mercurial dragon, and the very boy she fought so hard not to marry. Drawing from fairy tales and East Asian folklore, Six Crimson Cranes is a fast-paced and gripping fantasy.  ~ Asian – High School
---
We Free the Stars (Sands of Arawiya, 2)
by Hafsah Faizal
The battle on Sharr is over. The Arz has fallen. Altair may be captive, but Zafira, Nasir, and Kifah are bound for Sultan's Keep, determined to finish the plan Altair set in motion: restoring the hearts of the Sisters of Old to the minarets of each caliphate, finally bringing magic to all of Arawiya. But they are low on resources and allies alike, and the kingdom teems with fear of the Lion of the Night's return. As the zumra plots to overthrow Arawiya's darkest threat, Nasir fights to command the magic in his blood. Time is running out, and if order is to be restored, drastic sacrifices will have to be made. Lush and striking, hopeful and devastating, We Free the Stars is the masterful conclusion to the Sands of Arawiya duology. ~ Asian – High School
Related: We Hunt the Flame (Sands of Arawiya, 1)
---
The Hero of Numbani (Overwatch #1)
by Nicky Drayden
In the technologically advanced African city of Numbani, in the not-so-distant future, humans live in harmony with humanoid robots known as omnics. But when a terrorist tries to shatter that unity, a hero named Efi Oladele rises. Efi has been making robots since she was little — machines to better her community and improve people's lives. But after she witnesses Doomfist's catastrophic attack on the city's OR15 security bots, Efi feels the call to build something greater: Orisa, the true guardian of Numbani! The Hero of Numbani is the first-ever original novel for the worldwide gaming sensation Overwatch. ~ High School
---
Legendborn
by Tracy Deonn
After her mother dies in an accident, sixteen-year-old Bree Matthews wants nothing to do with her family memories or childhood home. A residential program for bright high schoolers at UNC–Chapel Hill seems like the perfect escape—until Bree witnesses a magical attack her very first night on campus. Filled with mystery and a rich magic system, Legendborn offers a modern-day twist on a classic legend about grief and self-discovery. ~ African – High School
Related: Multicultural 2021 ALA Award-Winning Children's & YA Books
---
Forest of Souls
by Lori M. Lee
Sirscha Ashwyn comes from nothing, but she's intent on becoming something. After years of training to become the queen's next royal spy, her plans are derailed when shamans attack and kill her best friend Saengo. Sirscha, somehow, restores Saengo to life, and is summoned to the domain of the Spider King. As war looms, Sirscha must master her newly awakened abilities before the trees shatter the brittle peace, or worse, claim Saengo, the friend she would die for. Forest of Souls is an epic, unrelenting tale of sisterhood and self-discovery. ~ Asian – High School
---
*You can buy any of the books on this site from Amazon USA by clicking on the book titles or covers*
---
---