---
Asian Multicultural Children's Books – Preschool

Multicultural Children's Books for ages 3 to 5, featuring Asian or Asian American children and families

---
Who Likes Rain? // Summer Days and Nights // My Autumn Book // Tracks in the Snow
by Wong Herbert Yee
Yee's charming quartet follows an adventurous little girl as she experiences the different seasons. She has a rainy April day romp in Who likes Rain?; admires daisies in a meadow and gazes at the moonlit sky in Summer Days and Nights; watches chipmunks, squirrels, insects and fallen leaves in My Autumn Book, and follows her own Tracks in the Snow. The simple rhyming text, coupled with soft acrylic illustrations, give these little books a lovely gentle feel.
More books about rain: 15 Multicultural Children's Books about Rain
---
I Live in Tokyo
by Mari Takabayashi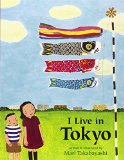 I live in Tokyo follows seven-year-old Mimiko through a year of fun, food and festivities in Japan's bustling capital. Month by month, little readers learn about Mimiko's favourite meals and many Japanese customs, from tea ceremonies to how to put on a kimono. This lively picture book with its detailed, bright illustrations is a great introduction to Japanese life and traditions.
---
The Paper Crane
by Molly Bang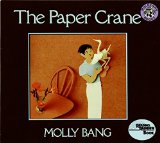 The Paper Crane retells an ancient Japanese folktale. A mysterious stranger pays for a meal in a restaurant with a magical paper crane that comes alive and dances. An enchanting story, beautifully illustrated with cut-paper collages and paintings.
---
The Name Jar
by Yangsook Choi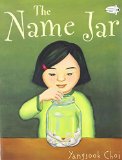 Unhei has just moved to the States from Korea. Worried that her new classmates will not be able to pronounce her name, she tells them that she will choose a name later. Her classmates are fascinated by this no-name girl and decide to help out by filling a glass jar with names for her to pick from. After trying a few of those names, she eventullay decides to stick with her real name. The Name Jar is an engaging story about valueing your roots and your uniqueness.
More books about immigration: 30 Multicultural Children's Books about Immigration
---
Fortune Cookie Fortunes // The Ugly Vegetables // Dim Sum for Everyone! // Kite Flying
by Grace Lin
At the end of a family meal out, everyone opens their fortune cookies. Little Pacy wonders if her Fortune Cookie Fortunes will come true, and starts noticing magical things happening in her family. In The Ugly Vegetables, a little girl finds her neighbour's flower garden much prettier than her family's vegetable garden… until those ugly Chinese vegetables become the tastiest soup! Dim Sum for Everyone! celebrates the cultural custom of picking small dishes and sharing them with everyone at the table. Kite Flying shows the same family building and flying their own dragon kite. The spare text and simple stories, accentuated by Lin's brightly coloured gouache illustrations, make for a very appealing read for preschoolers.
Also by Grace Lin: Thanking the Moon: Celebrating the Mid-Autumn Moon Festival // Bringing In the New Year
---
---
Surprise Moon
by Caroline Hatton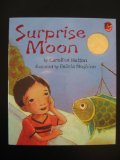 A little Vietnamese American boy shows his friends how to celebrate the Autumn Moon Festival, a special holiday in his father's home country. Surprise Moon is an endearing picture book, featuring simple text and bright watercolour illustrations.
More books about the Moon Festival: 9 Children's Books about the Mid-Autumn Moon Festival
---
The Empty Pot
by Demi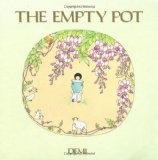 In this retelling of a Chinese Folk Tale, the Emperor decides to choose an heir by giving a flower seed to each child in the kingdom. "Whoever can show me their best in a year's time," he proclaims, "shall succeed me to the throne!". Despite tending to it every day, little Ping's seed just won't grow and he must go to the Emperor with nothing but an empty pot. The Empty Pot has a lovely message about turning failure into triumphant through honesty.
---
Where is Amma?
by Nandini Nayar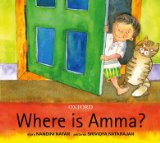 Little Karan can't find his mother ("amma"). Together with his cat, he looks for her everywhere, even in the fridge, wondering if it is not too cold in there. With simple text and colourful watercolour illustrations, Where Is Amma? is a charming picture book children everywhere will enjoy.
More books about mothers: 14 Multicultural Children's Books about Mothers
---
In the Snow // In the Leaves // In the Park // At the Beach
by Huy Voun Lee
These beautiful little books offer a simple introduction to Chinese character writing. In the Snow shows a mother and her son using the snow as a canvas for learning new Chinese characters. In the Leaves follows Xiao Ming and his friends on an autumn trip to a farm. In the Park depicts him and his mother writing words for all the signs of spring around them. At the Beach, they make Chinese words by drawing pictures in the sand.
---
Bee-Bim Bop!
by Linda Sue Park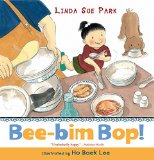 In this fast-paced book, a hungry girl helps her mother make Bee-Bim Bop!, a traditional Korean rice dish. In bouncy rhyming text coupled with whimsical illustrations, the story tells of shopping, preparing ingredients, setting the table, and sitting down to enjoy a favourite meal with the family. The book includes Linda Sue's very own bee-bim bop recipe!
---
---
Ladder to the Moon
by Maya Soetoro-Ng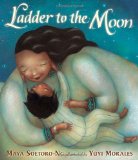 From Barack Obama's Indonesian born half-sister comes this gem of a book. With lyrical text and beautiful artwork, Ladder to the Moon relays the loving wisdom of the author's late mother to the young granddaughter she never met. A golden ladder appears at Suhaila's window one night and Grandma Annie invites her to come along on a journey. 

Also available with CD: Ladder to the Moon with CD
---
My First Chinese New Year
by Karen Katz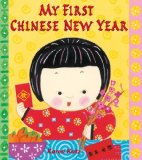 My First Chinese New Year follows a little girl as she prepares for the Chinese New Year with her family. She makes an altar to honour her ancestors, gets a haircut, feasts with her relatives, and attends a Chinatown parade. With simple text and colourful collage illustrations, this book is a lovely introduction to the Chinese New Year tradition for preschoolers.
More books about the Chinese New Year: 16 Children's Books about the Chinese New Year
---
Little Kunoichi, The Ninja Girl
by Sanae Ishida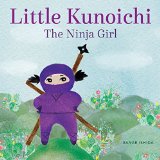 Ninja skills don't come easily to Little Kunoichi, The Ninja Girl in training. She needs determination – and a special friend – to unleash her power! An intriguing read for preschoolers, from silly jokes and pink dragons to swordplay and cunning. Stunning paint-on-paper illustrations complement the humorous text.

More funny books: 10 Laugh Out Loud Funny Multicultural Picture Books
---
You Were the First
by Patricia MacLachlan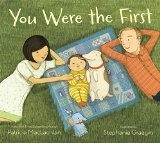 You Were the First is a touching tribute to first-born babies. Featuring an Asian/White family, it depicts all those unforgettable moments, from first smiles to crawling, and walking. The warm graphite pencil illustrations complement the sweet text. A perfect book to make your first-born feel special when there is a second or third one on the way!
More books with multiracial families: 70+ Picture Books about Mixed Race Families
---
Yoko
by Rosemary Wells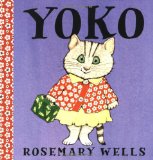 Yoko doesn't feature any human characters, only animals. I still think it has its place on a list of Asian multicultural children's books for preschoolers as the main characters reflect parts of Asian culture. As Yoko unpacks her favourite lunch – Sushi -, her classmates start teasing her about it. The book describes honestly how it feels to a child to be an outsider (including a realistic ending where Yoko finds one friend instead of now suddenly being liked by everyone).

---
---
My Mei Mei
by Ed Young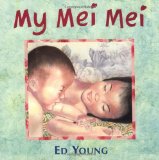 In his daughter Antonia's voice, Young tells his family's adoption story, from her arrival from China and her early years to her disappointment when the new sister isn't what she was hoping for, to the girls' growing closeness and love for each other. My Mei Mei is a tender story about the true meaning of family, complemented by soft mixed-media illustrations.
More books about siblings: 20 Multicultural Picture Books about new siblings
---
Waiting for May
by Janet Morgan Stoeke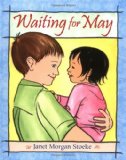 A young boy eagerly awaits the arrival of his new baby sister from China. Waiting for May follows the long adoption process until the boy finally meets his sister and is the first to make her smile. Simple text and colourful illustrations make this a good book to read with preschool children.
More books about adoption: 28 Multicultural Children's Books about Adoption
---
I Love You Like Crazy Cakes
by Rose A. Lewis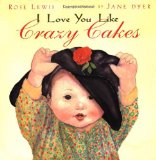 With the most stunning watercolour illustrations, I Love You Like Crazy Cakes tells the story of a woman who travels to China to adopt a baby girl. Based on the author's own experiences, this engaging picture book celebrates the love and joy a baby brings into the home.
---
Gung Ho! A Dragon Boat Story
by Susan Hughes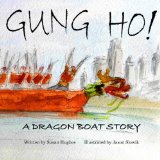 Gung-Ho! follows a dragon boat team as they prepare for the race, are taken on a fantastic flight through Philadelphia, and arrive back just in time to win the race.  With simple text and warm watercolour-and-pencil paintings, this beautiful picture book captures the exciting atmosphere of the dragon boat festival. All proceeds from this edition go to The Nexus School for children within the autism spectrum in Pennsylvania. ~ Preschool
More books about the Dragon Boat Festival: 5 Children's Books about the Dragon Boat Festival
---
I Love You, Blue Kangaroo
by Emma Chichester Clark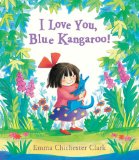 Every night little Lily falls asleep with Blue Kangaroo cuddled in her arms. When others arrive in Lily's bed Blue Kangaroo worries that there won't be enough room for him anymore. I Love You Blue Kangaroo is a sweet story about a little girl's unwavering love for her favourite soft toy. Although Lily's ethnicity is not specified, I think that girls of Asian heritage can easily see themselves in this little heroine.
From the same series: What Shall We Do, Blue Kangaroo? // Where Are You, Blue Kangaroo? // Merry Christmas to You, Blue Kangaroo!
---
*You can buy any of the books on this site from Amazon USA, CAN or UK by clicking on the book titles or covers*
---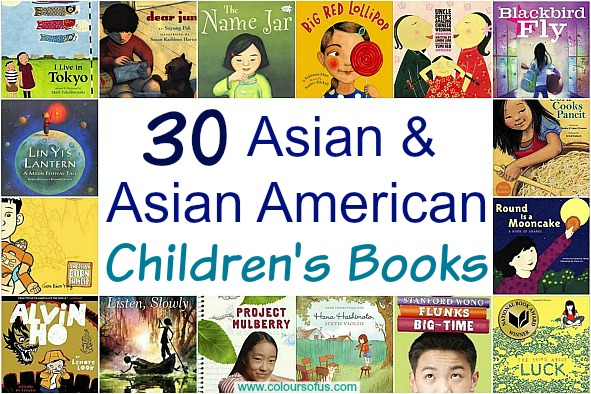 ---
More books with Asian or Asian American characters:
---
---