Hispanic Multicultural Children's Books – Babies & Toddlers
Multicultural Children's Books for ages 0 to 3, featuring Hispanic or Hispanic American children and families

---
Fiesta Babies
by Carmen Tafolla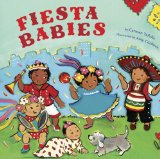 The Fiesta Babies dance, march on parade and sing along to mariachi songs in this spirited celebration of fiestas. Luckily for the parents, the babies don't mind a siesta either! Simple rhymes with Spanish words sprinkled throughout complement the coulourful illustrations. I particularly like the fact that the featured Hispanic children have varying skin tones, from light to dark. A lovely way of teaching little ones that diversity comes in all sorts of shades, even within the same ethnicity!
---
Besos for Baby
by Jen Arena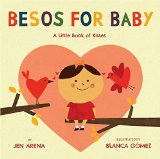 Everyone has kisses for Baby, from Mami and Papi to perro and gato! You won't be able to resist showering your little one with kisses whilst reading Besos for Baby. Simple bilingual text and beautiful bold illustrations make for a delightful read. So far our favourite on this list of hispanic multicultural children's books!
---
This Little Piggy // If You're Happy and You Know It // Itsy Bitsy Spider
by Annie Kubler
Colourful sing along books featuring adorable chubby babies. Realistic illustrations show the babies doing the actions to popular nursery rhymes, such as This Little Piggy, If You're Happy And You Know It, Itsy Bitsy Spider and more. Also available as English/Spanish editions.
---
Quinito, Day and Night
by Ina Cumpiano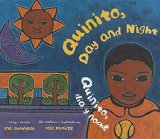 Quinito, Day & Night: Quinito, dia y noche follows a little boy from morning to night as he runs fast or slow, swings high and low, is quiet at nap-time and loud at playtime. The book introduces the youngest readers to the concept of opposites, both in English and Spanish.
---
Sweet Dreams/Dulces Suenos // Let's Eat!/A Comer!
by Pat Mora
"Shh, shh, the rabbits are sleeping." As Abuelita tucks her bouncy grandchildren into bed, she reminds them of the many small animals that also go to sleep at night. Sweet Dreams/Dulces Suenos with its simple cartoon-style illustrations and its repetetive text is a soothing good-night read for the little ones. Let's Eat!/A Comer! features a close-knit family enjoying a variety of foods at dinner time.
---
Lupe Lupita, Where Are You?
by Gladys Rosa Mendoza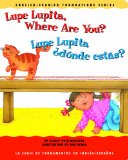 Follow little Lupe Lupita from playtime to bedtime, as she explores the meaning of up, down, near, far, and other common prepositions. Lupe Lupita, Where Are You? introduces little ones to the concept of space orientation with simple text and bright, attention-grabbing illustrations.
*You can buy any of the books on this site from Amazon USA, CAN or UK by clicking on the book titles or covers*
---
More books with Hispanic or Hispanic American characters:
---
---