African Multicultural Children's Books – Elementary School
Multicultural Children's Books for ages 5 to 10, featuring African or African American children and families

---
Black Magic
by Dinah Johnson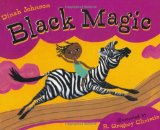 "Black is big like a star-filled sky/and tiny like the sparkle in my daddy's eye." Black Magic is a fun celebration of all the marvelous things black. Some of the adjectives the author uses may seem a bit strange ("slow", "quick", "delicious"), but I understand them to mean that black can be a whole range of things (not just the obvious), and in that still find them empowering. Poetic text and bright illustrations featuring incredibly expressive faces make this a a fun read for preschoolers.
---
Dear Baobab
by Cheryl Foggo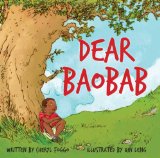 Moving from Tanzania to Canada with his aunt and uncle, little Maiko feels homesick. He remembers the big baobab tree in his home village, and feels a connection to a small spruce tree in his new home. Seven years old just like Maiko, the tree sings to him and shares his secrets. When there is talk of cutting down the tree because it is too close to the house, Maiko tries to save it. After all he knows what it feels like to be planted in the wrong place. Dear Baobab is one of my favourite multicultural picture books about immigration, because of its easy-to-relate-to allegory of an uprooted tree.
More books about immigration: 30 Multicultural Picture Books about Immigration
---
Harlem's Little Blackbird
by Renee Watson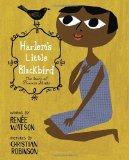 With poetic text and stunning paper-cut illustrations, Harlem's Little Blackbird tells the story of African American singer Florence Mills, from singing with her mother to breaking into the musical world. Despite her success, Mills declined the role of a lifetime and chose to only perform in shows with unknown black singers and actors. A truly empowering book about a woman who is not only remarkable for her talent but even more so for her generosity and her faith!
More books about inspiring women & girls: 26 Multicultural Picture Books about Inspiring Women & Girls
---
Colors Come from God . . . Just Like Me!
by Carolyn Forché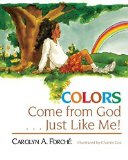 Written by a grandmother trying to help her granddaughter deal with hurtful comments at preschool, Colors Come from God . . . Just Like Me! talks about the many things God created, including colours. An affirming and easy-to-remember "And God made me a beautiful brown!" at the end of every section encourages children take pride in their skin colour.
---
Juneteenth for Mazie
by Floyd Cooper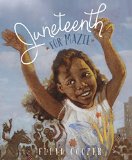 Mazie is unhappy about her perceived lack of freedom, including bedtimes and cookie restrictions. Her father explains that her restrictions aren't so terrible: "Well, Great, Great, Great Grandpa Mose heard 'no' even more." The day before Juneteenth Mazie's father tells her of the struggles and triumphs of her ancestors, from slavery and the Emancipation Proclamation to segregation and the Selma to Montgomery March. With simple text and realistic oil paintings, Juneteenth for Mazie introduces young readers to this historical day.
More books about Juneteenth: 10 Children's Books celebrating Juneteenth
---
Tar Beach // Cassie's Word Quilt
by Faith Ringgold
Based on Ringgold's 1988 story quilt, Tar Beach follows an 8-year-old girl's imaginative flight over New York, looking down on 1939 Harlem. Cassie claims her world by wearing the George Washington Bridge as a necklace; giving her father the building of the union he is not allowed to join because of his race, and flying over the ice cream factory. Children will not only love the spectactular artwork of this metaphorical tale, but will revel in the idea of mastering their world by flying over it. In Cassie's Word Quilt, the same girl takes young readers on a tour of her home and her neighbourhood, introducing new words throughout. The simple story line and the colourful quilt-style spreads will appeal to all children.
More books by Faith Ringgold and information about the author: Author Spotlight: Faith Ringgold
---
Mama Miti: Wangari Maathai and the Trees of Kenya
by Donna Jo Napoli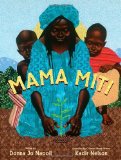 Many wonderful children's books have been written about Wangari Maathai but this gorgeous book is my absolute favourite! Nelson's stunning oil paintings collaged with the textures and colours of Africa beautifully complement the artful prose in which Wangari's story is told. Known as "Mama Miti", Wangari founded the Green Belt Movement, an African grassroots organization that has planted more than 30 million trees throughout Kenya.
More books about trees: 22 Multicultural Children's Books for Earth Day
---
Beautiful Moon
by Tonya Bolden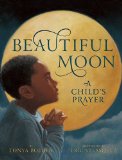 A little boy is woken by the bright full moon and remembers that he has forgotten to say his prayers. As the moon illuminates the city with its diverse population, the boy prays for homeless people, for peace, for the sick and the hungry, followed by prayers for his family members, his turtle and for his teacher to read a story every day. With a warm storyline and rich illustrations by award-winning illustrator Eric Velasquez, Beautiful Moon celebrates prayer, empathy and diversity.
---
Nelson Mandela: Long Walk to Freedom
by Chris van Wyk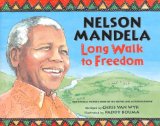 "I greet you in the name of peace, democracy, and freedom for all!" This official picture book of Mandela's autobiography offers a glimpse into the mind of a great leader who was admired across the world. Long Walk To Freedom makes Mandela's personal account of his life accessible for the youngest readers.
More books about & by Nelson Mandela: 8 Children's Books about Nelson Mandela & Desmond Tutu
---
A Dance Like Starlight: One Ballerina's Dream
by Kristy Dempsey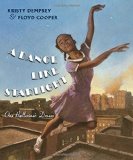 In this tribute to Janet Collins, the first African American ballerina to perform at the Metropolitan Opera, a young girl from Harlem dreams of becoming a prima ballerina. Wanting to support her daughter in following her dream, her hard-working mother arranges for both of them to attend a performance by Janet Collins. Stunning illustrations in hazy sepia tones against brighter yellows and pinks perfectly complement the lyrical story and inspirational message of A Dance Like Starlight.
---
I, Too, Am America
by Langston Hughes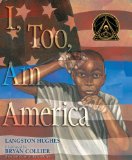 "I, too, sing America. / I am the darker brother. / They send me to eat in the kitchen / When company comes, / But I laugh, / And eat well, / And grow strong." Winner of the Coretta Scott King illustrator award, I, too, Am America is a beautiful and inspirational picture book of Langston Hughes's celebrated poem about equality.
More poetry books: 26 Multicultural Poetry Books for Children aged 0 to 10
---
My Name Is Blessing
by Eric Walters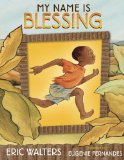 My Name Is Blessing tells the true story of a young Kenyan boy born with two fingers on his right hand and none on his left. Baraka and eight cousins live with their grandmother who loves them dearly but is unable to provide food for them all. Grandmother and grandchild have to go on a journey to find a place at the orphanage for Baraka. This story with a twist approaches the subjects of disability and poverty in a tender and light-hearted way, showing that blessings – and family – can take unexpected forms.
---
Farmer Will Allen and the Growing Table
by Jacqueline Briggs Martin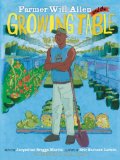 Will Allen is no ordinary farmer. Retired-basketball-star-turned-urban-farmer, he developed innovative urban farming methods and helps diverse communities build Community Food Systems through his organisation Growing Power. Notable Farmer Will Allen and The Growing Table tells the inspiring story of the African American visionary, educator, and community builder. Includes a note from Will Allen and a list of resources on how to start your own garden.
More books about growing your own food: 21 Multicultural Children's Books about growing your own food
---
You Can Do It!
by Tony Dungy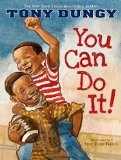 Tony Dungy's little brother, Linden, has a bad day at school and loses motivation because he hasn't found "it" yet. During a  visit to the dentist, he finds the excitement he has been looking for and dreams of becoming a dentist himself. You can do it! is a sweet book that illustrates how encouragement from family and faith in God can be helpful in finding fulfillment in life.
---
A Letter to Amy // Goggles
by Ezra Jack Keats
Keats' endearing character of the 'Peter' series writes A letter to Amy to invite her to his all boy birthday party. The wind blows it out of his hands and he ends up chasing it around everywhere. In Goggles!
Peter and his friends find a pair of goggles and are chased by a gang of bullies. Keats' books are timeless classics that appeal to all children.
More books by Ezra Jack Keats and information about the author: Author Spotlight: Ezra Jack Keats
---
The Listeners
by Gloria Whelan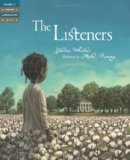 Ella May and her family are slaves on a cotton plantation. Every night the children are sent to eavesdrop on their master's conversations and carry the news back to their folks. Who will be sold, who will stay? Beautifully illustrated with muted watercolour paintings, The Listeners ends on a hopeful note, with the children bringing home news about a new president and the chance of imminent freedom.
More books for Black History Month: 21 Picture Books for Black History Month
---
Duke Ellington: The Piano Prince and His Orchestra
by Andrea Davis Pinkney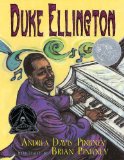 "He was a smooth-talkin', slick-steppin', piano-playin' kid". In the same style of Ella Fitzgerald: The Tale of a Vocal Virtuosa, Davis Pinkney celebrates another one of the greatest African American performers of the 20th century: "King of the Keys" Duke Ellington. The ryhthmic, swinging prose of Duke Ellington reflects the vibrant energy of his music perfectly.
More books about jazz: 18 Multicultural Children's Books about Jazz
---
Josephine: The Dazzling Life of Josephine Baker
by Patricia Hruby Powell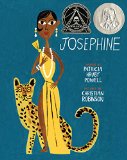 Josephine: The Dazzling Life of Josephine Baker is a detailed portrait (104 pages!) of the legendary performer and civil rights activist. In lively free-verse, complemented by colourful acrylic illustrations, the picture book tells of the struggles and triumphs of this extraordinary woman who worked her way from the slums of St. Louis to the grandest stages in the world.
More books about black artists: Children's Books about the Harlem Renaissance
---
My Two Grannies // My Two Grandads
by Floella Benjamin
My Two Grannies tells the story of biracial Alvina whose Granny Vero from the Caribbean and Granny Rose from England look after her when her parents go on a holiday.  But the two grannies have completely different ways of doing things, from the food they eat, to the games they play and the stories they tell. In My Two Grandads little Aston loves playing the steel drums with Grandad Roy and the trumpet with Grandad Henry.
More books about multiracial families: 50+ Picture Books about Mixed Race Families
---
A Father Like That
by Charlotte Zolotow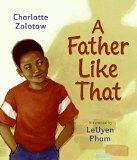 A young boy knows all about fathers, even though his dad left before he was born. He imagines a father who plays checkers with him, helps him with his homework, banishes nightmares and spends special time with his son.  "He would always be on my side, and I could always talk to him." His loving, supportive mother understands his son's desire and the void he feels, and tells him that he can be a father like that himself one day. With warm illustrations and a gentle approach to this delicate subject, A Father Like That can be a helpful read for children with absent fathers.
More books about fathers: 40 Multicultural Children's Books about Fathers
---
Hair for Mama
by Kelly Tinkham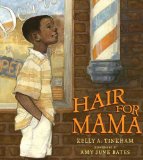 A young boy's mother doesn't want to be in the family photo after she has lost her hair through chemotherapy. Marcus tries to make a plan, and even though it doesn't quite work out, he learns that "hair is nice to have, but not as nice as me having Mama and Mama having me." Told with gentle humour and warm illustrations, Hair for Mama captures the fear, pain, and hope of families affected by cancer.
More books about mothers: 14 Multicultural Children's Books about Mothers
---
The Book Itch: Freedom, Truth, and Harlem's Greatest Bookstore
by Vaunda Micheaux Nelson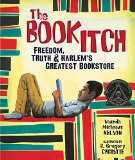 In 1930s Harlem, Lewis Michaux Sr. opened the National Memorial African Bookstore – a place where people could read books about African American history, have discussions and speak their minds publicly on a platform outside the store. Even famous people like Muhammad Ali and Malcolm X came to visit and speak. Written by a relative and illustrated with bold, colourful paintings, The Book Itch tells the story of this unique bookstore from the perspective of Lewis Michaux Jr.
More books celebrating books and reading: 15 Multicultural Children's Books celebrating books & reading
---
Before John Was a Jazz Giant
by Carole Boston Weatherford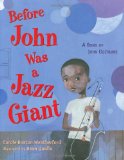 "Before John was a jazz giant / he heard hambones knocking in Grandma's pots / Daddy strumming the ukulele, / and Mama cranking the phonograph." Growing up in the South in the 1930s, young John Coltrane took in all the noises around him that later shaped his own jazz sound. With poetic text and rich paintings in muted blues and reds, award-winning Before John was a Jazz Giant is a beautiful hymn to the jazz legend.
More books about jazz: 18 Multicultural Children's Books about Jazz
---
Chicken Sunday
by Patricia Polacco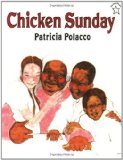 After being initiated into her neighbour's family, a Russian American girl and her African American brothers want to buy Grandma Eula a fancy Easter hat. They try to find a way to pay for it. With authentic and vibrant illustrations, Chicken Sunday is a moving picture book that celebrates the strength of family bonds.
More books about Easter: 15 Multicultural Children's Books about Easter
---
*You can buy any of the books on this site from Amazon USA, CAN or UK by clicking on the book titles or covers*
---
More books with African or African American characters:
---
---