---
Author Spotlight: Faith Ringgold
---
Author, Artist, Educator, Civil Rights & Women's Rights Activist
---
African American artist and author Faith Ringgold was born in 1930, in Harlem, New York.
As a child she suffered from asthma and had to stay at home a lot of the time. Her mother, a fashion designer, taught Ringgold how to sew and be creative with art and fabrics. She often took her to museums and performances, thus putting her in touch with the world of art and creativity at an early age.
"When I was a little girl growing up in Harlem, I was always encouraged to value who I was and go after what I want. Ever since I was young, I've had a need to express my ideas through art. Being an artist and a writer of children's books is a fulfillment of my lifelong ambition."
---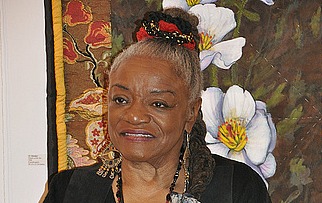 ---
From her great-great grandmother Ringgold learned the art of making quilts, a strong African American tradition rooted in the weaving done in Africa. Slaves used quilts to preserve memories, tell stories, and even pass on messages for the Underground Railroad, a secret network that guided escaped slaves on their way to freedom.
Faith Ringgold studied art education and became an art teacher. In the 1960s she painted her 'American People' and her 'Black Light' series – bold and provocative oil paintings exploring race and gender from a female perspective.
In the 1970s Ringgold painted political posters, lectured at feminist art conferences, and spoke out against the exclusion of black and female artists in the New York art world.
"When my mother died in 1981, I started making quilts as a tribute to her. During that time, I was trying to get my autobiography published, but no one wanted to print my story. In 1983, I began writing stories on my quilts, as an alternative."
Faith Ringgold soon became known for her painted story quilts, combining painting, quilted fabric and storytelling. Some of her quilts are included in the permanent collections of major museums, such as the Guggenheim Museum in New York City.
Ringgold went on to write and illustrate seventeen children's books plus her memoir for adults. She was a professor of art at the University of California from 1987 to 2002. Ringgold lives in California and in New Jersey.
---
Faith Ringgold's first Children's Book: Tar Beach
---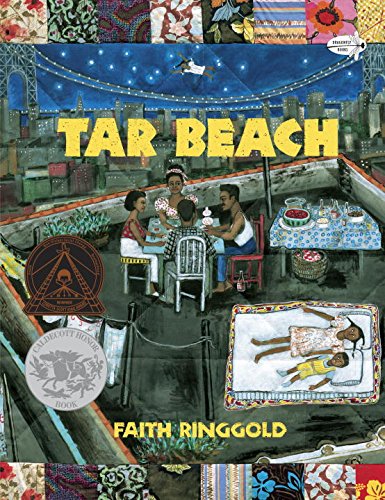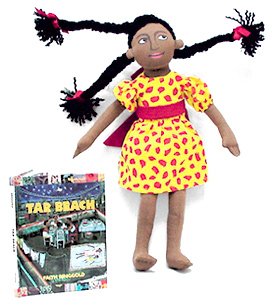 Based on her story quilt 'Tar Beach', Faith Ringgold published her first children's book in 1991.
Tar Beach follows an 8-year-old girl's imaginative flight over New York. Cassie looks down on 1939 Harlem and claims her world. She wears the George Washington Bridge as a necklace; gives her father the building of the union he is not allowed to join because of his race, and flies over the ice cream factory.
 

"Anyone can fly. All you need is somewhere to go that you can't get to any other way. The next thing you know, you're flying among the stars."
Tar Beach won Ringgold the Ezra Jack Keats New Writer Award, and the Coretta Scott King Award for Illustration. It was also named a Caldecott Honor Book.
---
---
More Children's Books written and/or illustrated by Faith Ringgold
---
Counting to Tar Beach: A Tar Beach Board Book
by Faith Ringgold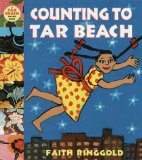 Cassie and her family take to the rooftop for a picnic on Tar Beach. Toddlers can count all the yummy things from one to ten in this delicious board book: Chickens, lemonade, watermelons, chocolate chip cookies and more. ~ African – Babies & Toddlers
---
Cassie's Colorful Day: A Tar Beach Board Book
by Faith Ringgold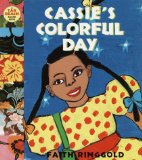 Cassie's daddy is taking her to the ice cream parlour. She chooses very colourful clothes for this special occasion: A yellow-and-red polka-dot dress, purple shoes, a green pocketbook. Cassie's Colorful Day is a sweet board about colours and the special bond between a father and his daughter. ~ African – Babies & Toddlers
More books about fathers: 40 Multicultural Children's Books about Fathers
---
Cassie's Word Quilt
by Faith Ringgold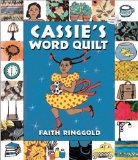 Cassie, the main character of Tar Beach, gives young readers a tour of her home and her neighbourhood, Throughout the tour she introduces new words. It's simple story line and colourful quilt-like illustrations will make Cassie's Word Quilt a hit with all children. ~ African – Preschool
---
Aunt Harriet's Underground Railroad in the Sky
by Faith Ringgold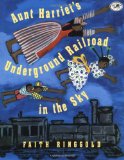 Cassie, who flew above New York in Tar Beach, takes to the sky once more, this time with her little brother. But she is separated from him when he gets on a departing train. With the help of Harriet Tubman, Cassie retraces the steps escaping slaves took on the real Underground Railroad and is reunited with her brother at the end . ~ African – Elementary School
---
If A Bus Could Talk: The Story of Rosa Parks
by Faith Ringgold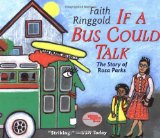 On a magical bus ride to school Marcie learns about the story of Rosa Parks, the mother of the Civil Rights movement. She even meets Rosa Parks and some other distinguished guests at a birthday party. Illustrated with colourful folk-art style paintings, If a Bus Could Talk tells Rosa Park's story in an unusual and bold way. ~ African – Elementary School
More books about Black History: 21 Picture Books for Black History Month
---
Harlem Renaissance Party
by Faith Ringgold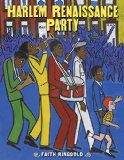 A pivotal figure of the Harlem Renaissance herself, Faith Ringgold takes readers on a journey through 1920s Harlem. Little Lonnie and his uncle Bates meet some famous African Americans, from Langston Hughes to Josephine Baker and Zora Neale Hurston. The bold illustrations of Harlem Renaissance Party capture the energy of this vibrant decade beautifully. ~ African – Elementary School
More books about the Harlem Renaissance: Children's Books about the Harlem Renaissance
---
Bronzeville Boys and Girls
by Gwendolyn Brooks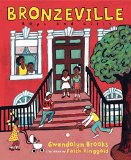 "I have a secret place to go. / Not anyone may know. / And sometimes when the wind is rough. / I cannot get there fast enough." In 34 timeless poems Bronzeville explores the dreams and experiences of different children in an urban neighbourhood in Chicago. Ringgold's colourful illustrations complement the poems beautifully. ~ African – Elementary School
More poetry books for children: 26 Multicultural Poetry Books for Children aged 0 to 10
---
We Came To America
by Faith Ringgold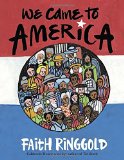 "Some of us were already here", "some of us were brought in chains", "we are ALL Americans,/Just the same." With simple free-verse text and vibrant illustrations, We Came To America celebrates the USA's rich history of diversity. From the Native Americans to the millions of immigrants, each person brought a unique gift: Their art and music, their determination and grit, their stories and their culture. ~ African – Elementary School
---
Bonjour, Lonnie
by Faith Ringgold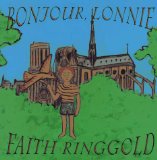 Bonjour, Lonnie follows a biracial orphan boy through Paris on his surreal search for his family history. With the help of the magical "Love Bird" he meets his African American grandfather and his French grandmother; his soldier father, who was killed in World War II and his Jewish mother, who died in the Holocaust. ~ African – Elementary School
More books about multiracial families: 50+ Picture Books about Mixed Race Families
---
Dinner at Aunt Connie's House
by Faith Ringgold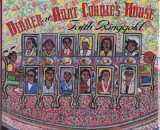 Melody loves dinner at Aunt Connie's house! This time it is even more special. Not only does Melody meet her new adopted cousin Lonnie but also twelve inspiring African American women. From their portraits on the wall, Rosa Parks, Fannie Lou Hamer, Zora Neale Hurston and others join the family for dinner and tell their stories.  Dinner at Aunt Connie's is an unusual introduction to some famous women of Black History. ~ African – Elementary School
---
The Invisible Princess
by Faith Ringgold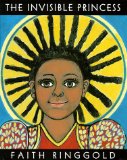 A newborn princess is made invisible and whisked away from her parents, slaves Mama and Papa Love. Years later Patience, the blind daughter of evil plantation owner Captain Pepper, has a vision of a black girl playing in the cotton fields. Captain Pepper threatens to harm Mama and Papa Love if the girl is not found. With the help of Patience and the princess, all the slaves are made invisible, and go to live in the Invisible Village of Peace, Freedom, and Love. The Invisible Princess blends fairy tale and Black History in this original picture book. ~ African – Elementary School
---
The Three Witches
by Zora Neale Hurston & Joyce Carole Thomas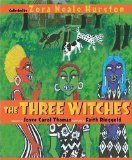 "Let's eat these children", say the three bad witches. But they are no match for two clever children, their brave grandma, three hound dogs, and a fast-running snake. The Three Witches is one of the folk-tales collected by Zora Neale Hurston during her travels, and adapted for young people by Joyce Carol Thomas. Ringgold's naive-style, vibrant paintings suit the story perfectly.  ~ African – Elementary School
---
Henry Ossawa Tanner: His Boyhood Dream Comes True
by Faith Ringgold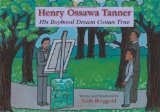 Henry Ossawa Tanner was the first African American painter to be recognized in both America and Europe. Inspired by a man painting in a Philadelphia park, Henry started to paint at age thirteen (in 1872). He studied at the Pennsylvania Academy of the Fine Arts, and went to live in France where he received the country's highest award for an artist. Henry Ossawa Tanner: His Boyhood Dreams Come True is a touching account of the artist's life. ~ African – Elementary School
---
Talking to Faith Ringgold
by Faith Ringgold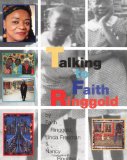 Talking to Faith Ringgold is a conversational account of the artist's life and work. In short sections ("Introducing Myself," "Growing Up", "Being an Artist" etc.), accompanied by photographs, Faith Ringgold tells young readers about herself. She also challenges them to think about their own lives: Who they are, where they come from, and what they want to be. This is a wonderful book to use in the classroom. ~ African – Elementary School
---
My Dream of Martin Luther King
by Faith Ringgold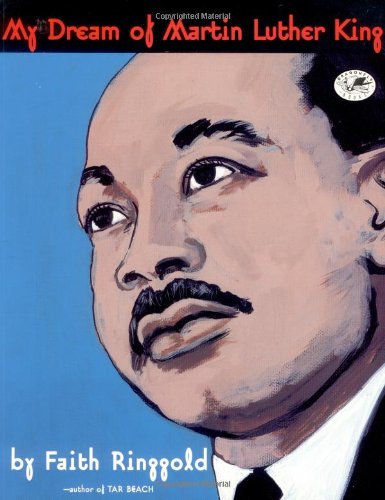 "This time we had come to mourn Martin Luther King's death by trading in bags containing our prejudice, hate, ignorance, violence, and fear for the slain hero's dream. We emptied the bags onto a great pile, and as the last bag was dumped, the pile exploded into a fire so bright that it lit up the whole world. There, emblazoned across the sky, were the words: EVERY GOOD THING STARTS WITH A DREAM." With dramatic illustrations, My Dream of Martin Luther King is a powerful tribute to King's life, told in the form of a dream. ~ African – Elementary School
---
What Will You Do for Peace? Impact of 9/11 on New York City Youth
by Faith Ringgold (Introductioin)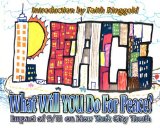 What Will You Do For Peace documents the 9/11 experiences of New York City youth. In their own words and images, young people from many different cultures produced this powerful book calling for peace and understanding. Faith Ringgold gave guidance throughout the creative process, helped select the youth artwork and wrote the introduction. ~ African – Elementary School
---
Faith Ringgold's Memoirs 
---
We Flew over the Bridge
by Faith Ringgold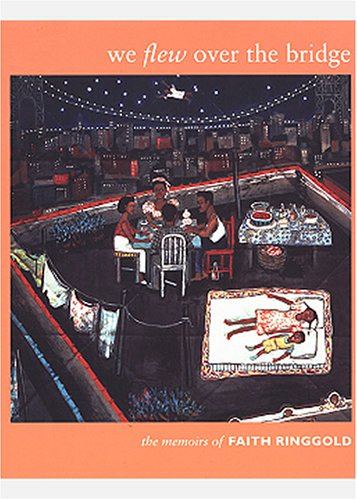 In We Flew over the Bridge Faith Ringgold shares the fascinating story of her life. From her Harlem childhood to marriage, motherhood, her artwork and her political activism, this beautiful memoir tells of Ringgold's struggles, growth and triumphs.
---
*You can buy any of the books on this site from Amazon USA, CAN or UK by clicking on the book titles or covers*
---
More books with African or African American characters:
---