Multicultural Children's Books – High School (YA)
Multicultural Children's Books for ages 13 to 18, featuring children of diverse ethnicities
---
Lucky Few
by Kathryn Ormsbee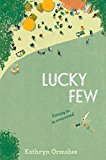 When diabetic activist Stevie Hart first meets Max Garza, a school drop-out with a tragic past, she thinks he is dead. Turns out, he is on a mission to fake his own death in 23 different ways. Stevie's coding genius friend Sanger Sadler-Hamasaki is intrigued, and the two homeschooled girls strike up a friendship with Max. What starts off as fun soon spirals downward… With its delightfully weird and diverse protagonists, Lucky Few is a quirky debut novel that celebrates friendship, first love, and being different ("fitting in is overrated").
---
Kids of Appetite
by David Arnold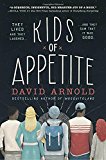 From the acclaimed author of Mosquitoland comes this funny and touching bestseller about first love and devastating loss. Victor Benucci has a set of instructions for scattering his father's ashes. He meets and falls in love with Madeline Falco, a girl with a troubled past, who belongs to the Kids of Appetite. As the gang helps Victor fulfil his father's last wishes, they become entangled in a murder investigation. Kids of Appetite is an exciting read, one of the most talked about young adult novel of the year 2016.
---
All We Have Left
by Wendy Mills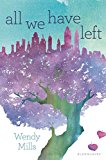 2015: Sixteen-year-old Jesse's older brother died in the 9/11 attacks, and her home has since been filled with anger and grief. A hate-fueled decision turns Jesse's life upside down and forces her to face the past. 2001: Sixteen-year-old Muslim girl Alia decides to confront her father about not letting her attend a program for talented high school artists. When she visits him at his office, the planes collide into the Twin Towers, and Alia gets trapped. In the final hours, she meets a boy who changes everything for her. All We Have Left is a heartfelt novel about love and hope.
---
You in Five Acts
by Una LaMarche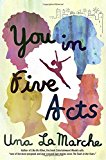 Diego, Liv, Ethan, Dave, and Joy are students at a prestigious New York City performing arts school, all of them dreaming of stardom. In five chapters – each told from the perspective of a different student. You in Five Acts is a poignant multicultural young adult novel that tells of the heartbreaks, the betrayals, the inside jokes, and the remember-whens of friendship, and of a tragedy that changed everything.
---
*You can buy any of the books on this site from Amazon USA, CAN or UK by clicking on the book titles or images*
---

---
---
More Multicultural Books for Young Adults:
---