African Multicultural Children's Books – Babies & Toddlers

Multicultural Children's Books for ages 0 to 3, featuring African or African American children and families

---
Whose Toes Are Those? // Whose Knees Are These?
by Jabari Asim
Featuring playful rhymes and beautiful illustrations, these little books invite toddlers to have a closer look at their bodies. In Whose Toes are Those?
a little girl explores her toes by playing "This Little Piggy", in Whose Knees are These? a little boy explores his knees from his mother's lap. Two fun books that foster body awareness and self-esteem from an early age.
---
15 Things Not to Do with a Baby
by Margaret McAllister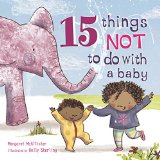 Don't lend your baby to a kangaroo, don't let it play with an elephant and don't plant it in the garden! This cute picture book featuring a mixed race family shows 15 Things Not To Do With A Baby, but also all the lovely things to do: Cuddle your baby, read and sing to your baby, and give your baby plenty of love!
More books about mixed race families: 50+ Picture Books about Mixed Race Families
---
Peekaboo Morning //  Peekaboo Bedtime // Uh-oh!
by Rachel Isadora
Show me a toddler who doesn't love a game of peekaboo! My daughter certainly can't get enough of it, and she loves these sweet little books. Peekaboo Morning invites little readers to play along and search the beautiful silky pastel drawings for clues to find mommy, daddy, puppy…
Peekaboo Bedtime takes children through an evening game of Peekaboo until it is time to close their eyes. Uh-oh! has a surprise with each page turn, from breakfast ending up all over everything to the wrong person falling asleep at bedtime. Three heartwarming books with simple text and captivating illustrations.
---
Easter Sparkling Surprise
by Elizabeth Spurr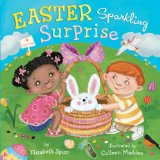 Follow two adorable children on an Easter egg hunt down the bunny trail! From foil-wrapped chocolates to glittery eggs and sparkling flowers, they find lots of exciting treasures. Simple rhyming text and holographic sparkle on every page make Easter Sparkling Surprise an appealing book for the very young.
More books about Easter: 15 Multicultural Children's Books about Easter
---
Whistle for Willie // The Snowy Day
by Ezra Jack Keats
We just love little Peter and his unique way of dealing with everyday situations! In Whistle for Willie
the adorable recurring character of several of Ezra Jack Keats' books explores his urban neighbourhood whilst trying to learn how to whistle for his dog. In The Snowy Day Peter wakes up to the city covered in snow. He spends the day discovering the magic and beauty of snow. Written 50 years ago, Keats' books are timeless classics that appeal to toddlers with their simple text and fresh collage illustrations.
More books by Ezra Jack Keats and information about the author: Author Spotlight: Ezra Jack Keats
---
Full, Full, Full of Love
by Trish Cooke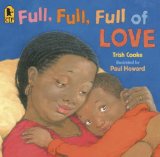 In this colourful book a little boy helps his Grandma prepare Sunday dinner for a family gathering. He is surrounded by an abundance of food, mouth-watering smells and – most importantly – love. Full,Full,Full of Love is a warm and cheerful celebration of family values.
More books about love: Multicultural Picture Books about Love
---
Lola at the Library // Lola Loves Stories
by Anna McQuinn
Lola loves Tuesdays because that is the day she goes to the library with her mommy. Lola at the Library
takes toddlers on a colourful library adventure: From returning books to stortytime and singing, to choosing new books and of course reading them at bedtime. Lola loves Stories celebrates reading and imaginative thinking. Lola acts out all the stories she reads with her daddy. She becomes a fairy princess, a tiger, a farmer, a pilot. . . .  Lola's imagination and her enthusiasm for books are reflected in the bright illustrations of these wonderful little books.
---
Lola Reads to Leo // Leo Loves Baby Time
by Anna McQuinn
In Lola's latest story celebrating books and reading, Lola reads to Leo, Lola becomes a big sister. Little brothers are a lot of work but helpful, spunky Lola is up to the task and always finds the right books to suit Leo's mood. In Leo Loves Baby Time Leo and his friends sing, play, clap, read and zoom to the moon! With little text and bright, vibrant colours these two books will draw the attention of the youngest readers.
More books about new siblings: 20 Multicultural Picture Books about new siblings
---
Ten, Nine, Eight
by Molly Bang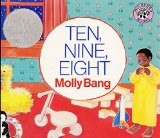 This one is an absolute must for any list of African multicultural books for babies and toddlers! In Ten, Nine, Eight a little girl and her daddy turn bedtime into playtime with a rhyming countdown game. My daughter cannot get enough of this wonderful Caldecott Medal winning book with its beautiful bright illustrations!
More bedtime stories: Top 10 Multicultural Bedtime Stories for Babies & Toddlers
---
Baby Dance
by Ann Taylor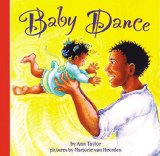 "Dance, little baby, move to and fro. / Coo and crow, baby, / There you go." Based on a poem by 19th century poet Anne Taylor, Baby Dance captures the love and energy of  a father and his baby daughter as they dance across the pages of this delightful board book.
More books about fathers: 40 Multicultural Children's Books about Fathers
---
Good Morning, Baby // Good Night, Baby
by Cheryl Willis Hudson
Part of the "What-A-Baby" series, these books describe the daily routines of two energetic toddlers. In Good Morning, Baby a little girl gets up, dresses, and eats breakfast before heading out for the day with her daddy. Good Night, Baby shows a little boy at the end of a busy day as he winds down with a bath and a bedtime story before going to sleep. Realistically drawn illustrations and simple rhyming text make these books very appealing to toddlers.
---
Welcome Spring // Welcome Fall
by Jill Ackerman
From Little Scholastic come these bright, tactile and interactive board books celebrating the four seasons (only Spring and Fall feature children of colour though). Bold, simple illustrations, textures to feel and flaps to turn make Welcome Spring and Welcome Fall
fun books for the very little ones.
---
I Can Do It Too! // You Can Do It Too!
by Karin Baicker
My daughter just loves the catchy title refrain,I Can Do It Too! Colourful illustrations show a little girl enthusiastically pouring juice like Dad, holding a book like Grandpa, putting on clothes like her big sister. In You Can Do It Too! a little girl passes her newly learned skills and abilities to her younger brother, teaching him everything she thinks he needs to know. A wonderful celebration of young children's growing independence and great books for fostering self-esteem and confidence!
---
I Am So Brave! // I Know a Lot!
by Stephen Krensky
I Am So Brave! and I Know A Lot! celebrate the feats of growing out of toddlerhood with courage and increased knowledge – from petting a dog or waving good-bye to a parent, to knowing how to get dressed or how to fly a kite. Toddlers and parents will love the encouraging text and the vintage screen-print-style illustrations.
---
Baby Says
by John Steptoe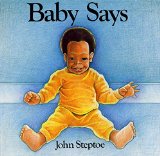 Baby Says is a warm and loving portrayal of a baby trying to get the attention of his big brother. With its simple text and appealing pastel illustrations this is a perfect book to share with a baby just learning to talk.
---
*You can buy any of the books on this site from Amazon USA, CAN or UK by clicking on the book titles or covers*
---
More books with African or African American characters:
---
---