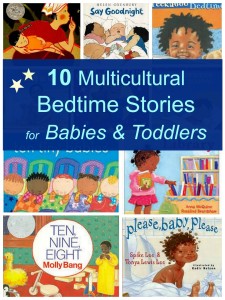 Bedtime is our favourite time for reading stories! My daughter and I love cuddling up and winding down from a busy day with one or two nice bedtime stories. Some books she loves so much, I have to read them over and over again, night after night (…until we both know them inside out…).
Recently she has discovered the fun of 'reading' the books to me. "Okay, my turn now" she decides and enthusiastically 'reads' page after page aloud, sprinkled with lots of giggles and proud smiles.
What a great way to end the day!
---
Top 10 Multicultural Bedtime Stories for Babies & Toddlers

---
Peekaboo Bedtime
by Rachel Isadora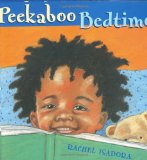 Little readers are invited to play an evening game of Peekaboo until it is time to close their eyes. Peekaboo Bedtime is a fun bedtime story with simple text and captivating pastel drawings. ~ African – Babies & Toddlers
---
Ten, Nine, Eight
by Molly Bang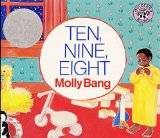 A little girl and her daddy turn bedtime into playtime with a rhyming countdown game. My daughter cannot get enough of Caldecott Medal-winning Ten, Nine, Eight with its stunning bright illustrations! ~ African – Babies & Toddlers
---
Hush! A Thai Lullaby
by Minfong Ho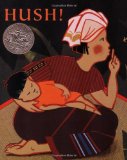 A mother asks a lizard, a monkey and a water buffalo to be quiet and not disturb her sleeping baby. Repetitive text and colourful illustrations make Hush! A Thai Lullaby an appealing bedtime story for little ones. ~ Asian – Babies & Toddlers
More lullabies: 11 Multicultural Lullabies
---
---
Please, Baby, Please
by Spike Lee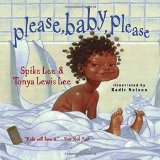 Action-packed Please, Baby, Please will strike a chord with any exhausted parent! Famous filmmaker Spike Lee and his wife present a behind-the-scenes look at the daily rollercoaster ride of bringing up a baby. Sounding like a broken record, a frazzled parent asks his exuberant toddler to share a ball, eat some peas, not eat sand … and – eventually – go to bed. ~ African – Babies & Toddlers
---
Sweet Dreams/Dulces Suenos
by Pat Mora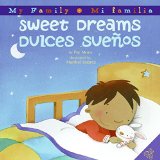 "Shh, shh, the rabbits are sleeping." As Abuelita tucks her bouncy grandchildren into bed, she reminds them of the many small animals that also go to sleep at night. Sweet Dreams/Dulces Suenos with its simple cartoon-style illustrations and repetetive text is a soothing good-night read for the little ones. ~ Hispanic – Babies & Toddlers
---
Ten Tiny Babies
by Karen Katz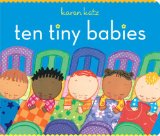 From one tiny baby starting to run to ten sleeping babies tucked into their beds, Ten Tiny Babies follows the activities of a bunch of adorable babies throughout the day until they are ready to fall asleep. Rhyming text and counting fun coupled with bright folk art illustrations will make this multicultural bedtime story a hit with babies and toddlers. ~ Diverse – Babies & Toddlers
---
Lola at the Library
by Anna McQuinn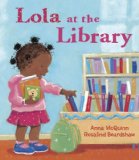 Lola loves Tuesdays because that is the day she goes to the library with her mommy.
Lola at the Library takes toddlers on a colourful library adventure: From returning books to storytime and singing, to choosing new books and of course reading them at bedtime. Lola's enthusiasm for books is reflected in the bright illustrations of this wonderful book. ~ African – Babies & Toddlers
More books about reading: 15 Multicultural Children's Books celebrating books & reading
---
---
Good Night, Baby
by Cheryl Willis Hudson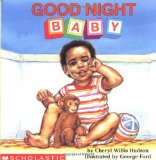 At the end of a busy day, a little boy winds down with a bath and a bedtime story before going to sleep. Realistically drawn illustrations and simple rhyming text make Good Night, Baby a good bedtime read for babies and toddlers. ~ African – Babies & Toddlers
---
Say Goodnight
by Helen Oxenbury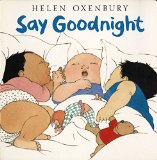 Say Goodnight is a short and sweet bedtime story featuring a diverse bunch of adorable chubby babies. Pleasing rhyming text coupled with soft watercolour illustrations make this a perfect book to end the day for the very little readers. ~ Diverse – Babies & Toddlers
---
Girl of Mine
by Jabari Asim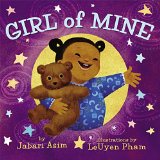 As daddy cradles his baby girl, she is taken on a fantastical adventure swinging above lush floral gardens and under the golden moonlight. With enchanting rhymes and vibrant illustrations, Girl of Mine will whisk your little one off to peaceful slumber. ~ African – Babies & Toddlers
More books featuring dads: 40 Multicultural Children's Books about Fathers
---
The Night Parade
by Lily Roscoe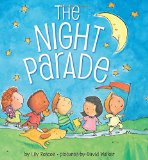 I know I said Top 10, but I just found The Night Parade, and it definitely belongs on this list of multicultural bedtime stories! "Have you ever wondered what happens at night / While mothers and fathers lie sleeping? / Children wake up. They climb out of their beds / Some crawling, some running, some leaping…" Playful verse, coupled with bright watercolour and ink illustrations make for a cheerful and imaginative goodnight read. ~ Diverse – Babies & Toddlers
---
*You can buy any of the books on this site from Amazon USA, CAN or UK by clicking on the book titles or covers*
---
More books for Babies & Toddlers:
---