African Multicultural Children's Books – High School (YA)

Multicultural Children's Books for ages 13 to 18, featuring African or African American characters
---
Monster
by Walter Dean Myers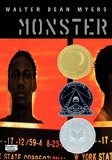 "Sometimes I feel like I have walked into the middle of a movie. Maybe I can make my own movie. The film will be the story of my life. No, not my life, but of this experience. I'll call it what the lady prosecutor called me … Monster." Multi-award-winning Monster is a provocative coming-of-age story about Steve Harmon, a teenager awaiting trial for murder and robbery. Was he really involved in the crime or was he just in the wrong place at the wrong time? Written as a screenplay playing in Steve's imagination, coupled with his journal entries, this compelling novel shows how one single decision can change your whole life.
Also available as a stunning black-and-white graphic novel adaptation: Monster: A Graphic Novel
---
Shadowshaper
by Daniel José Older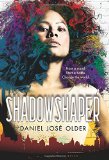 "Paint a mural. Start a battle. Change the world."  Sierra Santiago is spending the summer hanging out with her friends and painting a mural in their Brooklyn neighborhood. Her friend Robbie introduces her to the art of shadowshaping, a thrilling magic used to fill paintings, music, and stories with ancestral spirits. But then weird things happen: A corpse appears, Robbie disappears, and a killer is after the shadowshapers. Shadowshaper is a fresh and fast-paced urban fantasy novel with a diverse cast of characters and authentic cultural details. Teenage girls will love it!
---
Becoming Billie Holiday

by Carole Boston Weatherford
In poignant poems Weatherford chronicles the life of Billie Holiday, one of the greatest jazz singers of the 20th century. She describes Billie's journey from poverty and hardship to fame with some of the hottest big bands during the Harlem Renaissance. Stunningly illustrated with Cooper's trademark grainy sepia paintings, Becoming Billie Holiday is a touching tribute to this amazing female icon of African American culture.
More books about Jazz: 18 Multicultural Children's Books about Jazz
---
Harlem Summer

by Walter Dean Myers
It's 1925 and 16-year-old musician Mark Purvis dreams of breaking into Harlem's jazz scene. He meets Langston Hughes and Countee Cullen and is invited to one of Alfred Knopf's parties. Needing to earn money, Mark becomes involved in a bootlegging scheme with jazz artist Fats Waller and finds himself crossing gangster Dutch Schultz. Harlem Summer is a light-hearted and action-packed historical novel that teenagers will love!
More books about the Harlem Renaissance: Children's Books about the Harlem Renaissance
---
Come Juneteenth
by Ann Rinaldi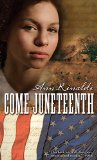 After her mother's death, Sis Goose has been unofficially adopted into the slave owner's family. When Union soldiers arrive and announce that slaves have been declared free for nearly two years, Sis Goose realizes that the people she called family have lied to her. She runs away, leading to tragic consequences. Come Juneteenth is a moving historical novel about Juneteenth and the true meaning of family and freedom.
More books about Juneteenth: 10 Children's Books celebrating Juneteenth
---
Sparrow
by Sarah Moon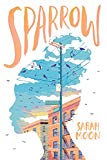 Sparrow doesn't make friends easily. The only person at school she feels comfortable with is the school librarian who lets her eat her lunch in the library office and shares her passion for novels. When Mrs Wexler is killed in a freak car accident, Sparrow's world unravels and she's found on the roof of her school in an apparent suicide attempt. With the help of an insightful therapist, she finally reveals the truth of her inner life and discovers an outlet in music. Sparrow is a compelling book about social anxiety, love and grief.
---
Monday's Not Coming
by Tiffany D. Jackson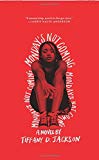 When Claudia's best friend Monday doesn't show up for school for two weeks, Claudia knows that something is wrong. But Monday's mother refuses to give her a straight answer. As Claudia digs deeper into her friend's disappearance, she discovers that no one seems to remember the last time they saw her. Award-winning Monday's Not Coming is a gripping novel about one teenage girl's disappearance.
More award-winning books: Multicultural 2019 ALA Youth Media Award-Winning Books
---
A Few Red Drops: The Chicago Race Riot of 1919
by Claire Hartfield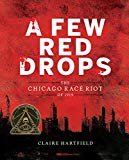 In July 1919, an angry white man threw stones at five black teenagers that swam close to Lake Michigan's "white" beach, killing one of them. This incident sparked violent race riots that shook the city of Chicago to its core. A Few Red Drops is a gripping account of the riots and the racial, cultural, economic and political tensions that had been building for decades.
---
*You can buy any of the books on this site from Amazon USA, CAN or UK by clicking on the book titles or covers*
---
More books with African or African American characters:
---