African Multicultural Children's Books – Middle School
Multicultural Children's Books for ages 10 to 13, featuring African or African American characters
---
Brown Girl Dreaming
by Jacqueline Woodson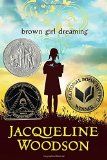 Brown Girl Dreaming is an intimate and moving account of the author's childhood as an African American in the 1960s and 1970s. Growing up in South Carolina and New York, she becomes increasingly aware of the Civil Rights Movement. In poetic language full of imagery this award-winning book gives a glimpse into a child's soul and her journey of self-discovery.
More middle-grade novels for summer reading: 21 Multicultural Middle-Grade Novels for Summer Reading
---
The Toothpaste Millionaire
by Jean Merrill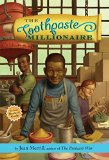 In 1960s Cleveland, Sixth-grader Rufus Mayflower bets he can make a gallon of his own toothpaste for the price of one store-bought tube. He develops a production plan and starts a successful toothpaste making business with his good friend Kate. The Toothpaste Millionaire is a breezy story with a nice subtle message about treating everyone as equal, irrespective of race or gender. 35th-anniversary edition with exclusive author interview and reader's guide.
---
Jazz ABZ: An A to Z Collection of Jazz Portraits
by Wynton Marsalis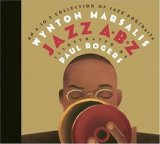 From A for "almighty" Louis Armstrong to Sonny Rollins, Sarah Vaughan, Count Basie and more, Jazz ABZ celebrates twenty-six icons of jazz music in the same number of poetic forms. The 78″ LP design of the book and the bold, poster-style art add to the nostalgic feel of this stunningly designed book. Includes discography, brief biographies and notes on the various poetic forms.
More books about jazz: 18 Multicultural Children's Books about Jazz
---
A Long Walk to Water
by Linda Sue Park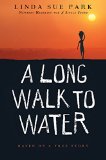 A Long Walk to Water tells the stories of two 11-year-old Sudanese children -alternating between their viewpoints – at different points in time. In 1985 Salva is one of the "lost boys" of Sudan, a refugee searching the African continent on foot for his family and a safe place. In 2008 Nya spends eight hours every day making trips to the pond to fetch water. The two children's stories eventually intersect in a touching and hopeful way. Based on a true story, this award-winning book is a haunting yet inspiring account of the lives of children in a country torn by years of war and in desperate need for clean water.
---
The Crossover
by Kwame Alexander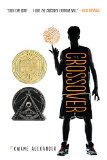 "With a bolt of lightning on my kicks . . .The court is SIZZLING. My sweat is DRIZZLING. Stop all that quivering. Cuz tonight I'm delivering." Their father being an ex-basketball pro, 12-year old Josh and his twin brother Jordan grow up with a basketball in their hands. The twin's relationship is taking strain when Jordan starts dating Alexis, and Josh struggles to deal with his feelings of jealousy. At the same time, the boys have to come to terms with their father's deteriorating health. A fast-paced read in a poetic hip-hop style, The Crossover is not so much a story about sports but about family ties and growing up.
---
Jazmin's Notebook
by Nikki Grimes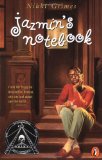 Jazmin is a young teenager growing up in 1960's Harlem under difficult circumstances. Her father has passed away and her mother, an alcoholic, is unable to take care of her. She lives with her older sister who supports and motivates her. Writing in her notebook is what helps Jazmin stay positive and hopeful for the future. Beginning each chapter with a poem, Jazmin's Notebook is an inspirational read for young teenagers, teaching them that it is possible to succeed despite adversities.
---
---
Planet Middle School
by Nikki Grimes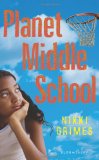 Joylin's world seems to have turned upside down. After twelve years of just being who she is – playing sports with the boys and wearing jeans – suddenly her clothes seem all wrong, and all the boys and girls around her start acting weird. In short poems, Planet Middle School captures the confusing and awkward feelings of puberty and first crushes.
---
Chains // Forge // Ashes (The Seeds of America Trilogy)
by Laurie Halse Anderson
Seeds of America is a bestselling historical trilogy that follows the life of 13-year-old slave Isabel during the American Revolution as she fights for her and her little sister's freedom. Though fictional, it is based on actual events, such as the failed assassination of George Washington and the capture of Fort Washington. This multi-award-winning trilogy is a compelling read that addresses racism and the ethics of war.
---
Celeste's Harlem Renaissance
by Eleanora E. Tate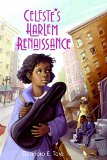 13-year-old Celeste is sent from North Carolina to Harlem to stay with her Aunt Valentina. It is 1921 and the Harlem Renaissance is in full swing. Celeste meets some of the famous artists and experiences the excitement and glamour as well as the hardships of life in Harlem. The shy teenager grows into a young woman who stands up for herself and follows her dream to become a doctor. Celeste's Harlem Renaissance is a vivid coming-of-age story with many historical references.
More books about the Harlem Renaissance: Children's Books about the Harlem Renaissance
---
Sugar
by Jewell Parker Rhodes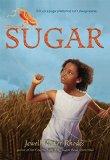 Slavery has been abolished but 10-year-old Sugar doesn't feel free working on a cane plantation. She strikes up unlikely friendships with the plantation owner's son and with two of the new Chinese workers whose culture fascinates her. Sugar is an inspiring novel about a strong young girl who bridges cultural differences and brings those around her closer together.
---
Feathers
by Jacqueline Woodson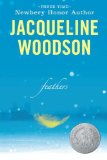 "Hope is the thing with feathers that perches the soul" starts the poem Frannie's class is reading. Frannie longs for a bit of hope in these difficult and confusing times: Her friend Samantha is getting 'holier' every day, the new "Jesus Boy" in her class looks white but says he isn't, her deaf brother struggles to fit in, and her mother is scared of miscarrying again. Over time the protagonist of Feathers learns to see things in a different light and hold on to "that thing with feathers".
---
Locomotion
by Jacqueline Woodson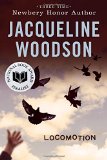 Orphaned and separated from his little sister at age seven, 11-year-old Lonnie grows up in a foster home and still misses his family terribly. His foster mother's understanding and his teacher's suggestion to write his feelings down, help Lonnie in dealing with his grief. Through his poetry, the reader learns about Lonnie's heartache, his thoughts about the world and his determination to be reunited with his sister. Locomotion is a touching and lyrical story about love, loss and hope.
---
---
Elijah of Buxton
by Christopher Paul Curtis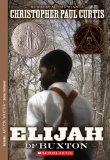 11-year-old Elijah is the first child born free in a runaway slave settlement in Buxton, Canada. The "fragile" boy talks too much, is scared of snakes and gets teased and rebuked a lot. But when someone steals the money a friend has been saving to buy his family out of slavery, Elijah sets out on a dangerous adventure to catch the thief. Elijah of Buxton is an original and moving novel full of suspense and Christopher Paul Curtis' trademark humour.
More historical fiction: African American Historical Fiction for Middle School
---
President of the Whole Sixth Grade
by Sherri Winston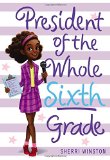 In this sequel to President of the Whole Fifth Grade, Brianna Justice is faced with the difficult task of raising money for a class trip to Washington D.C. She is up against fundraising failures, self-doubt, a classmate trying to run her out of office, and the fear of losing her two best friends. President of the Whole Sixth Grade is a fast-paced contemporary book that realistically captures the ups and downs of friendships in middle school.
---
One Crazy Summer // P.S. Be Eleven // Gone Crazy in Alabama
by Rita Williams-Garcia
Williams-Garcia's award-winning trilogy about three young sisters in the late 60's is heartfelt, funny and thought-provoking.
Delphine, Vonetta, and Fern travel to Oakland in 1968 to spend the summer with their mother who abandoned them seven years earlier. They receive a cold welcome from their mother, a dedicated poet and printer, and are being send to the Black Panther's day centre every day. One Crazy Summer addresses two difficult subjects: The controversial Black Panther Party, and a mother who leaves her children behind. This funny and moving novel about three resilient girls offers no conclusion (which would have been unrealistic) but there is growth and better understanding in the end.
Returning to Brooklyn with their newfound sense of independence, the Gaither sisters find that things have changed at home. Their dad has a girlfriend now, and their uncle comes back from Vietnam a different man. 11-year-old Delphine is still expected to look after her sisters but they don't listen to her much anymore. She also struggles with being the tallest girl in her class and dreads the upcoming school dance. Through letters she confides in her mother who always ends her letters with the same advice: P.S. Be Eleven.
In Gone Crazy in Alabama, the Gaither sisters visit their grandmother, Big Ma, and her mother, Ma Charles. They learn that Ma Charles's and her half sister, Miss Trotter, haven't spoken in years despite practically being neighbours. Delphine finds the surprising reason in the family history, and when tragedy strikes learns that family bonds run deep.
---
Ann Fights for Freedom: An Underground Railroad Survival Story
by Nikki Shannon Smith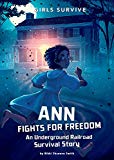 Twelve-year-old Ann understands there is only one thing to be grateful for as a slave: having her family together. But when the master plans to sell her and her younger brother to two different owners, the family decides to run away on the Underground Railroad. Will they survive the dangerous trip to their freedom in the North? Ann Fights For Freedom is a compelling read with expressive illustrations.
More historical fiction: African American Historical Fiction for Middle School
---
Biddy Mason Speaks Up 
by Arisa White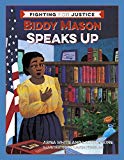 Part of the Fighting for Justice series, this book introduces young readers to Bridget "Biddy" Mason, an African American philanthropist, healer, and midwife born into slavery. Biddy refused to be defined by her enslavement and later became a business and civic leader in Los Angeles. Biddy Mason Speaks Up is an age-appropriate examination of slavery, racism, and community healing. Each chapter begins with lyrical text and full-colour illustrations, followed by keyword definitions, historical context, timelines, and questions posed to the readers.
More books about racism: 37 Children's Books to help talk about Racism & Discrimination
More new Black History books: 11 Brand New Black History Children's Books January 2019
---
New Kid
by Jerry Craft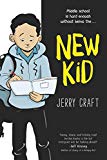 Seventh-grader Jordan Banks' passion is drawing cartoons about his life. He'd love to go to art school but his parents decide to send him to a prestigious private school known for its academics instead. Jordan soon finds himself torn between two worlds. New Kid is an engaging graphic novel about fitting in and staying true to yourself.
---
---
Robert Sengstacke Abbott: A Man, a Paper, and a Parade
by Susan Engle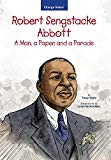 The first title in the newly launched Change Maker Series, Robert Sengstacke Abbott is the biography of the founder of The Chicago Defender, one of the first influential newspapers for African Americans, in 1905. Robert Abbott uplifted and inspired generations of African Americans and encouraged them to fight for equality during a time when many were deprived of basic freedom.
---
Who Is Michael Jordan?
by Kirsten Anderson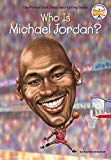 Part of the popular Who Was? series, Who Is Michael Jordan? introduces young readers to the famous basketball player who changed the game forever. Michael Jordan's determination to be the best made him a star player on his college basketball team and later an NBA legend, both for his skills and his endorsements.
---
Hurricane Child
by Kheryn Callender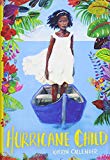 12-year-old Caroline Murphy struggles with being bullied by students and teachers alike at her small school on St. Thomas of the US Virgin Islands, a spirit that keeps following her, and the fact that her mother left home one day and never came back. When Caroline befriends Kalinda, a new student from Barbados, she soon realizes that her feelings for her are more than platonic. Although those feelings are not being reciprocated, Kalinda wants to help Caroline look for her missing mother and so the girls set out in a hurricane to find her before it is too late. Award-winning Hurricane Child is a moving and suspenseful coming-of-age novel that young readers will love.
More Caribbean books: 36 Children's Books set in the Caribbean
---
The Length of a String
by Elissa Brent Weissman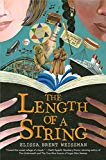 Imani is adopted and she knows exactly what she wants as her big bat mitzvah gift: to find her birth parents. Being Black in her mostly White Jewish community, she has always wondered where she came from. When her great-grandma Anna passes away, Imani discovers her old diary from 1941, the year she was twelve and fled Nazi-occupied Luxembourg alone. Anna's diary records her journey to America and her new life with an adoptive family of her own. As Imani reads the diary, she begins to see her family, and her place in it, in a whole new way. Award-winning The Length Of A String is a gripping novel about identity, family and belonging.
More award-winning books: Multicultural 2019 ALA Youth Media Award-Winning Books
---
The Parker Inheritance
by Varian Johnson
In an old attic in Lambert, South Carolina, Candice finds a letter addressed to her grandmother, who left the town in shame. The letter tells of an injustice that happened decades ago, a mystery and the fortune awaiting the person who solves the puzzle. Together with her friend Brandon, Candice embarks on a journey that leads deep into Lambert's dark history, and deeper into their own families, with their own unspoken secrets. The Parker Inheritance is a powerful novel about racism, justice and friendship.
More books about racism: 37 Children's Books to help talk about Racism & Discrimination
---
The Season of Styx Malone
by Kekla Magoon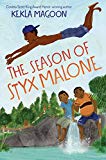 When brothers Caleb and Bobby Gene meet their cool new neighbour, Styx Malone, they are in for a mad adventure. Styx convinces them to join in the Great Escalator Trade: Exchanging one small thing for something better in the hope of ending up with a motorbike. But soon things get out of control. The Season Of Styx Malone is a heartwarming novel about friendship, trust, and the yearning to escape the ordinary.
More books about friendship: 18 Multicultural Children's Books about Friendship
---
*You can buy any of the books on this site from Amazon USA, CAN or UK by clicking on the book titles or covers*
---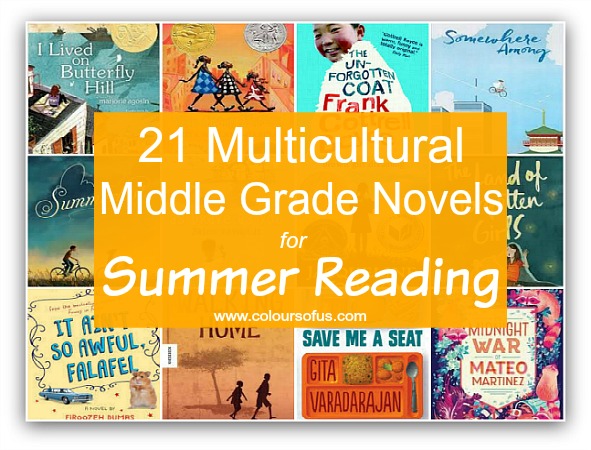 ---
More books with African or African American characters:
---