African Multicultural Children's Books – Preschool

Multicultural Children's Books for ages 3 to 5, featuring African or African American children and families

---
Last Stop on Market Street
by Matt De La Peña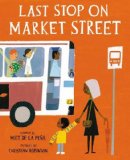 On their bus ride from church to the soup kitchen where they serve food to the homeless, CJ asks his grandma why they don't own a car, why he doesn't have an iPod, why they always have to get off in the dirty part of town… His grandma patiently answers his questions in a way that helps CJ see the beauty of their diverse neighbourhood and its people, no matter their circumstances. With vibrant text and radiant illustrations, acclaimed Last Stop on Market Street is a beautiful book that teaches empathy by showing a different perspective.
More books about kindness & empathy: 19 Multicultural Children's Books teaching Kindness & Empathy
---
Squeak, Rumble, Whomp! Whomp! Whomp!
by Wynton Marsalis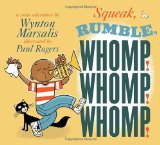 A door squeeeaks, a mouse goes eek, eeek, eeeek, big trucks rrrrrrrumble, hunger makes a tummy grrrrumble. Famous jazz musician Wynton Marsalis takes young readers on an inspiring sonic adventure through the sounds of an urban neighbourhood. The infectious rhythm and the fun cartoon-like illustrations bring the sounds to life. Squeak, Rumble, Whomp! Whomp! Whomp! will have your little ones clapping, singing and dancing in no time!
More books about jazz: 18 Multicultural Children's Books about Jazz
---
A Beach Tail
by Karen Williams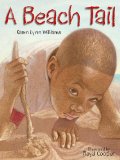 Little Gregory draws a lion in the sand. Totally immersed in this activity he winds its tail around a jellyfish, a sandcastle, a crab,  further and further away from his Dad… until he is lost. A Beach Tail brings to life a child's summer experience. The rhythmic text, paired with realistic watercolour illustrations, makes this a wonderful read-aloud book for preschool children.
---
God's Dream
by Desmond Tutu & Douglas Carlton Abrams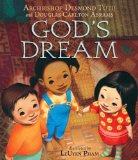 "Dear Child of God, what do you dream about?" Whatever a child may dream, God dreams about a world in which all of his children join hands as brothers and sisters. God's Dream is a gentle picture book for the very young in which Archbishop Desmond Tutu explains the concept of unity and forgiveness with warmth and humour, supported by vibrant illustrations.
More books about or by Desmond Tutu: 9 Children's Books about Nelson Mandela & Desmond Tutu
---
Honey, I Love
by Eloise Greenfield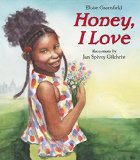 "I love/ I love a lot of things,/ a whole lot of things/ Like…" From family trips to the country to laughing with a friend and kissing her mother's arm,  a young girl finds love and joy in the simple things. Honey, I Love is a recent anniversary edition of Greenfield's classic poem, newly illustrated with warm watercolour illustrations.
More poetry books: 26 Multicultural Poetry Books for Children
More books about love: 12 Multicultural Picture Books about Love
---
Corduroy // A Pocket for Corduroy // Corduroy Lost and Found
by Don Freeman
No list of African multicultural children's books for preschoolers complete without Corduroy! Freeman's classic character is even more popular today then when he first came on the scene in 1968. Children never get tired of this toy-comes-alive tale of a teddy bear waiting on a department store shelf for a child's friendship. Eventually Lisa, a little black girl, buys him with her saved pocket money and gives him a new home. In A Pocket for Corduroy the little bear accompanies Lisa and her mom to do the family wash. Corduroy Lost and Found follows the furry one's adventure as he tries to find the perfect birthday present for Lisa.
---
The Best Mum
by Sarah Nash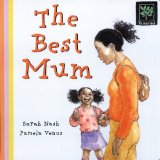 Mum always says "no" when someone asks her if she works. But little Kizzy thinks being a mum is a hard job – and also the best one ever! With repetitive text and energetic illustrations, The Best Mum is a sweet tribute to mothers and a fun read for children of all ethnicities.
More books about mothers: 14 Multicultural Children's Books about Mothers
---
Papa, Do You Love Me?
by Barbara M. Joose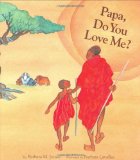 Papa, do you love me? is set in Africa and features the Maasai culture. The follow-up to the best-selling Mama, Do You Love Me?
captures the universal love between a father and child. Beautiful watercolour illustrations, lyrical text and endearing message are sure to make this another instant classic.
More books about fathers: 40 Multicultural Children's Books about Fathers
---
Brown Like Me
by Noelle Lamperti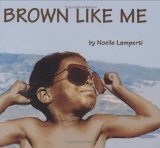 Lamperti tells her own story, an adopted African American girl growing up in a white community and trying to find herself reflected in the people and things around her. Brown Like Me is an authenic picture book that can help black children build a strong and positive self-image.
More picture books about multiracial families: 50+ Picture Books about Mixed Race Families
---
Peter's Chair // Hi, Cat // Pet Show!
by Ezra Jack Keats
Imaginative and fun-loving little Peter has been loved by children for over 50 years! Keats' classic series with its simple text and fresh collage illustrations appeals to children everywhere. In Peter's Chair Keats' little hero tries to save his blue chair from being painted pink for his new baby sister. Hi, Cat
features Peter and his friend Archie who is being followed by a stray cat after greeting her. In Pet Show!
Peter helps Archie who can't find his cat as he wants to enter the neighborhood pet show.
More books by Ezra Jack Keats and information about the author: Author Spotlight: Ezra Jack Keats
---
The New Small Person
by Lauren Child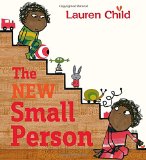 When his baby brother comes along, everything changes for little Elmore. He goes from feeling displaced to angry to just wanting to be alone, until one night The New Small Person comforts him after a bad dream. After that, Elmore begins to notice some other not-so-bad things about his new brother. A humourous story about a less-than-welcome sibling, playfully illustrated with colourful cartoon-style drawings.
More books about new siblings: 20 Multicultural Picture Books about New Siblings
---
Don't Spill the Milk!
by Stephen Davies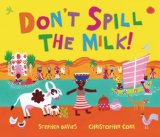 Set in West Africa, Penda takes a bowl of milk to her father who is tending the family's sheep in the grasslands. Over the uppy downy dunes, across the dark, wide river and up the steep, steep mountain, Penda tries not to spill a single drop. Don't Spill the Milk! is an action-packed story, featuring vibrant folk-art illustrations with lots of detail.
---
Painted Eggs And Chocolate Bunnies
by Toni Trent Parker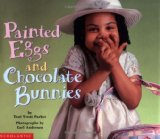 With catchy rhymes and full-colour photos of African American children, Painted Eggs And Chocolate Bunnies is a warm celebration of Easter and all the lovely things that come with it: Easter eggs, Easter bunnies, Easter bonnets, chocolate and lots of love!
More books about Easter: 15 Multicultural Children's Books about Easter
---
We Planted a Tree
by Diane Muldrow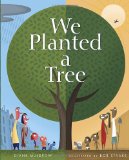 "We planted a tree and it grew up, / While it reached for the sky and the sun." Two young families in two very different parts of the world (New York City and an African village) plant a tree and watch it flourish. At the same time trees all over the world help clean the air, enrich the soil, and give fruit and shade. With simple poetic text and colourful digital illustrations, this is a perfect Earth Day book for preschoolers.
More books for Earth Day: 22 Multicultural Children's Books for Earth Day
---
Lottie Paris and the Best Place
by Angela Johnson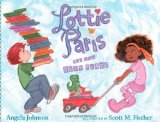 Lottie's favourite place is the library, even though the rules there are not always easy to follow… Her favourite books are about space, and her new friend Carl's favourite books are about dinosaurs. Part of the Lottie Paris series, Lottie Paris and the Best Place follows spunky little Lottie on her library adventure with fun text and energetic illustrations.
More books celebrating books & reading: 15 Multicultural Children's Books celebrating books & reading
---
Max and the Tag-Along Moon
by Floyd Cooper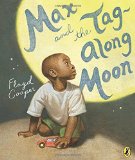 When Max must say good-bye after a visit, Grandpa promises him that the moon will follow him all the way home. On that swervy-curvy car ride back to his house, Max watches as the moon tags along. Max and the Tag-Along Moon is a gentle and comforting story that will reassure children that their loved ones are always with them. The lush paintings perfectly capture the wonder of the moon and the love between grandfather and grandson.
More books about grandparents: 40+ Multicultural Children's Books about Grandparents
---
Rainbow Stew
by Cathryn Falwell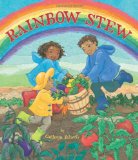 In this sweet celebration of family and growing your own food, Grandpa and his three grandchildren harvest vegetables in the rain. Falwell's colourful multimedia collages reflect the fun the family is having filling their basket with veggies, playing in the mud and preparing a Rainbow Stew. Includes recipe.
More books about growing your own food: 21 Multicultural Children's Books about growing your own food
---
Monster Trouble!
by Lane Fredrickson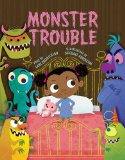 The growling and belching neighbourhood monsters don't frighten Winifred Schnitzel, but they won't let her sleep! Winifred sets all sorts of clever traps, but nothing stops these crafty creatures, until she comes up with a surprising solution. Monster Trouble! is a laugh-out-loud funny book with a sweet ending that will help little ones overcome a fear of monsters.
More laugh-out-loud funny books: 10 Laugh Out Loud Funny Multicultural Picture Books
---
Not So Fast Songololo // Jamela's Dress
by Niki Daly
Always great to find books that are set in our beloved South Africa! In Not so fast, Songololo a little black boy goes on a shopping trip to the city with his – not so fast anymore – grandmother. In Jamela's Dress, a little black girl gets carried away by the gorgeous material her mother buys to make a dress for a wedding. The love and respect that flows between the family members are reflected in the tender text and beautiful watercolour and marker illustrations of these wonderful books.
More books set in South Africa: 23 Children's Books set in South Africa
---
Rain!
by Linda Ashman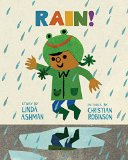 When it starts to rain in the city, an excited little boy exclaims, "Rain!", while a grumpy man grumbles, "Rain." What happens when the two meet? Can the boy's natural exuberance cheer up the grouchy man? The rainy-day cityscape comes to life in the vibrant, cut-paper-style art of this endearing little book. It has a lovely message about how your attitude affects the people around you and how a simple act of kindness can go a long way.
More books about rain: 15 Multicultural Children's Books about Rain
---
Rain Feet // Mama Bird, Baby Birds // Joshua's Night Whispers // Joshua By The Sea
by Angela Johnson
The Joshua series depicts small moments in the life of a young black boy. Rain Feet follows Joshua as he jumps into puddles and quietly watches the raindrops plopping on the steps. In Mama Bird, Baby Birds Joshua and his sister find a nest of baby birds. Joshua's Night Whispers finds him seeking comfort from his father when he wakes up in the middle of the night. In Joshua by the Sea, he enjoys a day at the beach with his family. The rhythmic text coupled with soft water colour illustrations give this little series a soothing feel.
---
Marvelous Me: Inside and Out
by Lisa Bullard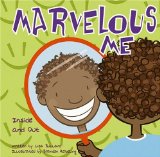 Little Alex is just like other children in some ways, such as getting angry sometimes, but also unique because of his special laugh, his grizzly hugs, and his own interesting thoughts. Marvelous me teaches children to value their own uniqueness and is a great self-esteem booster. Includes activities.
---
I Love My Hair! // Bippity Bop Barbershop
by Natasha Anastasia Tarpley
Two more noteworthy books about self-acceptance: I love my hair! tells the story of how young Keyana learns to take pride in her hair, even though it hurts when Mama combs it. In Bippity Bop Barbershop little Miles bravely sits through his first haircut. The beautiful watercolour illustrations emphasize the loving family interactions and add to the warm feel of the stories.
---
We March
by Shane W. Evans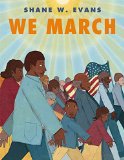 We March is a moving introduction to the historic March on Washington for Jobs and Freedom in 1963. The story follows a family on the day as they wake up, get ready and join the march, ending with Martin Luther King Jr's famous "I have a dream" speech. With minimalist text and stunning illustrations, the excitement of that day is brought to life for the youngest readers.
More books about Black History: 21 Picture Books for Black History Month // 21 Award-winning Children's Books for Black History Month // 8 New Picture Book Biographies for Black History Month
---
I Love You So Much…
by Marianne Richmond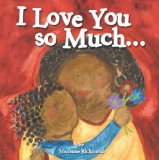 "I love you./How much?/SO much./How much is SO?/Way, WAY more than you know." I Love You So Much is a beautifully illustrated story that gently reassures children that they are always loved, no matter where they are, what they do and what mood they are in.
More books about love: Multicultural Picture Books about Love
---
The Seeds of Friendship
by Michael Foreman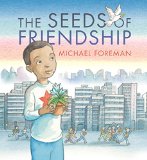 Little Adam loves his new high-rise home in the city but also misses his home country. He fills his room with pictures of African animals and draws them on the frosted windows in winter. When a teacher gives him some seeds, Adam and his friends plant them everywhere until their urban neighbourhood is transformed into a green landscape. The Seeds of Friendship is a light fable about a little boy who brings the green warmth of his home country to his new urban world.
More books about immigration: 30 Multicultural Picture Books about Immigration
More books about friendship: 18 Multicultural Children's Books about friendship
---
*You can buy any of the books on this site from Amazon USA, CAN or UK by clicking on the book titles or images*
---
More books with African or African American characters:
---
---