There are few things more satisfying than growing your own food, from seed to vegetable!
My daughter's playschool recently planted a little vegetable patch. Every morning the little ones run over there to check if their plants have grown overnight. So lovely to see their awe of nature and excitement at watching their plants grow!
---
21 Multicultural Children's Books about growing your own food
---
My First Garden
by Wendy Cheyette Lewison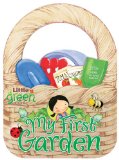 Made of recycled material, My First Garden follows a mother and toddler as they dig up soil, plant and water seeds in their garden. Together they watch the seeds grow into colourful vegetables, teaching little ones about colours at the same time. A convenient handle die-cut makes it easy for toddlers to take the book with them wherever they go. ~ Asian – Toddlers
---
Rainbow Stew
by Cathryn Falwell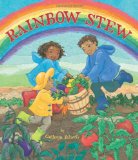 In this sweet celebration of family and growing your own food, Grandpa and his three grandchildren harvest vegetables in the rain. Falwell's colourful multimedia collages reflect the fun the family is having filling their basket with veggies, playing in the mud and preparing a Rainbow Stew. Includes recipe. ~ African – Preschool
---
Kids' Garden
by Whitney Cohen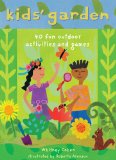 Get outside and have some fun gardening with your kids! Kid's Garden is an imaginative collection of forty activities and games, from planting to discovering creatures and creating garden art. Our favourite activities are 'Squirmin' Worm Inn' (creating a worm farm) and 'Planting a Rainbow' (creating a colourful flower bed for bees and butterflies). Step-by-step instructions on colourful laminated cards guide the children through the activities, and an eight-page booklet provides information on gardening tools, year-round plant care and garden safety. ~ Diverse – Preschool
---
Plant a Little Seed
by Bonnie Christensen
Two friends plant seeds in their community garden and patiently watch them grow into sprouts, stems, leaves and buds. Soon their garden is teeming with life and ready for a harvest season celebration. With poetic text and vivid illustrations, Plant a little Seed is sweet celebration of friendship and growing your own food. ~ Diverse – Preschool
---
Community Soup
by Alma Fullerton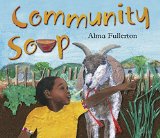 Set in rural Kenya, Community Soup tells the amusing story of a school class making soup from their vegetable garden. But little Kioni's goats have followed her to school and try to eat all the vegetables. The ensuing chaos is resolved when one of the children realises that some goat's milk will make their soup even tastier. With sparse text and striking paper sculpture artwork, this is a fun read-aloud book with lots of opportunities to predict the upcoming action. ~ African – Preschool
---
Growing Vegetable Soup
by Lois Ehlert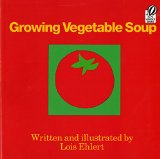 "Dad says we are going to grow vegetable soup." With bright cut-paper illustrations Growing Vegetable Soup teaches young children about growing your own food, from planting seeds to weeding, harvesting, chopping and cooking. There are no full pictures of people, but I was delighted to see that the only body part shown in the book (an arm with a garden glove) was a brown one! Includes a recipe for vegetable soup. ~ Diverse – Preschool
---
The Ugly Vegetables
by Grace Lin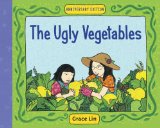 The little girl in The Ugly Vegetables finds her neighbours' flower gardens so much prettier than the "black-purple-green vines, fuzzy wrinkled leaves and prickly stems" that she and her mother grow. But when they harvest their Chinese vegetables and cook the tastiest soup from them, she realises that vegetables are "better than flowers". Includes recipe. Asian – Preschool
---
Our Community Garden
by Barbara Pollak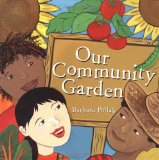 Audrey Aubergine and her diverse bunch of friends love digging, planting and playing in their neighbourhood's community garden. Every day after school the children play hide-and-seek between giant sunflowers, count ladybugs and honeybees, and water the plants. With engaging folk art style illustrations, Our Community Garden captures the great fun children have exploring nature together. ~ Diverse – Elementary School
---
Rice Is Life
by Rita Golden Gelman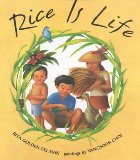 As in many other parts of the world, Rice is Life for the people of Bali. In verse and prose, this beautiful book shows how life in Bali revolves around the planting and harvesting of rice, culminating in a farmer and his family thanking Dewi Sri, the goddess of rice. ~ Asian – Elementary School
---
Gathering the Sun
by Alma Flor Ada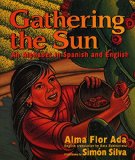 This bilingual alphabet book takes young readers into the fields and orchards where Hispanic people are planting and harvesting. With simple text and sun-drenched gouache illustrations, Gathering the Sun matches each letter with a Spanish word and a short poem in Spanish and English. ~ Hispanic – Elementary School
---
City Green
by DyAnne DiSalvo-Ryan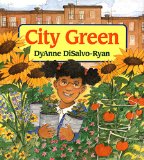 When a building in her neighbourhood is being demolished, young Marcy has an idea. Together with a neighbour she starts clearing the lot and planting seeds. Soon more neighbours join in, and together they create a lush vegetable and flower garden. With warm text and soft watercolour illustrations, City Green depicts how a community project brings a diverse neighbourhood closer together. Includes guidance on how to start a community garden. ~ Diverse – Elementary School
---
How a Seed Grows
by Helene J. Jordan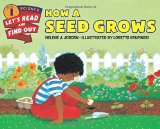 From bean seeds to oak seeds, this charming book explains in simple words how fast different seeds grow. With realistic watercolour illustrations, How a Seed Grows encourages children to follow each aspect of the growing process. ~ African – Elementary School
---
The Good Garden
by Katie Smith Milway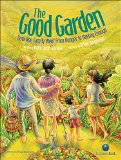 The crop on their small farm in Honduras being poor, Maria's family struggles to grow enough food to meet their needs. When a new teacher introduces Maria to sustainable farming practices the family's farm starts yielding enough crop to cut out the coyote middleman. More and more farmers begin to grow good gardens, and the whole village becomes more food secure. The Good Garden is an inspiring story about sustainable farming, enhanced by lush illustrations and a useful author's note. ~ Hispanic – Elementary School
---
What's in the Garden?
by Marianne Berkes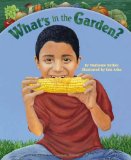 What's in the Garden? In rhythmic verse clues are given to this question, and the answers are revealed on the following page. Vibrant, realistic illustrations of diverse children eating fresh fruits and vegetables are combined with healthy, kid-friendly recipes. A 'Food for Thought' section provides facts about each fruit and vegetable, and a 'How does your garden grow?' section offers more information about gardening and plants. ~ Diverse – Elementary School
---
Farmer Will Allen and the Growing Table
by Jacqueline Briggs Martin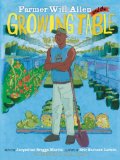 Will Allen is no ordinary farmer. Retired-basketball-star-turned-urban-farmer, he developed innovative urban farming methods and helps diverse communities build Community Food Systems through his organisation Growing Power. Notable Farmer Will Allen and The Growing Table tells the inspiring story of the African American visionary, educator, and community builder. Includes a note from Will Allen and a list of resources on how to start your own garden. ~ African – Elementary School
---
Our School Garden!
by Rick Swann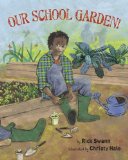 Being the new kids at school, Michael feels lonely – until he discovers the school garden! "Taste a leaf, you ask?/Mmm, nice and tangy hot./So many ways to learn./Always work to do." With richly textured mixed-media illustrations in earthy tones, Our School Garden follows a diverse class as they enjoy planting, growing and eating their own food. ~ Diverse – Elementary School
---
In the Garden with Dr. Carver
by Susan Grigsby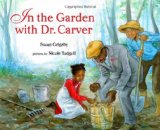 Sally is a young girl living in rural Alabama in the early 1900s, a time when people were struggling to grow food in soil that had been depleted by years of cotton production. One day famous plant scientist Dr. Carver visits Sally's school and teaches the children how to plant their own vegetable garden. In the Garden with Dr. Carver is a warm story about gardening, respecting nature and a wise African American scientist who was ahead of his time. ~ African – Elementary School
---
The Barefoot Book of Earth Tales
by Anne Wilson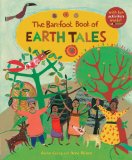 Only one of the seven folk tales in Earth Tales is about growing your own food, but this book is just too beautiful not to include in this list! This enchanting collection of folk tales from different cultures encourages children to live in harmony with the natural world.  Colourful collage illustrations complement the stories and their subtle morals and wisdom. Each tale is accompanied by a brief overview about the featured culture and a simple related activity or craft. ~ Diverse – Elementary School
---
The Jumbo Book of Gardening
by Karyn Morris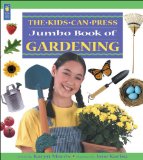 This information-packed book is a complete organic guide for every budding gardener (even adults!). From fruit, vegetable, and flower gardens to gardens that attract wildlife, and group projects (e.g. community gardens). With clear directions and fun illustrations featuring a diverse bunch of children, The Jumbo Book of Gardening is an exceptional gardening resource. ~ Diverse – Middle School
---
Seedfolks
by Paul Fleischman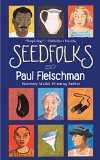 In a destitute neighbourhood a young girl starts clearing a vacant lot full of rubbish and plants some bean seeds. One by one, others join in and transform the lot into a community garden that brings new hope to the neighbourhood. Told from the perspectives of 13 different neighbours, Seedfolks is a gentle and inspiring story about the power of community and how a bit of beauty can blossom anywhere. ~ Diverse – Middle School
---
Gardening with Children
by Monika Hanneman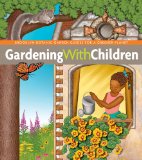 Gardening with Children is not a book for children but for parents, teachers and community gardeners. This extraordinary handbook by Brooklyn Botanic Garden – home of the oldest children's garden in the US – offers sound advice and fun project ideas, introducing kids to the pleasures of gardening and making them aware of nature's cycles.
---
*You can buy any of the books on this site from Amazon USA, CAN or UK by clicking on the book titles or covers*
---
---