"We live with the hope that as she battles to remake herself,
South Africa will be like a microcosm of the new world that is striving to be born."
~ Nelson Mandela
Located at the tip of the African continent, South Africa is a vast country with a rich diversity of cultures, landscapes and wildlife. Twenty-two years after the end of the cruel segregation system of apartheid, Mandela's "rainbow nation" is still working towards racial and economic equality. South Africa's unique mix of cultures is reflected in the fact that the government recognizes eleven official languages.
Teach your children about this fascinating country with these children's books set in South Africa:
---
23 Children's Books set in South Africa
---
Preschool
---
Not So Fast, Songololo
by Niki Daly

"Gogo was old, but her face shone like new school shoes. Her hands were large and used to hard work, but they were gentle." A little boy goes on a shopping trip to the city with his – not so fast anymore – grandmother. The tender text and expressive watercolour-and-marker illustrations of Not So Fast, Songololo reflect the love and respect between the boy and his grandmother. ~ Preschool
---
At the Crossroads
by Rachel Isadora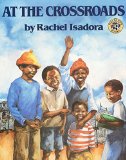 At the crossroads in their South African village, children are eagerly waiting for their fathers who have been away for months working in the mines. They wait and wait but no sight of their fathers. So they wait through the night, until the fathers finally arrive at dawn. At The Crossroads is a realistic story of longing and joy, beautifully illustrated with dramatic watercolour paintings. ~ Preschool
---
Jamela's Dress
by Niki Daly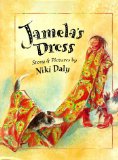 Jamela's mother buys gorgeous fabric for a wedding, and after washing it hangs it out to dry. Little Jamela is supposed to guard the expensive fabric but can't resist playing dress-up with it. She struts through town trailing the fabric behind her like a train, and accidentally ruins it. But with some unexpected help, all is not lost. Jamela's Dress is a warm-hearted story, complemented perfectly by the warm oranges and yellows of the fabric. ~ Preschool
From the same series: What's Cooking, Jamela? // Happy Birthday, Jamela! // Where's Jamela?
---
---
Halala means welcome! : a book of Zulu words
by Ken Wilson-Max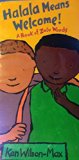 Michael and Chidi are friends who live in South Africa. Following their play, children learn some words in Zulu, one of the eleven official languages in South Africa. A glossary shows how to pronounce the words. With very simple text and no cultural context given, Halala means welcome! is a very basic yet fun book for the youngest readers. ~ Preschool
---
Somewhere in Africa
by Ingrid Mennen

Ashraf lives in a bustling South African city with lots of traffic, shops, street vendors and native music around. He loves going to the library to look at his favourite book about lions, zebras and elephants. Somewhere in Africa dispels the myth that wild animals roam free everywhere in Africa, and teaches children that South Africa is a multifaceted country. ~ Preschool
---
S is for South Africa (World Alphabets)
by Beverely Naidoo
"S is for South Africa where two oceans meet, / cold Atlantic from the west and warm Indian from the east. / Our country stretches wide over Africa's southern shores / from golden beach to misty mountain, desert sand to grassy plain / in a land of contrasts where we praise the sun – yet pray for rain!" In the form of a photographic alphabet S is for South Africa celebrates the country's rich diversity of cultures, landscapes and wildlife . ~ Preschool
---
One Child, One Seed: A South African Counting Book
by Kathryn Cave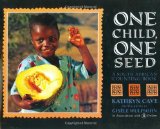 "One child, one seed. / Two hands to plant the seed. / Three ways to help it grow." With a simple counting game little readers follow Nothando and her community from planting a pumpkin seed to preparing a nutritious meal for all. One Child, One Seed is a counting book that offers a glimpse into life in a rural village in Kwazulu Natal. ~ Preschool
---
Gift of the Sun: A Tale from South Africa
by Dianne Stewart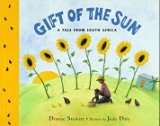 Thulani wants to have less chores on his farm and more time basking in the sun. So he swaps his cow for a goat, the goat for a sheep, the sheep for some geese… until all he has left is a handful of sunflower seeds. But those seeds prove surprisingly useful! Gift of the Sun is an entertaining story with folk art style illustrations depicting South African rural life. ~ Preschool
---
A South African Night
by Rachel Isadora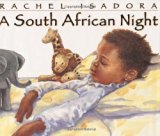 When the sun goes down in the bustling city of Johannesburg the stores close, people go home and children go to bed. But 200 miles away in the Kruger Park, this is the time when the wild animals start to get active. At dawn the animals lie down and people in the city wake up again. Contrasting human city life and animal life in the wild, A South African Night is a stunningly illustrated picture book that dispels the myth that Africa is all rural villages and wild animals. ~ Preschool
---
---
My Painted House, My Friendly Chicken, and Me
by Maya Angelou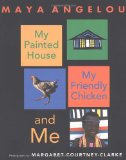 "Hello, Stranger-Friend" begins the story about Thandi, a South African Ndebele girl. Young readers learn about her mischievous brother, her best friend (a chicken), and the stunning mural art produced by the women of her tribe. With rare photos of the very private Ndebele women and their paintings, My Painted House, My Friendly Chicken, and Me offers a unique glimpse into one of the many different cultures of South Africa.  ~ Preschool
---
Elementary School
---
Count Your Way Through South Africa
by James Haskins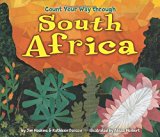 From kunye to ishumi (one to ten), young readers can count their way through South Africa. With simple text and colourful collage illustrations, Count Your Way Through South Africa is a simple introduction to Zulu words and South Africa's history as well as unique features.  ~ Elementary School
---
The Mother of Monsters
by Fran Parnell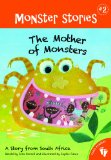 Part of the Monster Stories series, The Mother of Monsters is a quirky fairy tale story set in South Africa. With simple sentences, bold and colourful illustrations, and engaging characters, this fun early chapter book will be a hit with young readers who love monster stories.  ~ Elementary School
---
The Herd Boy
by Niki Daly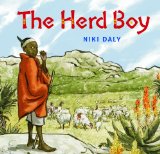 "You have to be awake, and you have to be brave, to be a herd boy."  Being a herd boy is not an easy job in the South African veld. Malusi has to fend off baboons and be careful not to step on a snake. His friend laughs when Malusi tells him that he dreams of becoming president. But then one day, a big car arrives in the village and the passenger (Nelson Mandela) tells the boys that he also used to look after sheep. The Herd Boy is poignant story that shows children that great leaders can also come from humble beginnings. ~ Elementary School
---
Once Upon a Time
by Niki Daly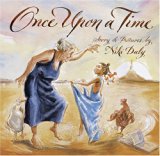 Sarie doesn't mind the long walk to school under the hot South African sun but she dreads reading aloud in class.The words trip up her tongue and the other children tease her about it. Every Sunday Auntie Anna, the old lady across the veld, reads a Cinderella story with Sarie in her rusty, old car. Slowly the girl's confidence grows, until one day she reads beautifully in class. Once Upon a Time is a charming story about reading and friendship. ~ Elementary School
---
---
Armien's Fishing Trip
by Catherine Stock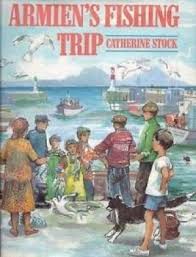 Little Armien dreams of becoming a fisherman. When he visits his uncle in the village of Kalk Bay, just south of Cape Town, Armien stows away on his uncle's fishing boat. He becomes an unexpected hero when a crew member is swept overboard and it is Armien who sounds the alarm. Armien's Fishing Trip is a sweet book with detailed impressionistic illustrations. ~ Elementary School
---
The Day Gogo Went to Vote
by Elinor Batezat Sisulu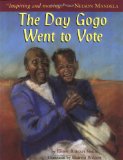 The 27th of April 1994 marked the official end of apartheid in South Africa: For the first time, citizens of all races were allowed to vote. Thembi's hundred-year-old great-grandmother is determined to vote on that special day. With the help of her community the frail lady makes it to the polling station. The Day Gogo Went To Vote is a heartfelt story about an important milestone in South Africa's history, brought to life by the rich pastel illustrations. ~ Elementary School
---
Goal!
by Mina Javaherbin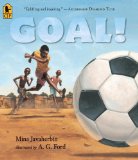 "When we play, / we forget to worry. / When we run, / we are not afraid." Playing soccer lets Ajani and his friends forget the harsh reality of living in a township. They are reminded that "the streets are not always safe" when some older boys try to take their new ball. But Ajani and his friends use their soccer skills to deter the bullies. With rich oil paintings Goal! is a lyrical story that celebrates the unifying power of one of South Africa's most favourite sports. ~ Elementary School
---
The Soccer Fence
by Phil Bildner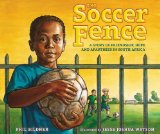 Little Hector loves playing soccer and dreams of playing on a real pitch with the white boys. When apartheid slowly starts to crumble and the national soccer team wins the African Cup of Nations, Hector's dream suddenly doesn't seem so impossible anymore. With simple text and expressive pencil and acrylic illustrations, The Soccer Fence tells a story of hope and change. Includes a (quite advanced) timeline of historical events.  ~ Elementary School
---
Nelson Mandela: Long Walk to Freedom
by Chris van Wyk
"I greet you in the name of peace, democracy, and freedom for all!" This official picture book of Mandela's autobiography offers a glimpse into the mind of a great leader who was admired across the world. Long Walk To Freedom is an accessible personal account of Mandela's inspiring life. ~ Elementary School
---
---
Middle School & High School
---
Journey to Jo'burg: A South African Story
by Beverley Naidoo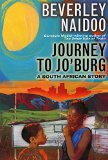 Thirteen-year-old Naledi looks after her younger siblings while her mother works in far away Johannesburg. When their baby sister becomes very sick, Naledi and her brother Tiro set off on a dangerous journey to find their mother. Journey to Jo'burg is a haunting novel about the sufferings of the people living under the system of apartheid. ~ Middle School
---
South Africa (Enchantment of the World)
by Ettagale Blauer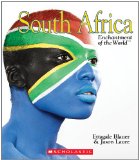 Part of the Enchantment of the World series, South Africa explores the country's rich history, culture and geography. Colourful photographs and informative sidebars highlight a variety of people, places and events. The book includes fun facts, statistics and recipes, so young readers can get a taste of South African cuisine, too. ~ Middle School
---
Zulu Dog
by Anton Ferreira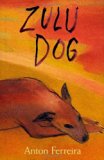 11-year-old Vusi lives in poverty in rural South Africa. The Zulu boy spends his days playing with his dog Gillette. Vusi's family is going through tough times. Rival taxi owners are trying to drive his father out of business. When Vusi befriends the daughter of a white farmer, their unlikely friendship impacts the fate of Vusi's family and the larger community. Zulu Dog is a realistic and hopeful story set in post-apartheid South Africa. ~ Middle School, High School
---
Nelson Mandela: The Authorized Comic Book
by The Nelson Mandela Foundation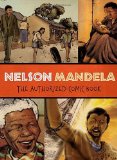 Adapted from Nelson Mandela's memoir Long Road to Freedom, this is his authorized graphic biography. Nelson Mandela tells his life story in dramatic pictures, from his childhood to his years as the first black president of South Africa. The comic book form together with new interviews, firsthand accounts, and archival material makes the story of Mandela's life and work accessible for teenagers. ~ Middle School, High School
More books about Nelson Mandela: 9 Children's Books about Nelson Mandela and Desmond Tutu
---
*You can buy any of the books on this site from Amazon USA, CAN or UK by clicking on the book titles or covers*
---
---
---
---
Welcome to our Olympics for Kids series! The Olympics are a wonderful opportunity to teach kids about the world and explore cultures together. Today, you can find out more about various countries thanks to our participating bloggers:
Book review: Emmanuel's Dream: The True Story of Emmanuel Ofosu Yeboah – Multicultural Kid Blogs
Latino Kids Lit Featuring Mexico – Mommy Maestra
Children's Books Featuring Chile – La Clase de Sra. DuFault
5 Popular Dutch Children's Books – Expat Life with a Double Buggy
Kids Books Set in Jamaica – Kid World Citizen
Children's Books Set in South Africa – Colours of Us
Children's Books about the Amazon – Hispanic Mama
Portuguese Favourite Books for Under 6's – the piri-piri lexicon
Explore Brazil with Your Child: Read, Cook, and Craft – Pack-n-Go Girls

You can also download our Summer Games Unit activity pack to learn about the world and have fun during the Olympics:
Save
---