Happy Mother's Day! No matter where we live or how we became mothers, we all love our children madly, so let's celebrate all mothers everywhere with these gorgeous multicultural children's books about mothers!
---
14 Multicultural Children's Books about Mothers
---
The Mommy Book
by Todd Parr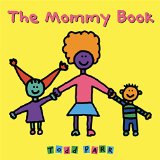 "Some mommies sing you songs. / Some mommies read you stories. / All mommies like to hang out with you!". The Mommy Book celebrates all kinds of moms and what makes each of them special. With his trademark simple text and quirky drawings, Todd Parr created another fun picture book for little ones. ~ Diverse – Toddlers
---
Mama, Do You Love Me?
by Barbara M. Joosse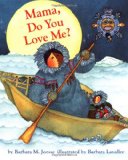 Mama, Do You Love Me? is a universal story of an Inuit child testing the limits of her mother's love. The mother reassures her daughter that her love is unconditional and everlasting, no matter how the child behaves.  With its tender, warm-hearted storyline and stunning illustrations, this is a perfect first book for toddlers. ~ Diverse – Toddlers
For a more iin-depthreview, go to: Multicultural Book of the Month: Mama, Do You Love Me?
---
Waiting for Mama
by Lee Tae-Jun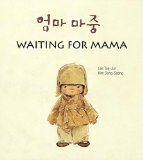 Waiting for Mama really tugged at my heartstrings! First published in a newspaper in 1938, this timeless and universal Korean tale tells of a small child patiently waiting for Mama at the station on a cold and snowy day. The child (no gender specified) asks one conductor after another if Mama is coming, until on the last page you see a small hand in Mama's hand as they walk away from the station. The sparse (bilingual) text seems secondary to the expressive illustrations, some of them simple ink drawings, others filled with pastel colours. ~ Asian – Preschool
---
---
Mama Says: A Book of Love for Mothers and Sons
by Rob D. Walker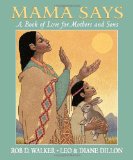 "Mama says be good / Mama says be kind / Mama says the rain will come / But still the sun will shine." In a powerful yet gentle way, mothers of diverse ethnicities teach their sons about living with courage, compassion and faith. The rhyming text and the striking illustrations of Mama Says bring the mothers' wise words and their bonds with their sons to life. ~ Diverse – Preschool
More Native American books: 32 Native American Children's Books
---
Mommy's Heart Went POP!
by C. Kyllonen & P. Greer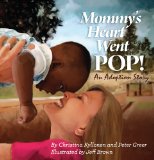 Mommy's heart went POP! follows a mother on her international adoption journey. In simple yet heartfelt words and with rich illustrations, this picture book captures the love and anticipation of a prospective adoptive mother beautifully. Although I am not very fond of the phrase "you grew in my heart" (it is confusing for small children as they take everything literally), this book does a good job at reassuring young adopted children how much they were wanted and how much they are loved.  ~ African – Preschool
More books about adoption: 28 Multicultural Children's Books about Adoption
---
Mama's Day
by Linda Ashman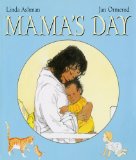 "There are mamas near and distant / doing just what mamas do: / Loving babies every minute, every day . . . / like I love you."  With gentle rhyming verse and sweet ink-and-gouache illustrations, Mama's Day is a wonderful tribute to mothers of all ethnicities. Whether they are enjoying the sun at the sea, walking through a bustling market or cuddling in a rocking chair, mamas and babies share a special bond everywhere. ~ Diverse – Preschool
---
Motherbridge of Love
by Xinran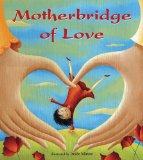 "Two different lives shaped to make you one. / One saw your first sweet smile, / the other dried your tears." Motherbridge of Love celebrates the bond between a little Chinese girl and her adoptive mother, whilst holding the child's birth mother in a place of respect. Most picture books about adoption only mention the birth parents briefly but this beautiful book gives them the space they deserve and the child needs. I would recommend this book to any adoptive family! ~ Asian – Preschool
---
---
The Best Mum
by Sarah Nash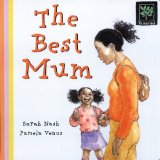 Mum always says "no" when someone asks her if she works. But little Kizzy thinks being a mum is a hard job – and also the best one ever! With repetitive text and energetic illustrations, The Best Mum is a sweet tribute to mothers and a fun read for children of all ethnicities. ~ African – Preschool
---
My Mom Is a Foreigner, But Not to Me
by Julienne Moore
Mom Is A Foreigner But Not Me is award-winning actress Julianne Moore's homage to all the Muttis, Mammas and Mamans of multicultural families in the US. A foreign mom may eat, speak, and dress differently than other moms but she's clearly the best! With humourous text and vivid illustrations, this picture book celebrates diverse families.  ~ Diverse – Elementary School
---
In Our Mothers' House
by Patricia Polacco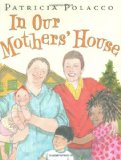 Just like any other family, Marmee, Meema and their three kids like to cuddle, cook and dance together. Some people don't accept them but the family gains strength from their love and lives by their own rules. With expressive drawings of loving family interactions, In Our Mothers' House teaches children that different isn't wrong and that love is what makes a family. ~ Diverse – Elementary School
---
Hair for Mama
by Kelly Tinkham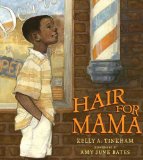 A young boy's mother doesn't want to be in the family photo after she has lost her hair through chemotherapy. Marcus tries to make a plan, and even though it doesn't quite work out, he learns that "hair is nice to have, but not as nice as me having Mama and Mama having me." Told with gentle humour and warm illustrations, Hair for Mama captures the fear, pain, and hope of families affected by cancer. ~ African – Elementary School
---
---
A Chair for My Mother
by Vera B. Williams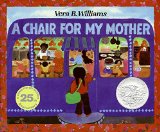 A Chair for my Mother tells the story of little Rosa who saves up coins to buy a comfortable chair for her mama after the family home was destroyed by a fire. This award-winning picture book with its expressive water colour paintings beautifully depicts a loving family who keeps up a joyful spirit in the face of adversity. ~ Hispanic – Elementary School
---
Floating on Mama's Song
by Laura Lacamara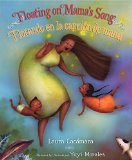 Anita's mama sings songs so beautiful they create magic: Whoever hears them starts floating high above the ground. When one day Mama stops singing, Anita tries to find a way to bring back the happiness and the magic of her songs. Floating on Mama's Song is a lyrical tale about three generations of women, stunningly illustrated with Morales' expressive artwork.  ~ Hispanic – Elementary School
---
Love to Mama: A Tribute to Mothers
by Pat Mora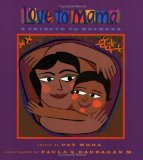 Love to Mama is a brightly illustrated collection of thirteen poems by Latino poets, from award-winning author Pat Mora to a teenaged new talent. Whether the poets are from Cuba, Mexico or Venezuela, they all write passionately about the one thing they have in common: The special bond they share with their mothers and grandmothers. ~ Hispanic – Elementary School
---
*You can buy any of the books on this site from Amazon USA, CAN or UK by clicking on the book titles or images*
---
More Multicultural Children's Books about Family Members:
40 Multicultural Children's Books about Fathers
40+ Multicultural Children's Books about Grandparents
20 Multicultural Picture Books about new siblings
---
---