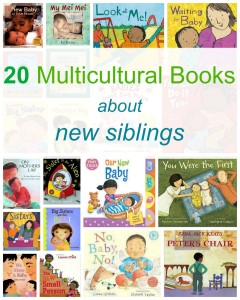 ---
No doubt, the arrival of a new sibling is an exciting time! But it can also cause confusion and ambivalent feelings, especially for younger children who suddenly find themselves in the role of big brother or big sister. They are unable to fully grasp what it will mean to have a new baby in the house (…mind you, even us parents don't really know what to expect…).
Often young children imagine the new baby to be like a new doll or a fun playmate, and they find it hard to adjust when reality kicks in. This can, for example, show in aggressive behaviour, like pinching the baby, in frequent tantrums and/or in resorting to 'babyish' behaviour, such as wanting a bottle, a diaper or a dummy again.
All this is perfectly normal and won't affect the future relationship of the siblings, as long as parents acknowledge their older children's feelings, allow them to help with the baby and reassure them that they are still being loved the same.
Reading books about new siblings is not only a great way of spending quality time with your older child, it is also a good opportunity to start a conversation about their feelings regarding the new family situation.
---
---
20 Multicultural Picture Books about new siblings
---
Lola Reads to Leo
by Anna McQuinn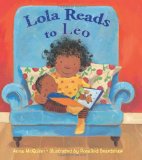 Since my daughter loves little Lola so much, this one has to be the first on this list! In Lola's latest story celebrating books and reading, Lola reads to Leo, she becomes a big sister. Little brothers are a lot of work but helpful, spunky Lola is up to the task and always finds the right books to suit Leo's mood. With little text and bright, vibrant colours this sweet book will draw the attention of the youngest readers. ~ African – Babies & Toddlers
---
Peter's Chair
by Ezra Jack Keats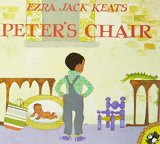 Imaginative and fun-loving little Peter has been loved by children for over 50 years! Keats' classic series with its simple text and fresh collage illustrations appeals to children everywhere. In Peter's Chair Keats' little hero tries to save his blue chair from being painted pink for his new baby sister. ~ African – Preschool

More books by Ezra Jack Keats and information about the author: Author Spotlight: Ezra Jack Keats
---
Waiting for Baby
by Rachel Fuller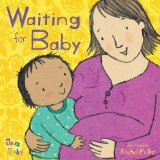 Waiting for Baby is an ideal picture book to prepare toddlers for the arrival of a new baby, showing the delights as well as the downfalls of having a younger sibling. There is no text which promotes conversation and gives parents and toddlers the opportunity to tell their own story. ~ Diverse – Babies & Toddlers
More books featuring multiracial families: 50+ Picture Books about Mixed Race Families
---
Look at Me!
by Rachel Fuller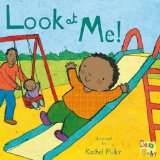 Also part of the New Baby series, Look at Me! depicts how the older sibling adjusts to living with the new baby. The simple text and lively illustrations are designed to encourage further dialogue about the new family situation, and all the confusing feelings that come with it. ~ Diverse – Babies & Toddlers
---
Big Sisters Are the Best
by Fran Manushkin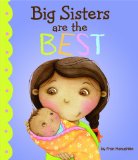 A little girl tells the reader all about life with her new sibling, explaining the differences between her and the baby and how she helps her parents. The book also addresses the more difficult feelings caused by not having the parents' undivided attention anymore, and emphasizes that their love for her hasn't changed. Big Sisters Are the Best is a sweet and reassuring book, lovingly illustrated with cute and colourful pictures. ~ Hispanic – Preschool
---
You Were the First
by Patricia MacLachlan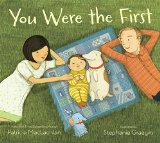 You Were the First is a touching tribute to first born babys. Featuring an Asian/Caucasian family, it depicts all those unforgettable moments, from first smiles to crawling, walking, and running. The warm graphite pencil illustrations complement the sweet text. A perfect book to make your first born feel special when there is a second or third one on the way! ~ Asian – Preschool
---
The New Small Person
by Lauren Child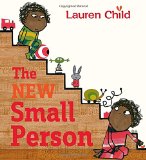 When his baby brother comes along, everything changes for little Elmore. He goes from feeling displaced to angry to just wanting to be alone, until one night The New Small Person comforts him after a bad dream. After that, Elmore begins to notice some other not-so-bad things about his new brother. A humourous story about a less-than-welcome sibling, playfully illustrated with colourful cartoon-style drawings. ~ African – Preschool
---
You Can Do It Too!
by Karin Baicker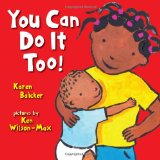 In You Can Do It Too! a little girl passes her newly learned skills and abilities to her baby brother, teaching him everything she thinks he needs to know. A wonderful book about the bond between siblings and a great one for making your older child feel special! ~ African – Babies & Toddlers
---
My Mei Mei
by Ed Young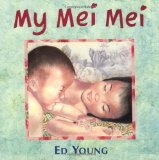 In his daughter Antonia's voice, Young tells his family's adoption story, from her arrival from China and her early years, to her disapppointment when the new sister isn't what she was hoping for, to the girls' growing closeness and love for each other. My Mei Mei is a tender story about the true meaning of family, perfectly complemented by soft gouache, pastel, and collage illustrations. ~ Asian – Preschool
---
Waiting for May
by Janet Morgan Stoeke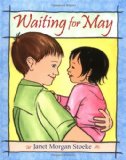 A young boy eagerly awaits the arrival of his new baby sister from China. Waiting for May follows the long adoption process until the boy finally meets his sister and is the first to make her smile. Simple text and colourful illustrations make this a good book to read with preschool children. ~ Asian – Preschool
---
Best-Ever Big Sister
by Karen Katz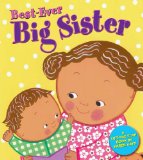 In bright folk-art style spreads with lift-flaps, Best-ever Big Sister compares all the things big sister can but baby cannot do yet, like eating with a fork, using the potty or riding a trike. At the end of this sweet book the big sister lovingly reassures the baby that "one day you'll be big like me". A great book for toddlers in need of a little ego-boost after the arrival of a new baby! ~ Diverse – Babies & Toddlers
---
My Sister Is an Alien!
by Rachel Bright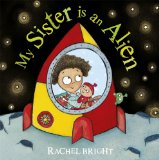 Little Alfie's favourite things in life are aliens, rockets and the moon. So when he notices that his baby sister looks a bit funny, talks funny and sometimes smells funny, the logical explanation for him is that she must be an alien. My Sister is an Alien follows Alfie's adventure as he sets out to take his sister back to the moon. A charming story with a humourous take on the new sibling theme, complemented by the fun etched illustrations. ~ African – Preschool
---
Ruby's Baby Brother
by Kathryn White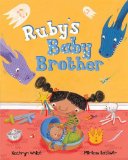 Ruby is not happy when her new baby brother comes along. She tries different things to get rid of baby Leon, like turning him into a bat with her magic wand, or blasting him up to the moon in a rocket ship. The rhyming in Ruby's Baby Brother is a bit spotty but the characters and the whimsical illustrations are appealing, and the book honestly adresses some common fears children have when a new sibling arrives. ~ African – Preschool
---
On Mother's Lap
by Ann Herbert Scott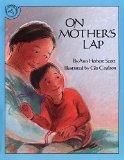 I love everything about this beautiful book! From the fact that it features an Inuit family to the fact that the little boy has a doll, from the simple text to the tender watercolour and pencil illustrations  A story about a little Inuit boy who discovers that there is room for himself and his baby sister on their mother's lap. ~ Diverse – Preschool
---
Will There Be a Lap for Me?
by Dorothy Corey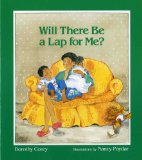 Another one about the most comforting place on Earth: A mother's lap! Will There Be a Lap for Me? tells of a little boy's worry that there won't be room on his mom's lap as her pregnancy progresses. A realistic book with sweet pencil and watercolour illustrations. ~ African – Preschool
---
The New Baby at Your House
by Joanna Cole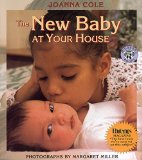 The New Baby at Your House explains in a child-friendly way what happens when a new baby arrives. The reassuring tone and the realistic photographs of ethnically diverse families make this an appealing book that can help prepare young children for the ups and downs of having a new baby in the house. Includes a guide for parents. ~ Diverse – Preschool
---
We Have a Baby
by Cathryn Falwell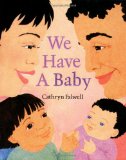 We Have a Baby is a charming book for toddlers that focuses on the positives of having a new sibling. Crayon-style cut-paper illustrations, accompanied by simple text, show the whole family participating in the loving care for the new baby. ~ Diverse – Babies & Toddlers
---
Whoa, Baby, Whoa!
by Grace Nichols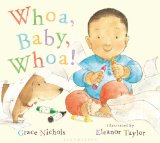 Baby does what baby does best: Exploring the world! The family isn't as excited about baby chewing up newspapers, climbing up too high etc, so baby hears lots of cries of 'Whoa, Baby, Whoa!' Until one day baby does something really special that is met with a totally different response. Though not strictly about new siblings, this lively book can be helpful for toddlers as it will make them feel so much more grown up than their baby sibling. And toddlers love the catchy refrain! ~ African – Babies & Toddlers, Hispanic – Babies & Toddlers
---
Our New Baby
by Rebecca Finn
Our New Baby is a sweet and reassuring board book about the arrival of a younger sibling. Includes a chunky tab index and four simple, four-piece jigsaws. ~ Diverse – Babies & Toddlers
More books for babies & toddlers: Top 10 Multicultural Bedtime Stories for Babies & Toddlers
---
Babies Don't Eat Pizza
by Dianne Danzig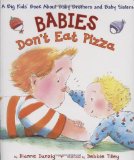 Babies Don't Eat Pizza is the most comprehensive multicultural children's book about new siblings I have come across so far. Not only does it show multiracial families, it also covers everything from how babies are born, grow and behave; adoption, premature and special needs babies, twins; breast and bottle feeding, helping and playing with babies, older children's feelings, as well as tips for parents. This light-hearted yet honest Mom's Choice Award Gold Recipient adresses the real questions, perceptions and concerns that the author has heard from over 2,500 children about their baby siblings. ~ Diverse – Preschool

---
*You can buy any of the books on this site from Amazon USA, CAN or UK by clicking on the book titles or covers*
---