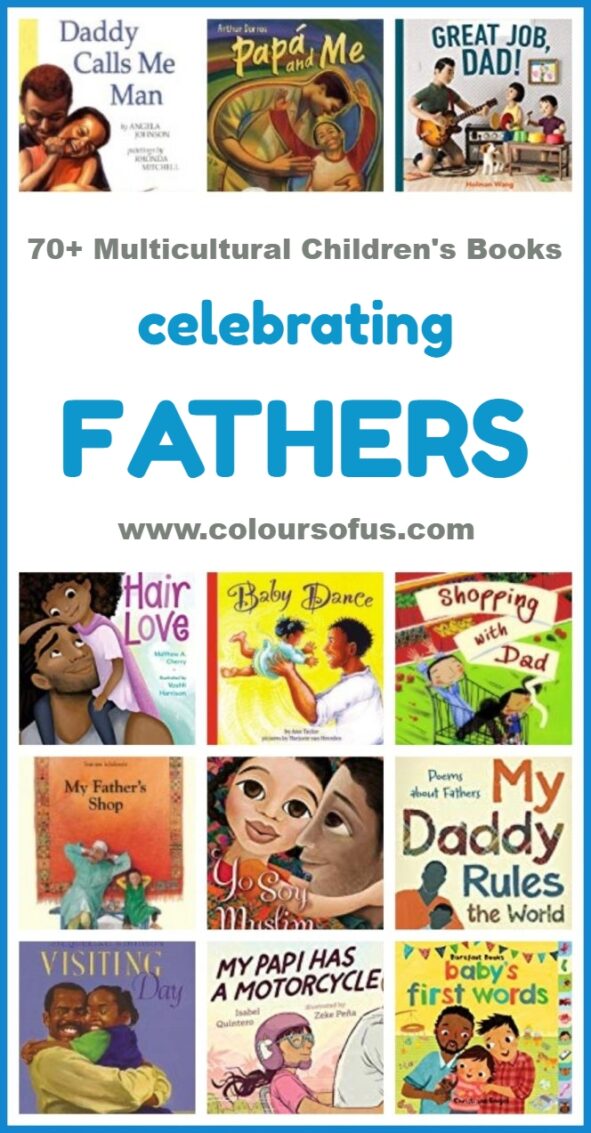 UPDATED June 2022!
Not only for Father's Day but for any day of the year are these multicultural children's books about fathers! We included all kinds of fathers: different ethnicities, mixed-race families, same-sex parents…
Unfortunately, there wasn't much about step-fathers or single fathers, so if you know of any that are not on this list, we would love to hear in the comments!
---
70+ Multicultural Children's Books about Fathers
---
---
Babies & Toddlers
---
Baby's First Words
by Stella Blackstone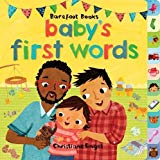 This cute little board book features a city baby whose parents happen to be two dads. With tabs and brief text, Baby's First Words follows the baby's daily activities of a city baby while featuring terms for objects, actions, and sounds. ~ Diverse -Babies & Toddlers
---
Baby Dance
by Ann Taylor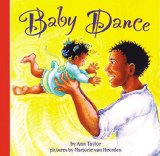 "Dance, little baby, move to and fro. / Coo and crow, baby, / There you go." Based on a poem by 19th-century poet Anne Taylor, Baby Dance captures the love and energy of a father and his baby daughter as they dance across the pages of this delightful board book. ~ African – Babies & Toddlers
Related: 26 Multicultural Poetry Books for Children aged 0 to 10
---
Peek!: A Thai Hide-and-Seek
by Minfong Ho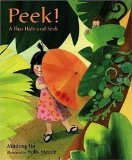 "Jut-Ay, Baby, peek-a-boo, / Want to play? Where are you?" Peek! A Thai Hide-and-Seek follows a little girl and her father on a morning game of hide-and-seek with a Thai twist. Papa calls on the creatures of the jungle to help him find his baby girl: monkey, hornbill, snake, elephant, tiger – who will lead him to her hiding place? With rhyming text and vibrant illustrations, this adorable board book will be a hit with little ones. ~ Asian – Babies & Toddlers
Related: 30 Asian & Asian American Children's Books
---
Daddy's Arms
by Fabian E. Ferguson
Whether it's playtime, bathtime, or bedtime, a wildly imaginative little boy has his dad's arms take center stage for every fantastic new adventure. Daddy's Arms celebrates the bond between father and child and the joy of fatherhood. Parents will enjoy reading this sweet book to their kids, just as much as kids will enjoy listening to them. ~ African – Babies & Toddlers
---
Brick by Brick
by Heidi Woodward Sheffield
Luis' Papi is a bricklayer, and he works hard every day. Papi climbs scaffolds, makes mortar, and shovels sand. Luis climbs on the playground and molds clay into tiny bricks to make buildings, just like Papi. Together, they dream big about their future. One Saturday, Papi surprises Luis with something special he's built for their family. With stunning mixed-media illustrations, Brick By Brick is a striking picture book about the bond between a father and his son. ~ Hispanic – Babies & Toddlers
---
Daddy Loves Me!
by Marianne Richmond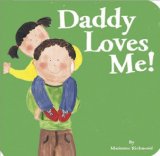 Whether Daddy is near or far, Daddy Loves Me! This cute board book will remind children of all the fun things they do with their Daddy. Babies and Toddlers will love it! ~ Diverse – Babies & Toddlers
---
Girl of Mine
by Jabari Asim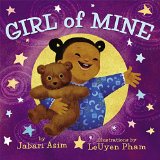 Girl of Mine is a sweet bedtime story with vibrant illustrations, depicting loving interactions between a little girl and her daddy. As the baby girl is cradled by her father, she is taken on a magical adventure, swinging above lush floral gardens under the golden moonlight. Babies will be mesmerized by this vibrant board book!  ~ African – Babies & Toddlers
Related: Top 10 Multicultural Bedtime Stories for Babies & Toddlers
---
---
Preschool
---
You Made Me a Dad
by Laurenne Sala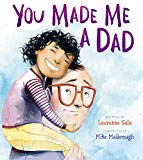 "I loved you before I saw you. /  When you were just a heartbeat. / Then a picture. /Then a teeny-tiny kick…" Just in time for Father's Day, You Made Me A Dad celebrates fatherhood with this heartwarming picture book about the joys, fears, and responsibilities of being a dad over the years. ~ Diverse – Preschool
---
The Thing About Bees: A Love Letter
by Shabazz Larkin
"Sometimes bees can be a bit rude. / They fly in your face and prance on your food." And yet… without bees, we might not have strawberries for shortcakes or avocados for tacos! Gorgeously illustrated The Thing About Bees is a love poem from a father to his two sons, and a tribute to the bees that pollinate the foods we love to eat. ~ African – Preschool
---
Lola Loves Stories
by Anna McQuinn
Lola loves to go to the library with her daddy. Every night they read a new story, and the next day, Lola acts it out. One day she's a fairy princess, the next day she goes on a trip to Lagos! She becomes a tiger, a farmer, a pilot. . . . what will Lola be next? With an adorable protagonist, Lola Loves Stories is a sweet ode to reading and to fathers. ~ African – Preschool
Related: 15 Multicultural Children's Books celebrating books & reading
---
Just Like Your Daddy!!
by Tiffany Parker
It's an important reminder that the narrative around fathers, especially in the Black community, and the negative perception of saying "You're just like your daddy" can be changed. It can be a good thing. It can be a really great thing. Just Like Your Daddy is an expressive story filled with daily affirmations for any young child. ~ African – Preschool
---
Daddies and Daughters Stick Together
by Aissatou Balde
Diari doesn't mind when Mommy goes into the city for work, because she and her little sister, Fatima, get to spend the whole day with Daddy. A day with Daddy means cooking, learning, dancing, and playing. After all, Daddy knows that with a little imagination, a sense of fun, and a lot of love, every part of a normal day can feel special! Daddies and Daughters Stick Together is a joyful celebration of the love between fathers and daughters. ~ African – Preschool
---
Shopping With Dad
by Matt Harvey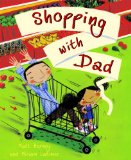 While grocery shopping with her dad, a little girl's sneeze sets of a chain reaction: "That sneeze was fantastic. It made my Dad jump, / And his jump gave the woman beside him a bump / And she went, 'Aaarrrggghhh!' and swung around in alarm, / And her bag hit a woman, who jogged a man's arm." At first, Dad gets the blame but when the girl takes responsibility the mood softens. Shopping with Dad is a fun, fast-paced picture book, depicting a multiracial family and a diverse mix of shoppers. Great as a read-aloud. ~ African – Preschool
Related: 10 Laugh Out Loud Funny Multicultural Picture Books
---
Dad, Who Will I Be?
by G.Todd Taylor
Written by a former educator and child mental health practitioner, Dad, Who Will I Be? inspires, encourages and educates young readers to be great by introducing to them to Black heroes, from Martin Luther King Jr. to Muhammed Ali, from W.E.B. Dubois to Tiger Woods, and many more. ~ African – Preschool
---
Jabari Tries
by Gaia Cornwall
Jabari is making a flying machine in his backyard! "It'll be easy. I don't need any help," he declares. But it doesn't work! Jabari is frustrated. Good thing Dad is there for a pep talk and his little sister, Nika, is there to assist, fairy wings and all. With the endearing father-child dynamic of Jabari Jumps and engaging mixed-media illustrations, Jabari Tries is an endearing story about perseverance, flexibility, and family. ~ African – Preschool
Related: 150 Children's Books Celebrating Black Boys
---
Rafa Counts on Papá
by Joe Cepeda
Rafa and his papá love to count and measure together. They know how many branches they climb to their favorite spot, they know how high their dog Euclid can jump, and they know how far they can run. But there's one thing Rafa can't count or measure because it is infinite: the love that he and his papá share. With a subtle nod to introducing concepts, from real objects to the abstract, Rafa Counts On Papá the immeasurable love of this Latinx family. ~ Hispanic – Preschool
Related: Pura Belpré Award Winners 1996 – 2022
---
Together We Ride
by Valerie Bolling
Learning to ride is no easy feat! But with a little courage, a guiding hand from her dad, and an enthusiastic bark from her pup, one brave girl quickly learns the freedom that comes from an afternoon spent outside on a bike. Together We Ride is an energetic, warm story that celebrates the precious bond between parent and child. ~ African – Preschool
Related: 18 Multicultural Children's Books about Fear and Courage
---
Thunder Boy Jr.
by Sherman Alexie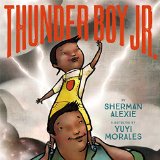 This recently released picture book is receiving lots of praise. Thunder Boy Jr. dreams of having his own unique name rather than being named after his dad. He'd love a name that says something cool about him, like Touch the Clouds, Not Afraid of Ten Thousand Teeth, or Full of Wonder. Together with his dad he eventually picks the perfect name. With lyrical text and enchanting illustrations, Thunder Boy Jr celebrates the warm relationship between a Native American father and his son. ~ Diverse – Preschool
Related: 100 Native American Children's Books
---
My Daddy is a Pretzel
by Baron Baptiste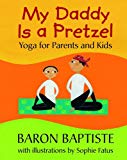 "Niki says her mommy is a gardener. / Sometimes, my daddy's a tree." As a school class talks about their parents' professions, the young narrator relates the professions to her father's, a yoga teacher. My Daddy Is A Pretzel introduces different yoga positions and encourages readers to stretch both their bodies and their minds. ~ Diverse – Preschool
---
I Am a Bird
by Hope Lim
Every day, as a little girl rides to school on the back of her father's bike, she spreads her arms like wings and sings her birdsong for all to hear. But when they pass a strange woman in blue who carries a mysterious bag, the girl goes quiet until the woman is out of sight. One day, when they're running late, the little girl discovers what the woman does with her bag each morning—a surprise that transforms her wariness into a feeling of kinship. With simple text and expressive illustrations, I Am A Bird is a touching book that encourages readers to embrace our similarities rather than focus on our differences. ~ Asian – Preschool
Related: 180+ Asian & Asian American Books For Children & Teenagers
---
My Dad Is the Best Playground
by Luciana Navarro Powell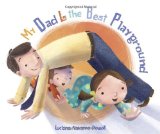 Told from a child's point of view, My Dad Is the Best Playground is a lively board book about two children playing with their dad. They use him as a swing, a climbing wall and other fun playground equipment. Though not specified, from the illustrations and the fact that the author and illustrator is an American Latina, the characters could well be of Latino/Hispanic ethnicity. ~ Hispanic – Preschool
---
It's Great Being a Dad
by Dan Bar-el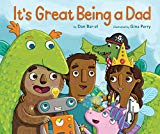 Some mythical creatures in a magical land are having a great time until Bigfoot gets his foot stuck in a tree trunk, Unicorn gets her horn impaled on a table and Robot's saw-arm gets rusted into position. But luckily Dad is there to fix things! It's Great Being A Dad is a hilarious celebration of the best kind of dad: the kind that's willing to join in the fun. ~ Diverse – Preschool
---
Going Down Home with Daddy
by Kelly Starling Lyons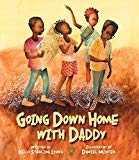 Down home is Granny's house where Lil' Alan and his parents and sister will join their extended family for reunion day. They hear stories of the ancestors and pay tribute to the land that has meant so much to all of them. All the kids have to decide on what tribute to share, but what will Lil' Alan do?  With expressive illustrations and a moving storyline, Going Down Home With Daddy is a stunning celebration of family, culture, and traditions. ~ African – Preschool
---
The Night Before Father's Day
by Natasha Wing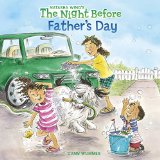 The Night Before Father's Day, mom and the kids are planning a special surprise for Dad. When he goes for a bike ride, they all get to work. The next morning Dad finds his car sparkly clean and the garage newly organized. As a thank you, he takes the whole family for a spin. ~ African – Preschool
---
A New Year's Reunion: A Chinese Story
by Yu Li-Qiong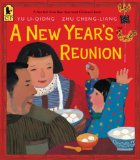 Mao-Mao is very excited: It is Chinese New Year, and her father, who works far away from home, is finally coming home! Mao-Mao loves her time with her daddy who brings gifts, makes traditional sticky rice balls and lets her sit on his shoulders during the Dragon parade. But all too soon he has to pack and leave again. A New Year's Reunion is a bittersweet story about an absent parent only returning for special occasions. This vibrantly illustrated picture book will resonate with every child who misses relatives when they are away. ~ Asian – Preschool
Related: 16 Children's Books about the Chinese New Year
---
My Dad and Me
by Alyssa Satin Capucelli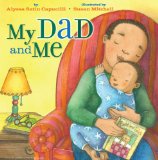 My Dad and Me follows a multicultural cast of fathers and their children on their playful adventures through the seasons, from hiking and camping to raking leaves or sledding. The first father is called dad, the next papi (with a note that it means "dad" in Spanish), followed by aba (Hebrew), bábá (Mandarin), and bapa (Hindi). ~ Diverse – Preschool
---
---
Visiting Day
by Jacqueline Woodson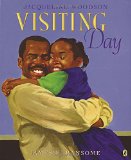 "Only on visiting day is there chicken frying in the kitchen at 6 a.m, and Grandma in her Sunday dress, humming soft and low."  A young girl and her grandmother are preparing for the one day a month they get to visit the girl's father in prison. At the same time, the father is getting ready for the reunion with his beloved child, too. Told in Woodson's trademark lyrical style and stunningly illustrated with realistic paintings, Visiting Day is a moving picture book about the strong bond between an imprisoned father and his daughter. ~ African – Preschool
---
The Night Worker
by Kate Banks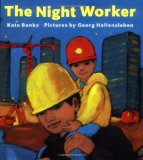 Every night, Papa tucks Alex in before he puts on his hard hat and goes to his work as an engineer on a construction site. "Take me with you," Alex says every night, and "not tonight," responds Papa every night. But then one night Papa surprises him with a hard hat. Alex gets to be a night worker at the construction site, where the excavators rumble and the cement mixers hum. The Night Worker is a unique bedtime story all children will love, especially those fascinated by big machines. ~ Hispanic – Preschool
---
Father's Chinese Opera
by Rich Lo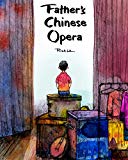 Spending a summer backstage at his father's Chinese opera, a young boy yearns to be a part of the show. Rehearsing the moves day and night with the show's famous choreographer, the boy thinks he is soon ready to perform with the others. But the choreographer just laughs when the boy asks to join the acrobats. Upset, the boy goes home to sulk. Will he give up on his dream, or will he persevere? With mesmerizing illustrations, Father's Chinese Opera is a heartfelt story about commitment and perseverance. ~ Asian – Preschool
Related: 30 Asian & Asian American Children's Books for Ages 0 to 18
---
My Father's Shop
by Satomi Ichikawa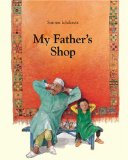 Mustafa loves a particular rug in his father's shop. It has a hole in it, so he can put it over his head and still see out. His father wants to teach his son some foreign languages, but Mustafa runs off to the bustling Moroccan market instead (with his favourite rug on his head). There he finds a different way of learning other languages – and of getting tourists to his father's shop.  My Father's Shop has a sweet storyline and vibrant watercolour illustrations.  ~ African – Preschool
Related: 20 Children's Books set in the Middle East & Northern Africa
---
Papa and Me
by Arthur Dorros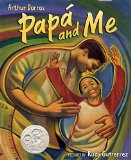 "When I'm with my papá, / I can fly like an eagle, an águila, / I can climb alto, high, in a tree." A young boy and his papa speak both Spanish and English, but most importantly, they speak is the language of love. With bilingual text and lush, energetic paintings, Papá and Me portrays the loving bond between a father and a son. ~ Hispanic – Preschool
---
Bippity Bop Barbershop
Natasha Anastasia Tarpley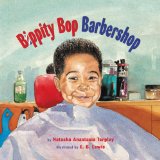 Little Miles is super excited: Today he'll make his first trip to the barbershop with his father! He is a bit afraid of the sharp scissors, the buzzing razor, and having to pick a new hairstyle. But with the support of his dad, he sits bravely through his first haircut. Written in an upbeat tone and illustrated with realistic watercolour paintings, Bippity Bop Barbershop captures how a loving father supports his son on this important rite of passage. ~ African – Preschool
---
---
Daddy Calls Me Man
by Angela Johnson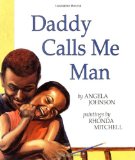 Inspired by his parents' paintings, a young boy creates four short poems about his family, one of them about his father. Rich oil illustrations from the family's home studio introduce each of the sweet poems in Daddy Calls Me Man. "Big Shoes" is about the boys' desire to have big running shoes just like his daddy. ~ African – Preschool
Related: 26 Multicultural Poetry Books for Children aged 0 to 10
---
Hair Twins
by Raakhee Mirchandani
Every morning Papa combs through his daughter's waves like he does his own—parting it down the middle, using coconut oil to get all the tangles out. Some days he braids her hair in two twists down the side of her face. Other days he weaves it into one long braid hanging down her back, just like a unicorn tail. But her favourite style is when he combs her hair in a tight bun on the top of her head, just like the joora he wears every day under his turban. They call this their hair twin look! Hair Twins is charming story about a Sikh father and daughter with a special hair bond. ~ Asian – Preschool
---
Yo Soy Muslim: A Father's Letter to His Daughter
by Mark Gonzalez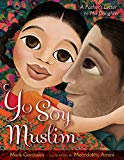 "Dear little one, /…know you are wondrous. / A child of crescent moons, / a builder of mosques, / a descendant of brilliance,/ an ancestor in training." Written as a poetic letter from a father to his daughter accompanied by magical and vibrant illustrations, Yo Soy Muslim is a touching celebration of diversity and social harmony. ~ Hispanic – Preschool
Related: 21 Children's Books about Ramadan and Eid
---
Girl Dad
by Sean Williams
A fun read-aloud written in upbeat rhyming verse, Girl Dad is a picture book that honours the strong men who raise, love, and uplift strong girls. Perfect for fans of Hair Love by and Made for Me, and a great gift for Father's Day. ~ African – Preschool
---
My Father Is Taller than a Tree
by Joseph Bruchac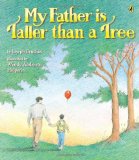 My Father is Taller Than a Tree is a tender tribute to dads everywhere. The book captures heartwarming moments between thirteen diverse father-and-son pairs as they share everyday activities, like bike riding, raking leaves, going to the park or just cuddling on the couch. This sweet picture book is a good reminder that life's simple pleasures become special when you share them with someone you love. ~ Diverse – Preschool
---
My City Speaks
by Darren Lebeuf
A visually impaired girl and her father spend a day in their city, visiting the playground, the community garden, the market, and an outdoor concert. As they do, the girl describes what she senses in delightfully precise, poetic detail. Her city, she says, "rushes and stops, and waits and goes." It "pitters and patters, and drips and drains." It "echoes" and "trills," and is both "smelly" and "sweet." Her city also speaks, as it "dings and dongs, and rattles and roars." And sometimes, maybe even some of the best times, it just listens. With lyrical text and vividly cut-paper collage illustrations, My City Speaks is a wonderful ode to city life. ~ Diverse – Preschool
Related: 8 Multicultural Children's Books Featuring Blind Children
---
When Daddy Prays
by Nikki Grimes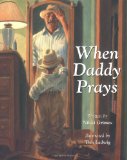 "When Daddy prays my fear of darkness disappears and angels tiptoe down the hall. I hear them through the door and wall." Seen through the eyes of a child, the poems in When Daddy Prays celebrate a father's devotion that carries the family through each day, from waiting anxiously at the school bus stop to lying in bed at night. Some of the poems are more lighthearted, too, for example when the dad searches for his keys or trips over the boy's rollerblades in the hallway. Rich full-page oil illustrations complement the powerful message of this beautiful collection. ~ African – Preschool
---
Carpenter's Helper
by Sybil Rosen
Renata and Papi are hard at work at renovating their bathroom. One morning, she finds a nest on the corner shelf, and inside it are four rosy eggs! Weeks pass, and Renata watches as the wrens come and go, building a home in her bathroom… until, one day, with a little help from Renata, the birds are ready to fly. Carpenter's Helper is a warm, wonderful picture book that gently reminds us of the importance of respecting our natural world and highlights the joys and rewards of helping others. ~ African – Preschool
---
Two Dads Are Better Than One
by K.C. Eckels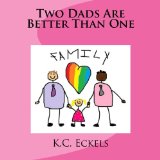 With rhyming text and child-like drawings, Two Dads Are Better Than One tells the story of little Suzie who lives with her same-sex parents. Suzie describes all the fun she has with her dads and how they support and love her, and also mentions the hurt when other children say mean things: "When people are mean, / That makes me sad, / They don't understand, / The Family I have!" ~ Diverse – Preschool
Related: 18 Multicultural Children's Books featuring LGBTQIA Characters
---
Celebrating Father's Day: Father's Day is for Special People
by Donna Marriott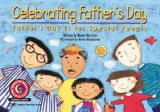 Written specifically for emergent readers, Celebrating Father's Day teaches children that Father's Day is to celebrate a special male in their family. This tender and inclusive picture book suggests that if the child does not have a father they can celebrate their grandfather, uncle or step-father. ~ Diverse – Preschool
---
Knock Knock: My Dad's Dream for Me
by Daniel Beaty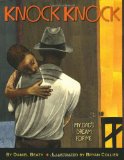 "Every morning, I play a game with my father. / He goes knock knock on my door / and I pretend to be asleep / till he gets right next to the bed. / And my papa, he tells me, "I love you." But one morning the 'knock knock' doesn't come anymore, leaving the little boy devastated. Based on the author's own experience of a suddenly absent father due to imprisonment, Knock Knock is a powerful picture book that explores the impact of permanent separation from a father (due to different reasons, e.g. imprisonment, death, or abandonment). There is a shimmer of hope in this heartfelt book, too, when the story ends with papa's advice to "knock knock down the doors that I could not." ~ African – Preschool
---
I Love My Papi! (Dora the Explorer)
by Alison Inches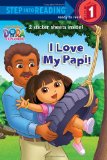 I Love My Papi follows Dora and her Papi to the soccer field, the beach, and a circus and other fun places. Papi is portrayed as quite the superhero, teaching Dora to kick a soccer ball, swing a baseball bat, coaching her baseball team, riding bikes with her, teaching her to bake, making her a tire swing, and more. Even though these are rather unrealistic expectations, this book still makes for a fun Father's Day read for fans of Dora the Explorer. Includes two sticker sheets.  ~ Hispanic – Preschool
---
Love Is Love
by Michael Genhart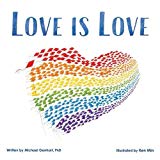 A young boy is being bullied about having two dads. He is being told that he doesn't have a real family. When he confides in his friend, he discovers that his friend's parents―a mom and a dad―and his two dads are actually very much alike. Love Is Love is a gentle yet straightforward story that shows that love is what makes a family. A great resource to discuss discrimination! ~ Diverse – Preschool, Elementary School
Related: 20 Multicultural Children's Books about Bullying
---
Great Job, Dad!
by Holman Wang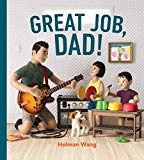 We love this unique new release with its gorgeous illustrations of needle-felted characters! At work, Dad might be a manager but at home, he has many different jobs, from a  receptionist scheduling important meetings (for playdates), an architect designing buildings (or pillow forts), to an inspector (of diapers!). With fun rhyme, Great Job Dad! is an original and sweet celebration of fathers. ~ Asian – Preschool
---
---
Elementary School
---
My Daddy Rules the World: Poems about Dads
by Anita Hope Smith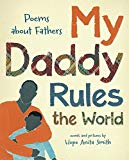 "Who is your hero? Who's your best friend? Who says he loves you again and again? Daddy!" Told through the voice of a child, My Daddy Rules the World is a collection of poems that celebrates everyday displays of fatherly love, from guitar lessons and wrestling matches to bedtime stories, haircuts in the kitchen, and cuddling in bed. This gorgeously illustrated book is our favourite book about fathers! ~ Diverse – Elementary School
Related: 40 Multicultural Poetry Books for Children
---
Josey Johnson's Hair and the Holy Spirit
by Esau McCaulley
Josie is spending the day with Dad―getting her hair braided at Monique's Beauty Shop, and picking out a new red dress for Sunday. Because Sunday is Pentecost! In the process, she learns to celebrate the differences she sees all around her as part of God's plan for his creation. Josey Johnson's Hair and the Holy Spirit invites children to join Josey as she learns of God's wonderfully diverse design. ~ African – Elementary School
---
La Luna Mango (Spanish Edition)
by Diane de Anda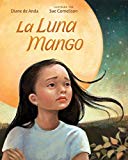 When her father is taken away and faces deportation, Maricela and her family are left to deal with the grief, uncertainty and challenges ahead. But Maricela learns that her love for her father is sustained even though he is no longer part of her daily life. With expressive illustrations, La Luna Mango is a touching picture book about family, loss and grief. ~ Hispanic – Elementary School
Related: 30 Multicultural Picture Books about Immigration
---
Just the Two of Us
by Will Smith
"Just the two of us / Building castles in the sky / Just the two of us, /You and I." With Smith's heartfelt lyrics and Kadir Nelson's vibrant paintings, Just The Two Of Us is the superstar's poignant ode to fatherhood. The book captures the beauty and intensity of a father's love as his child grows from a boy into a man. ~ African – Elementary School
---
Daddy-Daughter Day
by Pierce Freelon
A daddy and daughter can't let this perfect day go to waste—so what will they do and where will they go? Play hopscotch in the park or build a pillow fort and stay inside? Shoot the perfect alley-oop or host a tea party on the half-court line? Frolic like princesses or find a big tree to climb? If life gives them puddles, they'll jump and splash and play! Brought to life by dynamic illustrations, Daddy-Daughter Day is a joyous celebration of the love between fathers and daughters. ~ African – Elementary School
---
Daddy Poems
by Jon Micklos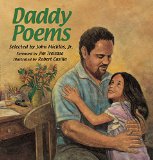 Daddy Poems is a collection of 22 poems celebrating fathers and the bond they share with their children. From morning routines to bedtime rituals, from piggyback rides to wild and wacky baths, the book provides a poignant look at the importance of dads. The poems are all by contemporary poets, such as Nikki Grimes, Juan Felipe Herrera and X.J. Kennedy, and the realistic watercolour illustrations depict families of diverse backgrounds. ~ Diverse – Elementary School
Related: 26 Multicultural Poetry Books for Children aged 0 to 10
---
Let's Go See Papá!
by Lawrence Schimel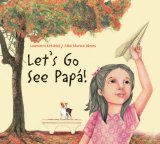 A young girl loves Sundays because that's when her father calls from the far-away US where he works. The girl thinks of all the fun things she used to do with her dad and keeps a record of what happens every day to share with him when she finally sees him again. But when her dad announces that she and her mother will move to the US, the girl has mixed feelings as she will have to leave her grandmother, her friends and her beloved dog behind. Let's go see Papa! is a touching story about an absent father and leaving behind those you love.  ~ Hispanic – Elementary School
Related: 30 Multicultural Picture Books about Immigration
---
A Father Like That
by Charlotte Zolotow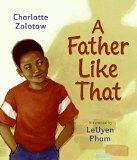 A young boy knows all about fathers, even though his dad left before he was born. He imagines a father who plays checkers with him, helps him with his homework, banishes nightmares and spends special time with his son.  "He would always be on my side, and I could always talk to him." His loving, supportive mother understands his son's desire and the void he feels and tells him that he can be a father like that himself one day. With warm illustrations and a gentle approach to this delicate subject, A Father Like That can be a helpful read for children with absent fathers. ~ African – Elementary School
---
I Love When Daddy Reads to Me
by Patrick James Patterson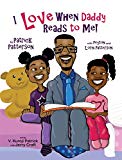 I Love When Daddy Reads to Me is a fun and engaging children's book that promotes father/child bonding and literacy. From a child's perspective, it presents many of the funny and loving reasons why reading with Daddy!  ~ African – Elementary School
Related: 15 Multicultural Children's Books celebrating books & reading
---
My Papi Has a Motorcycle
by Isabel Quintero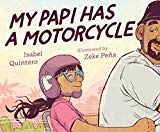 When Daisy Ramona zooms around her neighbourhood with her papi on his motorcycle, she sees her rapidly changing community around her. But as the sun sets purple-blue-gold, she knows that the love she feels will always be there. With vivid cartoon-style illustrations, My Papi Has A Motorcycle is a touching celebration of the love between a father and daughter. ~ Hispanic – Elementary School
---
Ghosts for Breakfast
by Stanley Todd Terasaki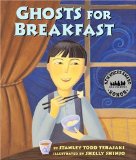 The troublesome triplets, Mr Omi, Mr Omaye, and Mr Ono, ask the young narrator's father for help: They have just seen dozens of ghosts in the fields! So father and son set out in the dark to hunt the ghosts. Set in a Japanese American farming community in the 1920s, Ghosts for Breakfast is a light-hearted father-and-son story about overcoming your fears and the effects of jumping to conclusions. ~ Asian – Elementary School
Related: 30 Asian & Asian American Children's Books
---
---
In Daddy's Arms I Am Tall: African Americans Celebrating Fathers
by Folami Abiade et al.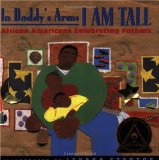 In My Daddy's Arms, I Am Tall is a vibrant celebration of fathers. Twelve African American writers contributed poems to this powerful collection: Folami Abiade, Dinah Johnson, Carole Boston Weatherford, Dakari Hru, Michael Burgess, E. Ethelbert Miller, Lenard D. Moore, David Anderson, Angela Johnson, Sonia Sanchez, Davida Adedjouma and Javaka Steptoe. The poems are brought to life by Steptoe's stunning collages that incorporate a variety of objects, such as fabric, torn paper, coins, seashells, buttons, sand, seeds, and leaves.  ~ African – Elementary School, Middle School
---
Dad Bakes
by Katie Yamasaki
Dad wakes early every morning before the sun, heading off to work at the bakery. He kneads, rolls, and bakes, and as the sun rises and the world starts its day, Dad heads home to his young daughter. Together they play, read, garden, and―most importantly―they bake. Inspired by muralist Katie Yamasaki's work with formerly incarcerated people, Dad Bakes is an intimate and tender story of love, family, and reclaiming a life with joy. ~ Asian – Elementary School
---
My Father's Boat
by Sherry Garland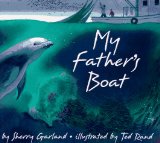 A Vietnamese immigrant father and his American-born son head out into the Gulf of Mexico on their shrimp boat. The boy learns all about shrimp fishing, and – more importantly – he hears his father's stories about his own father, a shrimp fisherman on the South China Sea, and about the war that separated them: "He could not leave the land he loved, and I could not stay." With breathtaking seascapes and lyrical text, My Father's Boat is a moving story about three generations of fishermen. ~ Asian – Elementary School
---
Daddy Speaks Love
by Leah Henderson
From day one, daddy speaks love to his little one. And along with that love, his words and actions speak many other things, too: like truth, joy, comfort, and pride. He answers a million questions and tries to make sure that days are full of fun adventures, giggles, and hugs. He scares away imaginary monsters, and honest about how to confront the real ones too. He sets an example for the future, speaks out for equality and justice, while sharing lessons from the past. But most of all, daddies encourage their young ones to fight for a better world, with the comfort of knowing their dads are right beside them. Daddy Speaks Love is a moving tribute to the joy and grounding that fathers bring to their children's lives. ~ African – Elementary School
---
When We Love Someone We Sing to Them
by Ernesto Javier Martinez
A reclamation of the Mexican serenata tradition, When We Love Someone We Sing to Them tells the story of a young boy who asks his father if there is a song for a boy who loves a boy. This award-winning bilingual book shows how a tradition expands as limitations are lifted to include everyone, all the way to remembering Xochipilli, the Mesoamerican deity of creativity, song, and dance.  ~ Hispanic – Elementary School
Related: Pura Belpré Award Winners 1996 – 2021
---
Hair Love
by Matthew A. Cherry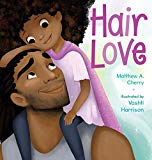 Zuri's hair has a mind of its own. It kinks, coils, and curls every which way. Zuri knows it's beautiful. But when Daddy steps in to style it for an extra special occasion, he has a lot to learn. With expressive illustrations and a sweet storyline, Love Hair is a tender ode to the love between fathers and daughters. ~ African – Elementary School
---
Papi's Gift
by Karen Stanton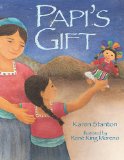 Because of a drought, Graciela's father has to go work on a farm in California, and won't be at home for her seventh birthday. But he promises that he will send a special present in the mail, with Graciela's full name on it and red string wrapped around it. Each day, Graciela gets more and more angry and disappointed when the present doesn't arrive. Until one day she has a thought: Maybe Papi could use a gift himself! Papi's Gift is a beautifully illustrated and heartwarming picture book that highlights the special, unbreakable bond between a father and a daughter. ~ Hispanic – Elementary School
---
Willie Wins
by Almira Astudillo Gilles
When Willie has to find a savings bank for a contest at school, his Dad gives him an alkansiya, a bank made out of a coconut shell from the Philippines. He's been saving it for Willie because of a surprise inside, a treasure Dad got when he was a boy. Willie reluctantly takes the bank to school, knowing he will be teased for it by his classmates. But he also can't stop wondering what the surprise in his bank will be? Is it really something special? Willie Wins is a touching story of a Filipino American boy who overcomes peer pressure and learns about family love and heritage from his father. ~ Asian – Elementary School
Related: 40 Filipino American Books for Children & Teenagers
---
When My Daddy Died, I…: Things I Miss About My Dad
by K.J. Reider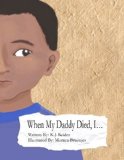 Written from the honest perspective of a child, When My Daddy Died captures the author's memories of his dad who died when he was seven years old. In simple words, the book tells about the things the young boy misses most about his dad: From listening to him reading bible stories to his family to playing basketball together. The warm illustrations depict loving interactions of a mixed-race family. This moving picture book gives grieving children the message to remember the good times with a loved one and to trust in God. ~ African – Elementary School
Related: 70+ Picture Books about Mixed Race Families
---
---
Always My Dad
by Sharon Dennis Wyeth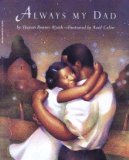 "Sometimes the person I want to see more than anyone in the world is my dad." Based on Wyeth's memories of her childhood with an often absent father, the book recalls a summer spent with her dad, running barefoot, catching lightning bugs, drinking soda at the general store. But as out of the blue as he arrived that summer, he tells his children that he will have to move on again. With expressive illustrations in warm earth tones, Always My Dad is an honest account of the sad reality of having a loving yet absent father and of having no control over what adults do. ~ African – Elementary School
---
How Many Stars in the Sky?
by Lenny Hort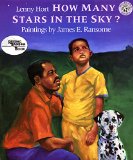 Mama's away one night, and her young son can't sleep. He ventures outside to count the stars only but the houses, trees, and streetlamps obscure his view. His father can't sleep either, so they go on a drive to the country where they are awed by the many stars they can see. How Many Stars in the Sky? warmly portrays the closeness between a father and his son on their unforgettable night adventure. ~ African – Elementary School
---
Just Dad and Me
by Erin Falligant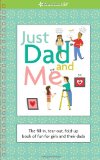 Just Dad and Me is an activity book full of fun things for girls to do with their dads. From car games to contests to secret handshakes, this book is full of fun things for girls to do with their dads. From care games and punching out paper aeroplanes, to contests, checklists and secret handshakes, every father-daughter will find an activity they enjoy.  Not only will many of the activities leave them laughing, they will also get to know each other even better. ~ Diverse – Elementary School
---
Papa, Daddy, and Riley
by Seamus Kirst
Riley is Papa's princess and Daddy's dragon. She loves her two fathers! When Riley's classmate asks her which dad is her real one, Riley is confused. She doesn't want to have to pick one or the other. Papa, Daddy, & Riley is a delightful celebration of diversity, family and love. ~ Diverse – Elementary School
Related: 90 Multicultural LGBTQIA Books for Children & Teenagers
---
A Different Pond
by Bao Phi
Bao and his father wake early every day to fish on the shores of a small pond in Minneapolis. Unlike many other anglers, they fish for food, not recreation. Between hope-filled casts, Bao's father tells him about a different pond in their homeland of Vietnam. With evocative illustrations, award-winning A Different Pond is a powerful story about the relationship between father and son – and between cultures, old and new.  ~ Asian – Elementary School
Related: 30 Asian & Asian American Children's Books for Ages 0 to 18
---
Of Thee I Sing: A Letter to My Daughters
by Barack Obama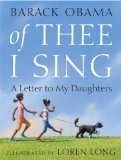 Of Thee I Sing is Barack Obama's moving tribute to thirteen groundbreaking Americans in the form of a tender letter to his daughters. He tells his daughters that he sees traits of all these people in them, too, from the artistry of Georgia O'Keeffe to the courage of Jackie Robinson and the patriotism of George Washington. Expressive illustrations capture the achievements of these great Americans as well as the innocence of childhood. ~ African – Elementary School
---
 *You can buy any of the books on this site from Amazon by clicking on the book titles or images*
---
More Books about Family Members:
14 Multicultural Children's Books about Mothers
20 Multicultural Picture Books about new Siblings
40+ Multicultural Children's Books about Grandparents
---
---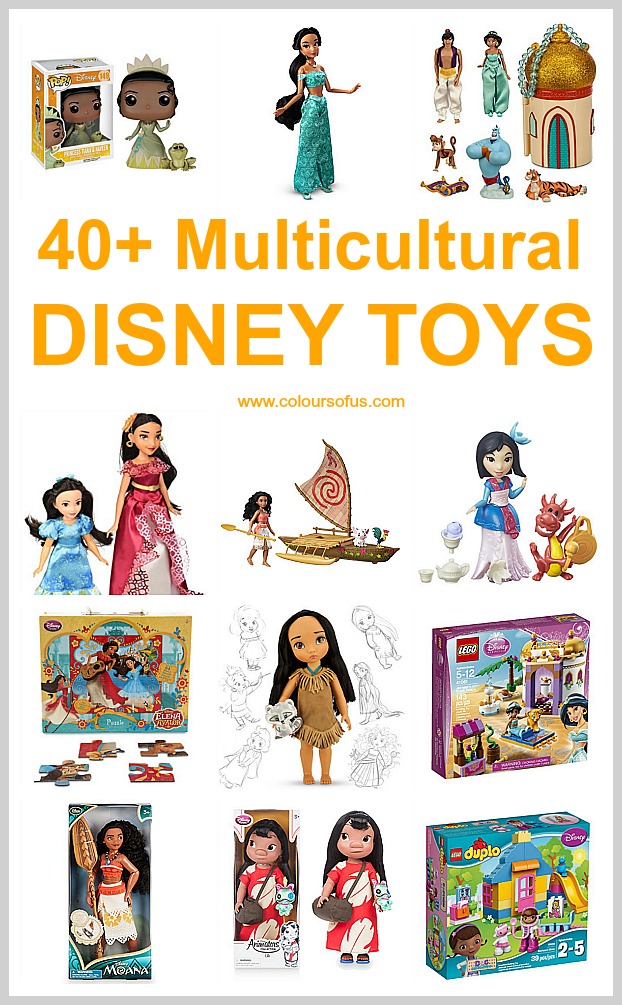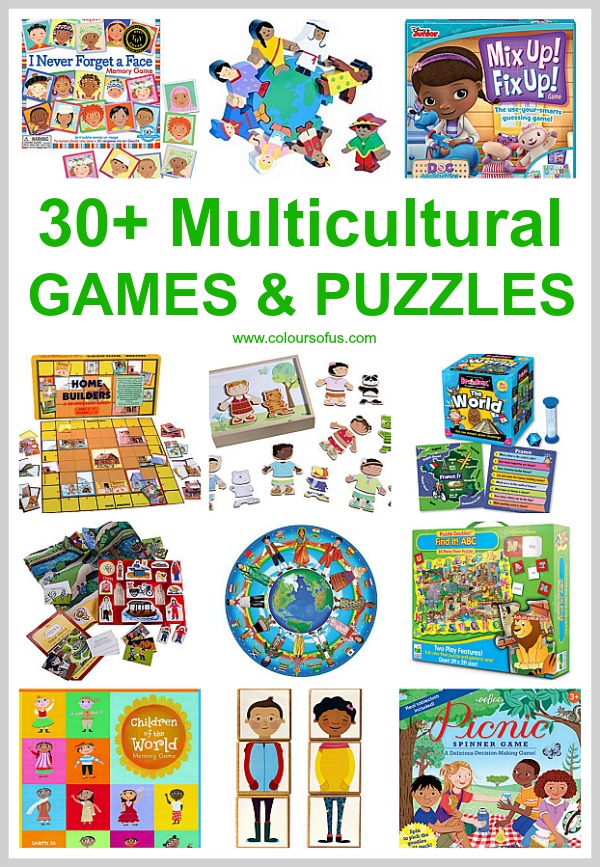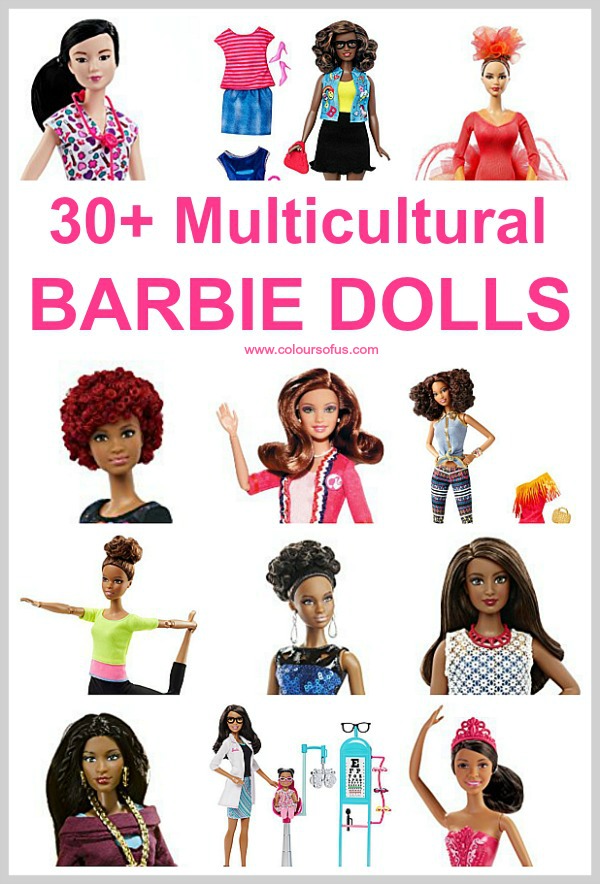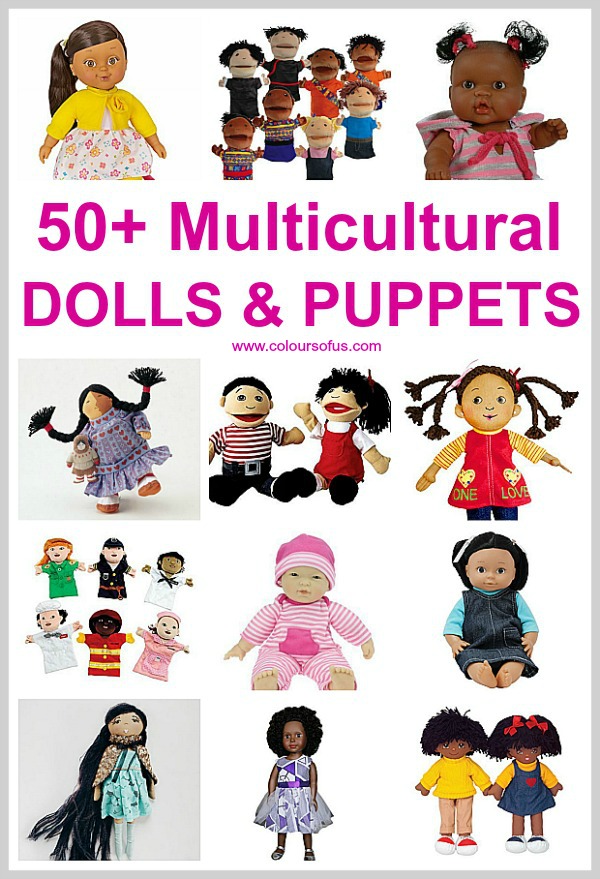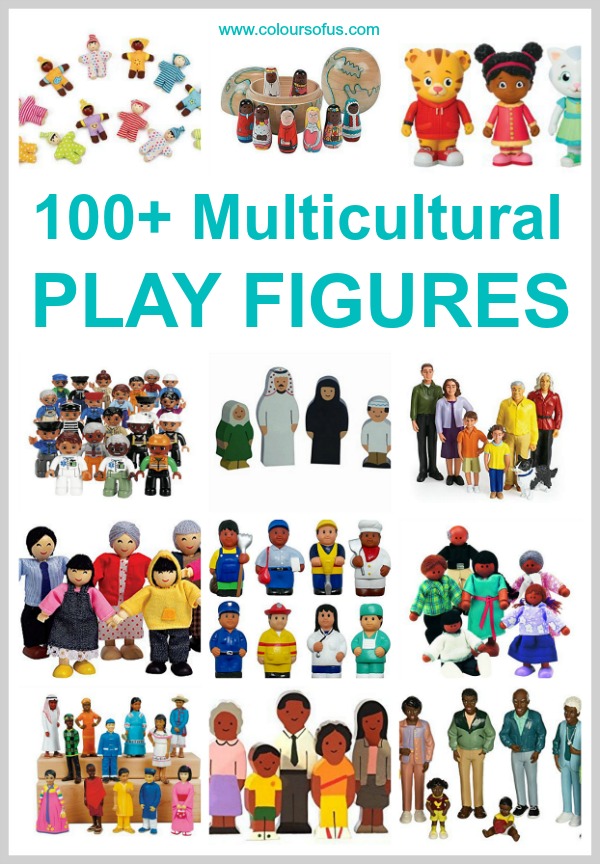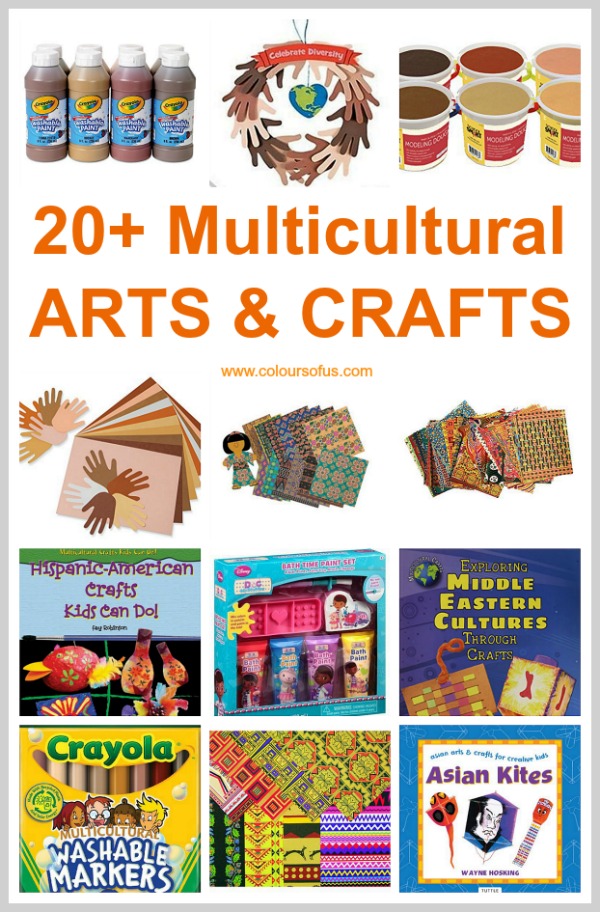 ---