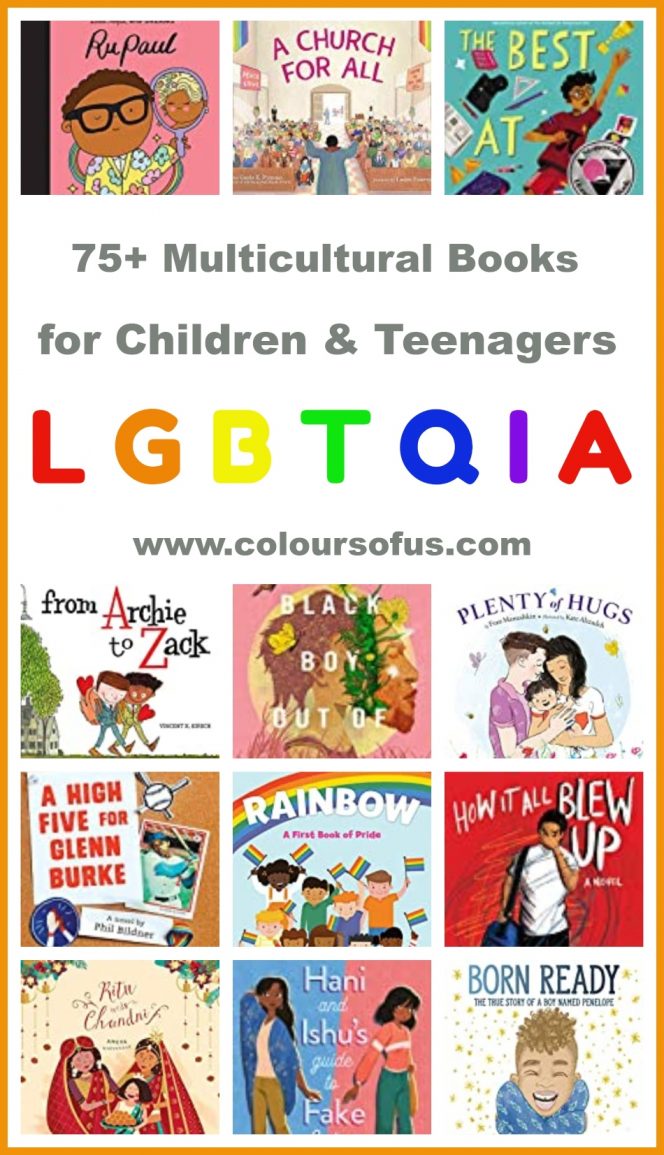 June is Pride Month – a time when LGBTQIA+ communities all over the world celebrate love, identity and solidarity!
A good time to put together this list of multicultural children's books featuring LGBTQIA characters (although these gorgeous and inclusive books are of course relevant all year round)!
---
75+ Multicultural LGBTQIA Books for Children & Teenagers
---
Babies & Toddlers
---
Baby's First Words
by Stella Blackstone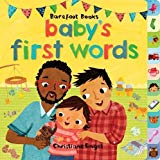 This cute little board book features a city baby whose parents happen to be two dads. With tabs and brief text, Baby's First Words follows the baby's daily activities of a city baby while featuring terms for objects, actions, and sounds. ~ Diverse -Babies & Toddlers
---
Love Makes a Family
by Sophie Beer
Love is baking a special cake. Love is lending a helping hand. Love is reading one more book. Love Makes A Family is an  exuberant board book that shows a range of diverse families throughout a day, from an early-morning wake-up to a kiss before bed. Whether a child has two moms, two dads, one parent, or one of each, this simple read-aloud demonstrates that what's most important in each family's life is the love the family members share. ~ Diverse – Babies & Toddlers
Related: 12 Multicultural Picture Books about Love
---
Pride 1 2 3
by Michael Joosten
"1 parade in the month of June / 2 DJs spin fabulous tunes / 3 families of all different types / 4 activists fight the good fight." Teach your little ones about the Pride Parade with this colourful, energetic counting book! Featuring a diverse cast of characters and families, Pride 123 celebrates the LGBTQIA+ community and love. ~ Diverse – Babies & Toddlers
---
The Family Book
by Todd Parr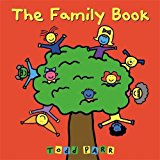 The Family Book is an inclusive children's book that celebrates families in all the different varieties they come in. With Todd Parr's signature quirky style, it assures little readers that every family is special and unique, whether you have two moms or two dads (a reference that this amazing book was actually banned for!), a big family or a small family, a clean family or a messy one. ~ Diverse -Babies & Toddlers
Related: 15 Must-Read Banned/Challenged Multicultural Children's Books
---
Pride Colors
by Robin Stevenson
With gentle rhymes and colourful photographs of adorable children, Pride Colors sends children the powerful message that they are free to be who they are and that they'll always be loved. Includes an explanation of the meaning behind each color in the Pride flag. ~ Diverse -Babies & Toddlers
---
The Hips on the Drag Queen Go Swish, Swish, Swish
by Lil Miss Hot Mess
Playing off "The Wheels on the Bus,"
The Hips on the Drag Queen Go Swish, Swish, Swish
is a nursery rhyme celebration of being your most fabulous self. Written by a founding member of the nationally recognized Drag Queen Story Hour (DQSH), this playful picture book is a fun frenzy of fierceness that encourages little readers to boldly be who they are.
~ Diverse -Babies & Toddlers
---
We Are Little Feminists Board Book Set
by Little Feminist
Little Feminist's 3-board-book-bundle features photos of real families with poems to build vocabulary and connection. Created to help families and educators discuss diversity through everyday topics, Stonewall Award-winning Families showcases gender, sexuality and all the wonderful forms of family, Hair showcases race and ethnicity, On-The-Go showcases the many forms of mobility, ability and bodies.  ~ Diverse – Babies & Toddlers
Related: Top 10 Multicultural Bedtime Stories for Babies & Toddlers
---
---
Preschool
---
Rainbow: A First Book of Pride
by Michael Genhart
Rainbow: A First Book of Pride is a sweet ode to rainbow families, and an affirming display of a parent's love for their child and a child's love for their parents. With bright colors and joyful families, this book celebrates LGBTQ+ pride and reveals the colorful meaning behind each rainbow stripe. ~ Diverse – Preschool
---
My Princess Boy
by Cheryl Kilodavis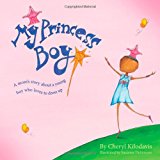 Inspired by the author's son, My Princess Boy tells the story of little Dyson who loves all things pink and sparkly and sometimes wears dresses. Challenged for 'promoting perversion and the gay lifestyle', My Princess Boy is a touching picture book about a loving family who supports their son unconditionally, and a call to end gender-stereotyping and celebrating our differences instead.  ~ Diverse – Preschool
Related: 15 Must-Read Banned/Challenged Multicultural Children's Books
---
Two Dads: A book about adoption
by Carolyn Roberston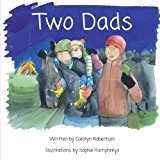 "I have something that can't be bad/… I don't have one…, I have two dads!" With lively text and colourful illustrations, Two Dads is an affirming story told from the perspective of the adopted child of two fathers, one white and the other black (or mixed race). ~ African – Preschool
Related: 28 Multicultural Children's Books about Adoption
---
RuPaul
by Maria Isabel Sanchez Vegara
As a child, playing dress-up was little RuPaul's favourite game. He went on to study performing arts and found drag as a way to express himself. Part of the acclaimed Little People, BIG DREAMS series, RuPaul tells the story of the performer, supermodel, and host of RuPaul's Drag Race. ~ African – Preschool
---
Except When They Don't
by Laura Gehl
"Girls perform to fairy songs. / Boys play football all day long. / Boys yell, "Boo!" and run away. / Girls like kittens and ballet. / Except when they don't." This stereotype-breaking book invites children to examine what they're told "boy" and "girl" activities are and encourages them to play with whatever they want to and to be exactly who they are. Except When They Don't is published in partnership with GLAAD to accelerate LGBTQ inclusivity and acceptance. ~ Diverse – Preschool
---
Julián at the Wedding
by Jessica Love
In this radiant sequel to acclaimed Julián Is a Mermaid, Julián is excited to be part of a wedding — and he even makes a new friend! Julián and Marisol set off for some magic and mischief of their own, and when things take an unexpected turn, the pair learns that everything is easier with a good friend by your side. Julián at the Wedding is a joyful story of friendship and individuality . ~ Hispanic – Preschool
Related: 18 Multicultural Children's Books about Friendship
---
Two Dads Are Better Than One
by K.C. Eckels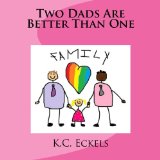 With rhyming text and child-like drawings, Two Dads Are Better Than One tells the story of little Suzie who lives with her same-sex parents. Suzie describes all the fun she has with her dads and how they support and love her, and also mentions the hurt when other children say mean things: "When people are mean, / That makes me sad, / They don't understand, / The Family I have!" ~ Diverse – Preschool
Related: 60+ Multicultural Children's Books about Fathers
---
Pride Puppy!
by Robin Stevenson
A young child and their family are having a wonderful time together celebrating Pride Day―meeting up with Grandma, making new friends and eating ice cream. But then something terrible happens: their dog gets lost in the parade! Luckily, there are lots of people around to help reunite the pup with his family. Pride Puppy! is a rhyming alphabet book that offers a joyful glimpse of a Pride parade and the vibrant community that celebrates this day each year. ~ Diverse – Preschool
---
This Day in June
by Gayle E. Pitman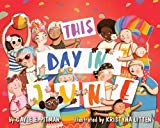 This whimsical and exuberant book invites little readers to experience a pride celebration in the LGBT community. It also includes a reading guide full of facts about LGBT history and culture as well as advice on how to talk to children about sexual orientation and gender identity. Award-winning This Day In June is a fantastic tool for teaching respect, acceptance, and understanding of lesbian, gay, bisexual, and transgender people. ~ Diverse – Preschool
---
My Rainbow
by DeShanna & Trinity Neal
Trinity, a Black transgender girl, likes to play with her siblings, her dolls, and her pet pig, Peter Porker. One day, she realizes that she needs long hair to express who she truly is. So her family takes a trip to the beauty supply store, but none of the wigs is the perfect fit. Determined, Mom leaves with bundles of hair in hand, ready to craft a wig as colorful and vibrant as her daughter. Written by mother-daughter advocate duo Trinity and DeShanna Neal, My Rainbow is a powerful story about showing up as our full selves. ~ African – Preschool
Related: The 50 Best Multicultural Picture Books Of 2020
---
---
It Takes Love (and some other stuff) to Make a Baby
by LL Bird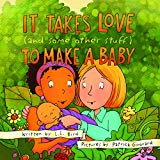 "Mommy, how are babies made?" It Takes Love (and some other stuff) To Make A Baby is a picture book for little kids in lesbian families born via donor insemination. With simple language and bright illustrations, it introduces the basics of reproduction and the concept of the donor. ~ Diverse – Preschool
---
Grandad's Camper
by Harry Woodgate
Gramps and Grandad were adventurers. They would surf, climb mountains, and tour the country in their amazing camper. Gramps just made everything extra special. But after Gramps died, granddad hasn't felt like traveling anymore. So, their amazing granddaughter comes up with a clever plan to fix up the old camper and get Grandad excited to explore again. Grandad's Camper is a beautiful picture book that honours love and reminds us not only to remember those we have lost, but to celebrate them. ~ Diverse – Preschool
Related: 40+ Multicultural Children's Books about Grandparents
---
A Church for All
by Gayle E. Pitman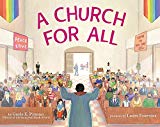 "Sunday waking / Day is breaking / Let's go to our church for all!" In simple lyrical words and with colourful illustrations, A Church For All celebrates diversity with a Sunday morning at an inclusive church that embraces all people regardless of age, class, race, gender identity, and sexual orientation. All are welcome at the church for all! ~ Diverse – Preschool
---
Two Mommies
by Tierra Williams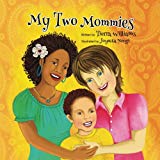 Follow a little boy and his two moms as they go about their day, from having fun at the beach to saying grace before dinner. With colourful illustrations and rhyming text, My Two Mommies is a warm and delightful book about family, love and inclusion. ~ Diverse – Preschool
Related: 40+ Multicultural Children's Books about Mothers
---
Uncle Bobby's Wedding
by Sarah S. Brannen
When Chloe's favorite uncle announces that he's getting married, everyone is excited — except Chloe. She worries that Uncle Bobby will no longer have time for picnics, swimming, or flying kites. Can Uncle Bobby and his boyfriend Jamie show Chloe that she is not losing an uncle but gaining one? With expressive illustrations, Uncle Bobby's Wedding is a warm and gentle story about family and love. ~ Diverse – Preschool
---
Plenty of Hugs
by Fran Manushkin
Plenty Of Hugs is a cheerful picture book that follows a family from morning to night in lively rhyme that rolls off the tongue. "There's a buzz for each bug, / and a breeze for each tree, / and plenty of hugs for you and me." The toddler and mommies take a morning bike ride to a farm stand, they visit a zoo in the afternoon, and in the evening there's the bath and storybook routine before the child is tucked cozily into bed. ~ Diverse – Preschool
Related: Top 10 Multicultural Bedtime Stories for Babies & Toddlers
---
Two Moms and a Menagerie
by Carolyn Robertson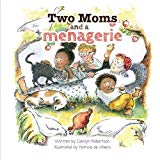 Two Moms and a Menagerie is a delightful story about two moms (one Black, one White), their two adopted sons and their ever-expanding animal family. With lively text and dynamic illustrations, this picture books is a fun read that will appeal to little readers. ~ Diverse – Preschool
---
Keesha & Her Two Moms Go Swimming
by Bey-Clarke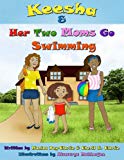 Keesha and her two moms head out for a fun day at the pool where they meet up with Trevor and his two dads. While the illustrations and text of are not of the greatest quality, Keesha & Her Two Moms Go Swimming is still an affirming story that normalizes LBGT families and promotes tolerance. ~ Diverse – Preschool
---
Keesha's South African Adventure
by Bey-Clarke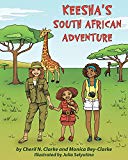 After learning about South Africa in school, Keesha dreams of travelling there one day. She gets the surprise of a lifetime when her two moms decide to take her there for her birthday. Keesha's South African Adventure follows the family as they experience the diverse landscapes, cultures and people of South Africa. ~ Diverse – Preschool
More books about South Africa: 23 Children's Books set in South Africa
---
Love Is Love
by Michael Genhart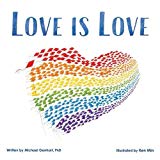 A young boy is being bullied about having two dads. He is being told that he doesn't have a real family. When he confides in his friend, he discovers that his friend's parents―a mom and a dad―and his two dads are actually very much alike. Love Is Love is a gentle yet straightforward story that shows that love is what makes a family. A great resource to discuss discrimination! ~ Diverse – Preschool
Related: 20 Multicultural Children's Books about Bullying
---
Zak's Safari
by Christy Tyner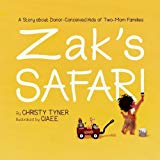 When the rain spoils Zak's plan for a safari adventure, he invites readers on a very special tour of his family instead. We learn about how his two moms met, fell in love, and wanted more than anything to have a baby—so they decided to make one using a sperm donor. Zak's Safari is a fun and informative book that explains sperm donation in simple but accurate language and that celebrates family.  ~ Diverse – Preschool
---
---
Elementary School
---
Born Ready: The True Story of a Boy Named Penelope
by Jodie Patterson
Penelope knows that he's a boy. (And a ninja.) The problem is getting everyone else to realize it. Born Ready is the exuberant companion to Jodie Patterson's adult memoir, The Bold World. She shares her son Penelope's frustrations and triumphs on his journey to share himself with the world. Penelope's experiences show children that it always makes you stronger when you are true to yourself and who you really are. ~ African – Elementary School
---
Why Do I Have Two Mommies?
by Janai Akerele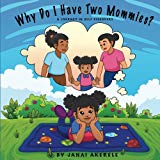 "Why do I have two moms?" Angel goes on a journey to find an answer to this question. She won't stop until she's questioned every member of the family. Not only does Why Do I Have Two Mommies? feature LGBT characters but also a range of other diverse characters, from the Middle-Eastern neighbour to the Asian best friend and the interracial grandparents. ~ Diverse – Elementary School
---
Papa, Daddy, and Riley
by Seamus Kirst
Riley is Papa's princess and Daddy's dragon. She loves her two fathers! When Riley's classmate asks her which dad is her real one, Riley is confused. She doesn't want to have to pick one or the other. Papa, Daddy, & Riley is a delightful celebration of diversity, family and love. ~ Diverse – Elementary School
---
Ritu Weds Chandni
by Ameya Narvankar
Ayesha is excited to attend her cousin Ritu's wedding. She can't wait to dance at the baraat ceremony! But not everyone is happy that Ritu is marrying her girlfriend Chandni. Some have even vowed to stop the celebrations. Will Ayesha be able to save her cousin's big day? Acclaimed Ritu Weds Chandni is a warmhearted book that celebrates the power of young voices to stand up against prejudice and bigotry. ~ Asian – Elementary School
---
When We Love Someone We Sing to Them
by Ernesto Javier Martinez
A reclamation of the Mexican serenata tradition, When We Love Someone We Sing to Them tells the story of a young boy who asks his father if there is a song for a boy who loves a boy. This award-winning bilingual book shows how a tradition expands as limitations are lifted to include everyone, all the way to remembering Xochipilli, the Mesoamerican deity of creativity, song, and dance.  ~ Hispanic – Elementary School
Related: Pura Belpré Award Winners 1996 – 2021
---
From Archie to Zack
by Vincent Kirsch
"Archie loves Zack!" "Zack loves Archie!" Everyone said it was so. But Archie hasn't told Zack yet. And Zack hasn't told Archie. They spend just about every minute together: walking to and from school, doing science and art projects, practicing for marching band, learning to ride bikes, and so much more. Archie tries to write a letter to Zack to tell him how he feels: "From A to Z." None of his drafts sound quite right, so he hides them all away. One by one, Archie's friends (Zelda, Zinnia, and Zuzella) find the letters . . . but they know exactly whom they're meant for. From Archie To Zack unapologetically celebrates young, queer love in a whimsical, kid-friendly way. ~ African – Elementary School
---
Stonewall: A Building. An Uprising. A Revolution
by Rob Saunders
In the early-morning hours of June 28, 1969, the Stonewall Inn was raided by police in New York City, and members of the LGBTQ+ community began to protest and demand their equal rights as citizens of the United States. Movingly narrated by the Stonewall Inn itself, and featuring stirring and dynamic illustrations, Stonewall: A Building. An Uprising. A Revolution is an empowering picture book about a historic moment in the gay civil rights movement. ~ Diverse – Elementary School
---
In Our Mothers' House
by Patricia Polacco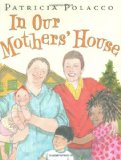 Just like any other family, Marmee, Meema and their three kids like to cuddle, cook and dance together. Some people don't accept them but the family gains strength from their love and lives by their own rules. With expressive drawings of loving family interactions, In Our Mothers' House teaches children that different isn't wrong and that love is what makes a family. ~ Diverse – Elementary School
---
Maiden & Princess
by Daniel Haack
Once in a faraway kingdom, a strong, brave maiden is invited to attend the prince's royal ball, but she's not as excited to go as everyone else. After her mother convinces her to make an appearance, she makes a huge impression on everyone present, from the villagers to the king and queen, but she ends up finding true love in a most surprising place. Maiden & Princess is a modern and inclusive fairy tale that young readers will love. ~ Diverse – Elementary School
---
Antonio's Card/ La tarjeta de Antonio 
by Rigoberto González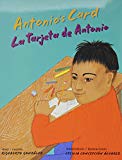 Mother's Day is around the corner, and Antonio searches for words to express his love for his mother and her partner, Leslie. When his classmates make fun of Leslie, a tall artist who wears paint-splattered overalls, Antonio feels hurt and confused. Complemented by richly hued paintings, Antonio's Card is a warm and tender story about standing up for yourself and the people you love. ~ Hispanic – Elementary School
---
Sylvia and Marsha Start a Revolution!
by Joy Michael Ellison
"Someday girls like us will be able to wear whatever we want. People will call us by the names we choose. They'll respect that we are women." Sylvia and Marsha Start A Revolution! introduces children to the story of Sylvia Rivera and Marsha P. Johnson, the two transgender women of colour who helped kickstart the Stonewall Riots and dedicated their lives to fighting for LGBTQ+ equality. Includes a reading guide and teaching materials. ~ Diverse – Elementary School
Related: 80 Picture Book Biographies About Bold Black Women & Girls
---
Princess Princess Ever After
by Katie O.Neill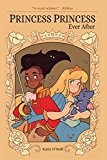 When the heroic princess Amira rescues the kind-hearted princess Sadie from her tower prison, they discover that they bring out the very best in each other. Together, the two very different princesses embark on a journey to defeat their greatest foe yet: a jealous sorceress, who wants to get rid of Sadie once and for all. Princess Princess Ever After is a queer, feminist and multicultural graphic novel that children will love! ~ Diverse – Elementary School
Related: 14 Multicultural Children's Books About Spunky Princesses
---
Ho'onani: Hula Warrior
by Heather Gale
Ho'onani feels in-between. She doesn't see herself as wahine (girl) OR kane (boy). She's happy to be in the middle. But not everyone sees it that way. When Ho'onani finds out that there will be a school performance of a traditional kane hula chant, she wants to be part of it. But can a girl really lead the all-male troupe? Based on a true story, Ho'onani: Hula Warrior is an empowering celebration of Hawaiian culture, identity and acceptance. ~ Diverse – Elementary School
Related: 75+ Native American Children's Books
---
---
Middle School
---
The Tea Dragon Society
by Katie O'Neill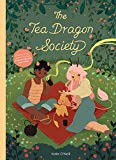 After discovering a lost tea dragon, blacksmith Greta learns about the dying art form of tea dragon care-taking from the kind tea shop owners. As she befriends them and their shy ward, Greta sees how the craft enriches their lives—and eventually her own. From the award-winning author of Princess Princess Ever After comes The Tea Dragon Society, a charming graphic novel with a diverse cast of LGBTQIA characters and people of colour. Includes  "Extracts from the Tea Dragons Handbook", explaining more about tea dragons. ~ Diverse – Middle School
Don't miss the adorable follow-up: Aquicorn Cove
---
Rainbow Revolutionaries: Fifty LGBTQ+ People Who Made History
by Sarah Prager
With short, engaging bios and dynamic artwork, Rainbow Revolutionaries brings to life the vibrant histories of fifty pioneering LGBTQ+ people from around the world. Readers can delve into the lives of Wen of Han, a Chinese emperor who loved his boyfriend as much as his people, Martine Rothblatt, a trans woman who's helping engineer the robots of tomorrow, and many more. Includes an introduction, map, timeline, and glossary. ~ Diverse – Middle School
---
King and the Dragonflies
by Kacen Callender
Twelve-year-old Kingston James is sure his brother Khalid has turned into a dragonfly. When Khalid unexpectedly passed away, he shed what was his first skin for another to live down by the bayou in their small Louisiana town. Khalid still visits in dreams, and King must keep these secrets to himself as he watches grief transform his family. It would be easier if King could talk with his best friend, Sandy Sanders. But just days before he died, Khalid told King to end their friendship, after overhearing that Sandy might be gay. Award-winning King And The Dragonflies is a heartfelt story about loss, grief, and finding the courage to discover one's identity.  ~ African – Middle School
---
High Five for Glenn Burke
by Phil Bildner
When sixth grader Silas Walker does a school presentation on Glenn Burke — the first professional baseball player to come out as gay — it's more than just a report on the inventor of the high five. For Silas, it is his own first step toward coming out. Soon he tells his best friend Zoey, but the longer he keeps his secret from his baseball teammates, the more he suspects they know something's up. Kids get pulled from the team, fingers point at Silas, and he stages one big cover-up with terrible consequences. A High Five For Glenn Burke is a heartfelt novel that weaves the real history of Los Angeles Dodger Glenn Burke into the story of a middle-school kid learning to be himself. ~ African – Middle School
---
Meow or Never: A Wish Novel
by Jazz Taylor
Avery Williams can sing, but that doesn't mean she can sing in front of people. She likes to stay backstage at her new school, which is where, to her surprise, she finds a cat tucked away into a nook. Avery names the stray Phantom and visits any time she's feeling stressed (which is a lot these days). As she sings to Phantom one day, her crush, Nic, overhears her and ropes Avery into auditioning for the school's musical. Meow or Never is a heartwarming story of secret pets and secret crushes… and learning to take center stage! ~ African – Middle School
---
Hurricane Child
by Kheryn Callender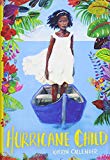 12-year-old Caroline Murphy struggles with being bullied by students and teachers alike at her small school on St. Thomas of the US Virgin Islands, a spirit that keeps following her, and the fact that her mother left home one day and never came back. When Caroline befriends Kalinda, a new student from Barbados, she soon realizes that her feelings for her are more than platonic. Although those feelings are not being reciprocated, Kalinda wants to help Caroline look for her missing mother and so the girls set out in a hurricane to find her before it is too late. Award-winning Hurricane Child is a moving and suspenseful coming-of-age novel that young readers will love. ~ African – Middle School
Related: 36 Children's Books set in the Caribbean
---
The Insiders
by Mark Oshiro
Héctor Muñoz couldn't feel more alone at his new school in Orangevale. Most days, he just wishes he could disappear. And he does. Right into the janitor's closet. (Yes, he sees the irony.) But one day, when the door closes behind him, Héctor stumbles into a room that shouldn't be possible. A room that connects him with two new friends from different corners of the country—and opens the door to a life-changing year full of magic, friendship, and adventure. The Insiders is a hilarious, hopeful and heartfelt coming-of-age story for anyone who's ever felt like they didn't fit in. ~ Diverse – Middle School
---
The Best at It
by Maulik Pancholy
The start of 7th Grade in a small town in Indiana is making Rahul Kapoor feel increasingly anxious, so his grandfather, Bhai, gives him some well-meaning advice: Find one thing you're really good at and become the BEST at it. While Rahul is not quite sure what that special thing is, he is convinced that once he finds it, bullies like Brent Mason will stop torturing him at school. And he won't be worried about staring too long at his classmate Justin Emery. With his best friend, Chelsea, by his side, Rahul is ready to crush this challenge…. But what if he discovers he isn't the best at anything? Stonewall Honour Book The Best At It is a hilarious and heartfelt story about friendship, family, and the courage to live your truth. ~ Asian – Middle School
Related: 180+ Asian & Asian American Books For Children & Teenagers
---
To Night Owl From Dogfish
by Holly Goldberg Sloan & Meg Wolitzer
Avery Bloom, who's bookish, and afraid of many things, particularly deep water, lives in New York City. Bett Devlin, who's fearless, and loves all animals as well as the ocean, lives in California. What they have in common is that they are both twelve years old, and are both being raised by single, gay dads. When their dads fall in love, Bett and Avery are sent, against their will, to the same sleepaway camp. Soon things go off the rails for the girls (and for their dads too), and they find themselves on a summer adventure that neither of them could have predicted. To Night Owl From Dogfish is a moving, exuberant, and laugh-out-loud novel about friendship and family, told entirely in emails and letters. ~ African – Middle School
---
This Is Our Rainbow: 16 Stories of Her, Him, Them, and Us
by Katherine Locke & Nicole Melleby
A boyband fandom becomes a conduit to coming out. A former bully becomes a first-kiss prospect. One nonbinary kid searches for an inclusive athletic community after quitting gymnastics. Another nonbinary kid, who happens to be a pirate, makes a wish that comes true–but not how they thought it would. A tween girl navigates a crush on her friend's mom. A young witch turns herself into a puppy to win over a new neighbour. A trans girl empowers her online bestie to come out. From wind-breathing dragons to first crushes, This Is Our Rainbow is the first LGBTQA+ anthology for middle-graders featuring stories for every letter of the acronym, including fantasy, historical, and contemporary stories. ~ Diverse – Middle School
Related: 30 Diverse Children's Anthologies About Trailblazing Women
---
---
High School
---
Felix Ever After
by Kacen Callender
Felix Love has never been in love—and, yes, he's painfully aware of the irony. He desperately wants to know what it's like and why it seems so easy for everyone but him to find someone. Even though he is proud of his identity, Felix also secretly fears that he's one marginalization too many—Black, queer, and transgender—to ever get his own happily-ever-after. As he navigates his complicated feelings, Felix begins a journey of questioning and self-discovery that helps redefine his most important relationship: how he feels about himself. Stonewall Honour Book Felix Ever After is an honest and layered story about identity, falling in love, and recognizing the love you deserve. ~ African – High School
---
The Henna Wars
by Adiba Jaigirda
Set in a Bangladeshi community in Ireland, The Henna Wars is a fast-paced novel about the love between two teenage girls, racism and homophobia. Nishat doesn't want to lose her family, but she also doesn't want to hide who she is, and it only gets harder once a childhood friend walks back into her life. Flávia is beautiful and charismatic, and Nishat falls for her instantly. But when a school competition invites students to create their own businesses, both Flávia and Nishat decide to showcase their talent as henna artists. As the competition heats up, Nishat has a decision to make: stay in the closet for her family, or put aside her differences with Flávia and give their relationship a chance. ~ Asian – High School
---
You Should See Me in a Crown
by Leah Johnson
Liz thinks she's too black, too poor, too awkward to shine in her small, rich, prom-obsessed midwestern town. She plans to get out of Campbell, Indiana, attend the elite Pennington College, play in their world-famous orchestra, and become a doctor. But with limited finances, Liz's only option is the school's scholarship for prom queen. Despite her fear of social media trolls, catty competitors, and humiliating public events, she does whatever it takes to get to Pennington. Stonewall Honour Book You Should See Me In A Crown is a fresh queer romcom celebrating diversity and individuality. ~ African – High School
Related: 250 Children's Books Celebrating Black Girls
---
It's Not Like It's a Secret
by Miza Sugiura
Sixteen-year-old Sana Kiyohara always figured that the hardest thing would be to tell people that she wants to date a girl, but as she quickly learns, telling the truth is easy…what comes after it, though, is a whole lot more complicated. When Sana and her family move to California, she meets Jamie Ramirez. But Sana's new friends don't trust Jamie's crowd; Jamie's friends clearly don't want her around anyway; and a sweet guy named Caleb seems to have more-than-friendly feelings for her. Award-winning It's Not Like It's A Secret is a charming and bittersweet coming-of-age story featuring two girls of colour falling in love. ~ Diverse – High School
---
The Black Flamingo
by Dean Atta
Growing up in London as a mixed-race gay teen, Michael struggles to navigate his Greek-Cypriot and Jamaican, never quite feeling Greek or Black enough. As he gets older, Michael's coming out is only the start of learning who he is and where he fits in. When he discovers the Drag Society, he finally finds where he belongs. Told with raw honesty and insight, The Black Flamingo is a fierce novel-in-verse that explores cultural and sexual identity. ~ African – High School
---
Like a Love Story
by Abdi Nazemian
For three teens in 1989 New York City the world is changing. Reza is an Iranian boy who has just moved to the city with his mother to live with his stepfather and stepbrother. He knows he's gay, but all he knows of gay life are the media's images of men dying of AIDS. Judy is an aspiring fashion designer who worships her uncle Stephen, a gay man with AIDS who devotes his time to activism. Judy meets Reza and they start dating. Art is Judy's best friend, their school's only out and proud teen. He'll never be who his conservative parents want him to be, so he rebels by documenting the AIDS crisis through his photographs. As Reza and Art grow closer, Reza struggles to find a way out of his deception that won't break Judy's heart—and destroy the most meaningful friendship he's ever known. Stonewall Honour Book Like A Love Story is an epic love letter to queerness, self-expression, and individuality. ~ Asian – High School
---
They Both Die at the End
by Adam Silvera
On September 5, a little after midnight, Death-Cast calls Mateo Torrez and Rufus Emeterio to give them some bad news: They're going to die today. Mateo and Rufus are total strangers, but, for different reasons, they're both looking to make a new friend on their End Day. The good news: There's an app for that. It's called the Last Friend, and through it, Rufus and Mateo are about to meet up for one last great adventure—to live a lifetime in a single day. Critically acclaimed bestseller They Both Die At The End is a devastating yet uplifting story about two people whose lives change over the course of one unforgettable day. ~ Hispanic – High School
---
The Love and Lies of Rukhsana Ali
by Sabina Khan
Seventeen-year-old Rukhsana Ali has always been fascinated by the universe around her and the laws of physics that keep everything in order. But her life at home isn't so absolute. Unable to come out to her conservative Muslim parents, she keeps her girlfriend, Ariana, a secret. Luckily, only a few more months stand between her carefully monitored life at home and a fresh start at Caltech in the fall. But when Rukhsana's mom catches her and Ariana together, her future begins to collapse around her. With a mix of humor, heart, and high-stakes drama, The Love And Lies Of Rukhsana Ali is an honest portrait of what it's like to grow up feeling unwelcome in your own culture. ~ Asian – High School
Related: 180+ Asian & Asian American Books For Children & Teenagers
---
---
Fifteen Hundred Miles from the Sun: A Novel
by Jonny Garza Villa
Julián Luna has a plan for his life: Graduate. Get into UCLA. And have the chance to move away from Corpus Christi, Texas, and the suffocating expectations of others that have forced Jules into an inauthentic life. Then in one reckless moment, with one impulsive tweet, his plans for a low-key nine months are thrown—literally—out the closet. And when Jules's fears about coming out come true, the person he needs most  – Mat, his empathetic Twitter crush from L.A. is fifteen hundred miles away. Jules has to face them alone. Fifteen Hundred Miles From The Sun is a poignant and funny novel about coming out, first love, and being your one and only best and true self. ~ Hispanic – High School 
---
Black Boy Out of Time: A Memoir
by Hari Ziyad
One of nineteen children in a blended family, Hari Ziyad was raised by a Hindu Hare Kṛṣṇa mother and a Muslim father. Through reframing their own coming-of-age story, Ziyad takes readers on a powerful journey of growing up queer and Black in Cleveland, Ohio, and of navigating the equally complex path toward finding their true self in New York City. Black Boy Out Of Time is an eloquent, restless, and enlightening memoir by one of the most thought-provoking journalists today about growing up Black and queer in America, reuniting with the past, and coming of age their own way. ~ African – High School
---
Juliet Takes a Breath
by Gabby Rivera
Juliet Milagros Palante is a self-proclaimed closeted Puerto Rican baby dyke from the Bronx. Only, she's not so closeted anymore. Not after coming out to her family the night before flying to Portland, Oregon, to intern with her favourite feminist writer–what's sure to be a life-changing experience. And when Juliet's coming out crashes and burns, she's not sure her mom will ever speak to her again. In a summer bursting with queer brown dance parties, a sexy fling with a motorcycling librarian, and intense explorations of race and identity, Juliet Takes A Breath follows the strong Hispanic protagonist as she learns what it means to come out–to the world, to her family, to herself. ~ Hispanic – High School
---
All Boys Aren't Blue: A Memoir-Manifesto
by George M. Johnson
In a series of personal essays, prominent journalist and LGBTQIA+ activist George M. Johnson explores his childhood, adolescence, and college years in New Jersey and Virginia. From the memories of getting his teeth kicked out by bullies at age five, to flea marketing with his loving grandmother, to his first sexual relationships, All Boys Aren't Blue is a compelling young-adult memoir that weaves together the trials and triumphs faced by Black queer boys. ~ African – High School
---
Pet
by Akwaeke Emezi
There are no monsters anymore, or so the children in the city of Lucille are taught. But when Black transgender girl Jam meets Pet, a creature made of horns and claws, who emerges from one of her mother's paintings and a drop of Jam's blood, she must reconsider what she's been told. Pet has come to hunt a monster, and the shadow of something grim lurks in Jam's best friend Redemption's house. Jam must fight not only to protect Redemption, but also to uncover the truth, and the answer to the question: How do you save the world from monsters if no one will admit they exist? Award-winning Pet is a riveting and timely young adult debut about identity and justice. ~ African – High School
---
Darius the Great Deserves Better
by Adib Khorram
Since Darius's trip to Iran, he's been getting along with his dad, and his best friend Sohrab is only a Skype call away. Between his first boyfriend, Landon, varsity soccer practices, and an internship at his favourite tea shop, things seem to be falling into place. It's everything he's ever wanted–but what if he deserves better? Stonewall Honour Book Darius The Great Deserves Better is the follow-up to the award-winning Darius the Great Is Not Okay. ~ Asian – High School
Related: 180+ Asian &  Asian American Books For Children & Teenagers
---
I Wish You All the Best
by Mason Deaver
When Ben De Backer comes out to their parents as nonbinary, they're thrown out of their house and forced to move in with their estranged older sister. Struggling with an anxiety disorder compounded by their parents' rejection, they try to keep a low profile in a new school. But then Nathan Allan, a funny and charismatic student, decides to take Ben under his wing. As Ben and Nathan's friendship grows, their feelings for each other begin to change, and what started as a disastrous turn of events looks like it might just be a chance to start a happier new life. At turns heartbreaking and joyous, I Wish You All the Best is a celebration of life, friendship, and love. ~ Diverse – High School 
---
Last Night at the Telegraph Club
by Malindo Lo
Seventeen-year-old Lily Hu can't remember exactly when the feeling took root—that desire to look, to move closer, to touch. Whenever it started growing, it definitely bloomed the moment she and Kathleen Miller walked under the flashing neon sign of a lesbian bar called the Telegraph Club. But America in 1954 is not a safe place for two girls to fall in love, especially not in Chinatown. Red-Scare paranoia threatens everyone, including Chinese Americans like Lily. With deportation looming over her father—despite his hard-won citizenship—Lily and Kath risk everything for their love. Last Night At The Telegraph Club is a gripping historical romance novel that teenagers won't wanna put down. ~ Asian – High School
---
---
Cemetery Boys
by Aiden Thomas
When his traditional family has problems accepting his true gender, Yadriel wants to prove himself a real brujo. With the help of his cousin and best friend Maritza, he performs a ritual to find the ghost of his murdered cousin and set it free. But the ghost he summons is actually Julian Diaz, the school's resident bad boy, who is not about to go quietly into death. He's determined to find out what happened and tie off some loose ends before he leaves. Left with no choice, Yadriel agrees to help Julian, so that they can both get what they want. But the longer Yadriel spends with Julian, the less he wants to let him leave. Cemetery Boys is a paranormal young adult novel about about family, gender identity and love. ~ Hispanic – High School
---
This Is Kind of an Epic Love Story
by Kacen Callender
Nathan Bird doesn't believe in happy endings. Although he's the ultimate film buff and an aspiring screenwriter, Nate's seen the demise of too many relationships to believe that happy endings exist in real life. Ever since his father died and left his mom to unravel, Nathan's been playing it safe to avoid a broken heart — until Oliver James Hernández, his childhood best friend, comes along. Can Nate find the courage to pursue his own happily ever after? This Is Kind Of An Epic Love Story is a charming rom-com about finding the courage to pursue your own happily ever after. ~ Diverse – High School
---
I'll Be the One
by Lyla Lee
Skye Shin has heard it all. Fat girls shouldn't dance, wear bright colours, call attention to themselves. But Skye dreams of joining the glittering world of K-Pop, and to do that, she's about to break all the rules that society, the media, and even her own mother, have set for girls like her. She nails the audition for an internationally televised competition looking for the next K-pop star, and is immediately swept into a whirlwind of countless practices, shocking performances, and the drama that comes with reality TV. Featuring a bisexual Korean American protagonist, I'll Be The One is a delightful rom-com celebrating confidence and body positivity. ~ Asian – High School
---
Only Mostly Devastated
by Sophie Gonzales
Will Tavares is the dream summer fling―he's fun, affectionate, kind―but just when Ollie thinks he's found his Happily Ever After, summer vacation ends and Will stops texting Ollie back. To complicate things further, a family emergency sees Ollie uprooted and enrolled at a new school across the country. Which he minds a little less when he realizes it's the same school Will goes to…except Ollie finds that the sweet, comfortably queer guy he knew from summer isn't the same one attending Collinswood High. This Will is a class clown, closeted―and, to be honest, a bit of a jerk. Only Mostly Devastating is a funny and heart-warming boy-meets-boy spin on Grease. ~ Hispanic – High School
---
Color outside the Lines: Stories about Love
by Sangu Mandanna
"When people ask me what this anthology is about, I'm often tempted to give them the complicated answer: it's about race, and about how being different from the person you love can matter but how it can also not matter, and it's about Chinese pirate ghosts, black girl vigilantes, colonial India, a flower festival, a garden of poisons, and so, so much else. Honestly, though? I think the answer's much simpler than that. Color outside the Lines is a collection of stories about young, fierce, brilliantly hopeful people in love." (Sangu Mandanna) ~ Diverse – High School
---
We Are Totally Normal
by Naomi Kanakia
Nandan's got a plan to make his junior year perfect, but hooking up with his friend Dave isn't part of it—especially because Nandan has never been into guys. Still, Nandan's willing to give a relationship with him a shot. But the more his anxiety grows about what his sexuality means for himself, his friends, and his social life, the more he wonders whether he can just take it all back. Is breaking up with Dave—the only person who's ever really gotten him—worth feeling "normal" again? Featuring a Native American protagonist, We Are Totally Normal is a contemporary novel about the complexities of gender and sexuality. ~ Diverse – High School
Related: 75+ Native American Children's Books
---
How It All Blew Up
by Arvin Ahmadi
Eighteen-year-old Amir Azadi always knew coming out to his Muslim family would be messy–he just didn't think it would end in an airport interrogation room. But when faced with a failed relationship, bullies, and blackmail, running away to Rome is his only option. Right? Soon, late nights with new friends and dates in the Sistine Chapel start to feel like second nature… until his old life comes knocking on his door. At turns uplifting and devastating, How It All Blew Up takes an incisive look at identity and what it means to find yourself by running away. ~ Asian – High School
---
Hani and Ishu's Guide to Fake Dating
by Adiba Jaigirdar
When popular Humaira "Hani" Khan comes out to her friends as bisexual, they say she can't be bi if she's only dated guys. Panicked, Hani blurts out that she's in a relationship…with unpopular Ishita "Ishu" Dey. Ishu is an academic overachiever who hopes that becoming head girl will set her on the right track for college. But Ishita agrees to help Hani, if Hani will help her become more popular so that she stands a chance of being elected head girl. Despite their mutually beneficial pact, they start developing real feelings for each other. Hani and Ishu's Guide to Fake Dating is a charming romance novel about two Bengali girls. ~ Asian – High School
---
*You can buy any of the books on this site from Amazon USA by clicking on the book titles or images*
---
---