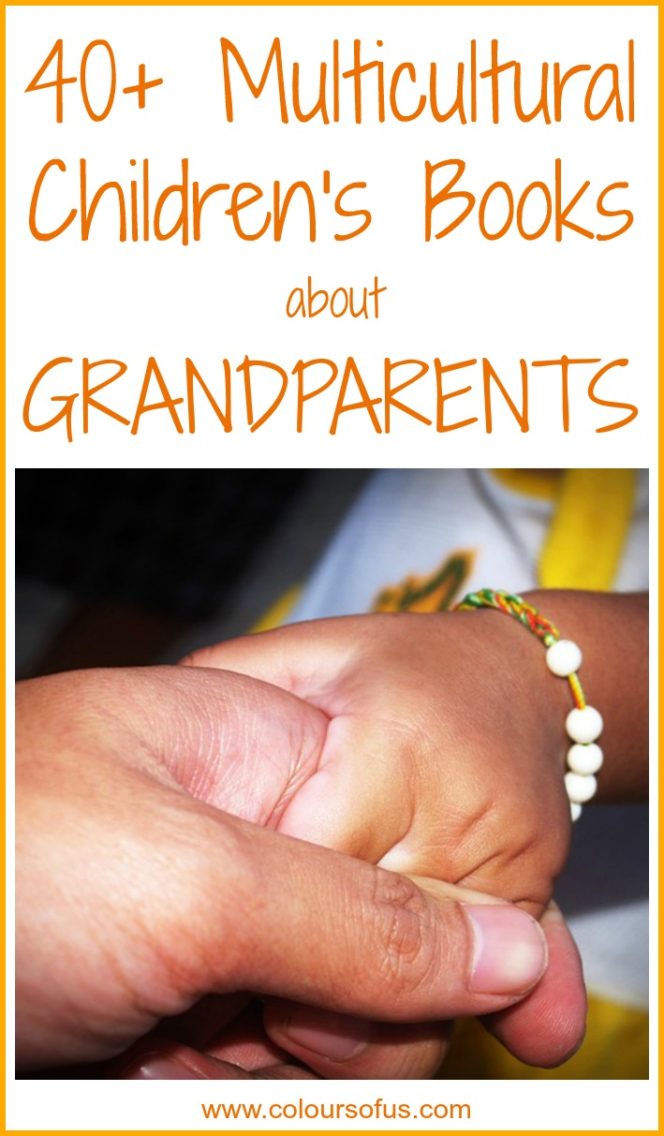 "Nobody can do for little children what grandparents do.
Grandparents sort of sprinkle stardust over the lives of little children."
~ Alex Haley
Grandma and Grandpa, Gong Gong and Nai Nai, Abuela and Abuelo – all over the world grandparents play an important role in their grandchildren's lives. Unburdened by the daily stresses of raising a family, grandparents are often more relaxed and able to enjoy quality time with their grandchildren, thus building very strong relationships.
Celebrate grandparents – not only on today's National Grandparent Day – with these multicultural children's books!
---
40+ Multicultural Children's Books about Grandparents
---
African
---
The Hello, Goodbye Window
by Norton Juster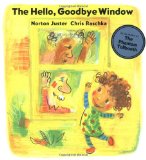 The Hello, Goodbye Window at her grandparent's house is a magic gateway for the biracial little girl in this enchanting book. Everything important happens near it or through it. A joyful celebration of the special bond between grandparents and grandchild. ~ Preschool
---
No Mirrors in My Nana's House
by Ysaye M. Barnwell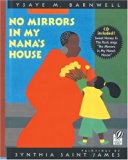 "There were no mirrors in my Nana's house / no mirrors in my Nana's house / 'Cause the beauty in everything / was in her eyes / like the rising of the sun." No Mirrors in My Nana's House follows a little black girl as she discovers the beauty in herself by looking in her Nana's eyes. The bright, stylized illustrations show young readers how to see the beauty, and the accompanying CD lets them hear it. ~ Preschool
---
Peeny Butter Fudge
by Toni Morrison
When Nana looks after her three grandchildren, things are sure to be wild and fun. They all hop about in potato sacks, dance under the chandelier, and have peanut butter fudge for lunch. Peeny Butter Fudge is an exuberant story about a quirky grandmother, complemented by bright oil-paint spreads. ~ Preschool
---
When I Am Old With You 
by Angela Johnson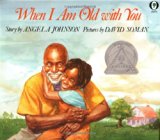 "When I am old with you, Granddaddy, / I will sit in a big rocking chair beside you / and talk about everything." A small boy imagines a future when he will be old with his Granddaddy, and all the things they'll do together then. When I Am Old With You is a touching picture book about the special bond between a child and his grandfather. ~ Preschool
---
My Two Grannies // My Two Grandads
by Floella Benjamin
My Two Grannies tells the story of biracial Alvina whose Granny Vero from the Caribbean and Granny Rose from England look after her when her parents go on a holiday.  But the two grannies have completely different ways of doing things, from the food they eat, to the games they play and the stories they tell. In My Two Grandads little Aston loves playing the steel drums with Grandad Roy and the trumpet with Grandad Henry. ~ Elementary School
More books about multiracial families: 50+ Picture Books about Mixed Race Families
---
When Jo Louis Won the Title
by Belinda Rochelle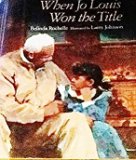 "I don't want to be the new girl in a new neighborhood at a new school," Jo Louis tells her grandfather. The young girl dreads the first day in her new school because she worries that the other children will make fun of her name. But when her grandfather tells her the story of how she got her name, Jo gains a new pride in her name. The warm paintings in When Jo Louis Won the Title reflect the loving bond between Jo and her grandfather beautifully. ~ Elementary School
---
---
Don't Call Me Grandma
by Vaunda Nelson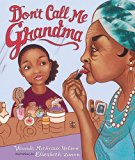 96-year-old Nell eats fish for breakfast, doesn't hug or kiss, and does NOT want to be called grandma. Her great-granddaughter is a bit scared of her but also intrigued. She slowly connects with her prickly great-grandmother as she learns about her life, from the heartbreaking moment Nell's best friend told her they couldn't be friends anymore because of her brown skin, to the March on Washington and an Alvin Ailey dance company. Don't Call me Grandma is a heartwarming story that balances the serious text with lively and colourful illustrations.  ~ Elementary School
---
When Grandmama Sings
by Margaree King Mitchell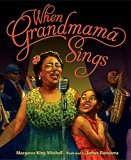 "Belle, tonight was special. I could feel all of those folks with me. I want us to feel this way all the time. I want to sing in a place where black people and white people aren't kept apart," Grandmama said." Belle spends the summer touring the South with Grandmama and her swing jazz band. Segregation is everywhere but Grandmama stands up for what's right. And when she sings, Belle knows that Grandmama's song can bring everyone together. When Grandmama Sings is a wonderful book about family, music, and its power to bring people together. ~ Elementary School
---
Grandmother's Alligator/Burukenge Wa Nyanya: A Tail in Two Sittings/Mkia Wa Vikao Viwili
by Wendy Wakefield Ferrin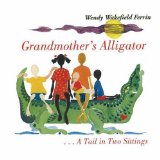 A grandmother in East Africa gathers her multiracial family around her to tell spellbinding stories of wizards, pilgrims, and celebration. Grandmother's Alligator is an enchanting tale of an extended multiracial family, illustrated with rich watercolour paintings. Read the book in English, then flip it over to begin again in Swahili. ~ Elementary School
---
Grandpa's Face
by Eloise Greenfield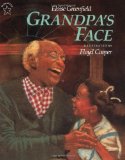 Tamika and her grandfather share a close bond. They love to go on "talk walks" together where they talk about things they see. But when Tamika sees her beloved grandfather making a mean face while he rehearses for one of his plays, she becomes afraid he will one day make that mean face at her. So she goes on to test the limits of her grandfather's patience… Grandpa's Face is a sweet story with expressive illustrations.  ~ Elementary School
---
The Day Gogo Went to Vote
by Elinor Batezat Sisulu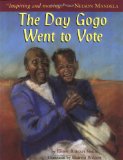 The 27th of April 1994 marked the official end of apartheid in South Africa: For the first time, citizens of all races were allowed to vote. Thembi's hundred-year-old great-grandmother is determined to vote on that special day. With the help of her community the frail lady makes it to the polling station. The Day Gogo Went To Vote is a heartfelt story about an important milestone in South Africa's history, brought to life by the rich pastel illustrations. ~ Elementary School
---
---
Asian
---
Dear Juno
by Soyung Pak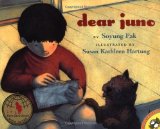 Juno and his grandmother love writing letters to each other. Juno sends drawings, his grandmother letters in Korean and photos. One day she even sends a miniature aeroplane to let Juno know that she is coming to visit. Dear Juno is a tender story about family far away. The richly illustrated picture book won the Ezra Jack Keats award. ~ Preschool
---
A Morning with Grandpa
by Sylvia Liu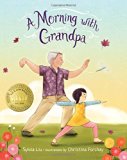 Mei Mei joins her grandfather as he practices tai chi in the garden. As Gong Gong teaches her the slow, graceful movements, and Mei Mei enthusiastically adds her own flair to them. Then it's Mei Mei's turn to teach Gong Gong the yoga she learned in school. With lively spirit and humor, A Morning With Grandpa shows the special bond between grandparent and grandchild and the joy of learning new things together. ~ Preschool
---
Ladder to the Moon
by Maya Soetoro-Ng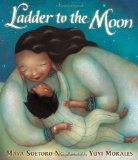 Written by Barack Obama's Indonesian born half-sister, Ladder to the Moon relays the loving wisdom of the author's late mother to the young granddaughter she never met. A golden ladder appears at Suhaila's window one night and Grandma Annie invites her to come along on a journey. The lyrical story with its dreamlike artwork reminds children that loved ones lost are always with us. ~ Preschool
Also available with CD: Ladder to the Moon with CD
---
Grandfather Gandhi // Be the Change: A Grandfather Gandhi Story
by Arun Ghandi
12-year-old Arun travels to India to live in Grandfather Gandhi's village. He worries about living up to his grandfather's extraordinary example. Like all children, Arun sometimes gets frustrated and erupts in anger. Ghandi teaches his grandson that anger is human and how to turn darkness into light. Grandfather Ghandi is touching personal account, brought to life by unique three-dimensional mixed-media collages. Newly released Be The Change follows Arun as his grandfather teaching him about the damage of wastefulness. ~ Preschool
---
My Grandfather's Masbaha
by Susan Daniel Fayad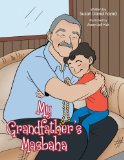 One summer day at his grandparents' home in Lebanon, Adam gets upset when his friends leave after a play date. His grandfather (Jidoo Yousef) helps him realize how much he has. By using the masbaha (a string of beads) he learns how to count his blessings. My Grandfather's Masbaha is Fayad's tribute to her late grandfather. ~ Preschool
---
Grandfather Counts
by Deborah J. Short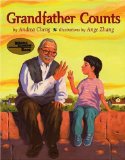 Helen's grandfather, Gong Gong, is shocked to find that his American grandchildren don't speak Chinese. He struggles to communicate with them, but then Helen starts teaching him English and he teaches her Chinese. Helen learns that her Chinese name means "flower." Grandfather Counts is a brightly illustrated story about how the bond between a young girl and her grandfather helps them overcome barriers of age and language. ~ Elementary School
---
---
Grandfather's Story Cloth
by Linda Gerdner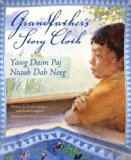 Chersheng's grandfather forgets little things like turning off the water faucet and big things like Chersheng's name and that he is in America now. When a story cloth Grandfather stitched in the Hmong tradition brings memories of his life in Laos back, Chersheng feels inspired to come up with his own art project to preserve his family story. Written English and Hmong, Grandfather's Story Cloth is a gentle story that gives children a compassionate understanding of Alzheimer's Disease. Includes notes on the disease, and on the Hmong and their story cloths. ~ Elementary School
---
Grandfather's Journey
by Allen Say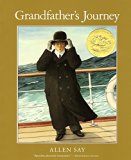 Winner of the 1994 Caldecott Medal, this lyrical picture book tells the story of Say's grandfather's immigration from Japan to the U.S. Crossing the Pacific on a steamship, he arrives in North America and explores the land by train, by riverboat and on foot. Grandfather's Journey is a deeply personal account of one man's love for two countries, beautifully illustrated with elegant watercolour paintings. ~ Elementary School
Tea with Milk continues the author's family story, this time focusing on his mother's experiences.
More books about immigration: 30 Multicultural Picture Books about Immigration
---
The Have a Good Day Cafe
by Frances & Ginger Park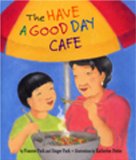 Having only arrived in America recently, Mike' grandma yearns for her homeland of Korea. She helps out in the family's food cart business cart in a busy park. When business is slowing down due to competition, Mike and his grandma start a new venture selling Korean dishes together. The Have A Good Day Cafe is a gentle tale about the loving relationship between a grandmother and her grandson, complemented by soft pastel illustrations. ~ Elementary School
---
The Key Collection
by Andrea Cheng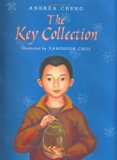 10-year-old Jimmy loves spending time with his grandmother, Ni Ni. She teaches him Chinese characters, shows him her key collection, cooks delicious jiao zi for him and tells him about her childhood in Shanghai. When Ni Ni moves to San Francisco to live with his aunt, Jimmy is devastated. In time, however, Jimmy discovers there are ways to bridge the distance, and makes new friends in the process. The Key Collection is a reassuring chapter book story about a special relationship, illustrated with black-and-white drawings. ~ Elementary School
---
The Wakame Gatherers
by Holly Thompson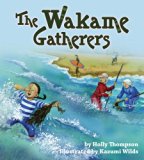 Nanami's Japanese grandmother (Baachan) and her American Gram gather seaweed (Wakame) in Japan. Baachan and Gram share how seaweeds are used in their respective countries, and Nanami translates for them. The two grandmothers discover that they have a lot in common despite being from countries that fought in a war they both remember vividly. With beautiful prose and exuberant paintings, The Wakame Gatherers captures the relationship that grows between two older women over their bond with their granddaughter. ~ Elementary School
---
Grandfather Tang's Story
by Ann Tompert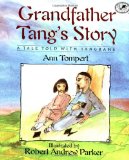 Drawing on the Chinese tradition of telling a story with tangrams, Grandfather Tang's Story recounts the tale of two competitive foxes. Whenever a new character is introduced the tangram pieces are rearranged to reflect the change. A wonderfully warm and interactive book with whimsical pen-and-watercolour illustrations. ~ Elementary School
---
---
Hispanic
---
My Grandma/Mi Abuelita
by Ginger Foglesong Guy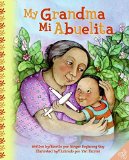 My Grandma/Mi Abuelita follows a family on their trip above the clouds and across the sea to visit their beloved grandma/abuelita. Simple text and charming watercolour illustrations draw the reader gently along the family's journey from their urban neighborhood to the rural, tropical surroundings at grandma's home. ~ Preschool
---
Abuela
by Arthur Dorros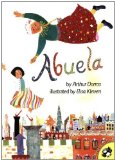 While riding on a bus with her Abuela, a little girl imagines that they are carried up into the sky and fly over the sights of New York City. The melodic text and the exuberant mixed-media illustrations perfectly capture the jazzy energy of this fun imaginary grandmother-granddaughter trip. ~ Preschool
---
My Abuelita
by Tony Johnston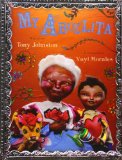 Abuelita's hair is the colour of salt. Her face is as crinkled as a dried chile. She booms out words as wild as blossoms blooming. Her grandson knows he has the most amazing grandmother ever – with a very important job: Abuelita is a storyteller. Sprinkled with Spanish words, My Abuelita is a glorious celebration of family, imagination, and the power of story, stunningly illustrated by Yuyi Morales. ~ Preschool
---
Pablo's Tree
by Pat Mora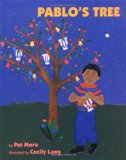 On the day Pablo was adopted, grandfather Lito planted a tree for him. Each year on Pablo's birthday, Lito decorates the tree with different items – streamers, balloons, paper lanterns, tiny birdcages. This year it is chimes. Pablo and Lito sit together and listen to the music the wind makes as it blows through the tree. Pablo's Tree is a moving story about the warm relationship between a grandfather and grandson. ~ Preschool
---
Mango, Abuela, and Me
by Meg Medina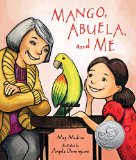 When Mia's abuela comes to live with her family, the young girl soon realizes that her grandmother can't speak English. Mia helps abuela learn English, and learns some Spanish, too, When Mia sees a parrot in the pet-shop window she has the perfect idea for how to help them all communicate a little better. 2016 Pura Belpré Award winning Mango, Abuela and Me is a charming story about the love that bonds family members. ~ Preschool
---
My Tata's Guitar/ La Guitarra de Mi Tata
by Ethriam Cash Brammer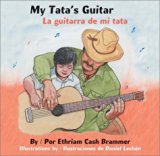 A young boy is intrigued by the treasures he finds in his grandfather's garage, most of all an old guitar. Tata plays the guitar for him that was given to him by his own grandfather. He shares his memories of posadas at Christmas, birthday melodies and even a special moonlight serenade. My Tata's Guitar is a bright bilingual picture book about loving intergenerational relationships and the magic of musical tradition. ~ Preschool
---
---
Finding the Music / En pos de la música
by Jennifer Torres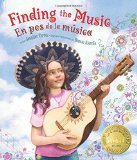 Reyna feels terrible when she accidentally breaks her Abuelito's vihuela, a small guitar her late grandfather used to play in a mariachi band. As she searches for someone in her neighbourhood who can fix the instrument, Reyna gathers stories about Abuelito and his music. She eventually finds a music store whose owner can fix the vihuela and even gives her a recording of her grandfather's music. With realistic illustrations bilingual Finding the Music tells an engaging story about family, community and the connecting power of music. ~ Elementary School
---
Maya's Blanket/La Manta de Maya
by Monica Brown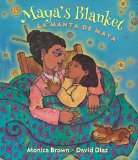 Maya's grandmother made her a special blanket to protect her from bad dreams. As Maya grows, she makes the blanket into smaller and smaller items, from a dress to a bookmark. Each item has a special meaning and helps Maya in some way. When she loses the bookmark, she creates a book about all the items which she eventually shares with her own daughter. Inspired by a traditional Yiddish folk song and infused with Latino elements, Maya's Blanket is a heartfelt story about family ties and creativity, enhanced by rich mixed-media illustrations.  ~ Elementary School
---
Grandma and Me at the Flea / Los Meros Meros Remateros
by Juan Herrera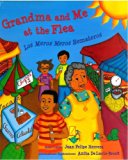 Every Sunday Juanito helps his grandmother sell old clothes at the flea market. He exchanges items in the friendly community of vendors. The jewelry-man gives him a bracelet and a watch in exchange for Grandma's help sending money home to Mexico. Señora Vela gratefully swaps chiles for Grandma's healing herbs. With every exchange Juanito learns what it means to be a rematero – a fleamarketeer. Grandma and Me at the Flea is a delightful, brightly illustrated story about the true value of community. ~ Elementary School
---
Abuela's Weave
by Omar S. Castaneda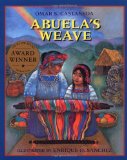 A young Guatemalan girl learns the art of weaving from her grandmother. The whole family depends on the income earned by selling the products at the market. Award-winning Abuela's Weave is an authentic story about life in a small Latin American community, complemented by earthy acrylic paintings with splashes of colour. ~ Elementary School
---
I Love Saturdays y domingos
by Alma Flor Ada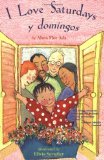 I love Saturdays y domingos follows a little girl as she visits her European American grandparents on Saturdays, and spends Sunday (domingo) with her Mexican American abuelito y abuelita . She goes to the circus with one set of grandparents, to the sea with the other and celebrates her birthday with both of them. ~ Elementary School
---
Grandma's Records // Grandma's Gift
by Eric Velasquez<
Every summer, Eric goes to live with his grandmother in El Barrio (Spanish Harlem) while his parents work. In Grandma's Records his grandmother fills her apartment with the blaring horns and conga drums of the music she grew up with in Puerto Rico. She even takes Eric to hear her favourite band in concert. In Grandma's Gift Eric and his grandmother visit the Metropolitan Museum of Art. Eric is fascinated by a painting by Diego Velasquez and wonders whether he could be an artist one day. Later, Grandma gives him the perfect Christmas gift: A set of paints. Based on the author's childhood memories, these are two heart-warming books about self-discovery and the special bond between a grandparent and grandchild, perfectly complemented by Velasquez's rich paintings.  ~ Elementary School
---
---
Diverse
---
Grandma Calls Me Beautiful
by Barbara M. Joosse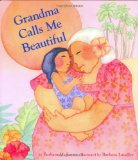 Grandma Calls Me Beautiful is a companion to the best-selling Mama, Do You Love Me? and Papa, Do You Love Me?. This beautiful picture book captures the unique bond between grandmother and grandchild. Set in Hawaii, the vibrant watercolour illustrations and lyrical text combine to convey a universal message. ~ Preschool
---
The Grandma Book // The Grandpa Book
by Todd Parr
With Todd Parr's signature colorful and quirky style, The Grandma Book and The Grandpa Book portray the different ways grandmothers and grandfathers show their grandchildren love. Grandmas offer advice, babysit, and make things; Grandpas wiggle their ears, and tell stories; and both like to give lots of kisses. ~ Preschool
---
Grandparents Song
by Sheila Hamanaka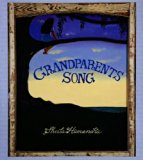 "My eyes are green / like the sea, like the sea / And my hair is dark and / blows free, blows free." In flowing verse, a young girl tells of the roots of her family tree: Her maternal Native American grandmother, who married a railroad worker; her paternal grandmother, who rode a jaguar across the Rio Grande; and her African American grandfather whose people crossed "the great sea / Their bodies were chained, / but their souls fought free." With stunning folk art inspired illustrations and beautiful calligraphy text, Grandparents Song gently explores family roots. ~ Elementary School
---
*You can buy any of the books on this site from Amazon USA, CAN or UK by clicking on the book titles or images*
---
---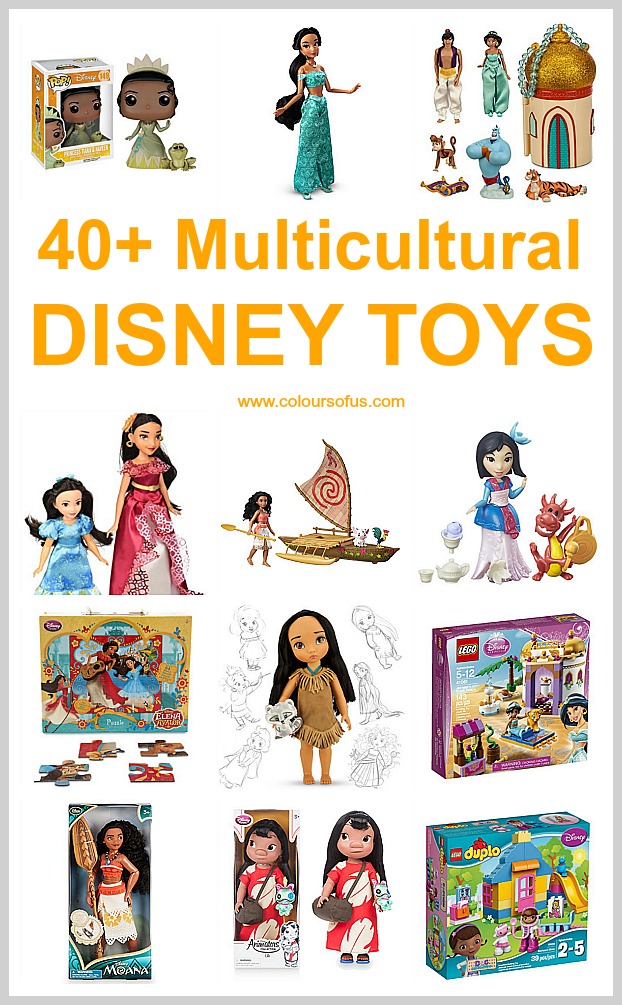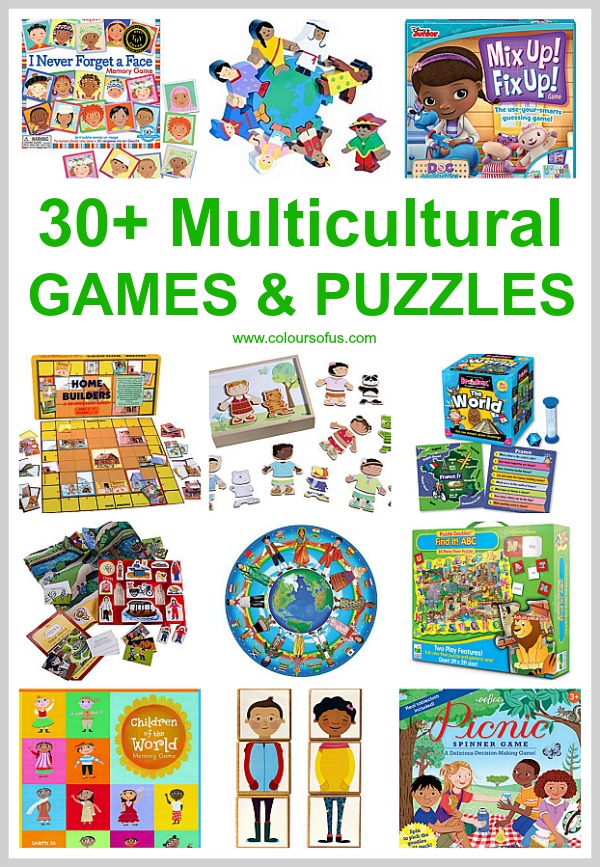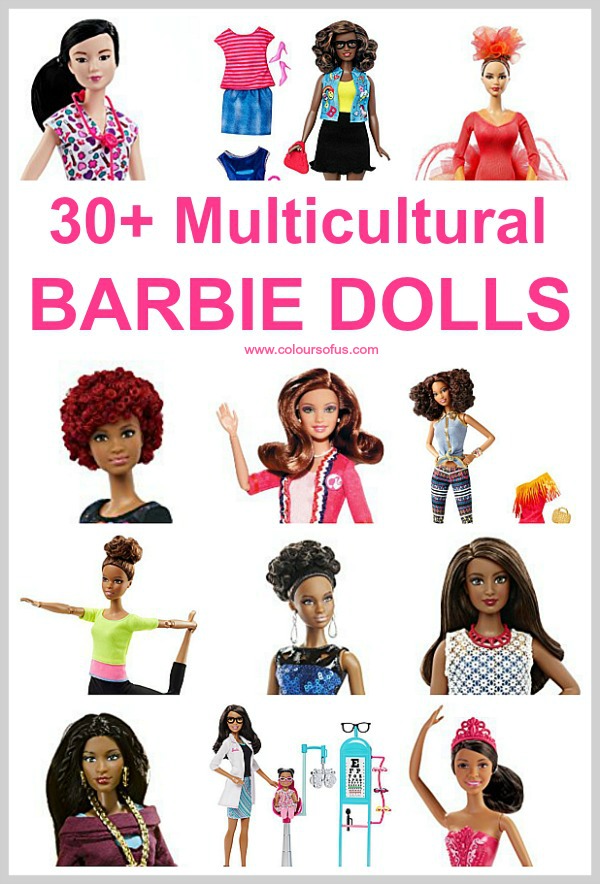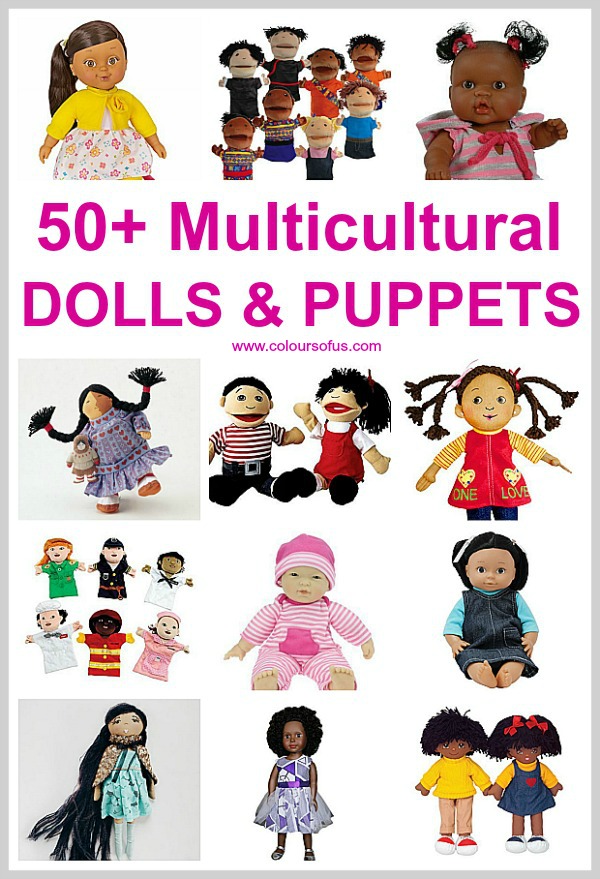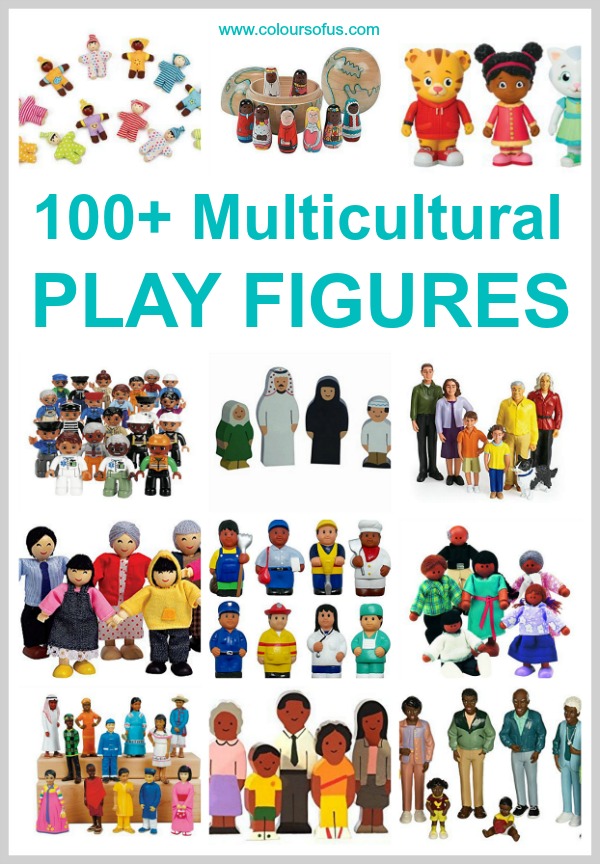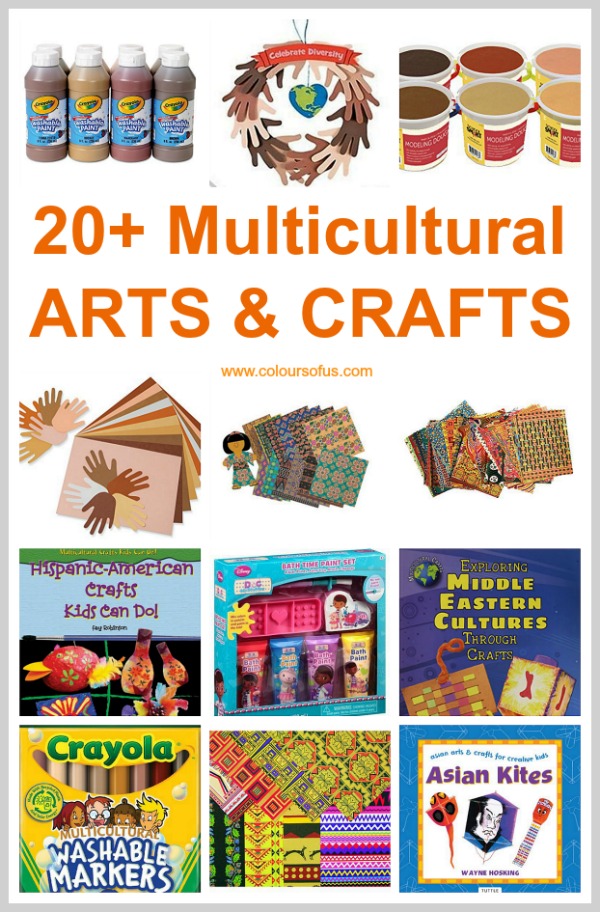 ---
---
---
---