May is Asian Pacific American Heritage Month! Observed since 1990, it celebrates the rich culture, traditions, and history of Asian Americans and Pacific Islanders in the United States.
In this list, I have focused on Asian and Asian American picture books and contemporary fiction for ages 0 to 18.
---
30 Asian & Asian American Children's Books for Ages 0 to 18

---
Babies & Toddlers
---
Hush! A Thai Lullaby
by Minfong Ho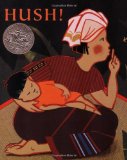 "Mosquito, mosquito, / don't come weeping. / Can't you see that / Baby's sleeping?" A mother asks a mosquito, a lizard, a monkey, and a water buffalo to be quiet and not disturb her sleeping baby. Repetitive text and colourful illustrations make
Hush! A Thai Lullaby an appealing picture book for babies and toddlers.
More lullaby books: 11 Multicultural Lullabies
---
Haiku Baby
by Betsy E. Snyder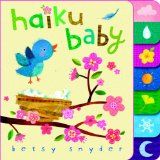 "In tickly-toe grass / a buttercup offers up / yellow nose kisses." Told in Haiku, the traditional Japanese poetic form, Haiku Baby celebrates the simple joys of baby's natural world: A bird, a fish, a raindrop, a snowflake… Adorable pictures and tabs to encourage little hands to turn the pages make this an appealing book for babies and toddlers.
More poetry books: 26 Multicultural Poetry Books for Children aged 0 to 10
---
Round is a Mooncake
by Roseanne Thong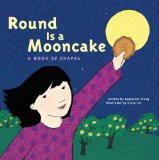 "Round is a mooncake, round is the moon, round are the lanterns outside my room," sings the little heroine of Round Is A Mooncake as she explores her urban neighbourhood during the Chinese Moon Festival for all things round, square and rectangular.  Lovely lyrical picture books with bouncy verse and beautiful bright illustrations by Grace Lin.
More books about the moon festival: 9 Children's Books about the Chinese Mid-Autumn Moon Festival
---
---
Preschool
---
Bee-Bim Bop!
by Linda Sue Park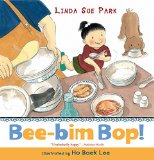 In this fast-paced book, a hungry girl helps her mother make Bee-Bim Bop!, a traditional Korean rice dish. In bouncy rhyming text coupled with whimsical illustrations, the story tells of shopping, preparing ingredients, setting the table, and sitting down to enjoy a favourite meal with the family. The book includes Linda Sue's very own bee-bim bop recipe!
---
I Live in Tokyo
by Mari Takabayashi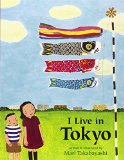 I live in Tokyo follows seven-year-old Mimiko through a year of fun, food and festivities in Japan's bustling capital. Month by month, little readers learn about Mimiko's favourite meals and many Japanese customs, from tea ceremonies to how to put on a kimono. This lively picture book with its detailed, bright illustrations is a great introduction to Japanese life and traditions.
---
Uncle Peter's Amazing Chinese Wedding
by Lenore Look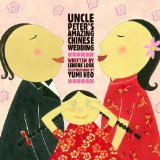 The whole family is looking forward to Uncle Peter's wedding… except Jenny. While everyone is preparing for the traditional Chinese wedding, Jenny worries that she won't be Uncle Peter's number one anymore. Maybe she can stop the wedding? Vibrantly illustrated Uncle Peter's Amazing Chinese Wedding is a charming picture book that highlights many traditions of a Chinese wedding, from the tea ceremony to good-luck money and the bride's many different dresses.
---
Lin Yi's Lantern
by Brenda Williams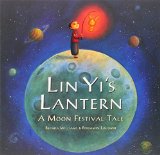 Lin Yi really wants a red rabbit lantern for the Moon Festival. When his mother sends him to the local market to buy food, he tries his best to barter in order to have money left for the lantern. Lin Yi's Lantern is a gentle story about temptation and selflessness, complemented by the most expressive gouache illustrations. Includes information on market life in China, the traditional Moon Festival, and instructions for making a Chinese lantern.
More books about the moon festival: 9 Children's Books about the Chinese Mid-Autumn Moon Festival
---
The Name Jar
by Yangsook Choi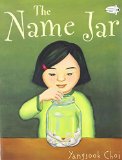 Just having moved to the US from Korea, Unhei worries that her new classmates won't be able to pronounce her name. She tells them that she will choose a name later. Her classmates are fascinated by this no-name girl and start filling a glass jar with names for her to pick from. After trying some names, Unei decides to stick with her real name. The Name Jar is a beautifully illustrated, engaging story about valuing your roots and your uniqueness.
More books about immigration: 30 Multicultural Picture Books about Immigration
---
Dear Juno
by Soyung Pak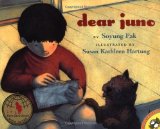 Juno and his grandmother love writing letters to each other. Juno sends drawings, his grandmother letters in Korean and photos. One day she even sends a miniature aeroplane to let Juno know that she is coming to visit. Dear Juno is a warm and tender story about family far away. The richly illustrated picture book won the Ezra Jack Keats award.
More books about grandparents: 40+ Multicultural Children's Books about Grandparents
---
---
Elementary School
---
Suki's Kimono
by Chieri Uegaki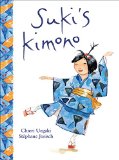 Spunky little Suki wears her favourite kimono on her first day back to school. A gift from her obachan, it holds special memories of her grandmother's visit last summer. Initially, her classmates laugh but Suki soon wins them over by telling them about the street festival she attended with her grandmother and even doing an impromptu dance. Suki's Kimono is a lighthearted story of courage and independence, complemented by cheerful watercolour illustrations.
---
Hot, Hot Roti for Dada-ji
by F. Zia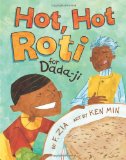 Aneel's grandparents are visiting from India. His grandfather, Dada-ji, is the best storyteller, and Aneel loves hearing about how in his youth, adventurous Dada-ji shook mangoes off trees and tied knots into wild cobras. Aneel decides to give Dada-ji his "power of a tiger" back by cooking him hot roti with tongue-burning mango pickle. Hot, Hot Roti for Dada-ji is a sweet family story as well as a rollicking tall tale, energetically told with exuberant acrylic illustrations.
---
Cora cooks Pancit
by Dorina K. Lazo Gilmore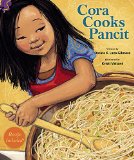 Little Cora is excited: Today she gets the be her mom's assistant chef! Together they prepare pancit, her favourite Filipino noodle dish. Cora helps with all the grown-up jobs, from shredding the chicken to stirring the noodles carefully in the pot. At dinner time Cora waits anxiously to see what everyone thinks of her cooking. Cora Cooks Pancit is a delightful picture book that captures the warmth between mother and daughter beautifully.
More books about mothers: 14 Multicultural Children's Books about Mothers
---
King for a Day
by Rukhsana Khan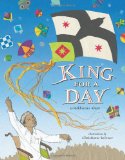 The Pakistani spring festival Basant has arrived, and Malik is getting ready for the traditional battle of kites. In his wheelchair, he guides his kite Falcon through fierce battles and takes down his bully neighbour's kite first and all the others after that. He is the king! But when the bully tries to take a kite from a little girl, Malik finds a generous way to help her. With stunning collages made of traditional Pakistani fabric, handmade paper, burlap, silk, and ribbon, King for a Day introduces young readers to a centuries-old festival and the tradition of kite fighting.
More books set in Pakistan: 15 Children's Books set in Pakistan
More books about bullying: 20 Multicultural Children's Books about Bullying
---
A Path of Stars
by Anne Sibley O'Brien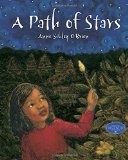 Dara loves her grandmother's stories about growing up in Cambodia. Lok Yeay tells of the fruits and plants that grew there, and how her family would sit in their yard and watch the stars that glowed like fireflies. Lok Yeay's dream of going back one day to see her brother is disrupted when she gets a phone call with sad news. Little Dara becomes determined to bring her grandmother back to a place of happiness. A Path of Stars is a touching story about family and loss.
---
---
The Red Lollipop
by Rukhsana Khan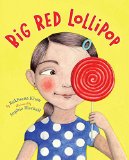 When Rubina comes home with her first birthday-party invitation, her mother asks why people in the US celebrate birthdays, as in Pakistan they do not. Rubina has to take her little sister along despite her insistence that "they don't do that here."  Not only does little Sana demand to win every game, but she also steals Rubina's prized party favour. Big Red Lollipop is a fresh picture book with a clever storyline and irresistible illustrations.
---
Hana Hashimoto Sixth Violin
by Chieri Uegaki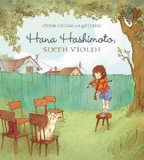 Inspired by her grandfather in Japan who used to play in an orchestra, Hana starts studying violin and after only three lessons signs up for the school talent show. Despite her brother's teasing, she is determined to play her best and practises every day. At the show, Hana surprises everyone – even herself. Hana Hashimoto Sixth Violin is a delightful picture book that celebrates music, individuality and the special bond between a child and a grandparent.
---
Alvin Ho: Allergic to the Great Wall, the Forbidden Palace, and Other Tourist Attractions
by Lenore Look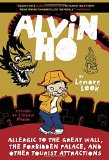 The latest book in the popular and hilarious Alvin Ho chapter book series! Second-grader Alvin takes his fears to a whole new level on a family trip to China, from kung fu lessons and acupuncture treatment to the crowds at tourist attractions. With an unforgettable main character and delightful illustrations, this series will appeal even to reluctant readers.
More book series: 40+ Multicultural Book Series for Girls & Boys
---
Dumpling Days
by Grace Lin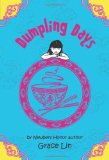 At first, Pacy is excited about a month-long family trip to Taiwan and the Chinese painting class that awaits her there. But things turn out harder than she had imagined: Pacy can't speak the language, she has trouble following the art teacher's instructions and making friends. The third in the Pacy series, Dumpling Days is a thoughtful and often funny book about identity and learning what matters most.
---
---
Middle School
---
Blackbird Fly
by Erin Entrada Kelly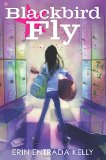 Twelve-year-old Apple grapples with being different from her classmates. She and her mother immigrated from the Philippines when she was little. Her mother still cooks Filipino foods and gives Apple a hard time for becoming "too American." When her friendships become difficult, Apple turns to music and starts saving for a guitar. Acclaimed Blackbird Fly is a heartfelt story about family, friendship, identity and finding your own way.
More books about friendship: 18 Multicultural Children's Books about friendship
---
Project Mulberry
by Linda Sue Park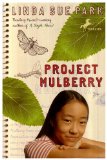 Spunky Julia and her friend Patrick are trying to decide on a project for the country fair. Julia's mother suggests they raise silkworms as she did years ago in Korea. Although all-American Julia finds that a little too 'Korean', they go ahead and soon realize that raising silkworms is a lot tougher than they thought. Project Mulberry is a fun story about prejudice, acceptance, and finding a good source of Mulberry leaves, framed by an entertaining dialogue between Julia and the author herself.
---
American Born Chinese
by Gene Luen Yang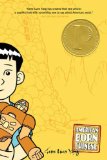 American Born Chinese is a graphic novel that masterfully weaves together three plotlines: Chinese folk hero Monkey King's efforts to be respected as a god; lonely Asian American Jin Wang's attempts to fit in with his white classmates; and All-American Danny's embarrassment at his – purposefully stereotypical – Chinese cousin's behaviour. This award-winning book explores the issues of identity and belonging, stereotypes and perceptions, love and friendship.
---
The Grand Plan to Fix Everything
by Uma Krishnaswami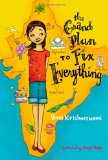 Eleven-year-old Bollywood movie fan Dini is excited that her family will be moving to India for two years. She imagines her new life in Bombay, the centre of Bollywood and home to Dini's favourite favourite star, Dolly Singh. Her disappointment is huge when she learns that the family is moving to a tiny village in the middle of nowhere. But she soon finds out that small villages can have surprises! The Grand Plan to Fix Everything is a vibrant novel with a charming protagonist and colourful descriptions of Indian culture and daily life.
---
---
Stanford Wong Flunks Big-Time
by Lisa Yee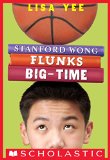 Sixth Grader Stanford Wong is in trouble. His lack of interest in academics lands him in summer school with "the world's biggest nerdball", Millicent Min. Stanford tries to hide his summer school attendance from his basketball friends, whilst pursuing his crush and dealing with his grandmother's dementia. Stanford Wong Flunks Big Time is a warm and funny story about a boy's growth as a person.
---
The Thing about Luck
by Cynthia Kadohata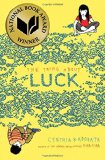 Kouun means "good luck" in Japanese, but this year 12-year old Summer's family has none of it. With her parents away in Japan to care for relatives, Summer and her younger brother have to help their grandparents with the hard harvesting work. Award-winning The Thing about Luck is a gentle and sometimes funny exploration of family bonds and a young girl's journey to self-actualization.
More middle school books: 21 Multicultural Middle-Grade Novels for Summer Reading
---
Listen, Slowly
by Thanhha Lai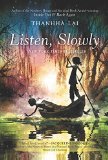 Instead of spending her holidays at the beach, Californian girl Mai has to accompany her grandmother to Vietnam. Her parents are hoping that the trip will connect their out-of-touch daughter with her roots, but Mai struggles with the foreign country and its culture. Bestselling Listen, Slowly is an irresistible and poignant story about the true meaning of home, culture, family and friends. The paperback edition includes a letter from the author, a Vietnamese glossary and a pronunciation guide.
---
Ninjas, Piranhas, and Galileo
by Greg Leitich Smith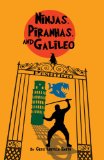 Friends Elias, Shohei and Honoria are trying to tackle their Seventh Grade science project together. All three of them have more pressing issues to deal with though: Elias is secretly in love with Honoria who has a crush on Shohei who is busy fending off his adoptive parents' overly eager attempts to acquaint him with his Japanese heritage. Ninjas, Piranhas and Galileo is a witty story about friendship and honesty, featuring quirky characters reminiscent of the ones in Harry Potter.
---
---
High School
---
Tiger Girl
by May-Lee Chai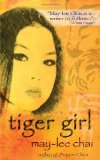 In this sequel to the acclaimed Dragon Chica, college student Nea Cchim is haunted by her memories of the Cambodian Killing Fields. She decides to confront the past and goes on a cross-country trip to search for her biological father. She eventually finds a man wounded by survivor's guilt and refusing to acknowledge the family's secrets. It is up to Nea to uncover a lifetime of lies. Tiger Girl is a quietly powerful story about a young woman's painful confrontation with her family's past.
---
Wait for Me
by An Na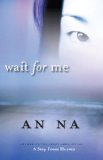 From the outside, Korean American Mina's life seems perfect: A straight-A student and Honor Society president, she is bound for Harvard. But on the inside, she feels that her life is a lie, aimed only at satisfying her overbearing mom who expects Mina to escape their small-town dry-cleaning store and do better for herself. With the help of her Mexican immigrant friend Ysrael, Mina tries to figure out what she really wants. Wait For Me is a heartfelt novel about loyalty, betrayal and self-discovery.
---
Up From the Sea
by Leza Lowitz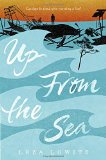 In March 2011 a tsunami devastates the coast of Japan. Young survivor Kai loses almost everyone and everything. When he is offered a trip to New York to meet kids affected by 9/11, Kai uses this opportunity to also look for his estranged American father. When he visits Ground Zero, Kai realizes he needs to return home and help rebuild his town. Up From The Sea is a heartbreaking yet hopeful novel-in-verse about loss, survival, and starting anew.
---
Girl in Translation
by Jean Kwok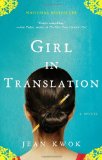 Young Hong Kong immigrant Kimberly leads a double life: Straight A-student during the day, Chinatown sweatshop worker at night. Struggling between these two worlds, she tries to disguise the degree of her poverty, the weight of her family's future on her shoulders, and her secret love for a factory boy. Girl in Translation is a fresh and moving story about hardship and triumph, heartbreak and love, and everything that gets lost in translation.
---
*You can buy any of the books on this site from Amazon USA, CAN or UK by clicking on the book titles or images*
---
---