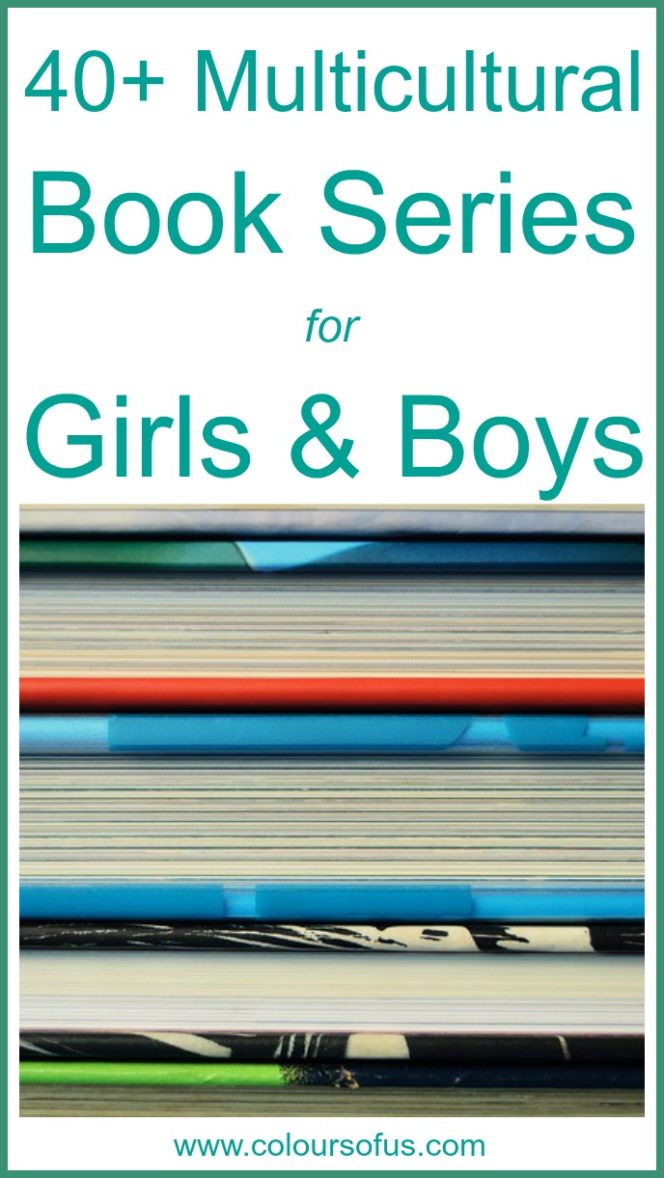 Who doesn't love a good book series? I still remember the excitement every time a new book in one of my favourite children's book series came out. Book series are also great for reluctant readers, once you get them hooked on an exciting series with a main character they can identify with, be it one of the same or the opposite gender.
On this list of multicultural book series for girls and boys, there should be something for every young reader, from picture book to chapter book series, from age 2 to 12.
And it should go without saying that of course girls can read books about boys and boys can read books about girls!
---
40+ Multicultural Book Series for Girls & Boys
---
Picture Book Series about Girls
---
Lola 
by Anna McQuinn
The Lola series follows an adorable little girl on her library and reading adventures, from story time and singing, to choosing new books and reading them with her mum and dad, or to her little brother. Lola's imagination and her enthusiasm for books are reflected in the bright illustrations of this wonderful series. ~ African – Babies & Toddlers
---
Anna Hibiscus
by Atinuke
These vibrant picture books are a spin-off of the Anna Hibiscus Early Chapter Book series (featured below). Anna lives in Nigeria with her Canadian mother, African father, twin brother and extended African family. Not often do picture books set in Africa feature a modern, middle-class family, so these books are real gems! ~ African – Preschool
---
Yoon
by Helen Recorvits
Follow little Yoon, starting with her arrival from Korea, to experiencing Christmas and her birthday in a new country. With simple text and stunning illustrations of subtle grace, the Yoon series tells the story of a young girl and her family's adjustment to life in the U.S. whilst honouring their own culture and traditions. ~ Asian – Elementary School
---
Grace
by Mary Hofmann
Amazing Grace, the book that started it all, is a modern classic! The Grace series follows the life of a determined and creative girl who is supported by the love of her mother and grandmother. Brought to life by expressive watercolour illustrations, this picture book series portrays loving family interactions and positive messages of self-affirmation. The Grace series was extended with three chapter book (see below). ~ African – Preschool, Elementary School
---
Picture Book Series about Boys
---
Leo
by Anna McQuinn
Lola's baby brother gets his own mini-series! Leo loves baby time at the library and loves to swim! And little black boys will love seeing themselves reflected in this cute baby boy and his little adventures! ~ African – Babies & Toddlers
---
Niño
by Yuyi Morales
Another award-winning mini-series that boys will love! Pretend lucha libre competitor Niño wrestles with imaginary monsters and other adversaries, most of all his younger sisters. These fun stories about imagination, play, and siblings are brought to life by Morales' dynamic cartoon-style illustrations. ~ Hispanic – Preschool
---
Joshua
by Angela Johnson
The Joshua series depicts small moments in the life of a young black boy, from having fun in the rain to finding a nest of baby birds, from seeking comfort from his father when he wakes up in the middle of the night to enjoying a day at the beach with his family. The rhythmic text coupled with soft water colour illustrations give this series a soothing feel. ~ African – Preschool
---
Mo Jackson
by David A. Adler
Mo Jackson is a little boy with a big passion for sports. He may not be the biggest, strongest, or fastest player, but he won't let that stop him from playing! With colourful cartoon illustrations, this award-winning new series will be hit with sports-loving boys.  ~ African – Elementary School
---
Chapter Book Series about Girls
---
Pa Lia (Jackson Friends)
by Michelle Edwards
The Jackson Friends early chapter book series features a diverse bunch of school friends. Each book focuses on a different main character, from an Asian American girl's first day at Jackson Magnet School, to a white girl's worries around Grandparents Day, a black girl overcoming stage fright, and all three friends coming to terms with the class bully's sudden death. A sensitive and engaging series full of warmth and humour. ~ Diverse – Elementary School
---
Anna Hibiscus
by Atinuke
Anna Hibiscus lives in amazing Africa with her Canadian mother, African father, twin brothers Double and Trouble, and her extended African family. Join her as she splashes in the sea, prepares for a party, sells oranges, hopes to see snow, and more in these charmingly illustrated Early Chapter Books!  ~ African – Elementary School
Complete Anna Hibiscus Early Chapter Book Collection: Anna Hibiscus Complete Collection
---
Ruby Lu
by Lenore Look
Most of the time Ruby Lu loves being Ruby Lu: When she is the star of her own magic show, gives talks at assembly, or rides the bus to Chinatown. But sometimes she finds it hard to be Ruby Lu: When she has to go to Chinese school, her father loses her job, or her deaf cousin from China comes to live with her family. A delightful early chapter book series following the adventures of a spunky, resourceful Asian American girl. ~ Asian – Elementary School
---
Lola Levine
by Monica Brown
Lola Levine likes writing in her diario, sipping her mom's cafe con leche, eating her dad's matzo ball soup, and playing soccer with her team, the Orange Smoothies. So what if she doesn't always fit in? Young readers will be inspired by the Peruvian-Jewish girl's big heart and creative spirit as she navigates second grade, friendship and more in true Lola style. ~ Hispanic – Elementary School
---
Ruby Booker
by Derrick Barnes
Meet 8-year-old fabulous Ruby Marigold, baby sister of the popular Booker boys! She's sweet and sassy and every bit as tough as her older siblings. She sings like nobody's business, has a pet iguana named Lady Love, and when she grows up, she's going to be the most famous woman animal doctor on the planet. ~ African – Elementary School
---
Katie Woo
by Fran Manushkin
For Katie Woo, life is one big adventure. Join the energetic Asian American girl as she learns how to be a great classmate and friend. With an authentic and fun heroine, the Katie Woo early chapter book series will appeal to young readers everywhere. The series includes over forty books. ~ Asian – Elementary School
---
Grace
by Mary Hoffman
Following on from the bestselling Grace picture books series, these are chapter books about spirited young Grace and her big imagination. The fast-paced books follow Grace on her summer vacation and through some big changes in her life: The death of a family friend, a school bully, her mother's new husband, a move to a new house and a baby on the way!  ~ African – Elementary School
---
Precious Ramotswe
by Alexander McCall Smith
The bestselling No. 1 Ladies' Detective Agency series with Botswana's premier lady detective, Precious Ramotswe, as a prequel for young readers! Follow young Precious as she navigates her first cases and learns how to be a detective whilst solving the mysteries of the cake, meerkat hill and the missing lion. ~ African – Elementary School
---
Sofia Martinez
by Jacqueline Jules
Lively 7-year-old Sofia Martinez loves getting attention – even if it gets her into trouble! Follow Sofia and her big family on her adventures in this fun early chapter book series! The stories stand alone and don't need to be read in a particular order. The books are sprinkled with Spanish words and phrases and include discussion questions and writing prompts. ~ Hispanic – Elementary School
More from Sofia Martinez: Picture Perfect // The Secret Recipe // The Marigold Mess // Lights Out // Singing Superstar // Shopping Trip Trouble // Abuela's Special Letters
---
Dyamonde Daniel
by Nikki Grimes
After her parents' divorce Dyamonde Daniel moves to a new neighbourhood. The smart and confident third grader  with "wild-crazy hair" and "skinnier than half a toothpick" has to navigate a new school, new friends and more. Dyamonde's spitfire personality, the energetic storytelling and relatable situations will have young readers hooked on this early chapter book series in no time! ~ African – Elementary School
---
Lulu
by Hilary McKay
Biracial Lulu loves every kind of animal, from polar bears to the hairiest spider. Vividly written, this warm-hearted chapter book series is perfect for readers who are moving on from early chapter books. The well-drawn multicultural characters, the humour and the kid-friendly drama will appeal to young animal lovers everywhere. ~ African – Elementary School
Complete Collection: Lulu Boxed Set #1-6
Audiobooks: The Duck in the Park and Other Stories // The Rabbit Next Door and Other Stories
---
Milo and Jazz Mysteries
by Lewis B. Montgomery
No case too difficult to solve for young detective duo Milo and Jazz! Girls and Boys alike will easily identify with the clever detectives and will enjoy using their own detective skills in these fun, easy-to-solve early reader mysteries. ~ Diverse – Elementary School
More from Milo an Jazz: The Case of the Diamonds in the Desk // The Case of the Crooked Campaign // The Case of the Superstar Scam // The Case of the Locked Box // The Case of the Buried Bones
---
Katie Fry, Private Eye
by Katherine Cox
Another spunky little detective! Katie Fry may be little, but she's got a big brain, and she uses it to solve mysteries. Beginning readers will love hunting for clues in the pictures right along with Katie and Sherlock. Hopefully there'll be more books to come in this fun series! ~ African – Elementary School
---
Keena Ford
by Melissa Thomson
Spirited Keena lives in Washington, D.C. with her mom and older brother. She doesn't mean to be a troublemaker, but somehow trouble always finds her, for example when her teacher thinks it's her birthday and she doesn't tell her that it isn't, or when Tiffany tries to blackmail Keena with her journal. ~ African – Elementary School
---
Nikki and Deja
by Karen English
Meet neighbours and best friends Nikki and Deja. The two girls do everything together, from watching Saturday morning cartoons, and playing jacks, to jumping double Dutch at recess, and helping each other with their homework. This warm, easy-to-read chapter book series captures the joys and complexities of elementary school life, particularly friendships, with finesse and humour. ~ African – Elementary School
---
Sugar Plum Ballerinas
by Whoopi Goldberg
Each of the books in this series focuses on a different main character: From reluctant ballerina Alexandrea who'd rather be a speed skater, to logical Brenda who studies anatomy books, and perfectionistic Jerzey who desperately wants to be a ballet dancer but lacks talent. With an endearing multicultural cast of characters, Sugar Plum Ballerinas is a fun easy chapter book series about friendship and staying true to yourself. ~ African – Elementary School
Complete collection: Sugar Plum Ballerinas Box Set
---
Pacy Lin
by Grace Lin
Drawing from the author's own childhood experiences, this series follows a young Taiwanese-American girl as she navigates living with two very different cultures. Pacy Lin encounters prejudice, struggles with acceptance, and has to learn to deal with change. Universal themes of friendship, family, and finding one's passion in life make this light-hearted series appealing to readers of all backgrounds. ~ Asian – Elementary School, Middle School
---
Anna Wang
by Andrea Cheng
This series follows Anna Wang year by year from Grade 4 to 7. One year she learns about the ups and downs of friendships, the next is all about the adoption of a baby sibling from China, the following about identity and going on a trip to China, and in the last one Anna learns about family values in today's Chinese culture. ~ Asian – Elementary School, Middle School
---
Brianna Justice
by Sherri Winston
Brianna is determined to become president of her class, just like her hero, famous celebrity chef Miss Delicious. But being president is much more challenging than she thought! Brianna faces friendship issues, fundraising failures, and a lot of self-doubt along the way. A fast-paced mini-series that realistically captures the ups and downs of the middle school years.  ~ African – Middle School
---
Delphine, Vonetta & Fern
by Rita Williams-Garcia
Williams-Garcia's award-winning trilogy about three resilient sisters in the late 60's is heartfelt, funny and thought-provoking. It follows Delphine, Vonetta, and Fern as they spend the summer of 1968 in Oakland with their mother who abandoned them seven years earlier, deal with their father's new girlfriend and their uncle who was traumatized serving in Vietnam, and learn surprising things about their family history. ~ African – Middle School
---
The Seeds of America
by Laurie Halse Anderson
Seeds of America is a bestselling historical trilogy that follows the life of 13-year-old slave Isabel during the American Revolution as she fights for her and her little sister's freedom. Though fictional, it is based on actual events, such as the failed assassination of George Washington and the capture of Fort Washington. This multi-award-winning trilogy is a compelling read that addresses racism and the ethics of war. ~ African – Middle School
---
Chapter Book Series about Boys
---
Jaden Toussaint
by Marti Dumas
Jaden Toussaint is a 5 year-old scientist with a giant afro and an even bigger brain. Whether he is on a mission to convince his parents that he needs more screen time, saves his school from a (possible) alien invasion, or finally meets his match in the form of his cousin, young boys will love this all around cool dude and his hilarious adventures. ~ African – Preschool ,Elementary School
---
The Carver Chronicles
by Karen English
Each of the four books focus on a different at Carver Elementary. The first two books follow skateboard-loving friends Gavin and Richard who sometimes end up in trouble, the third one tells of Carlos who gets annoyed with his cousin for feeding his pet geckos, and in the last one Calvin is dealing with his next door neighbors moving away – and the school bully moving in. 
~ Diverse – Elementary School
---
Miami Jackson
by Patricia McKissack
This series follows Miami Jackson's third-going-on-fourth-grade life: From getting through the last few days of school before summer vacation, finding his place in summer baseball camp, to dealing with a no-nonsense new teacher with humour and irrepressible attitude. ~ African – Elementary School
---
Zapato Power
by Jacqueline Jules
One day Freddie Ramos comes home from school and finds a strange box just for him. Inside he finds Zapato Power-shoes that change his life by giving him super speed! With breezy text, infused with a few Spanish words, and cartoon-style illustrations, this is an appealing early chapter book series for boys. ~ Hispanic – Elementary School
---
Bobby
by Lisa Yee
9-year-old Bobby Ellis-Chan's biggest problems in life are girls, dancing on stage in the school musical, and not living up to his retired football star father's expectations. Young boys will love Bobby's wild and out of control dilemmas and adventures in this smart and funny chapter books series. ~ Asian – Elementary School 
---
Calvin Coconut
by Graham Salisbury
Calvin Coconut lives near the beach in Hawaii, with his mom and his little sister. Mom says: "You're the man of the house, Cal." Which means: Be responsible. Calvin tries, but fun and trouble always get in the way. A light-hearted and lively chapter book series about a fourth-grader, full of the fun of growing up in Hawaii. ~ Diverse – Elementary School
---
Clubhouse Mysteries
by Sharon M. Draper
Ziggy and his friends Rico, Rashawn, and Jerome call themselves The Black Dinosaurs, and share exciting adventures. They uncover a box of bones, discover an old railroad tunnel, blast off to space camp, and more. With humour and a touch of mystery, this chapter book series puts an emphasis on cooperation and respect. ~ African – Elementary School
Complete Collection: Clubhouse Mysteries Super Sleuth Collection
---
Alvin Ho
by Lenore Look
Alvin, an Asian American second grader, is afraid of everything – girls, camping, birthday parties, babies, and, most of all, school. He's so afraid of school that, while he' s there, he never, ever, says a word. But at home he's a very loud superhero named Firecracker Man. A  drop-dead-funny and touching series with a truly unforgettable character, perfect for both beginning and reluctant readers. ~ Asian – Elementary School
---
Bradford Street Buddies
by Jerdine Nolen
Follow twins Jada and Jamal Perkins and their friends Carlita Garcia and Josh Cornell on their adventures in their multicultural neighbourhood! They enjoy a backyard campout, have fun at the neighbourhood block party, and beautify the schoolyard for Earth Day. With short chapters and beautiful illustrations, the Bradford Street Buddies series is perfect for newly independent readers (boys and girls). ~ Diverse – Elementary School
---
Akimbo
by Alexander McCall Smith
Ten-year-old Akimbo lives on a game reserve in Africa. His father is the head ranger, and Akimbo helps him whenever he can – even if it means getting into some pretty dangerous situations, like protecting elephants from poachers, saving a lion cub from a trap, and rescueing a man from a crocodile. Adventure- and wildlife-loving boys will adore this series! ~  African – Elementary School
First 3 of the series available in a box set: The Akimbo Adventures
---
EllRay Jakes
by Sally Warner
EllRay Jakes is the shortest kid in his class, and he gets into trouble from time to time. The Ellray Jakes early chapter book series features short authentic stories about school life and peers. Ellray's often hilarious antics are sure to keep the attention of young readers!  ~ African – Elementary School
---
STAT
by Amar'e Stoudemire
STAT (Standing Tall And Talented) is a slam-dunk chapter book series by NBA superstar Amar'e Stoudemire. Eleven-year-old Amar'e loves skateboarding and playing basketball. He takes his school work very seriously and helps out with his dad's landscaping company. Based on the author's life, this is a heartfelt, accessible middle-grade series about following your passion and overcoming obstacles. ~ African – Middle School
---
 *You can buy any of the multicultural book series from Amazon USA, CAN or UK by clicking on the book titles or images*
---