Located between the U.S. and Central America, Mexico boasts a diverse landscape of mountains, beaches, deserts and jungles. The country is rich in culture and history, and has ancient ruins scattered throughout, such as Teotihuacán and the Mayan city of Chichén Itzá. Mexico ranks first in the Americas and sixth in the world by number of UNESCO World Heritage Sites, and is one of the most popular tourist destinations.
Introduce your children to this fascinating country with these stunning children's books set in Mexico:
---
24 Children's Books set in Mexico
---
Babies & Toddlers
---
Fiesta Babies
by Carmen Tafolla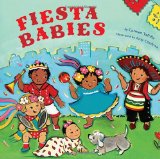 The Fiesta Babies dance, march on parade and sing along to mariachi songs in this spirited celebration of fiestas. Luckily for the parents, the babies don't mind a siesta either! Simple rhymes with Spanish words sprinkled throughout complement the colourful illustrations. ~ Babies & Toddlers
---
Preschool
---
Off We Go to Mexico
by Laurie Krebs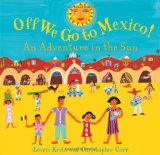 Join a family trip to Mexico! This colourful picture book takes young readers to native villages and turquoise seas, to amazing pyramids and a fun music festival. With rhyming text and charming folk-art illustrations, Off We Go To Mexico is a simple introduction to Mexican culture and Spanish vocabulary. ~ Preschool
---
The Cazuela That the Farm Maiden Stirred
by Samantha R. Vamos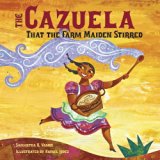 This is a fun story of how the farm maiden and all the farm animals worked together to make a traditional rice pudding. The Cazuela That The Farm Maiden Stirred is a vibrant picture book that cleverly incorporates Spanish words, perfectly complemented by Rafael Lopez exuberant illustrations. ~ Preschool
---
Elena's Serenade
by Campbell Geeslin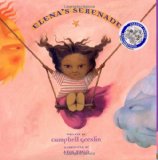 Little Elena wants to be a glassblower, just like her papa. But he tells her that girls can't be glassblowers. Determined to follow her dream, Elena sets off on a fantastic journey to Monterrey, home of the greatest glassblowers. Stunningly illustrated and filled with magic realism Elena's Serenade is an empowering story for little girls. ~ Preschool
More empowering books for girls: 26 Multicultural Picture Books about Inspiring Women & Girls
---
My Mexico
by Tony Johnston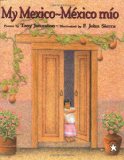 "Little Gourds / drying on the vine / shaking like maracas / tlaka, tlaka, tlaka / keeping time to the whine / of wind / in Oaxaca." With rhythmic poems and engaging illustrations, bilingual My Mexico captures the warmth of Mexican villages with their colourful houses, the scent of roses and chillies, and the sound of corn shaking in the wind. ~ Preschool
More multicultural poetry books: 26 Multicultural Poetry Books for Children aged 0 to 10
---
What Can You Do with a Paleta?
by Carmen Tafolla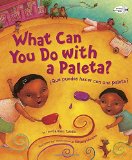 There's so much to do with a paleta – the traditional Mexican popsicle sold from the wagon with the tinkly bells! Create a masterpiece, make tough choices (strawberry or coconut?), or cool off on a warm summer's day. Vibrant acrylic paintings and lyrical text make bilingual What Can You Do with a Paleta? a fun read. ~ Preschool
---
Just a Minute // Just In Case
by Yuyi Morales
Señor Calavera tells Grandma Beetle it's time to come along but she stalls for time. "Just a Minute," Grandma says, and attends to one chore after the next, from sweeping the house to filling piñatas. In Just in Case Señor Calvera tries to figure out what to give Grandma Beetle for her birthday. With dynamic text and lively illustrations reflecting Mexican culture, these two award-winning picture books are fun and original counting and alphabet books. ~ Preschool
---
Book Fiesta!
by Pat Mora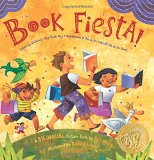 Book Fiesta! is a bilingual celebration of Children's Day/Book Day (El día de los niños/El día de los libros) which is observed annually on April 30th to emphasize the importance of literacy for children of all backgrounds. Founder Pat Mora's fun text coupled with Rafael López's colourful and lively illustrations make this picture book a hit for story time. Includes a letter from the author and suggestions for celebrating Children's Day /Book Day. ~ Preschool
More books about literacy & reading: 15 Multicultural Children's Books celebrating books & reading
---
Niño Wrestles the World // Rudas: Niño's Horrendous Hermanitas
by Yuyi Morales
Niño Wrestles the World follows Niño as he defeats the Mummy of Guanajuato, the stone Olmec Head, La Llorona, the Alien, and the devil-like El Chamuco. But when his younger sisters wake up from their naps, he faces his biggest challenge yet. In newly released Rudas: Niños Horrendous Hermanitas Niño's sisters take center stage. No opponent is too big a challenge for the two Lucha Queens! Morales' vibrant cartoon style brings the Mexican lucha libre tradition to life for the youngest readers in this Pura Belpré award winnig picture book. ~ Preschool
More Pura Belpré books: Pura Belpré Award Winners 1996 – 2016
---
Two White Rabbits
by Jairo Buitrago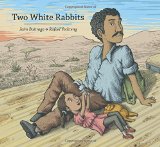 Told from the child's perspective, Two White Rabbits follows a little girl and her father as they travel north toward the US border. The girl counts everything she sees along the way, from animals by the road to the clouds in the sky. This poignant picture book with its expressive illustrations is a moving introduction into the struggles of immigrants on their challenging journey. ~ Preschool
More books about immigration: 30 Multicultural Picture Books about Immigration
---
Salsa: Un poema para cocinar / A Cooking Poem
by Jorge Argueta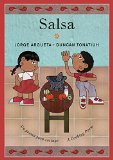 "I am ready with four tomatoes./ They are bongos and kettledrums./ The onion is a maraca./ Cloves of garlic are trumpets,/ and the cilantro is the orchestra conductor/ with his shaggy, green hair." Two young siblings prepare a traditional salsa, singing and dancing all the while and imagining the ingredients as parts of an orchestra. With gorgeous Mixtec-inspired illustrations in earthy tones, Salsa is a fun cooking poem for preschoolers. ~ Preschool
More multicultural poetry books: 26 Multicultural Poetry Books for Children aged 0 to 10
---
Playing Loteria /El juego de la loteria
by René Colato Laínez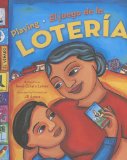 A young boy visits his grandmother in Mexico. With him speaking very little Spanish and his grandmother speaking very little Spanish, he is worried they won't understand each other. But when he discovers that his grandmother is a canta in a lotería booth, a game similar to Bingo, everything falls into place. With the help of the picture cards, the little boy and his grandmother find a special way of understanding each other. Flowing bilingual and expressive illustrations make Playing Loteria a delightful read. ~ Preschool, Elementary School
---
Elementary School
---
P is for Pinata: A Mexico Alphabet 
by Tony Johnston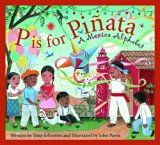 P is for Piñata takes young readers on an A-Z tour of Mexico. They visit the tomb of a Mayan king, experience the life of a vaquero (Mexican cowboy), attend the world-famous Ballet Folklórico de Mèxico, and sample a traditional treat. The vibrant artwork perfectly captures the flavor and spirit of Mexican culture. ~ Elementary School
---
The Princess and the Warrior: A Tale of Two Volcanoes
by Duncan Tonatiuh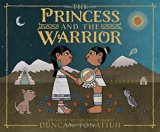 Due to be released later this month, The Princess and The Warrior is the latest picture book by award-winning author Duncan Tonatiuh. With his trademark digital collages and simple text, Tonatiuh beautifully retells the legend of two volcanoes, Iztaccíhuatl and Popocatépetl. ~ Elementary School
---
Esquivel! Space-Age Sound Artist
by Duncan Tonatiuh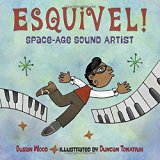 Another exciting new release by Tonatiuh! Juan Garcia Esquivel grew up to the sounds of mariachi bands. Defying convention, he created music that made people laugh and planted images in their minds. Juan's space-age lounge music has found a new generation of listeners. Esquivel! brings the artist's spirit to life with quirky illustrations . ~ Elementary School
---
Manuel's Murals
by Jeaninne Escallier Kato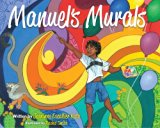 9-year-old Manuel  loves to paint murals like his hero, the legendary Mexican muralist Diego Rivera. He dreams of becoming as famous as Rivera so he can take care of his family and never have to watch his father clean other people's buildings ever again. Manuel's Murals is a vibrant picture book about family and Mexican culture. ~ Elementary School
---
Dream Carver
by Diana Cohn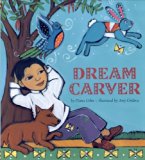 Mateo and his father carve juguetes, small wooden animals they sell at the fiestas in Oaxaca. Mateo dream of carving large and bright animals, like goats as pink as bougainvillea with cactus-green speckles. His father scowls at the idea, but Mateo perseveres, and his animals sell like hotcakes at the local fiesta. Includes information on the unique Mexican art form. Dream Carver is an inspiring tale, brought to life by Cordova's brilliant primitive paintings. ~ Elementary School
---
Dear Primo
by Duncan Tonatiuh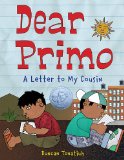 Two cousins – one in America, one in Mexico – write letters to each other. Their lives are different yet similar. Charlie eats pizza, Carlitos helps his mother make quesadillas. Charlie cools off in an open fire hydrant, Carlitos jumps into a rio. Simple text infused with Spanish words, and colourful illustrations make Dear Primo an appealing read. ~ Elementary School
---
Frida
by Jonah Winter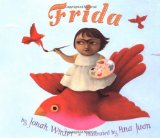 This striking picture book tells the story of Frida Kahlo's life in simple words and with gorgeous acrylic paintings full of Mexican folk art icons (monkeys, devils, smiling skeletons). Frida is a playful, insightful tribute to one of the twentieth century's most influential artists. ~ Elementary School
---
Viva Frida
by Yuyi Morales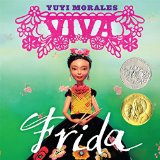 Distinguished author and illustrator Yuyi Morales illuminates Frida Kahlo's life in this unique picture book biography. With minimal text and culture-rich mixed-media illustrations – created with puppets, paintings and digital elements – bilingual Frida is a beautiful homage to the famous Mexican painter. ~ Elementary School
---
Diego Rivera: His World and Ours
by Duncan Tonatiuh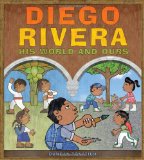 This charming picture book shows Diego Rivera as a young, mischievous boy who loved to draw. Growing up he followed his passion for art and became one of the world's most famous painters. Diego Rivera is an inspiring introduction to Rivera's work, beautifully illustrated by the author. Tonatiuh also encourages readers to think about what Rivera would paint today, how his paintings would reflect today's culture. ~ Elementary School
---
Funny Bones: Posada and His Day of the Dead Calaveras
by Duncan Tonatiuh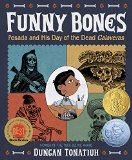 Funny Bones tells the story of artist José Guadalupe Posada, famous for his skeletons in the park, skeletons wearing fancy hats, and the skeletons for Mexico's Day of the Dead. With a stunning mix of biography and art, young readers are invited to look at the deeper meaning behind Don Lupe's artwork: His critiques about social class, quickly changing technology, and violence during the Mexican Revolution. This 2016 Américas Award winning book lends itself for classroom use. Includes an author's note, glossary, and bibliography. ~ Elementary School
More 2016 Américas Award winning books: 2016 Américas Award Winning Children's Books
---
*You can buy any of the books on this site from Amazon USA, CAN or UK by clicking on the book titles or covers*
---
---

---

---
More books with Hispanic or Hispanic American characters:
---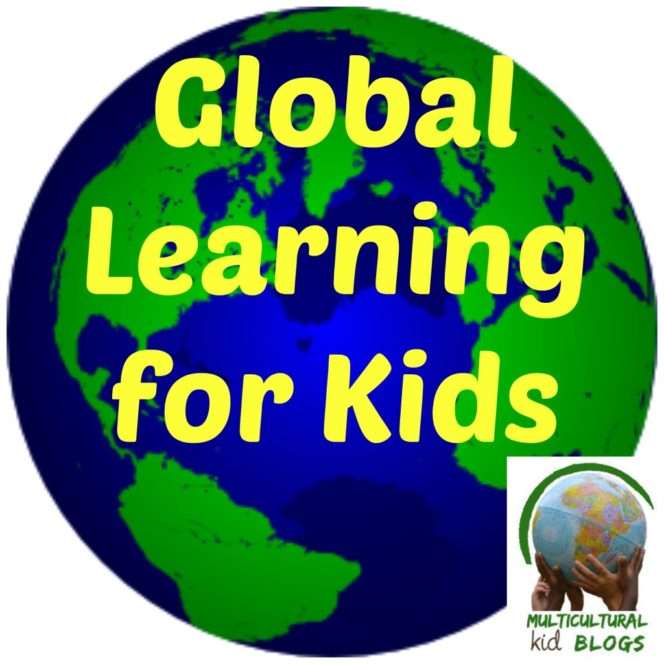 This post is part of MKB's
Global Learning for Kids
, a series about exploring the world with kids through crafts, books, recipes, activities, and more!  Each month we will "travel" to a new country, sharing ideas about how to teach kids about its culture and people.