"I love the rain. I love how it softens the outlines of things.
The world becomes softly blurred, and I feel like I melt right into it."
~ Hagumi Hanamoto
The above quote expresses exactly how I feel about rain (well, as long as it's not too many rainy days in a row!).
And show me the kid who doesn't love some fun in the rain, like a good old puddle stomp, floating a paper boat in a puddle, or trying to catch some raindrops with your tongue!
Here are some fabulous multicultural children's books that capture the power and the magic of rain beautifully:
---
15 Multicultural Children's Books about Rain
---
Rain!
by Linda Ashman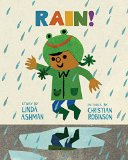 When it starts to rain in the city, an excited little boy exclaims, "Rain!", while a grumpy man grumbles, "Rain." What happens when the two meet? Can the boy's natural exuberance cheer up the grouchy man? The rainy-day cityscape comes to life in the vibrant, cut-paper-style art of this endearing little book. It has a lovely message about how your attitude affects the people around you and how a simple act of kindness can go a long way. ~ African – Preschool
---
Tap Tap Boom Boom
by Elizabeth Bluemle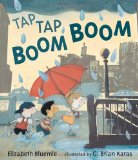 As a thunderstorm rolls into the city, children and adults from of all backgrounds dash to the subway for shelter. With warm illustrations and infectious rhymes Tap, Tap, Boom, Boom! tells of an unexpected moment of community when a storm brings together strangers. ~ Diverse – Preschool
---
Float
by Daniel Miyares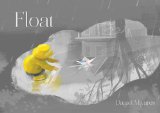 A little boy takes his paper boat out for a rainy-day adventure. He dances in the rain and plays in the puddles, but then he loses his boat when it floats down a gutter stream. The little boy searches for his beloved boat, and finds himself on a new adventure altogether. Float is a seemingly simple, wordless story, brought to life by expressive illustrations full of depth and texture. Includes instructions for building a paper boat.  ~ Hispanic – Preschool
---
Who Likes Rain?
by Wong Herbert Yee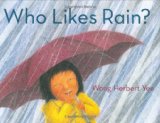 Part of a quartet about the different seasons, this charming book follows an adventurous little girl as she experiences a rainy spring day. With simple rhyming text and soft acrylic illustrations, Who likes Rain? has a lovely gentle feel that will appeal to young children. ~ Asian – Preschool
---
Rain Feet
by Angela Johnson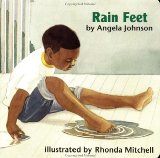 The Joshua series depicts small moments in the life of a young black boy. Rain Feet follows Joshua as he jumps into puddles and quietly watches the raindrops plopping on the steps. The rhythmic text coupled with soft watercolour illustrations give this sweet book a soothing feel. ~ African – Preschool
---
Umbrella
by Taro Yashima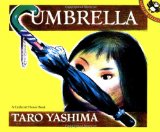 In New York City, little Momo can't wait to use the red boots and umbrella she received on her birthday. All she needs now is a rainy day! Publsihed in 1977, Caldecott Honor book Umbrella is a sweet, timeless story about patience and growing independence, enriched by soft, colourful illustrations. ~ Asian – Preschool
---
Who Likes the Rain?
by Etta Kaner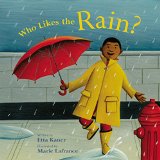 What is rain? Part of the Exploring the Elements series, Who Likes the Rain? follows a multicultural cast of children in different settings as they explore the rain. Double-page spreads with lift-flaps explain why rain falls, what raindrops really look like, why the air smells different after a rain, and much more. ~ Diverse – Preschool
---
Come On, Rain!
by Karen Hesse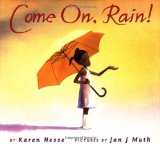 "Up and down the block, / cats pant, / heat wavers off tar patches in the broiling alleyway…." On a hot day a whole neighbourhood waits for rain. When the clouds finally roll in, and the rain starts pouring, Tess, her friends, and their Mamas join in a joyful dance to celebrate the reinvigorating rain. Come On Rain! is a lyrical picture book full of energy, perfectly complemented by expressive watercolour illustrations. ~ African – Preschool
---
Big Rain Coming
by Katrina Germein
In the dry Australian outback, everyone is waiting for the rain. Rosie's kids, the panting dogs, the fat green frogs, and Old Stephen all do what they can to keep cool as they watch for storm clouds on the horizon. Colourful stylized illustrations featuring imagery from Aboriginal mythology make Big Rain Coming a strikingly beautiful book that will delight young readers and parents alike. ~ Diverse – Preschool
---
Elementary School
---
Lila and the Secret of Rain
by David Conway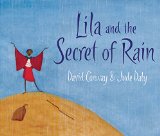 Lila's Kenyan village is suffering from a devastating drought. Without rain the well will run dry and the crops will fail. When her grandfather tells her the secret of rain is, Lila climbs the highest mountain and tells the sky the saddest thing she knows in order to make him cry "tears of rain". The elegant prose of Lila an the Secret of Rain is complemented perfectly poignant folk art illustrations. ~ African – Elementary School
---
Bringing the Rain to Kapiti Plain
by Verna Aardema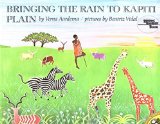 This year the rain just doesn't seem to come to Kapiti Plain. In cumulative rhyme and with vivid illustrations, Bringing the Rain to Kapiti Plain tells the story of how herdsman Ki-pat ends a dreadful drought. The cheerful tale can be told to the rhythm of "The House That Jack Built." ~ African – Elementary School
---
Monsoon
by Uma Krishnaswami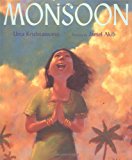 On hot summer days in a bustling Indian city, everyone is waiting for the gift of rain. Told in rhythmic prose from the perspective of a young girl, Monsoon brings to life the scents, the sounds, the colours, and the breathless anticipation during the final days before the welcome arrival of the monsoon. ~ Asian – Elementary School
---
Singing Down the Rain
by Joy Coley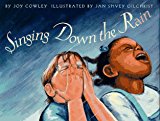 An extended drought makes a farm community feel hopeless. Then one day a mysterious woman "with bangles on her arms, painted parrots in her ears, and a smile so big, it used most of her face" arrives and explains that she specializes in rain songs. Skeptical at first, children and adults join in and together they sing down the rain. With lyrical text and soft paintings, Singing Down the Rain is an inspiring book about community and faith. ~ Diverse – Elementary School
---
The Rain Stomper
by Addie Boswell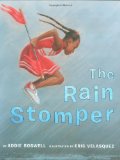 Baton twirler Jazmin is ready to lead the big neighborhood parade. But then the sky darkens, and the rain starts. SLAP clatter clatter SLAP SLAP! Undeterred, Jazmin uses her spirit to save the day. Rhythmic and energetic Rain Stomper is the author's debut children's book, stunningly illustrated by award-winning Velasquez's artwork. ~ African – Elementary School
---
Rain Player
by David Wiesniewsky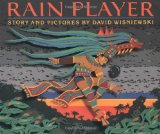 Based on the Mayan belief that the future is determined and cannot be changed, this is a story about a young ballplayer who challenges the Rain God in order to prevent disaster for his people. With extraordinary cut-paper illustrations, Rain Player is an unusual picture book that teaches young children about the ancient Mayan culture. ~ Hispanic – Elementary
---
*You can buy any of the books on this site from Amazon USA, CAN or UK by clicking on the book titles or covers*
---
---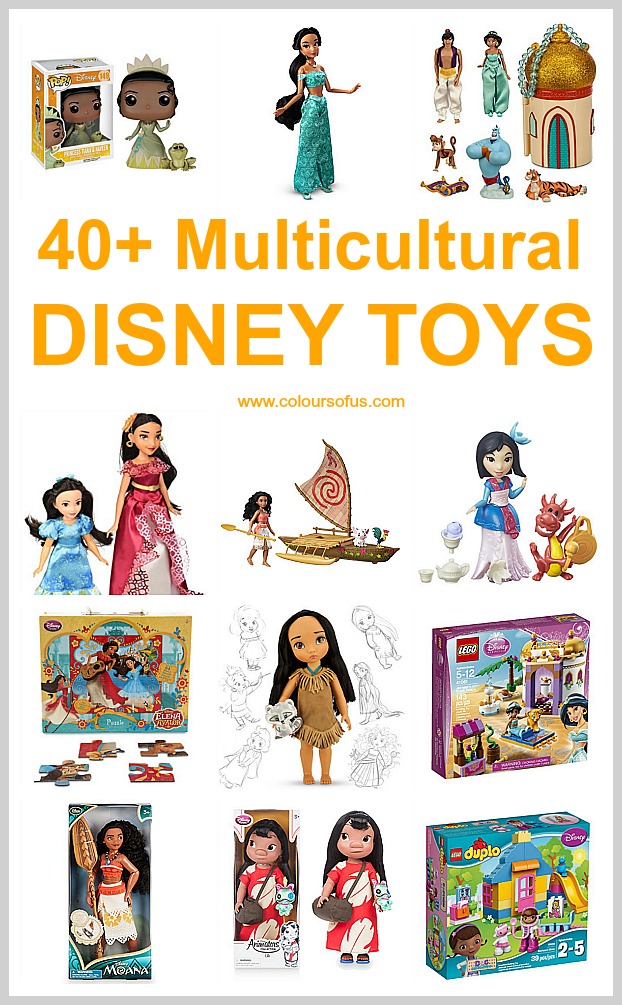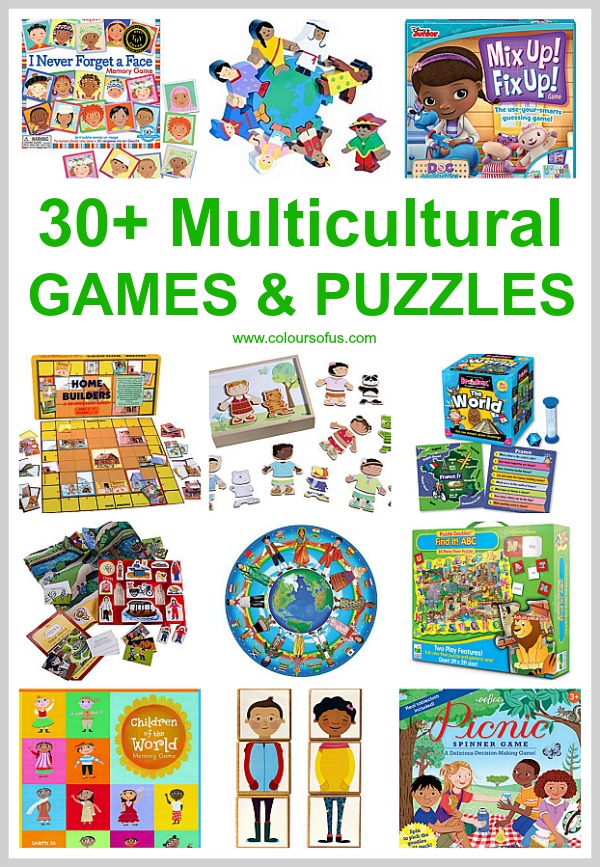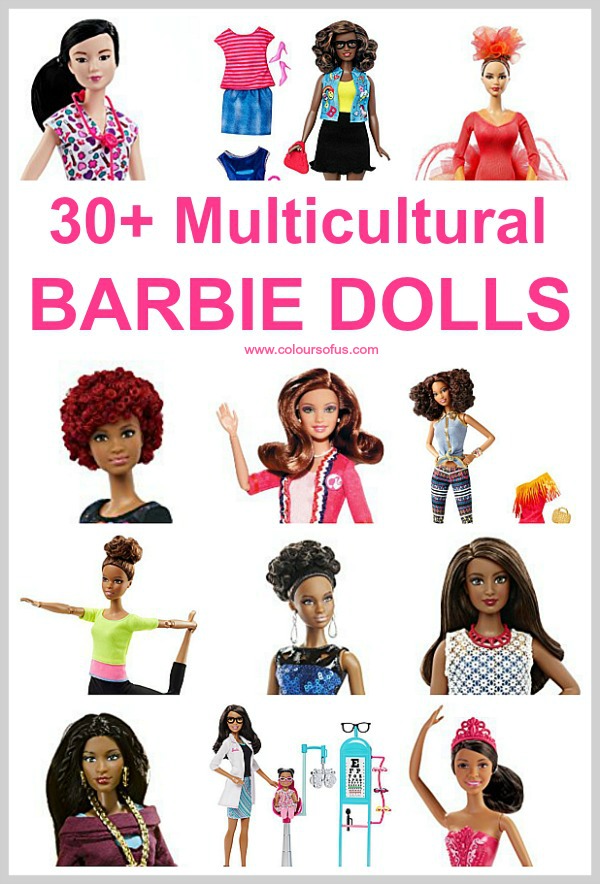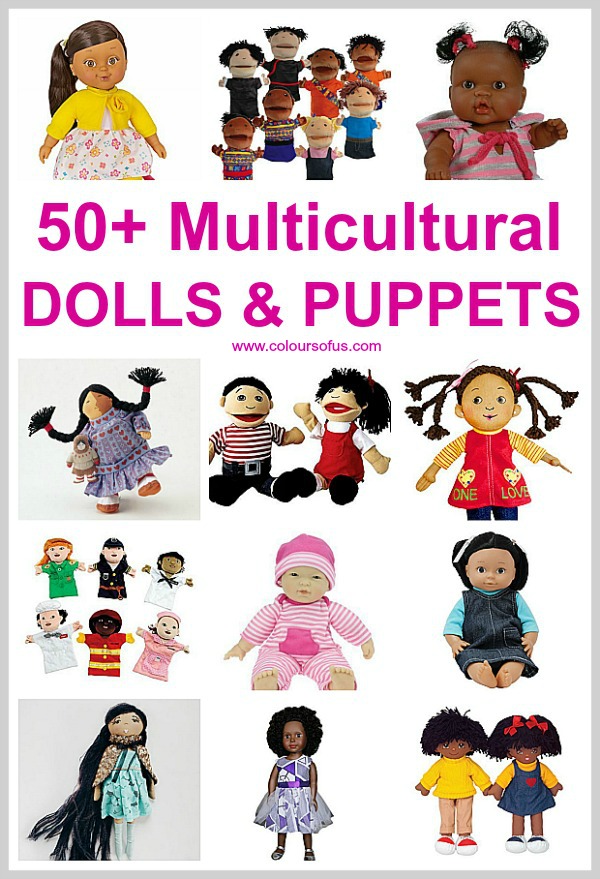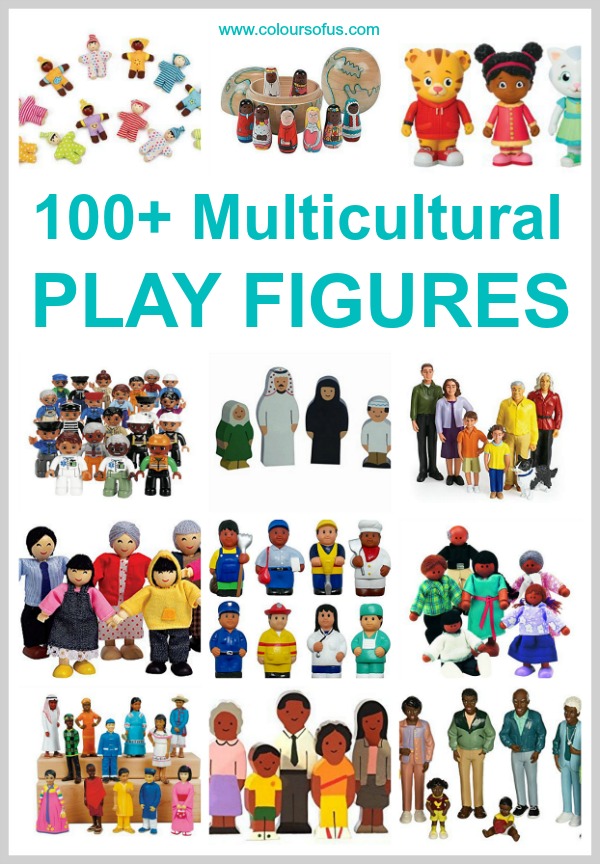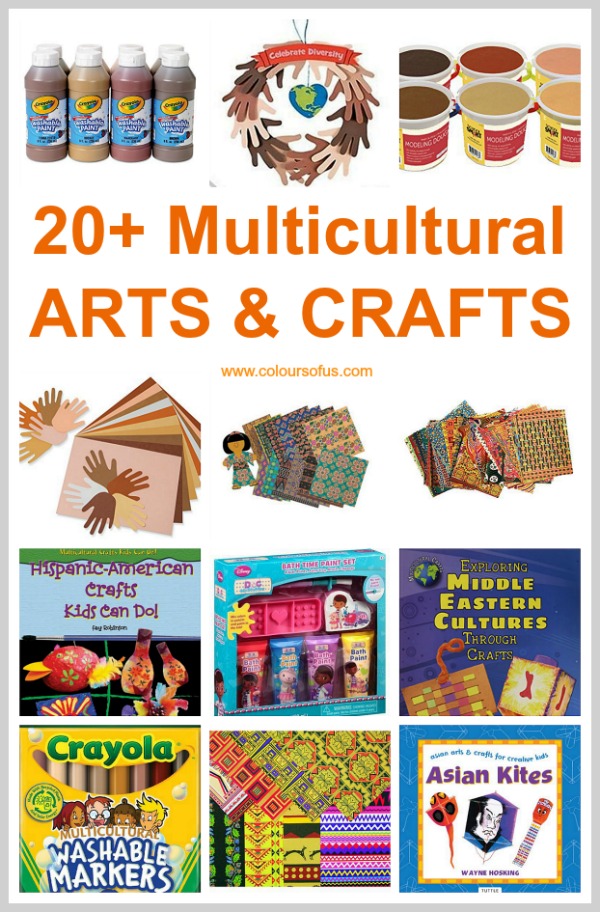 ---