UPDATED AUGUST 2022!
New school year loading! Check out our popular list of multicultural children's books about school!
From the first day at preschool to the first school day in a new country, from fun times at school to conflict and bullying – the multicultural children's books on this list cover a wide range of school related topics for children aged 3 to 13.
---
80 Multicultural Children's Books about School
---
---
Preschool
---
Rosie Goes to Preschool
by Karen Katz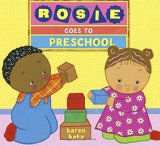 Follow little Rosie as she shows you around her preschool! She introduces her teacher, her reading circle, her music class, her lunch table, and more. With gentle text and Katz's signature bright illustrations of cute toddlers, Rosie Goes to Preschool is a reassuring picture book that will be a hit with children starting preschool. ~ Diverse – Preschool
---
It's Time for Preschool
by Esme Raji Codell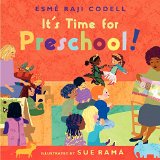 Another one to help ease children's anxieties about starting preschool! It's Time For Preschool is a cheerful (slightly wordy) book that introduces children to the world of preschool. They learn about having fun, making friends, playing games, singing, sharing, lunch time, nap time and more. ~ Diverse – Preschool
---
All Are Welcome
by Alexandra Penfold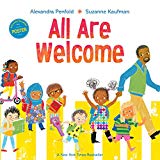 Follow a group of children through a day in their school, where everyone is welcomed with open arms. Kids in patkas, hijabs, and yarmulkes play side-by-side with friends in baseball caps and learn from each other's traditions. New York Times bestseller All Are Welcome is a warm and colourful picture book that celebrates diversity and inclusion. ~ Diverse – Preschool
---
This Is a School
by John Schu
A school isn't just a building; it is all the people who work and learn together. It is a place for discovery and asking questions. A place for sharing, for helping, and for community. It is a place of hope and healing, even when that community can't be together in the same room. This Is A School is a moving celebration of schools and the people within the school community. ~ Diverse – Preschool
Related: 12 Multicultural Children's Books about the Power of Community
---
I Love My Teacher!
by Todd Parr
Teachers are amazing! They teach you new things, make you laugh, and help you meet new friends. They always encourage you to do your best. They make the classroom a great place to be! From fostering creativity in the classroom to ensuring all children's needs are met, I Love My Teacher! is an ode to everything teachers contribute to the world. ~ Diverse – Preschool
Related: 12 Multicultural Picture Books about Love
---
I Got the School Spirit
by Connie Schofield-Morrison
Summer is over, and this little girl has got the school spirit! She hears the school spirit in the bus driving up the street–VROOM, VROOM!–and in the bell sounding in the halls–RING-A-DING! She sings the school spirit in class with her friends–ABC, 123! I Got The School Spirit is an exuberant celebration of the first day of school that will have every kid cheering for school to begin! ~ African – Preschool
Also available: I Got the Rhythm // I Got the Christmas Spirit
---
That's Not My Name!
by Anoosha Syed
Mirha is excited for her first day of school. But when her classmates mispronounce her name, she goes home wondering if she should find a new one. Maybe then she'd be able to find a monogrammed keychain at the gas station or order a hot chocolate at the café more easily. But Mama helps Mirha to see how special her name is, and she returns to school the next day determined to help her classmates say it correctly–even if it takes a hundred tries. That's Not My Name is an empowering picture book about loving your name, and standing up for yourself. ~ Asian – Preschool
Related: 15 Children's Books set in Pakistan
---
Boxitects
by Kim Smith
Meg is a brilliant boxitect who loves impressing her teacher and classmates with what she makes out of boxes. But there's a new kid at Maker School: Simone. She is good at everything, and worst of all, she's a boxitect too. When the annual Maker Match is held, Meg and Simone are paired as a team but can't seem to stop arguing. When their extraordinary project turns into a huge disaster, they must find a way to lift each other up, and work together. Boxitect is a STEAM-centered, adorably illustrated picture book about creativity and teamwork. ~ African – Preschool
Related: 50+ Multicultural STEAM Books for Children
---
School's First Day of School
by Adam Rex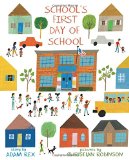 This gorgeously illustrated book shows the first day of school from an unusual perspective. It's the school itself that is going through first-day jitters. Will the children like the school?  Will they be nice? What will they do once they arrive?  School's First Day of School is a fun back-to-school book with charming paint-and-collage illustrations. ~ Diverse – Preschool
---
Be Kind
by Pat Zietlow Miller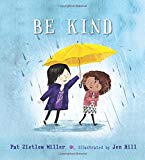 When Tanisha spills grape juice all over her new dress, her classmate wants to make her feel better and wonders what it means to be kind? From asking the new girl to play to standing up for someone being bullied, New York Times bestseller Be Kind gently explores what kindness is, and how any act, big or small, can make a difference. ~ Diverse – Preschool
Related: 25 Multicultural Children's Books teaching Kindness & Empathy
---
Speak Up
by Miranda Paul
Join a diverse group of kids on a busy school day as they discover different ways of making their voices heard! From shouting out gratitude for a special treat to challenging a rule that isn't fair, they show that simple, everyday actions can help people and make the world a better place. Vibrantly illustrated Speak Up! encourages kids to unite with others and take action when they see something that needs to be fixed. ~ Diverse – Preschool
Related: 12 Multicultural Children's Books about the Power of Community
---
Sumi's First Day of School Ever
by Joung Un Kim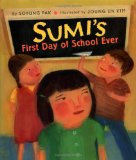 It is Sumi's first day at school in the U.S. The young Korean girl doesn't understand English and experiences school as a scary, lonely and even mean place. But with the help of an understanding teacher and a friendly classmate, Sumi soon discovers that school isn't so scary after all. Sumi's First Day of School Ever is a thoughtful picture book, beautifully illustrated with soft oil crayon drawings. ~ Asian – Preschool
---
I Will Be Fierce
by Bea Birdsong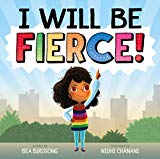 "Today, I will be fierce! I will answer the call to adventure." It's a brand new day, and a young girl decides to take on the world. From home to school and back again, she conquers the Mountain of Knowledge (the library), forges new bridges (friendships), and leads the victorious charge home on her steed (the school bus). With bright illustrations, I Will Be Fierce! is a powerful picture book about courage, confidence, and kindness. ~ Diverse – Preschool
Related: 18 Multicultural Children's Books about Fear and Courage
---
Our Favorite Day of the Year
by A.E. Ali
Musa is feeling anxious about his first day of kindergarten. And when he meets classmates Moisés, Mo, and Kevin, he isn't sure they'll have much in common. But over the course of the year, the four boys learn more about each other, the holidays they celebrate, their favourite foods, and what they like about school. The more they share with each other, the closer they become, until Musa can't imagine any better friends. Our Favorite Day Of The Year tells a heartwarming story of friendship and celebrating differences. ~ Diverse – Preschool
Related: 18 Multicultural Children's Books about Friendship
---
Lola Goes to School
by Anna McQuinn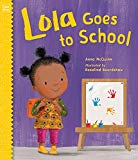 One of our all-time favourite series! With adorable illustrations, Lola Goes To School follows spunky little Lola as she embarks on a new adventure: The first day of school! Lola and her family prepare the night before, then get up early, take pictures, and head to class. Lola puts her things in her cubby, chooses her activities, reads, plays, and has a snack. Before she knows it, it's time to sing the good-bye song.  ~ African – Preschool
Related: 40+ Multicultural Book Series for Girls & Boys
---
I Am Amazing!
by A. Holder & Z. Holder-Young
Ayaan loves being a superhero, from helping a friend who has fallen on the playground, to giving pushes on the swings, and offering a boost to those who need it at the rock wall. But his fun is ruined when two of his friends tell him he doesn't seem like a superhero. When he gets home from school, his Dad reminds him that anybody can be a superhero if you are helping other. I Am Amazing! is the latest picture book about the always-inspiring Ayaan. ~ African – Preschool
Related: 30 Multicultural Children's Books featuring Superheroes
---
The King of Kindergarten
by Derrick Barnes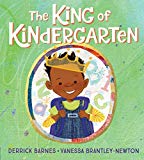 "The morning sun blares through your window like a million brass trumpets. It sits and shines behind your head–like a crown. Mommy says that today, you are going to be the King of Kindergarten!" New York Times bestseller The King Of Kindergarten follows a confident little boy on his first day of kindergarten. A joyful and empowering story that will give new kindergarteners a reassuring confidence boost! ~ African – Preschool
Related: 150 Children's Books Celebrating Black Boys
---
The Queen of Kindergarten
by Derrick D. Barnes
MJ is more than ready for her first day of kindergarten! With her hair freshly braided and her mom's special tiara on her head, she knows she's going to rock kindergarten. But the tiara isn't just for show—it also reminds her of all the good things she brings to the classroom, stuff like her kindness, friendliness, and impressive soccer skills, too! Like the bestselling companion book The King of Kindergarten, The Queen of Kindergarten is the perfect back-to-school book. ~ African – Preschool
Related: 250 Children's Books Celebrating Black Girls
---
The Name Jar
by Yangsook Choi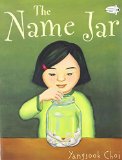 Unhei decides she needs an easier-to-pronounce name. She tells her new classmates that she will choose a name later. The other children are fascinated by this no-name girl and try to help out by filling a glass jar with names for her to pick from. After trying a few of those names, Unhei decides to stick with her real name. The Name Jar is an engaging story about being new at school from a different country and valuing your uniqueness. ~ Asian – Preschool
---
Rain School
by James Rumford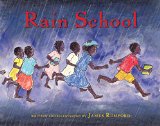 The children in a rural village in Chad, Africa, are excited. It's their first day at school! They wonder whether they will get notebooks and pencils, and whether they will learn to read. But when they arrive, there are no classrooms. "We will build our school," explains the teacher. "This is our first lesson." Based on the author's experiences as a Peace Corps volunteer, Rain School gives young children a glimpse into a very different school life. ~ African – Preschool
Related: 15 Multicultural Children's Books about Rain
---
Ming Goes to School
by Deirdre Sullivan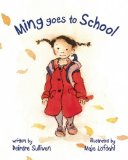 At preschool Ming meets a diverse bunch of new friends, builds sandcastles, makes snow angels, traces, glitters, and glues. Recently released Ming Goes To School is a very sweet and reassuring book about starting preschool, perfectly complemented by soft, evocative watercolour illustrations. ~ Asian – Preschool
---
---
Elementary School
---
More Than Peach 
by Bellen Woodard
When Bellen Woodard's classmates referred to "the skin-colour" crayon, she knew just how important it was that everyone understood that "skin can be any number of beautiful colours." More Than Peach spreads Bellen's message of inclusivity, empowerment, and the importance of inspiring the next generation of leaders. Bellen created the More Than Peach Project in order to transform the crayon industry and grow the way we see our world. Includes back matter about becoming a leader and improving your community just like Bellen. ~ African – Elementary School
---
First Day in Grapes
by L King Perez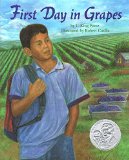 Every September Chico starts at a new school. His family moves up and down California picking fruits and vegetables. Not fluent in English, Chico often gets picked on at school but his first day in Grade 3 is different. His teacher is friendly and recognizes his excellent math skills, and his classmates accept him, too. When some older children bully Chico at lunch time he responds in a brave and creative way. Pura Belpré Honour Book First Day in Grapes tells a heartfelt story of inner strength and personal triumph. ~ Hispanic – Elementary School
Related: Pura Belpré Award Winners 1996 – 2022
---
A History of Me
by Adrea Theodore
Life can be hard for the only brown girl in a classroom full of white students. When the teacher talks about slavery and civil rights, she can feel all of her classmates staring at her. She wonders, is that all you see when you look at me? But she learns that what really matters is what she sees when she looks at herself: A reflection of the courage, strength, intelligence and creativity that's been passed down from generation to generation. Inspired by the author's and her daughter's experience in school, A History of Me is a powerful testament to the past and a positive affirmation for children of colour everywhere. ~ African – Elementary School
Related: 250 Children's Books Celebrating Black Girls
---
Give It a Try, Yasmin!
by Saadia Faruqi
Give It A Try, Yasmin! is a fun collection of four new stories about Yasmin, a spirited second grader who tackles every challenge with her head and her heart! Whether she's helping to solve a recycling problem at school, trying to avoid a science fair fiasco, searching for a favorite lost book, or gathering her courage to join in the fun, Yasmin is always willing to give it a try! The escapades of Yasmin along with her multi-generational Pakistani-American family will delight and inspire early readers. ~ Asian – Elementary School
Related: 15 Children's Books set in Pakistan
---
Suki's Kimono
by Chieri Uegaki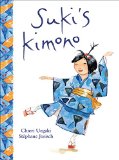 Suki insists on wearing her favourite kimono on her first day back to school. It is a gift from her grandmother and holds special memories of her visit. When her classmates laugh at Suki, she wins them over by telling them about the street festival she attended with her grandmother and even doing an impromptu dance. Suki's Kimono is a lighthearted story about being who you are, complemented by cheerful watercolour illustrations. ~ Asian – Elementary School
---
The Proudest Blue: A Story of Hijab and Family
by Ibtihaj Muhammad
It's the first day of school and also Faiza's older sister Asiya's first day of hijab — a beautiful blue hijab, like the ocean waving to the sky. But not everyone sees hijab as beautiful, and in the face of hurtful, confusing words, Faizah will find new ways to be strong. Written by Olympic medalist Ibtihaj Muhammad, vibrantly illustrated 
The Proudest Blue
 is an uplifting story of being proud of who you are and the unbreakable bond between siblings. 
~ Diverse – Elementary School
---
Grandmother School
by Rina Singh

Based on a true story from the village of Phangane, India, Grandmother School tells the moving story of a grandmother who goes to school for the first time in her life. Every morning, a young girl beams with pride as she walks her grandmother to the Aajibaichi Shala, the school that was built for the grandmothers in her village to have a place to learn to read and write. This gorgeously illustrated picture book celebrates family, women and the power of education. ~ Asian – Elementary School
Related: 40+ Multicultural Children's Books about Grandparents
---
I Can Help
by Reem Faruqi
When Ms. Underwood asks if anyone wants to help Kyle, Zahra always volunteers. She loves spending time with Kyle—he's creative and generous, and he makes the funniest jokes at lunch. But when Zahra's other classmates start teasing her for helping him, she starts making choices she soon regrets. I Can Help is a gentle, sensitive portrayal of reaching out, facing peer pressure, and learning from past mistakes. ~ Diverse – Elementary School
Related: 25 Multicultural Children's Books teaching Kindness & Empathy
---
King of the Ice #1 (Miles Lewis)
by Kelly Starling Lyons
Miles Lewis loves science and sports. But when his teacher announces a class field trip to an ice skating rink to learn about physics, he isn't so excited. He's never ice skated before, and his friend RJ challenges him to a bet: If Miles skates without falling, RJ will put a "Miles is the man" sign on his backpack. But if Miles falls, he has to put one on his that says the same about RJ. Can he keep his cool with all the pressure from RJ? Illustrated King of the Ice is the first in a new chapter book series perfect for STEM fans! ~ African – Elementary School
Related: The 30 Best Multicultural Chapter Books of 2021
---
Your Name Is a Song
by Jamilah Thompkins-Bigelow
A little girl tells her mother she never wants to come back to school because her teachers and classmates keep mispronouncing her name. In response, the girl's mother teaches her about the musicality of African, Asian, Black-American, Latinx, and Middle Eastern names on their lyrical walk home through the city. Empowered by this newfound understanding, the young girl is ready to return the next day to share her knowledge with her class. Beautifully illustrated, Your Name is a Song is a celebration of the magic behind names. ~ African – Elementary School
---
Stella Díaz Dreams Big
by Angela Dominguez
Stella is happy as a clam in fourth grade. She's the president of the Sea Musketeers conservation club, she starts taking swim lessons, and she joins a new art club at school. But as her schedule fills up, school gets harder, too. Suddenly the tides have turned, and she is way too busy! Stella will be in an ocean of trouble if she can't keep her head above water. But with her trusty Sea Musketeers by her side, she hopes to make her big dreams come true! Based on the author's experiences growing up Mexican American, Stella Díaz Dreams Big is a relatable story with an infectiously charming character. ~ Hispanic – Elementary School
Related: 24 Children's Books set in Mexico
---
Zoey Lyndon's Big Move to the Lou
by Micheal Anderson
Moving from Philadelphia to Saint Louis is a lot harder than Zoey Lyndon thought. Feeling rejected and alone at school, Zoey begins to dread the cafeteria. After a chance encounter with Tomasina aka Tommi, a very friendly and fellow science loving classmate, things begin to look up for Zoey. Zoey Lyndon's Big Move To The Lou is an uplifting chapter book about navigating change and friendship. ~ African – Elementary School
Related: 18 Multicultural Children's Books about Friendship
---
Sky Watcher #5 (Jada Jones)
by Kelly Starling Lyons
Jada is excited to do a school project about her hero Dr. Mae Jemison, a former NASA astronaut and the first Black woman to travel to outer space. She even gets to pretend to be her for the presentation in front of her teacher, parents, and friends! But when Jada's research reminds her how accomplished her hero truly is, she suddenly feels like she's made a mistake. How can she portray someone who seems to have everything together when she feels like she's falling apart? Jada Jones: Sky Watcher is the fifth book of this celebrated series perfect for STEM fans. ~ African – Elementary School
Related: 50+ Multicultural STEAM Books for Children
---
Amy Wu and the Warm Welcome
by Kat Zhang
Amy's class has a new student from China! Amy tries hard to make Lin feel included, but she can't draw him out of his shell. Then she sees Lin chattering happily in Chinese with his family. The gears in her head start to turn, and a plan blossoms. Step one: invite Lin to her dumpling party… ​With a little help from her grandma and a shiny new banner, can Amy give Lin the warmest welcome? Amy Wu and the Warm Welcome is a warmhearted and playfully illustrated follow-up picture book to Amy Wu and the Perfect Bao and Amy Wu and the Patchwork Dragon. ~ Asian – Elementary School
Related: 40+ Multicultural Book Series for Girls & Boys
---
Cece Loves Science: Push and Pull
by K. Derting & S.R. Johannes
Cece's teacher, Miss Curie, explains the opposite forces of push and pull. To demonstrate this concept, she divides the class into two teams. Each team must make a treat dispenser for Cece's dog, Einstein, that uses both forces. Cece and her classmates rely on science, creativity, and teamwork—and they learn a lot along the way. Cece Loves Science is a perfect gift for aspiring scientists and emerging readers! ~ Diverse – Elementary School
Related: 50+ Multicultural STEAM Books for Children
---
Jalapeno Bagels
by Natasha Wing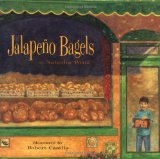 Beautifully illustrated, Jalapeño Bagels tells the story of Pablo who cannot decide what food to take for his school's International Day. The chano bars his Mexican mother makes or the bagels his white Jewish father bakes? He eventually comes up with a food that perfectly represents his mixed heritage. ~ Diverse – Elementary School
Related: 70+ Picture Books about Mixed Race Families // 24 Diverse Jewish Books for Children & Teenagers
---
Vampires Don't Wear Polka Dots: A Graphix Chapters Book
by Marcia Thornton Jones & Debbie Dadey
The third graders at Bailey Elementary are so hard to handle that all of their teachers have quit. But their new teacher, Mrs. Jeepers, is different — to say the least. She's just moved from Transylvania into a spooky old house in Bailey City. She wears a mysterious brooch that glows as green as her eyes. Could Mrs. Jeepers be a vampire? Vampires Don't Wear Polka Dots is the first-ever graphic novel adaptation of Scholastic's classic chapter book series. ~ Diverse – Elementary School
Related: 80+ Multicultural Graphic Novels for Children & Teenagers
---
Yasmin the Writer
by Saadia Faruqi
Ms. Alex has assigned Yasmin's class to write about their heroes. Yasmin loves to write, but she can't decide who her hero is. After dismissing lots of ideas, could it be that Yasmin's hero has been right beside her all along? The Yasmin Series features delightful Pakistani American Yasmin, a creative thinker and curious explorer whom early readers will love! ~ Asian – Elementary School
Related: 180+ Asian & Asian American Books For Children & Teenagers
---
This Is the Way We Go to School: A Book About Children Around the World
by Edith Baer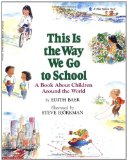 "One by one or two by two / come along, it's fun to do!" With fun rhyming text and colourful illustrations, This is the Way We Go to School explores the different ways children get to school around the world. Some children walk to school, others ride a bus. Children go by ferry in New York, vaporetto in Italy, trolley car in San Francisco, and helicopter in the Alaskan Tundra. Includes a world map. ~ Diverse – Elementary School
---
A Sky-Blue Bench
by Bahram Rahman
Afghani schoolgirl Aria is excited to be back at school after her landmine accident but also worried about sitting on the hard floor all day with her new prosthetic "helper-leg." Before the war changed many things in Afghanistan, schools like hers had benches for students to sit at. If she had a bench, her leg would not hurt so much. The answer is obvious: she will gather materials, talk to Kaka Najar, the carpenter in the old city, and learn to build a bench for herself. With a spunky main character and dynamic illustrations, A Sky-Blue Bench is an inspiring story of resilience. ~ Asian – Elementary School
Related: 180+ Asian & Asian American Books for Children & Teenagers
---
The Scientific Life of Azaleah Lane
by Nikki Shannon Smith
Third-grader Azaleah Lane has been chosen STEM lab monitor for the week, but on her first day Harry the lab guinea pig gets out of his cage and escapes, and Azaleah has to figure out a strategy to locate where in the room he is hiding and catch him; but she also has another problem–how to get Terrance to listen to Rose, Jamal, and herself and work with the group on their Rube Goldberg machine project. The Scientific Life of Azaleah Lane is part of a fun series about the adventures of a spunky Black girl. ~ African – Elementary School
Also available: The Amazing Life of Azaleah Lane / The Scrumptious Life of Azaleah Lane / The Dramatic Life of Azaleah Lane
---
It's Back To School We Go!: First Day Stories from Around The World
by Ellen Jackson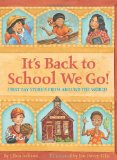 It's Back to School We Go! tells 11 first-day-of-school stories from around the world. Elementary School children from Kenya, Kazakhstan, China, Canada and other countries describe their first day of school, and introduce their customs, foods, and family life. Includes a world map and a list of web resources. ~ Diverse – Elementary School
---
Nasreen's Secret School
by Jeanette Winter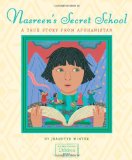 Since her parents were taken by the Taliban, little Nasreen has not spoken a word. In a desperate attempt to draw her out of her shell of sadness, her grandmother sends her to a secret school for girls. Through reading Nasreen slowly finds her way back into life. Nasreen's Secret School is a powerful true story from Afghanistan. ~ Asian – Elementary School
Related: 15 Multicultural Children's Books celebrating books & reading
---
Nana Akua Goes to School
by Tricia Elam Walker
It is Grandparents Day at Zura's elementary school, and she is worried that her classmates will be scared of her grandmother–or worse, make fun of her. Nana is Zura's favorite person in the world but with her West African tribal face markings she looks a little different from other grandmas. But with a quilt of traditional African symbols and a bit of face paint, Nana Akua is able to explain what makes her special, and to make all of Zura's classmates feel special, too. Nana Akua goes to School is a moving story that celebrates cultural diversity. ~ African – Elementary School
Related: 40+ Multicultural Children's Books about Grandparents
---
Katie Woo Loves School
by Fran Manushkin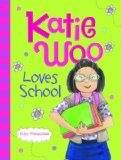 For Katie Woo, school is just one big adventure after another. Her teacher, Miss Winkle, makes every day special, from taking the class on fun field trips to giving them exciting special projects. Katie Woo Loves School is a compilation of four early chapter books from the Katie Woo series: Make-Believe Class // Katie Finds a Job // Who Needs Glasses? // Moo, Katie Woo!  ~ Asian – Elementary School
---
Running The Road To ABC
by Denize Lauture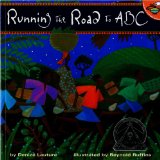 "Up and Down / Every Day / Morning Moon / Evening Star / Morning Star / Evening Moon / They run and run and run on the / Road to ABC." Six Haitian children are running to school at daybreak, over the hills, through the fields, across the city square. With poetic text and bright folk-art style illustrations, Running the Road to ABC captures the joy and energy of children who are eager to get to school. ~ African – Elementary School
---
I'm New Here
by Anne Sibley O'Brien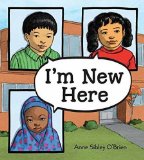 Jin from Korea, Maria from Guatemala, and Fatima from Somalia are all new at their American elementary school. Each of them struggles to speak and write in English. With determination and the encouragement from peers and teachers, the three children feel more and more at home, whilst staying connected to their roots and cultures. I'm New Here shows how school communities can help immigrant children feel at home. ~ Diverse – Elementary School
Related: 30 Multicultural Picture Books about Immigration
---
Someone New
by Anne Sibley O'Brien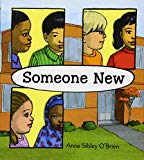 Someone New is the companion book to I'm New Here. While the latter is told from the perspective of three recent immigrants trying to adjust to a new country and school, this books tells the same story from the perspective of the students who welcome the newcomers. These two heartwarming and honest books provide a 'window' as well as a 'mirror' look at the immigration experience. ~ Diverse – Elementary School
---
Lailah's Lunchbox
by Reem Faruq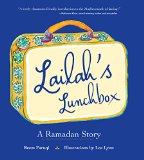 Lailah's Lunchbox tells the story of a young girl who is excited to fast for the first time. But Lailah is worried that her classmates won't understand why she won't be eating lunch with them. With help from the school librarian and her teacher, Lailah overcomes her fears and makes new friends who respect her beliefs. ~ Asian – Elementary School
Related: 21 Children's Books about Ramadan and Eid
---
Ten Cents a Pound
by Nhung N. Tran-Davies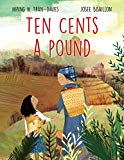 A young girl in an unnamed Asian country dreams of going to school but is afraid to leave her mother and her village behind. Her mother who works in the coffee fields encourages her to go, and each time the girl mentions a reason to stay she reminds her: "Ten cents a pound is what I'll earn." Ten Cents A Pound is a poetic and heartfelt story about love, sacrifice and overcoming obstacles. ~ Asian – Elementary School
---
Separate Is Never Equal: Sylvia Mendez and Her Family's Fight for Desegregation
by Duncan Tonatiuh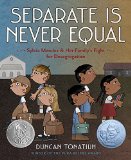 Separate Is Never Equal tells the powerful story of Hispanic American Sylvia Mendez who was denied enrollment to a "Whites only" school in 1944. With the help of the Hispanic community her parents filed and won a lawsuit in federal district court. Their success led to the end of segregated education in California. ~ Hispanic – Elementary School
Related: 26 Multicultural Picture Books about Inspiring Women & Girls
---
Our School Garden!
by Rick Swann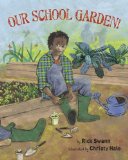 "New city, new school. / What's that? A school garden!" Michael feels lonely at his new school – until he discovers the school garden! "Taste a leaf, you ask?/Mmm, nice and tangy hot./So many ways to learn./Always work to do." With richly textured mixed-media illustrations in earthy tones, Our School Garden follows Michael and his class as they enjoy planting, growing and eating their own food. ~ African – Elementary School
Related: 21 Multicultural Children's Books: Growing Your Own Food
---
---
Middle School
---
Maya and the Robot
by Eve L. Ewing
Maya's nervous about fifth grade. For the first time since kindergarten, her best friends Jada and MJ are placed in a different class without her, and introverted Maya has trouble making new friends. When she finds a robot named Ralph in the back of Mr. Mac's convenience store closet, she uses her science skills to get him up and running. A whole new world of connection opens up as Ralph becomes a member of her family and Maya begins to step into her power. Maya and the Robot is a touching story about adapting to change, and the magic of ingenuity. ~ African – Middle School
Related: 50+ Multicultural STEAM Books for Children
---
President of the Whole Sixth Grade
by Sherri Winston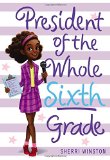 In this sequel to President of the Whole Fifth Grade, Brianna Justice is faced with the difficult task of raising money for a class trip to Washington D.C. She is up against fundraising failures, self-doubt, a classmate trying to run her out of office, and the fear of losing her two best friends. President of the Whole Sixth Grade is a fast-paced contemporary book that realistically captures the ups and downs of friendships in middle school. ~ African – Middle School
---
Planet Omar: Accidental Trouble Magnet
by Zanib Mian
Omar is not excited about starting at a new school. What if the work is too hard or the kids are mean or the teacher is a zombie alien?! When Omar makes a new best friend, things start looking up — until a Big Mean Bully named Daniel makes every day a nightmare. Luckily, Omar's enormous imagination and goofy family help him get through life's ups and downs. Accidental Trouble Magnet is the first book in the hilarious Planet Omar series. ~ Asian – Middle School
Related: 10 Laugh-Out-Loud Funny Multicultural Picture Books
---
Save Me a Seat
by Gita Varadarajan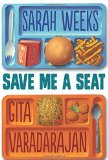 Ravi, who recently arrived from India, and Joe, whose best friend just moved away, both attend Fifth Grade at the same school. They each struggle in their own way to acclimatize to the new situation. Both being targeted by Dillon Samreen, the school's biggest bully, Ravi and Joe try to take control of their lives together. Recently released Save Me A Seat is a heartfelt middle grade novel about fitting in and staying true to yourself. ~ Asian – Middle School
Related: 50+ Multicultural Middle Grade Novels for Summer Reading
---
A Good Kind of Trouble
by Lisa Moore Ramée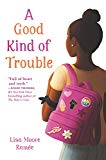 All twelve-year-old Shayla wants is to make it through seventh grade with her best friendships intact, learn to run track, and have a cute boy see past her giant forehead. But in junior high, she's suddenly questioning who her best friends are and some people at school are saying she's not black enough. Through her sister, she starts getting involved in the Black Lives Matter movement and soon has to decide to do what's right. A Good Kind Of Trouble is a funny and big-hearted debut novel about family, friendship and standing up for what is right. ~ African – Middle School
---
Finding Junie Kim
by Ellen Oh
Asian/Pacific American Honour Book 
Junie Kim usually tries not to draw attention to herself. But when racist graffiti appears at her middle school, Junie must decide between staying silent or speaking out. When Junie interviews her grandparents for a history project, she learns about their unbelievable experiences as kids during the Korean War. Junie comes to admire her grandma's fierce determination to overcome impossible odds, and her grandpa's unwavering compassion during wartime. And as racism becomes more pervasive at school, Junie taps into the strength of her ancestors and finds the courage to do what is right. Finding Junie Kim is a powerful reminder that we can overcome hardship and emerge triumphant. ~ Asian – Middle School
Related: 100 Children's Books to help talk about Racism & Discrimination
---
Siha Tooskin Knows the Strength of His Hair
by Charlene &Wilson Bearhead
Where can you find strength when someone disrespects you? And what does having strength really mean? His parents taught 11-year-old Siha Tooskin to maintain a strong mind, heart, and spirit, but starting at a new school is hard, especially when the kids there have never experienced Nakota people. With vivid narratives and dazzling illustrations, Siha Tooskin Knows the Strength of His Hair is an engaging story about values, culture and strength of character. ~ Diverse – Middle School
Related: 100 Native American Children's Books
---
Marcus Makes a Movie
by Kevin Hart
Marcus is NOT happy to be stuck in after-school film class . . . until he realizes he can turn the story of the cartoon superhero he's been drawing for years into an actual MOVIE! There's just one problem: he has no idea what he's doing. So he'll need help, from his friends, his teachers, Sierra, the strong-willed classmate with creative dreams of her own, even Tyrell, the local bully who'd be a perfect movie villain if he weren't too terrifying to talk to. Marcus Makes A Movie is a hilarious illustrated middle grade novel about never giving up on your goals, even when nothing's going your way. ~ African – Middle School
Related: 150 Children's Books Celebrating Black Boys
---
Swim Team
by Johnnie Christmas
Bree can't wait for her first day at her new middle school —until she's stuck with the only elective that fits her schedule, the dreaded Swim 101. Lucky for her, Etta, an elderly occupant of her apartment building and former swim team captain, is willing to help. With Etta's training and a lot of hard work, Bree suddenly finds her swim-crazed community counting on her to turn the school's failing team around. Can Bree defy the odds and guide her team to a state championship? Swim Team is a splashy, contemporary middle grade graphic novel from bestselling comics creator Johnnie Christmas. ~ African – Middle School
Related: 80+ Multicultural Graphic Novels for Children & Teenagers
---
The Absolutely True Diary of a Part-Time Indian
by Sherman Alexie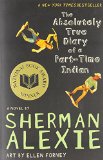 Aspiring cartoonist Junior leaves his school on the Spokane Indian Reservation to attend an all-white farm town school. Illustrated with poignant cartoon-style drawings,The Absolute True Diary of a Part-time Indian is a touching and funny middle grade novel about the contemporary adolescence of a Native American boy. ~ Diverse – Middle School
Related: 100 Native American Children's & YA Books
---
Not Your All-American Girl
by W. Wan-Long Shang & M. Rosenberg
Best friends Lauren and Tara both try out for the upcoming school play. Tara scores the lead role, while Lauren lands in the ensemble because she "just doesn't look the part of the all-American girl". What audience would believe that she, half-Jewish, half-Chinese Lauren, was the every girl star from Pleasant Valley, USA? When Lauren just can't bring herself to sing anymore, her spot in the play and her friendship are in jeopardy. With the help of a button-making business, the music of Patsy Cline, and her two bickering grandmothers, can Lauren find her voice again? Not Your All-American Girl is a middle-grade novel full of heart and hilarity. ~ Diverse – Middle School
Related: 24 Diverse Jewish Books for Children & Teenagers
---
The Insiders
by Mark Oshiro
At Héctor's new school, being gay couldn't make him feel more alone. Most days, he just wishes he could disappear. And he does. Right into the janitor's closet. (Yes, he sees the irony.) But one day, when the door closes behind him, Héctor discovers he's stumbled into a room that shouldn't be possible. A room that connects him with two new friends from different corners of the country—and opens the door to a life-changing year full of friendship, adventure, and a little bit of magic. The Insiders is a hopeful and heartfelt coming-of-age story for anyone who's ever felt like they didn't fit in. ~ Hispanic – Middle School
Related: 75+ Multicultural LGBTQIA Books For Children & Teenagers
---
Farah Rocks Fifth Grade
by Susan Muaddi Darraj
Farah and her best friend, Allie Liu, are hoping to attend sixth grade at the Magnet Academy. But when new girl Dana Denver  starts bullying Farah's little brother, Samir, Farah begins to second-guess her choice to leave him behind at Harbortown School. She comes up with a plan– but that plan involves lying to those closest to her. The first book in the new series, Farah Rocks Fifth Grade is a heartwarming story about family, friendship and bullying. ~ Asian – Middle School
Related: 20 Multicultural Children's Books about Bullying
---
Planet Middle School
by Nikki Grimes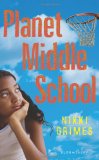 Joylin's world seems to have turned upside down. After twelve years of just being who she is – playing sports with the boys and wearing jeans – suddenly her clothes seem all wrong, and all the boys and girls around her start acting weird. In short poems Planet Middle School captures the confusing world of Middle School. ~ African – Middle School
---
Welcome Back, Maple Mehta-Cohen
by Kate McGovern
Maple Mehta-Cohen loves dictating stories into her recorder—especially the adventures of a daring sleuth who's half Indian and half Jewish like herself—but words on a page just don't seem to make sense to her. Despite all her clever tricks to hide her reading troubles, Maple has to repeat fifth grade. She is devastated—what will her friends think? Maple uses her storytelling skills to convince her classmates that she's staying back as a special teacher's assistant. But as she navigates friendships and her reading challenges, her deception becomes harder to keep up. Welcome Back, Maple Mehta-Cohen Readers is a heartwarming story about friendship, creativity and self-love. ~ Diverse – Middle School
Related: 21 Middle Grade Novels With Multiracial Characters
---
New from Here
by Kelly Yang
When the coronavirus hits Hong Kong, 10-year-old Knox Wei-Evans's mom makes the last-minute decision to move him and his siblings back to California. Knox has two days to prepare for an international move—and for leaving his dad, who has to stay for work. At his new school, Knox's classmates think that because he's from Asia, he must have brought over the virus. As anti-Asian racism skyrockets, Knox tries to stand up to hate, while finding his place in his new country. Can you belong if you're feared; can you protect if you're new? And how do you keep a family together when you're oceans apart? Sometimes when the world is spinning out of control, the best way to get through it is to embrace our own lovable uniqueness. New From Here is a poignant story about courage, hope, and resilience. ~ Asian – Middle School
Related: 100 Children's Books to help talk about Racism & Discrimination
---
Simon B. Rhymin'
by Dwayne Reed
Eleven-year-old Simon Barnes is constantly spitting rhymes in his head. He dreams of becoming a world-famous rapper that everyone calls Notorious D.O.G. For now though, he's just a Chicago fifth grader who's small for his age and afraid to use his voice. But when his new teacher assigns the class an oral presentation on something that affects their community, Simon must face his fears. Written by America's favourite rapping teacher, Simon B. Rhymin' is a humorous and heartwarming underdog story about a young rapper whose rhymes help bring his community together. ~ African – Middle School
Related: 60+ Children's Books About Legendary Black Musicians
---
The Prettiest
by Brigit Young
The prettiest: It's the last thing Eve Hoffmann expected to be, the only thing Sophie Kane wants to be, and something Nessa Flores-Brady knows she'll never be . . . until a list appears online, ranking the top fifty prettiest girls in the eighth grade. Eve is disgusted by the way her body is suddenly being objectified by everyone around her. Sophie is sick of the bullying she's endured after being relegated to number two. And Nessa is tired of everyone else trying to tell her who she is. The Prettiest is an empowering novel about three girls who decide to stand up against sexism and bullying. ~ Diverse – Middle School
Related: 20 Multicultural Children's Books about Bullying
---
Merci Suárez Can't Dance
by Meg Medina
Seventh grade is going to be a real trial for Merci Suárez. For science she's got no-nonsense Mr. Ellis, who expects her to be a smart as her brother, Roli. She's been assigned to co-manage the tiny school store with Wilson Bellevue, a boy she barely knows, but whom she might actually like. And she's tangling again with classmate Edna Santos, who is bossier and more obnoxious than ever now that she is in charge of the annual Heart Ball. One thing is for sure, though: Merci Suárez can't dance—not at the Heart Ball or anywhere else! Follow-up to award–winning Merci Suárez Changes Gears, Merci Suárez Can't Dance follows the lovable protagonist through Seventh grade. ~ Hispanic – Middle School
Related: Multicultural 2021 ALA Award-Winning Children's & YA Books
---
Just Right Jillian
by Nicole D. Collier
Fifth grader Jillian will do just about anything to blend in, including staying quiet even when she has the right answer. After she loses a classroom competition because she won't speak up, she sets her mind on winning her school's biggest competition. But breaking out of her shell is easier said than done, and Jillian has only a month to keep her promise to her grandmother and prove to herself that she can speak up and show everyone her true self. Just Right Jillian is heartfelt middle-grade debut novel about family, friendship, and finding the confidence to break free from the crowd and be who you truly are. ~ African – Middle School
Related: The 50 Best Multicultural Middle Grade Novels of 2021
---
Pippa Park Raises Her Game
by Erin Yun
When Korean American Pippa Park gets a mysterious basketball scholarship to Lakeview Private, she jumps at the chance to reinvent herself. Now she has to juggle old and new friends, a crush, and the pressure to get As and score points while keeping her past and family's laundromat a secret from her elite new classmates. But when Pippa begins to receive a string of hateful, anonymous messages via social media, her carefully built persona is threatened. Pippa Park Raises Her Game is a wonderful middle grade novel about family, friendships, bullying, and identity. ~ Asian – Middle School
Also available: Pippa Park: My Journal About Life
---
Black Brother, Black Brother
by Jewell Parker Rhodes
12-year-old Donte is one of the few Black boys at Middlefield Prep. His teachers and classmates make it clear they wish he were more like his lighter-skinned brother, Trey. When Donte is bullied and framed by the captain of the fencing team, he is suspended from school and arrested. Searching for a place where he belongs, Donte joins a local youth center and meets former Olympic fencer Arden Jones. With Arden's help, he begins training as a competitive fencer, setting his sights on confronting his bullies, racism, and the corrupt systems of power that led to his arrest. Black Brother, Black Brother is a powerful novel about a Black boy's journey to finding his voice. ~ African – Middle School
Related: 150 Children's Books Celebrating Black Boys
---
Omar Rising
by Aisha Saeed
Son of a servant, Omar knows his scholarship to Ghalib Academy Boarding School is a huge opportunity. He can't wait to experience all the school has to offer, especially science club and the soccer team; but he soon learns that first-year scholarship students aren't allowed to join clubs or teams—plus, they have to earn their keep doing menial chores. On top of that, the school requires scholarship students to get significantly higher grades than kids who can pay tuition, making it nearly impossible for kids like him to graduate. With the help of his tightknit new group of friends Omar sets out to do what seems impossible: change a rigged system. Omar Rising is the compelling companion to bestselling Amal Unbound. ~ Asian – Middle School
Related: 180+ Asian & Asian American Books for Children & Teenagers
---
*You can buy any of the books on this site from Amazon USA by clicking on the book titles or covers*
---
---