Earlier this month, uncontrollable wildfires raged through our small South African town for several days, resulting in huge devastation and trauma for humans as well as animals.
In amongst all the chaos, the whole community rallied together to help each other on a scale that I haven't experienced before. It was so reassuring to see how much a community can achieve together, and this experience inspired me to write a post about multicultural children's books about the power of community.
Encourage children to play an active role in changing their communities for the better with these empowering books!
---
12 Multicultural Children's Books about the Power of Community
---
Counting on Community
by Innosanto Nagara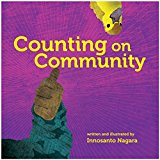 "Three urban farmers, knee-deep in the mud." From the author of the hugely successful ABC book A is for Activist comes this beautiful and inspiring counting book. Counting up to 10 – and always on each other -, Counting on Community takes a first look at the power of community. With vibrant illustrations depicting a diverse neighbourhood and a duck to be found on every page, little ones will love this book! ~ Diverse – Preschool
---
26 Big Things Small Hands Do
by Coleen Paratore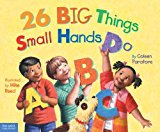 More than just teaching the alphabet, this colourful picture book shows children all the positive things they can do with their little hands, from applauding, building, and planting, to giving hand-made gifts, recycling, and volunteering. 26 Big Things Small Hands Do gives children the important message that even a small person can make a big difference in the lives of their friends, family and community. ~ Diverse – Preschool
---
Look Where We Live!: A First Book of Community Building
by Scot Ritchie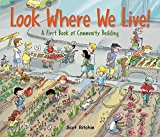 Follow a group of friends through their neigbourhood as they raise money for the local library! Look Where We Live teaches young readers about the many different parts that form a community and the different roles people play to make a community strong, Includes instructions for making a puzzle that celebrates their community. Great also for classroom use! ~ Diverse – Preschool
---
---
Quinito's Neighborhood/El Vecindario de Quinito
by Ina Cumpiano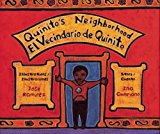 I just love this book! Not only does it introduce children to the concept of community, it does it in a way that challenges gender stereotypes, too. Bilingual Quinito's Neighborhood takes children on a tour through a young boy's vibrant neighbourhood introducing them to some of the members of his tight-knit community (many of whom are family members). Quinito's mom is a carpenter, his dad is a nurse, his grandmother drives a big truck, and his aunt paints murals to brighten up the streets. ~ Hispanic – Preschool
---
Green Green: A Community Gardening Story
by Marie Lamba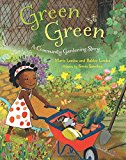 "Green, green, fresh and clean. / Brown, brown, dig the ground." As the city grows, there are fewer and fewer green spaces to play and dig in. But the children of a diverse neighbourhood inspire their community to come together and build a garden for everyone to share in the middle of the city. Green Green is a cheerful and empowering new picture book that includes more information on gardening and a creative activity. ~ Diverse – Preschool
---
The Lemon Tree
by Katherine Graham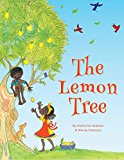 This is one of my daughter's favourites books – and not only because it features pancakes! The Lemon Tree playfully introduces children to the African community spirit of Ubuntu ("I am because you are"). In a small South African community, Gogo and her two grandchildren decide to brighten up a rainy day by making pancakes. When Gogo realises that they are missing essential ingredients, she sends Lungi and Sipho to different neighbours to borrow what they need and bring them lemons from the family's lemon tree in return. And with the help of the community, they are finally able to enjoy delicious pancakes. A fun and warm-hearted book with a great message! ~ African – Preschool
More books about South Africa: 23 Children's Books set in South Africa// 9 Children's Books about Nelson Mandela & Desmond Tutu
---
---
It Takes a Village
by Jane Cowen-Fletcher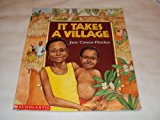 Based on an African proverb ("It takes a village to raise a child"), this gentle story takes the reader to a market in a West African village. When Yemi loses her little brother whom she was supposed to keep an eye on, she finds that the whole village is there to help out. With warm illustrations, It Takes A Village conveys the message of the power of community beautifully.  ~ African – Preschool
---
Maybe Something Beautiful: How Art Transformed a Neighborhood
by Isabel Campoy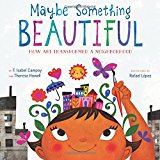 Based on the true story of the Urban Art Trail in San Diego, California, Maybe Something Beautiful tells the inspiring story of how art transformed a community. In her dismal neigbourhood, little Mira offers some joy by handing out pictures she's painted and painting a bright sun on grey walls. When a muralist takes notice of Mira's work, they start a community project together to make the grey walls in their neighbourhood beautiful works of art. Neighbours of all ages, races and walks of life join in, and turn the project into a joyful celebration that brings the community closer together. ~ Hispanic – Preschool, Elementary School
---
The One Day House
by Julia Durango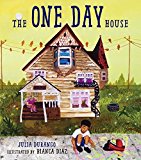 Wilson tells his elderly friend Gigi that one day he will paint her house "orange and yellow like the sun." Although Gigi assures him that him being there is more important to her, Wilson is determined to make his vision come true and tells everyone in the neighbourhood about it. And then one day, volunteers from the community come and help make Gigi's house warm, comfortable and pretty. Inspired by the Labor of Love movement, The One Day House is a warm-hearted story about empathy and community. ~ Hispanic – Preschool, Elementary School
---
---
It Takes a Village: Picture Book Edition
by Hillary Rodham Clinton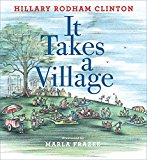 Due to be released in September, this is the picture books edition of Hillary Clinton's classic It Takes a Village. It tells a universal and heartwarming story of how a community coming together can make a difference. People from all backgrounds working and living together make their village a better place, and many villages coming together can make a better world. ~ Diverse – Preschool, Elementary School
---
Lakas and the Makibaka Hotel /Si Lakas at ang Makibaka Hotel
by Anthony Robles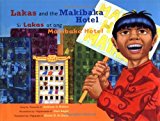 Lakas is intrigued when he hears drumming and singing in his neighbourhood. It comes from the residents of the Makibaka Hotel who are about to be evicted because the hotel is being sold. Soon Lakas leads his friends in a loud and joyful protest full of tapping, singing, and laughter. Inspired by the successful resistance of the residents of the Trinity Plaza Apartments in San Francisco, Laka and the Makibaka Hotel tells an inspiring story about the power of community, brought to life by vibrant illustrations. Bilingual edition (English and Tagalog). ~ Asian – Elementary School
---
Seedfolks
by Paul Fleischman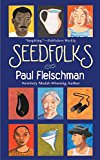 In a destitute neighbourhood, a young girl starts clearing a vacant lot full of rubbish and plants some bean seeds. One by one, others join in and transform the lot into a community garden that brings new hope to the neighbourhood. Told from the perspectives of 13 different neighbours, Seedfolks is a gentle and inspiring story about the power of community and how a bit of beauty can blossom anywhere. ~ Diverse – Middle School
---
*You can buy any of the books on this site from Amazon USA, CAN or UK by clicking on the book titles or images*
---
---
---