"Jazz is a response to oppression that is not bullets and blood.
Jazz is the expression of harmony …
and at the same time of hope and freedom."
Herbie Hancock
Today is International Jazz Day! Designated in 2011 by the UNESCO, it serves "to highlight jazz and its diplomatic role of uniting people in all corners of the globe". International Jazz Day brings together communities all over the world to celebrate jazz and raise awareness of the need for intercultural dialogue and respect for diversity and human rights.
These fun books will inspire your kids (from babies to teenagers) to clap, sing, dance and play their own jazz!
---
18 Multicultural Children's Books about Jazz
---
Jazz Baby
by Lisa Wheeler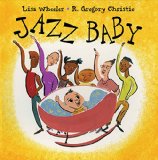 "Brother's hands tap. / Sister's hands snap. / Itty-bitty Baby's hands Clap-Clap-Clap!" Baby's clapping gets an extended multuracial family singing and dancing in this celebration of families and music. The contagious rhythm of this fun first book about jazz will delight the littlest readers. ~ Diverse – Babies & Toddlers
---
This Jazz Man
by Karen Ehrhardt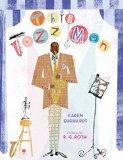 "This jazz man, he plays one, / He plays rhythm with his thumb, / With a Snap! Snap! Snazzy-snap! / Give the man a hand, / This jazz man scats with the band." In this lively version of "This Old Man" nine jazz giants teach children how to count, from Louis Armstrong to Charles Mingus. This Jazz Man is a playful introduction to jazz, complemented by energetic collage illustrations. Includes a brief biography of each musician. ~ African – Preschool
---
Squeak, Rumble, Whomp! Whomp! Whomp!
by Wynton Marsalis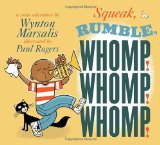 A door squeeeaks, a mouse goes eek, eeek, eeeek, big trucks rrrrrrrumble, hunger makes a tummy grrrrumble. Famous jazz musician Wynton Marsalis takes young readers on an inspiring sonic adventure through the sounds of an urban neighbourhood. The infectious rhythm and the fun cartoon-like illustrations bring the sounds to life. Squeak, Rumble, Whomp! Whomp! Whomp! will have your little ones clapping, singing and dancing in no time! ~ African – Preschool
---
Charlie Parker Played Be Bop
by Christopher Raschka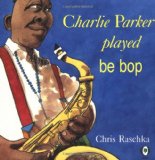 "Alphabet alphabet, alphabet, alph, / Chickadee, chickadee, chickadee, chick, / Overshoes, overshoes, overshoes, o, / Reeti-footi, reeti-footi, reeti-footi, ree." The sassy rhythmic text of Charlie Parker played be bop, coupled with colourful quirky illustrations, brings the sound and feel of Parker's jazz alive for the youngest readers. ~ African – Preschool
---
Little Melba and Her Big Trombone
by Katheryn Russell-Brown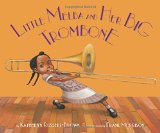 Little Melba and Her Big Tombrone tells the story of music-loving Melba Doretta Liston who taught herself to play the tombrone. Despite facing race and gender discrimination, unsung hero Melba became a famous trombone player and song arranger for jazz legends Duke Ellington, Count Basie and Billie Holiday, to name but a few. ~ African – Elementary School
---
Ella Fitzgerald: The Tale of a Vocal Virtuosa
by Andrea Davis Pinkney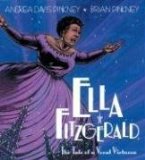 Ella's fictional cat 'Scat Cat Monroe' tells the story of the amazing life of "the first lady of song". With engaging text and vibrant illustrations, Ella Fitzgerald: The Tale of a Vocal Virtuosa celebrates the distinctive style of one of the most talented jazz performers and her impact upon contemporary music. ~ African – Elementary School
---
Duke Ellington: The Piano Prince and His Orchestra
by Andrea Davis Pinkney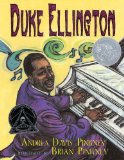 "He was a smooth-talkin', slick-steppin', piano-playin' kid". In the same style of Ella Fitzgerald: The Tale of a Vocal Virtuosa, Andrea Davis Pinkney celebrates another one of the greatest African American performers of the 20th century: "King of the Keys" Duke Ellington. The ryhthmic, swinging prose of Duke Ellington reflects the vibrant energy of his music perfectly. ~ African – Elementary School
---
The Little Piano Girl: The Story of Mary Lou Williams, Jazz Legend
by Ann Ingalls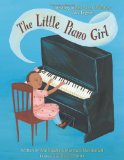 The Little Piano Girl tells the story of Mary Lou William's childhood in Pittsburgh. The famous jazz legend started playing the piano when she was only four years old; at eight she became a professional musician. One of the most powerful women in jazz, Williams wrote and arranged music for Duke Ellington, Dizzy Gillespie and Charlie Parker. ~ African – Elementary School
---
Before John Was a Jazz Giant
by Carole Boston Weatherford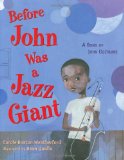 "Before John was a jazz giant / he heard hambones knocking in Grandma's pots / Daddy strumming the ukulele, / and Mama cranking the phonograph." Growing up in the South in the 1930s, young John Coltrane took in all the noises around him that later shaped his own jazz sound. With poetic text and rich paintings in muted blues and reds, award-winning Before John was a Jazz Giant is a beautiful hymn to the jazz legend. ~ African – Elementary School
---
Jazz On A Saturday Night
by Leo & Diane Dillon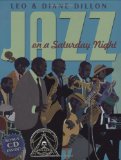 "Ladies and gents, what a jam this will be – / an evening of jazz immortality!" A captivated audience watches a performance of some of the greatest jazz musicians, with John Coltrane and Charlie Parker on sax, Thelonious Monk on piano, Stanley Clarke on bass, vocals by Ella Fitzgerald, trumpet by Miles Davis, and drums by Max Roach. The muted graphic-style illustrations add to the magic feel of Jazz On A Saturday Night. Includes biographies and a specially produced CD. ~ African – Elementary School
---
If I Only Had a Horn: Young Louis Armstrong
by Roxane Orgill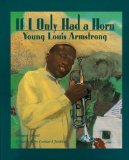 In vivid words and dramatic pictures If I Only Had a Horn tells the story of young Louis Armstrong who overcame incredible odds to become a jazz legend. Inspired by the ever-present sounds of music in New Orleans, the poor boy longed for a horn to play music of his own. When at last he did, he changed the world of jazz forever. ~ African – Elementary School
---
Dizzy
by Jonah Winter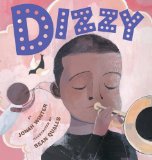 "This is the story of one real COOL cat / born very poor and very tough." With rhythmic text and stunning illustrations Dizzy tells the story of jazz legend Dizzy Gillespie. Leaving behind a hard small town life to play with the hottest bands in New York City, Dizzy became a trumpet revolutionary who broke all the rules – and created Bebop along the way. ~ African – Elementary School
---
Trombone Shorty
by Troy Andrews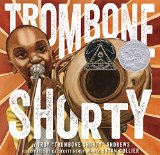 Like Louis Armstrong, Troy "Trombone Shorty" grew up in New Orleans inspired by the music that was all around. Troy Andrews tells the story of how he got his nickname by playing a trombone double his size, and how he was leading his own band by age six. Award-winning Trombone Shorty is a stunningly illustrated picture book biography that celebrates the rich musical culture of New Orleans. ~ African – Elementary School
---
Django
by Bonnie Christensen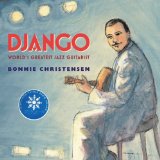 Born into a travelling Romani family in Belgium, young Django Reinhardt taught himself to play the guitar at an early age. Despite a hand injury that left two of his fingers paralyzed, he went on to become a famous jazz guitarist. With jazz-inflected text and vibrant oil paintings
Django
tells the inspirational story of one of the greatest guitar players of all time.
~ Diverse – Elementary School
---
Ben's Trumpet
by Rachel Isadora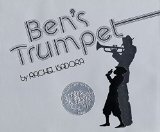 Ben's Trumpet is a fictional story, but could easily be the story of a real-life jazz musician who grew up in the 1920's. With simple text and expressive black-and-white art deco drawings, this Caldecott Honor Book tells the story of a young boy's yearning to play the trumpet just like the musicians that he hears at the Zig Zag Club. ~ African – Elementary School
---
Jazz
by Walter Dean Myers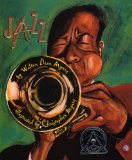 From award-winning father-son team Walter Dean Myers and Christopher Myers comes this lively picture book about jazz music. In engaging poems and energetic paintings, Jazz takes young readers on a musical journey through the history of jazz. Includes time line and glossary. ~ African – Elementary School
---
Jazz Day: The Making of a Famous Photograph
by Roxane Orgill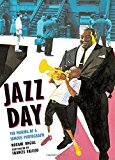 What happens when you invite as many jazz musicians as you can to pose for a photo in 1950s Harlem? In playful verse and with expressive artwork, Jazz Day brings to life the musicians' mischief and quirks, their memorable style, and the vivacious atmosphere of a Harlem block full of kids on a hot summer's day.  Includes biographies of several of the fifty-seven musicians, an author's note, and a foldout of Art Kane's famous photograph. ~ African – Middle School
---
Jazz ABZ: An A to Z Collection of Jazz Portraits
by Wynton Marsalis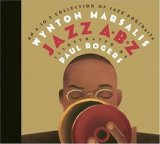 From A for "almighty" Louis Armstrong, to Sonny Rollins, Sarah Vaughan, Count Basie and more, Jazz ABZ celebrates twenty-six icons of jazz music in the same number of poetic forms. The 78″ LP design of the book and the bold, poster-style art add to the nostalgic feel of this stunningly designed book. Includes discography, brief biographies and notes on the various poetic forms. ~ African – Middle School, African – High School
---
Becoming Billie Holiday
by Carole Boston Weatherford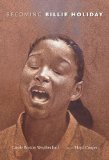 In poignant poems Weatherford chronicles the life of jazz singer Billie Holiday, from poverty and hardship to fame with some of the hottest big bands during the Harlem Renaissance. Stunningly illustrated with Cooper's trademark grainy sepia paintings, Becoming Billie Holiday is a touching tribute to this amazing female icon of jazz. ~ High School
*You can buy any of the books on this site from Amazon USA, CAN or UK by clicking on the book titles or images*
---
Jazz CD's for Children
---
---