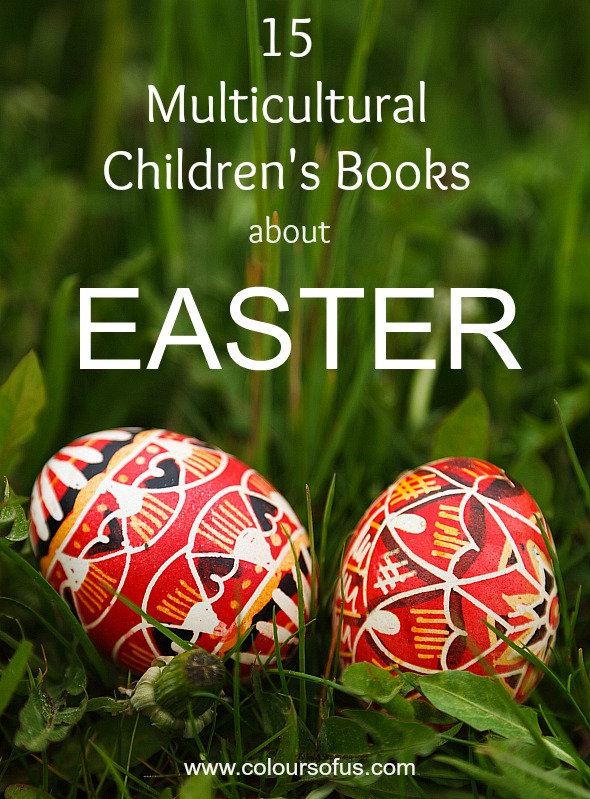 Soon it'll be time for the big Easter egg hunt again!
Here are some lovely multicultural children's books to put in your little one's Easter basket:
---
15 Multicultural Children's Books about Easter
---
Bunny Day
by Michael Scott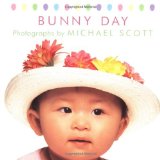 "Sugar-sweet and sunny day – today is happy bunny day!" With playful verse and photos of a diverse bunch of cute babies, Bunny Day is the perfect Easter basket filler for babies and toddlers. ~ Diverse – Babies & Toddlers
---
Easter Sparkling Surprise
by Elizabeth Spurr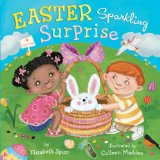 Follow two adorable children on an Easter egg hunt down the bunny trail! From foil-wrapped chocolates to glittery eggs and sparkling flowers, they find lots of exciting treasures. Simple rhyming text and holographic sparkle on every page make
Easter Sparkling Surprise
an appealing book for the very young. ~
African – Babies & Toddlers
,
Preschool
---
Painted Eggs And Chocolate Bunnies
by Toni Trent Parker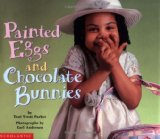 With catchy rhymes and full-colour photos of African American children, Painted Eggs And Chocolate Bunnies is a warm celebration of Easter and all the lovely things that come with it: Easter eggs, Easter bunnies, Easter bonnets, chocolate and lots of love! ~ African – Preschool
---
---
Let's Celebrate Jesus On Easter
by Amy Beveridge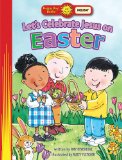 In this colourful board book, little ones learn that Easter is more than a basket of candy. On only eight pages Let's Celebrate Jesus on Easter tells of fun Easter traditions, like egg hunts and Easter baskets, but its main focus is to teach Christian values and honour God. ~ Diverse – Preschool
---
Easter
by Miriam Nerlove
With simple rhyming, this picture book follows an African American family as they celebrate Easter, from colouring eggs to filling Easter baskets, from listening to the Easter story at church to going on an egg hunt and ending the day with an Easter dinner. ~ African – Preschool
---
10 Easter Egg Hunters
by Janet Schulman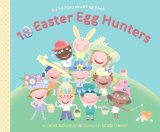 "Wake up, Bunny, move those legs,/ You've not much time to hide those eggs!/ By dawn the kids will want to search./ Please, please don't leave them in the lurch." With rhyming text 10 Easter Egg Hunters is a simple counting book that follows ten kids as they track down track down all of the eggs in time to attend the Easter parade in their festive holiday hats. ~ Diverse – Preschool
---
Easter Is Here!
by Lori C. Froeb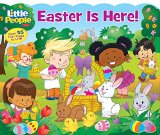 Join the Fisher Price Little People as they colour eggs, get a glimpse into the Easter Bunny's workshop and march in an Easter parade. With over 55 flaps to lift and fun learning activities, Easter Is Here! will be a holiday favourite. ~ Diverse – Preschool
---
---
The Story of Easter
by Patricia A. Pingry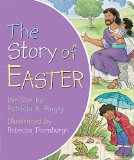 In only 200 simple words this vibrant board book presents the Easter Story in its most traditional form. From Jesus' entry into Jerusalem to the Crucifixion and the Resurrection, 
The Story of Easter
links the biblical story to today's Easter celebrations in an accessible way. ~
Diverse – Preschool
---
Emma's Easter
by Lisa Bullard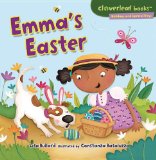 Follow Emma as she celebrates Easter with her mixed heritage family (black dad, white mom, Russian-descent grandmother). They hunt for Easter eggs, go to church and have a festive meal with extended family. Emma's Easter also describes Christian beliefs about Jesus and shows how non-Christians celebrate. ~ African – Preschool
---
Doc McStuffins Bunny in a Basket
by Disney Book Group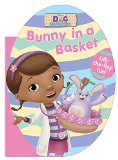 My daughter is DocMcStuffins' biggest fan! Celebrate Easter with the Doc and her adorable friends, from decorating eggs to going an egg hunt, and other exciting activities. Bunny in a Basket is a fun egg-shaped board book complete with foil eggs and over 25 flaps. ~ African – Preschool
---
The Best Easter Prize
by Kristina Evans Collier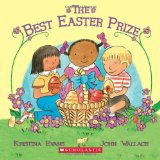 Follow a diverse bunch of kids as they go on a hundred-egg hunt! Some children fill their baskets with lots of eggs, but one little girl is crying because she found no eggs. When Monica decides to share her egg with the girl, everyone is reminded that The Best Easter Prize is having friends to share things with! ~ Diverse – Preschool
---
Chicken Sunday
by Patricia Polacco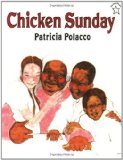 After being initiated into her neighbour's family, a Russian American girl and her African American brothers want to buy Grandma Eula a fancy Easter hat. They try to find a way to pay for it. With authentic and vibrant illustrations, Chicken Sunday is a moving picture book that celebrates the strength of family bonds. ~ African – Elementary School
---
---
Emma the Easter Fairy
by Daisy Meadows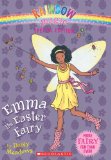 Every year, Emma the Easter Fairy paints three special eggs to make Easter sparkle. But this year, thanks to Jack Frost and his goblins, everything goes wrong. The magic eggs have disappeared, the chocolate is melting, the eggs are going bad, and the Easter Bunny is missing! Young readers must help save Easter by finding the magic eggs in the three stories of this Rainbow Magic Special Edition. ~ African – Elementary School
---
Miz Fannie Mae's Fine New Easter Hat
by Melissa Milich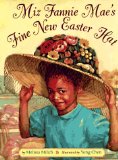 Tandy and her dad go to the big city to buy her mom a fancy new Easter hat. Decorated with lace, flowers, fruit, and four tiny eggs, mama proudly wears the hat to church. When the eggs hatch, everyone thinks a little miracle has happened. Miz Fannie Mae's Fine New Easter Hat is a lovely story about an Easter long time ago. ~ African – Elementary School
---
The Holy Moly Easter Story
by Rebecca Glaser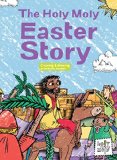 With engaging text and colourful illustrations, The Holy Moly Easter Story brings the Bible to life for children. From Jesus' entry into Jerusalem to the discovery of the empty tomb, kids will be captivated by this story of hope and new life. Includes fun colouring and drawing activities. ~ Diverse – Elementary School
---
*You can buy any of the books on this site from Amazon USA, CAN or UK by clicking on the book titles or covers*
---
Explore the diverse traditions of Easter around the world with us, and don't miss our series from last year and this wonderful overview of global Easter traditions. You can also find these posts and more on our Easter Around the World Pinterest board:
Follow Multicultural Kid Blogs's board Easter Around the World on Pinterest.
March 7
Femme au foyer on Multicultural Kid Blogs: Priecīgas Lieldienas: A Latvian Easter
March 8
Crafty Moms Share: Exploring Easter in Australia
March 11
La Cité des Vents: La Procession de la Sanch
March 13
Colours of Us: 15 Multicultural Children's Books about Easter
March 14
Living Ideas: DIY Indonesian Easter Basket from Recycled Can
March 15
All Done Monkey: Easter Dessert from Brazil – Paçoca de Amendoim
March 17
Kids Travel Books
March 21
Kori at Home
March 22
Crafty Moms Share
March 23
Let the Journey Begin
March 24
Hispanic Mama
---