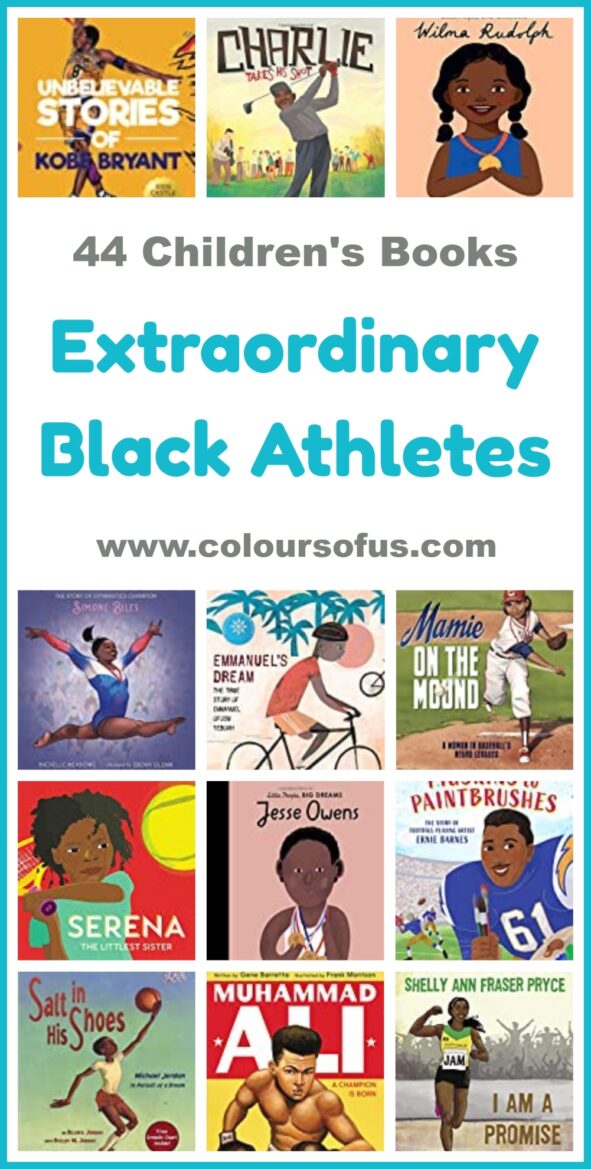 Time to celebrate the achievements of some extraordinary Black athletes! From well-known figures such as Mohammad Ali, Michael Jordan and Serena Williams, to lesser-known ones such as Mabel Fairbanks, Emmanuel Ofosu Yeboah and Mamie Johnson, these gorgeous books shine a light on the challenges and triumphs of a wide variety of amazing Black athletes.
---
44 Children's Books About Extraordinary Black Athletes
---
Babies & Toddlers
---
Baby Ballers: Michael Jordan
by Bernadette Baillie
Before he was a legend, Michael Jordan was just a kid who loved to play basketball. Follow along as he dribbles, shoots, and scores his way to fame in this illustrated board book—armed with a determination that hasn't been matched! With cute illustrations, Baby Ballers: Michael Jordan introduces little ones to the life of a true game changer. ~ African – Babies & Toddlers
---
---
Preschool
---
Who Was Jackie Robinson?: A Who Was? Board Book
by Lizbeth Kaiser
Who Was Jackie Robinson? is the latest addition to the Who Was? board book series: biographies of relevant and important figures, created specifically for the preschool audience. With simple text and fresh, stylized illustrations, this age-appropriate introduction honours and shares the life and work of one of the most influential professional baseball players of our time. Includes a read-aloud biographical summary in the back. ~ African – Preschool
---
Althea Gibson: The Story of Tennis' Fleet-of-Foot Girl
by Megan Reid
In 1940's Harlem Althea Gibson was the quickest, tallest, most fearless athlete — she just couldn't sit still! The fleet-of-foot girl reigned supreme at every sport, from stickball with the boys and basketball with the girls to paddle tennis with anyone who would hit with her. But Althea wanted more: She knew she could be a tennis champion. Against all odds she eventually becoming the first black person to win a trophy at Wimbledon. With exuberant illustrations, Althea Gibson: The Story of Tennis' Fleet-of-Foot Girl chronicles this spirited athlete's journey. ~ African – Preschool
---
Salt in His Shoes: Michael Jordan in Pursuit of a Dream
by Deloris & Rosalyn Jordan
Young Michael is tired of being teased by the big boys he is trying to play basketball with. He desperately wishes to grow taller. While his mama suggests putting salt in his shoes and saying a prayer every night, his daddy gives him sound advice: "Being taller may help you play a little better, but not as much as practice, determination, and giving your best will. Those are the things that make you a real winner." Written by Michael Jordan's mother and sister, Salt In His Shoes is a beautifully illustrated, heartwarming picture book about faith, hope and working towards your dream. ~ African – Preschool
---
Ice Breaker: How Mabel Fairbanks Changed Figure Skating
by Rose Viña
In the 1930s, only white figure skaters were allowed in public ice rinks and to compete for gold medals, but Mabel Fairbanks wouldn't let that stop her. With skates two sizes too big and a heart full of dreams, Mabel beat the odds and broke down colour barriers through sheer determination and athletic skill. Ice Breaker tells the fascinating story of the first African-American woman to be inducted into the U.S. Figure Skating Hall of Fame. ~ African – Preschool
---
B is for Baller: The Ultimate Basketball Alphabet
by James Littlejohn
Featuring dozens of iconic NBA superstars like Michael Jordan, Larry Bird, LeBron James, Wilt Chamberlain, Kobe Bryant, and Steph Curry, B is for Baller is the ultimate alphabet book for young hoops fans—whether they're taking their first shot at the ABCs or already perfecting their threes! James Littlejohn's words leap off the page and bring legends to life, while Matthew Shipley's colorful, stylish illustrations are sure to delight fans young and old. What started as a successful Kickstarter project from two passionate NBA fans is now the perfect read for little ballers everywhere! ~ African – Preschool
---
Muhammad Ali: A Champion Is Born
by Gene Barretta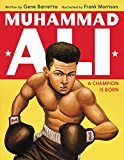 Muhammad Ali: A Champion Is Born tells the story of a pivotal childhood moment that set the boxing legend on his path to become the Greatest of All Time. When 12-year-old Cassius Clay had his brand-new bike stolen in the streets of Louisville, Kentucky, he wouldn't let it go without a fight. That was the day he discovered boxing. Includes biographical overview, photos, bibliography, and more resources. ~ African – Preschool
---
I Color Myself Different
by Colin Kaepernick
At 5 years old, Colin Kaepernick was given a simple school assignment: draw a picture of yourself and your family. What young Colin does next with his brown crayon changes his whole world and worldview, providing a valuable lesson on embracing his Black identity through radical self-love and knowing your inherent worth. I Color Myself Different is an inspiring story of identity and self-esteem from celebrated athlete and activist Colin Kaepernick. ~ African – Preschool
---
---
Elementary School
---
LeBron James: The Boy Who Became King
by Anthony Curcio
The Boy Who Became King is the inspiring true story of NBA superstar LeBron James. This picture book biography tells the story of a young boy and his loving, single mother and their struggle to make it on their own. With the help of a coach and his family, LeBron is introduced to the game of basketball. Against all odds, "the kid from Akron" not only makes it to the NBA but becomes a basketball legend who now helps others who are struggling like he and his mother once were. ~ African – Elementary School
---
Stephen Curry: The Boy Who Never Gave Up
by Anthony Curcio
The Boy Who Never Gave Up tells the story of a young boy who many said was too short to play in high school, too weak to play in college and not good enough to play in the NBA. Against all odds, this small boy follows his dream and not only makes it to the NBA, but becomes one of the greatest players to ever play the game of basketball. ~ African – Elementary School
---
Jesse Owens 
by Maria Isabel Sanchez Vegara
The youngest of ten children, Jesse grew up working in the cotton fields of Alabama. Discovered by his high school track and field coach, Jesse quickly rose to fame as an athlete. He went on to challenge racism on the world stage at the 1936 Berlin Olympics and made new world records. Part of the acclaimed Little People, BIG DREAMS series, Jesse Owens is a moving picture book about the great athlete and activist. Includes a biographical timeline with historical photos. ~ African – Elementary School
---
Dream Big: Michael Jordan and the Pursuit of Excellence
by Deloris Jordan
Long before he became a professional All-Star basketball player, Michael Jordan had dreams of winning an Olympic gold medal—and with dedication and perseverance, that's exactly what he did. This heartwarming picture book, written by Michael's mother and illustrated by Barry Root, gives a rare glimpse into a sports hero's childhood and emphasizes the role that good values play in success. An ideal companion to the bestselling Salt in His Shoes, Dream Big is an inspirational story for sports fans, go-getters, and anyone with big dreams! ~ African – Elementary School
---
Flying High: The Story of Gymnastics Champion Simone Biles
by Michelle Meadows
Before she was a record-breaking gymnast competing on the world stage, Simone Biles spent time in foster care as a young child. Nimble and boundlessly energetic, she cherished every playground. At six years old, Simone's grandparents  adopted her and her sister. Simone was introduced to gymnastics that same year, launching a lifelong passion fueled by remarkable talent, sacrifice, and the undying support of her family. From her early childhood to the height of her success as an Olympic champion, Flying High is a lyrical picture book biography of Simone Biles. ~ African – Elementary School
---
I Promise
by LeBron James
NBA champion LeBron James pens a slam-dunk picture book inspired by his foundation's I PROMISE program that motivates children everywhere to always strive for greatness. With upbeat, rhyming text and vibrant illustrations, instant bestseller I Promise is an inspiring picture book that reminds readers that tomorrow's success starts with the promises we make to ourselves and our community today. ~ African – Elementary School
Also available as an audiobook, read by LeBron James's mother and I Promise School supporter Gloria James
---
I Am a Promise
by Shelly Ann Fraser Pryce
Shelly Ann's grandmother tells her early on that she is a promise. With this encouragement, the young runner goes on to become a six-time Olympic medal winner and the fastest woman in the world in 2012. I Am Promise tells Shelly Ann's story from her childhood a tough inner-city community Kingston, Jamaica, through her development as a young athlete, to her first Olympic gold medal in the 100-meter sprint in 2008. An inspiring read that will encourage young readers to believe in themselves and follow their dreams! ~ African –  Elementary School
Related: 36 Children's Books set in the Caribbean
---
Pigskins to Paintbrushes: The Story of Football-Playing Artist Ernie Barnes
by Don Tate
Bullied for being shy, overweight, and uninterested in sports, young Ernie Barnes took refuge in his sketchbook. But growing up in a poor, Black neighborhood during the 1930s, opportunities to learn about art were rare. Discouraged and tired of being teased, Ernie joined the school football team. But art remained in Ernie's heart and he became famous as both a professional athlete and as an artist whose paintings reflected his love of the sport and celebrated Black bodies as graceful and beautiful. Pigskins to Paintbrushes is the inspiring story of Ernie Barnes, who defined himself on his own terms and pushed the boundaries of "possible," from the field to the canvas. ~ African – Elementary School
Related: 150 Children's Books Celebrating Black Boys
---
The Story of Simone Biles
by Rachelle Burk
Simone Biles has been called the greatest gymnast of all time, winning five Olympic and 25 World Champion medals by age 22. Before she wowed the world with her incredible gymnastics skills, Simone was an energetic young girl who dreamed of becoming a top gymnast. She trained for hours every day and made many sacrifices to pursue her goals. The Story of Simone Biles explores how Simone Biles went from being a kid growing up in Texas to an Olympic athlete who has won more gymnastics medals than anyone in history. Includes a glossary and a fun quiz. ~ African – Elementary School
---
Champion: The Story of Muhammad Ali
by Jim Haskins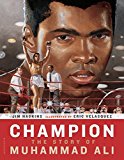 "I am the greatest! I am the king!" Loud and aggressive, confident and committed, Muhammad Ali was one the most inspiring as well as controversial athletes of his time. Featuring stunning illustrations and covering his entire life from childhood through his professional career to his end of life battle with Parkinson's Syndrome, Champion is a moving tribute to the boxing legend. ~ African – Elementary School
---
Paul Robeson
by Eloise Greenfield
Born in 1898 in Princeton, New Jersey, to former slaves, Paul Robeson excelled in school and won a full scholarship to Rutgers University. He became a successful athlete and singer as well as a prominent civil rights activist. Expressively illustrated Paul Robeson recounts the high and low moments of the renowned Black singer and actor's life and career and of his efforts on behalf of equal opportunities and rights for all people. ~ African – Elementary School
---
Queen of the Track: Alice Coachman, Olympic High-Jump Champion
by Heather Lang
When Alice Coachman was a girl, most white people wouldn't even shake her hand. Yet when the King of England placed an Olympic medal around her neck, he extended his hand to Alice in congratulations. Standing on a podium in London's Wembley Stadium in 1948, Alice was a long way from the fields of Georgia where she ran barefoot as a child. With a record-breaking leap, she had become the first African-American woman to win an Olympic gold medal. Queen Of The Track is an inspirational picture book of perseverance and unwavering ambition. ~ African – Elementary School
---
Serena: The Littlest Sister
by Karlin Gray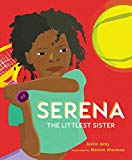 Serena Williams is one of the biggest names in sports, but she grew up the littlest of five sisters. While sharing a room and playing tennis with her older sisters, Serena had to figure out how to be her own person―on and off the court. Boldly illustrated Serena: The Littlest Sister is an inspiring story of family, determination and finding your own path. ~ African – Elementary School
Related: 20 Multicultural Picture Books about new siblings
---
Game Changers: The Story of Venus and Serena Williams
by Lesa Cline-Ransome
Six days a week they awoke before the sun came up to practice their serves and returns, to learn to run faster and hit harder. At age fourteen, Venus played her first professional match. Three years later, it was Serena's turn. Some tennis fans cheered for these two fresh faces, while those who were unhappy to see two Black girls competing in a nearly all-white sport booed and taunted them. But they didn't let it stop them. With vibrant mixed media art, Game Changers: The Story of Venus and Serena Williams is the inspirational story of two fierce tennis legends and sisters. ~ African – Elementary School
---
Emmanuel's Dream: The True Story of Emmanuel Ofosu Yeboah
by Laurie Ann Thompson
Born in Ghana, West Africa, with one deformed leg, Emmanuel Ofosu Yeboah was dismissed by most people—but not by his mother, who taught him to reach for his dreams. He hopped to school more than two miles each way, learned to play soccer, left home at age thirteen to provide for his family, and, eventually, became a cyclist. He rode an astonishing four hundred miles across Ghana in 2001, spreading his powerful message: disability is not inability. Today, Emmanuel continues to work on behalf of the disabled. With lyrical prose and bold collage illustrations, Emmanuel's Dream is a powerful celebration of triumphing over adversity. Includes an author's note with more information about Emmanuel's charity. ~ African – Elementary School
The movie (narrated by Oprah Winfrey):  Emmanuel's Gift
---
Above the Rim: How Elgin Baylor Changed Basketball
by Jen Bryant
Elgin Baylor was one of basketball's all-time-greatest players—an innovative athlete, team player, and quiet force for change. One of the first professional African-American players, he inspired others on and off the court. But when traveling for away games, many hotels and restaurants turned Elgin away because he was Black. One night, Elgin had enough and staged a one-man protest that captured the attention of the press, the public, and the NBA. Expressively illustrated Above The Rim celebrates the life of an underrecognized athlete and activist. ~ African – Elementary School
---
Mamie on the Mound: A Woman in Baseball's Negro Leagues
by Leah Henderson
Mamie "Peanut" Johnson dreamed of playing professional baseball. She was talented, but she wasn't welcome in the segregated All-American Girls Pro Baseball League. But then a greater opportunity came her way in 1953 when she was signed to play for the Negro Leagues' Indianapolis Clowns, becoming the first female pitcher to play on a men's professional team. Mamie On The  Mound is a captivating story of passion and persistence. ~ African – Elementary School
---
Wilma Rudolph
by Maria Isabel Sanchez Vegara
Part of the critically acclaimed Little People, BIG DREAMS series, Wilma Rudolph tells the story of the remarkable sprinter and Olympic champion.These inspiring picture books feature stylish and quirky illustrations and a biographical timeline with historical photos and a detailed profile. ~ African – Elementary School
Related: 26 Multicultural Picture Books about Inspiring Women & Girls 
---
Women in Sports: 50 Fearless Athletes Who Played to Win
by Rachel Ignotofsky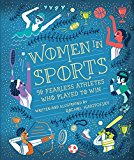 From the author of bestselling Women in Science comes this inspiring book that highlights the achievements of fifty memorable female athletes from the 1800s to today. Women in Sports features well-known figures such as tennis player Althea Gibson and gymnast Simone Biles, as well as lesser-known champions such as Toni Stone, the first woman to play baseball in a professional men's league. Includes infographics and a timeline. ~ Diverse – Elementary School
Related: 30 Diverse Children's Anthologies About Trailblazing Women
---
Nothing but Trouble: The Story of Althea Gibson
by Sue Stauffacher
Everyone sees Althea as trouble but play leader Buddy Walker sees potential in the young girl from Harlem. He buys her a tennis racket, and before long, she's on her way to becoming a great athlete. Althea Gibson was the first African American ever to compete in and win the Wimbledon Cup. With lively text and vibrant paintings, Nothing But Trouble captures the exuberance, ambition, and triumph of this remarkable woman. ~ African – Elementary School
Related: 55 Multicultural Picture Books About Strong Female Role Models
---
Sisters: Venus & Serena Williams
by Jeanette Winter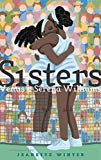 Before they were famous tennis stars, Venus and Serena Williams were sisters with big dreams growing up in Compton, California. In the early mornings, they head to the tennis courts, clean up debris, and practice. They compete in their first tournament and they both win. Sisters is an inspiring picture book about two of the greatest tennis players of all time who followed their dream despite adversity and health challenges. ~ African – Elementary School
---
Charlie Takes His Shot: How Charlie Sifford Broke the Color Barrier in Golf
by Nancy Churnin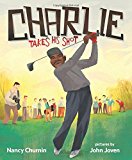 Charlie Takes His Shot is another new release about an African American who succeeded against the odds. In the 1930's when only white people were allowed to play in the Professional Golf Association, Charlie Sifford was determined to break this race barrier. When he eventually did in 1960, he faced discrimination from hotels that wouldn't rent him rooms and clubs that wouldn't let him use the same locker as the white players. But Sifford persevered and went on to become the first black golfer to win a PGA tournament. ~ African – Elementary School
---
Henry Aaron's Dream
by Matt Tavares
Before he was Hammerin' Hank, Henry Aaron was a young boy growing up in Mobile, Alabama, with what seemed like a foolhardy dream: to be a big-league baseball player. He didn't have a bat. He didn't have a ball. And there wasn't a single Black ballplayer in the major leagues. But none of this could stop him. Henry Aaron's Dream is a captivating biography about one of baseball's all-time greats. ~ African –  Elementary School
---
Wilma Unlimited: How Wilma Rudolph Became the World's Fastest Woman
by Kathleen Krull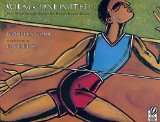 Wilma Unlimited is a dramatic and inspiring picture book biography about 'the world's fastest woman', Wilma Rudolph. With polio paralyzing her left leg at age 5, Wilma vowed not only to walk again but to run. And run she did! In 1960 the African American athlete became the first American woman to win three gold medals in a single Olympiad. ~ African –  Elementary School
Related: 55 Multicultural Picture Books About Strong Female Role Models 
---
---
Middle School
---
Becoming Muhammad Ali
by James Patterson & Kwame Alexander
Acclaimed authors Kwame Alexander and James Patterson join forces to vividly depict Cassius Clay's life up to age seventeen in both prose and verse, including his family, neighbours and childhood friends in Louisville, Kentucky, his struggles in school, the racism he faced, and his discovery of boxing. After a thief stole his bike, Cassius began training as an amateur boxer at age twelve. Before long, he won his first Golden Gloves bout and began his transformation into the unrivaled Muhammad Ali. With dynamic artwork, Becoming Muhammad Ali captures the budding charisma of one of the greatest sports heroes of all time. ~ African – Middle School
---
Rebel Girls Champions: 25 Tales of Unstoppable Athletes
by Rebel Girls
Part of the award-winning Good Night Stories for Rebel Girls series, Rebel Girls Champions: 25 Tales of Unstoppable Athletes celebrates the stories of 25 phenomenal women in sports, including Simone Biles, Serena Williams, Allyson Felix, and more. The exciting, easy-to-read text is paired with colourful full-page portraits created by female artists from all around the world. Include the most thrilling anecdotes from the 2021 Olympic Games. ~ Diverse – Middle School
Related: 30 Diverse Children's Anthologies About Trailblazing Women
---
What Were the Negro Leagues?
by Varian Johnson
In America during the early 20th century, nothing was safe from segregation, not even the country's national pastime, baseball. Despite being denied the Major Leagues because of the colour of their skin, African American men still found a way to participate in the sport they loved. What Were The Negro Leagues? shines a spotlight on the players, coaches, owners, and teams that dominated the Negro Leagues during the 1930s and 40s. Readers will learn about how phenomenal players like Satchel Paige, Josh Gibson, and of course, Jackie Robinson changed the sport of baseball. ~ African – Middle School
---
Zion Unmatched
by Zion Clark
This inspiring photographic essay explores Zion Clark's journey from a childhood lost in the foster care system to his hard-fought rise as a high school wrestler to his current rigorous training to prepare as an elite athlete on the world stage.. First in a new trilogy, Zion Unmatched features striking images and engaging text, including pieces of advice that have motivated Zion toward excellence, and passages from Zion himself. ~ African – Middle School
---
Rising Above: How 11 Athletes Overcame Challenges in Their Youth to Become Stars
by Gregory Zuzkerman
Team USA goalkeeper Tim Howard was diagnosed with Tourette Syndrome in 6th grade. He went on to become a national treasure after single-handedly keeping America competitive in the 2014 World Cup. Stephen Curry was told he was too small, too weak, and too slow to even receive a scholarship to play college basketball. He outworked everyone and went on to become MVP of the National Basketball Association. Athlete after athlete in this book found discipline, hope, and inspiration on the playing field, rising above their circumstances. Filled with first-hand accounts from stars who exemplify the idea of enduring at all costs, Rising Above is an inspirational must-read for young sports fans. ~ Diverse – Middle School
---
Michael Jordan's Greatest Moments
by Anthony Curcio
From a high school sophomore playing on the junior varsity team, to dunking from the free throw line, hitting 'shots on Ehlo,' and making the game of basketball popular around the world, along with long shorts, Nike shoes and bald heads. Part colouring book, part biography, Michael Jordan's Greatest Moments details the legendary NBA player's career through illustrations, facts, quotes and statistics. ~ African – Middle School
---
Unbelievable Stories of Kobe Bryant
by KC Press
Kobe Bryant was a basketball legend who became famous for his competitive nature, high self-discipline, and magnificent moves on the court. We all know that… but… do you know the stories behind all the success… the lighthearted, funny, cool, and even unbelievable ones? With fun illustrations, Unbelievable Stories of Kobe Bryant discovers hidden knowledge about the late basketball legend. ~ African – Middle School
---
Who Are Venus and Serena Williams?
by James Buckley Jr.
Venus and Serena Williams are two of the most successful professional tennis players of all time. Coached at an early age by their parents, the sisters have both gone on to become Grand Slam title winners and achieved the World Number One ranking in both singles and doubles. Although completely professional and fiercely competitive, the sisters remain close. With 80 illustrations,  Who Are Venus and Serena Williams? follows them from their early days of training to the Summer Olympic Games, where they have each won four gold medals—more than any other tennis players. ~ African – Middle School
---
Who Is Michael Jordan?
by Kirsten Anderson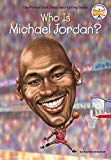 Part of the popular Who Was? series, Who Is Michael Jordan? introduces young readers to the famous basketball player who changed the game forever. Michael Jordan's determination to be the best made him a star player on his college basketball team and later an NBA legend, both for his skills and his endorsements. ~ African – Middle School
---
Colin Kaepernick: Athletes Who Made a Difference
by Blake Hoena
Colin Kaepernick is a graphic biography that shows readers the moments that have defined the athlete's life as a quarterback and an activist. His talent and determination made him a college football success and brought him to the National Football League. As a quarterback for the San Francisco 49ers, Colin led his team to multiple playoffs and even competed in the Super Bowl. When outrage over violence against African Americans became a national movement, Kaepernick joined the protests. His decision cost him his career in football, but he gained a voice heard worldwide. ~ African – Middle School
---
---
High School
---
Courage to Soar: A Body in Motion, A Life in Balance
by Simone Biles & Michelle Burford
Simone Biles' entrance into the world of gymnastics started on a field trip in her hometown of Spring, Texas. Her talent, along with her determination to succeed no matter the obstacle, brought her to the national spotlight during the Olympic Games and has catapulted her ever since—including 25 World Championship medals. But there is more to Simone than her accomplishments. In Courage to Soar the four-time Olympic gold-winning and record-setting gymnast shares how her faith, family, passion, and perseverance has made her one of the top athletes and gymnasts in the world—and how you too can overcome challenges in your life. Contains an eight-page, full-colour photo insert. ~ African – High School
Related: 250 Children's Books Celebrating Black Girls
---
Grace, Gold, and Glory My Leap of Faith
by Gabrielle Douglas
In the 2012 London Olympics, US gymnast Gabrielle Douglas stole hearts and flew high as the All-Around Gold Medal winner and the brightest star of the US women's gymnastics team. That same year, Gabrielle was also named the 2012 Sportswoman of the Year by the Women's Sports Foundation. In this inspiring autobiography, Grace, Gold, and Glory My Leap of Faith, Gabrielle tells her story of her journey of faith and what her family overcame, from the time she first entered a gymnasium to her gold-medal-winning performances. ~ African – High School
---
*You can buy any of the books on this site from Amazon USA by clicking on the book titles or covers*
---
---