written by Kate Messner, illustrated by Christopher Silas Neal
"Over the pond we slide, splashing through lily pads, sweeping through reeds. The water's a mirror, reflecting the sky. Sunshine and clouds – then a shadow below. 'What's down there?' I ask. 'Under the pond?' Mom says."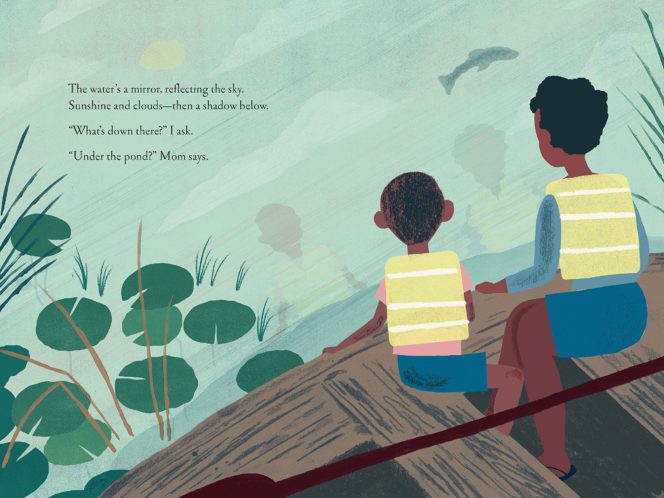 Over and Under the Pond is the third book in a gorgeous picture books series about exploring the animal and the plant world. Following the acclaimed Over and Under the Snow and Up in the Garden and Down in the Dirt, this time Kate Messner and Christopher Silas Neal bring to life the underwater world of a pond.
The only book in the series featuring characters of colour, Over and Under the Pond follows a black mother and son on a paddle as they discover the plants and animals that make up the rich, interconnected ecosystem of a mountain pond.
Over the pond, the water reflects the sky, the trees and the birds like a mirror. Under the pond, there is a hidden world of minnows darting, beavers diving, tadpoles growing, and many more exciting secrets waiting to be discovered.
With beautiful text and stunning illustrations, Over and Under the Pond is an engaging picture book that teaches children about nature and encourages them in a non-preachy way to be mindful of the environment.
Includes additional information about each of the featured animals. Suitable for ages 4 to 9.
---
*You can buy any of the books on this site from Amazon USA, CAN or UK by clicking on the book titles or images*
---