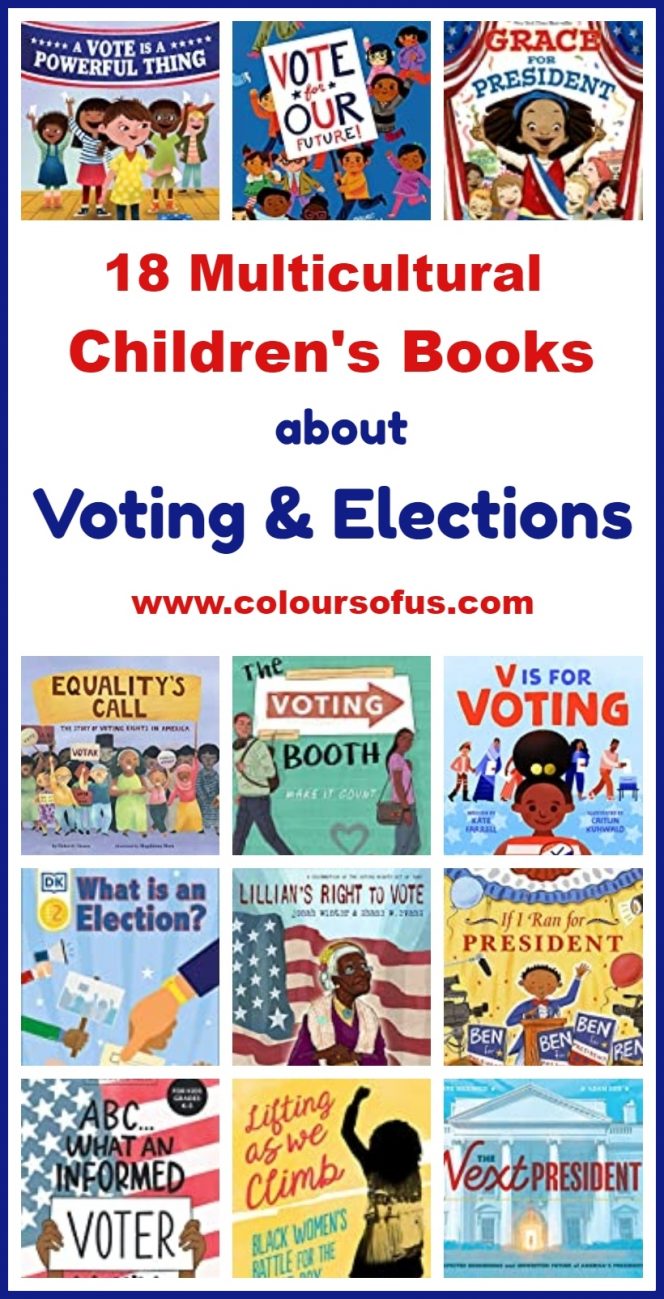 With the U.S. elections just around the corner, we searched the internet up and down for multicultural children's books about voting and elections. And we found some stunning ones for most age groups!
Even though children are too young to vote, it is never too early to teach them about democracy and the importance of using their voices for positive change!
---
18 Multicultural Children's Books About Voting & Elections
---
Preschool
---
V Is for Voting
by Kate Farrell
"A is for active participation. / B is for building a more equal nation. / C is for citizens' rights and our duty. / D is for difference, our strength and our beauty." With rhyming text and bold art, V Is For Voting introduces little readers to concepts like social justice and civil rights and teaches them that every vote counts! ~ Diverse – Preschool
Related: A Is for Activist // Woke Baby // Antiracist Baby
---
Vote for Our Future!
by Margaret McNamara
Every two years, on the first Tuesday of November, Stanton Elementary School transforms itself into a polling station. The students might be too young to vote themselves, but that doesn't mean they can't encourage their parents, friends, and family to vote. With bright illustrations and engaging text, Vote For Our Future is a charming picture book about voting and elections that shows young readers how they can use their voices for positive change. ~ Diverse – Preschool
---
The Night Before Election Day
by Natasha Wing
Wave your flags! It's time to vote! And the big question is: Who will be our next president? Will our leader be a he or a she? A young citizen gives her take on politics and Election Day in The Night Before Election Day, a charming story told in the style of Clement C. Moore's holiday poem. Includes a colourful sticker sheet. ~ African – Preschool
Related: 40 Multicultural Poetry Books for Children
---
---
Elementary School
---
A Vote Is a Powerful Thing
by Catherine Stier
Callie knows there's a presidential election coming up. Her class is having an election, too, about an issue that affects them all – the class field trip! She's about to witness first-hand what a difference a vote can make, and along the way will find out about the election process and why people have fought for the right to vote throughout history. A Vote Is A Powerful Thing is an accessible and engaging introduction to voting and elections. ~ Diverse – Elementary School
---
Equality's Call: The Story of Voting Rights in America
by Deborah Diesen
"A right isn't right / till it's granted to all…" The founders of the United States declared that consent of the governed was a key part of their plan for the new nation. But for many years, only white men of means were allowed to vote. With gorgeous illustrations and poetic text, Equality's Call looks back at the activists who worked tirelessly to secure the right for all to vote, and it also looks forward to the future and the work that still needs to be done. ~ Diverse – Elementary School
---
Granddaddy's Turn: A Journey to the Ballot Box
by Michael S. Bandy & Eric Stein
Michael loves going fishing with his granddad. When there isn't a bite to catch, Granddaddy reminds him that it takes patience to get what's coming to you. One morning, when Granddaddy heads into town in his fancy suit, Michael knows that something very special is happening: For the very first time, Granddaddy is allowed to vote. Based on the true story of one family's struggle for voting rights in the civil rights–era South, Granddaddy's Turn is a moving story shines a spotlight on a dark facet of U.S. history. ~ African – Elementary School
Related: 40+ Multicultural Children's Books about Grandparents
---
What's the Big Deal About Elections
by Ruby Shamir
Did you know that the U.S. has more than ninety thousand state and local governments? Or that George Washington was the only president who ran unopposed? From campaigns to voting booths, from local elections to national races, What's the Big Deal about Elections is a fun and fact-filled chapter book that shows young readers just how important being an active participant in a democracy is. ~ Diverse – Elementary School
---
ABC What an Informed Voter You'll Be!
by Modern Kid Press
In this A to Z overview of American government, readers will be introduced to the structures of government, influential leaders in U.S. history, and individual freedoms afforded to all people. With topics ranging from the Constitution to Democracy to the Electoral College, ABC What An Informed Voter You'll Be! makes complex subjects accessible with engaging writing and eye-catching illustrations. ~ Diverse – Elementary School
---
What Is an Election?
by DK
Packed with facts, kids will love reading about elected leaders from around the world, from Barack Obama to Nelson Mandela, and how they came to power. With lots of photographs and simple text, What Is An Election? teaches children where and how democracy began and how it has developed over the years. ~ Diverse – Elementary School
---
---
Lillian's Right to Vote: A Celebration of the Voting Rights Act of 1965
by Jonah Winter
Slowly making her way up a hill to the polling station to vote, 100-year-old Lillian remembers her family's tumultuous voting history: Her great-grandfather voting for the first time, her parents trying to register to vote, herself marching in a protest from Selma to Montgomery. Beautifully illustrated Lillian's Right to Vote is a moving and lyrical account of black people's fight for voting rights. ~ African – Elementary School
Related: 40+ Multicultural Children's Books about Grandparents
---
Bold & Brave: Ten Heroes Who Won Women the Right to Vote
by Kirsten Gillibrand
Bold & Brave highlights the stories of ten leaders of the fight for the women's voting rights–a journey that took more than seventy years of passionate commitment. From well-known figures, such as Ida B. Wells and Sojourner Truth to lesser known women such as Alice Paul and Mary Church Terrell, these are heroes who dreamed big and never gave up. ~ Diverse – Elementary School
Related: 30 Diverse Children's Anthologies About Trailblazing Women
---
Grace for President 
by Kelly DiPucchio
Grace is determined to become the nation's first female president. She runs in her school's mock election against a popular boy who declares that he's the "best man for the job". But even if she can't be the best man for the job, she can certainly try to be the best person. A fun introduction to the American electoral system, 
Grace For President
teaches the values of hard work, courage, and  independent thought. 
~ African – Elementary School
Related: 250 Children's Books Celebrating Black Girls
---
If I Ran For President
by Catherine Stier
A multicultural cast of children imagines what it would be like to run for president. You would study the nation's problems, tell the American people about your platform, select a running mate, and debate your opponents on live television. Finally, in November, Election Day would arrive. You would keep your fingers crossed and wait for the results―will you be the next president of the United States? With entertaining yet informative text, If I Ran For President is a good conversation starter for discussions on the election process. ~ Diverse – Elementary School
---
The Next President
by Kate Messner
When George Washington became the first president of the U.S., there were nine future presidents already alive. When JFK became the 35th president, there were ten future presidents already alive. And today there are at least ten future presidents alive in America. They could be playing basketball, like Barack Obama, or they could be solving math problems, reading books, or making art. The Next President is an informative book about the history of America's presidents that inspires children to aim high. ~ Diverse – Elementary School, Middle School
---
The Kids' Complete Guide to Elections
by E.C. Berne & C. Meister & N. Yomtov
What's a ballot? Can you dance at a political party? And what do a donkey and an elephant have to do with it all? Election Day is coming up and with it come a lot of questions about the U.S. electoral process. From campaigns and political parties to voting, The Kid's Complete Guide to Elections answers these questions in a clear and engaging way. ~ Diverse – Elementary School, Middle School
---
---
Middle School
---
Lifting as We Climb: Black Women's Battle for the Ballot Box
by Evette Dionne
Lifting as We Climb tells the overlooked story of African American women who formed their own Black suffrage associations when white-dominated national suffrage groups rejected them. Women like Mary Church Terrell, a founder of the National Association of Colored Women and of the NAACP; or educator-activist Anna Julia Cooper who championed women getting the vote and a college education; or the crusading journalist Ida B. Wells, a leader in both the suffrage and anti-lynching movements. An important book! ~ African – Middle School
---
High School
---
The Voting Booth
by Brandy Colbert
Marva Sheridan has always been driven to make a difference in the world, and what better way than to vote in her first election? Duke Crenshaw just wants to get voting over with so he can prepare for his band's first paying gig tonight. When Marva sees Duke turned away from their polling place, she takes it upon herself to make sure his vote is counted. And that's how their whirlwind day begins. Romantic and triumphant, The Voting Booth is an all-in-one-day love story about a teen relationship and activism. ~ Diverse – High School
---
Running
by Natalia Sylvester
When fifteen-year-old Cuban American Mariana Ruiz's father runs for president, Mari starts to see him with new eyes. She learns details of her father's political positions and realizes that he is not the man she thought he was. But how do you find your voice when everyone's watching? When it means disagreeing with your father—publicly? Running is an authentic and humorous debut about privacy, waking up, and speaking up. ~ Hispanic – High School 
---
*You can buy any of the books on this site from Amazon USA, CAN or UK by clicking on the book titles or covers*
---
---