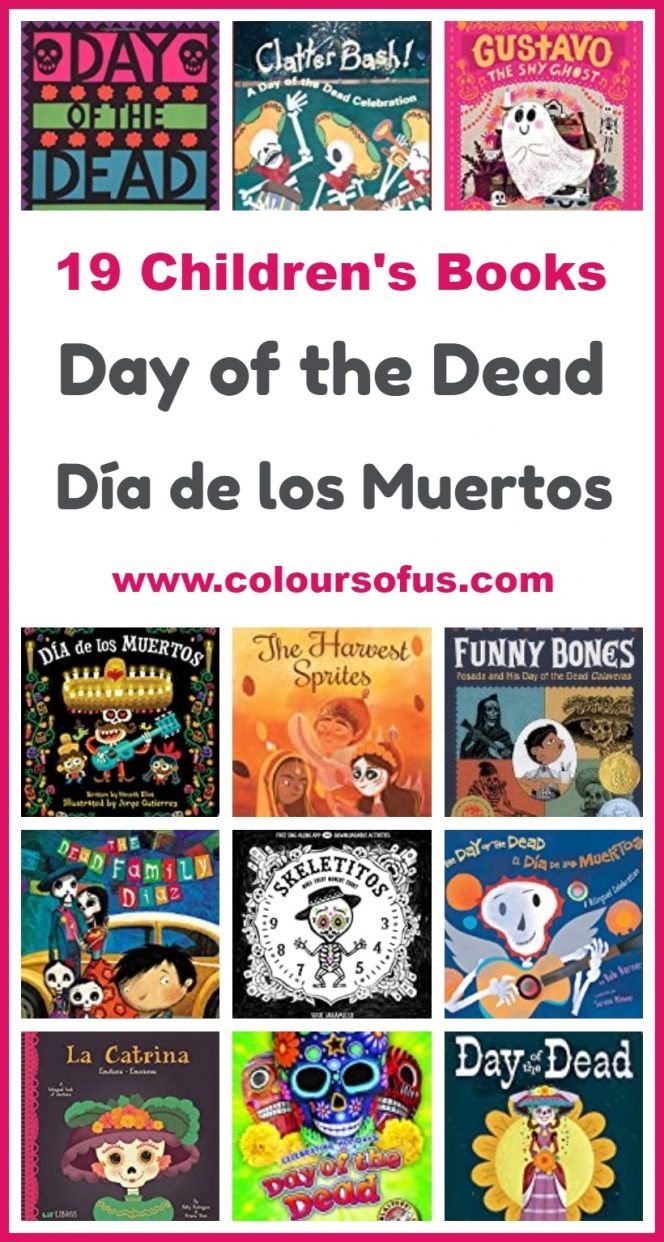 Day of the Dead/Día de los Muertos is celebrated in Mexico and Mexican communities throughout the world from the 31st of October to the 2nd of November. It is an important holiday that honours deceased loved ones.
It is believed that the deceased return during that time to rejoice with the living. Families visit their graves and build altars decorated with flowers, candles, pan de muerto, sugar skulls, and pictures. They bring their loved ones' favourite dishes and treats, as well as drinks to quench the thirst of the dead after their long journey back home.
Teach your children about this joyous celebration that includes singing, dancing and telling stories!
---
19 Day of the Dead Children's Books
---
Babies & Toddlers
---
Day of the Dead: A Count and Find Primer
by Greg Paprocki
Introduce your toddler to Day of the Dead/Dia de los Muertos with this colourful counting primer! Day of the Dead is an engaging board book that features popular Day of the Dead activities and objects, from1 Comparsa (a carnival-like celebration) to 6 Pan de muertos ("bread of the dead"), and more. And there are even more hidden objects to seek within the illustrations, listed at the back of the book. ~ Babies & Toddlers
Related: Hispanic Children's Books for Babies & Toddlers
---
La Catrina: Emotions – Emociones
by Patty Rodriguez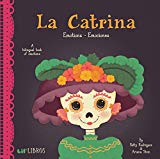 Based on well-known symbols of Dia De los Muertos (Day of the Dead), bilingual La Catrina teaches little ones to recognize feelings like emocionado (excited), triste (sad), and confiado (confident). ~ Babies & Toddlers
Related: 21 Multicultural Children's Books About Feelings
---
---
Preschool
---
The Day of the Dead/El Dia de Los Muertos
by Bob Barner
Two children celebrate their ancestors with marigolds, sugar skulls, special bread, and other delicious foods. By spreading marigold petals, they guide the dead home to join the singing and dancing. With lyrical bilingual text and vibrant collage illustrations incorporating traditional symbols, The Day of the Dead is a fun introduction to this important Mexican holiday. ~ Preschool
---
Dia de Los Muertos
by Roseanne Greenfield Thong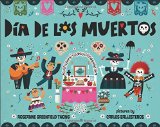 "It's Dia de Los Muertos, / the sun's coming round, / as niños prepare in each / pueblo and town…" Children throughout the town are decorating with streamers and sugar skulls, making pan de muertos, and covering altars in marigolds and twinkling candles. With effortless rhymes sprinkled with Spanish words, and vibrant, child-friendly illustrations, Dia de los Muertos is a charming introduction to the holiday. ~ Preschool
---
The Harvest Sprites (4) (Magic of the Seasons)
by Hayley Nystrom
"When a crispness cuts through painted skies / With scents of leaf and hay…It means that fall is here! / Fall is a magical time of year, / filled with bursts of color, crackling fires, tricks, treats, and so much more. Part of the beautiful Magic of the Seasons series, The Harvest Sprites celebrates autumn activities (such as picking apples and pumpkins) and festivals (including Day of the Dead). ~ Preschool
More in the series: The Sun Gnomes, The Pixies of Bloom, The Fairies of Frost
---
Día de los Muertos (Celebrate the World)
by Hannah Eliot
With vibrant illustrations by Golden Globe–winning Mexican illustrator Jorge Gutierrez, Día de los Muertos is a festive picture book that teaches young readers about the traditions of this ancient holiday that truly commemorates the cycle of life — from sugar skulls to altares and papel picado. ~ Preschool
---
Day of the Dead
by Tony Johnston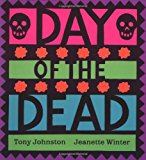 "Wait/Espérense. Till when? Soon." Two siblings in a small Mexican town can't wait till the celebrations for Day of the Day begin. They watch in anticipation as the fruits are being picked, food cooked, and flowers gathered. With bold illustrations framed by decorative borders, Day of the Dead is an appealing introduction to a fascinating holiday. ~ Preschool
---
Clatter Bash! A Day of the Dead Celebration
by Richard Keep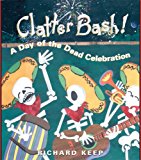 "¡Hola! ¡Hola! Hey! Qué fiesta! Yay!"  With rollicking rhyme sprinkled with Spanish words Clatter Bash! follows a bunch of playful skeletons as they celebrate Day of the Dead. They party all night long, rattling their bones, singing, dancing, telling stories, and playing games. At dawn they tidy up after themselves and return to their coffins until next year. ~ Preschool
---
Skeletitos: Make Every Moment Count
by Susie Jaramillo
Tomba-la-ca, tomba-la-ca, tomba-la! Enter the creepy-crawly, mischievous and mysterious world of Skeletitos, where being on the other side of life is never an excuse for not having a good time! Skeletitos is a Day of the Dead themed tales with a comedic twist, encouraging kids to be wary, conscious, funny and self-aware. It features a moveable clock for little fingers to change the hour along with the story, while learning to count and tell time. ~ Preschool
---
Calavera Abecedario: A Day of the Dead Alphabet Book
by Jeanette Winter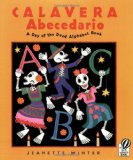 On a rooftop patio in Mexico, Don Pedro's calaveras come to life. The whole family helps making the papier-mâché skeletons for the Day of the Dead fiesta. There's a special calavera for each letter of the alphabet, from the Angel and the Doctor to the Mariachi and the Unicornio. Calavera Abecedario is an unusual alphabet book with fun, folk-art style illustrations. ~ Preschool
---
Gustavo, the Shy Ghost
by Flavia Z. Drago
Gustavo is good at doing all sorts of ghostly things: walking through walls, making objects fly, and glowing in the dark. And he loves almost nothing more than playing beautiful music on his violin. But Gustavo is shy, and it's hard for him to make friends with other monsters. Whenever he tries getting close to them, he realizes they just can't see him. Now that the Day of the Dead is fast approaching, what can he do to make them notice him? With fancifully detailed artwork and visual humor, Gustavo The Shy Ghost sweet story of loneliness, bravery, and friendship. ~ Preschool
Related: 18 Multicultural Children's Books about Friendship
---
---
Elementary School
---
Rosita y Conchita
by Eric Gonzalez &Erich Haeger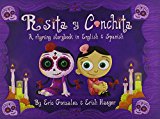 Follow little Conchita as she celebrates the life of her deceased sister by setting up a memorial altar on the Day of the Dead. Rosita y Conchita is his heartfelt story with bilingual rhymes and colourful illustrations. Includes instructions on how to make your own sugar skulls. ~ Elementary School
---
The Dead Family Diaz
by P.J. Bracegirdle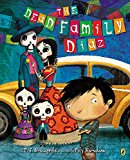 Unlike all the other skeletons in the Land of the Dead, Angelito is not looking forward to celebrate the Day of the Dead with the Living. He is scared of their bulgy eyes, red tongues and squishy skin. When Angelito is separated from his family during the celebrations he is petrified – until he befriends a living boy. The Dead Family Diaz is a fresh and humourous take on the Mexican holiday, brought to life by vibrant, Tim Burton-esque illustrations. ~ Elementary School
---
Chicano Jr's Day of the Dead Adventure
by Raúl Jiménez
Follow the adorable little Mexican-American protagonist as he celebrates Día de los Muertos in Mexico for the first time. With cartoon-style illustrations and a fun storyline, bilingual Chicano Jr's Day of the Dead Adventures teaches children about the history and symbolism of this ancient holiday, as well as the common roots it shares with Halloween. ~ Elementary School
Related: 23 Multicultural Children's Books about Halloween
---
Gift For Abuelita / Un regalo para Abuelita
by Nancy Luenn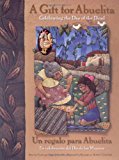 A Gift for Abuelita tells the story of a young girl's bond with her deceased grandmother. Abuelita taught Rosita how to braid, make tortillas, and grow chiles. On the Day of the Dead, Rosita makes a beautiful braid as a gift to her beloved abuelita. With unique paper pulp illustrations, this is an affectionate picture about loss and the healing power of remembrance. ~ Elementary School
Related: 40+ Multicultural Children's Books about Grandparents
---
Uncle Monarch and the Day of the Dead
by Judy Goldman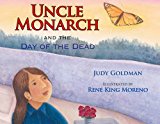 When the monarch butterflies return to her Mexican village, Lupita knows that it will soon be Day of the Dead. Her uncle, Tio Urbano, reminds her that she should never hurt a monarch because they are believed to be the souls of the departed. A few days before the holiday, Tio Urbano dies. Uncle Monarch and the Day of the Dead is a heartfelt story about loss and remembrance, beautifully illustrated with soft coloured-pencil illustrations. ~ Elementary School
---
---
Celebrating Day of the Dead (History of Our Holidays)
by Theodore Jones
Celebrating Day of the Dead teaches children the history and traditions of this important Mexican festival. Encouraging cultural understanding and exploration, this colourful book is written with beginning readers in mind. ~ Elementary School
---
Funny Bones: Posada and His Day of the Dead Calaveras
by Duncan Tonatiuh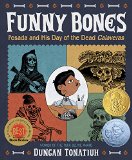 Funny Bones tells the story of artist José Guadalupe Posada, famous for his skeletons in the park, skeletons wearing fancy hats, and the skeletons for Mexico's Day of the Dead. With a stunning mix of biography and art, young readers are invited to look at the deeper meaning behind Don Lupe's artwork: His critiques about social class, quickly changing technology, and violence during the Mexican Revolution. This 2016 Américas Award winning book lends itself for classroom use. Includes an author's note, glossary, and bibliography. ~ Elementary School
Related: 2016 Américas Award Winning Children's Books
---
Day of the Dead
by Rachel Grack
Day of the Dead sounds like it should have a morbid, depressing tone. But the Latin American holiday is really focused on love and remembrance. Yes, people gather in cemeteries, but for dancing and decorating graves! Day of the Dead shows kids a holiday that honors the lives of lost loved ones.
---
*You can buy any of the books on this site from Amazon USA by clicking on the book titles or covers*
---
---