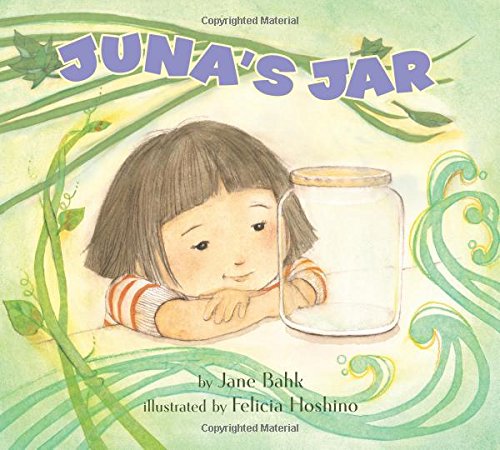 written by Jane Bahk, illustrated by Felicia Hoshino
Juna's Jar tells of a heartbreaking disappointment in a little Asian American girl's life. Juna's best friend Hector (who is from a Hispanic background) suddenly moves away without having a chance to say good-bye. Every day, Juna and Hector used to go on great adventures together, collecting all kinds of things in empty kimchi jars.
Juna is devastated by the loss of her friend. Her big brother tries to cheer her up by buying her a fish for her kimchi jar. 'Can you help me find my friend Hector?' Juna asks the fish. And so an imaginary search for Hector starts that is repeated every night with the different things she collects in her kimchi jar.
Juna plunges into the depths of the ocean with the fish, swings through the jungle on vines that grew from a seed she found, and flies through the night sky with a cricket. She finds new adventures, and eventually learns that new friends can be found in the most unexpected places.
Juna's Jar is a sweet and touching story about processing loss and the healing power of imagination.

Her own fond memories of playing with empty kimchi jars inspired former schoolteacher and award–winning television writer/producer Jane Bahk to write Juna's Jar. This is her picture book debut.
Award-winning picture book illustrator Felicia Hoshino's dreamy watercolour illustrations have a soothing feel about them and complement the magical storyline beautifully.
Children will be inspired to go out on their own kimchi jar adventures after reading Juna's Jar! Suitable for ages 4 to 8.
Awards & Honors: Lee & Low's New Voices Award, Asian Pacific American Award for Literature 2015/16, Best Picture Books of 2015 Honorable Mention for "Friendship" category, 2016 Notable Books for a Global Society, 2015 Cybils Awards Nomination (Fiction Picture Books), Best Multicultural Books of 2015
---
More Multicultural Picture Books illustrated by Felicia Hoshino
---
More Asian & Asian American Children's Books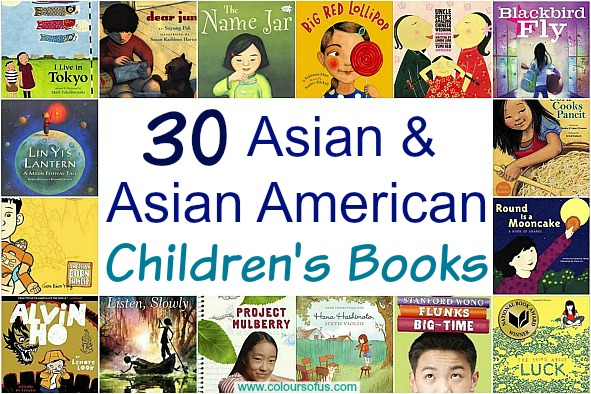 ---
*You can buy any of the books on this site from Amazon USA, CAN or UK by clicking on the book titles or covers*
---