edited by Nikki Giovanni, illustrated by M. Noiset, J. Tugeau, K. Balouch, D. Ward, A. Vergel de Dios 
Hip Hop Speaks to Children is a poetry book unlike any other! This joyful celebration of hip hop poetry will make your children wanna clap, sing, dance, and create their own poetry with a funky beat!
Like the New York Times bestselling 'Poetry Speaks to Children' – the classic poetry book and CD that started it all -, this collection is meant as an introduction to poetry, the beginning of a journey of discovery of hip hop.
Rooted in the coded drumbeats slaves used to communicate, as well as in gospels, jazz and blues, hip hop is is a very powerful and creative form of expression that started in 1973 in the South Bronx.
"Hip hop is a cultural expression — it's embracing." ~ Nikki Giovanni
Hip Hop Speaks to Children consists of 51 well-known poems and songs, from Nikki Giovanni's "Ego Tripping" to Langston Hughes's "The Negro Speaks of Rivers," from Kanye West's "Hey Mama" to Martin Luther King Jr.'s  "I Have a Dream."
Other featured poets include Eloise Greenfield, Maya Angelou, Oscar Brown Jr., Mos Def, Queen Latifah, Tupac Shakur, Walter Dean Myers, Nikki Grimes, and Lucille Clifton, to name but a few.

Each page features one poem or song, printed on vibrant illustrations by one of the five different illustrators.
The accompanying CD contains over 30 live performances, some by the artists themselves, some uniquely interpreted by fellow artists. Together, the poems, the artwork, and the CD create a powerful experience that will spark children's love for hip hop poetry.
Hip Hop Speaks to Children is suitable for ages 7 and up (I could even see High School students enjoying this book!). Also a great book for teachers and parents!
Awards & Honors: NAACP Image Award for Outstanding Literary Work – Poetry, The Booklist TOP 10 Art Books for Youth
From the same series: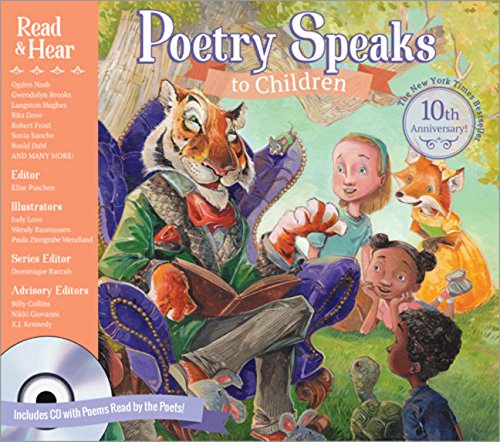 More multicultural children's books about Hip Hop:
More multicultural poetry books for children: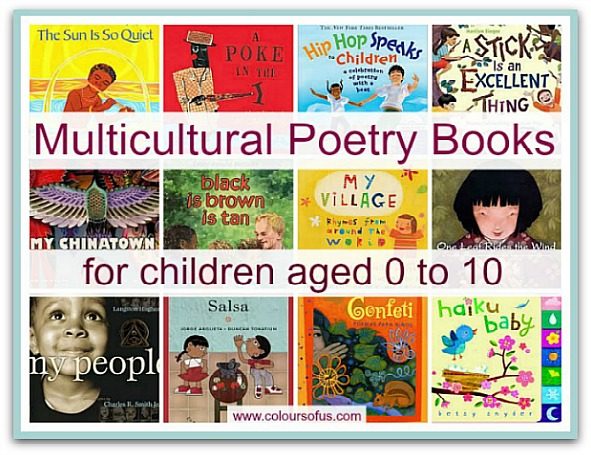 *You can buy any of the books on this site from Amazon USA, CAN or UK by clicking on the book titles or covers*
---