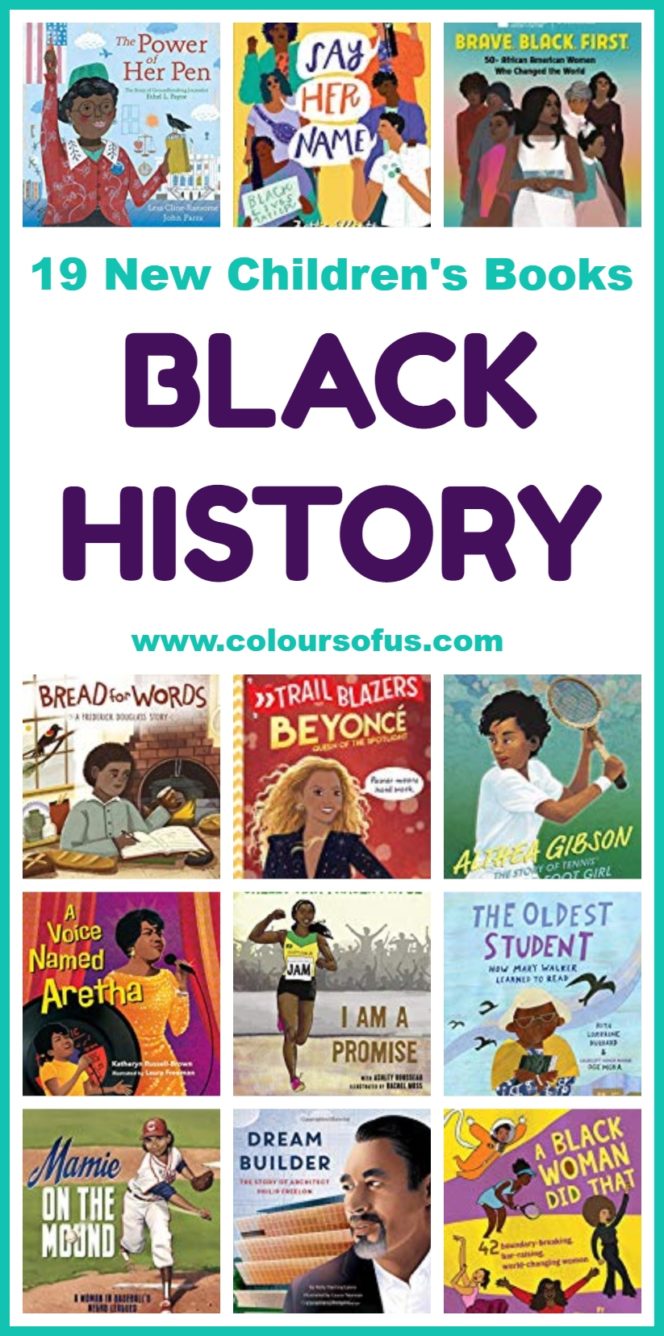 January and February have seen the release of some beautiful Black History children's books, from picture books for pre- and elementary school children to chapter books and novels for teenagers. #NotOnlyForBlackHistoryMonth
---
19 New Black History Children's Books 2020
---
Preschool
---
The Oldest Student: How Mary Walker Learned to Read
by Rita Lorraine Hubbard
Imagine learning to read at the age of 116! The Oldest Student follows the life of Mary Walker who did just that. Born into slavery in 1848, Mary was freed at age 15, and married and expecting her first child at age 20. By age 68, she had worked numerous jobs, including cooking, cleaning, babysitting, and selling sandwiches. At 114, she was the last remaining member of her family. And at 116, she learned to read. With stunning illustrations by Oge More, this is the inspirational story of a woman whose long life spanned from the Civil War to the Civil Rights Movement. ~ Preschool
Related: 55 Multicultural Picture Books About Strong Female Role Models
---
The Power of Her Pen: The Story of Groundbreaking Journalist Ethel L. Payne
by Lesa Cline-Ransome
"Somebody had to do the fighting, somebody had to speak up." Ethel Payne always had an ear for stories. Her yearning for truth, justice even led her to the White House briefing room, where she broke barriers as the only black female journalist. Ethel wasn't afraid to ask the tough questions of presidents, elected officials, or anyone else in charge, earning her the title "First Lady of the Black Press.". The Power Of Her Pen is the inspiring story of a fearless and determined journalist who shined a light on some of the darkest moments in history. ~ Preschool
Related: 26 Multicultural Picture Books about Inspiring Women & Girls
---
Althea Gibson: The Story of Tennis' Fleet-of-Foot Girl
by Megan Reid
In 1940's Harlem Althea Gibson was the quickest, tallest, most fearless athlete — she just couldn't sit still! The fleet-of-foot girl reigned supreme at every sport, from stickball with the boys and basketball with the girls to paddle tennis with anyone who would hit with her. But Althea wanted more: She knew she could be a tennis champion. Against all odds she eventually becoming the first black person to win a trophy at Wimbledon. With exuberant illustrations, Althea Gibson: The Story of Tennis' Fleet-of-Foot Girl chronicles this spirited athlete's journey. ~ Preschool
---
By and By: Charles Albert Tindley, the Father of Gospel Music
by Carole Boston Weatherford
From award-winning duo Carole Boston Weatherford and Bryan Collier comes this stirring picture book biography about gospel composer and preacher Charles Albert Tindley, best known for the gospel hymn "We'll Understand It Better By and By." With evocative illustrations and simple yet lyrical text, By And By follows Charles from his childhood working backbreaking hours in the fields during the day and teaching himself to read from scraps of newspapers at night. From those small scraps, young Charles raised himself to become a founding father of American gospel music whose hymn was the basis for the Civil Rights anthem "We Shall Overcome." ~ Preschool
---
---
Elementary School
---
Freedom Bird: A Tale of Hope and Courage
by Jerdine Nolen
As slaves on a plantation, siblings Millicent and John have suffered one hurt and heartbreak after another. Their parents had told them old tales of how their ancestors had flown away to freedom, free and easy as a bird. "Maybe such a time will come for you," their parents said. Then one day, long after their parents are gone, a mysterious bird appears in the siblings' lives. It transforms them and gives them the courage to escape to freedom. With dramatic illustrations, Freedom Bird is a powerful story of hope and triumph. ~ Elementary School
---
I Am a Promise
by Shelly Ann Fraser Pryce
Shelly Ann's grandmother tells her early on that she is a promise. With this encouragement, the young runner goes on to become a six-time Olympic medal winner and the fastest woman in the world in 2012. I Am Promise tells Shelly Ann's story from her childhood a tough inner-city community Kingston, Jamaica, through her development as a young athlete, to her first Olympic gold medal in the 100-meter sprint in 2008. An inspiring read that will encourage young readers to believe in themselves and follow their dreams! ~ Elementary School
Related: 36 Children's Books set in the Caribbean
---
A Voice Named Aretha
by Katheryn Russell-Brown
Long before Aretha Franklin became the Queen of Soul, she was a shy little girl with a voice so powerful it made people jump up, sway, and hum along. When she moved to New York City to start her career, it took years of hard work before she had a hit song. In the turbulent 1960s, she sang about "Respect" and refused to perform before segregated audiences. Vibrantly illustrated A Voice Named Aretha is the inspiring story of the first woman inducted into the Rock & Roll Hall of Fame. ~ Elementary School
Related: 40 Multicultural Children's Books About Fabulous Female Artists
---
---
Mamie on the Mound: A Woman in Baseball's Negro Leagues
by Leah Henderson
Mamie "Peanut" Johnson dreamed of playing professional baseball. She was talented, but she wasn't welcome in the segregated All-American Girls Pro Baseball League. But then a greater opportunity came her way in 1953 when she was signed to play for the Negro Leagues' Indianapolis Clowns, becoming the first female pitcher to play on a men's professional team. Mamie On The  Mound is a captivating story of passion and persistence. ~ Elementary School
---
Ride to Remember: A Civil Rights Story
by Sharon Langley & Amy Nathan
When Sharon Langley was born in the early 1960s, many amusement parks were segregated, and African-American families were not allowed entry. A Ride To Remember tells the story of how the protests of a community in the summer of 1963 led to desegregation of Gwynn Oak Amusement Park in Maryland. Sharon Langley was the first African-American child to ride the carousel — on the exact day of Martin Luther King Jr.'s March on Washington. Includes photos of Sharon on the carousel, authors' notes, a timeline, and a bibliography. ~ Elementary School
Related: 22 Children's Books about Martin Luther King Jr.
---
Dream Builder: The Story of Architect Philip Freelon
by Kelly Starling Lyons
Meet the architect behind the extraordinary Smithsonian National Museum of African American History and Culture! When Phil decided to attend architecture school, he focused on African American and Islamic designers. He later chose not to build casinos or prisons, instead concentrating on schools, libraries, and museums — buildings that connect people with heritage and fill hearts with joy. With vibrant illustrations, Dream Builder: The Story of Architect Philip Freelon celebrates a contemporary black STEAM role model. ~ Elementary School
Related: 50+ Multicultural STEAM Books for Children
---
Bread for Words: A Frederick Douglass Story
by Shana Keller
Young Frederick Douglass had many questions about his life, from wondering about when he was born to who his father was to why he was a slave. He did not know the answers but he did know that learning to read and to write would be the first step in his quest for freedom and equality. Told from first-person perspective and using some of the abolitionist leader's own words, Bread For Words follows young Frederick Douglass as he attempts to learn how to read and write. The lyrical book title comes from how Douglass "paid" other children to teach him. ~ Elementary School
---
---
Middle School
---
A Black Woman Did That
by Malaika Adero
A Black Woman Did That! spotlights vibrant, inspiring black women whose accomplishments have changed the world for the better. Readers will learn how Barbara Harris became the first female bishop of the Episcopal Church, how Misty Copeland became the first black principal dancer of the American Ballet Theater, how Shirley Chisolm changed the face of politics in America, how Cathy Hughes founded Radio One (now Urban One) and became the first African-American woman to head a publicly traded company, and much more. Includes a robust resource list of books, audio and visual recordings, and links. ~ Middle School
---
The Fierce 44: Black Americans Who Shook Up the World
by The Staff of The Undefeated
With dazzling portraits, The Fierce 44 is a dynamic biography collection that presents forty-four of America's greatest Black movers and shakers. From well-known figures such as Harriet Tubman and Serena Williams, to lesser-known ones such as Robert Abbott and Dr. Charles Drew, this collection is a celebration of all that African Americans have achieved, despite everything they have had to overcome. ~ Middle School
Related: 30 Diverse Children's Anthologies About Trailblazing Women
---
Bedtime Inspirational Stories – 50 Black Leaders who Made History
by L.A. Amber
Bedtime Inspirational Stories: 50 Black Leaders Who Made History highlights the achievements and stories of notable black leaders who made history from the eighteenth century to today. The stories in the book include those of political activists, scientists, artists, musicians, inventors, and athletes. They are written in a fun, anecdotal way, incorporating the information that interests children the most. ~ Middle School
Also available: Bedtime Inspirational Stories: 50 Amazing Black People Who Changed the World
Related: Pioneers in Black History Flashcards and Game
---
March Forward, Girl: From Young Warrior to Little Rock Nine
by Melba Pattillo Beals
Long before she was one of the Little Rock Nine, Melba Pattillo Beals was a warrior. She had many questions about segregation and inequality and she wouldn't follow the adults' advice to hold her tongue and know her place. With emotive photos, March Forward, Girl tells the powerful story of Beals's early journey to becoming a champion for equal rights, an acclaimed journalist, a best-selling author, and the recipient of this country's highest recognition, the Congressional Gold Medal. Includes a Q&A with Melba and bonus audio clip. ~ Middle School
---
---
Brave. Black. First.: 50+ African American Women Who Changed the World
by Cheryl Hudson
This gorgeous new release is a must-have! Published in collaboration with the Smithsonian National Museum of African American History and Culture, Brave.Black.First spotlights over fifty remarkable African American women whose unique skills and contributions paved the way for the next generation of young people. ~ Middle School
Brave. Black. First.: 100 Postcards Celebrating More Than 50 African American Women Who Changed the World
---
Trailblazers: Beyoncé: Queen of the Spotlight
by Ebony Joy Wilkins
Beyoncé Knowles started off as the lead singer of the popular group Destiny's Child but became even more famous on her own. From movies to Grammy Awards to performing at the Super Bowl halftime show, Beyoncé is one of the world's most amazing superstars. Part of the Trailblazers series, Beyoncé: Queen Of The Spotlight tells the fascinating story of a girl who entered local singing competitions and went on to become a superstar. ~ Middle School
Related: 40 Multicultural Children's Books About Fabulous Female Artists
---
Sarah Journeys West: An Oregon Trail Survival Story
by Nikki Shannon Smith
Sarah Journeys West follows Sarah and her family as they venture west on the Oregon trail as free Black people. Like many others, they are hoping to find fortune in the Californian Gold Rush. On the trail, Sarah and her family face all kinds of hardship, including racism, extreme weather, difficult terrain, and disease. Includes info on the Oregon Trail, a glossary, discussion questions, and writing prompts. ~ Middle School
---
---
High School
---
Say Her Name (Poems to Empower)
by Zetta Elliott
Inspired by the #SayHerName campaign,
Say Her Name
is a collection of poems that pay tribute to victims of police brutality and #BlackLivesMatter activists. The forty-nine poems span two centuries and create a powerful chorus of voices celebrating the creativity, resilience, and courage of Black women and girls.
~ High School
---
*You can buy any of the books on this site from Amazon USA, CAN or UK by clicking on the book titles or covers*
---
---