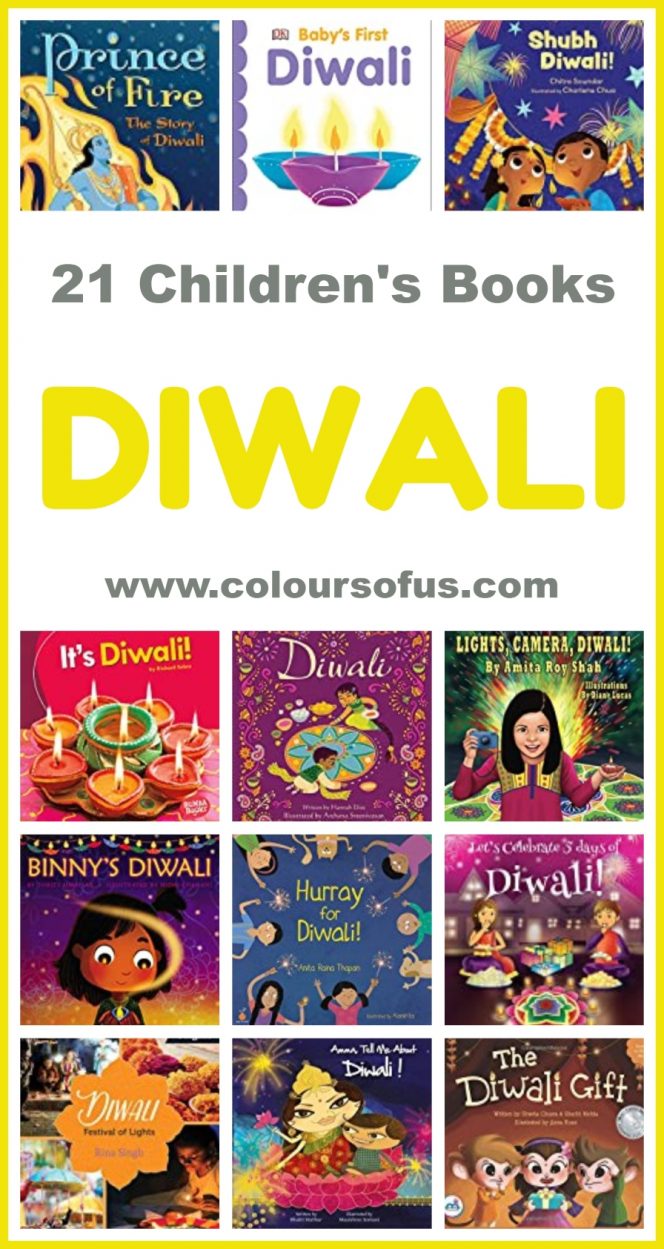 Diwali – the five-day "Festival of Lights" is an important festival for Hindu, Sikh and Jain communities around the world.
It serves to celebrate the triumph of good over evil, of light over darkness, by lighting lamps and candles to invite Goddess Lakshmi in. Families and friends feast together, share gifts and watch huge firework displays.
Teach your children about Diwali with some of these colourful children's books! And make sure to also check out the fun Diwali activity and colouring books at the end of this post!
---
21 Children's Books about Diwali, the Festival of Lights
---
---
Babies & Toddlers
---
Baby's First Diwali
by DK
Learn all about the amazing festival of light with your little one! With simple text and clear picture, Baby's First Diwali is a perfect introduction to this joyful holiday, from the shining diya lamps that gave the festival its name, to colourful flower decorations, to sweet treats. Babies will be fascinated by this book! ~ Babies & Toddlers
---
It's Diwali!
by S. & K. Sehgal
Count up to ten and back down again to the tune of "One, Two, Buckle My Shoe" while learning about the traditions that make Diwali a fun-filled festival! From sweet treats to intricate henna designs to exciting firework displays, It's Diwali gives a vibrant glimpse into the Festival of Lights. ~ Babies & Toddlers
---
---
Preschool
---
Lilu makes Diyas
by Devika Joglekar
This Diwali, Lilu and her little brother Kuku decide to lit their home with handmade diyas. With vibrant illustrations and rhyming text, Lilu Makes Diyas teaches kids to make diyas. Includes clear instructions at the end. ~ Preschool
---
My Diwali Light
by Raakhee Mirchandani
Devi loves the Diwali season. It's a time to wear her favorite red bindi and eat samosas until she bursts! Makemithai and design rangoli with her Papa. And paint diyas with her nani—a reminder to shine her light brightly all year long. With vibrant collage illustrations, My Diwali Lights is a charming story that follows one girl's family as they celebrate their Diwali traditions with the ones they love. ~ Preschool
---
Diwali Day
by Preeti Singh
Experience Diwali through a little boy's eyes as he talks about festival and all the fun things he does with his family and friends. Diwali Day shows the boy helping his parents decorate the house with diyas, helping mom make rangoli, praying to Goddess Laxmi and enjoying fireworks with his friends, among many other fun Diwali activities. ~ Preschool
---
The Diwali Gift
by Shweta Chopra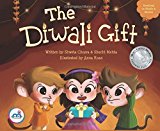 Curious monkeys Suno, Dekho and Jaano are excited when a mysterious package arrives just in time for Diwali. Follow their adventures as they experience Diwali traditions and discover the most wonderful Diwali gift. Mom's Choice Award winner The Diwali Gift is a fun story with engaging illustrations. ~ Preschool
---
Amma, Tell Me About Diwali!
by Bhakti Mathur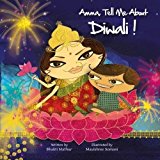 The "Amma Tell Me" series introduces young children to major Hindu festivals and Indian mythology. "Brilliant firecrackers lighting up the night, / Diyas twinkling like stars – what a sight! / This is Diwali, in all its glory, / As told to little Klaka – a magical story." Written in rhyme Amma, Tell Me about Diwali is an engaging picture book with colourful illustrations. ~ Preschool
---
Shubh Diwali!
by Chitra Soundar
Diwali has arrived! Rangoli art decorates the floor and strings of flowers hang around the doors. Now it's time to ring the bells, light the lamps, and welcome the new year with family and friends. Shubh Diwali! (Hindi for Happy Diwali!) is a sweet introduction to the festival of lights. One of our favourite children's books about Diwali!  ~ Preschool
---
Diwali: A Cultural Adventure
by Sana Sood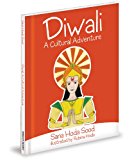 Diwali: A Cultural Adventure tells the story of a brave hero, an evil villain, and an epic battle. Young readers learn about Diwali as they follow Ram on his adventure to defeat darkness and despair. Bright illustrations with lots of detail bring the story and the tradions of the festival of lights to life. ~ Preschool
---
It's Diwali! (Bumba Books ® ― It's a Holiday!)
by Richard Sebra
With full-colour photographs, It's Diwali! illustrates the beauty of the festival of lights, and simple text  provides key facts. Age-appropriate critical thinking questions help young readers delve more deeply into the information and understand what makes this holiday unique. ~ Preschool
---
---
Binny's Diwali
by Thrity Umrigar
Binny is excited but also nervous to talk to her class about Diwali, her favourite holiday. Taking a deep breath, she tells her classmates about the fireworks that burst like stars in the night sky, leaving streaks of gold and red and green. She shares with them delicious pedas and jalebis. And she shows them clay lamps (diyas) which look so pretty that all the children ooh and aah. Binny's Diwali is a charming book about the Hindu festival of lights. ~ Preschool
---
Diwali (Celebrate the World)
by Hannah Eliot
Part of the Celebrate the World board book series, Diwali teaches young readers that the five days of Diwali are a time to pray for a bountiful season, celebrate the special bonds between siblings, and rejoice in the victory of light over darkness and good over evil. One of the most gorgeous children's books about Diwali!  ~ Preschool
---
Diwali The Magical Diyas: A Diwali story
by Anita Rathod
This Diwali, Jay and Tina make 101 clay diyas and cannot wait to light them all. Diwali is only a day away and the diyas are taking their own sweet time to dry up. Will they be ready in time? Diwali The Magical Diyas brings readers a magical story about the mythological significance of Diwali while following Jay and Tina as they prepare for celebrating this special day with their family. ~ Preschool
---
Hurray for Diwali
by Anita Raina Thapan
Hurray for Diwali follows Gittoo, Gauri, Gannu, Pia, Chia and Nono Paro as they celebrate Diwali. The children learn about the magical story behind the holiday, and celebrate with beautiful lights, crackers, presents, and lots of sharing, praying and feasting!  ~ Preschool
---
Let's Celebrate Diwali
by Anjali Joshi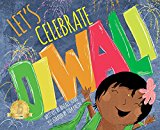 When Harini shares her Diwali story during circle time at school, she learns that she's not the only one who celebrates Diwali. Join her as she learns about Hindu, Sikh, Jain, and Buddhist Diwali traditions! Let's Celebrate Diwali is an engaging picture book about diversity and inclusion, brought to life by bright illustrations. ~ Preschool
---
Let's Celebrate 5 Days of Diwali! (Maya & Neel's India Adventure Series) 
by Ajanta Chakraborty
Let's Celebrate 5 Days of Diwali! takes readers on an adventure with Maya, Neel and their cute little partner, Chintu the squirrel, as they learn all about the beautiful festival of lights including Dhanteras, Diwali sweets, Rangoli drawings, fireworks and the special sibling bond of Bhai Dooj. ~ Preschool
Also available: Diwali 50 Activity Book (Maya & Neel's India Adventure Series)
---
---
Elementary School
---
Prince of Fire: The Story of Diwali
by Jatinder Nath Verma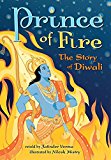 This newly released chapter book is an action-packed adaptation of Indias great epic, The Ramayana. Follow Rama, the Prince of Fire, and his friends as they defeat the demon king of Lanka and return light to the world. Older Elementary School children will love the dramatic story line and vivid illustrations of Prince of Fire. One of our favourite children's books about Diwali for Elementary School children! ~ Elementary School
---
Lights, Camera, Diwali!
by Amita Roy Shah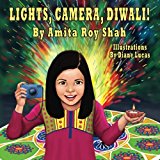 Dia receives a camera as a Diwali gift and uses it to capture the holiday. She takes photos of her family decorating clay lamps, creating unique rangoli designs, preparing sweets called ladoos, setting off firecrackers and more. Lights, Camera, Diwali teaches children about the Festival of Lights from the perspective of a young girl. ~ Elementary School
---
Lights for Gita (The Gita Series)
by Rachna Gilmore
Gita's family has only recently emigrated from India. Although she misses her relatives and friends, she has already made some friends in her new home. Today, she is looking forward to her favorite holiday: Diwali, a festival of lights with fireworks, laughter and exchanges of sweets. But Gita's plans soon fall apart and she becomes homesick and sad. Lights for Gita is a poignant story about family, grief and change. ~ Elementary School
---
Reena and the Diwali Star
by Ushma Multani
Glowing lights and colourful scenes surround Reena as she travels from Boston to Mumbai and back. On her journey, she learns about the values of kindness and responsibility, how she can give back to her community, and also enjoys making a fun new dessert. Reena and the Diwali Star is a sweet interactive Diwali that kids will love. ~ Elementary School
---
Diwali, the Festival of Lights (Shalu)
by Nick Sharma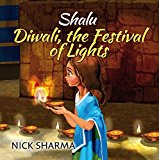 When Shalu leaves the library, it is dark and she doesn't remember the way home. As she walks down a dark street, she becomes frightened – until she sees a light in the distance. With cartoon-style illustrations, Diwali, the Festival of Lights follows Shalu as she learns about Diwali and how to be safe. Includes activities. ~ Elementary School
---
Holidays Around the World: Celebrate Diwali: With Sweets, Lights, and Fireworks
by Deborah Heiligman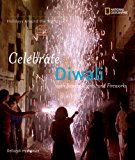 This stunning National Geographic book invites young readers on a global tour to visit Diwali celebrations around the world. With dynamic photographs and lively text Celebrate Diwali brings to life the holiday's traditions, food, and rituals. Includes recipes, a glossary, a card game, a map, a resource list of books and websites, and a note to parents and teachers. ~ Elementary School
---
Diwali: Festival of Lights
by Rina Singh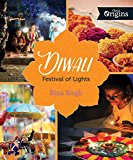 Critically acclaimed author Rina Singh explores the Diwali traditions of Hindus, Sikhs and Jains. Spiced with festive recipes and enriched by personal stories and vibrant photographs, Diwali: Festival of Lights takes older Elementary School children on a fascinating journey to see how the Festival of Lights is celebrated around the world. ~ Elementary School
---
*You can buy any of the books on this site from Amazon USA by clicking on the book titles or covers*
---
---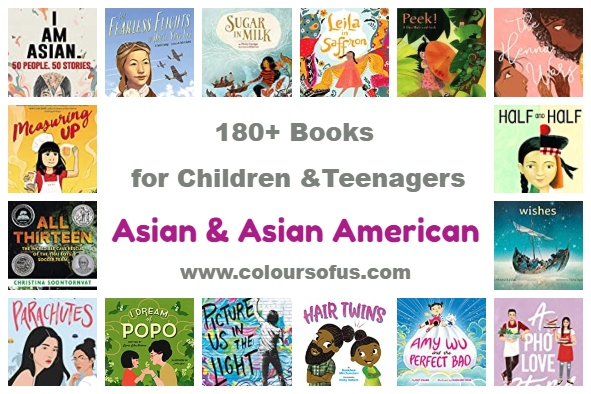 ---