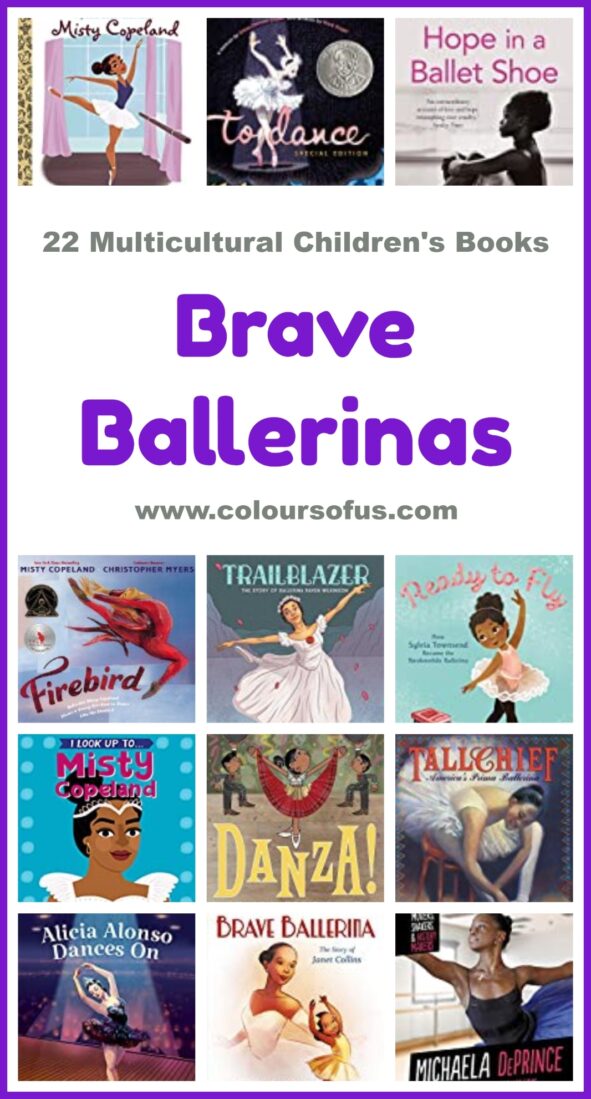 My 8-year-old daughter has been doing ballet since she was 4 and is still loving it!
I am always happy to find children's books about ballerinas of colour who have persevered and made their dreams come true against all odds. My daughter is particularly inspired by Misty Copeland and Michaela DePrince — such wonderful role models for little ballerinas!
Enjoy browsing this list of multicultural children's books about brave ballerinas for all ages!
---
22 Multicultural Children's Books About Brave Ballerinas
---
Babies & Toddlers
---
I Look Up To…Misty Copeland
by Anna Membrino
It's never too early to introduce your child to the people you admire! I Look Up To… Misty Copeland distills the American ballet dancer's excellent qualities into an eminently shareable read-aloud text with graphic, eye-catching illustrations. Each spread highlights an important trait, and is enhanced by a quote from Misty herself. ~ African – Babies & Toddlers
Related: Top 10 Multicultural Bedtime Stories for Babies & Toddlers
---
---
Preschool
---
Charlotte and the Nutcracker: The True Story of a Girl Who Made Ballet History
by Charlotte Nebres
The only thing Charlotte loves as much as ballet is Christmas. So, when she gets the opportunity to play Marie in the New York City Ballet's The Nutcracker, she leaps at the chance. Dancing takes practice –hours of adjusting her arms and perfecting her jumps. With the help of her Trinidadian and Filipino families, Charlotte finds the strength to never give up. Charlotte and the Nutcracker weaves together the classic Christmas tale of The Nutcracker and the true-life story of 12-year-old ballerina Charlotte Nebres, the first Black girl to play Marie in the New York City Ballet's production. ~ African – Preschool
---
Brave Ballerina: The Story of Janet Collins
by Michelle Meadows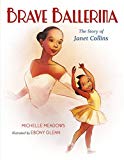 "This is the girl / who danced in the breeze / to the swoosh, swoosh, swoosh / of towering trees." This lyrical picture book tells the story of Janet Collins, the first African American principal dancer at the Metropolitan Opera House. In the 1930s and 40s, Collins was determined to become a ballerina, despite facing racial discrimination. When she was accepted into the Ballet Russe de Monte Carlo on the condition that she paint her skin white for performances, Janet refused. Brave Ballerina will inspire young readers to go after their dreams without compromising their values. ~ African – Preschool
Related: 32 Multicultural Picture Books About Strong Female Role Models
---
Ready to Fly: How Sylvia Townsend Became the Bookmobile Ballerina
by Lea Lyon & Alexandria LaFaye
After seeing Swan Lake on TV, all seven-year-old Sylvia wants is to become a ballerina. In 1950s America, however, there aren't many ballet schools that accept children of colour. But with the help of the local bookmobile librarian Sylvia finds a book about ballet and starts teaching herself the basics of classical ballet. With lyrical text and appealing illustrations, Ready To Fly tells the empowering story of a determined young girl who makes her dreams come true against all odds. Includes a foreword from Sylvia Townsend, and a brief history of the bookmobile. ~ African – Preschool
Related: 19 Multicultural Children's Books Celebrating Books & Reading
---
My Little Golden Book About Misty Copeland
by Sherri L. Smith
My Little Golden Book About Misty Copeland introduces ballet prodigy Misty Copeland to the youngest readers. The first Black principal dancer in the history of the American Ballet Theatre—who didn't start dancing until she was almost thirteen—continues to impress the world and pave the way for young Black girls to chase their dreams. ~ African – Preschool
Related: 250 Children's Books Celebrating Black Girls
---
---
Elementary School
---
Trailblazer: The Story of Ballerina Raven Wilkinson
by Leda Schubert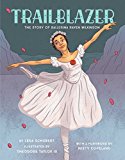 Trailblazer is the little-known story of Raven Wilkinson, the first African American woman to dance for a major classical ballet company. With engaging text and cartoon-style illustrations, this inspiring picture book tells of Wilkinson's determination and struggles as she pursues her childhood dream of becoming a ballerina. Includes a foreword by Misty Copeland, a personal note from Wilkinson, a glossary of ballet terms, and a bibliography. ~ African – Elementary School
Related: 30 Diverse Children's Anthologies About Trailblazing Women
---
Danza!: Amalia Hernández and Mexico's Folkloric Ballet
by Duncan Tonatiuh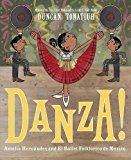 With award-winning author and illustrator Tonatiuh's distinctive style, Danza! celebrates the life of Amalia Hernández, founder of the famous El Ballet Folklórico de México. Watching a performance of dancers in her town square, little Amalia was fascinated by the way the dancers twirled and swayed, and she knew then that someday she would be a dancer, too. She went on to study different types of dance, including ballet, modern, and regional Mexican dances and brought her own dance company to international fame. ~ Hispanic – Elementary School
Related: Pura Belpré Award Winners 1996 – 2022 
---
Firebird
by Misty Copeland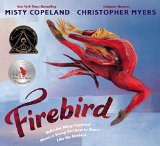 In her debut picture book, famous African American ballet soloist Misty Copeland enters a poetic dialogue with a young aspiring dancer who is lacking confidence. Copeland encourages the young girl to believe in herself and follow her dreams. "I was a dancer just like you," Misty tells her, "a dreaming shooting star of a girl with work and worlds ahead." Stunningly illustrated, Firebird is an inspirational picture book for any girl wanting to follow her dream. ~ African – Elementary School
---
Tallchief: America's Prima Ballerina
by Maria Tallchief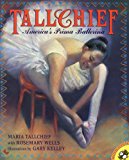 Growing up on the Osage Indian reservation, Maria Tallchief was a gifted pianist and dancer. According to Osage tradition, women are not permitted to dance, but Maria's parents recognized her gifts and allowed her to break the rule. When Maria turned twelve, her father asked her to choose between her two loves. Maria chose ballet – a decision that would change her life and the face of classical ballet in America. Tall Chief tells the fascinating story of Maria Tallchief's rise to become America's prima ballerina. ~ Diverse – Elementary School
Related: 100 Native American Children's Books
---
Alicia Alonso Dances On (She Made History)
by Rose Viña
As a young girl in Cuba, Alicia Alonso practiced ballet in tennis shoes. Within a few years, she was in New York City, with a promising ballet career. But her eyesight began to fail. When Alicia needed surgeries to save her vision, dancing was impossible, but she wouldn't give up her dream. She found the strength and determination to return to the stage and become a prima ballerina. Alicia Alonso Dances On is the true story of a woman who overcame her challenges, mastered her art, and inspired others to dance and dream. ~ Hispanic – Elementary School
Related: Pura Belpré Award Winners 1996 – 2022
---
Bunheads
by Misty Copeland
Young Misty discovers her love of dance through the ballet Coppélia–a story about a toymaker who devises a villainous plan to bring a doll to life. Misty is so captivated by the heroine, Swanilda, she decides to audition for the role. But she's never danced ballet before; in fact, this is the very first day of her very first dance class! As she makes friends with her fellow ballerinas who encourage her to do her very best, Misty's nerves quickly fall away. With a little teamwork, the bunheads put on a show to remember. Bunheads is an inspiring tale about courage and perseverance. ~ African – Elementary School
Related: 18 Multicultural Children's Books about Fear and Courage
---
Ballerina Dreams
by Michaela & Elaine DePrince
At the age of three, Michaela DePrince found a photo of a ballerina that changed her life. She was living in an orphanage in Sierra Leone at the time, but was soon adopted by a family and brought to America. Michaela never forgot the photo of the dancer she once saw, and decided to make her dream of becoming a ballerina come true. With sweet illustrations, Ballerina Dreams is the younger-reader edition of Michaela DePrince's highly moving memoir, Hope In A Ballet Shoe. ~ African – Elementary School
---
She Persisted: Maria Tallchief
by Christine Day
Maria Tallchief loved to dance, but was told that she might need to change her Osage name to one that sounded more Russian to make it as a professional ballerina. She refused, and worked hard at dancing her best, becoming America's first prima ballerina. She Persisted: Maria Tallchief is a chapter book biography about the amazing life of Maria Tallchief, complete with an introduction from Chelsea Clinton, black-and-white illustrations throughout, and a list of ways that readers can follow in Maria Tallchief's footsteps and make a difference. ~Diverse – Elementary School
Related: 100 Native American Children's Books
---
---
Middle School
---
Life in Motion: An Unlikely Ballerina Young Readers Edition
by Misty Copeland
When Misty first placed her hands on the barre at an after-school community center, no one expected the undersized, underprivileged, and anxious 13-year-old to become one of America's most groundbreaking dancers . A true prodigy, she was attempting in months roles that take most dancers years to master. But when Misty became caught between the comfort she found in the world of ballet and the harsh realities of her own life, she had to choose to embrace both her identity and her dreams, and find the courage to be one of a kind. Determination meets dance in Life in Motion: An Unlikely Ballerina, the bestselling memoir of the first African-American principal ballerina at the prestigious American Ballet Theatre. ~ African – Middle School
---
Alicia Alonzo Takes the Stage
by Rebel Girls
From the moment Alicia slips on pointe shoes for the first time, she's determined to become a professional ballerina. A few years later, Alicia moves from Cuba to the United States to follow her dreams. But then, she begins to lose her sight. Stuck in bed and only able to practice with her fingertips, Alicia doesn't give up. She finds a way to get back on stage, dancing into the hearts of audiences as one of the world's most famous prima ballerinas. Part of the Good Night Stories for Rebel Girls series, Alicia Alonso Takes the Stage is a heartfelt story of perseverance in the face of adversity. ~ Hispanic – Middle School
---
Michaela DePrince: From War-Torn Childhood to Ballet Fame
by Carrie Myers
Michaela DePrince was born in Sierra Leone and grew up in the United States. Inspired by a magazine cover of a ballerina, Michaela trained as a ballet dancer and pursued a professional career despite encountering racial discrimination. At age 8, she was told that she couldn't perform as Marie in The Nutcracker because "America's not ready for a Black girl ballerina", and a year later, a teacher told her mother that Black dancers weren't worth investing money in. Michaela DePrince: From War-Torn Childhood to Ballet Fame tells the story of how the famous ballerina persevered against all odds. ~ African – Middle School
Related: 100 Children's Books to help talk about Racism & Discrimination
---
To Dance: Special Edition
by Siena Cherson Siegel
When Siena was six her dreams kept skipping and leaping, circling and spinning, from airy runs along a beach near her home in Puerto Rico, to dance classes at the School of American Ballet, to her debut performance on stage with the New York City Ballet while working with ballet legend George Balanchine. Part family history, part backstage drama, To Dance is a dynamic graphic memoir about the dreams and realities of becoming a ballerina. ~ Hispanic – Middle School
Related: 36 Children's Books set in the Caribbean
---
Black Ballerinas: My Journey to Our Legacy
by Misty Copeland
Misty Copeland was sixteen when she saw a Black ballerina on a magazine cover for the first time. The experience emboldened her and told her that she wasn't alone—and her dream wasn't impossible. In the years since, Misty has only learned more about the trailblazing women who made her own success possible by pushing back against repression and racism with their talent and tenacity. Black Ballerinas: My Journey to Our Legacy brings these women's stories to a new generation of readers and gives them the recognition they deserve. ~ African – Middle School
Related: 80 Picture Book Biographies About Bold Black Women & Girls
---
Who Was Maria Tallchief?
by Catherine Gourley
Born in 1925, Maria Tallchief spent part of her childhood on an Osage reservation in Oklahoma. With the support of her family and world-renowned choreographer George Balanchine, she rose to the top of her art form to become America's first prima ballerina. Complete with gorgeous black-and-white illustrations, Who Was Maria Tallchief? takes readers through the life of this amazing dancer. ~ Diverse – Middle School
Related: 100 Native American Children's Books
---
---
High School
---
Life in Motion: An Unlikely Ballerina
by Misty Copeland
This bestselling memoir recounts Misty Copeland's journey to becoming the first African-American principal ballerina at the prestigious American Ballet Theatre. A true prodigy, she was attempting in months roles that take most dancers years to master. But when Misty became caught between the comfort she found in the world of ballet and the harsh realities of her own life, she had to find the courage to be one of a kind. Life In Motion opens a window into the life of Misty Copeland, from behind the scenes at her first classes to her triumphant roles in some of the world's most iconic ballets. ~ African – High School
---
Hope In A Ballet Shoe
by Michaela & Elaine DePrince
Growing up in war-torn Sierra Leone, Michaela witnesses her father being killed by rebels and her mother dying of famine. Sent to an orphanage, Michaela is mistreated and she sees the brutal murder of her favourite teacher. When Michaela and her best friend are adopted by an American couple, she begins to take dance lessons. But life in the States isn't without difficulties. Unfortunately, tragedy can find its way to Michaela in America, too, and her past feels like it's haunting her. The world of ballet is a racist one, and Michaela has to fight for a place amongst the ballet elite. Hope in a Ballet Shoe is an inspiring autobiography that shows readers that there is always hope for a better future. ~ African – High School
---
Taking Flight: From War Orphan to Star Ballerina
by Michaela & Eaine DePrince
Michaela DePrince was known as girl Number 27 at the orphanage, where she was abandoned at a young age and tormented as a "devil child" for a skin condition that makes her skin appear spotted. At the age of four, Michaela was adopted by an American family, who encouraged her love of dancing and enrolled her in classes. She went on to study at the Jacqueline Kennedy Onassis School at the American Ballet Theatre and is now the youngest principal dancer with the Dance Theatre of Harlem. Taking Flight is an engaging, moving, and unforgettable memoir, Michaela shares her dramatic journey from an orphan in West Africa to becoming one of ballet's most exciting rising stars. ~ African – High School
---
*You can buy any of the books on this site from Amazon USA by clicking on the book titles or covers*
---
---