Just in time for the World Cup finals, here is a list of multicultural children's books about soccer!
From Canada to Brazil, from the Caribbean to South Africa, these picture books, chapter books and novels portray the joy soccer brings children and adults around the world.
---
12 Multicultural Children's Books About Soccer
---
Northern Lights: The Soccer Trails
by Michael Kusugak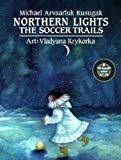 Northern Lights: The Soccer Trails explores the Inuit belief that the Northern Lights are the souls of the dead, playing soccer in the sky. The Canadian Inuit love playing soccer, using the bright stars as lights and the sea ice as a giant playing field. This award-winning picture book tells the story of young Kataujaq who mourns the loss of her mother. She finds comfort in the belief that her mother's soul is up there in the Northern Lights, playing soccer with a huge, frozen walrus head. ~ Diverse – Preschool, Elementary School
More Native books: 32 Native American Children's Books
---
Soccer Cousins 
by Jean Marzollo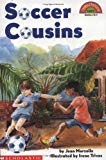 Although he's been practising soccer for a long time, David always chokes at the important moments on the field. He is convinced that he is not cut out to play and never wants to play again. When he visits his cousin in Mexico to watch his Day of the Dead soccer tournament, he gets an unexpected chance to prove himself. With colourful illustrations and a suspenseful plot, Soccer Cousins is a great book for emerging readers.  ~ Hispanic – Elementary School
More Day of the Dead books: Top 10 Day of the Dead/Día de los Muertos Children's Books
---
Goal!
by Mina Javaherbin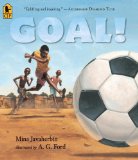 "When we play, / we forget to worry. / When we run, / we are not afraid." Playing soccer lets Ajani and his friends forget the harsh reality of living in a township until some older boys try to take their new ball. But Ajani and his friends use their soccer skills to deter the bullies. With rich oil paintings and lyrical text, Goal! celebrates the unifying power of one of South Africa's most favourite sports. ~ African – Elementary School
---
---
The Soccer Fence
by Phil Bildner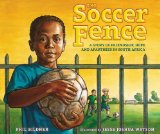 Little Hector loves playing soccer and dreams of playing on a real pitch with the white boys. When apartheid slowly starts to crumble and the national soccer team wins the African Cup of Nations, Hector's dream suddenly doesn't seem so impossible anymore. With simple text and expressive pencil and acrylic illustrations, The Soccer Fence tells a story of hope and change. Includes a (quite advanced) timeline of historical events.  ~ African – Elementary School
More South African books: 23 Children's Books set in South Africa
---
Lola Levine Is Not Mean!
by Monica Brown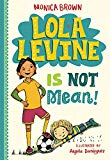 Lola Levine likes writing in her diario, sipping her mom's cafe con leche, eating her dad's matzo ball soup, and playing soccer with her team, the Orange Smoothies. So what if she doesn't always fit in? Lola Levine Is Not Mean is part of the Lola Levine series about a spunky Peruvian-Jewish girl with a big heart. ~ Hispanic – Elementary School
More from the series: Lola Levine: Drama Queen // Lola Levine Meets Jelly and Bean // Lola Levine and the Ballet Scheme // Lola Levine and the Vacation Dream // Lola Levine and the Halloween Scream
---
Kick It, Mo! (Mo Jackson)
by David A. Adler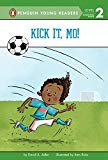 Kick it, Mo! is the latest book in the popular Mo Jackson series. Mo has been working hard on his kicking skills so he can score a goal with his team, the Billy Goats, this season. But when he gets on the field on game day, it seems like all he gets to do is run back and forth. Will Mo ever get the chance to show his team what he can do? ~ African – Elementary School
More from the series: Get a Hit, Mo! //Don't Throw It to Mo! // Pass the Ball, Mo!
More multicultural series: 40+ Multicultural Book Series for Girls & Boys
---
---
The Field
by Baptiste Paul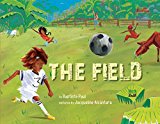 "Vini! Come! The field calls!" A girl and her younger brother call their community for a game of soccer, and young and old, girls and boys come running. The field is cleared of cows, teams are formed, and the game continues through a tropical rainstorm until sunset. Just in time for the World Cup, The Field is a beautiful new release that celebrates the spirit of soccer and the beauty of St.Lucia. The rhythmic text is sprinkled with Creole words. ~ African – Elementary School
More Caribbean books: 36 Children's Books set in the Caribbean
---
Pedro's Big Goal
by Fran Manushkin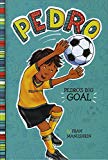 Pedro's biggest dream is to play goalie in his team's next big soccer match. But he worries that he is too slow and too small. Will Pedro meet his big goal? Part of the Pedro series, Pedro's Big Goal is a fun read that emerging readers will love. ~ Hispanic – Elementary School
More from the series: Pedro, First-Grade Hero // Pedro and the Shark // Pedro the Ninja // Pedro Goes Buggy // Pedro's Tricky Tower
---
Pelé: The King of Soccer
by Eddy Simon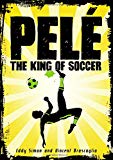 This graphic novel beautifully depicts Pele's rise from the slums of Brazil to international fame. Growing up in poverty in Sao Paulo, Pele was too poor to afford a real soccer ball, so he played with a ball of newspaper tied together with string. Nonetheless, he signed his first professional soccer contract at the age of fifteen. Pele: The King of Soccer tells the inspiring story of "O Rei" (The King), who is not only one of the greatest soccer players of all time but also a goodwill ambassador for UNICEF. ~ African – Elementary School,  Middle School
---
---
Booked (The Crossover Series)
by Kwame Alexander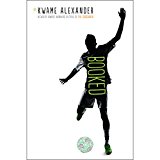 "Like lightning / you strike /fast and free / legs zoom / down field / eyes fixed / on the checkered ball / on the goal / ten yards to go / can't nobody stop you…" In this sequel to award-winning The Crossover, 12-year-old Nick has problems at home, is faced with a bully and tries to impress the girl of his dreams. With the help of inspiring books, given to him by a rapping librarian, Nicky learns about the power of words and how to stand up for himself. Booked is an exciting and heartfelt novel-in-verse about soccer, family, love and friendship. ~ African – Middle School
---
Running with Lions
by Julian Winters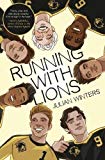 High School senior Sebastian is in a good place: He's the goalie of an amazing team and his coach doesn't ask anyone to hide their sexuality. When his estranged childhood-best-friend Emir shows up at summer training camp, Sebastian tries to reconnect with him for the sake of the team. But to Sebastian's surprise, sweaty days on the pitch, wandering the town's streets, and bonding on the weekends spark more than just friendship. Running With Lions is a funny and uplifting novel that goes straight to the heart. ~ Diverse – High School
More LGBTQIA books: 18 Multicultural Children's Books featuring LGBTQIA Characters
---
Out of Sync (Counterattack)
by Amanda Humann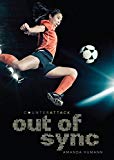 Madison and Dayton have played soccer together since they were six and are in perfect sync on the field. But lately, Dayton is more interested in partying than playing soccer. And that comes at a time when their team is trying to make the Division I college team. With lots of play action, Out Of Sync is the perfect book for soccer fanatics. ~ Asian – High School
---
*You can buy any of the books on this site from Amazon USA, CAN or UK by clicking on the book titles or images*
---
---