written by Julius Lester, illustrated by Carl Angel
The Girl Who Saved Yesterday tells the story of Silence. The young girl was cast out by her village because she tried to find her dead parents. She now lives in the forest, raised by the trees. One day, Wonderboom, the most ancient tree, sends Silence back to the village to "save Yesterday."
Not sure what exactly that means, Silence reluctantly returns and soon recognizes her purpose: To join the dead with the living. Guided by Morning Star and Sun, Silence goes up the mountain and finds glowing stones that she believes to be her parents. Silence teaches the villagers to honour their dead, because the Ancestors resent being forgotten.
---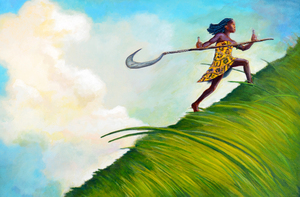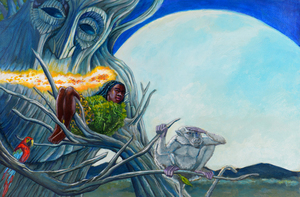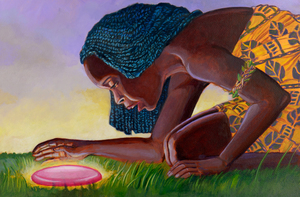 ---
The Girl Who Saved Yesterday is a timeless folk tale set in an unspecified African country. In poetic language the picture book tells a powerful story about caring for our ancestors, and including the dead in our communities. It sends the reassuring message to children that dead does not have to mean gone and forgotten.
Carl Angel's bright and vivid illustrations bring this lyrical folk tale to life and add to its mysterious feel.
The Girl Who Saved Yesterday is most suitable for Elementary School children (from age 6), but Preschool children (ages 4 to 5) will also enjoy this mystical story full of beautiful metaphors and expressive illustrations.
---
---
More Multicultural Children's Books written by Julius Lester
---
More Multicultural Children's Books illustrated by Carl Angel
---
More Multicultural Books of the Month:
---
*You can buy any of the books on this site from Amazon USA, CAN or UK by clicking on the book titles or covers*
---