Last month saw the release of some real gems! Where Are You From?, Leila in Saffron and How To Read A Book are our favourites on this list of new multicultural children's books June 2019. Which ones are yours?
---
New Multicultural Children's Books June 2019
---
Babies & Toddlers
---
Future Astronaut
by Lori Alexander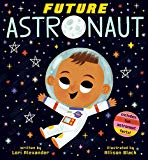 "Ground Control to Major Baby: Could you be an astronaut?" Discover all the incredible ways that prove baby already has what it takes to become an astronaut, from growing healthy teeth to eating from plastic packs to working in small spaces. Future Astronaut is an adorable board book that includes lots of fun astronaut facts. ~ Diverse – Babies & Toddlers
More STEM books: 50+ Multicultural STEAM Books for Children
---
---
Preschool
---
Lola Goes to School
by Anna McQuinn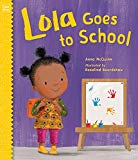 One of our all-time favourite series! With adorable illustrations, Lola Goes To School follows spunky little Lola as she embarks on a new adventure: The first day of school! Lola and her family prepare the night before, then get up early, take pictures, and head to class. Lola puts her things in her cubby, chooses her activities, reads, plays, and has a snack. Before she knows it, it's time to sing the good-bye song.  ~ African – Preschool
More in the Lola series: 40+ Multicultural Book Series for Girls & Boys
---
Where Are You From?
by Yamile Saied Mendez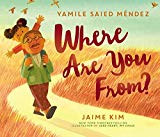 "Where are you from?" is the question one little girl constantly gets asked. Unsure about how to reply, she turns to her loving abuelo for help. He doesn't give her the response she expects but an even better one. With luminous illustrations and lyrical text, Where Are You From? is a powerful picture book about identity, belonging and self-acceptance. ~ Hispanic – Preschool
---
Bilal Cooks Daal
by Aisha Saeed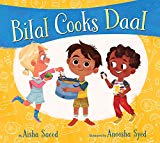 Six-year-old Bilal is excited to introduce his friends to his favourite traditional dish – daal! While helping his dad prepare the slow-cooked lentil dish from South Asia he explains to his friends how it is made. As the day goes on, the daal simmers, and more kids join Bilal and his family, waiting to try the tasty dish. Will they like it as much as he does? Bilal Cooks Daal is a charming picture book that will make little readers wanna try daal, too! ~ Asian – Preschool
---
Cece Loves Science
by Kimberley Derting & Shelli R. Johannes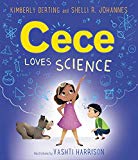 Cece is an inquisitive little scientist who loves to get to the bottom of things. Together with her equally curious best friend she conducts experiments to see whether her dog, Einstein, will eat his vegetables. With bright illustrations and an endearing protagonist, Cece Loves Science is a fun addition to any child's STEM bookshelf. ~ Diverse – Preschool
More STEM books: 50+ Multicultural STEAM Books for Children
---
Leila in Saffron
by Rukhsanna Guidroz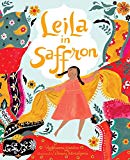 "Sometimes I'm not sure if I like being me." When Leila looks in the mirror, she doesn't know if she likes what she sees. But when her grandmother tells her the saffron beads on her scarf suit her, she feels a tiny bit better. So, Leila spends the rest of their family dinner night on the lookout for other parts of her she does like. Vibrantly illustrated Leila In Saffron takes young readers on a colourful journey of self-discovery and identity. ~ Asian – Preschool
---
It's Not a Bed, It's a Time Machine
by Mickey Rapkin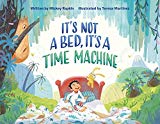 Bedtime means lights out, with dark corners and spooky sounds. But it also means . . . adventure! It's Not A Bed, It's A Time Machine follows a little boy as he rides to the coolest time of all — the age of the dinosaurs. He makes a tyrannosaurus-sized friend, who helps him become the Boss of Bedtime. With colourful illustrations and a lively storyline, this picture book is sure to become your little one's favourite bedtime read! ~ Hispanic – Preschool
---
It Feels Good to Be Yourself: A Book About Gender Identity
by Theresa Thorn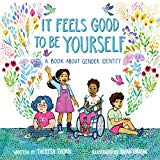 "Some people are boys. Some people are girls. Some people are both, neither, or somewhere in between." With vibrant illustrations and straightforward text, It Feels Good To Be Yourself introduces the concept of gender identity to the youngest readers and gives them a fuller understanding of themselves and others. ~ Diverse – Preschool
---
When Aidan Became a Brother
by Kyle Lukoff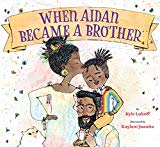 When biracial (black and South Asian) Aidan was born, everyone thought he was a girl. His parents gave him a pretty name, his room looked like a girl's room, and he wore clothes that other girls liked wearing. After he realized he was a trans boy, Aidan and his parents fixed the parts of his life that didn't fit anymore, and he settled happily into his new life. But when his parents announce that he will become a big brother, Aidan is determined to do everything right for his new sibling from the beginning. When Aidan Became a Brother is a heartwarming book that celebrates the changes in a transgender boy's life, from his initial coming-out to becoming a big brother. ~ Diverse – Preschool
More books with multiracial characters: 70+ Picture Books about Mixed Race Families
---
---
Elementary School
---
Sumo Joe
by Mia Wenjen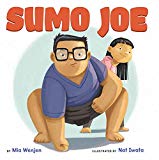 From fellow multicultural children's book blogger and co-founder of Multicultural Children's Book Day Mia Wenjen comes this sweet and fun rhyming story. Sumo Joe and his friends enjoy pretending to be sumo wrestlers. But when his little sister wants to join their game, he is torn between the two things he's best at: sumo, and being a big brother. What will he do? ~ Asian – Elementary School
More books with Asian characters: 30 Asian & Asian American Children's Books for Ages 0 to 18
---
How to Read a Book
by Kwame Alexander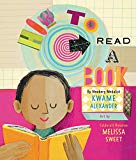 "Find a tree—a / black tupelo or / dawn redwood will do—and / plant yourself. / (It's okay if you prefer a stoop, like Langston Hughes.)".  How To Read A Book is a stunning new picture book from Newbery Medalist Kwame Alexander that takes children on a sensory and poetic journey about the wonderful experience of reading. ~ African – Elementary School
More books about reading: 15 Multicultural Children's Books celebrating books & reading
---
Harriet Tubman // Wilma Rudolph 
by Maria Isabel Sanchez Vegara
Two gorgeous new releases in the critically acclaimed Little People, BIG DREAMS series! One about Harriet Tubman, the Underground Railroad conductor who helped thousands of slaves escape to freedom, the other about Wilma Rudolph, the remarkable sprinter and Olympic champion. These inspiring picture books feature stylish and quirky illustrations and a biographical timeline with historical photos and a detailed profile. ~ African – Elementary School
More books about inspiring women: 26 Multicultural Picture Books about Inspiring Women & Girls // 55 Multicultural Picture Books About Strong Female Role Models // 30 Diverse Children's Anthologies About Trailblazing Women
---
What's the Big Deal About Americans
by Ruby Shamir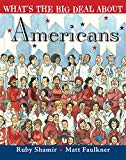 From Native American traditions to immigrant inventions, from diversity to democracy, from ice cream cones to apple pie, What's The Big Deal About Americans is a picture book is filled with fun facts and historical trivia, celebrating the melting pot and mosaic that is America. ~ Diverse – Elementary School
---
---
Middle School
---
Midsummer's Mayhem
by Rajani LaRocca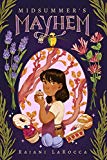 Eleven-year-old Mimi Mackson often feels invisible in her multiracial Indian-American family of overachievers: Dad's a renowned food writer, Mom's a successful businesswoman, and her three older siblings all have their own respective accomplishments. But when she discovers a contest at the new bakery in town, she sees an opportunity to prove her own talent. Midsummer's Mayhem is a delightful contemporary spin on Shakespeare's A Midsummer Night's Dream. ~ Asian – Middle School
More middle-grade novels with multiracial characters: 21 Middle-Grade Novels With Multiracial Characters
---
The Dare: Friends, Family, and Other Eerie Mysteries
by Cynthea Liu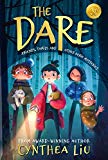 Twelve-year-old Paris Pan has moved to a small town where she has a real shot at making friends. But that friendship comes at a price. She must take The Dare, something that caused a girl to disappear. To make matters worse, Paris must play basketball against her will, eradicate a crush on the least desirable boy in seventh grade, and cope with a family crisis that was possibly caused by a chili dog. The Dare is a humorous and suspenseful middle-grade novel that middle graders will find hard to put down. ~ Diverse – Middle School
More middle-grade novels: 50+ Multicultural Middle-Grade Novels for Summer Reading
---
Martin Luther King Jr.: A Graphic History of America's Great Civil Rights Leaders
by Rachel Ruiz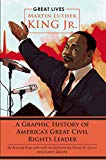 Martin Luther King Jr. is a riveting graphic novel about the inspiring civil rights leader that will engage even the most reluctant reader. It follows Luther King's life from his early childhood his childhood in Atlanta to his leading role in the Civil Rights movement. ~ African – Middle School
More books about Martin Luther King Jr: 14 Children's Books about Martin Luther King Jr.
---
Sea Sirens (A Trot & Cap'n Bill Adventure)
by Amy Chu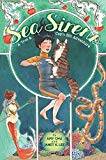 Sea Sirens is a visually stunning graphic novel about a spunky Vietnamese American surfer girl and her cranky one-eyed cat Cap'n Bill. One day they catch too big a wave and plunge down right into an ancient deep-sea battle. The beautiful Sea Siren mermaids are under attack from the Serpent King and his slithery minions–and Trot and her feline become dangerously entangled in this war of tails and fins.  ~ Asian – Middle School
---
*You can buy any of the books on this site from Amazon USA, CAN or UK by clicking on the book titles or covers*
---
---