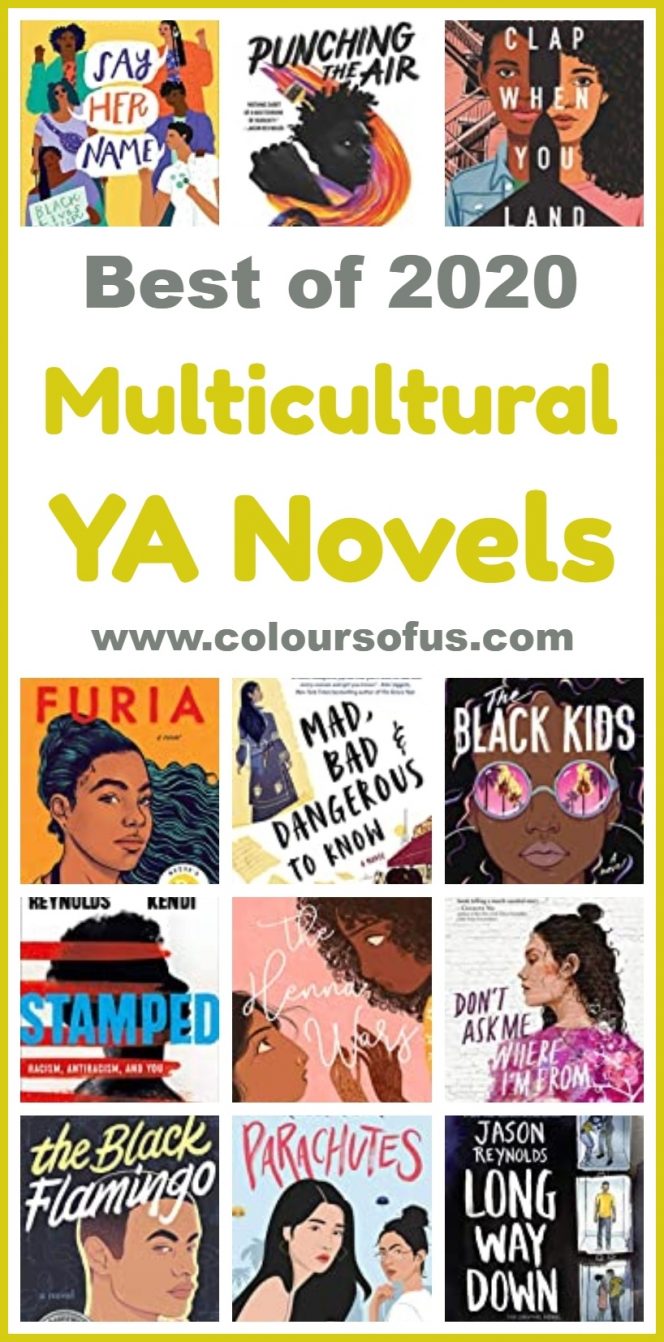 Last not least! We are finishing off our Best of 2020 series with this exciting list of the fifty best multicultural young adult novels of 2020! The books on this list range from fiction to non-fiction, from novel to graphic novel, and include a wide variety of ethnicities and subjects — something for every avid reader!
---
The 50 Best Multicultural Young Adult Books of 2020
---
Not So Pure and Simple
by Lamar Giles
Del has had a crush on Kiera Westing since kindergarten. And now, during their junior year, she's finally available. So when Kiera volunteers at their church, Del's right behind her, unaware that he has to sign a Purity Pledge, too. As he plots and plans how to win Kiera over, he neglects to ask the most important question: What does she want? Not So Pure And Simple is a hilarious and heartfelt novel about teen sexuality, societal pressure, and toxic masculinity. ~ African – High School
---
Woven in Moonlight
by Isabel Ibañez
Ximena is the decoy Condesa, a stand-in for the last remaining Illustrian royal. Her people lost everything when the usurper, Atoc, used an ancient relic to summon ghosts and drive the Illustrians from La Ciudad. Now Ximena's motivated by her insatiable thirst for revenge, and her rare ability to spin thread from moonlight. Debut novel Woven in Moonlight is a lush tapestry of magic, romance, and revolución, drawing inspiration from Bolivian politics and history. ~ Hispanic – High School
---
Black Enough: Stories of Being Young & Black in America
by Ibi Zoboi & others
Black is…sisters navigating their relationship at summer camp in Portland, as written by Renée Watson. Black is…three friends walking back from the community pool talking about nothing and everything, in a story by Jason Reynolds. Black is…Nic Stone's high-class beauty dating a boy her momma would never approve of. Black is…two girls kissing in Justina Ireland's story set in Maryland. Black is urban and rural, wealthy and poor, mixed race, immigrants, and more. Featuring some of the most acclaimed Black authors writing for teens today, Black Enough is an essential collection of captivating stories about what it's like to be young and Black in America. ~ African – High School
---
Elatsoe
by Darcie Little Badger
Elatsoe can raise the ghosts of dead animals, a skill passed down through generations of her Lipan Apache family. Her beloved cousin has just been murdered, in a town that wants no prying eyes. But she is going to do more than pry. The picture-perfect facade of Willowbee masks gruesome secrets, and she will rely on her wits, skills, and friends to tear off the mask and protect her family. Beautifully written and illustrated, Elatsoe is an exciting supernatural murder mystery that teenagers will find hard to put down. ~ Diverse – High School
Related: 75+ Native American Children's Books
---
Stamped: Racism, Antiracism, and You
by J. Reynolds & I.X. Kendi
"This is NOT a history book. This is a book about the here and now. A book to help us better understand why we are where we are. A book about race." Stamped: Racism, Antiracism and You is a timely and gripping reimagining of Dr. Ibram X. Kendi's award-winning Stamped from the Beginning, revealing the history of racist ideas in America, and inspiring hope for an antiracist future. An absolute must-read! ~ African – High School
Related: 37 Children's Books to help talk about Racism & Discrimination
---
Tigers, Not Daughters
by Samantha Mawbry
The Torres sisters dream of escaping their despotic widowed father, and their conservative San Antonio neighborhood. Tragedy strikes when Ana, the oldest sister, falls to her death from her bedroom window. A year later, her three younger sisters, Jessica, Iridian, and Rosa, are still consumed by grief and haunted by their sister's memory. Leaving Southtown now seems out of reach. But then strange things start happening around the house: mysterious laughter, mysterious shadows, mysterious writing on the walls. The sisters begin to wonder if Ana really is haunting them, trying to send them a message—and what exactly she's trying to say. Follow-up to acclaimed All the Wind in the World, Tigers, Not Daughters is a magical novel that is family drama, ghost story, and love story all in one. ~ Hispanic – High School
Related: Pura Belpré Award Winners 1996 – 2020
---
We Hunt the Flame (Sands of Arawiya, 1)
by Hafsah Faizal
Zafira is the Hunter, disguising herself as a man when she braves the cursed forest of the Arz to feed her people. Nasir is the Prince of Death, assassinating those foolish enough to defy his autocratic father, the sultan. If Zafira was exposed as a girl, all of her achievements would be rejected; if Nasir displayed his compassion, his father would punish him in the most brutal of ways. Both Zafira and Nasir are legends in the kingdom of Arawiya―but neither wants to be. Inspired by ancient Arabia, We Hunt the Flame is a gripping debut of identity and conquering fear. ~ Asian – High School
---
---
Charming as a Verb
by Ben Philippe
Henri "Halti" Haltiwanger is a star debater and popular student at the prestigious FATE academy, the dutiful first-generation Haitian son, and the trusted dog walker for his wealthy New York City neighbors. There is only one person who seems immune to Henri's charms: his "intense" classmate and neighbor Corinne Troy. When she uncovers Henri's less-than-honest dog-walking scheme, she blackmails him into helping her change her image at school. Henri agrees, seeing a potential upside for himself. Soon what started as a mutual hustle turns into something either of them ever bargained for. . . .  Charming As A Verb is a sharply funny and layered romantic comedy teenagers will love. ~ African – High School
---
Hearts Unbroken
by Cynthia Leitich Smith
When Lou's first boyfriend disrespects Native people in front of her, she dumps him over e-mail. It's her senior year, anyway, and she'd rather spend her time with her family and friends and working on the school newspaper. Together with ambitious new photojournalist Joey Kairouz she must cover a major story: the school musical director's inclusive approach to casting The Wizard of Oz has been provoking backlash in their mostly white, middle-class school. As tensions mount, so does a romance between Lou and Joey but in trying to protect her own heart, will Lou break Joey's? Award-winning Hearts Unbroken is a thoughtful story about discrimination, inclusivity and first love. ~ African – High School
---
Mad, Bad & Dangerous to Know
by Samira Ahmed
17-year-old Khayyam Maquet—American, French, Indian, Muslim—is on holiday in Paris with her parents but all she really wants is to be back home in Chicago figuring out her messy life. Two hundred years earlier, Leila is struggling to survive and keep her true love hidden from the Pasha who has "gifted" her with favoured status in his harem. Bridging centuries, Leila and Khayyam's lives intertwine, and as one woman's long-forgotten life is uncovered, another's is transformed. Mad, Bad & Dangerous To Know traces the lives of two young women fighting to write their own stories and escape the pressure of cultural expectations defined by men. ~ Asian – High School
---
Say Her Name (Poems to Empower)
by Zetta Elliott
Inspired by the #SayHerName campaign, 
Say Her Name
 is a collection of poems that pay tribute to victims of police brutality and #BlackLivesMatter activists. The forty-nine poems span two centuries and create a powerful chorus of voices celebrating the creativity, resilience, and courage of Black women and girls. 
~ Diverse – High School
---
The Silence of Bones
by June Hur
"I have a mouth, but I mustn't speak; / Ears, but I mustn't hear; / Eyes, but I mustn't see." 1800, Korea: Orphaned sixteen-year-old Seol has been tasked with assisting a well-respected young inspector with the investigation into the politically charged murder of a noblewoman. As they delve deeper into the dead woman's secrets, Seol's loyalty to the inspector is tested when he becomes the prime suspect. June Hur's elegant and haunting debut The Silence of Bones is a bloody historical mystery novel that young adults will love. ~ Asian – High School
---
This Is My Brain in Love
by I.W. Gregorio
All Jocelyn Wu wants for her junior year is to make it through without dying of boredom, to direct a short film with her BFF Priya Venkatram, and to not constantly being compared to Peggy Chang, the only other Chinese girl in her grade. Will Domenici has two goals: to find a paying summer internship, and to become an editor on his school paper. But when her family's restaurant is on the brink of going under, it's up to Jocelyn and her unlikely new employee, Will, to save it. What starts off as a rocky partnership soon grows into something more but family prejudices and the uncertain future of the restaurant threaten their budding romance. Told in dual narrative, This Is My Brain in Love is a stunning contemporary romance, exploring mental health, race and self-acceptance. ~ Asian – High School
---
Felix Ever After
by Kacen Callender
Felix Love has never been in love—and, yes, he's painfully aware of the irony. He desperately wants to know what it's like and why it seems so easy for everyone but him to find someone. Even though he is proud of his identity, Felix also secretly fears that he's one marginalization too many—Black, queer, and transgender—to ever get his own happily-ever-after. As he navigates his complicated feelings, Felix begins a journey of questioning and self-discovery that helps redefine his most important relationship: how he feels about himself. Felix Ever After is an honest and layered story about identity, falling in love, and recognizing the love you deserve. ~ African – High School
---
---
We Are Not from Here
by Jenny Torres Sanchez
Pulga, Chico and Pequeña don't have any illusions about the town they've grown up in and the dangers that surround them. Even with the love of family, threats lurk around every corner. And when those threats become all too real, the trio knows they have no choice but to run: from their country, from their families, from their beloved home. Crossing from Guatemala through Mexico, they follow the route of La Bestia, the perilous train system that might deliver them to a better life–if they are lucky enough to survive the journey. We Are Not From Here is a poignant novel of desperation, escape, and survival across the U.S.-Mexico border. ~ Hispanic – High School
---
The Henna Wars
by Adiba Jaigirda
Set in a Bangladeshi community in Ireland, The Henna Wars is a fast-paced novel about the love between two teenage girls, racism and homophobia. Nishat doesn't want to lose her family, but she also doesn't want to hide who she is, and it only gets harder once a childhood friend walks back into her life. Flávia is beautiful and charismatic, and Nishat falls for her instantly. But when a school competition invites students to create their own businesses, both Flávia and Nishat decide to showcase their talent as henna artists. In a fight to prove who is the best, their lives become more tangled―but Nishat can't quite get rid of her crush, especially since Flávia seems to like her back. As the competition heats up, Nishat has a decision to make: stay in the closet for her family, or put aside her differences with Flávia and give their relationship a chance. ~ Asian – High School
---
All the Things We Never Knew
by Liara Tamani
From the moment Carli and Rex first locked eyes on a Texas high school basketball court, they both knew it was destiny. But can you truly love someone else if you don't love yourself? In beautiful prose, All The Things We Never Knew explores love, family, heartbreak, betrayal, and the power of healing. ~ African – High School
---
Parachutes
by Kelly Yang
Claire Wang finds herself plucked her from her privileged life in Shanghai, enrolled at a high school in California, and living in a stranger's house, with no one to tell her what to do for the first time in her life. But Dani De La Cruz, Claire's new host sister, couldn't be less thrilled that her mom rented out a room to Claire. As they steer their own distinct paths, Dani and Claire keep crashing into one another, setting a course that will change their lives forever. Parachutes is a modern immigrant story about two girls navigating wealth, power, friendship, and trauma. ~ Diverse – High School
Related: 30 Multicultural Picture Books about Immigration
---
Forest of Souls
by Lori M. Lee
Sirscha Ashwyn comes from nothing, but she's intent on becoming something. After years of training to become the queen's next royal spy, her plans are derailed when shamans attack and kill her best friend Saengo. Sirscha, somehow, restores Saengo to life, and is summoned to the domain of the Spider King. As war looms, Sirscha must master her newly awakened abilities before the trees shatter the brittle peace, or worse, claim Saengo, the friend she would die for. Forest of Souls is an epic, unrelenting tale of sisterhood and self-discovery. ~ Asian – High School
---
Category Five
by Ann Dávila Cardinal
The tiny island of Vieques, just off the main island of Puerto Rico, is trying to recover after hurricane Maria, but the already battered island is now half empty. To make matters worse,developers have come in to buy up the land at a fraction of its worth, taking advantage of the island when it is down. Lupe, Javier, and Marisol are back to investigate a series of murders that follow in the wake of a hurricane and in the shadow of a new supernatural threat. Category Five is a new supernatural YA thriller that picks up a year after the events of Five Midnights. ~ Hispanic – High School
---
The Invincible Summer of Juniper Jones
by Daven McQueen
For biracial Ethan Harper, who was raised mostly by his white father, race has always been a distant conversation. But when he spends the summer of 1955 with his aunt and uncle in Alabama, his Blackness is suddenly front and center, and everyone is making it clear that he's not welcome there. Except Juniper Jones, the town's resident oddball and free spirit. As Ethan is confronted for the first time by what it means to be Black in America, Juniper tries to help him see the beauty in even the ugliest reality. The Invincible Summer of Juniper Jones is a heartfelt novel about racism, friendship and a summer that changed lives. ~ African – High School
Related: 37 Children's Books to help talk about Racism & Discrimination
---
---
Girl, Serpent, Thorn
by Melissa Bashardoust
Cursed to be poisonous to the touch, princess Soraya has lived her life hidden away from the public. With the day of her twin brother's wedding approaching, Soraya must decide if she's willing to step outside of the shadows for the first time. Below in the dungeon is a demon who holds knowledge that she craves, the answer to her freedom. And above is a young man with an understanding of who she is beneath the poison. Girl, Serpent, Thorn is an opulent fantasy fairy tale with a complex protagonist who discovers her own power. ~ Asian – High School
---
The Black Flamingo
by Dean Atta
Growing up in London as a mixed-race gay teen, Michael struggles to navigate his Greek-Cypriot and Jamaican, never quite feeling Greek or Black enough. As he gets older, Michael's coming out is only the start of learning who he is and where he fits in. When he discovers the Drag Society, he finally finds where he belongs. Told with raw honesty and insight, The Black Flamingo is a fierce novel-in-verse that explores cultural and sexual identity. ~ African – High School
---
Cinderella Is Dead
by Kaylynn Bayron
200 years after Cinderella found her prince, teen girls are required to appear at the Annual Ball, where the men of the kingdom select their wives. Sixteen-year-old Sophia would much rather marry Erin, her childhood best friend, than parade in front of suitors. At the ball, Sophia makes the desperate decision to flee, and finds herself hiding in Cinderella's mausoleum. There, she meets Constance, the last known descendant of Cinderella and her step sisters. Together they vow to bring down the king once and for all. A powerful retelling of the classic story, Cinderella Is Dead roots for girls to break down the constructs of the world that don't serve them. ~ African – High School
---
10 Things I Hate about Pinky
by Sandhya Menon
Pinky Kumar loves lazy summers at her parents' Cape Cod lake house, but after listening to them harangue her about the poor decisions she's made (a.k.a. boyfriends she's had), she hatches a plan: Get her sorta-friend-sorta-enemy Samir Jha—who is a total Harvard-bound Mama's boy—to pose as her perfect boyfriend for the summer in exchange for a new internship. Follow-up to When Dimple Met Rishi and There's Something about Sweetie, 10 Things I Hate About Pinky follows Ashish's friends Pinky and Samir as they pretend to date in order to achieve their individual goals, to disastrous and hilarious results. ~ Asian – High School
Related: 30 Asian & Asian American Children's Books for Ages 0 to 18
---
A Song Below Water: A Novel
by Bethany C. Morrow
In a society determined to keep her under lock and key, Tavia must hide her siren powers. Meanwhile, Effie is fighting her own family struggles, pitted against literal demons from her past. Together, these best friends must navigate through the perils of high school's junior year. But everything changes in the aftermath of a siren murder trial that rocks the nation, and Tavia accidentally lets out her magical voice at the worst possible moment. Set against the challenges of today's racism and sexism, A Song Below Water is an enthralling modern fantasy about black mermaids, friendship, and self-discovery. ~  African – High School
---
A Song of Wraiths and Ruin
by Roseanne A. Brown
For Malik, the Solstasia festival is a chance to escape his war-stricken home and start a new life with his sisters in the prosperous desert city of Ziran. But when a vengeful spirit abducts his younger sister, Nadia, as payment to enter the city, Malik strikes a fatal deal—kill Karina, Crown Princess of Ziran, for Nadia's freedom. Inspired by West African folklore, A Song Of Wraiths And Ruin is the first in a gripping fantasy duology about a grieving crown princess and a desperate refugee who find themselves on a collision course to murder each other despite their growing attraction. ~ African – High School
---
You Should See Me in a Crown
by Leah Johnson
Liz Lighty has always believed she's too black, too poor, too awkward to shine in her small, rich, prom-obsessed midwestern town. She plans to get out of Campbell, Indiana, attend the elite Pennington College, play in their world-famous orchestra, and become a doctor. But when the financial aid she was counting on unexpectedly falls through, Liz's only option is the school's scholarship for prom king and queen. There's nothing Liz wants to do less than endure a gauntlet of social media trolls, catty competitors, and humiliating public events, but despite her devastating fear of the spotlight she's willing to do whatever it takes to get to Pennington. You Should See Me In A Crown is a fresh queer romcom celebrating diversity and individuality. ~ African – High School
---
---
The Hero of Numbani (Overwatch #1)
by Nicky Drayden
In the technologically advanced African city of Numbani, in the not-so-distant future, humans live in harmony with humanoid robots known as omnics. But when a terrorist tries to shatter that unity, a hero named Efi Oladele rises. Efi has been making robots since she was little — machines to better her community and improve people's lives. But after she witnesses Doomfist's catastrophic attack on the city's OR15 security bots, Efi feels the call to build something greater: Orisa, the true guardian of Numbani! The Hero of Numbani is the first-ever original novel for the worldwide gaming sensation Overwatch. ~ High School
---
Saving Ruby King: A Novel
by Catherine Adel West
When Ruby King's mother is found murdered in their home in Chicago's South Side, the police dismiss it as another act of violence in a black neighborhood. But for Ruby, it's a devastating loss that leaves her on her own with her violent father. Her best friend, Layla, is the only one who understands. Their friendship is tested when Layla's father, the pastor of their church, demands that Layla stay away. In a relentless quest to save Ruby, Layla uncovers the murky loyalties and dangerous secrets that have bound their families together for generations. Saving Ruby King is a powerful debut novel about family secrets and friendship. ~ African – High School
---
Clap When You Land
by Elizabeth Acevedo
Camino Rios lives for the summers when her father visits her in the Dominican Republic. But this time, on the day when his plane is supposed to land, Camino arrives at the airport to see crowds of crying people… In New York City, Yahaira Rios is called to the principal's office, where her mother is waiting to tell her that her father, her hero, has died in a plane crash. Separated by distance—and Papi's secrets—the two girls are forced to face a new reality in which their father is dead and their lives are forever altered. Clap When You Land is a novel-in-verse about the devastation of loss, the difficulty of forgiveness, and the bittersweet bonds that shape our lives. ~ African – High School
---
This Is My America
by Kim Johnson
For seven years, 17-year-old Tracy Beaumont has been writing weekly letters to Innocence X, asking the organization to help her father, an innocent Black man on death row. Now Tracy is running out of time–her dad has only 267 days left. On top of that her older brother, Jamal, is accused of killing a white girl. Tracy is determined to save her brother and find out what really happened. This Is My America is an unflinching yet uplifting debut novel that explores the racist injustices in the American justice system. ~ African – High School
Related: 37 Children's Books to help talk about Racism & Discrimination
---
Raybearer
by Jordan Ifueko
Tarisai was raised in isolation by a mysterious, often absent mother known only as The Lady. Her mother sends her to the capital of the global empire of Aritsar to compete with other children to be chosen as one of the Crown Prince's Council of 11. If she's picked, she'll be joined with the other Council members through the Ray, a bond deeper than blood. That closeness is irresistible to Tarisai, who has always wanted to belong somewhere. But The Lady has other ideas, including a magical wish that Tarisai is compelled to obey: Kill the Crown Prince. Raybearer is an epic fantasy story of loyalty, fate, and the lengths we're willing to go for the ones we love. ~ African – High School
---
Darius the Great Deserves Better
by Adib Khorram
Since Darius's trip to Iran, he's been getting along with his dad, and his best friend Sohrab is only a Skype call away. Between his first boyfriend, Landon, varsity soccer practices, and an internship at his favourite tea shop, things seem to be falling into place. It's everything he's ever wanted–but what if he deserves better? Darius The Great Deserves Better is the follow-up to the award-winning Darius the Great Is Not Okay.~ Asian – High School
---
The Black Kids
by Christina Hammonds Reed
As the 1992 Rodney King riots engulf LA, senior student Ashley Bennett tries to continue as if life were normal. Even as her self-destructive sister gets dangerously involved in the riots. Even as the model Black family façade her wealthy and prominent parents have built starts to crumble. Even as her best friends help spread a rumor that could completely derail the future of her classmate and fellow Black kid, LaShawn Johnson. With her world splintering around her, Ashley, along with the rest of LA, is left to question who is the us? And who is the them? The Black Kids is a brilliant coming-of-age novel that explores issues of race, class, and violence. ~ African – High School
Related: 250 Children's Books Celebrating Black Girls
---
---
Now That I've Found You
by Kristina Forest
18-year-old Evie Jones acting career is on the line when a close friend's betrayal gets her blacklisted. She tries to save her career through a public appearance with her famous grandma, Gigi. But days before Evie is scheduled to present her with an honorary award in front of Hollywood's elite, Gigi disappears. Evie enlists the help of the last person to see Gigi before she vanished: Milo Williams, a cute musician Evie isn't sure she can trust. Now That I've Found You is a charming YA novel about searching for answers, love, and your eccentric grandma in all the wrong places. ~ African – High School
---
Don't Ask Me Where I'm From
by Jennifer De Leon
First-generation American Latinx Liliana Cruz does what it takes to fit in at her new nearly all-white school. But when family secrets spill out and racism at school ramps up, she must decide what she believes in and take a stand. Don't Ask Me Where I Am From is a thought-provoking yet humorous story about race, identity, friendship and belonging. ~ Hispanic – High School 
Related: 37 Children's Books to help talk about Racism & Discrimination
---
Lobizona (Wolves of No World 1)
by Romina Garber
As an undocumented immigrant who's on the run from her father's Argentine crime-family, Manuela Azul is confined to a small apartment and a small life in Miami, Florida. But then her surrogate grandmother is attacked, lifelong lies are exposed, and her mother is arrested by ICE. Without a home, without answers, and finally without shackles, Manu investigates the only clue she has about her past―a mysterious "Z" emblem―which leads her to a secret world buried within our own. Lobizona takes readers on an adventure into a magical world. ~ Hispanic – High School 
---
More Than Just a Pretty Face
by Syed M. Masood
Danyal Jilani is funny, gorgeous, and going to make a great chef one day. His father doesn't approve of his career choice, but the only opinion that matters to Danyal is that of his longtime crush, the perfect-in-all-ways Kaval, and her family, who consider him a less than ideal arranged marriage prospect. When Danyal gets selected for Renaissance Man, a school-wide academic championship, it's the perfect opportunity to show everyone he's smarter than they think. Danyal recruits the brilliant, totally-uninterested-in-him Bisma to help with the competition, but the more time he spends with her, the more he realizes that happiness may be staring him right in his pretty face. More Than Just A Pretty Face is a sweet and funny debut novel about family expectations and falling in love. ~ Asian – High School 
---
The Voting Booth
by Brandy Colbert
Marva Sheridan has always been driven to make a difference in the world, and what better way than to vote in her first election? Duke Crenshaw just wants to get voting over with so he can prepare for his band's first paying gig tonight. When Marva sees Duke turned away from their polling place, she takes it upon herself to make sure his vote is counted. And that's how their whirlwind day begins. Romantic and triumphant, The Voting Booth is an all-in-one-day love story about a teen relationship and activism. ~ Diverse – High School
---
Running
by Natalia Sylvester
When fifteen-year-old Cuban American Mariana Ruiz's father runs for president, Mari starts to see him with new eyes. She learns details of her father's political positions and realizes that he is not the man she thought he was. But how do you find your voice when everyone's watching? When it means disagreeing with your father—publicly? Running is an authentic and humorous debut about privacy, waking up, and speaking up. ~ Hispanic – High School 
---
by Yamile Saied Méndez
In Rosario, Argentina, Camila Hassan lives a double life. At home, she is a careful daughter, living within her mother's narrow expectations, in her rising-soccer-star brother's shadow, and under the abusive rule of her short-tempered father. 11On the field, she is La Furia, a powerhouse of skill and talent. When her team qualifies for the South American tournament, Camila gets the chance to see just how far those talents can take her. But the path ahead isn't easy… Filled with authentic details of day-to-day life in Argentina, heart-soaring romance, and breathless action on the pitch, Furia is the powerful story of a girl's journey to make her life her own. ~ Hispanic – High School
---
---
Grown
by Tiffany D. Jackson
When legendary R&B artist Korey Fields spots Enchanted Jones at an audition, her dreams of being a famous singer take flight. Until Enchanted wakes up with blood on her hands and zero memory of the previous night. Who killed Korey Fields? Grown is a heart-wrenching novel that exposes horrific secrets hiding behind the limelight and embraces the power of a young woman's voice. ~ African – High School
---
Punching the Air
by Ibi Zoboi & Yusef Salaam
"The story that I thought / was my life / didn't start on the day / I was born." 16-year-old Amal Shahid has always been an artist and a poet. But even in a diverse art school, he's seen as disruptive and unmotivated by a biased system. Then one fateful night, an altercation in a gentrifying neighborhood escalates into tragedy. Amal is convicted of a crime he didn't commit and sent to prison. Despair and rage almost sink him until he turns to the refuge of his words, his art. Punching The Air tells the powerful and deeply moving story about how one boy is able to maintain his humanity and fight for the truth, in a system designed to strip him of both. ~ African – High School
---
Legendborn
by Tracy Deonn
After her mother dies in an accident, 16-year-old Bree Matthews wants to escape her family memories and home. A residential program for bright high schoolers at UNC–Chapel Hill seems perfect—until Bree witnesses a magical attack her very first night on campus. A flying demon feeding on human energies. A secret society of so called "Legendborn" students that hunt the creatures down. And a mysterious teenage mage who calls himself a "Merlin" and who attempts—and fails—to wipe Bree's memory of everything she saw. Filled with mystery and an intriguingly rich magic system, Legendborn is a modern-day twist on a classic legend and a lot of Southern Black Girl Magic. ~ African – High School
---
We Are Not Free
by Traci Chee
"All around me, my friends are talking, joking, laughing. Outside is the camp, the barbed wire, the guard towers, the city, the country that hates us. We are not free. But we are not alone." Fourteen teens from Japantown, San Francisco, are among the over 100,000 people of Japanese ancestry that are removed from their homes and forced into desolate incarceration camps. In a world that seems determined to hate them, these young Nisei must rally together as racism and injustice threaten to pull them apart. We Are Not Free is the collective account of a tight-knit group of young, second-generation Japanese American boys, whose lives are irrevocably changed by the mass U.S. incarcerations of World War II. ~ Asian – High School
Related: 30 Asian & Asian American Children's Books for Ages 0 to 18
---
The Bridge
by Bill Konigsberg
Aaron and Tillie don't know each other, but they are both feeling suicidal, and arrive at the George Washington Bridge at the same time, intending to jump. Aaron is a gay misfit struggling with depression and loneliness. Korean adoptee Tillie isn't sure what her problem is — only that she will never be good enough. On the bridge, there are four things that could happen: Aaron jumps and Tillie doesn't. Tillie jumps and Aaron doesn't. They both jump. Neither of them jumps. Or maybe all four things happen. The Bridge is a heartfelt and important novel about suicide and mental illness. ~ Diverse – High School
Related: 5 Multicultural Picture Books about Mental Illness
---
Dear Justyce
by Nic Stone
Vernell LaQuan Banks and Justyce McAllister grew up a block apart in the Southwest Atlanta. Years later, Justyce walks the illustrious halls of Yale University while Quan sits behind bars at the Fulton Regional Youth Detention Center. Through a series of flashbacks, vignettes, and letters to Justyce–the protagonist of acclaimed Dear Martin–Quan's story takes form. Troubles at home and misunderstandings at school give rise to police encounters and tough decisions. But then there's a dead cop and a weapon with Quan's prints on it. Dear Justyce takes an unflinching look into the flawed practices and silenced voices in the American juvenile justice system. ~ African – High School
Related: 37 Childrens Books to help talk about Racism & Discrimination
---
---
Never Look Back
by Lilliam Rivera
Haunted by losing everything in Hurricane Maria–and by an evil spirit, Ato — Eury arrives in the Bronx, fully expecting the tragedy that befell her and her family in Puerto Rico to catch up with her in New York. Yet, for a time, she can almost set this fear aside, because there's this boy . . . Pheus is a golden-voiced, bachata-singing charmer who wants to put a smile on Eury's face and fight off her demons. But some dangers are too powerful for even the strongest love, and as the world threatens to tear them apart, Eury and Pheus must fight for each other and their lives. Featuring contemporary Afro-Latinx characters, Never Look Back is a modern retelling of the Greek myth Orpheus and Eurydice. ~ Hispanic – High School
---
Early Departures
by Justin A. Reynolds
What if you could bring your best friend back to life—but only for a short time? Jamal's best friend, Q, doesn't know that he died, and that he's about to die again. He doesn't know that Jamal tried to save him. And that the reason they haven't been friends for two years is because Jamal blames Q for the accident that killed his parents. But what if Jamal could have a second chance? A new technology allows Q to be reanimated for a few weeks before he dies . . . permanently. And Q's mom is not about to let anyone ruin this miracle by telling Q about his impending death. So how can Jamal fix everything if he can't tell Q the truth? Early Departures is a powerful novel about loss, grief, friendship, and love. ~ African – High School
---
Long Way Down: The Graphic Novel
by Jason Reynolds
When his older brother, Shawn, is shot dead, Will feels a deep sadness. But in his neighborhood, there are THE RULES: No.1: Crying. Don't. No matter what. No.2: Snitching. Don't. No matter what. No.3: Revenge. Do. No matter what. But bullets miss. You can get the wrong guy. And there's always someone else who knows to follow the rules… With haunting artwork, award-winning Long Way Down is now a gripping, galvanizing graphic novel. ~ African – High School
---
Apple: (Skin to the Core)
by Eric Gansworth
The term "Apple" is a slur in Native communities across the country. It's for someone supposedly "red on the outside, white on the inside." Eric Gansworth reclaims that slur in heartbreaking verse, prose and imagery. Apple tells the story of the author's family, of Onondaga among Tuscaroras, of Native folks everywhere. From the horrible legacy of the government boarding schools, to a boy watching his siblings leave and return and leave again, to a young man fighting to be an artist who balances multiple worlds. This moving novel will stay with readers long after they finished it. ~ Diverse – High School
Related: 32 Native American Children's Books
---
Daughters of Jubilation
by Kara Lee Corthron
In the Jim Crow South, white supremacy reigns and tensions are high. But Evalene Deschamps has other things to worry about. She has two little sisters to look after, an overworked single mother, and a longtime crush who is finally making a move. On top of all that, Evvie's magic abilities are growing stronger by the day. Her family calls it jubilation—a gift passed down from generations of Black women since the time of slavery. And as Evvie's talents waken, something dark comes loose and threatens to resurface… Daughters of Jubilation is a compelling fantasy novel that follows a Black teen as she finds her place among a family of women gifted with magical abilities. ~ African – High School
---
Zora and Me: The Summoner
by Victoria Bond
For Carrie and her best friend, Zora, Eatonville—America's first incorporated Black township—has been an idyllic place to spend their childhoods. But when a lynch mob crosses arrives to pursue a fugitive and a grave robbery brings back the ugly sins of the past, the safe ground beneath them seems to shift. Not only has Zora's own father decided to run against the town's trusted mayor, but there is also a heartbreaking family loss, a friend's sudden illness, and the suggestion of voodoo and zombie-ism in the air. The finale of the acclaimed trilogy, Zora and Me: The Summoner explores the end of childhood and the bittersweet goodbye to Eatonville. ~ African – High School
Also available: Zora and Me // Zora and Me: The Cursed Ground
---
*You can buy any of the books on this site from Amazon USA by clicking on the book titles or covers*
---
---