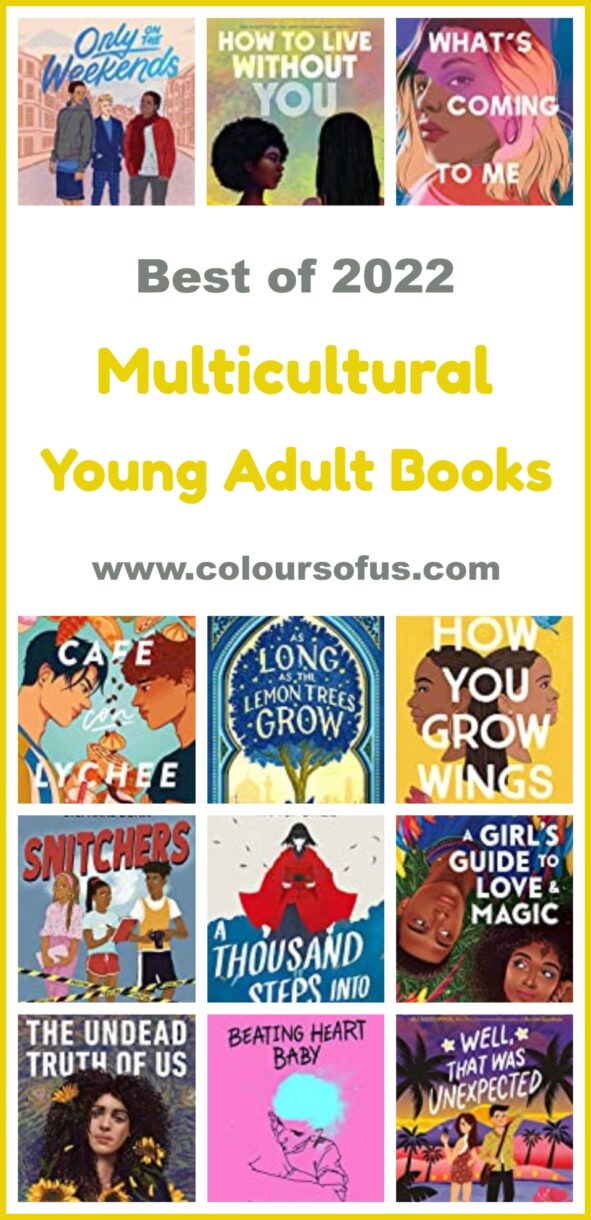 Following our lists of The 50 Best Multicultural Middle Grade Books of 2022 and The 100 Best Multicultural Picture Books of 2022, here is our selection of the best multicultural young adult books of 2022! With a great variety of themes and styles, there should be something for every teenager here. Enjoy browsing!
---
---
The 50 Best Multicultural Young Adult Books of 2022
---
Love Times Infinity
by Lane Clark
High school junior Michie is struggling to define who she is for her scholarship essays, her big shot at making it into Brown as a first-generation college student. Michie has been estranged from her mother since she was seven and her concept of family has long felt murky. And then new kid and basketball superstar Derek de la Rosa. He is very cute, very talented, and very much has his eye on Michie, no matter how invisible she believes herself to be. When Michie's mother unexpectedly reaches out to make amends, and with her scholarship deadlines looming, Michie must choose whether to reopen old wounds or close the door on her past. And as she spends more time with Derek, she'll have to decide how much of her heart she is willing to share. Love Times Infinity is a moving debut novel about identity, family, and love. ~ African – High School
Related: The 50 Best Multicultural Young Adult Books of 2021
---
Boys I Know
by Anna Gracia
While June Chu's mother insists she follow in her perfect sister's footsteps and get a violin scholarship to Northwestern, June doesn't see the point in trying too hard if she's destined to fall short anyway. Instead, she focuses her efforts on making her relationship with her not-so-committed boyfriend Rhys "official." But after her methodically planned, tipsily executed scheme explodes on the level of a nuclear disaster, she flings herself into a new relationship with a guy who's not allergic to the word girlfriend. But as the line between sex and love blurs, and pressure to map out her entire future threatens to burst, June will have to decide on whose terms she's going to live her life—even if it means fraying her relationship with her mother beyond repair. Boys I Know follows an authentic protagonist on an uncomfortable yet cathartic journey of self discovery. ~ Asian – High School
Related: 180+ Asian & Asian American Books For Children & Teenagers
---
Beating Heart Baby
by Lio Min
When artistic and sensitive Santi arrives at his new high school, everyone in the wildly talented marching band welcomes him with open arms. Everyone except for the prickly, proud musical prodigy Suwa, who doesn't think Santi has what it takes to be in the band. But Santi and Suwa share painful pasts, and when they open up to each other, a tentative friendship begins. And soon, that friendship turns into something more. . . . Will their fresh start rip at the seams as Suwa seeks out a solo spotlight, and both boys come to terms with what it will take to realize their dreams? Beating Heart Baby is a romantic queer love letter to internet friendships, anime, and indie rock. ~ Asian – High School
Related: 90 Multicultural LGBTQIA Books for Children & Teenagers
---
A Girl's Guide to Love & Magic
by Debbie Rigaud
Cicely Destin lives for the West Indian Day Parade, the joyous celebration of Caribbean culture that takes over the streets of her neighbourhood. This year she'll get to hang with her stylish aunt, an influencer known for dabbling in Haitian Vodou. And maybe spot her dreamy crush, Kwame, in the crowd. But fate has other ideas. Before the parade, a rogue, mischievous spirit seems to take possession of Cicely's aunt during a spiritual reading. Cicely hardly knows anything about Vodou, or how to get someone un-possessed. But it's up to her to set things right–and the clock is ticking. Along the way, will Cicely discover surprising powers of her on? Perfect for fans of The Sun Is Also a Star and Blackout, A Girl's Guide To Love & Magic is a celebration of Haitian and Caribbean culture, and a story of first love, vodou, and finding yourself. ~ African – High School
Related: 50 Children's & YA Books set in the Caribbean
---
I Rise
by Marie Arnold
Ayo's mother founded 'See Us', a civil rights movement that tackles police brutality and racial profiling in Harlem. Ayo has spent her entire life being an activist and now, she wants out. She wants to get her first real kiss, have a boyfriend, and just be a normal teen. When her mom is put into a coma after a riot breaks out between protesters and police, protestors want Ayo to become the face of 'See Us' and fight for justice for her mother who can no longer fight for herself. While she deals with her grief and anger, Ayo must also discover if she has the strength to take over where her mother left off. I Rise is an impactful novel about inequality, systemic racism, police violence, and social justice. ~ African – High School
Related: 100 Children's & YA Books to help talk about Racism & Discrimination
---
What's Coming to Me
by Francesca Padilla
In the seaside town of Nautilus, 17-year-old Minerva Gutiérrez absolutely hates her job at the local ice cream stand, where her sexist boss makes each day worse than the last. But she needs the money: kicked out of school and stranded by her mom's most recent hospitalization, she dreams of escaping her dead-end hometown. When an armed robbery at the ice cream stand stirs up rumors about money hidden on the property, Min teams up with her neighbour CeCe, also desperate for cash, to find it. The bonus? Getting revenge on her boss in the process. What's Coming To Me is an equally poignant and thrilling novel about grief, anger, and fighting for what you deserve. ~ Hispanic – High School
Related: Pura Belpré Award Winners 1996 – 2022
---
How You Grow Wings
by Rimma Onoseta
Nigerian Sisters Cheta and Zam couldn't be more different. Cheta, sharp-tongued and stubborn, never shies away from conflict—either at school or at home, where her mother fires abuse at her. Timid Zam escapes most of her mother's anger, skating under the radar and avoiding her sister whenever possible. In a turn of good fortune, Zam is invited to live with her aunt's family in the lap of luxury. Jealous, Cheta also leaves home, but to a harder existence that will drive her to terrible decisions. When the sisters are reunited, Zam alone will recognize just how far Cheta has fallen—and Cheta's fate will rest in Zam's hands. How You Grow Wings deftly explores classism, colorism, cycles of abuse, and the messy truths that sometimes, family is not a source of comfort, and that morality is all shades of grey. ~ African – High School
---
Blood Like Fate (Blood Like Magic)
by Liselle Sambury
The cost for becoming a full-fledged with was higher than Voya Thomas had imagined. Her grandmother is gone, her cousin hates her, and her family doesn't believe that she has what it takes to lead them. What's more, Voya can't let go of her feelings for Luc, sponsor son of the genius billionaire Justin Tremblay—the man that Luc believes Voya killed. Luc wants nothing to do with her. Even her own ancestors seem to have lost faith in her. Every day Voya begs for their guidance, but her calls go unanswered. As Voya struggles to convince everyone that she can be a good Matriarch, she has a vision of a terrifying, deadly future. A vision that would spell the end of the Toronto witches. Voya must do whatever it takes to bring her shattered community together and stop what's coming for them before it's too late. Blood Like Fate is the spellbinding sequel to Blood Like Magic, perfect for fans of Legendborn and Cemetery Boys. ~ African – High School
Related: 52 Multicultural Middle Grade & Young Adult Fantasy Books
---
The Undead Truth of Us
by Britney S. Lewis
16-year-old Zharie Young thinks her mother morphed into a zombie before her untimely death, but she can't seem to figure out why. Why her mother died, why her aunt doesn't want her around, why all her dreams seem suddenly, hopelessly out of reach. And why, ever since that day, she's been seeing zombies everywhere. Then tall, charming Bo moves into her apartment building, Z wants nothing to do with him. But when he transforms into a half zombie right before her eyes, something feels different. He contradicts everything she thought she knew about monsters, and she can't help but wonder if getting to know him might unlock the answers to her mother's death. The Undead Truth of Us is a surrealist novel that explores love, zombies, and everything in between in an intoxicating amalgam of the real and the fantastic. ~ African – High School
---
Seton Girls
by Charlene Thomas
Seton Academic High is obsessed with its football team and their 13-year conference win streak, a record that players always say they'd never have without Seton's girls. What exactly Seton girls do to make them so valuable, though, no one ever really says. They're just "the best." But the team's quarterback, the younger brother of the Seton star who started the streak, wants more than regular season glory. He wants a state championship before his successor, Seton's first Black QB, has a chance to overshadow him. Bigger rewards require bigger risks, and soon the actual secrets to the team's enduring success leak to a small group of girls who suddenly have the power to change their world forever. Seton Girls is a smart and twisty debut novel that starts off like Friday Night Lights and ends with the power and insight of Dear White People. ~ African – High School
---
---
Oblivion Rouge, Volume 1: The HAKKINEN
by Pap Souleye Fall & Saturday AM
In the near future, a virus called the LEUP has infected half the population. The resulting war between the people of Liam, known as the infected, and the people of Galoum, known as the immune, becomes a bloody and brutal affair. When a mysterious army called the Hakkinen emerges to quell the war between the two countries, they adopt children of war to aid them. Oumi and her friends are enlisted to help find a cure and end the bloodshed. Manga-inspired comic Oblivion Rouge is both a brutal dystopian depiction of the future and a beautiful exploration of the depth of the human spirit. ~ African – High School
Related: 80+ Multicultural Graphic Novels for Children & Teenagers
---
Twice as Perfect
by Louisa Onomé
For 17-year-old Adanna Nkwachi, life is all about duty: to school and the debate team, to her Nigerian parents, and even to her cousin Genny as Adanna helps prepare Genny's wedding. Because ever since her older brother, Sam, had a fight with their parents a few years ago and disappeared, somebody had to fill the void he left behind. Adanna may never understand what caused Sam to leave home, but the one thing she knows is that it's on her to make sure her parents' sacrifices aren't in vain. One day, chance brings the siblings together again. Sam, who was supposed to be an engineer, is now a poet. The more she learns about Sam's poetry, the more Adanna begins to wonder if maybe her own happiness is just as important as doing what's expected of her. Twice As Perfect follows a Nigerian Canadian dealing with familial pressures and finding her own way. ~ African – High School
---
How To Live Without You
by Sarah Everett
When her sister Rose disappeared, 17-year-old Emmy lost a part of herself. Everyone else seems convinced she ran away and will reappear when she's ready, but that doesn't make sense for the Rose Emmy knew: effervescent, caring, and strong-willed. So Emmy returns to their Ohio hometown for a summer, determined to uncover clues that can lead her to Rose. But what Emmy finds is a string of secrets and lies that she never thought possible, casting the person she thought she knew best in a whole new light. Reeling with confusion, Emmy decides to step into Rose's life. She reconnects with their childhood best friend and follows in Rose's last known footsteps with heart-wrenching consequences. How To Live Without You is a heart-wrenching coming-of-age story about family, grief, and second chances.  ~ African – High School
---
Ballad & Dagger (Outlaw Saints, 1)
by Daniel José Older
Many years ago, Mateo Matisse's island homeland disappeared into the sea. The survivors escaped to Brooklyn, New York. While the rest of his tight-knit community dreams of someday finding a way back home, Mateo–now a high school junior and piano prodigy– is focused on getting the attention of locally-grown musical legend Gerval. Mateo finally gets his chance on the night of the Grand Fete, an annual party celebrating the blended culture of pirates, Cuban Santeros, and Sephardic Jews that created San Madrigal all those centuries ago. But the evil that sank their island has finally caught up with them, and on the night of the celebration, Mateo's life is forever changed when he witnesses a brutal murder and is thrust into an ancient battle that spans years and oceans. The first novel in the Outlaw Saints duology, Ballad & Dagger transports readers to a world where magic, myth, and gods reign over the streets of Brooklyn. ~ African – High School
More 'Rick Riordan Presents' titles: Sal and Gabi Break the Universe // DragonPearl // Tristan Strong Punches a Hole in the Sky // Paola Santiago and the River of Tears // The Last Fallen Star
---
Only on the Weekends
by Dean Atta
Fifteen-year-old Mack is a hopeless romantic. He has liked Karim for as long as he can remember, and is ecstatic when Karim becomes his boyfriend—it feels like love. But when Mack's dad gets a job on a film in Scotland, Mack has to move, and soon he discovers how painful love can be. It's horrible being so far away from Karim, but the worst part is that Karim doesn't make the effort to visit. Then, when Mack meets actor Finlay on a film set, he experiences something powerful, a feeling like love at first sight. How long until he tells Karim—and when will his old life and new life collide? Written in verse, Only On Weekends is a beautifully nuanced story about the exquisite highs and lows of first love and self-discovery. ~ African – High School
---
All Signs Point to Yes
by Cam Montgomery et al.
A haunted Aquarius finds love behind the veil. An ambitious Aries will do anything to stay in the spotlight. A foodie Taurus discovers the best eats in town (with a side of romance). A witchy Cancer stumbles into a curious meet-cute. Whether it's romantic, platonic, familial, or something else you can't quite define, love is the thing that connects us. Straight from the hearts of thirteen multicultural YA authors, All Signs Point to Yes takes readers on a journey from their own backyard to the world beyond the living with thirteen star-studded stories of love and life. ~ Diverse – High School
---
Messy Roots: A Graphic Memoir of a Wuhanese American
by Laura Gao
After spending her early years in Wuhan, China, riding water buffalos and devouring stinky tofu, Laura emigrates to Texas, where her hometown is as foreign as Mars—at least until 2020, when COVID-19 makes Wuhan a household name. Messy Roots is a heartfelt graphic memoir about a girl who simply wants to make the basketball team, escape Chinese school, and figure out why girls make her heart flutter. ~ Asian – High School
Related: 80+ Multicultural Graphic Novels for Children & Teenagers
---
A Thousand Steps Into Night
by Traci Chee
In the realm of Awara, where gods, monsters, and humans exist side by side, Miuko is an ordinary girl resigned to a safe, if uneventful, existence as an innkeeper's daughter. But when Miuko is cursed and begins to transform into a demon with a deadly touch, she embarks on a quest to reverse the curse and return to her normal life. With her transformation comes power and freedom she never even dreamed of, and she'll have to decide if saving her soul is worth trying to cram herself back into an ordinary life that no longer fits her… and perhaps never did. A Thousand Steps Into Night is a Japanese-influenced fantasy brimming with demons, adventure, and plans gone awry. ~ Asian – High School
Related: 180+ Asian & Asian American Books for Children & Teenagers
---
The Rumor Game
by D. Clayton & S. Charaipotra
Bryn used to have it all―the perfect boyfriend, a bright future in politics, and popularity thanks to her best friend, cheer captain Cora. Then one mistake sparked a scandal that burned it all to the ground. But now the spotlight at Foxham Prep has shifted: It's geeky Georgie, newly hot after a summer makeover, whose name is on everyone's lips. When a rumor ignites, Georgie rockets up the school's social hierarchy, pitting her and Cora against each other. As the rumors grow and morph, all three girls' lives begin to unravel. But one person close to the drama has the power to stop the gossip in its tracks. The question is―do they even want to? The Rumor Game is an edge-of-your-seat social thriller with a twist. ~ Diverse – High School
Related: The 50 Best Multicultural Young Adult Books of 2021
---
All My Rage: A Novel
by Sabaa Tahir
Pakistani American Salahudin and Noor are more than best friends; they are family. Growing up as outcasts in the small desert town of Juniper, California, they understand each other the way no one else does. Until The Fight, which destroys their bond with the swift fury of a star exploding. Now, Sal scrambles to run the family motel as his mother's health fails and his grieving father loses himself to alcoholism. When Sal's attempts to save the motel spiral out of control, he and Noor must ask themselves what friendship is worth—and what it takes to defeat the monsters in their pasts and the ones in their midst. All My Rage is a breathtaking novel of young love, old regrets, and forgiveness. ~  Asian – High School
Related: 15 Children's Books set in Pakistan
---
---
African Town
by I. Latham & C. Waters
In 1860, long after the United States outlawed the importation of enslaved laborers, 110 men, women and children from Benin and Nigeria were captured and brought to Mobile, Alabama aboard a ship called Clotilda. Their journey includes the savage Middle Passage and being hidden in the swamplands along the Alabama River before being secretly parceled out to various plantations, where they made desperate attempts to maintain both their culture and fit into the place of captivity. At the end of the Civil War, the survivors created a community called African Town, which still exists to this day. Told in 14 distinct voices, African Town is a powerful and stunning novel-in-verse about the last Africans brought illegally to America. ~ African – High School
Related: The 50 Best Multicultural Young Adult Books of 2021
---
Sunny G's Series of Rash Decisions
by Navdeep Singh Dhillon
When Sunny G's brother died, he left him his notebook, which Sunny is determined to fill up with a series of rash decisions. Decision number one: He stops wearing his turban, cuts off his hair, and shaves his beard. He doesn't look like a Sikh anymore. He doesn't look like himself anymore. Even his cosplay doesn't look right without his beard. He's skipping the big fandom party —the one where he'd normally be in full cosplay, up on stage playing bass with his band and his best friend, Ngozi— to debut his new look at prom, which he's stuck going to alone. Enter Mindii Vang, a girl with a penchant for making rash decisions of her own, starting with stealing Sunny's notebook. When Sunny chases after her, prom turns into an all-night adventure full of rash, wonderful, romantic, stupid, life-changing decisions. Sunny G's Series of Rash Decisions is an endearing romantic comedy about a Sikh teen's search for love and identity. ~ Asian – High School
Related: The 50 Best Multicultural Young Adult Books of 2021
---
Bitter
by Akwaeke Emezi
After a childhood in foster care, Bitter is thrilled to have been chosen to attend Eucalyptus, a special school where she can focus on her painting surrounded by other creative teens. But outside this haven, the streets are filled with protests against the deep injustices that grip the city of Lucille. Bitter's instinct is to stay safe within the walls of Eucalyptus . . . but  her  friends  aren't  willing  to  settle  for  a  world  that's  so  far  away from what they deserve. Pulled between old friendships, her artistic passion, and a new romance, Bitter isn't sure where she  belongs—in  the  studio  or  in  the  streets.  And  if  she  does  find a way to help the revolution while being true to who she is, she must also ask: at what cost? Companion to acclaimed Pet, Bitter is a timely and riveting novel that explores the power of youth, protest, and art. ~ African – High School
Related: 100 Children's Books to help talk about Racism & Discrimination
---
Every Variable of Us
by Charles A. Bush
Academics have never been her thing, but Alexis is freshly motivated by Aamani Chakrabarti, the new Indian student who becomes her friend (and crush?). When she is injured in a gang shooting, her dreams of a college scholarship and pro basketball career vanish in an instant. To avoid becoming another Black teen trapped in her poverty-stricken neighbourhood, she shifts her focus to the school's STEM team, a group of self-professed nerds seeking their own college scholarships. Every Variable of Us is a heartfelt and authentic account of a Black teenager trying to find her place in the world. ~ African – High School
Related: 75+ Multicultural LGBTQIA Books for Children & Teenagers
---
Girl on Fire
by Alicia Keys
14-year-old Lolo's world explodes when a cop pulls a gun on her brother, James, in a dangerous case of mistaken identities. Staring down the barrel, with no one else to help, Lolo discovers powers she never knew she had. Using only her mind, she literally throws the cop out of the way. Skin, a dangerous dealer with designs on taking over the neighborhood, hears of Lolo's telekinetic abilities and decides that he needs her in his crew. Lolo's not willing to let Skin use her to hurt the people—and neighbourhood—that she loves. But it's going to take a whole different kind of bravery to stand-up for what's right. Girl on Fire is a poignant graphic novel, about finding the strength within in times of adversity. ~ African – High School
Related: 250 Children's Books Celebrating Black Girls
---
Turning
by Joy L. Smith
Genie used to fouetté across the stage. Now the only thing she's turning are the wheels to her wheelchair. Genie was the star pupil at her exclusive New York dance school, with a bright future and endless possibilities before her. Now all she wants is to be left alone. But then she meets Kyle whose traumatic brain injury has sent him to the same physical therapist that Genie sees. With Kyle's support, Genie starts to see a new path. But healing also means confronting: The booze her mother, a recovering alcoholic, has been hiding under the kitchen sink; the ex-boyfriend who was there the night of the fall and won't leave her alone; and the fact that the accident may not have been so accidental after all. Turning is a raw, searingly honest debut novel about a teenager who must confront her past in order to move forward. ~ African – High School
---
Right Where I Left You
by Julian Winters
Isaac Martin is ready to kick off his last summer before heading off to college where he won't have his best friend, Diego. Where—despite his social anxiety—he'll be left to make friends on his own. Knowing his time with Diego is limited, Isaac enacts a foolproof plan: snatch up a pair of badges for the epic comic convention, Legends Con, and attend his first ever Teen Pride with Diego. But then he has an unexpected run-in with Davi, his old crush… Right Where I left You is a deliciously geeky best friends-to lovers romance from award-winning author Julian Winters. ~ Diverse – High School
Related: 75+ Multicultural LGBTQIA Books for Children & Teenagers
---
Break This House
by Candice Iloh
Yaminah Okar left Obsidian and the wreckage of her family years ago. She and her father have made lives for themselves in Brooklyn. She thinks she's moved on to bigger and better things. She thinks she's finally left behind that city she would rather forget. But when a Facebook message about her estranged mother pierces Yaminah's new bubble, memories of everything that happened before her parents' divorce come roaring back. Now, Yaminah must finally reckon with the truth about her mother and the growing collapse of a place she once called home. Break This House is a heartfelt novel about a teenager reckoning with her family's—and her home town's—secrets. ~ African – High School
---
Burn Down, Rise Up
by Vincent Tirado
For over a year, the Bronx has been plagued by sudden disappearances that no one can explain. Sixteen-year-old Raquel does her best to ignore it until her crush Charlize's cousin goes missing. Raquel and Charlize team up to investigate and soon discover that everything is tied to a terrifying urban legend called the Echo Game. The game is rumored to trap people in a sinister world underneath the city, and the rules are based on a particularly dark chapter in New York's past. If the girls want to save their home and everyone they love, they will have to play the game and destroy the evil at its heart―or die trying. Burn Down, Rise Up is a thrilling queer action novel that readers will find hard to put down. ~ African – High School
Related: 75+ Multicultural LGBTQIA Books for Children & Teenagers
---
Rising Troublemaker: A Fear-Fighter Manual for Teens
by Luvvie Ajayi Jones
The world can feel like a dumpster fire, with endless things to be afraid of. It can make you feel powerless to ask for what you need, use your voice, and show up truly as your whole self. And often people make you feel like your way of showing up is too much. Be too much, and use it for good! That is what it means to be a troublemaker. Rising Troublemaker gives young people the permission they might need to be the troublemakers they are, or wish to be. In this young readers edition of her bestseller Professional Troublemaker, Luvvie Ajayi Jones uses her honesty and humour to inspire teens to be their bravest, boldest, truest selves, in order to create a world they would be proud to live in. ~ Diverse – High School
---
---
Confessions of an Alleged Good Girl
by Joya Goffney
Monique is a preacher's daughter who detests the impossible rules of her religion. Everyone expects her to wait until marriage, so she has no one to turn to when she discovers that she physically can't have sex. After two years of trying and failing, her boyfriend breaks up with her. To win him back, Monique teams up with straight-laced church girl Sasha—who is surprisingly knowledgeable about Monique's condition—as well as Reggie, the misunderstood bad boy who always makes a ruckus at church, and together they embark upon a top-secret search for the cure. While on their quest, Monique discovers the value of a true friend and the wonders of a love that accepts her for who she is. Despite everyone's opinions about her virtue, she learns to live for herself, inspiring us all to reclaim our bodies and unapologetically love ourselves. Confessions of an Alleged Good Girl is a heartfelt yet funny novel about friendship, love and self-acceptance. ~ African – High School
---
Inheritance: A Visual Poem
by Elizabeth Acevedo
"They tell me to "fix" my hair. / And by fix, they mean straighten, they mean whiten; / but how do you fix this shipwrecked / history of hair?" In her most famous spoken-word poem, author of the Pura Belpré-winning novel-in-verse The Poet X Elizabeth Acevedo embraces all the complexities of Black hair and Afro-Latinidad—the history, pain, pride, and powerful love of that inheritance. Paired with full-colour illustrations, Inheritance: A Visual Poem can now be read in a vibrant package, making it the ideal gift, treasure, or inspiration for readers of any age. ~ African – High School
---
Kings of B'more
by R. Eric Thomas
With junior year starting in the fall, Harrison feels like he's on the precipice of, well, everything. With standardized testing, college, and the terrifying unknowns and looming pressures of adulthood, he is grateful that to have his best friend, Linus, by his side. But then Linus delivers devastating news: He's moving out of state at the end of the week. If they won't be having all the life-expanding experiences they thought they would, Harrison will squeeze them all into their last day together. They end up on a mini road trip, their first Pride, and a rooftop dance party, all while keeping their respective parents, who track them on a family location app, off their trail. Harrison and Linus make a pact to do all the things—big and small—they've been too scared to do. But nothing feels scarier than saying goodbye to someone you love. Kings of B'more is a charming and hilarious debut novel about two Black queer friends on an epic journey through Baltimore. ~ African – High School
Related: 75+ Multicultural LGBTQIA Books for Children & Teenagers
---
Perfect Score (Hunt A Killer Original Novel)
by A.M. Ellis
Aspiring PI Jolene Kelley is skipping class at her fancy new private school, North Shore Prep, when she witnesses her beloved guidance counselor fall in front of an oncoming L train. The police call Mr. Medina's death a tragic accident, but Jo knows it was murder. With help from her friends Sabrina and Frankie — and the inside scoop from her public-defender parents and her mentor at the state attorney's office — Jo opens up her own investigation. She uncovers a scandal brewing at North Shore Prep that Mr. Medina had found out about. Jo has a slew of suspects, including administrators, students, parents, and even local politicians. Can she figure out which one is the killer before she becomes their next victim? Part of the Hunt A Killer series, Perfect Score is a thrilling YA mystery novel based on the bestselling subscription game. ~ African – High School
---
The Gilded Ones #2: The Merciless Ones
by Namina Forna
It's been six months since Deka freed the goddesses in the ancient kingdom of Otera and discovered who she really is… but war is waging across the kingdom, and the real battle has only just begun. For there is a dark force growing in Otera that Deka and her army must stop. Yet hidden secrets threaten to destroy everything Deka has known. And with her own gifts changing, Deka must discover if she holds the key to saving Otera… or if she might be its greatest threat. The Merciless Ones is the much anticipated second installment of the epic fantasy series about a girl with the power to remake her world—or destroy it. ~ African – High School
Also available: The Gilded Ones
---
Unequal: A Story of America
by M.E. Dyson & M. Fayreau
The true story of racial inequality—and resistance to it—is the prologue to our present. You can see it in where we live, where we go to school, where we work, in our laws, and in our leadership. Unequal presents a gripping account of the struggles that shaped America and the insidiousness of racism, and demonstrates how inequality persists. As listeners meet some of the many African American people who dared to fight for a more equal future, they will also discover a framework for addressing racial injustice in their own lives. Unequal: A Story of America delivers an urgent, enlightening account of racial inequality in the U.S. ~ African – High School
Related: 100 Children's Books to help talk about Racism & Discrimination
---
Café Con Lychee
by Emery Lee
Theo Mori and Gabriel Moreno have always been at odds. Their parents own rival businesses—an Asian American café and a Puerto Rican bakery—and Gabi's lack of coordination has cost their soccer team too many games to count. Stuck in the closet and scared to pursue his own dreams, Gabi sees his parents' shop as his future. Stuck under the weight of his parents' expectations, Theo's best shot at leaving Vermont means first ensuring his parents' livelihood is secure. So when a new fusion café threatens both shops, Theo and Gabi realize an unfortunate truth—they can only achieve their goals by working together to cook up an underground bakery operation and win back their customers. But can they put aside their differences long enough to save their parents' shops or will the new feelings between them boil over? Café Con Lychee is a delectable queer rom-com that's brimming with zest and a sprinkle of sweetness. ~ Diverse – High School
Related: 75+ Multicultural LGBTQIA Books for Children & Teenagers
---
Love Radio
by Ebony LaDelle
Prince Jones is the guy with all the answers—or so it seems. After all, at 17, he has his own segment on Detroit's popular hip-hop show, Love Radio, where he dishes out advice to the brokenhearted. Prince has always dreamed of becoming a DJ and falling in love. But being the main caretaker for his mother, who has multiple sclerosis, and his little brother means his dreams will stay just that. Until he meets Dani Ford. She's focused on her plan to ace senior year, score a scholarship, and move to New York City to become a famous author. When the romantic DJ meets the ambitious writer, sparks fly. Prince is smitten, but Dani's not looking to get derailed. She gives Prince just three dates to convince her that he's worth falling for. Love Radio is a witty and effortless romance novel teens will find unputdownable. ~ African – High School
---
Deep in Providence
by Riss M. Neilson
For best friends Miliani, Inez, Natalie and Jasmine, Providence, Rhode Island has a magic of its own. From the bodegas and late-night food trucks on Broad Street to The Hill that watches over the city, every corner of Providence glows with memories of them practicing spells, mixing up potions and doing séances with the help of the magic Miliani's Filipino grandfather taught her. But when Jasmine is killed by a drunk driver, the friends are haunted by grief…and Jasmine's lingering spirit. Determined to bring her back, the friends band together, testing the limits of their magic and everything they know about life, death, and each other. Thrilling and absorbing, Deep in Providence is a story of profound yearning, and what happens when three teen girls are finally given the power to go after what they want. ~ Diverse – High School
Related: 40 Filipino American Books for Children & Teenagers
---
Beasts of Ruin
by Ayana Gray
Beast of Ruin is the much anticipated follow up to bestselling Beasts of Prey. Koffi has saved her city and the boy she loves, but at a terrible price. Now a servant to the cunning god of death, she must use her newfound power to further his continental conquest, or risk the safety of her home and loved ones. As she reluctantly learns to survive amidst unexpected friends and foes, she will also have to choose between the life—and love—she once had, or the one she could have, if she truly embraces her dangerous gifts. Cast out from the only home he's ever known, Ekon is forced to strike new and unconventional alliances to find and rescue Koffi before it's too late. But as he gets closer to the realm of death each day, so too does he draw nearer to a terrible truth—one that could cost everything. Koffi and Ekon—separated by land, sea, and gods—will have to risk everything to reunite again. But the longer they're kept apart, the more each of their loyalties are tested. ~ African – High School
Related: 52 Multicultural Middle Grade & Young Adult Fantasy Books
---
---
Creep: A Love Story
by Lygia Day Peñaflor
Laney Villanueva and Nico Fiore are the perfect couple: beautiful, popular, talented, and hopelessly in love. Everyone looks up to them at Holy Family High School. But Rafi doesn't just admire them. She watches them. She's drawn to them. Intent on becoming their closest friend, Rafi weaves her way into their lives. She starts small: taking photos of the senior class for the yearbook, joining Laney's club, and babysitting Nico's little sister. And it works—soon they invite her to parties, take her on joyrides, and ask her for favors. Rafi's actions quickly turn invasive, delving deeper and deeper until she's consumed by their most intimate secrets. When tragedy strikes the young lovers, Rafi's obsession spirals, and she will do anything to keep the perfect couple together. Anything . . . Creep: A Love Story is a twisted, tragic love story that follows Holy Family High School's cutest couple—as told through the eyes of the classmate who's stalking them. ~ Hispanic – High School
Related: 300+ Hispanic Children & YA Books
---
The Weight of Blood
by Tiffany D. Jackson
An outcast at her small-town Georgia high school, Madison Washington has always been a target for bullies. One morning her most closely kept secret is revealed: Maddy is biracial. She has been passing for white her entire life at the behest of her fanatical white father, Thomas Washington. After a racist video goes viral, student leaders plan to host the school's first integrated prom as a show of unity. The popular white class president convinces her Black superstar quarterback boyfriend to ask Maddy to be his date, leaving Maddy wondering if it's possible to have a normal life. But some of her classmates aren't done with her just yet. And what they don't know is that Maddy still has another secret . . . one that will cost them all their lives. The Weight of Blood is a suspenseful young adult novel that tackles America's history and legacy of racism. ~ African – High School
Related: 100 Children's Books to help talk about Racism & Discrimination
---
As Long as the Lemon Trees Grow
by Zoulfa Katouh
Salama Kassab was a pharmacy student when the cries for freedom broke out in Syria. Now she volunteers at a hospital in Homs, helping the wounded who flood through the doors daily. Secretly, though, she is desperate to find a way out of her beloved country before her sister-in-law, Layla, gives birth. So desperate, that she has manifested a physical embodiment of her fear in the form of her imagined companion, Khawf, who haunts her every move in an effort to keep her safe. But even with Khawf pressing her to leave, Salama is torn between her loyalty to her country and her conviction to survive. And when she crosses paths with the boy she was supposed to meet one fateful day, she starts to doubt her resolve in leaving home at all. As Long As The Lemon Trees Grow is a powerful love letter to Syria and its people, set amid the Syrian Revolution. ~ Asian – High School
Related: 180+ Asian & Asian American Books For Children & Teenagers
---
Snitchers
by Stephane Dunne
When the little boy she babysits is caught in the crossfire of a drive-by shooting, Nia and her best friends Dontay and Miracle Ruth secretly set out to get him justice. They look up police reports and listen to the conversations of their elders; they try to follow suspects the way Nia's favorite teen detectives might. But the search for truth isn't straightforward, especially when you're somewhere between being kids and adults, and people are afraid to talk. Snitchers is an endearing, heart-wrenching novel about loss, truth, and the reality of violence in communities everywhere. ~ African – High School
Related: The 50 Best Multicultural Young Adult Books of 2021
---
Eternally Yours
by Patrice Caldwell
A girl in a graveyard goes on an unexpected date, a shipwrecked sailor makes a connection on a forbidden island, a piano melody summons a soul mate. Creatures of folktales and legend, of land and sea, of centuries past and life after life, all wrapped into one spellbinding compendium. Eternally Yours is an irresistible paranormal romance anthology filled with tales of the mortal and the monstrous by fifteen of today's bestselling writers, including Kalynn Bayron, Kat Cho, Melissa de la Cruz, Hafsah Faizal, Chloe Gong, Adib Khorram, Akshaya Raman, and others. ~ Diverse – High School
---
Until We Break
by Matthew Dawkins
As the only Black student at her ballet academy, Naomi Morgan knows her feelings of isolation are the price she has to pay in order to win the Youth American Grand Prix, the country's most prestigious dance competition. Nothing else matters. But when Naomi's dance instructor assigns her Odette's variation from Swan Lake, Naomi doesn't think she can dance the part. Her best friend, Jessica, who used to be her sounding board and support died in a freak car accident, and Naomi has been burying her grief by focusing on her dancing. But when an injury steals that refuge, Naomi's mental health deteriorates and she starts to seek answers outside of her carefully constructed reality. Then one night, she meets Saint, a street artist, and he opens up an entirely new world for her. Until We Break is a heartfelt story about grief and finding your place. ~ African – High School
Related: 22 Multicultural Children's Books About Brave Ballerinas
---
The Getaway
by Lamar Giles
Jay is living his best life at the famous Karloff Country resort. Life isn't so great for the rest of the world, and people come here to get away from all that. As things outside get worse, trouble starts seeping into Karloff. First, Jay's friend Connie and her family disappear in the middle of the night and no one will talk about it. Then the richest and most powerful families arrive and aren't leaving. Unknown to the employees, the resort has been selling shares in an end-of-the-world oasis. And in order to deliver the top-notch customer service the wealthy clientele paid for, the employees will be at their total beck and call. But Karloff Country didn't count on Jay and his crew–and just how far they'll go to find out the truth and save themselves. The Getaway is a thrilling dystopian novel that young adults will find hard to put down. ~ African – High School
---
Well, That Was Unexpected
by Jesse Q. Sutanto
After Sharlot Citra's mother catches her in a compromising position, she finds herself whisked away from LA to her mother's native Indonesia. When George Clooney Tanuwijaya's father (who is obsessed with American celebrities) fears he no longer understands how to get through to his son, he decides to take matters into his own hands. To ensure that their children find the right kind of romantic partner, Sharlot's mother and George's father strike up a conversation online, pretending to be their children. When the kids find out, they're horrified. Not even a trip to one of the most romantic places on earth could possibly make Sharlot and George fall for each other. But as the layers peel back, the truth becomes more complicated. As unlikely as it may seem, did their parents manage to find their true match after all? Well, That Was Unexpected is a laugh-out-loud rom-com from the bestselling author of Dial A for Aunties and The Obsession. ~ Asian – High School
Related: 180+ Asian & Asian American Books For Children & Teenagers
---
A Scatter of Light
by Malinda Lo
After a graduation party gone wrong, Aria Tang West's parents exile her to California to stay with her grandmother, artist Joan West. Aria expects boredom, but what she finds is Steph Nichols, her grandmother's gardener. Soon, Aria is second-guessing who she is and what she wants to be, and a summer that once seemed lost becomes unforgettable—for Aria, her family, and the working-class queer community Steph introduces her to. A Scatter of Light is a masterful queer coming-of-age story, set against the backdrop of the first major Supreme Court decisions legalizing gay marriage. And almost sixty years after the end of Last Night at the Telegraph Club, it also offers a glimpse into Lily and Kath's lives since 1955. ~ Asian – High School
Related: 90 Multicultural LGBTQIA Books for Children & Teenagers
---
The First to Die at the End
by Adam Silvera
Can Death-Cast actually predict when someone will die, or is it just an elaborate hoax? Orion Pagan has waited years for someone to tell him that he's going to die. He has a serious heart condition, and he signed up for Death-Cast so he could know what's coming. Valentino Prince is restarting his life in New York. He has a long and promising future ahead and he only registered for Death-Cast after his twin sister nearly died in a car accident. Orion and Valentino cross paths in Times Square and immediately feel a deep connection. But when the first round of End Day calls goes out, their lives are changed forever—one of them receives a call, and the other doesn't. Though neither boy is certain how the day will end, they know they want to spend it together…even if that means their goodbye will be heartbreaking. Prequel to bestselling They Both Die at the End, The First To Die At The End is a bittersweet story that celebrates living life to the fullest. ~ Diverse – High School
Related: 90 Multicultural LGBTQIA Books for Children & Teenagers
---
*You can buy any of the books on this site from Amazon USA by clicking on the book titles or covers*
---
---