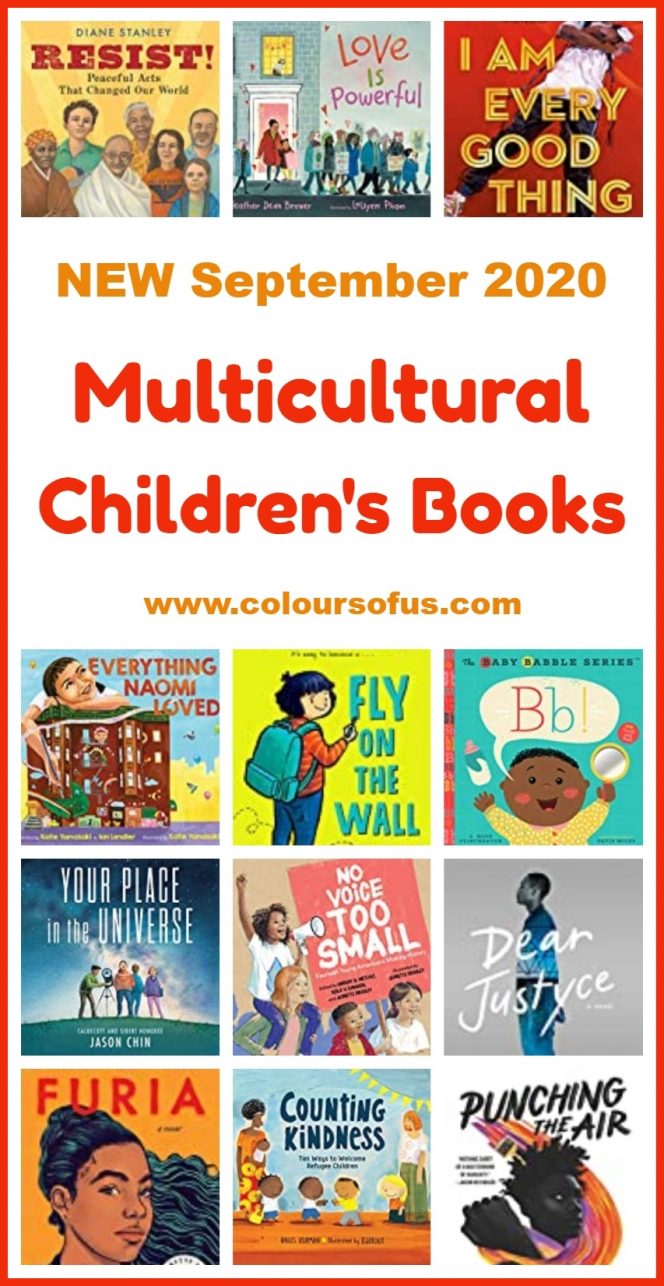 There were so many exciting new multicultural children's book releases this month, it was difficult for us to decide which ones are our favourite ones. But here we go: Families Belong (Babies & Toddlers), I Am Every Good Thing (Preschool), Your Place In The Universe (Elementary School), Before The Ever After (Middle School), and Punching The Air (High School). Enjoy browsing this list!
---
NEW Multicultural Children's Books September 2020
---
Babies & Toddlers
---
Families Belong
by Dan Saks
"Families belong / Together like a puzzle /  Different-sized people / One big snuggle." Through a handful of specific yet universal scenarios, from singing songs together to sharing food together, from dancing together to lying still together, Families Belong is a delightful celebration of the unconditional love and comfort shared within a family. ~ Diverse – Babies &  Toddlers
---
Baby Babbles B
by C. Hope Flinchbaugh
"See the baby? /  What's baby's name? / Say . . .BABY." The first book in the Baby Babbles series introduces the "B" sound with words like book, blanket, and bye bye. Filled with mirrors, textured material, and flaps, this interactive board book invites babies to touch and feel each new word, providing kinesthetic, visual, and auditory sensory experiences that will develop their language skills and delight their hands, eyes, and ears with every turn of the page. ~ Diverse – Babies &  Toddlers
---
My Bed: Enchanting Ways to Fall Asleep Around the World
by Rebecca Bond
"My bed rocks on water / My bed sways in the breeze. / My bed's beneath a curtain / My bed's aloft in trees . . ." In the Netherlands, some beds rock on water. In Brazil they might sway in the breeze. From Canada to Japan, Afghanistan to Norway, sleep has taken many forms and shapes throughout history. With delightful rhymes and charming hand-stitched art, My Bed celebrate the many ways we sleep across the world. ~ Diverse – Babies &  Toddlers
Related: 25 Multicultural Books About Children Around The World
---
Bronxtones (Bronx Baby)
by Alex Rivera
Where can you find your best friend playing with a RED balloon, tamales from your favorite GREEN cart, or YELLOW pineapple raspados? The Bronx! The first board book in a new series, bilingual Bronxtones teaches little ones about colours through the vibrant palette of the Bronx, captured by Bronx native Alex Rivera's eye-catching photographs and creative design. ~ Diverse – Babies &  Toddlers
---
---
Preschool
---
I Am One: A Book of Action
by Susan Verde
One seed to start a garden, one note to start a melody, one brick to start breaking down walls: Every movement and moment of change starts with purpose, with intention, with one. With me. With you. From the #1 New York Times bestselling team behind I Am Yoga, I Am Peace, I Am Human, and I Am Love comes this powerful call to action. I Am One encourages little readers to raise their voice, extend a hand, and take that one first step to start something beautiful. Includes a guided mediation and self-reflection activity. ~ African – Preschool
---
I Am Every Good Thing
by Derrick Barnes
"I am / a nonstop ball of energy. / Powerful and full of light. / I am a go-getter. / A difference maker. A leader." A confident Black boy is proud of everything that makes him who he is. He's got big plans, and no doubt he'll see them through–as he's creative, adventurous, smart, funny, and a good friend. Sometimes he falls, but he always gets back up. And other times he's afraid, because he's so often misunderstood and called what he is not. I Am Every Good Thing is an empowering picture book from the team that created the award-winning Crown: An Ode to the Fresh Cut. ~ African – Preschool
Related: 20 Multicultural Children's Books To Help Build Self-Esteem// 150 Children's Books Celebrating Black Boys
---
Every Night Is Pizza Night
by J. Kenji López-Alt
Pipo is adament that pizza is the best. It is scientific fact. But when she sets out on a quest through her multicultural neighbourhood to prove it, she discovers that "best" might not mean what she thought it meant. Every Night Is Pizza Night is a delightful story about open-mindedness, community and family. Includes a pizza recipe. ~ Diverse – Preschool
---
Superhero Gran
by Timothy Knapman
All grandmothers are wonderful, and this gran is no exception. She might not lift buildings or go whooshing through the sky, but she can plan super sleepovers, tell tickle-filled stories, and even put together great disguises to make a superhero team with her grandchildren. With vibrant illustrations, Superhero Gran is a fun story celebrating the special bond between children and their grandmothers . ~ African – Preschool
Related: 40+ Multicultural Children's Books about Grandparents // 22 Multicultural Children's Books featuring Superheroes
---
Jabari Tries
by Gaia Cornwall
Jabari is making a flying machine in his backyard! "It'll be easy. I don't need any help," he declares. But it doesn't work! Jabari is frustrated. Good thing Dad is there for a pep talk and his little sister, Nika, is there to assist, fairy wings and all. With the endearing father-child dynamic of Jabari Jumps and engaging mixed-media illustrations, Jabari Tries is an endearing story about perseverance, flexibility, and family. ~ African – Preschool
Related: 150 Children's Books Celebrating Black Boys
---
Love Is Powerful
by Heather Dean Brewer
"Mari raised her sign for everyone to see. / Even though she was small and the crowd was very big, / and she didn't think anyone / would hear, / she yelled out." Inspired by a girl who participated in the January 2017 Women's March in New York City, Love Is Powerful is an uplifting and delightfully illustrated story about a little girl with a big message. ~ African – Preschool
Related: 250 Children's Books Celebrating Black Girls
---
Everything Naomi Loved
by Katie Yamasaki & Ian Lendler
Honking cars, pizza by the slice, Hair by Carmen, the corner bodega, her best friend, Ada – Naomi loves everything about her lively neighbourhood. But 11th Street begins to change. Shops close, buildings are torn down, and signs promise something new. Faced with the transformation of her city block, Naomi picks up a paintbrush and turns her 11th Street memories into a great mural―and discovers that where she finds people to love, she will have a place to love. Everything Naomi Loved is a heartfelt celebration of community, friendship and belonging. ~ Diverse – Preschool
Related: 12 Multicultural Children's Books about the Power of Community
---
---
Ming's Christmas Wishes
by Susan L. Gong
Ming has three wishes for Christmas: To sing in the school Christmas choir, to have a Christmas tree, and to belong somewhere. As a daughter of immigrants in 1930s California, Ming is often treated differently at school and pointedly not invited to sing in the Christmas choir. At home, when Ming asks for a Christmas tree, her mother scolds her for trying to be American. Ming doesn't seem to fit in anywhere: she's not quite American enough at school, not quite Chinese enough at home. Seeing his daughter's unhappiness, Pop takes her into the mountains to visit a wise old friend. Ming's Christmas Wishes is a heartwarming story about heritage, family and identity. ~ Asian – Preschool
Related: 24 Multicultural Children's Books about Christmas
---
Red Shoes
by Karen English
Malika is delighted when Nana surprises her with a beautiful new pair of red shoes! She wears them everywhere she goes until she outgrows them. So Malika and Nana take them to the Rare Finds Resale Shop. "Who will be the next to wear the red shoes?", Malika wonders. Inna Ziya buys the shoes, and readers follow them all the way across the world to Ghana in Africa, where little Amina, who has fasted her first time for Ramadan, is about to get an amazing gift! Red Shoes is a sweet story about a pair of shoes, two girls, and a connection they share across continents. ~ African – Preschool
---
Binny's Diwali
by Thrity Umrigar
Binny is excited but also nervous to talk to her class about Diwali, her favorite holiday. Taking a deep breath, she tells her classmates about the fireworks that burst like stars in the night sky, leaving streaks of gold and red and green. She shares with them delicious pedas and jalebis. And she shows them clay lamps, called diyas, which look so pretty that all the children ooh and aah. With enchanting illustrations, Binny's Diwali teaches little readers about the Hindu festival of lights. ~ Asian – Preschool
Related: Top 10 Diwali Children's Books
---
Digging for Words: José Alberto Gutiérrez and the Library He Built
by Angela Burke Kunkel
In the city of Bogata, little José dreams of Saturdays– the day he gets to visit Paradise, the library. Another José is a garbage collector who scans the sidewalks as he drives, searching household trash for hidden treasure . . . books! Ever since he found his first book, Anna Karenina, he's been collecting books for his home library. And on Saturdays, kids like little José run to the steps of Paradise to discover a world filled with wonder. Based on the life of José Alberto Gutiérrez, Digging For Words is an inspiring celebration of perseverance, community, and the power of books. ~ Hispanic – Preschool
Related: 15 Multicultural Childrens Books Celebrating Books & Reading
---
Counting Kindness: Ten Ways to Welcome Refugee Children
by Hollis Kurman
More than half of the world's refugees are children, with millions of kids fleeing wars, floods, and other scary situations in search of a safe place to live. Arriving in a new place after a stressful journey, is traumatic for children and they need a warm welcome from their new communities. Endorsed by Amnesty International, Counting Kindness promotes inclusivity as children count from one to ten with one boat, two helping hands, and the generosity and kindness of many. ~Diverse – Preschool
Related: 30 Multicultural Picture Books about Immigration // 25 Multicultural Children's Books teaching Kindness & Empathy
---
Hot Pot Night!
by Vincent Chen
"What's for dinner?", four families in an apartment building ask. A little Taiwanese American boy's enthusiastic answer of "Hot pot!" is met with jubilation and spurs immediate action. One family provides the hot pot, another the broth, while the others bring the meat and vegetables. Everybody digs in until there is no more and then all pitch in to wash the dishes. Includes recipe. Hot Pot Night! is a delightful story that celebrates community, cooperation, and culture. ~ Asian – Preschool
Related: 12 Multicultural Children's Books about the Power of Community
---
Norman: One Amazing Goldfish!
by Kelly Bernett
Norman is set to dazzle the crowd at Pet-O-Rama with his circles, bubbles, and flips—even though some kids don't think a goldfish is a good pet. But he freezes up on stage and hides behind his plant. When his owner plays a familiar song on the tuba, Norman relaxes and shows the crowd how amazing he really is. Norman: One Amazing Goldfish! sees the return of the popular stars of Not Norman in a wryly funny story about being there for your fishy friend when he needs you most. ~ African – Preschool
Related: 18 Multicultural Children's Books about Fear and Courage
---
---
Elementary School
---
Sometimes People March
by Tessa Allen
"Sometimes people march / to resist injustice, / to stand in solidarity, / to inspire hope. Throughout American history, one thing remains true: no matter how or why people march, they are powerful because they march together. With a spare, inspiring text and gorgeous watercolour illustrations, Sometimes People March is a timeless and inspiring book for young activists. ~ Diverse – Elementary School
---
Evelyn Del Rey Is Moving Away
by Meg Medina
Evelyn and Daniela are best friends. They do everything together and even live in twin apartments across the street from each other: Daniela with her mami and hamster, and Evelyn with her mami, papi, and cat. But Evelyn's family will soon move away. Until then, the girls play amid the moving boxes, making promises to keep in touch, because they know that their friendship will always be special. With vibrant illustrations of the girls' urban neighborhood, Evelyn del Rey Is Moving Away is a tender and bittersweet story about friendship and change. ~ Diverse – Elementary School
Related: 18 Multicultural Children's Books about Friendship
---
The Alien Adventures of Finn Caspian #1: The Fuzzy Apocalypse // #2: The Accidental Volcano
by Jonathan Messinger
Eight-year-old Finn is the first kid born in space and he spends his days looking for a new planet with his three best friends and his robot, Foggy. They are used to wild, galaxy hopping adventures. But when Explorer Troop 301 gets stuck on a planet that's about to explode, Finn and his friends will have to face giant aliens, a leader with mind control powers, and one evil, fluffy bunny rabbit in order to save the planet . . . and themselves. Based on the award-winning kids' podcast, The Fuzzy Apocalypse is the first book in this funny, highly illustrated chapter book series. In The Accidental Volcano Explorer Troop 301 face off against angry rock giants. ~ Diverse – Elementary School
Related: 10 Laugh-Out-Loud Funny Multicultural Picture Books
---
Black Heroes of the Wild West
by James Otis Smith
Born into slavery in Tennessee, Mary Fields became famous as "Stagecoach Mary," a cigar-chomping, card playing coach driver who never missed a delivery. Bass Reeves, the first black Deputy US Marshal west of the Mississippi, was one of the wiliest lawmen in the territories, bringing thousands of outlaws to justice with his smarts. Bob Lemmons lived to be 99 years old and was so good with horses that the wild mustangs on the plains of Texas took him for one of their own. Black Heroes of the Wild West is a fascinating graphic novel about these three black heroes who took control of their destinies and stood up for their communities in the Old West. ~ Diverse – Elementary School
---
Your Place in the Universe
by Jason Chin
Most eight-year-olds are about five times as tall as this book . . . but only half as tall as an ostrich, which is half as tall as a giraffe . . . twenty times smaller than a California Redwood! How do they compare to the tallest buildings? To Mt. Everest? To stars, galaxy clusters, and . . . the universe? With crisp illustration and intriguing science, Your Place in the Universe introduces readers to the mind-boggling scale of the known Universe. ~ Diverse – Elementary School
Related: 50+ Multicultural STEAM Books for Children
---
Bunheads
by Misty Copeland
From prima ballerina Misty Copeland comes the story of young Misty, who discovers her love of dance through the ballet Coppélia–a story about a toymaker who devises a villainous plan to bring a doll to life. Misty is so captivated by the heroine, Swanilda, she decides to audition for the role. But she's never danced ballet before; in fact, this is the very first day of her very first dance class! As she makes friends with her fellow ballerinas who encourage her to do her very best, Misty's nerves quickly fall away. With a little teamwork, the bunheads put on a show to remember. Bunheads is an inspiring tale about courage and perseverance. ~ African – Elementary School
---
The Teachers March!: How Selma's Teachers Changed History
by Sandra Neil & Rich Wallace
In 1960s Alabama, teacher and principal Reverend Reese recognized that his colleagues were viewed with great respect in the city of Selma. Could he convince them to risk their jobs–and perhaps their lives–by organizing a teachers-only march to the county courthouse to demand their right to vote? On January 22, 1965, the Black teachers left their classrooms and did just that, with Reverend Reese leading the way. With expressive illustrations, The Teachers March! is a well-researched tribute to the educators who participated in the 1965 Selma Teachers' March. ~ African – Elementary School
---
Resist!: Peaceful Acts That Changed Our World
by Diane Stanley
With striking artwork and rich supplementary material, Resist! is a collection of 21 brief but comprehensive essays about activists who refused to be ignored. From music to marches, from sit-ins to walk-outs, activists throughout history have defended the disenfranchised and demanded reform, refusing to back down even in the face of violent oppression and overwhelming opposition. Featured figures include: Harriet Tubman, Elizabeth Cady Stanton, Woody Guthrie, Mohandas Gandhi, Irena Sendler, The Hollywood Ten, Claudette Colvin, Rosa Parks, Ruth Bader Ginsburg, The Greensboro Four, Martin Luther King, Jr., Larry Itliong, Doloras Huerta, Cesar Chavez, Richard Oakes, The Tree-Sitters of Pureora, Father Luis Olivares, Tank Man, Nelson Mandela, Ryan White, Ai Weiwei, the "It Gets Better" Project, The March For Our Lives protestors, and Greta Thunberg. ~ Diverse – Elementary School
Related: 55 Multicultural Picture Books About Strong Female Role Models
---
Grow: Secrets of Our DNA
by Nicola Davies
All living things grow—plants, animals, and human beings. The way they grow, whether it be fast or slow, enormous or not so big, helps them survive. But growing is also about change: when people grow, they become more complicated and able to do more things. And they don't have to think about it, because bodies come with instructions, or DNA. With simple language and expressive illustrations, Grow: Secrets Of Our DNA is an introduction to genetic code and how it makes us all both wonderfully unique and wholly connected to every living thing on earth. ~ Diverse – Elementary School
From the same author: Tiny Creatures: The World of Microbes // Many: The Diversity of Life on Earth
---
No Voice Too Small: Fourteen Young Americans Making History
by L. Metcalf, J. Bradley & K. Dawson
Meet fourteen young activists who have stepped up to make change in their community and the United States! Mari Copeny demanded clean water in Flint. Jazz Jennings insisted, as a transgirl, on playing soccer with the girls' team. Viridiana Sanchez Santos's organized a quinceañera demonstration against anti-immigrant policy. Zach Wahls declared that his two moms and he were a family like any other. In moving poems, No Voice Too Small celebrates the young people who know how to be the change they seek. ~ Diverse – Elementary School
Related: 26 Multicultural Picture Books about Inspiring Women & Girls
---
---
Middle School
---
The Shadow Crosser (A Storm Runner Novel)
by J.C. Cervantes
Zane Obispo has been looking forward to his training at the Shaman Institute for Higher Order Magic, and not only because it means he'll be reunited with his best friend, Brooks. Anything would be better than how he has spent the last three months: searching for the remaining godborns with a nasty demon who can sniff them out (literally). But when Zane tracks down the last kid on his list, he's in for a surprise: the "one" is actually a pair of twins, and they're trying to prevent a mysterious object from falling into the wrong hands.
The Shadow Crosser
is the epic finale to the
Storm Runner
trilogy, a tale of mystery, magic, and mayhem featuring gods from both Maya and Aztec mythology.
~ Hispanic – Middle School
---
Three Keys (A Front Desk Novel)
by Kelly Yang
Mia Tang thinks she's going to have the best year ever. She gets to run the front desk of Calivista Motel with her best friend, Lupe, and she's finally getting somewhere with her writing. But Mia's new teacher doesn't think her writing is all that great. And her entire class finds out she lives and works in a motel! On top of that, the motel is struggling and a new immigration law is looming that will threaten everything — and everyone — in Mia's life if it passes. It's a roller coaster of challenges, and Mia needs all of her determination to hang on tight. Three Keys is the powerful and hilarious sequel to the award-winning novel Front Desk. ~ Asian – Middle School
Related: 50+ Multicultural Middle Grade Novels for Summer Reading
---
Before the Ever After
by Jacqueline Woodson
ZJ's dad is a famous pro football star and everyone's hero. But lately he is having trouble remembering things and seems to be angry all the time. ZJ's mom explains it's because of all the head injuries his dad sustained during his career. ZJ can understand that–but it doesn't make the sting any less real when his own father forgets his name. As ZJ contemplates his new reality, he has to figure out how to hold on tight to family traditions and recollections of the glory days, all the while wondering what their past amounts to if his father can't remember it. And most importantly, can those happy feelings ever be reclaimed when they are all so busy aching for the past? Before The Ever After is a stirring novel-in-verse that explores how a family moves forward when their glory days have passed.  ~ African – Middle School
---
Fly on the Wall
by Remy Lai
Henry Khoo's family treats him like a baby. He's not allowed to go anywhere without his sister/chaperone/bodyguard. And he definitely CAN'T take a journey halfway around the world all by himself! But that's exactly his plan. After his family's annual trip to visit his father in Singapore is cancelled, Henry decides he doesn't want to be cooped up at home with his overprotective family.. Plus, he's hiding a your-life-is-over-if-you're-caught secret: he's the creator of an anonymous gossip cartoon, and he's on the verge of getting caught. Determined to prove his independence and avoid punishment for his crimes, Henry embarks on the greatest adventure ever. . . hoping it won't turn into the greatest disaster ever. Written in diary style, Fly on the Wall takes readers on a hilarious adventure with an endearing protagonist. ~ Asian – Middle School
---
---
High School
---
Furia
by Yamile Saied Méndez
In Rosario, Argentina, Camila Hassan lives a double life. At home, she is a careful daughter, living within her mother's narrow expectations, in her rising-soccer-star brother's shadow, and under the abusive rule of her short-tempered father. 11On the field, she is La Furia, a powerhouse of skill and talent. When her team qualifies for the South American tournament, Camila gets the chance to see just how far those talents can take her. But the path ahead isn't easy… Filled with authentic details of day-to-day life in Argentina, heart-soaring romance, and breathless action on the pitch, Furia is the powerful story of a girl's journey to make her life her own. ~ Hispanic – High School
---
Grown
by Tiffany D. Jackson
When legendary R&B artist Korey Fields spots Enchanted Jones at an audition, her dreams of being a famous singer take flight. Until Enchanted wakes up with blood on her hands and zero memory of the previous night. Who killed Korey Fields? Grown is a heart-wrenching novel that exposes horrific secrets hiding behind the limelight and embraces the power of a young woman's voice. ~ African – High School
---
Punching the Air
by Ibi Zoboi & Yusef Salaam
"The story that I thought / was my life / didn't start on the day / I was born." 16-year-old Amal Shahid has always been an artist and a poet. But even in a diverse art school, he's seen as disruptive and unmotivated by a biased system. Then one fateful night, an altercation in a gentrifying neighborhood escalates into tragedy. Amal is convicted of a crime he didn't commit and sent to prison. Despair and rage almost sink him until he turns to the refuge of his words, his art. Punching The Air tells the powerful and deeply moving story about how one boy is able to maintain his humanity and fight for the truth, in a system designed to strip him of both. ~ African – High School
---
Legendborn
by Tracy Deonn
After her mother dies in an accident, 16-year-old Bree Matthews wants to escape her family memories and home. A residential program for bright high schoolers at UNC–Chapel Hill seems perfect—until Bree witnesses a magical attack her very first night on campus. A flying demon feeding on human energies. A secret society of so called "Legendborn" students that hunt the creatures down. And a mysterious teenage mage who calls himself a "Merlin" and who attempts—and fails—to wipe Bree's memory of everything she saw. Filled with mystery and an intriguingly rich magic system, Legendborn is a modern-day twist on a classic legend and a lot of Southern Black Girl Magic. ~ African – High School
---
We Are Not Free
by Traci Chee
"All around me, my friends are talking, joking, laughing. Outside is the camp, the barbed wire, the guard towers, the city, the country that hates us. We are not free. But we are not alone." Fourteen teens from Japantown, San Francisco, are among the over 100,000 people of Japanese ancestry that are removed from their homes and forced into desolate incarceration camps. In a world that seems determined to hate them, these young Nisei must rally together as racism and injustice threaten to pull them apart. We Are Not Free is the collective account of a tight-knit group of young, second-generation Japanese American boys, whose lives are irrevocably changed by the mass U.S. incarcerations of World War II. ~ Asian – High School
Related: 30 Asian & Asian American Children"s Books for Ages 0 to 18
---
The Bridge
by Bill Konigsberg
Aaron and Tillie don't know each other, but they are both feeling suicidal, and arrive at the George Washington Bridge at the same time, intending to jump. Aaron is a gay misfit struggling with depression and loneliness. Korean adoptee Tillie isn't sure what her problem is — only that she will never be good enough. On the bridge, there are four things that could happen: Aaron jumps and Tillie doesn't. Tillie jumps and Aaron doesn't. They both jump. Neither of them jumps. Or maybe all four things happen. The Bridge is a heartfelt and important novel about suicide and mental illness. ~ Diverse – High School
Related: 5 Multicultural Picture Books about Mental Illness
---
Dear Justyce
by Nic Stone
Vernell LaQuan Banks and Justyce McAllister grew up a block apart in the Southwest Atlanta. Years later, Justyce walks the illustrious halls of Yale University while Quan sits behind bars at the Fulton Regional Youth Detention Center. Through a series of flashbacks, vignettes, and letters to Justyce–the protagonist of acclaimed Dear Martin–Quan's story takes form. Troubles at home and misunderstandings at school give rise to police encounters and tough decisions. But then there's a dead cop and a weapon with Quan's prints on it. Dear Justyce takes an unflinching look into the flawed practices and silenced voices in the American juvenile justice system. ~ African – High School
Related: 37 Childrens Books to help talk about Racism & Discrimination
---
Never Look Back
by Lilliam Rivera
Haunted by losing everything in Hurricane Maria–and by an evil spirit, Ato — Eury arrives in the Bronx, fully expecting the tragedy that befell her and her family in Puerto Rico to catch up with her in New York. Yet, for a time, she can almost set this fear aside, because there's this boy . . . Pheus is a golden-voiced, bachata-singing charmer who wants to put a smile on Eury's face and fight off her demons. But some dangers are too powerful for even the strongest love, and as the world threatens to tear them apart, Eury and Pheus must fight for each other and their lives. Featuring contemporary Afro-Latinx characters, Never Look Back is a modern retelling of the Greek myth Orpheus and Eurydice. ~ Hispanic – High School
---
Early Departures
by Justin A. Reynolds
What if you could bring your best friend back to life—but only for a short time? Jamal's best friend, Q, doesn't know that he died, and that he's about to die again. He doesn't know that Jamal tried to save him. And that the reason they haven't been friends for two years is because Jamal blames Q for the accident that killed his parents. But what if Jamal could have a second chance? A new technology allows Q to be reanimated for a few weeks before he dies . . . permanently. And Q's mom is not about to let anyone ruin this miracle by telling Q about his impending death. So how can Jamal fix everything if he can't tell Q the truth? Early Departures is a powerful novel about loss, grief, friendship, and love. ~ African – High School
---
*You can buy any of the books on this site from Amazon USA, CAN or UK by clicking on the book titles or covers*
---
---