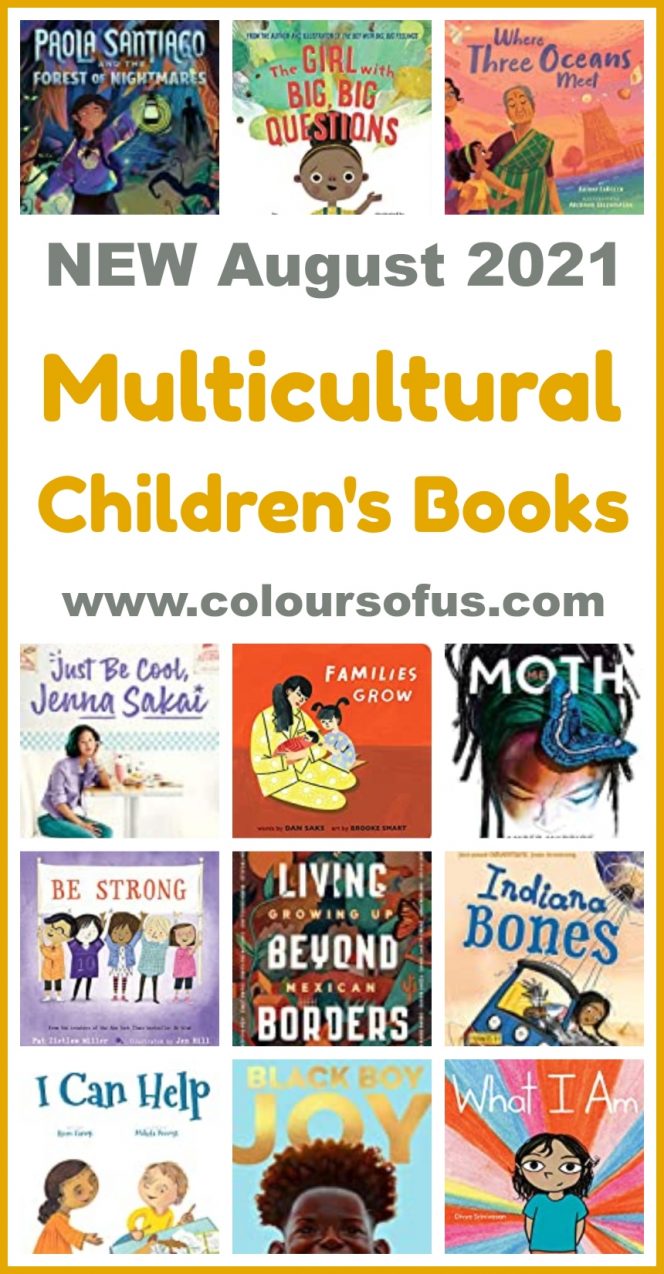 August has seen the release of many gorgeous multicultural children's books! Our favourites this month are Families Grow (Babies & Toddlers), What I Am (Preschool), The First Blade of Sweetgrass (Elementary School), Zion Unmatched (Middle School), and Sugar Town Queens (High School).
---
NEW Multicultural Children's Books August 2021
---
Babies & Toddlers
---
Families Grow
by Dan Saks
"A wish began your journey / And now that you are here / Our family has grown with love / With love for you, my dear." Families Grow is a beautiful, light-hearted celebration of the different ways a family can grow. The lyrical, rhyming text subtly references pregnancy, surrogacy, and adoption, and leaves the littlest readers with a lasting message of unconditional familial love. Includes a simple glossary at the end. ~ Diverse – Babies & Toddlers
From the same series: Families Can // Families Belong
---
Martin Luther King Jr. (Little People, BIG DREAMS)
by Maria Isabel Sanchez Vegara
One day, a friend invited little Martin to play at his house but his mother wouldn't let him in because he was Black. That day Martin realized there was something terribly unfair going on. And he promised himself that—when he grew up—he'd fight injustice with the most powerful weapon of all: words. Part of the critically acclaimed Little People, Big Dreams series, Martin Luther King Jr introduces the youngest dreamers to the inspiring minister and civil rights activist. ~ African – Babies & Toddlers
Related: 22 Children's Books about Martin Luther King Jr.
---
You Are Home
by Mackenzie Porter
"So if you ride to the corner, to the mountains, the sea, / there's not a place in this world that I won't be. / Wherever you travel and wherever you roam, / just know, my sweet child, you will always be home." Home begins as a parent's arms, and as the child in this story grows up, home then has grass, and sky, and a street that doesn't end. Beautifully illustrated You Are Home reassures children that wherever they go, they carry the love of a parent. ~ Asian –  Babies & Toddlers
Related: 12 Multicultural Picture Books about Love
---
---
Preschool
---
Gloria's Porridge
by Elizabeth Laird
Gloria is making a delicious porridge, but she's too hungry to share it with the cat. When Gloria goes to fetch some water, cat eats all the porridge . Angry Gloria shakes her spoon at the cat, and the scared cat runs away, starting a chaos around her. A retelling of an Ethiopian folktale by acclaimed author, Elizabeth Laird. ~ African – Preschool
---
Be Strong (Be Kind, 2)
by Pat Zietlow Miller
When her gym class must face the school rock-climbing wall, Tanisha is discouraged. Her muscles are weak, and she knows she'll never reach the top like Cayla. But maybe strength is about more than just muscles. With help from her family, Tanisha learns that by showing up, speaking up, and not giving up, she can be strong, too. And that people are the strongest when they work together and trust each other. Be Strong is an inspiring picture book about finding strength in unlikely places from the team behind New York Times bestseller Be Kind. ~ Diverse – Preschool
Related: 18 Multicultural Children's Books about Fear and Courage
---
A Song of Frutas
by Margarita Engle
"When we visit mi abuelo, I help him sell frutas, singing the names of each fruit as we walk, our footsteps like drumbeats, our hands like maracas, shaking…" From Pura Belpré Award–winning author Margarita Engle comes A Song of Frutas, a lively, rhythmic picture book about a little girl visiting her grandfather who is a pregonero—a singing street vendor in Cuba—and helping him sell his frutas. ~ Hispanic – Preschool
Related: Pura Belpré Award Winners 1996 – 2021
---
Where Three Oceans Meet
by Rajani LaRocca
Sejal, Mommy, and Pati travel together to the southern tip of India. For Pati, the trip retraces spaces she knows well. For Mommy, it's a return to the place she grew up. For Sejal, it's a discovery of new sights and sounds. The family finds their way to Kanyakumari, where three oceans meet, and delight in making it to the end of the earth together. Where Three Oceans Meet is a touching picture book that celebrates the beauty of India and family. ~ Asian – Preschool
Related: 40+ Multicultural Children's Books about Grandparents
---
Boogie Boogie, Y'all
by C.G. Esperanza
The city is alive with vibrant art in every corner of the parks, the shops, the trains. But most people are too busy to see it—or worse, choose to ignore it! When three children stop to marvel at the art around their community, they realize it's up to them to show everyone else how truly special it is when art and reality dance together so seamlessly. With infectious read-aloud beat and colourful illustrations, Boogie Boogie, Y'All is a dynamic ode to graffiti and the Boogie Down Bronx. ~ African – Preschool
---
What I Am
by Divya Srinivasan
A young narrator describes herself: a girl, a granddaughter, Indian, and American. Soon, we see the young girl as a plethora of things: selfish and generous, mean and kind, brave and mischievous. She is a walking contradiction, and that is precisely what makes her both a unique individual and an essential piece of the greater world around her. What I Am is a comforting and thoughtful picture book that celebrates the complexities of what makes us who we are. ~ Diverse – Preschool
---
Pepe and the Parade: A Celebration of Hispanic Heritage
by Tracey Kyle
Pepe wakes up exited to attend his first Hispanic Day parade: new food to taste, music to dance to, and a parade to watch.  Mexican, Dominican, Panamanian, Colombian, Honduran, Nicaraguan, Chilean, Puerto Rican, Salvadoran, Guatemalan, and Cuban cultures are all represented in the parade. A day filled with joy and pride, Pepe and the Parade is a jubilant celebration of culture and identity. ~ Hispanic – Preschool
---
The Girl with Big, Big Questions (The Big, Big Series, 2)
by Britney Winn Lee
"Why can't people live on the moon?", "Can I be president when I grow up?", "What makes a person good?". These are just some of the questions that bubble forth from one little girl with twinkling eyes and a curious mind. When the girl finds that her big questions make some people uncomfortable, she stops. But then she learns that her questions can solve problems and that asking questions is how we learn and grow. The Girl With Big, Big Questions is a lively picture book that celebrates the spirit of curiosity and the joy of learning. ~ African – Preschool
Also available: The Boy with Big, Big Feelings
---
---
Elementary School
---
I Can Help
by Reem Faruqi
When Ms. Underwood asks if anyone wants to help Kyle, Zahra always volunteers. She loves spending time with Kyle—he's creative and generous, and he makes the funniest jokes at lunch. But when Zahra's other classmates start teasing her for helping him, she starts making choices she soon regrets. I Can Help is a gentle, sensitive portrayal of reaching out, facing peer pressure, and learning from past mistakes. ~ Diverse – Elementary School
Related: 25 Multicultural Children's Books teaching Kindness & Empathy
---
The First Blade of Sweetgrass
by Suzanne Greenlaw
Wabanaki girl Musquon is excited to accompany her grandmother for the first time to harvest sweetgrass for basket making. She must overcome her impatience while learning to distinguish sweetgrass from other salt marsh grasses, but slowly the spirit and peace of her surroundings speak to her, and she gathers sweetgrass as her ancestors have done for centuries. The First Blade of Sweetgrass is a gorgeous own voices picture book about family, culture and tradition. ~ Diverse – Elementary School
Related: 75+ Native American Children's Books
---
Vampires Don't Wear Polka Dots: A Graphix Chapters Book
by Marcia Thornton Jones & Debbie Dadey
The third graders at Bailey Elementary are so hard to handle that all of their teachers have quit. But their new teacher, Mrs. Jeepers, is different — to say the least. She's just moved from Transylvania into a spooky old house in Bailey City. She wears a mysterious brooch that glows as green as her eyes. Could Mrs. Jeepers be a vampire? Vampires Don't Wear Polka Dots is the first-ever graphic novel adaptation of Scholastic's classic chapter book series. ~ Diverse – Elementary School
More in the series: The Adventure of the Bailey School Kids SET ( Volume 1 – 12 )
---
Pigskins to Paintbrushes: The Story of Football-Playing Artist Ernie Barnes
by Don Tate
Bullied for being shy, overweight, and uninterested in sports, young Ernie Barnes took refuge in his sketchbook. But growing up in a poor, Black neighborhood during the 1930s, opportunities to learn about art were rare. Discouraged and tired of being teased, Ernie joined the school football team. But art remained in Ernie's heart and he became famous as both a professional athlete and as an artist whose paintings reflected his love of the sport and celebrated Black bodies as graceful and beautiful. Pigskins to Paintbrushes is the inspiring story of Ernie Barnes, who defined himself on his own terms and pushed the boundaries of "possible," from the field to the canvas. ~ African – Elementary School
Related: 150 Children's Books Celebrating Black Boys
---
---
Middle School
---
The Renegade Reporters
by Elissa Brent Weissman
When Ash gets kicked off her school's news show, she becomes a renegade reporter–and makes a big discovery about technology and her fellow students' privacy. Ash and her friends are determined to learn the truth and report it. The Renegade Reporters is delightful and thought-provoking read featuring a diverse cast of characters. ~ Diverse – Middle School
Related: The 50 Best Multicultural Middle Grade Books of 2020
---
Indiana Bones
by Harry Heape
Indiana Bones is a shaggy dog with a difference. He's got superpowers and can sniff out criminals and – with his young friend and owner, 12-year-old Aisha – solve mysteries that would flummox the world's more expert detectives! In their first case, they are on the trail of treasure hidden centuries ago by a legendary knight known as The Lonely Assassin, an adventure which takes them all the way to Egypt and the Pyramids. Indiana Bones is a hugely inventive new Middle Grade series from one of the funniest authors in the business. ~ Diverse – Middle School
Related: 10 Laugh-Out-Loud Funny Multicultural Picture Books
---
Zion Unmatched
by Zion Clark
This inspiring photographic essay explores Zion Clark's journey from a childhood lost in the foster care system to his hard-fought rise as a high school wrestler to his current rigorous training to prepare as an elite athlete on the world stage.. First in a new trilogy, Zion Unmatched features striking images and engaging text, including pieces of advice that have motivated Zion toward excellence, and passages from Zion himself. ~ African – Middle School
---
Paola Santiago and the Forest of Nightmares
by Tehlor Mejia
Six months after Paola Santiago confronted the legendary La Llorona in Paola Santiago and the River of Tears, life is nothing like she'd expected it to be. She is barely speaking to her best friends, Dante and Emma, and what's worse, her mom has a totally annoying boyfriend.  When Dante's abuela falls mysteriously ill, it seems that the dad Pao never knew just might be the key to healing the eccentric old woman. Pao's search for her father will see her encounter new monsters and ghosts, a devastating betrayal, and finally, the forest of her nightmares. Paola Santiago and the Forest of Nightmares tells a wild and wondrous story that combines creatures from folklore with modern-day challenges. ~ Hispanic – Middle School
Related: 24 Children's Books set in Mexico
---
Black Boy Joy: 17 Stories Celebrating Black Boyhood
by Kwame Mbalia
Black boy joy is… Picking out a fresh first-day-of-school outfit. Saving the universe in an epic intergalactic race. Finding your voice—and your rhymes—during tough times. Flying on your skateboard like nobody's watching. And more! From seventeen acclaimed Black authors comes Black Boy Joy, a vibrant collection of stories, comics, and poems about the power of joy and the wonders of Black boyhood. ~ African – Middle School
Related: 150 Children's Books Celebrating Black Boys
---
Just Be Cool, Jenna Sakai
by Debbi Michiko Florence
When Jenna gets dumped, it confirms what she learned from her parents' messy divorce: Relationships are risky and only lead to disappointment. So even though she still has to see her ex-boyfriend Elliott at newspaper club, Jenna is going to be totally heartless this semester — no boys, just books. But soon Jenna is starting to realize that being a loner is kind of, well, lonely. And letting people in might just be a risk worth taking. Just Be Cool, Jenna Sakai is a funny, sweet story of crushes, competition, and the confusing reality of middle school. ~ Asian – Middle School
Related: 180+ Asian & Asian American Books For Children & Teenagers
---
Being Clem (The Finding Langston Trilogy)
by Lesa Cline-Ransome
Clem can make anybody, even his grumpy older sisters, smile with his jokes. But when his family receives news that his father has died in the infamous Port Chicago disaster, everything begins to fall apart. Clem's mother is forced to work long, tough hours as a maid for a wealthy white family. Soon Clem can barely recognize his home–and himself. Can he live up to his father's legacy? The final book in the award-winning trilogy, Being Clem masterfully recreates mid-twentieth century America through the eyes of three boys: Langston, Lymon, and, now, Clem. ~ African – Middle School
The whole trilogy: The Finding Langston Trilogy
---
---
High School
---
How Moon Fuentez Fell In Love With The Universe
by Raquel Vasquez Gilliland
When her twin sister reaches social media stardom, Moon Fuentez accepts her fate as the ugly, unwanted sister hidden in the background, destined to be nothing more than her sister's camerawoman. But this summer, Moon also takes a job as the "merch girl" on a tour bus full of beautiful influencers and her fate begins to shift in the best way possible. How Moon Fuentez Fell In Love With The Universe is an irresistible romance starring a Mexican American teen who discovers love and profound truths about the universe while road tripping across the country. ~ Hispanic – High School
Related: Pura Belpré Award Winners 1996 – 2021
---
Sugar Town Queens
by Malla Nunn
Amandla's mother believes her father will come back but in truth, he has long been gone–since before Amandla was born. It's just one of the many reasons people in Sugar Town give them strange looks–that and the fact her mother is white and Amandla is Black. When Amandla finds a mysterious address in the bottom of her mother's handbag along with a large amount of cash, she decides it's finally time to get answers about her mother's life. What she discovers will change the shape and size of her family forever. Sugar Town Queens is a stunning portrait of a family divided and a powerful story of how friendship saves and heals.  ~ African – High School
Related: 250 Children's Books Celebrating Black Girls
---
Living Beyond Borders: Growing up Mexican in America
by Margarita Longoria
Living Beyond Borders is a collection of short stories, personal essays, poetry, and comics by celebrated Mexican American authors who share the borders they have crossed, the struggles they have pushed through, and the two cultures they continue to navigate. This memorable anthology is at once an eye-opening, heart-wrenching, and hopeful love letter from the Mexican American community to today's young readers. ~ Hispanic – High School
Related: 30 Diverse Children's Anthologies About Trailblazing Women
---
How We Fall Apart
by Katie Zhao
Nancy Luo is shocked when her former best friend, Jamie Ruan, top-ranked junior at Sinclair Prep, goes missing, and then is found dead. Nancy is even more shocked when she and her friends–Krystal, Akil, and Alexander–become the prime suspects, thanks to "the Proctor" who anonymously incriminates them via the school's social media app. The four friends must uncover the true killer before The Proctor exposes more than they can bear. How We Fall Apart is an edge-of-your-seat drama set in the pressure-cooker world of academics and image at Sinclair Prep. ~ Asian – High School
Related: 180+ Asian & Asian American Books For Children & Teenagers
---
The Wild Ones
by Nafiza Azad
Our story begins with Paheli, who was once betrayed by her mother, sold to a man in exchange for a favour. When Paheli escaped, she ran headlong into Taraana—a boy with stars in his eyes, a boy as battered as she was. He tossed Paheli a box of stars before disappearing. With the stars, Paheli gained access to the Between, a place of pure magic and mystery. Now, Paheli collects girls like us, and we use our magic to travel the world, helping to save other girls from our pain, our scars. The Wild Ones is a thrilling, feminist fantasy about a group of teenage girls endowed with special powers who must band together to save the life of the boy whose magic saved them all. ~ Diverse – High School
---
Tobyn: The It Girl #4 (Flyy Girls)
by Ashley Woodfolk
Tobyn Wolf's dreams of becoming seem within reach when she meets Maybe Someday–an incredible all-female band–during a night out with her older sister, Devyn. Joining their band would be the perfect way to show off her amazing vocals. But her mom wants Tobyn to go to college and become a serious musician, not follow in Devyn's footsteps and wind up a struggling artist. Can Tobyn prove to her mom that she knows what's best, or will her dreams end up becoming a horrible nightmare? Tobyn: The It Girl is the fourth book in the dynamic Flyy Girls series about four Harlem high-schoolers, each facing a crossroads of friendship, family, and love. ~ African – High School
More in the series: Lux: The New Girl #1 // Micah: The Good Girl #2 // Noelle: The Mean Girl #3
---
Me (Moth)
by Amber McBride
Moth has lost her family in an accident. Though she lives with her aunt, she feels alone and uprooted. Until she meets Sani, a boy who is also searching for his roots. Moth and Sani take a road trip that has them chasing ghosts and searching for ancestors. The way each moves forward is surprising, powerful, and unforgettable. Me (Moth) is an uplifting novel-in-verse about identity, first love, and the ways that our memories and our roots steer us through the universe. ~ African – High School
---
*You can buy any of the books on this site from Amazon USA by clicking on the book titles or covers*
---
---