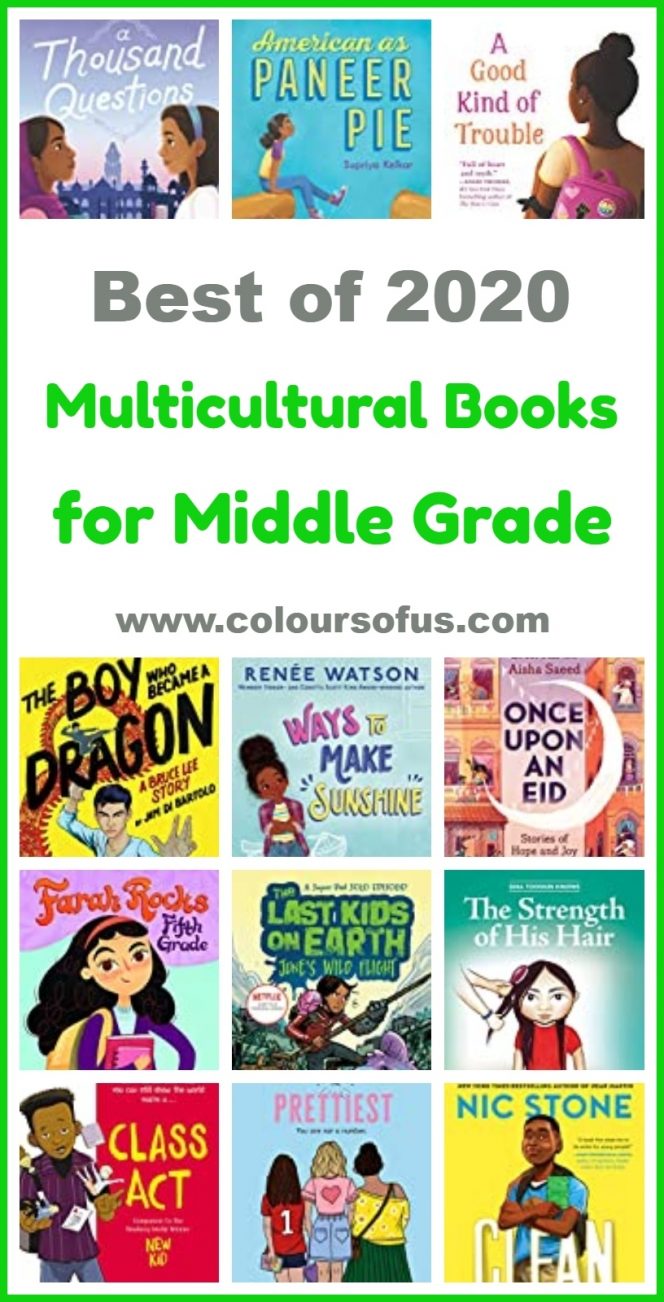 Following our lists of The 50 Best Multicultural Picture Books Of 2020 and The 30 Best Multicultural Chapter Books of 2020, now some diverse books for Middle Graders! From novels to book series, anthologies and non-fiction books, there is something for every reader on this list!
---
The 50 Best Multicultural Middle Grade Books Of 2020
---
Farah Rocks Fifth Grade
by Susan Muaddi Darraj
Farah and her best friend, Allie Liu, are hoping to attend sixth grade at the Magnet Academy. But when new girl Dana Denver  starts bullying Farah's little brother, Samir, Farah begins to second-guess her choice to leave him behind at Harbortown School. She comes up with a plan– but that plan involves lying to those closest to her. The first book in the new series, Farah Rocks Fifth Grade is a heartwarming story about family, friendship and bullying. ~ Asian – Middle School
Related: 20 Multicultural Children's Books about Bullying
---
Planet Omar: Accidental Trouble Magnet
by Zanib Mian
Omar is not excited about starting at a new school. What if the work is too hard or the kids are mean or the teacher is a zombie alien?! When Omar makes a new best friend, things start looking up — until a Big Mean Bully named Daniel makes every day a nightmare. Luckily, Omar's enormous imagination and goofy family help him get through life's ups and downs. Accidental Trouble Magnet is the first book in the hilarious Planet Omar series. ~ Asian – Middle School
Related: 10 Laugh-Out-Loud Funny Multicultural Picture Books
---
From the Desk of Zoe Washington
by Janae Marks
What does a girl write to the father she's never met, hadn't heard from until his letter arrived on her twelfth birthday, and who's been in prison for a terrible crime? A crime he says he never committed. Zoe is determined to uncover the truth. Even if it means hiding her dad's letters and her investigation from the rest of her family. From The Desk Of Zoe Washington is a powerful debut novel about a courageous girl questioning assumptions, searching for the truth, and doing what she believes is right—even in the face of great opposition. ~ African – Middle School
Related: 60+ Multicultural Children's Books about Fathers
---
Clean Getaway
by Nic Stone
How to Go on an Unplanned Road Trip with Your Grandma: Grab a Suitcase (prepacked from the cancelled spring break trip). Fasten Your Seatbelt (G'ma's never conventional, so this trip won't be either). Use the Green Book (G'ma's most treasured possession). Set against the backdrop of the segregation history of the American South, Clean Getaway takes readers on a trip with an eleven-year-old boy who is about to discover that the world hasn't always been a welcoming place for kids like him, and things aren't always what they seem (including G'ma). ~ African – Middle School
Related: African American Historical Fiction for Middle School
---
Summer in the City (Mango Delight #2)
by Fracaswell Hyman
It's summer break, and Mango is content to spend her time babysitting her brother, hanging with her friend Izzy, and binge-watching movies late into the night. Then she runs into her drama teacher, who has some big news: their middle school play Yo, Romeo! is headed to the stage in New York City . . . and he wants Mango for the lead role! So Mango goes off to Brooklyn to stay with her Aunt Zendaya but soon she must confront homesickness, insecurity, and the all-important question of what it means to be a good friend. Sequel to Mango Delight, Summer In The City follows the delightful heroine's adventures—and misadventures—as she prepares to make her off-Broadway debut. ~ African – Middle School
Related: 18 Multicultural Children's Books about Friendship
---
A Black Woman Did That
by Malaika Adero
A Black Woman Did That! spotlights inspiring black women whose accomplishments have changed the world for the better. Readers learn how Barbara Harris became the first female bishop of the Episcopal Church, how Misty Copeland became the first black principal dancer of the American Ballet Theater, how Shirley Chisolm changed the face of politics in America, how Cathy Hughes founded Radio One (now Urban One) and became the first African-American woman to head a publicly traded company, and much more.  ~ Diverse – Middle School
Related: 80 Picture Book Biographies About Bold Black Women & Girls
---
Santiago's Road Home
by Alexandra Diaz
Determined to get away from his abusive grandmother, Santiago joins the kind María Dolores and her young daughter, Alegría, on their journey to the U.S. None of the three travelers realizes that the journey through Mexico to the border is just the beginning of their story. Santiago's Road Home is a timely and harrowing novel about a young boy who gets detained by ICE while crossing the border from Mexico. ~ Hispanic – Middle School
Related: 30 Multicultural Picture Books about Immigration
---
---
The Only Black Girls in Town
by Brandy Colbert
Beach-loving surfer Alberta lives with her two dads and is the only Black girl in town. When the B&B across the street is sold to a Black family, Alberta is positive she and the daughter, Edie, will be fast friends. But while Alberta loves being a California girl, Edie misses her native Brooklyn and finds it hard to adapt to small-town living. When the girls discover a box of old journals in Edie's attic, they team up to figure out exactly who's behind them and why they got left behind. The Only Black Girls In Town is a heartfelt middle-grade novel about friendship, belonging and secrets of the past. ~ African – Middle School
Related: 250 Children's Books Celebrating Black Girls
---
The Boy Who Became a Dragon: A Bruce Lee Story
by Jim Di Bartolo
Bruce Lee was born on November 27, 1940 – in both the hour and the year of the dragon. He grew up as a child in Hong Kong when it was occupied by the Japanese, was the object of discrimination and bullying, and grappling against the influence of gangs as a teenager. Told in spectacular graphic form, The Boy Who Became A Dragon tells the story of how Bruce Lee found his salvation through kung fu and became a global star. ~ Asian – Middle School
Related: 30 Asian & Asian American Children's Books for Ages 0 to 18
---
Leaving Lymon (The Finding Langston Trilogy)
by Lesa Cline-Ransome
Lymon's father is at the Mississippi State Penitentiary, and his mother has moved North. Fortunately, Lymon is being raised by his loving grandparents. Lymon and his grandpops share a love of music, spending late summer nights playing the guitar. But then Lymon is sent on a journey to two Northern cities far from the country life he loves–and the version of himself he knows. The second book in the Finding Langston trilogy, Leaving Lymon is a powerful story of an angry boy whose raw talent, resilience, and devotion to music help point him in a new direction. ~ African – Middle School

Related: 60+ Children's Books About Legendary Black Musicians
---
The Fierce 44: Black Americans Who Shook Up the World
by The Staff of The Undefeated
With dazzling portraits, The Fierce 44 is a dynamic biography collection that presents forty-four of America's greatest Black movers and shakers. From well-known figures such as Harriet Tubman and Serena Williams, to lesser-known ones such as Robert Abbott and Dr. Charles Drew, this collection is a celebration of all that African Americans have achieved, despite everything they have had to overcome. ~ Diverse – Middle School
Related: 30 Diverse Children's Anthologies About Trailblazing Women
---
Bedtime Inspirational Stories – 50 Black Leaders who Made History
by L.A. Amber
Bedtime Inspirational Stories: 50 Black Leaders Who Made History highlights the achievements and stories of notable black leaders who made history from the eighteenth century to today. The stories in the book include those of political activists, scientists, artists, musicians, inventors, and athletes. They are written in a fun, anecdotal way, incorporating the information that interests children the most. ~ Diverse – Middle School
Also available: Bedtime Inspirational Stories: 50 Amazing Black People Who Changed the World
Related: Pioneers in Black History Flashcards and Game
---
This Book Is Anti-Racist: 20 Lessons on How to Wake Up, Take Action, and Do The Work
by Tiffany Jewell
Who are you? What is racism? Where does it come from? Why does it exist? What can you do to disrupt it? In 20 chapters, #1 New York Times bestseller This Book Is Anti-Racist teaches young readers about social identities, the history of racism and resistance against it, and how you can use your anti-racist lens and voice to move the world toward equity and liberation. ~ Diverse – Middle School

Also available: This Book Is Anti-Racist Journal
Related: 37 Children's Books to help talk about Racism & Discrimination
---
Black Brother, Black Brother
by Jewell Parker Rhodes
12-year-old Donte is one of the few Black boys at Middlefield Prep. His teachers and classmates make it clear they wish he were more like his lighter-skinned brother, Trey. When Donte is bullied and framed by the captain of the fencing team, he is suspended from school and arrested. Searching for a place where he belongs, Donte joins a local youth center and meets former Olympic fencer Arden Jones. With Arden's help, he begins training as a competitive fencer, setting his sights on confronting his bullies, racism, and the corrupt systems of power that led to his arrest. Black Brother, Black Brother is a powerful novel about a Black boy's journey to finding his voice. ~ African – Middle School
---
---
Efrén Divided
by Ernesto Cisneros
Efrén Nava's Amá is his Superwoman—or Soperwoman, named after the delicious Mexican sopes his mother often prepares. Both Amá and Apá work hard all day to provide for the family, making sure Efrén and his younger siblings Max and Mía feel safe and loved. But Efrén worries about his parents; although he's American-born, his parents are undocumented. His worst nightmare comes true one day when Amá doesn't return from work and is deported across the border to Tijuana, México. Now more than ever, Efrén must channel his inner Soperboy to help take care of and try to reunite his family. Efrén Divided is a heartfelt book about family, hardship and deportation. ~ Hispanic – Middle School
Related: Pura Belpré Award Winners 1996 – 2020
---
March Forward, Girl: From Young Warrior to Little Rock Nine
by Melba Pattillo Beals
Long before she was one of the Little Rock Nine, Melba Pattillo Beals was a warrior. She had many questions about segregation and inequality and she wouldn't follow the adults' advice to hold her tongue and know her place. With emotive photos, March Forward, Girl tells the powerful story of Beals's early journey to becoming a champion for equal rights, an acclaimed journalist, a best-selling author, and the recipient of this country's highest recognition, the Congressional Gold Medal. Includes a Q&A with Melba and bonus audio clip. ~ Diverse – Middle School
---
A Good Kind of Trouble
by Lisa Moore Ramée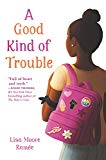 All twelve-year-old Shayla wants is to make it through seventh grade with her best friendships intact, learn to run track, and have a cute boy see past her giant forehead. But in junior high, she's suddenly questioning who her best friends are and some people at school are saying she's not black enough. Through her sister, she starts getting involved in the Black Lives Matter movement and soon has to decide to do what's right. A Good Kind Of Trouble is a funny and big-hearted debut novel about family, friendship and standing up for what is right. ~ African – Middle School
---
A Thousand Questions
by Sadiaa Faruqi
Mimi is not thrilled to be spending her summer in Karachi, Pakistan, with grandparents she's never met. Secretly, she wishes to find her long-absent father, and plans to write to him in her beautiful new journal. The cook's daughter, Sakina, still hasn't told her parents that she'll be accepted to school only if she can improve her English test score. Although the girls seem totally incompatible at first, as the summer goes on, Sakina and Mimi realize that they have plenty in common—and that they each need the other to get what they want most. A Thousand Questions is a tender story about two friends from very different backgrounds coming to understand each other. ~ Asian – Middle School
---
Brave. Black. First.: 50+ African American Women Who Changed the World
by Cheryl Hudson
This gorgeous new release is a must-have! Published in collaboration with the Smithsonian National Museum of African American History and Culture, Brave.Black.First spotlights over fifty remarkable African American women whose unique skills and contributions paved the way for the next generation of young people. ~ African – Middle School
Brave. Black. First.: 100 Postcards Celebrating More Than 50 African American Women Who Changed the World
---
Trailblazers: Beyoncé: Queen of the Spotlight
by Ebony Joy Wilkins
Beyoncé Knowles started off as the lead singer of the popular group Destiny's Child but became even more famous on her own. From movies to Grammy Awards to performing at the Super Bowl halftime show, Beyoncé is one of the world's most amazing superstars. Part of the Trailblazers series, Beyoncé: Queen Of The Spotlight tells the fascinating story of a girl who entered local singing competitions and went on to become a superstar. ~ African – Middle School
Related: 40 Multicultural Children's Books About Fabulous Female Artists
---
Sarah Journeys West: An Oregon Trail Survival Story
by Nikki Shannon Smith
Sarah Journeys West follows Sarah and her family as they venture west on the Oregon trail as free Black people. Like many others, they are hoping to find fortune in the Californian Gold Rush. On the trail, Sarah and her family face all kinds of hardship, including racism, extreme weather, difficult terrain, and disease. Includes info on the Oregon Trail, a glossary, discussion questions, and writing prompts. ~ African – Middle School
---
---
BOX: Henry Brown Mails Himself to Freedom
by Carole Boston Weatherford
"What have I to fear? / My master broke every promise to me. / I lost my beloved wife and our dear children. / All, sold South. / Neither my time nor my body is mine. / The breath of life is all I have to lose. / And bondage is suffocating me." In stanzas of six lines each, strikingly illustrated Box tells the powerful story of how Henry Brown shipped himself from slavery to freedom. Includes timeline, historical records and an excerpt from Henry's own writing. ~ African – Middle School
Related: African American Historical Fiction for Middle School
---
One Earth: People of Color Protecting Our Planet
by Anuradha Rao
"Who is an environmental defender? What does she or he look like? Maybe like you. Maybe like me." In twenty short biographies, One Earth introduces diverse activists from all around the world. From saving ancient trees on the West Coast of Canada, to protecting the Irrawaddy dolphins of India, to uncovering racial inequalities in the food system in the United States, this thought-provoking book is full of environmental role models for young readers. ~ Diverse – Middle School
Related: 22 Multicultural Children's Books for Earth Day
---
When Stars Are Scattered
by Victoria Jamieson & Omar Mohamed
Omar and his younger brother, Hassan, grow up in Dadaab, a refugee camp in Kenya where there is never enough food, and no access to the medical care Omar knows his nonverbal brother needs. So when Omar has the opportunity to go to school, he knows it might be a chance to change their future . . . but it would also mean leaving his brother, the only family member he has left, every day. When Stars Are Scattered is a heartbreaking yet hopeful graphic novel about a childhood spent waiting. ~ African – Middle School
---
The Last Kids on Earth: June's Wild Flight
by Max Brallier
Following on from the shocking ending of The Midnight Blade that saw Jack, June, Quint, and Dirk battle an endless horde of animated skeletons, the kids are now planning their next move. But an unexpected threat emerges and June Del Toro gets dragged away from her friends to a town overgrown with monstrous vines and never-before-seen creatures. Drawing on her post-apocalyptic survival skills–and with the help of some odd new companions–she attempts to make her way back home. Told from June's point of view, June's Wild Flight is the latest in the New York Times bestselling adventure series, full of high-stakes action and stunning revelations. ~ Hispanic – Middle School
---
Ghost Squad
by Claribel A. Ortega
Shortly before Halloween, Lucely Luna and her best friend, Syd, cast a spell that accidentally awakens malicious spirits, wreaking havoc throughout St. Augustine. Together, they must join forces with Syd's witch grandmother, Babette, and her tubby tabby, Chunk, to fight the haunting head-on and reverse the curse to save the town. Debut novel Ghost Squad is an action-packed supernatural fantasy that young readers won't be able to put down. ~ Hispanic – Middle School
---
The Prettiest
by Brigit Young
The prettiest: It's the last thing Eve Hoffmann expected to be, the only thing Sophie Kane wants to be, and something Nessa Flores-Brady knows she'll never be . . . until a list appears online, ranking the top fifty prettiest girls in the eighth grade. Eve is disgusted by the way her body is suddenly being objectified by everyone around her. Sophie is sick of the bullying she's endured after being relegated to number two. And Nessa is tired of everyone else trying to tell her who she is. The Prettiest is an empowering novel about three girls who decide to stand up against sexism and bullying. ~ Diverse – Middle School
Related: 20 Multicultural Children's Books about Bullying
---
Ways to Make Sunshine
by Renée Watson
Ryan Hart has a lot on her mind–school, self-image, and especially family. Her dad finally has a new job, but money is tight and the family has to sell their second car and moving into a new (old) house. But even if her life isn't everything she would wish for, Ryan always finds a way forward, with grace and wit. Ways To Make Sunshine is the first book in a charming new middle grade series about a girl who is pure spirit, kindness, and sunshine. ~ African – Middle School
Related: 40+ Multicultural Book Series for Girls & Boys
---
---
Siha Tooskin Knows the Strength of His Hair
by Charlene &Wilson Bearhead
Where can you find strength when someone disrespects you? And what does having strength really mean? His parents taught 11-year-old Siha Tooskin to maintain a strong mind, heart, and spirit, but starting at a new school is hard, especially when the kids there have never experienced Nakota people. With vivid narratives and dazzling illustrations, Siha Tooskin Knows the Strength of His Hair is an engaging story about values, culture and strength of character. ~ Diverse – Middle School
Related: 32 Native American Children's Books
---
Once Upon an Eid: Stories of Hope and Joy by 15 Muslim Voices
by S.K. Ali & Aisha Saeed
Once Upon an Eid is a joyous collection of short stories by the most brilliant Muslim voices writing today, all about the most joyful holiday of the year: Eid! The short, single-syllable word conjures up a variety of feelings and memories for Muslims. Maybe it's waking up to the sound of frying samosas or the comfort of bean pie, maybe it's the pleasure of putting on a new outfit for Eid prayers, or maybe it's the gift giving and holiday parties to come that day. ~ Asian – Middle School
Related: 21 Children's Books about Ramadan and Eid
---
Keep It Together, Keiko Carter
by Debbi Michiko Florence
Keiko feels ready to tackle Seventh grade together with her besties, Audrey and Jenna. But when Audrey decides they need boyfriends before Fall Ball, Jenna is sick of caving in to Audrey's demands, and soon Keiko's besties are barely talking, leaving her caught in the middle. Keiko feels pulled in two directions. Should she try to help her friends — even if it means losing one of them — or follow her heart? Keep It Together, Keiko Carter is a charming tween drama about first flirts, friendships, and fallouts. ~ Asian – Middle School
Related: 50+ Multicultural Middle Grade Novels for Summer Reading
---
Shuri: A Black Panther Novel
by Nic Stone
An original, upper-middle-grade series starring the break-out character from the Black Panther comics and films: T'Challa's younger sister, Shuri! Shuri is a skilled martial artist, a genius, and a master of science and technology. But, she's also a teenager. And a princess. This story follows Shuri as she sets out on a quest to save her homeland of Wakanda. ~ African – Middle School
---
Rainbow Revolutionaries: Fifty LGBTQ+ People Who Made History
by Sarah Prager
With short, engaging bios and dynamic artwork, Rainbow Revolutionaries brings to life the vibrant histories of fifty pioneering LGBTQ+ people from around the world. Readers can delve into the lives of Wen of Han, a Chinese emperor who loved his boyfriend as much as his people, Martine Rothblatt, a trans woman who's helping engineer the robots of tomorrow, and many more. Includes an introduction, map, timeline, and glossary. ~ Diverse – Middle School
Related: 18 Multicultural Children's Books featuring LGBTQIA Characters
---
American as Paneer Pie
by Supriya Kelkar
Being the only Indian American kid in her small town, Lekha Divekar feels like she has two versions of herself: Home Lekha, who loves watching Bollywood movies and eating Indian food, and School Lekha, who pins her hair over her bindi birthmark and avoids confrontation about her culture at all costs. When another Desi girl moves across the street, Lekha is excited to finally have a friend who gets it. But Avantika does not feel the same way as Lekha. She proudly displays her culture and doesn't take the bullying quietly. When a racist incident rocks the community, Lekha must make a choice: continue to remain silent or find her voice before it's too late. Full of humour and heart, American As Paneer Pie is a brilliant middle grade novel about prejudice and the power of your own voice. ~ Asian – Elementary School
Related: 30 Asian & Asian American Children's Books for Ages 0 to 18
---
Julieta and the Diamond Enigma
by Luisana Duarte Armendariz
Nine-year-old Julieta is off to Paris to help her art-handler dad collect pieces for a new exhibit at the Boston Museum of Fine Arts. Sadly, they must leave Julieta's very pregnant mother behind. Julieta sees the best of Paris: the Eiffel Tower, the Sacré-Coeur, and plenty of great art. But things go awry when she and Dad walk in on a thief stealing the Louvre's most prized piece–a priceless cursed diamond with a shady history. Julieta And The Diamond Enigma is smart younger middle-grade mystery with a spunk main character who cracks the case. ~ Hispanic – Middle School
---
---
American Immigration: Our History, Our Stories
by Kathleen Krull
Award-winning author Kathleen Krull takes an in-depth historical look at immigration in America—with remarkable stories of some of the immigrants who helped build this country. From writers like Chimamanda Ngozi Adichie, to scientists like Albert Einstein, to innovators like Elon Musk, American Immigration honors the immigrants who have changed the way we think, eat, and live. With its rich historical text, fascinating sidebars and photos, as well as an extensive source list and timeline, American Immigration is a fantastic resource for children, teachers, and librarians. ~ Diverse – Middle School
Related: 30 Multicultural Picture Books about Immigration
---
The Way to Rio Luna
by Zoraida Cordova
Eleven-year-old Danny Monteverde believes in magic. Most of all, he believes that his older sister, Pili, is waiting for him somewhere in Rio Luna, the enchanted land in their favorite book of fairy tales. When the siblings were placed in separate foster homes, she promised that she'd come back for him, and they'd build a new life together in Rio Luna. Yet as the years pass, Danny's faith begins to dim. But then he finds a mysterious book in the library — a collection of stories with a map to Rio Luna . . . and to Pili. The Way To Rio Luna follows Danny on his adventure from New York to Ecuador to Brazil. ~ Hispanic – Middle School
Related: 50+ Multicultural Middle Grade Novels for Summer Reading
---
The Dream Weaver
by Reina Luz Alegre
From start-up companies to selling motorcycles, Zoey's dad is constantly chasing jobs that never seem to work out. As for Zoey, she's willing to go along with whatever grand plans her dad dreams up—even if it means never staying in one place long enough to make real friends. Zoey's world is turned upside down when Dad announces that he's heading to a new job in New York City without her. Instead, Zoey and her older brother, José, will stay with their Poppy at the Jersey Shore. At first, Zoey feels as lost and alone as she did after her mami died. But soon she's distracted by an even bigger problem: the bowling alley that Poppy has owned for decades is in danger of closing! The Dream Weaver is a heartwarming, coming-of-age novel about family and friendship. ~ Hispanic – Middle School
---
Not Your All-American Girl
by W. Wan-Long Shang & M. Rosenberg
Best friends Lauren and Tara both try out for the upcoming school play. Lauren lands in the ensemble, while Tara scores the lead role, and their teacher explains: Lauren just doesn't look the part of the all-American girl. What audience would believe that she, half-Jewish, half-Chinese Lauren, was the every girl star from Pleasant Valley, USA? When Lauren just can't bring herself to sing anymore, her spot in the play and her friendship are in jeopardy. With the help of a button-making business, the music of Patsy Cline, and her two bickering grandmothers, can Lauren find her voice again? Not Your All-American Girl is a middle-grade novel full of heart and hilarity. ~ Asian – Middle School
---
Something to Say
by Lisa Moore Ramee
Eleven-year-old Jenae is so good at being invisible in school, it's almost like she has a superpower, like her idol, Astrid Dane. When she is paired up with a new student for a class debate about the proposed name change for their school, the two start to develop a friendship. But Jenae would do almost anything to avoid speaking up in front of an audience—including risking the first real friendship she's ever had.  From the author of acclaimed A Good Kind of Trouble, Something To Say is another unforgettable story about finding your voice and your people. ~ African – Middle School
Related: 50+ Multicultural Middle Grade Novels for Summer Reading
---
Brother's Keeper
by Julie Lee
Twelve-year-old Sora and her family live under an iron set of rules in 1950's North Korea: No travel without a permit, no criticism of the government, no absences from Communist meetings, and many more. The family decides to use the chaos of the war to escape on foot from their tiny mountain village to the South Korean city of Busan. But an incendiary bombing changes everything, and Sora and her little brother Young will have to get to Busan on their own. Can the two siblings survive three hundred miles of warzone in winter? Brother's Keeper is a harrowing debut novel that young readers won't be able to put down. ~ Asian – Middle School
Related: 30 Asian & Asian American Children's Books for Ages 0 to 18
---
Black Heroes: A Black History Book for Kids
by Arlisha Norwood
From the rulers of ancient Egypt to modern scientists, world-class athletes, and legendary performers, uncover the diverse lives of black leaders and role models throughout history. Black Heroes: A Black History Book for Kids is packed with tons of awesome biographies from Africa, the United States, and around the world. ~ African – Middle School
Related: 80 Picture Book Biographies About Bold Black Women & Girls
---
---
The Shadow Crosser (A Storm Runner Novel)
by J.C. Cervantes
Zane Obispo has been looking forward to his training at the Shaman Institute for Higher Order Magic, and not only because it means he'll be reunited with his best friend, Brooks. Anything would be better than how he has spent the last three months: searching for the remaining godborns with a nasty demon who can sniff them out (literally). But when Zane tracks down the last kid on his list, he's in for a surprise: the "one" is actually a pair of twins, and they're trying to prevent a mysterious object from falling into the wrong hands. 
The Shadow Crosser
 is the epic finale to the 
Storm Runner
 trilogy, a tale of mystery, magic, and mayhem featuring gods from both Maya and Aztec mythology. 
~ Hispanic – Middle School
---
Three Keys (A Front Desk Novel)
by Kelly Yang
Mia Tang thinks she's going to have the best year ever. She gets to run the front desk of Calivista Motel with her best friend, Lupe, and she's finally getting somewhere with her writing. But Mia's new teacher doesn't think her writing is all that great. And her entire class finds out she lives and works in a motel! On top of that, the motel is struggling and a new immigration law is looming that will threaten everything — and everyone — in Mia's life if it passes. It's a roller coaster of challenges, and Mia needs all of her determination to hang on tight. Three Keys is the powerful and hilarious sequel to the award-winning novel Front Desk. ~ Asian – Middle School
Related: 50+ Multicultural Middle Grade Novels for Summer Reading
---
Before the Ever After
by Jacqueline Woodson
ZJ's dad is a famous pro football star and everyone's hero. But lately he is having trouble remembering things and seems to be angry all the time. ZJ's mom explains it's because of all the head injuries his dad sustained during his career. ZJ can understand that–but it doesn't make the sting any less real when his own father forgets his name. As ZJ contemplates his new reality, he has to figure out how to hold on tight to family traditions and recollections of the glory days, all the while wondering what their past amounts to if his father can't remember it. And most importantly, can those happy feelings ever be reclaimed when they are all so busy aching for the past? Before The Ever After is a stirring novel-in-verse that explores how a family moves forward when their glory days have passed.  ~ African – Middle School
---
Fly on the Wall
by Remy Lai
Henry Khoo's family treats him like a baby. He's not allowed to go anywhere without his sister/chaperone/bodyguard. And he definitely CAN'T take a journey halfway around the world all by himself! But that's exactly his plan. After his family's annual trip to visit his father in Singapore is cancelled, Henry decides he doesn't want to be cooped up at home with his overprotective family.. Plus, he's hiding a your-life-is-over-if-you're-caught secret: he's the creator of an anonymous gossip cartoon, and he's on the verge of getting caught. Determined to prove his independence and avoid punishment for his crimes, Henry embarks on the greatest adventure ever. . . hoping it won't turn into the greatest disaster ever. Written in diary style, Fly on the Wall takes readers on a hilarious adventure with an endearing protagonist. ~ Asian – Middle School
---
Tristan Strong Destroys the World
by Kwame Mbalia
Tristan Strong, just back from a victorious but exhausting adventure in Alke, the land of African American folk heroes and African gods, is suffering from PTSD. But there's no rest for the weary when his grandmother is abducted by a mysterious villain out for revenge. Tristan must return to Alke–and reunite with his loud-mouthed sidekick, Gum Baby–in order to rescue Nana and stop the culprit from creating further devastation. The second book in the New York Times best-selling and award-winning Tristan Strong trilogy, 
Tristan Strong Destroys The World
 is a well-paced action adventure that has enough depth to be enjoyed by older readers, too. 
~ African – Middle School
---
Becoming Muhammad Ali
by James Patterson & Kwame Alexander
Acclaimed authors Kwame Alexander and James Patterson join forces to vividly depict Cassius Clay's life up to age seventeen in both prose and verse, including his family, neighbours and childhood friends in Louisville, Kentucky, his struggles in school, the racism he faced, and his discovery of boxing. After a thief stole his bike, Cassius began training as an amateur boxer at age twelve. Before long, he won his first Golden Gloves bout and began his transformation into the unrivaled Muhammad Ali. With dynamic artwork, 
Becoming Muhammad Ali 
captures the budding charisma of one of the greatest sports heroes of all time. 
~ African – Middle School
---
Twins
by Varian Johnson
Twins Maureen and Francine Carter are best friends. They participate in the same clubs, enjoy the same foods, and are partners on all their school projects. But in 6th Grade Francine becomes Fran — a girl who wants to join the chorus, run for class president, and dress in fashionable outfits that set her apart from Maureen. The twins are growing apart and there's nothing Maureen can do to stop it. Are sisters really forever? Or will middle school change things for good? Twins is a delightful graphic novel about about family, friendship and change. ~ African – Middle School
---
Class Act
by Jerry Craft
8th grader Drew's grandmother constantly reminds him that he has to "work twice as hard to be just as good." But what if he still isn't afforded the same opportunities that his privileged classmates at the Riverdale Academy Day School take for granted? Drew begins to feel that his good friend Liam might be one of those privileged kids and starts to withdraw. Even their mutual friend Jordan doesn't know how to keep the group together. Companion books to New Kid, the first graphic novel to win the Newbery Medal, Class Act tells another powerful, funny and important story about being one of the few kids of colour in a prestigious private school. ~ African – Middle School
---
The Last Mirror on the Left
by Lamar Giles
Missus Nedraw of the Rorrim Mirror Emporium still remembers the time freeze from The Last Last-Day-of-Summer, and how Otto and Sheed took her mirrors without permission in order to fix their mess. Usually that's an unforgivable offense, punishable by a million-year sentence. However, she's willing to overlook the cousins' misdeeds if they help her catch an escaped prisoner. The Last Mirror On The Left is another funny and off-the-wall adventure featuring the Legendary Alston Boys of Logan County. ~ African – Middle School
---
*You can buy any of the books on this site from Amazon USA by clicking on the book titles or covers*
---
---