Not only for Father's Day but for any day of the year are these multicultural children's books about fathers! I tried to include all kinds of fathers: different ethnicities, mixed race families, same sex parents, absent fathers…
Unfortunately there wasn't much about step-fathers or single fathers, and I also didn't find a lot of Asian and Asian American books about fathers. So, if you know of any that are not on this list, I'd love to hear!
---
Multicultural Children's Books about Fathers
---
Babies & Toddlers
---
Baby Dance
by Ann Taylor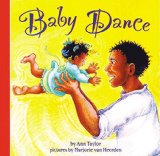 "Dance, little baby, move to and fro. / Coo and crow, baby, / There you go." Based on a poem by 19th century poet Anne Taylor, Baby Dance captures the love and energy of  a father and his baby daughter as they dance across the pages of this delightful board book. ~ African – Babies & Toddlers
---
Peek!: A Thai Hide-and-Seek
by Minfong Ho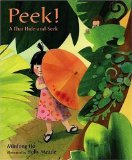 "Jut-Ay, Baby, peek-a-boo, / Want to play? Where are you?" Peek! A Thai Hide-and-Seek follows a little girl and her father on a morning game of hide-and-seek with a Thai twist. Papa calls on the creatures of the jungle to help him find his baby girl: monkey, hornbill, snake, elephant, tiger – who will lead him to her hiding place? With rhyming text and vibrant illustrations, this adorable board book will be a hit with little ones. ~ Asian – Babies & Toddlers
---
Daddy Loves Me!
by Marianne Richmond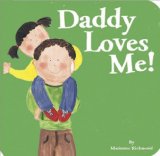 Whether Daddy is near or far, Daddy Loves Me! This cute board book will remind children of all the fun things they do with their Daddy. Babies and Toddlers will love it! ~ Diverse – Babies & Toddlers
---
Girl of Mine
by Jabari Asim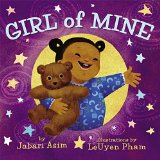 Girl of Mine is a sweet bedtime story with vibrant illustrations, depicting loving interactions between a little girl and her daddy. As the baby girl is cradled by her father, she is taken on a magical adventure, swinging above lush floral gardens under the golden moonlight. Babies will be mesmerized by this vibrant board book!  ~ African – Babies & Toddlers
---
Preschool
---
Shopping With Dad
by Matt Harvey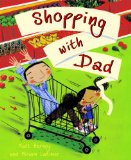 While grocery shopping with her dad, a little girl's sneeze sets of a chain reaction: "That sneeze was fantastic. It made my Dad jump, / And his jump gave the woman beside him a bump / And she went, 'Aaarrrggghhh!' and swung around in alarm, / And her bag hit a woman, who jogged a man's arm." At first Dad gets the blame but when the girl takes responsibility the mood softens. Shopping with Dad is a fun, fast-paced picture book, depicting a multiracial family and a diverse mix of shoppers. Great as a read-aloud. ~ African – Preschool
---
Thunder Boy Jr.
by Sherman Alexie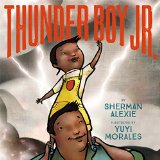 This recently released picture book is receiving lots of praise. Thunder Boy Jr. dreams of having his own unique name rather than being named after his dad. He'd love a name that says something cool about him, like Touch the Clouds, Not Afraid of Ten Thousand Teeth, or Full of Wonder. Together with his dad he eventually picks the perfect name. With lyrical text and enchanting illustrations, Thunder Boy Jr celebrates the warm relationship between a Native American father and his son. ~ Diverse – Preschool
---
My Dad Is the Best Playground
by Luciana Navarro Powell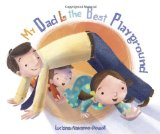 Told from a child's point of view, My Dad Is the Best Playground is a lively board book about two children playing with their dad. They use him as a swing, a climbing wall and other fun playground equipment. Though not specified, from the illustrations and the fact that the author and illustrator is an American Latina, the characters could well be of Latino/Hispanic ethnicity. ~ Hispanic – Preschool
---
The Night Before Father's Day
by Natasha Wing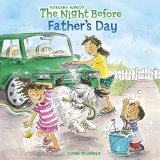 The Night Before Father's Day, mom and the kids are planning a special surprise for Dad. When he goes for a bike ride, they all get to work. The next morning Dad finds his his car sparkly clean and the garage newly organized. As a thank you he takes the whole family for a spin. ~ African – Preschool
---
A New Year's Reunion: A Chinese Story
by Yu Li-Qiong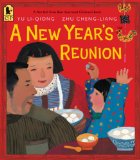 Mao-Mao is very excited: It is Chinese New Year, and her father, who works far away away from home, is finally coming home! Mao-Mao loves her time with her daddy who brings gifts, makes traditional sticky rice balls and let's her sit on his shoulders during the Dragon parade. But all too soon he has to pack and leave again. A New Year's Reunion is a bittersweet story about an absent parent only returning for special occasions. This vibrantly illustrated picture book will resonate with every child who misses relatives when they are away. ~ Asian – Preschool
---
My Dad and Me
by Alyssa Satin Capucelli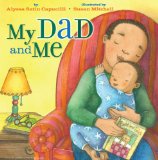 My Dad and Me follows a multicultural cast of fathers and their children on their playful adventures through the seasons, from hiking and camping to raking leaves or sledding. The first father is called dad, the next papi (with a note that it means "dad" in Spanish), followed by aba (Hebrew), bábá (Mandarin), and bapa (Hindi). ~ Diverse – Preschool
---
Visiting Day
by Jacqueline Woodson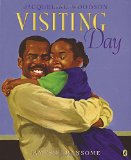 "Only on visiting day is there chicken frying in the kitchen at 6 a.m, and Grandma in her Sunday dress, humming soft and low."  A young girl and her grandmother are preparing for the one day a month they get to visit the girl's father in prison. At the same time, the father is getting ready for the reunion with his beloved child, too. Told in Woodson's trademark lyrical style and stunningly illustrated with realistic paintings, Visiting Day is a moving picture book about the strong bond between an imprisoned father and his daughter. ~ African – Preschool
---
The Night Worker
by Kate Banks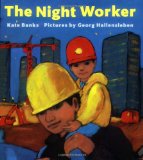 Every night, Papa tucks Alex in before he puts on his hard hat and goes to his work as an engineer on a construction site. "Take me with you," Alex says every night, and "not tonight," responds Papa every night. But then one night Papa surprises him with a hard hat. Alex gets to be a night worker at the construction site, where the excavators rumble and the cement mixers hum. The Night Worker is a unique bedtime story all children will love, especially those fascinated by big machines. ~ Hispanic – Preschool
---
My Father's Shop
by Satomi Ichikawa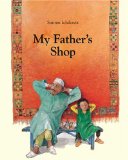 Mustafa loves a particular rug in his father's shop. It has a hole in it, so he can put it over his head and still see out. His father wants to teach his son some foreign languages, but Mustafa runs off to the bustling Moroccan market instead (with his favourite rug on his head). There he finds a different way of learning other languages – and of getting tourists to his father's shop.  My Father's Shop has a sweet story line and vibrant watercolour illustrations.  ~ African – Preschool
---
Papa and Me
by Arthur Dorros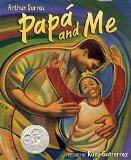 "When I'm with my papá, / I can fly like an eagle, an águila, / I can climb alto, high, in a tree." A young boy and his papa speak both Spanish and English, but the most importantly, they speak is the language of love. With bilingual text and lush, energetic paintings, Papá and Me portrays the loving bond between a father and a son. ~ Hispanic – Preschool
---
Bippity Bop Barbershop
Natasha Anastasiaa Tarpley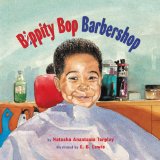 Little Miles is super excited: Today he'll make his first trip to the barbershop with his father! He is a bit afraid of the sharp scissors, the buzzing razor, and having to pick a new hairstyle. But with the support of his dad, he sits bravely through his first haircut. Written in an upbeat tone and illustrated with realistic watercolour paintings, Bippity Bop Barbershop captures how a loving father supports his son on this  important rite of passage. ~ African – Preschool
---
The Daddy Book
by Todd Parr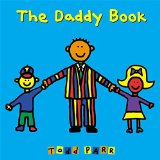 With Parr's signature quirky style and bold illustrations, The Daddy Book celebrates the wonderfully diverse world of fathers. From fathers working at home or far away, and fathers making cookies or skateboarding with their kids, to fathers wearing suits or two different socks, "all daddies love to kiss and hug you!". ~ Diverse – Preschool
---
Two Dads Are Better Than One
by K.C. Eckels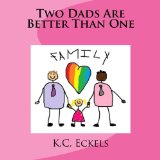 With rhyming text and child-like drawings, Two Dads Are Better Than One tells the story of little Suzie who lives with her same sex parents. Suzie describes all the fun she has with her dads and how they support and love her, and also mentions the hurt when other children say mean things: "When people are mean, / That makes me sad, / They don't understand, / The Family I have!" ~ Diverse – Preschool
---
Papa, Do You Love Me?
by Barbara M. Jooste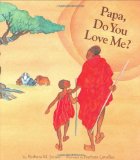 Set in an African country within the Maasai culture, Papa, Do You Love Me? follows the same pattern as the bestselling Mama, Do you Love Me?. While herding cattle, a young boy asks his father: "Papa, do you love me?", "How much?", "How long?".  Hiis dad reassures him with answers that reference Maasai life: "I love you more than the warrior loves to leap, / more than the bush baby loves the moon, / more than the elder loves his stories." The sunlit watercolour illustrations beautifully reflect the warmth of the father's unconditional love for his son. ~ African – Preschool
---
Every Friday
by Dan Yaccarino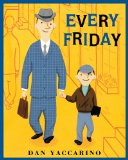 Whether it's sunny, snowing or raining, every Friday a father and his son have breakfast at their favourite diner. They enjoy their leisurely walk through the neighborhood as much as the pancakes they are having. With unique, bright illustrations and a sweet storyline, award-winning Every Friday portrays the warm relationship between a father and a son. Their ethnicity is not specified but I think children of Latino/Hispanic background could easily identify with the characters. A perfect gift for Father's Day! ~ Hispanic – Preschool
---
Two Dads: A book about adoption
by Carolyn Robertson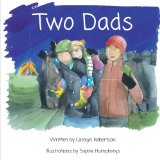 "I have something that can't be bad/… I have not one, I have two dads!" Having two dads is double the fun! With cheerful text and beautiful illustrations Two Dads is an affirming story of life as an adopted child of two daddies, one white and the other black (or mixed race). ~ African – Preschool
---
Oh, Oh, Baby Boy!
by Janine Macbeth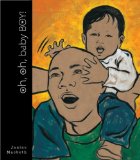 Oh, Oh, Baby Boy! follows a newborn baby and his father laughing, playing, cuddling and making friends. The journey of the multiracial family comes full circle when the baby boy eventually grows up and becomes a father himself. The illustrations seem to reflect the author's own racial mix which is Asian American, African American, Native American and white. ~ Diverse – Preschool
---
Daddy Goes to Work
by Jabari Asim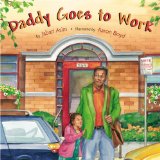 With (sometimes slightly forced) rhyming text, Daddy Goes to Work follows a young girl as she accompanies her father to his office. After they ride on the subway together, the girl meets her dad's coworkers, and helps him throughout the day, writing memos and holding the posters for a presentation. "You were great today," says Daddy at the end of the day. Vivid watercolour illustrations emphasize the warm relationship between father and daughter. ~ African – Preschool
---
Baseball on Mars / Beisbol en marte
by Tim Hoppey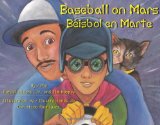 Roberto's dad is upset: His lucky chair is missing, the one he sits in when he watches a baseball game. When he finds that it has become part of a rocket ship in the backyard, he soon gets involved in his son's space mission as a co-pilot and rediscovers his imagination. After an amazing flight, and a father-son game of baseball on Mars, Roberto's father doesn't even mind that he missed the Yankees' game. Baseball on Mars is a fun and touching story about a father and son bonding on their afternoon adventure. ~ Hispanic – Preschool
---
Daddy Calls Me Man
by Angela Johnson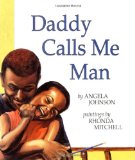 Inspired by his parents' paintings, a young boy creates four short poems about his family, one of them about his father. Rich oil illustrations from the family's home studio introduce each of the sweet poems in Daddy Calls Me Man. "Big Shoes" is about the boys' desire to have big running shoes just like his daddy. ~ African – Preschool
---
My Father Is Taller than a Tree
by Joseph Bruchac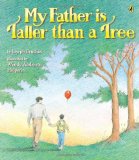 My Father is Taller Than a Tree is a tender tribute to dads everywhere. The book captures heartwarming moments between thirteen diverse father-and-son pairs as they share everyday activities, like bike riding, raking leaves, going to the park or just cuddling on the couch. This sweet picture book is a good reminder that life's simple pleasures become special when you share them with someone you love. ~ Diverse – Preschool
---
When Daddy Prays
by Nikki Grimes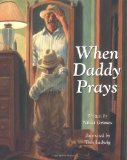 "When Daddy prays my fear of darkness disappears and angels tiptoe down the hall. I hear them through the door and wall." Seen through the eyes of a child, the poems in When Daddy Prays celebrate a father's devotion that carries the family through each day, from waiting anxiously at the school bus stop to lying in bed at night. Some of the poems are more lighthearted, too, for example when the dad searches for his keys or trips over the boy's rollerblades in the hallway. Rich full-page oil illustrations complement the powerful message of this beautiful collection. ~ African – Preschool
---
Celebrating Father's Day: Father's Day is for Special People
by Donna Marriott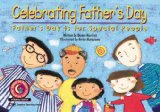 Written specifically for emergent readers, Celebrating Father's Day teaches children that Father's Day is to celebrate a special male in their family. This tender and inclusive picture book suggests that if the child does not have a father they can celebrate their grandfather, uncle or step-father. ~ Diverse – Preschool
---
Knock Knock: My Dad's Dream for Me
by Daniel Beaty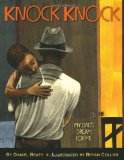 "Every morning, I play a game with my father. / He goes knock knock on my door / and I pretend to be asleep / till he gets right next to the bed. / And my papa, he tells me, "I love you." But one morning the 'knock knock' doesn't come anymore, leaving the little boy devastated. Based on the author's own experience of a suddenly absent father due to imprisonment, Knock Knock is a powerful picture book that explores the impact of permanent separation from a father (due to different reasons, e.g. imprisonment, death, or abandonment). There is a shimmer of hope in this heartfelt book, too, when the story ends with papa's advice to "knock knock down the doors that I could not." ~ African – Preschool
---
I Love My Papi! (Dora the Explorer)
by Alison Inches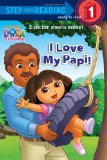 I Love My Papi follows Dora and her Papi to the soccer field, the beach, and a circus and other fun places. Papi is portrayed as quite the super hero, teaching Dora to kick a soccer ball, swing a baseball bat, coaching her baseball team, riding bikes with her, teaching her to bake, making her a tire swing, and more. Even though these are rather unrealistic expectations, this book still makes for a fun Father's Day read for fans of Dora the Explorer. Includes two sticker sheets.  ~ Hispanic – Preschool
---
Elementary School
---
Daddy Poems
by Jon Micklos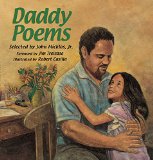 Daddy Poems is a collection of 22 poems celebrating fathers and the bond they share with their children. From morning routines to bedtime rituals, from piggyback rides to wild and wacky baths, the book provides a poignant look at the importance of dads. The poems are all by contemporary poets, such as Nikki Grimes, Juan Felipe Herrera and X.J. Kennedy, and the realistic watercolour illustrations depict families of diverse backgrounds. ~ Diverse – Elementary School
---
Let's Go See Papá!
by Lawrence Schimel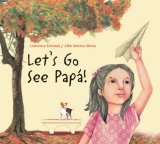 A young girl loves Sundays because that's when her father calls from the far-away US where he works. The girl thinks of all the fun things she used to do with her dad and keeps a record of what happens every day to share with him when she finally sees him again. But when her dad announces that she and her mother will move to the US, the girl has mixed feelings as she will have to leave her grandmother, her friends and her beloved dog behind. Let's go see Papa! is a touching story about an absent father and leaving behind those you love.  ~ Hispanic – Elementary School
---
A Father Like That
by Charlotte Zolotow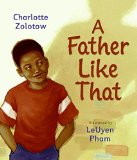 A young boy knows all about fathers, even though his dad left before he was born. He imagines a father who plays checkers with him, helps him with his homework, banishes nightmares and spends special time with his son.  "He would always be on my side, and I could always talk to him." His loving, supportive mother understands his son's desire and the void he feels, and tells him that he can be a father like that himself one day. With warm illustrations and a gentle approach to this delicate subject, A Father Like That can be a helpful read for children with absent fathers. ~ African – Elementary School
---
Ghosts for Breakfast
by Stanley Todd Terasaki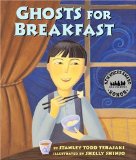 The troublesome triplets, Mr. Omi, Mr. Omaye, and Mr. Ono, ask the young narrator's father for help: They have just seen dozens of ghosts in the fields! So father and son set out in the dark to hunt the ghosts. Set in a Japanese American farming community in the 1920s, Ghosts for Breakfast is a light-hearted father-and-son story about overcoming your fears and the effects of jumping to conclusions. ~ Asian – Elementary School
---
In Daddy's Arms I Am Tall: African Americans Celebrating Fathers
by Folami Abiade et al.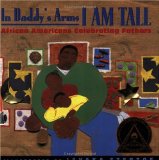 In My Daddy's Arms, I Am Tall is a vibrant celebration of fathers. Twelve African American writers contributed poems to this powerful collection: Folami Abiade, Dinah Johnson, Carole Boston Weatherford, Dakari Hru, Michael Burgess, E. Ethelbert Miller, Lenard D. Moore, David Anderson, Angela Johnson, Sonia Sanchez, Davida Adedjouma and Javaka Steptoe. The poems are brought to life by Steptoe's stunning collages that incorporate a variety of objects, such as fabric, torn paper, coins, seashells, buttons, sand, seeds, and leaves.  ~ African – Elementary School, African – Middle School
---
My Father's Boat
by Sherry Garland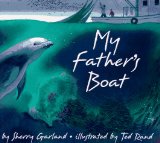 A Vietnamese immigrant father and his American-born son head out into the Gulf of Mexico on their shrimp boat. The boy learns all about shrimp fishing, and – more importantly – he hears his father's stories about his own father, a shrimp fisherman on the South China Sea, and about the war that separated them: "He could not leave the land he loved, and I could not stay." With breathtaking seascapes and lyrical text My Father's Boat is a moving story about three generations of fishermen. ~ Asian – Elementary School
---
Papi's Gift
by Karen Stanton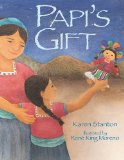 Because of a drought, Graciela's father has to go work on a farm in California, and won't be at home for her seventh birthday. But he promises that he will send a special present in the mail, with Graciela's full name on it and red string wrapped around it. Each day, Graciela gets more and more angry and disappointed when the present doesn't arrive. Until one day she has a thought: Maybe Papi could use a gift himself! Papi's Gift is a beautifully illustrated and heartwarming picture book that highlights the special, unbreakable bond between a father and a daughter. ~ Hispanic – Elementary School
---
When My Daddy Died, I…: Things I Miss About My Dad
by K.J. Reider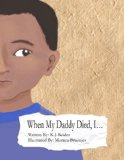 Written from the honest perspective of a child, When My Daddy Died captures the author's memories of his dad who died when he was seven years old. In simple words the book tells about the things the young boy misses most about his dad: From listening to him reading bible stories to his family to playing basketball together. The warm illustrations depict loving interactions of a mixed race family. This moving picture book gives grieving children the message to remember the good times with a loved one and to trust in God. ~ African – Elementary School
---
Always My Dad
by Sharon Dennis Wyeth
"Sometimes the person I want to see more than anyone in the world is my dad." Based on Wyeth's memories of her childhood with an often absent father, the book recalls a summer spend with her dad, running barefoot, catching lightning bugs, drinking soda at the general store. But as out of the blue as he arrived that summer, he tells his children that he will have to move on again. With expressive illustrations in warm earth tones, Always My Dad is an honest account of the sad reality of having a loving yet absent father and of having no control over what adults do. ~ African – Elementary School
---
How Many Stars in the Sky?
by Lenny Hort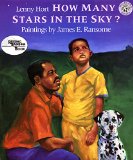 Mama's away one night, and her young son can't sleep. He ventures outside to count the stars only but the houses, trees, and streetlamps obscure his view. His father can't sleep either, so they go on a drive to the country where they are awed by the many stars they can see. How Many Stars in the Sky? warmly portrays the closeness between a father and his son on their unforgettable night adventure. ~ African – Elementary School
---
Just Dad and Me
by Erin Falligant
Just Dad and Me is an activity book full of fun things for girls to do with their dads. From car games to contests to secret handshakes, this book is full of fun things for girls to do with their dads. From care games and punching out paper airplanes, to contests, checklists and secret handshakes, every father-daughter will find an activity they enjoy.  Not only will many of the activities leave them laughing, they will also get to know each other even better. ~ Diverse – Elementary School
---
Of Thee I Sing: A Letter to My Daughters
by Barack Obama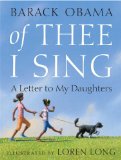 Of thee I Sing is Barack Obama's moving tribute to thirteen groundbreaking Americans in the form of a tender letter to his daughters. He tells his daughters that he sees traits of all these people in them, too, from the artistry of Georgia O'Keeffe, to the courage of Jackie Robinson and the patriotism of George Washington. Expressive illustrations capture the achievements of these great Americans as well as the innocence of childhood. ~ African – Elementary School
---
 *You can buy any of the books on this site from Amazon USA, CAN or UK by clicking on the book titles or images*
---
---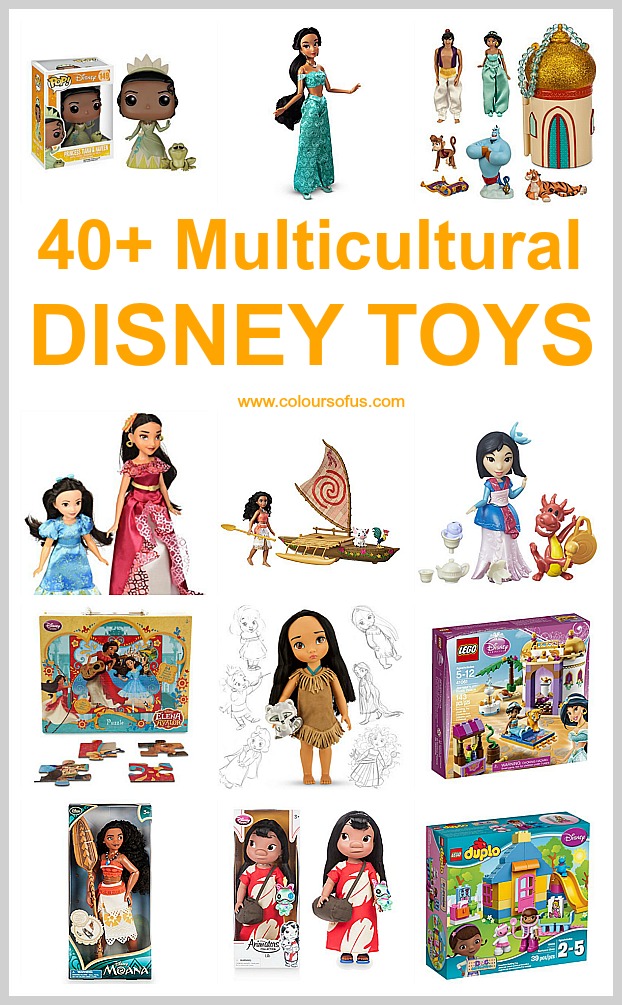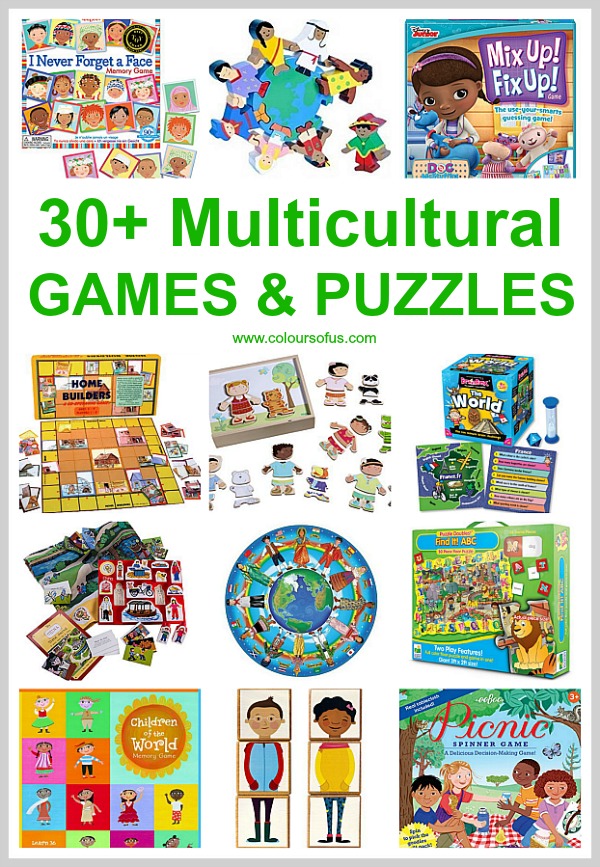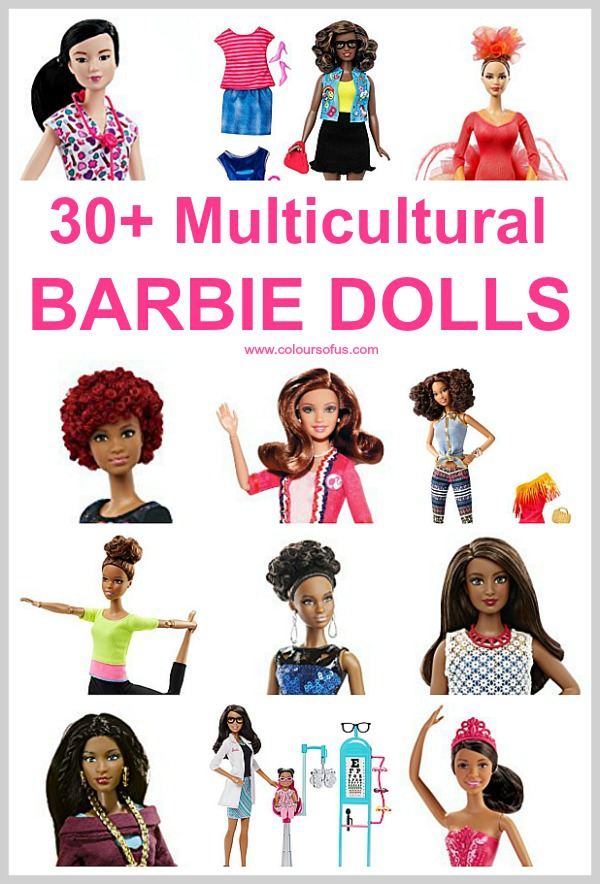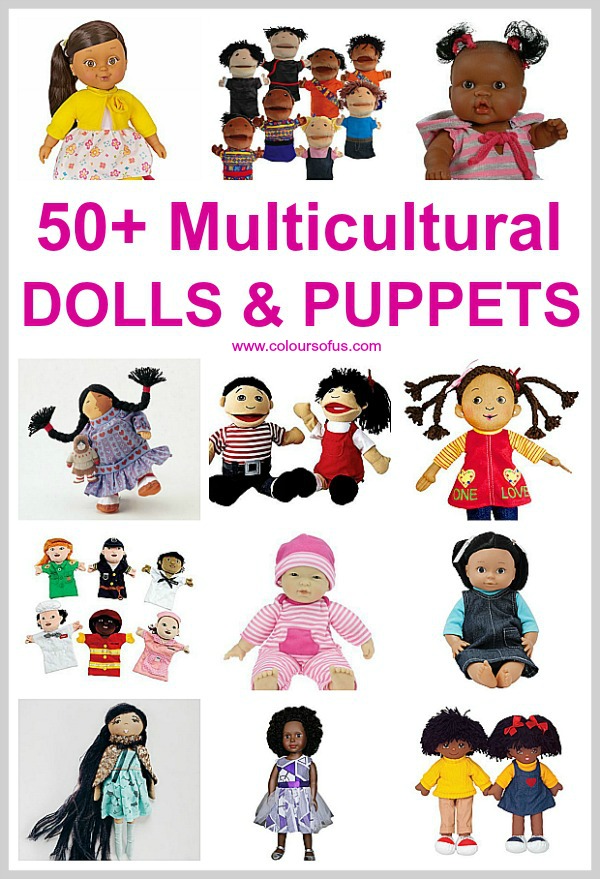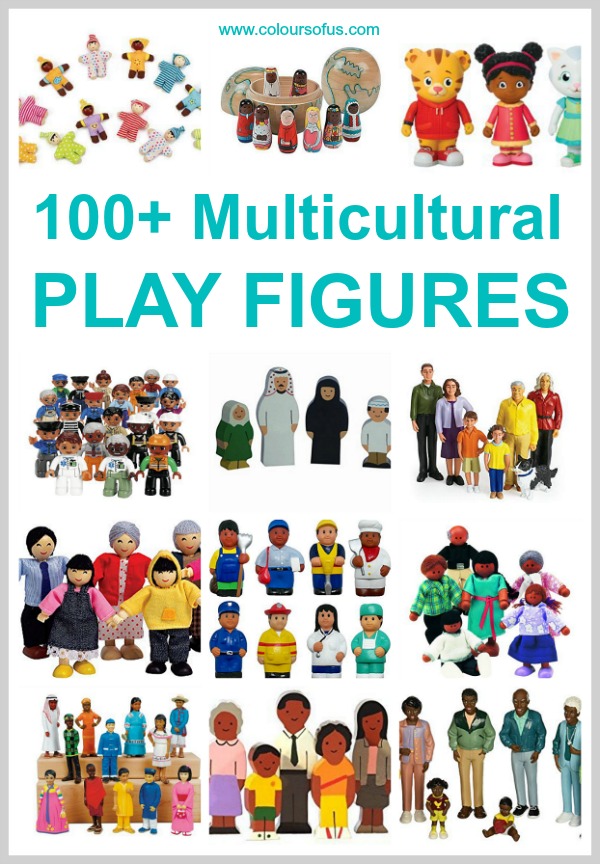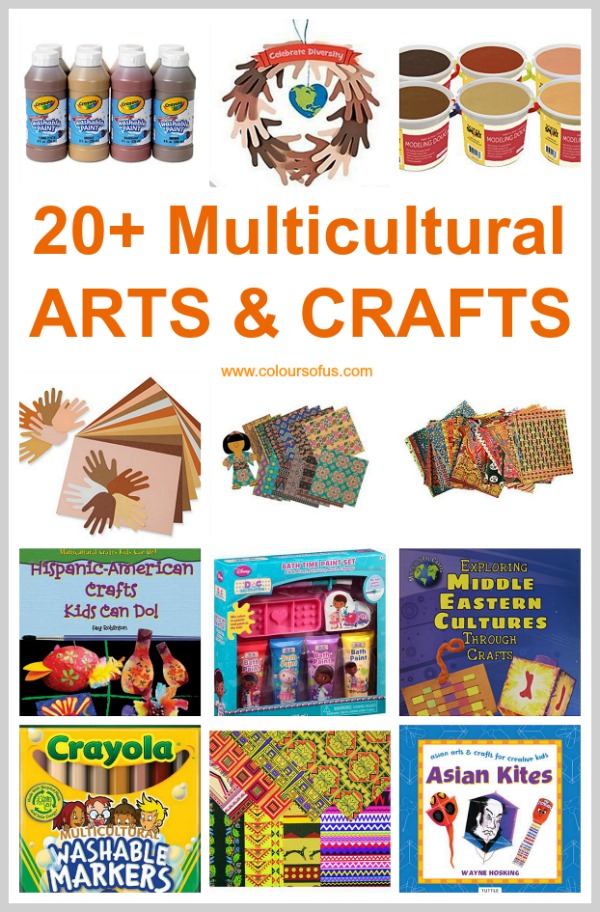 ---