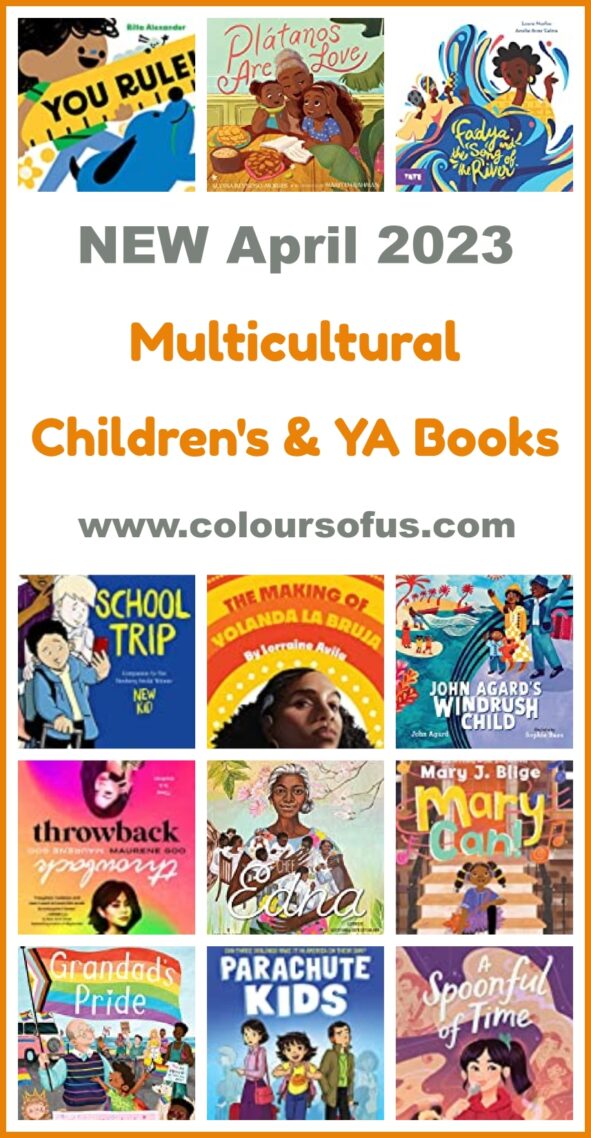 Browse our extensive list of new multicultural children's and YA books for April 2023! There is something for all ages (from babies to teenagers), and a variety of ethnicities and interests.
Our favourites this month are Baby, Sleep Baby (Babies & Toddlers), Plátanos Are Love (Preschool), How Do You Spell Unfair (Elementary School), Indigo & Ida ( Middle School), and A Spoonful of Time (High School).
---
NEW Multicultural Children's & YA Books April 2023
---
---
Babies & Toddlers
---
Baby, Sleepy Baby
by Atinuke
"Baby, happy baby, I'll sing down the stars / till they dance right into your room." It's bedtime, and the whole family takes turns cuddling and singing the sleepy baby to bed. One by one the baby's sister, grandmother, father, and mother call on the winds, the clouds, the stars, and the moon to sail and rock and delight their little one until dreams take over. Based on a song that Atinuke's father sang to her in Niger, Baby, Sleepy Baby celebrates the warm and tender moments families share with their sleepy babies at bedtime. ~ African – Babies & Toddlers
Related: Top 10 Multicultural Bedtime Stories for Babies & Toddlers
---
100 Things I Know How to Do
by Amy Schwartz
"Say when! Count to ten! Wear a tutu! Kiss a boo-boo!" From beloved author-illustrator Amy Schwartz comes a tribute to growing independence, showcasing a collection of things little ones can do on their own. They'll celebrate accomplishments big and small in this board book adaptation of 100 Things I Know How to Do. ~ Diverse – Babies & Toddlers
---
---
Preschool
---
You Rule!
by Rilla Alexander
How far can you go? How much do you know? How kind are you? How much do I love you? These are the impossible questions every child has asked, and every parent has struggled to answer. You Rule! is a wonderfully affirmative and aspirational book of possibilities and exploration, a celebration of bravery, kindness, love, and so much more. With bold and bright illustrations, Rilla Alexander brilliantly succeeds in measuring the immeasurables of life. ~ Diverse – Preschool
Related: 21 Multicultural Children's Books About Feelings
---
Fadya and the Song of the River
by Laura Nsafou
Between the deserts of Mali and the rivers of Mauritania is a song known only to Africa itself. It is a song that can be heard every day, as long as the wind isn't blowing too hard. It is the song of the Luminaries, a group of women with powerful magic, all dressed in long golden dresses. Fadya is the youngest of the Luminaries, and on her journey she will encounter and help two fishermen who have inadvertently awakened the wrath of the goddess of the river. Fadya and the Song of the River is a vibrantly illustrated tale celebrating creativity and serving your community.  ~ African – Preschool
Related: The 100 Best Multicultural Picture Books of 2021 
---
Grandad's Pride
by Harry Woodgate
Grandad and Milly are back for another adventure, this time honouring the past and celebrating the future with a pride parade. After Milly discovers a pride flag in Grandad's attic, this adorable pair are motivated by the past to start a pride parade in their small town. Activism and celebration go hand in hand as the town gathers to help "build a world where everyone is proud to be themselves." Follow-up to Grandad's Camper, Grandad's Pride is a beautiful story filled with heart and purpose. ~ African – Preschool
Related: 90 Multicultural LGBTQIA Books for Children & Teenagers
---
Dear Star Baby
by Malcolm Newsome
I knew something was wrong when Mama called me close. She held my hand and told me you would not be coming home with us. She said you went to be with the stars instead. Written as a letter to his unborn baby sibling, Dear Star Baby shares how a little boy processes the grief he and his family experience after a miscarriage. He tells the baby all about how they were preparing their home to welcome them and the things he was looking forward to doing together. He processes his wonders, wishes, and sadness after this tremendous loss. Dad says their Star Baby feels far away. Mom says their Star Baby is always in her heart. The little boy imagines his baby sibling singing and twinkling in the night sky as he sleeps. Poignant and sensitively told, this story will help families who have lost a baby to miscarriage or stillbirth grieve and move forward together. ~ African – Preschool
Related: 21 Multicultural Children's Books About Feelings
---
Plátanos Are Love
by Alyssa Reynoso-Morris
"Abuela says, "plátanos are love." I thought they were food. But Abuela says they feed us in more ways than one." With every pop of the tostones, mash of the mangú, and sizzle of the maduros, a little girl learns that plátanos are her history, they are her culture, and—most importantly—they are love. With dynamic illustrations, Plátanos Are Love is a delicious picture book about the ways plantains shape Latinx culture, community, and family. ~ Hispanic – Preschool 
Related: 300+ Hispanic Children's & YA Books
---
Windrush Child
by John Agard
With one last hug, Windrush child says goodbye to his grandmother and the shores of his Caribbean home before embarking on an adventure across the ocean—under a sky full of promise—to an unknown horizon. With sensitivity and tender lyricism, world-renowned and multi-award-winning poet John Agard narrates the epic story of a child's voyage to England aboard Empire Windrush. With joyous illustrations, Windrush Child recalls the journey made by the thousands of Caribbean children and their families who traveled to Britain between 1948 and 1971 as part of the Windrush generation. ~ African – Preschool
Related: 50 Children's Books set in the Caribbean
---
Mermaid and Pirate
by Tracey Baptiste
Glub glub… Aargh… Mermaid and Pirate cannot understand each other. They speak different languages and come from different worlds. But they're quick to lend a hand, or a tail, when the sky grows stormy and waters get rough, and a friendship is born.  They build a friendship through kindness, empathy, and shared adventure. With bright, bold illustrations, Mermaid And Pirate is a heartwarming picture book that shows that sometimes kindness and generosity speak louder than words. ~ African – Preschool
Related: 32 Black Mermaid Books for Children & Teenagers
---
Mary Can!
by Mary J. Blige
Most of the time, people say "no" or "you can't" because they dream too small. Young Mary has been told that there are many things she can't do. Like stay up past bedtime, or be an astronaut or become president. But what she really wants is to sing, and she isn't about to let anyone tell her she can't do it! Mary Can! is a powerful tale about a confident and ambitious girl who doesn't feed into negativity. A great conversation starter for overcoming discouragement from others! ~ African – Preschool
Related: 20 Multicultural Children's Books To Help Build Self-Esteem
---
Night in the City
by Julie Downing
Night in the City cleverly uses multiple panels to follow eight people throughout the course of their busy evening, from waking up just as most people are contemplating bedtime, through the following morning. The jobs depicted are nurse, baker, taxi driver, fire fighter, on location film tech, janitor, museum security guard, and emergency dispatcher. Together, their stories bring the beating heart of a city to life, making for a book sure to have kids pouring over meticulously designed pages, following the exploits of our lead characters over the course of a single ordinary evening. ~ Diverse – Preschool
Related: 25 Multicultural Books About Children Around The World
---
I Want to Be Big!
by Tiffany Golden
Jaiceon wishes he was big―bigger than his whole family, bigger than everyone! If he were big, he could reach the cookies on the counter, or make his own sandwich. He could stay up really late, swim with sharks, and even be best friends with Bigfoot! Nobody's your boss when you're big. When Jaiceon's wish is granted, rules shrink away, and he dives into a world of enormous fun. But as he grows, the situation grows out of control along with him, and Jaiceon starts to wonder if being small wasn't so bad after all. I Want To Be Big is a larger-than-life tale about how sometimes what we wish for isn't exactly what we want, and how, with a little creativity and help, we can learn to love ourselves for who we are right now. ~ African – Preschool
Related: The 100 Best Multicultural Picture Books of 2022
---
---
Elementary School
---
Real Princesses Change the World
by Carrie A. Pearson
There are so many ideas of what princesses are: Princesses are sweet, beautiful, and gracious. Princesses wear poofy dresses and strut about their castle. Princesses are just missing a handsome prince. But what message does that send to the children who look up to them? With stunning portraits, Real Princesses Change the World compiles biographies of 11 different princesses, highlighting who they truly are: diplomats, engineers, activists, athletes, and so much more. It focuses on their achievements and contributions, situating them as active members in the global and local community, from Nigeria to Japan, Saudi Arabia to Sweden, and Thailand to Tonga. ~ Diverse – Elementary School
Related: 14 Multicultural Children's Books About Spunky Princesses
---
Chef Edna: Queen of Southern Cooking, Edna Lewis
by Melvina Noel
Edna loved to cook. Growing up on a farm in Freetown, Virginia, she learned the value of fresh, local, seasonal food from her Mama Daisy, how to measure ingredients for biscuits using coins, and to listen closely to her cakes to know when they were done. Edna carried these traditions with her all the way to New York, where she became a celebrated chef, who could even turn traditional French food into her signature Southern style. The author of several cookbooks and the recipient of numerous awards, Edna introduced the world to the flavours of her home. Chef Edna is a warm picture-book portrait of African American culinary legend Edna Lewis, who brought Southern cooking to the masses. ~ African – Elementary School
Related: 55 Multicultural Picture Books About Strong Female Role Models
---
Tacos Today: El Toro & Friends (World of ¡Vamos!)
by Raúl the Third
It's lunchtime for young El Toro and his friends—and each one is looking forward to a different kind of taco, their favourite! The luchadores take a break from their training and head into town to eat. When they count their lunch money and discover they don't have enough for tacos, they will have to work together on a creative, fun solution to earn plenty of dinero for a delicious all-you-can-eat spectacular! Flavoured with Spanish phrases and topped with plenty of humor, Tacos Today is an early reader graphic novel for those who want an action-packed story and lots of laughs. ~ Hispanic – Elementary School
Related: 300+ Hispanic Children's & YA Books
---
Search for a Giant Squid: Pick Your Path (Science Explorers)
by Amy Seto Forrester
This series starter takes emerging readers on an expedition to the ocean's twilight zone in search of a giant squid. But giant squids are hard to find. Readers will need to join the expedition and help make choices along the way. First they'll pick their submersible. And then their pilot and dive site. They'll need to be careful—not every path leads where it seems, but whatever path they pick, they'll see and learn amazing things! Search For A Giant Squid is an exciting and inclusive STEM adventure that emerging readers will love! ~ Diverse – Elementary School
Related: 50+ Multicultural STEAM Books for Children
---
How Do You Spell Unfair?: MacNolia Cox and the National Spelling Bee
by Carole Boston Weatherford
In 1936, eighth grader MacNolia Cox became the first African American to win the Akron, Ohio, spelling bee. And with that win, she was asked to compete at the prestigious National Spelling Bee in Washington, DC, where she and a girl from New Jersey were the first African Americans invited since its founding. She left her home state a celebrity—right up there with Ohio's own Joe Louis and Jesse Owens—with a military band and a crowd of thousands to see her off at the station. But celebration turned to chill when the train crossed the state line into Maryland, where segregation was the law of the land. Prejudice and discrimination ruled—on the train, in the hotel, and, sadly, at the spelling bee itself. How Do You Spell Unfair is a deeply affecting portrait of determination against discrimination. ~ African – Elementary School
Related: 250 Children's Books Celebrating Black Girls
---
---
Middle School
---
Parachute Kids: A Graphic Novel
by Betty C. Tang
After an action-packed vacation in America, Feng-Li's parents deliver shocking news: They are returning to Taiwan and leaving Feng-Li and her older siblings in California on their own. The three kids must fend for themselves in a strange new world―and get along. Starting a new school, learning a new language, and trying to make new friends while managing a household is hard, but thankfully, there are some hilarious moments to balance the stress and loneliness. But as tensions escalate―and all three kids get tangled in a web of bad choices―can Feng-Li keep her family together? Parachute Kids is a fast-paced, and heartrending graphic novel about three siblings living on their own as undocumented new immigrants. ~ Asian – Middle School
Related: 30 Multicultural Picture Books about Immigration
---
Felice and the Wailing Woman
by Diana López
When Felice learns that she's the daughter of La Llorona, she catches a ride to the magical town of Tres Leches, where her mother is said to be haunting the river. Growing up with her uncle Clem in Corpus Christi, Felice knew that she had been rescued from drowning—it's where her intense fear of water comes from—but she had no idea her mother remained trapped between worlds, looking for her. Guided by the magical town's eccentric mayor, Felice vows to help her mother make peace with the events that turned her into the most famous monstruo of US–Mexico border lore. Along the way, she meets the children of other monstruos, like La Lechuza and the Dancing Devil, and together they free Tres Leches from magical and metaphorical curses that have haunted its people for generations. Felice And The Wailing Woman is a delightfully sweet and spellbinding story that brims with magic, adventure, and Mexican folklore. ~ Hispanic – Middle School
Related: The 50 Best Multicultural Middle Grade Books of 2022
---
School Trip: A Graphic Novel (The New Kid)
by Jerry Craft
Jordan, Drew, Liam, Maury, and their friends from Riverdale Academy Day School are heading out on a school trip to Paris. As an aspiring artist himself, Jordan can't wait to see all the amazing art in the famous City of Lights. But when their trusted faculty guides are replaced at the last minute, the school trip takes an unexpected—and hilarious—turn. Especially when trying to find their way around a foreign city ends up being almost as tricky as navigating the same friendships, fears, and differences that they struggle with at home. Will Jordan and his friends embrace being exposed to a new language, unfamiliar food, and a different culture? Or will they all end up feeling like the "new kid"? School Trip is the latest adventure of Jordan, Drew, Liam, and all the characters that fans know from award-winning New Kid and Class Act. ~ Diverse – Middle School
Related: 80+ Multicultural Graphic Novels for Children & Teenagers
---
Indigo and Ida
by Heather Murphy Capps
When eighth grader and aspiring journalist Indigo breaks an important story, exposing an unfair school policy, she's suddenly popular for the first time. The friends who've recently drifted away from her want to hang out again. Then Indigo notices that the school's disciplinary policies seem to be enforced especially harshly with students of colour, like her. She wants to keep investigating, but her friends insist she's imagining things. Meanwhile, Indigo stumbles upon a book by Black journalist and activist Ida B. Wells―with private letters written by Ida tucked inside. As she reads about Ida's lifelong battle against racism, Indigo realizes she must choose between keeping quiet and fighting for justice. Indigo & Ida is a powerful and inspiring middle grade novel about standing up for what's right. ~ African – Middle School
Related: The 50 Best Multicultural Middle Grade Novels of 2021
---
The Rhythm of Time
by Ahmir Thompson
Seventh grader Rahim Reynolds loves testing out the gadgets invented by his brilliant friend Kasia Collins. First there were the X-ray glasses, now there's the new cell phone she built for his birthday, even though his parents won't let him have one. But Rahim is excited to use the phone to search for videos of his favourite old-school rap group. What he doesn't know is the phone has a special battery that interfaces with a secret government satellite, which spells trouble when the phone transports him back to 1997. Almost immediately, he learns what every time traveler before him has: Actions in the past jeopardize the future. With Kasia as his only lifeline to the present, Rahim works with her to get home unscathed, all the while dodging bullies (on his end) and suspicious government agents (on hers). The Rhythm Of Time is a high-velocity tale where two best friends discover that sometimes the best beat is the one that brings you back home. ~ African – Middle School
Related: 21 Middle Grade Novels With Multiracial Characters
---
Nic Blake and the Remarkables: The Manifestor Prophecy
by Angie Thomas
It's not easy being a Remarkable in the Unremarkable world. Some things are cool—like getting a pet hellhound for your twelfth birthday. Others, not so much—like not being trusted to learn magic because you might use it to take revenge on an annoying neighbour. All Nic Blake wants is to be a powerful Manifestor like her dad. But before she has a chance to convince him to teach her the gift, a series of shocking revelations and terrifying events launch Nic and two friends on a hunt for a powerful magic tool she's never heard of…to save her father from imprisonment for a crime she refuses to believe he committed. Nic Blake And The Remarkables: The Manifetor Prophecy is an inventive, hilarious, and suspenseful new contemporary fantasy trilogy inspired by African American history and folklore.
Related: 52 Multicultural Middle Grade & Young Adult Fantasy Books
---
---
High School
---
Blood Debts
by Terry J. Benton-Walker
Thirty years ago, a young woman was murdered, a family was lynched, and New Orleans saw the greatest magical massacre in its history. In the days that followed, a throne was stolen from a queen. On the anniversary of these brutal events, Clement and Cristina Trudeau―the sixteen-year-old twin heirs to the powerful, magical, dethroned family―are mourning their father and caring for their sick mother. Until, by chance, they discover their mother isn't sick―she's cursed. Cursed by someone on the very magic council their family used to rule. Someone who will come for them next. Cristina, once a talented and dedicated practitioner of Generational magic, has given up magic for good. An ancient spell is what killed their father and she was the one who cast it. For Clement, magic is his lifeline. A distraction from his anger and pain. Even better than the random guys he hooks up with. Cristina and Clement used to be each other's most trusted confidant and friend, now they barely speak. But if they have any hope of discovering who is coming after their family, they'll have to find a way to trust each other and their family's magic, all while solving the decades-old murder that sparked the still-rising tensions between the city's magical and non-magical communities. Blood Debts is an extravagant story with powerful magical families, intergenerational curses, and deadly drama in. ~ African – High School
Related: 52 Multicultural Middle Grade & Young Adult Fantasy Books
---
A Spoonful of Time
by Flora Ahn
Maya's grandmother, Halmunee, may be losing her memory, but there's something almost magical about the way she cooks. Whether Halmunee serves salty miyeokguk or sweet songpyeon, her stories about Korea come to life for Maya. Then one day, something extraordinary happens: a single delicious bite of patbingsu transports Maya and Halmunee back into one of Halmunee's memories. Suddenly they're in Seoul, and Halmunee is young. This is just the first of many secrets Maya will uncover: that she and her grandmother can time-travel, and they aren't the only ones with this ability. As Maya eats her way through the past, her questions multiply—until a shocking discovery transforms everything she thought she knew about family, friendship, loss, and time itself. Brimming with heart, A Spoonful Of Time is an unforgettable middle grade novel where time travel, family recipes, and family secrets collide.  ~ Asian – High School
Related: 180+ Asian & Asian American Books For Children & Teenagers
---
The Making of Yolanda la Bruja
by Lorraine Avila
Yolanda Alvarez is having a good year. She's starting to feel at home Julia De Burgos High, her school in the Bronx. She has her best friend Victory, and maybe something with José, a senior boy she's getting to know. She's confident her initiation into her family's bruja tradition will happen soon. But then a white boy, the son of a politician, appears at Julia De Burgos High, and his vibes are off. And Yolanda's initiation begins with a series of troubling visions of the violence this boy threatens. How can Yolanda protect her community, in a world that doesn't listen? Only with the wisdom and love of her family, friends, and community – and the Brujas Diosas, her ancestors and guides. The Making of Yolanda La Bruja is a story born from the intersection of race, justice, education, and spirituality that will capture readers everywhere. ~ African/Hispanic – High School
Related: 300+ Hispanic Children's YA Books
---
Throwback
by Maurene Goo
Being a first-generation Asian American immigrant is hard. You know what's harder? Being the daughter of one. Priscilla is first-generation Korean American, a former high school cheerleader who expects Sam to want the same all-American nightmare. Meanwhile, Sam is a girl of the times who has no energy for clichéd high school aspirations. After a huge blowup, Sam is desperate to get away from Priscilla, but instead, finds herself thrown back. Way back. To her shock, Sam lands in the '90s . . . alongside a 17-year-old Priscilla. Now, Sam has to deal with outdated tech, regressive '90s attitudes, and her growing feelings for sweet, mysterious football player Jamie, who just might be the right guy in the wrong era. With the clock ticking, Sam must figure out how to fix things with Priscilla or risk being trapped in an analog world forever. Sam's blast to the past has her questioning everything she thought she knew about her mom . . . and herself. One thing's for sure: Time is a mother. Brimming with heart and humor, Throwback asks big questions about what exactly one inherits and loses in the immigrant experience. ~ Asian – High School
Related: 180+ Asian & Asian American Books For Children & Teenagers
---
Harvest House
by Cynthia Leitich Smith
Deftly leading readers to the literary crossroads of contemporary realism and haunting mystery, Cynthia Leitich Smith revisits the world of her American Indian Youth Literature Award winner Hearts Unbroken. Halloween is near, and Hughie Wolfe is volunteering at a new rural attraction: Harvest House. He's excited to take part in the fun, spooky show—until he learns that an actor playing the vengeful spirit of an "Indian maiden," a ghost inspired by local legend, will headline. Folklore aside, unusual things have been happening at night at the crossroads near Harvest House. A creepy man is stalking teenage girls and young women, particularly Indigenous women; dogs are fretful and on edge; and wild animals are behaving strangely. While Hughie weighs how and when to speak up about the bigoted legend, he and his friends begin to investigate the crossroads and whether it might be haunted after all. As Moon rises on All Hallow's Eve, will they be able to protect themselves and their community? Gripping and evocative, Harvest House showcases a versatile storyteller at her spooky, unsettling best. ~ Diverse – High School
Related: 100 Native American Books For Children & Teenagers
---
Saints of the Household
by Ari Tison
Growing up with a physically abusive father, Max and Jay –two Bribri American brothers — have learned that the only way to protect themselves and their mother is to stick to a schedule and keep their heads down. But when they hear a classmate in trouble in the woods, instinct takes over and they intervene, breaking up a fight and beating their high school's star soccer player to a pulp. This act of violence threatens the brothers' dreams for the future. As the true details of that fateful afternoon unfold over the course of the novel, Max and Jay grapple with the weight of their actions, their shifting relationship as brothers, and the realization that they may be more like their father than they thought. They'll have to reach back to their Bribri roots to find their way forward. Told in alternating points of view using vignettes and poems, Saints of the Households is an emotional, slow-burning drama about brotherhood, abuse, recovery, and doing the right thing. ~ Diverse – High School
Related: The 50 Best Multicultural Young Adult Books of 2022
---
I'm Still Here (Adapted for Young Readers): Loving Myself in a World Not Made for Me
by Austin Channing Brown
Austin Channing Brown's first encounter with race in America came at age seven, when she discovered that her parents had named her Austin to trick future employers into thinking she was a white man. Growing up in majority-white schools and churches, Channing Brown writes, "I had to learn what it means to love Blackness," a journey that led to a lifetime spent navigating America's racial divide as a writer, speaker, and expert helping organizations practice genuine inclusion. In this adaptation of her bestselling and critically acclaimed memoir, she explores how America's racial dynamics show up in the classrooms, friend groups, and conversations kids inhabit every day. "I love being a Black girl," she writes. "And sometimes being a Black girl in America is hard." Covering topics like representation, self-love, allyship, and being Black in public, Brown helps kids nourish their identity and make sense of how they fit into the world. I'm Still Here is an empowering look at the experiences of young Black kids, inviting the reader to confront apathy, find their voice, and discover how Blackness—if we let it—can save us all. ~ African – High School
Related: 100 Children's Books to help talk about Racism & Discrimination
---
*You can buy any of the books on this site from Amazon USA by clicking on the book titles or covers*
---
---