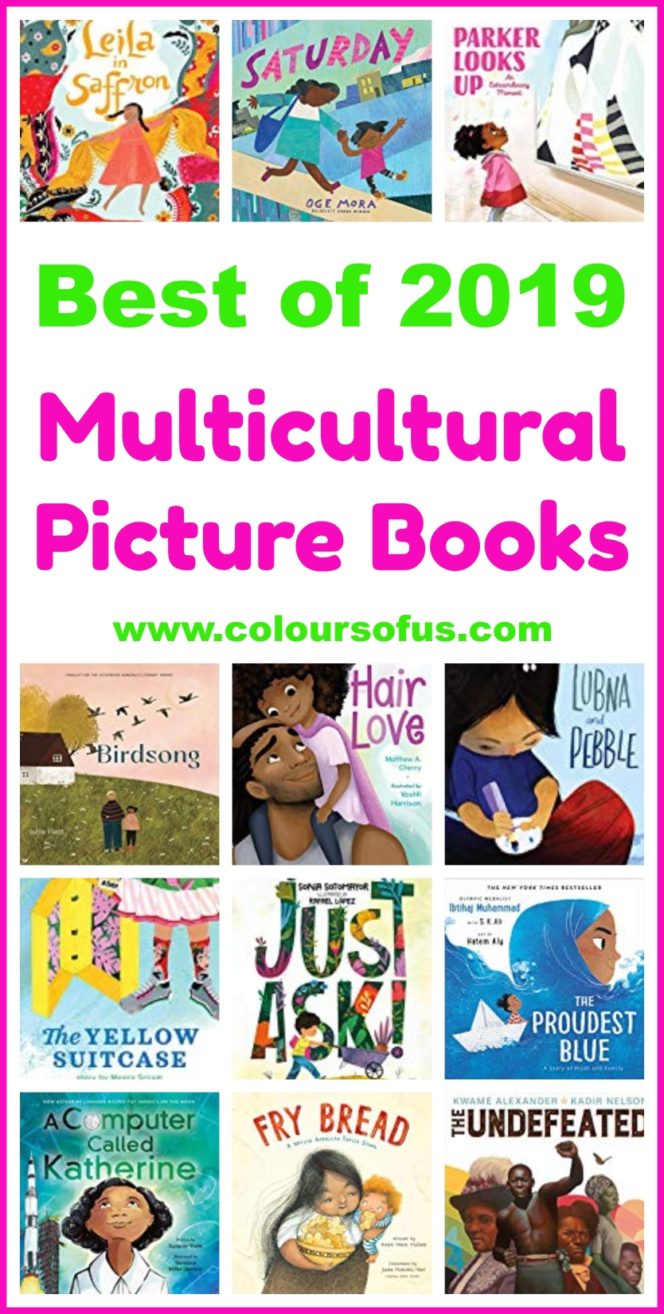 Never too late for a 'Best of' list! Just like 2018, last year saw the release of many wonderful multicultural picture books.
So much so that it was difficult to decide which ones to include in this list!
Browse our list of the 50 best multicultural picture books of 2019 and see which ones are your favourites!
---
The 50 Best Multicultural Picture Books Of 2019
---
Babies & Toddlers
---
Future Astronaut
by Lori Alexander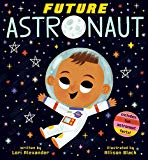 "Ground Control to Major Baby: Could you be an astronaut?" Discover all the incredible ways that prove baby already has what it takes to become an astronaut, from growing healthy teeth to eating from plastic packs to working in small spaces. Future Astronaut is an adorable board book that includes lots of fun astronaut facts. ~ Diverse – Babies & Toddlers
More STEM books: 50+ Multicultural STEAM Books for Children
---
A Is for Awesome!: 23 Iconic Women Who Changed the World
by Eva Chen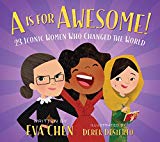 From Amelia Earhart to Malala Yousafzai,  Tina Turner, and all the way to eXtraordinary You and the Zillion of adventures you will go on, this vibrant board book introduces iconic women and girls to the littlest readers. A Is For Awesome is a fun alphabet book with spirited illustrations that will keep little ones' attention. ~ Diverse – Babies & Toddlers
More books about amazing women: 30 Diverse Children's Anthologies About Trailblazing Women
---
Nerdy Babies: Ocean
by Emmy Kastner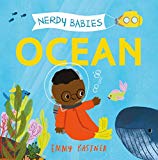 Follow a bunch of adventurous babies as they explore the animals, plants, and fish that live in the ocean. With simple text in question and answer format and adorable illustrations, Nerdy Babies: Ocean teaches the tiniest readers about the unique ecosystem of our oceans. ~ Diverse – Babies & Toddlers
Also available: Nerdy Babies: Space
---
Ella: My First Ella Fitzgerald
by Isabel Sanchez Vegara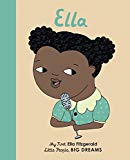 With stylish and quirky illustrations, Ella introduces the youngest dreamers to the First Lady of Song, from her early singing days on the streets of Harlem to her success as a jazz legend. Part of the Little People, Big Dreams series, this board book version of the international bestseller Ella Fitzgerald. ~ African – Babies & Toddlers
More books about female artists: 40 Multicultural Children's Books About Fabulous Female Artists
---
How Do You Say Good Night?
by Cindy Jin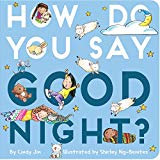 This heartwarming board book teaches how to say "good night" in ten different languages: Spanish, Mandarin Chinese, French, Italian, Portuguese, Swahili, Arabic, Vietnamese, German, and Korean. How Do You Say Good Night is a charming bedtime story that little ones will adore!  ~ Diverse – Babies & Toddlers
More bedtime books: Top 10 Multicultural Bedtime Stories for Babies & Toddlers // 11 Multicultural Lullabies
---
A Is for All the Things You Are: A Joyful ABC Book
by Anna Forgerson Hindley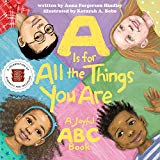 Developed by the National Museum of African American History and Culture, A Is for All the Things You Are is a lively alphabet board book that celebrates diversity. With colourful pictures, it introduces twenty-six key traits little readers can explore and cultivate as they grow. ~ Diverse – Babies & Toddlers
---
---
Preschool
---
Just In Case You Want to Fly
by Julie Fogliano
"Just in case you want to fly / here's some wind / and here's the sky".  With lyrical text and unique illustrations, Just in Case You Want to Fly is a funny and sweet celebration of heading off on new adventures, knowing your loved ones will always have your back when you need them. ~ African – Preschool
---
Saturday
by Oge Mora
"Today would be special. / Today would be splendid. / It was Saturday!" But sometimes, the best plans don't work out exactly the way you expect… Gorgeously illustrated, Saturday is a heartfelt story that follows a mother and daughter on an up-and-down journey that reminds them of what's most important: precious time together. ~ African – Preschool
---
Fry Bread: A Native American Family Story
by Kevin Noble
"Fry bread is nation. / It is shared by many, from coast to coast and beyond. Fry bread is us. / It is a celebration of old and new, traditional and modern, similarity and difference." Vibrantly illustrated and told in lively verse, Fry Bread is a powerful depiction of a modern Native American family. ~ Diverse – Preschool
More Native American Books: 32 Native American Children's Books
---
Awâsis and the World-Famous Bannock
by Dallas Hunt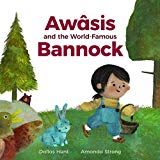 Awâsis and the World-Famous Bannock is a charming story that celebrates Cree dialects and traditional storytelling. During an unfortunate mishap, young Awâsis loses Kôhkum's freshly baked world-famous bannock. With the help of her animal friends, goes on an adventurous journey to find all the ingredients again. Includes a pronunciation guide and the recipe for Kôhkum's world-famous bannock. ~ Diverse – Preschool
More Native American Books: 32 Native American Children's Books
---
Here and Now
by Julia Denos
From the team behind the award-winning Windows comes this stunning celebration of mindfulness. Here And Now playfully explores identity and connection, inspires curiosity, and prompts engaging discussions about slowing down and enjoying each moment. ~ Diverse – Preschool
---
I Will Be Fierce
by Bea Birdsong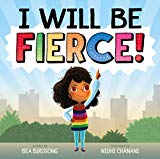 "Today, I will be fierce! I will answer the call to adventure." It's a brand new day, and a young girl decides to take on the world. From home to school and back again, she conquers the Mountain of Knowledge (the library), forges new bridges (friendships), and leads the victorious charge home on her steed (the school bus). With bright illustrations, I Will Be Fierce! is a powerful picture book about courage, confidence, and kindness. ~ Diverse – Preschool
More books about courage: 18 Multicultural Children's Books about Fear and Courage
---
Lola Goes to School
by Anna McQuinn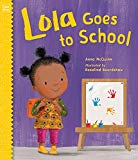 One of our all-time favourite series! With adorable illustrations, Lola Goes To School follows spunky little Lola as she embarks on a new adventure: The first day of school! Lola and her family prepare the night before, then get up early, take pictures, and head to class. Lola puts her things in her cubby, chooses her activities, reads, plays, and has a snack. Before she knows it, it's time to sing the good-bye song.  ~ African – Preschool
More in the Lola series: 40+ Multicultural Book Series for Girls & Boys
---
Where Are You From?
by Yamile Saied Mendez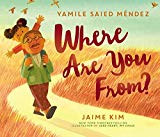 "Where are you from?" is the question one little girl constantly gets asked. Unsure about how to reply, she turns to her loving abuelo for help. He doesn't give her the response she expects but an even better one. With luminous illustrations and lyrical text, Where Are You From? is a powerful picture book about identity, belonging and self-acceptance. ~ Hispanic – Preschool
---
Pancakes to Parathas: Breakfast Around the World
by Alice B. McGinty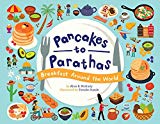 With rhyming text and bold colourful illustrations, Pancakes To Parathas takes young readers on a tour around the world to explore the breakfasts of twelve different countries, from cornmeal porridge in Jamaica to soured soybeans in Japan and deep-fried bean fritters in Nigeria. ~ Diverse – Preschool
---
---
Lubna and Pebble
by Wendy Meddour
Living in a refugee camp, little Lubna's best friend is a pebble. Pebble always listens to her stories and always smiles when she feels scared. But when a lost little boy arrives in the World of Tents, Lubna realizes that he needs Pebble even more than she does. Emotionally stirring and stunningly illustrated, Lubna and Pebble explores one girl's powerful act of friendship in the midst of utter uncertainty. ~ Asian – Preschool
More books about immigrants/refugees: 30 Multicultural Picture Books about Immigration
---
There's Only One You
by K. Heling & D. Hembrock
"In all the world over, this much is true: You're somebody special. There's only one YOU." Gorgeously illustrated There's Only One You celebrates individuality and diversity. Expertly written to include all kinds of children and families, the book features a range of physical types, personalities, and abilities. A must-have! ~ Diverse – Preschool
More books about self-esteem: 20 Multicultural Children's Books To Help Build Self-Esteem
---
The Adventures of Pili in New York
by Kike Calvo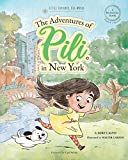 Follow Pili as she travels the world from New York City to the Colombian rain forest with her dad, National Geographic photographer Kike Calvo. The Adventures of Pili in New York is the first book in a bilingual series about Pili's adventures. The Little Explorer, Big World series tackles the concepts of cultural diversity and empowerment, global readiness and peace, entrepreneurship and climate change. ~ Hispanic – Preschool
---
The Girls
by Lauren Ace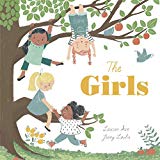 Meet Sasha, Lottie, Alice, and Leela – four best friends who spend their days playing beneath the branches of their favourite apple tree. As the tree grows tall and reaches across the sky, so do they . . . Through their shared secrets, dreams, worries, and schemes, their friendship grows stronger even when their adventures take them in different directions. Beautifully illustrated The Girls celebrates kindness and true friendship. ~ Diverse – Preschool
More books about friendship: 18 Multicultural Children's Books about Friendship
---
Leila in Saffron
by Rukhsanna Guidroz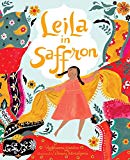 "Sometimes I'm not sure if I like being me." When Leila looks in the mirror, she doesn't know if she likes what she sees. But when her grandmother tells her the saffron beads on her scarf suit her, she feels a tiny bit better. So, Leila spends the rest of their family dinner night on the lookout for other parts of her she does like. Vibrantly illustrated Leila In Saffron takes young readers on a colourful journey of self-discovery and identity. ~ Asian – Preschool
---
Black Girl Magic
by Mia Harris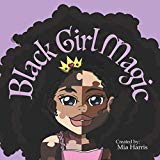 "You are a mysterious piece to a magical puzzle!" Black Girl Magic is an expressively illustrated book that will inspire little black girls to love themselves, their hair and their skin. It promotes self-confidence and encourages them to know that they are pretty just the way they are. ~ African – Preschool
---
Ruby's Birds
by Mia Thompson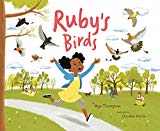 Follow spunky little Ruby as she uncovers the wild side of her city neighbourhood with the help of her neighbour. Ruby's Birds is the exciting story of Ruby's "spark moment" – the name bird lovers give the moment they get hooked. Includes a seek-and-find element, a bird poster, information about where to find all of the birds mentioned, Ruby's tips for taking a nature walk, and how to connect with citizen-science project 'Celebrate Urban Birds'. ~ African – Preschool
---
Remarkably You
by Pat Zietlow Miller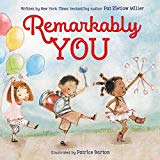 "You might go unnoticed, or shine like a star, / but wherever you go and whoever you are… / don't change how you act to be just like the rest. / Believe in yourself and the things you do best." With inspiring text and exuberant illustrations, Remarkably You celebrates all the wonderful ways children can be their remarkable selves. ~ Diverse – Preschool
More books about self-esteem: 20 Multicultural Children's Books To Help Build Self-Esteem
---
---
Nine Months: Before a Baby Is Born
by Miranda Paul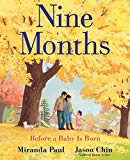 A soon-to-be big sister and her parents wait for the arrival of a new baby, from a frosty wintery through a sun-dappled summer until the birth. With meticulously detailed, actual size illustrations, and lyrical yet informative text, Nine Months is a beautiful book, perfect for young children who are awaiting the birth of a sibling. ~ Asian – Preschool
More books about siblings: 20 Multicultural Picture Books about new siblings
---
The King of Kindergarten
by Derrick Barnes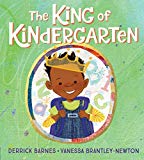 "The morning sun blares through your window like a million brass trumpets. It sits and shines behind your head–like a crown. Mommy says that today, you are going to be the King of Kindergarten!" New York Times bestseller The King Of Kindergarten follows a confident little boy on his first day of kindergarten. A joyful and empowering story that will give new kindergarteners a reassuring confidence boost! ~ African – Preschool
---
Grandpa's Stories
by Joseph Coelho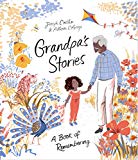 A little girl has to say good-bye to her beloved Grandpa. She recalls al the happy times they had together and wants to find a way to honour him. So she decides to record her Grandpa stories in the notebook he made for her and carry Grandpa with her as she grows. Grandpa's Stories is a touching lyrical story about love and loss. ~ African – Preschool
More books about grandparents: 40+ Multicultural Children's Books about Grandparents
---
Sofia Valdez, Future Prez (The Questioneers)
by Andrea Beaty
When Sofia's beloved Abuelo hurts his ankle at the local landfill known as Mount Trashmore, Sofia comes up with the genius idea to turn the slimy mess into a park! She presents her plan at the City Plan but is told that she can't build a park because she's just a kid. Sofia is down but not out, and she sets out to prove what one kid can do. Instant New York Times bestseller Sofia Valdez, Future Prez is the newest in the popular Questioneers series starring a diverse bunch of kids who come up with creative ideas and pursue their passions with persistence. ~ Hispanic – Preschool
More STEAM books:50+ Multicultural STEAM Books for Children
---
It's Not a Bed, It's a Time Machine
by Mickey Rapkin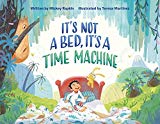 Bedtime means lights out, with dark corners and spooky sounds. But it also means . . . adventure! It's Not A Bed, It's A Time Machine follows a little boy as he rides to the coolest time of all — the age of the dinosaurs. He makes a tyrannosaurus-sized friend, who helps him become the Boss of Bedtime. With colourful illustrations and a lively storyline, this picture book is sure to become your little one's favourite bedtime read! ~ Hispanic – Preschool
---
It Feels Good to Be Yourself: A Book About Gender Identity
by Theresa Thorn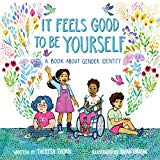 "Some people are boys. Some people are girls. Some people are both, neither, or somewhere in between." With vibrant illustrations and straightforward text, It Feels Good To Be Yourself introduces the concept of gender identity to the youngest readers and gives them a fuller understanding of themselves and others. ~ Diverse – Preschool
---
When Aidan Became a Brother
by Kyle Lukoff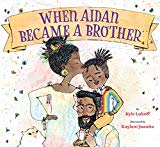 When biracial (black and South Asian) Aidan was born, everyone thought he was a girl. His parents gave him a pretty name, his room looked like a girl's room, and he wore clothes that other girls liked wearing. After he realized he was a trans boy, Aidan and his parents fixed the parts of his life that didn't fit anymore, and he settled happily into his new life. But when his parents announce that he will become a big brother, Aidan is determined to do everything right for his new sibling from the beginning. When Aidan Became a Brother is a heartwarming book that celebrates the changes in a transgender boy's life, from his initial coming-out to becoming a big brother. ~ Diverse – Preschool
More books with multiracial characters: 70+ Picture Books about Mixed Race Families
---
Sulwe
by Lupita Nyong'o
Sulwe has skin the color of midnight. She is darker than everyone in her family and in her school. Sulwe just wants to be beautiful and bright, like her mother and sister. But a magical journey in the night sky opens her eyes and changes everything. Gorgeously illustrated Sulwe is a powerful and moving debut picture book by Academy Award-winning actress Lupita Nyong'o that will inspire children everywhere to see their own unique beauty. ~ African – Preschool
---
---
Elementary School
---
Wilma's Way Home: The Life of Wilma Mankiller 
by Doreen Rappaport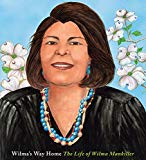 In 1956, the government uprooted Wilma's family and moved them to California. Separated from her community, Wilma found refuge in the Indian Center in San Francisco where she developed the local Native community and championed Native political activists. When she returned to Oklahoma, Wilma took part in Cherokee government. Despite many obstacles, from resistance to female leadership to a life-threatening accident, Wilma's dedication to serving her people led to her election as the first female chief of the Cherokee Nation. Interweaving prose with Wilma's own words, Wilma's Way Home is a moving account of this inspiring leader. ~ Diverse – Elementary School
More Native American books: 32 Native American Children's Books
---
A Boy Like You
by Frank Murphy
"The world needs a boy like you".  A Boy Like You shows that here is much more to being a boy than sports, feats of daring, and keeping a stiff upper lip. This stunningly illustrated book encourages every boy to embrace all the things that make him unique, to be brave and ask for help, to tell his own story and listen to the stories of those around him. A must have for every boy! ~ Diverse – Elementary School
---
My Papi Has a Motorcycle
by Isabel Quintero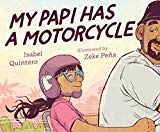 When Daisy Ramona zooms around her neighbourhood with her papi on his motorcycle, she sees her rapidly changing community around her. But as the sun sets purple-blue-gold, she knows that the love she feels will always be there. With vivid cartoon-style illustrations, My Papi Has A Motorcycle is a touching celebration of the love between a father and daughter. ~ Hispanic – Elementary School
---
Birdsong
by Julie Flett
When a young Cree girl moves from the country to a small town, she feels lonely and out of place. But soon she meets an elderly woman next door, who shares her love of arts and crafts. Can the girl navigate the changing seasons and failing health of her new friend? Acclaimed Birdsong is a beautifully illustrated, tender story that celebrates art, nature and connecting across generations. ~ Diverse – Elementary School
---
A Computer Called Katherine
by Suzanne Slade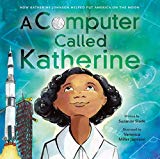 Katherine knew it was wrong that African Americans didn't have the same rights as others. She knew it was wrong that people thought women could only be teachers or nurses. And she proved everyone wrong by zooming ahead of her classmates, starting college at fifteen, and eventually joining NASA. Vibrantly illustrated A Computer Called Katherine is the inspiring true story of NASA mathematician Katherine Johnson whose calculations helped pioneer America's first manned flight into space and to the moon. ~ African – Elementary School
More books about female trailblazers: 30 Diverse Children's Anthologies About Trailblazing Women
---
The Yellow Suitcase
by Meera Sriram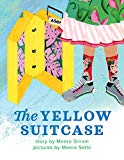 Young Asha travels with her parents from America to India to mourn her grandmother's passing. Asha's grief and anger are compounded by the empty yellow suitcase usually reserved for gifts to and from Grandma, but when she discovers a gift left behind just for her, Asha realizes that the memory of her grandmother will live on inside her. The Yellow Suitcase is a thoughtful picture book about family, love and loss. ~ Asian – Elementary School
More Asian & Asian American books: 30 Asian & Asian American Children's Books for Ages 0 to 18
---
Birth of the Cool: How Jazz Great Miles Davis Found His Sound
by Kathleen Cornell Berman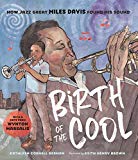 "Miles can't sleep. / Taps his toes, / snaps his fingers, / can't stop thinking of ways / to make music his own." Birth of the Cool explores the childhood and early career of Miles Davis as he finds his voice and shapes a new musical sound. With rhythmic free verse and evocative illustrations, this fascinating glimpse into the jazz legend's life will captivate young music lovers. ~ African – Elementary School
More books about Jazz: 18 Multicultural Children's Books about Jazz
---
Just Ask!: Be Different, Be Brave, Be You
by Sonia Sotomayor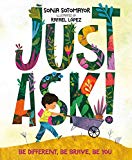 Due to be released in September, Just Ask celebrates diversity and different abilities. Using her own experience as a child who was diagnosed with diabetes, Supreme Court Justice Sonia Sotomayor looks at the challenges differently-abled children face — but also at the special powers those kids have as well. As the kids work together to build a community garden, they ask each other questions along the way.  ~ Diverse – Elementary School
---
---
Be Bold! Be Brave! 11 Latinas who made U.S. History 
by Naibe Reynoso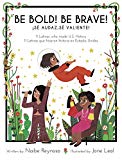 Be Bold! Be Brave! is a bilingual picture book that highlights 11 Latinas who excelled in various fields including medicine, science, sports, art and politics. With bright illustration and rhyming verse, young readers will find it easy follow the success stories of these amazing women, from Ellen Ochoa (first Latina to go to space) to Sonia Sotomayor (first Latina Supreme Court Justice,) and Pura Belpré (first Latina to promote bilingual literacy in Public Libraries). ~ Hispanic – Elementary School
Pura Belpré Award-Winning Books: Pura Belpré Award Winners 1996 – 2019
---
The Undefeated
by Kwame Alexander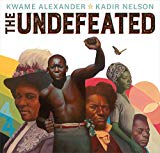 This beautiful poem by Newbery Award-winning author Kwame Alexander is an ode to Black American triumph and tribulation, from the unspeakable trauma of slavery, the faith and fire of the civil rights movement, and the grit, passion, and perseverance of some of the world's greatest heroes. With stunning illustrations by Kadir Nelson and text peppered with references to the words of Martin Luther King, Jr., Langston Hughes, Gwendolyn Brooks, and others, The Undefeated celebrates the accomplishments, endurance and spirit of Black Americans. ~ African – Elementary School
---
Ada Twist and the Perilous Pants
by Andrea Beaty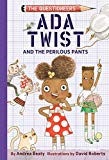 If you loved the bestselling picture books starring Ada Twist, Rosie Revere, and Iggy Peck, you'll be happy to hear that there is also a chapter book series starring the adorable gang of little scientists, also known as The Questioneers. The second book in the series, Ada Twist and the Perilous Pants follows the friends as they solve a mystery in Ada's backyard. ~ African – Elementary School
Also available: Ada Twist's Big Project Book for Stellar Scientists
And we're so in love with this cute Ada Twist doll!!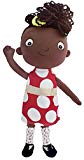 More multicultural dolls: 150+ Multicultural Dolls & Puppets
More STEAM books: 50+ Multicultural STEAM Books for Children
---
Sumo Joe
by Mia Wenjen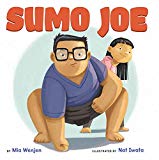 From fellow multicultural children's book blogger and co-founder of Multicultural Children's Book Day Mia Wenjen comes this sweet and fun rhyming story. Sumo Joe and his friends enjoy pretending to be sumo wrestlers. But when his little sister wants to join their game, he is torn between the two things he's best at: sumo, and being a big brother. What will he do? ~ Asian – Elementary School
More books with Asian characters: 30 Asian & Asian American Children's Books for Ages 0 to 18
---
How to Read a Book
by Kwame Alexander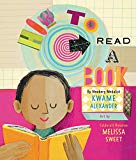 "Find a tree—a / black tupelo or / dawn redwood will do—and / plant yourself. / (It's okay if you prefer a stoop, like Langston Hughes.)".  How To Read A Book is a stunning new picture book from Newbery Medalist Kwame Alexander that takes children on a sensory and poetic journey about the wonderful experience of reading. ~ African – Elementary School
More books about reading: 15 Multicultural Children's Books celebrating books & reading
---
Paper Son: The Inspiring Story of Tyrus Wong, Immigrant and Artist
by Julie Leung
Tyrus Wong traveled across a vast ocean from China to America with only a suitcase and immigration papers to start a new life. Once in America, Tyrus seized every opportunity to make art and enrolled at an art institute in Los Angeles. Working as a janitor at night, his mop twirled like a paintbrush in his hands. Eventually, he was given the opportunity of a lifetime: Using sparse brushstrokes and soft watercolors, Tyrus created the iconic backgrounds of Disney's Bambi. Paper Son beautifully captures the life story of the painter who changed the world of animation forever. ~ Asian – Elementary School
---
---
What's the Big Deal About Americans
by Ruby Shamir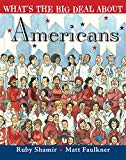 From Native American traditions to immigrant inventions, from diversity to democracy, from ice cream cones to apple pie, What's The Big Deal About Americans is a picture book is filled with fun facts and historical trivia, celebrating the melting pot and mosaic that is America. ~ Diverse – Elementary School
---
Africa, Amazing Africa: Country by Country
by Atinuke
Discover the amazing diversity of the African continent! Africa Amazing Africa is an exhilarating celebration of all 55 African countries, their geography, peoples, animals, history, resources and cultural diversity. The book divides Africa into five sections: South, East, West, Central and North, each with its own introduction, followed by a page per country, containing a delightful mix of friendly, informative text and colourful illustrations. ~ African – Elementary School
---
Hair Love
by Matthew A. Cherry
Zuri's hair is beautiful but it has a mind of its own. It kinks, coils, and curls every which way. When Daddy steps in to style it for an extra special occasion, he has a lot to learn. But he loves his Zuri, and he'll do anything to make her happy. Hair Love is a tender and empowering ode to loving your natural hair — and a sweet celebration of daddies and daughters everywhere. ~ African – Elementary School
---
Layla's Happiness
by Mariahadessa Ekere Tallie 
Spirited and observant, Layla is a child who is being given room to grow, making happiness both thoughtful and intimate. It's her dad talking about growing-up in South Carolina; her mom reading poetry; her best friend Juan, the community garden, and so much more. Written by poet Mariahadessa Ekere Tallie, Layla's Happiness is a beautiful story of flourishing within family and community. ~ African – Elementary School
---
A Place to Land: Martin Luther King Jr. and the Speech That Inspired a Nation
by Barry Wittenstein
On the night before the historic March on Washington, Martin Luther King Jr. debated, worked, and wrote late into the night, trying to decide what to say— and how to say it. Much has been written about Martin Luther King, Jr. and the 1963 March on Washington. But there's little on his legendary speech and how he came to write it. Stunningly illustrated A Place To Land tells the story behind one of the most celebrated speeches in America's history. ~ African – Elementary School
More books about Martin Luther King Jr: 22 Children's Books about Martin Luther King Jr.
---
The Proudest Blue: A Story of Hijab and Family
by Ibtihaj Muhammad
It's the first day of school and also Faiza's older sister Asiya's first day of hijab — a beautiful blue hijab, like the ocean waving to the sky. But not everyone sees hijab as beautiful, and in the face of hurtful, confusing words, Faizah will find new ways to be strong. Written by Olympic medalist Ibtihaj Muhammad, vibrantly illustrated
The Proudest Blue
is an uplifting story of being proud of who you are and the unbreakable bond between siblings.
~ Diverse – Elementary School
---
Planting Stories: The Life of Librarian and Storyteller Pura Belpré
by Anika Aldamuy Denise
Working as a bilingual assistant at the New York Public Library, Pura Belpré turned her popular retellings of Puerto Rican folk stories into books and spread story seeds across the land. Since then, generations of children and storytellers have continued to share her tales and celebrate Pura's legacy. Brought to life by exuberant illustrations and lyrical text, Planting Stories is an inspiring picture book biography of New York City's first Puerto Rican librarian who championed bilingual literature. ~ Hispanic – Elementary School
---
*You can buy any of the books on this site from Amazon USA, CAN or UK by clicking on the book titles or covers*
---
---
---