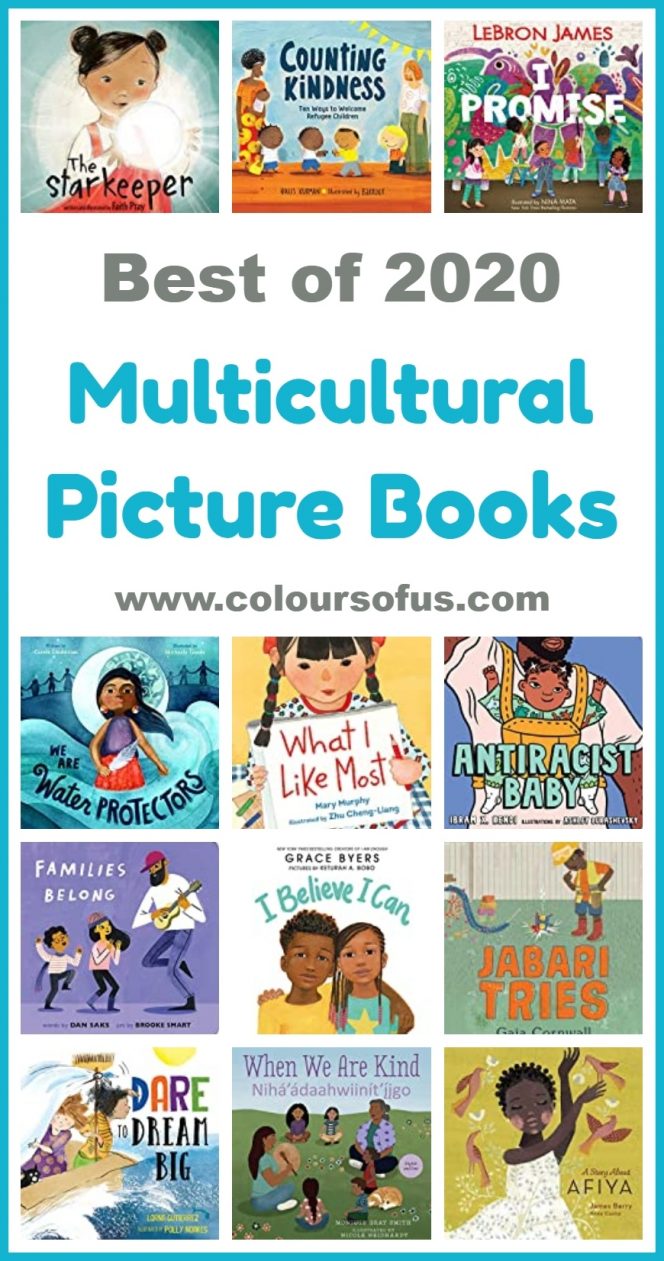 As this crazy year is drawing to a close, it's time for our round-up of the best multicultural picture books of 2020!
It's always difficult to narrow it down to the 50 best multicultural picture books of the year because there are so many gorgeous ones out there but here is our selection of our favourite ones!
---
The 50 Best Multicultural Picture Books Of 2020
---
Babies & Toddlers
---
Welcome to the Party
by Gabrielle Union
Inspired by the eagerly awaited birth of the author's daughter, Welcome to the Party is a universal love letter from parents to little ones. With engaging illustrations and sweet text, this heartwarming picture book is the perfect gift for baby showers! ~ African – Babies & Toddlers
Related: Top 10 Multicultural Bedtime Stories for Babies & Toddlers
---
Brick by Brick
by Heidi Woodward Sheffield
Luis' Papi is a bricklayer, and he works hard every day. Papi climbs scaffolds, makes mortar, and shovels sand. Luis climbs on the playground and molds clay into tiny bricks to make buildings, just like Papi. Together, they dream big about their future. One Saturday, Papi surprises Luis with something special he's built for their family. With striking mixed-media illustrations, Brick By Brick is a sweet book about the bond between a father and his son. ~ Hispanic – Babies & Toddlers
Related: 55 Multicultural Children's Books about Fathers
---
Antiracist Baby Board Book
by Ibram X Kendi
Never too early to start anti-racist education! Antiracist Baby introduces the littlest readers and their grown-ups to the concept and power of anti-racism. With bold art and thoughtful yet playful text, this progressive board book provides nine easy steps everyone can take for building a just society. ~ African – Babies & Toddlers
Related: 37 Children's Books to help talk about Racism & Discrimination
---
Goodnight, Little Dancer
by Jennifer Adams
"It's time for bed now, little dancer. / Time to tell the world goodnight. / Let down your bun, shake out your hair. / Breathe in, relax, and dim the light."  With rhyming text and adorable illustrations, Good Night, Little Dancer is a soothing picture book that is sure to send little ones to sleep with twirling, dancing dreams. ~African – Babies & Toddlers
Related: Top 10 Multicultural Bedtime Stories for Babies & Toddlers // 11 Multicultural Lullabies
---
Baby Loves the Five Senses: Smell!
by Ruth Spiro
Part of the Baby Loves Science series, Baby Loves The Five Senses: Smell explores the science of smell. Appealing  illustrations complement age-appropriate language to encourage baby's sense of wonder. Parents and caregivers may learn a thing or two as well! ~ African – Babies & Toddlers
Related: 50+ Multicultural STEAM Books for Children
---
Families Belong
by Dan Saks
"Families belong / Together like a puzzle /  Different-sized people / One big snuggle." Through a handful of specific yet universal scenarios, from singing songs together to sharing food together, from dancing together to lying still together, Families Belong is a delightful celebration of the unconditional love and comfort shared within a family. ~ Diverse – Babies &  Toddlers
Related: 12 Multicultural Picture Books about Love
---
Hello, World! Planet Earth
by Jill McDonald
"Light from the sun makes the moon shine". With simple text and cheerful illustrations, Hello, World! Planet Earth is the latest book in the Hello, World! board book series that teaches toddlers all about our amazing planet Earth—with easy-to-understand facts about countries, continents, oceans, landforms, habitats, and Earth's place in the solar system. Each page offers helpful prompts for engaging with your child. ~ Diverse – Babies & Toddlers
Related: 22 Multicultural Children's Books for Earth Day
---
---
Preschool
---
In My Anaana's Amautik
by Nadia Samuurtok
In My Anaana's Amautik offers the unique perspective of a baby carried in the pouch in the back of a mother's parka, from the cloudlike softness of the pouch to the glistening sound of Anaana's laughter. Children and adults alike will love this sweet and soothing picture book!  ~ Diverse – Preschool
Related: 32 Native American Children's Books
---
What I Like Most
by Mary Murphy
A little girl observes some of the things she loves — the apricot jam on her toast, the light-up shoes that make her feet bounce, the sparkling river, the pencil whose color comes out like a ribbon. But even after the jar becomes empty, and the shoes grow too small, and the pencil is all used up, one thing always stays the same. What I Like Most is a lyrical ode to the bond between mother and child, brought to life by award-winning artist Zhu Cheng-Liang's gorgeous illlustrations.  ~ Asian – Preschool
Related: 30 Asian & Asian American Children's Books for Ages 0 to 18
---
Swashby and the Sea
by Beth Ferry
Captain Swashby loves his serene life by the sea. Until one day, a young girl and her granny move into the empty house next door. All Swashby wants is for those noisy neighbors to go away, so he begins to leave them notes in the sand. But the sea keeps changing his messages. Could it be that it knows better what Swashby really needs? Swashby and the Sea is a sweet and hilarious story that little ones will want to read over and over again. ~ African – Preschool
Related: 10 Laugh Out Loud Funny Multicultural Picture Books
---
We Are Water Protectors
by Carole Lindstrom
"Water is the first medicine. / It affects and connects us all . . ." When a black snake threatens to destroy the Earth and poison her people's water, one young water protector takes a stand to defend Earth's most sacred resource. Inspired by the many Indigenous-led movements across North America, lyrically written and vibrantly illustrated We Are Water Protectors is an urgent rallying cry to safeguard the Earth's water from harm and corruption. ~ Diverse – Preschool
Related: 22 Multicultural Children's Books for Earth Day
---
Hurry Up!: A Book About Slowing Down
by Kate Dopirak
For one busy boy, life is all hurry up, hurry down, hurry round and round and round! That is until he takes a big breath…and a big break…and slows down to see all the wonderful things in the world around him. Hurry Up! is a lyrical picture book that reminds us to be present, to be mindful, and to appreciate each moment. ~ Diverse – Preschool
---
Boxitects
by Kim Smith
Meg is a brilliant boxitect who loves impressing her teacher and classmates with what she makes out of boxes. But there's a new kid at Maker School: Simone. She is good at everything, and worst of all, she's a boxitect too. When the annual Maker Match is held, Meg and Simone are paired as a team but can't seem to stop arguing. When their extraordinary project turns into a huge disaster, they must find a way to join creative forces, lift each other up, and work together. Boxitect is a STEAM-centered, adorably illustrated picture book about creativity and teamwork. ~ African – Preschool
Related: 50+ Multicultural STEAM Books for Children
---
The Starkeeper
by Faith Pray
When a girl finds a fallen star, she decides to keep it hidden. But soon the glow from the star starts to fade, and the girl thinks that maybe she's not a very good starkeeper. Then a chance gesture of kindness seems to brighten the star, and soon this kindness leads to a chain of good works that light up a once-dreary town. The Starkeeper is a heartwarming story with an important message. ~ Diverse – Preschool
Related: 25 Multicultural Children's Books teaching Kindness & Empathy
---
Digging for Words: José Alberto Gutiérrez and the Library He Built
by Angela Burke Kunkel
In the city of Bogata, little José dreams of Saturdays– the day he gets to visit Paradise, the library. Another José is a garbage collector who scans the sidewalks as he drives, searching household trash for hidden treasure . . . books! Ever since he found his first book, Anna Karenina, he's been collecting books for his home library. And on Saturdays, kids like little José run to the steps of Paradise to discover a world filled with wonder. Based on the life of José Alberto Gutiérrez, Digging For Words is an inspiring celebration of perseverance, community, and the power of books. ~ Hispanic – Preschool
Related: 15 Multicultural Childrens Books Celebrating Books & Reading
---
Our Favorite Day of the Year
by A.E. Ali
Musa is feeling anxious about his first day of kindergarten. And when he meets classmates Moisés, Mo, and Kevin, he isn't sure they'll have much in common. But over the course of the year, the four boys learn more about each other, the holidays they celebrate, their favourite foods, and what they like about school. The more they share with each other, the closer they become, until Musa can't imagine any better friends. Our Favorite Day Of The Year tells a heartwarming story of friendship and celebrating differences. ~ Diverse – Preschool
Related: 18 Multicultural Children's Books about Friendship
---
---
I Got the School Spirit
by Connie Schofield-Morrison
Summer is over, and this little girl has got the school spirit! She hears the school spirit in the bus driving up the street–VROOM, VROOM!–and in the bell sounding in the halls–RING-A-DING! She sings the school spirit in class with her friends–ABC, 123! I Got The School Spirit is an exuberant celebration of the first day of school that will have every kid cheering for school to begin! ~ African – Preschool
Also available: I Got the Rhythm // I Got the Christmas Spirit
---
Speak Up
by Miranda Paul
Join a diverse group of kids on a busy school day as they discover different ways of making their voices heard! From shouting out gratitude for a special treat to challenging a rule that isn't fair, they show that simple, everyday actions can help people and make the world a better place. Vibrantly illustrated Speak Up! encourages kids to unite with others and take action when they see something that needs to be fixed. ~ Diverse – Preschool
Related: 20 Multicultural Children's Books about Bullying
---
When We Are Kind / Nihá'ádaahwiinít'íigo (English and Navaho Edition)
by Monique Gray Smith
Bilingual When We Are Kind celebrates simple acts of everyday kindness and encourages children to explore how they feel when they initiate and receive acts of kindness in their lives. Through carefully chosen words and engaging illustrations, this picture book communicates an important message: Be kind to others and yourself. ~ Preschool
Related: 25 Multicultural Children's Books teaching Kindness & Empathy
---
The Camping Trip
by Jennifer K. Mann
"My aunt Jackie invited me to go camping with her and my cousin Samantha this weekend." Ernestine has never been camping before, but she's sure it will be lots of fun . . . won't it? The Camping Trip is an endearing story about a girl's first experience with the great outdoors. It reminds us that opening your mind to new experiences, no matter how challenging, can lead to great memories. ~ Preschool
---
Saturdays Are For Stella
by Candy Wellins
Saturdays are George's favourite day because he gets to spend time with Grandma Stella. The two of them love visiting the dinosaur museum, riding on the carousel, making cinnamon rolls and sharing the best hugs. Then one day Stella is gone, and George is ready to cancel Saturdays. But when a new addition to the family arrives, he finds a way to celebrate the priceless memories he made with his grandma―while making new ones too. Gorgeously illustrated Saturdays Are For Stella is a heartfelt story about family, loss, and grief. ~ African – Preschool
Related: 40+ Multicultural Children's Books about Grandparents
---
The Power of One: Every Act of Kindness Counts
by Trudy Ludwig
"Acts and words of kindness DO count, and it all starts with ONE." When a girl reaches out to a classmate who seems lonely, she begins a chain reaction of kindness that ripples throughout her school and her community. One kind act begets another, small good deeds make way for bigger ones, and eventually the whole neighborhood comes together to build something much greater than the sum of its parts. The Power of One not only conveys a message of kindness, it offers concrete steps that kids can take to make a difference in their own communities. ~ Diverse – Preschool
Related: 25 Multicultural Children's Books teaching Kindness & Empathy // 12 Multicultural Children's Books about the Power of Community
---
I Am Every Good Thing
by Derrick Barnes
"I am / a nonstop ball of energy. / Powerful and full of light. / I am a go-getter. / A difference maker. A leader." A confident Black boy is proud of everything that makes him who he is. He's got big plans, and no doubt he'll see them through–as he's creative, adventurous, smart, funny, and a good friend. Sometimes he falls, but he always gets back up. Other times he's afraid, because he's so often misunderstood and called what he is not. I Am Every Good Thing is an empowering picture book from the team that created the award-winning Crown: An Ode to the Fresh Cut. ~ African – Preschool
Related: 20 Multicultural Children's Books To Help Build Self-Esteem
---
Jabari Tries
by Gaia Cornwall
Jabari is making a flying machine in his backyard! "It'll be easy. I don't need any help," he declares. But it doesn't work! Jabari is frustrated. Good thing Dad is there for a pep talk and his little sister, Nika, is there to assist, fairy wings and all. With the endearing father-child dynamic of Jabari Jumps and engaging mixed-media illustrations, Jabari Tries is an endearing story about perseverance, flexibility, and family. ~ African – Preschool
Related: 150 Children's Books Celebrating Black Boys
---
Counting Kindness: Ten Ways to Welcome Refugee Children
by Hollis Kurman
Millions of kids around the world are fleeing wars, floods, and other scary situations in search of a safe place to live. Arriving in a new place after a stressful journey, is traumatic for children and they need a warm welcome from their new communities. Endorsed by Amnesty International, Counting Kindness promotes inclusivity as children count from one to ten with one boat, two helping hands, and the generosity and kindness of many. ~ Diverse – Preschool
Related: 30 Multicultural Picture Books about Immigration // 25 Multicultural Children's Books teaching Kindness & Empathy
---
---
Julián at the Wedding
by Jessica Love
In this radiant sequel to acclaimed Julián Is a Mermaid, Julián is excited to be part of a wedding — and he even makes a new friend! Julián and Marisol set off for some magic and mischief of their own, and when things take an unexpected turn, the pair learns that everything is easier with a good friend by your side. Julián at the Wedding is a joyful story of friendship and individuality . ~ Hispanic – Preschool
Related: 18 Multicultural Children's Books about Friendship
---
The Oldest Student: How Mary Walker Learned to Read
by Rita Lorraine Hubbard
Imagine learning to read at the age of 116! The Oldest Student follows the life of Mary Walker who did just that. Born into slavery in 1848, Mary was freed at age 15, and married and expecting her first child at age 20. By age 68, she had worked numerous jobs, including cooking, cleaning, babysitting, and selling sandwiches. At 114, she was the last remaining member of her family. And at 116, she learned to read. With stunning illustrations by Oge More, this is the inspirational story of a woman whose long life spanned from the Civil War to the Civil Rights Movement. ~ African – Preschool
Related: 80 Picture Book Biographies About Bold Black Women & Girls
---
The Old Truck
by Jerome Pumphrey
A pickup works tirelessly on a small farm and becomes part of the dreams and ambitions of the family's young daughter. But after years of hard work the old truck is rusting in the weeds. The daughter is now running her own busy farm, and decides to bring her faithful childhood companion back to life. With an intricate retro design, The Old Truck celebrates the rewards of determination and the value of imagination. ~ African – Preschool
Related: 250 Children's Books Celebrating Black Girls
---
The Power of Her Pen: The Story of Groundbreaking Journalist Ethel L. Payne
by Lesa Cline-Ransome
"Somebody had to do the fighting, somebody had to speak up." Ethel Payne always had an ear for stories. Her yearning for truth, justice even led her to the White House briefing room, where she broke barriers as the only black female journalist. Ethel wasn't afraid to ask the tough questions of presidents, elected officials, or anyone else in charge, earning her the title "First Lady of the Black Press.". The Power Of Her Pen is the inspiring story of a fearless and determined journalist who shined a light on some of the darkest moments in history. ~ African – Preschool
Related: 26 Multicultural Picture Books about Inspiring Women & Girls
---
My Pet Star
by Corrinne Averiss
When a little girl finds a lost star, she takes it home and cares for it, just like a beloved pet. She reads it stories, makes it special snacks and tucks it into bed at night. The more she cares for the star, the brighter it glows. Until, one day, it's time to let go … My Pet Star is a magical story about kindness and friendship. ~ African – Preschool
Related: 25 Multicultural Child's Books teaching Kindness & Empathy
---
I Am the Storm
by Jane Yolen
I Am The Storm addresses four distinct weather emergencies (a tornado, a blizzard, a forest fire, and a hurricane) with warm family stories of finding the joy in preparedness and resilience. This reassuring picture book leaves children with the message that nature is powerful, but you are powerful, too. Illustrated in rich environmental tones and featuring additional information about storms in the back, this book educates and comforts. ~ Diverse – Preschool
---
I Believe I Can
by Grace Byers
"My presence matters in this world. I know I can do anything, if only I believe I can." Gorgeously illustrated, I Believe I Can is an empowering affirmation for boys and girls of every background to love and believe in themselves. Bound to become a modern classic! ~ Diverse – Preschool
Related: 20 Multicultural Children's Books To Help Build Self-Esteem
---
Like the Moon Loves the Sky
by Hena Khan
"Inshallah you find wonder in birds as they fly. Inshallah you are loved, like the moon loves the sky." With vibrant illustrations and prose inspired by the Quran, Like The Moon Loves The Sky is a lyrical and heartfelt celebration of a parent's unconditional love for their children. ~ Asian – Preschool
Related: 14 Multicultural Children's Books about Mothers
---
---
Elementary School
---
A Story About Afiya
by James Berry
Some people have dresses for every occasion but Afiya needs only one. Her dress records the memories of her childhood, from roses in bloom to pigeons in flight, from tigers at the zoo to October leaves falling. With stunning expressive illustrations, A Story About Afiyah is a joyful celebration of a young girl's childhood, written by the late Coretta Scott King Book Award-winning Jamaican poet James Berry. ~ African – Elementary School
Related: 36 Children's Books set in the Caribbean
---
The Cat Man of Aleppo
by Irene Latham & Karim Shamsi-Basha
"Aleppo's city center no longer echoes with the rich, exciting sounds of copper-pot pounding and traditional sword sharpening. His neighborhood is empty–except for the many cats left behind." Alaa loves Aleppo, but when war comes his neighbours flee to safety, leaving their many pets behind. Alaa starts feeding them but there are so many that he will need to find help from others. The Cat Man Of Aleppo tells the true story of a courageous man who in the midst of the Syrian Civil War offered a safe haven to Aleppo's abandoned cats. ~ Asian – Elementary School
Related: 25 Multicultural Children's Books teaching Kindness & Empathy
---
Lift
by Minh Lê
Iris loves to push the elevator buttons in her apartment building, but she's not so keen on sharing that fun with her little brother. When the sudden appearance of a mysterious new button opens up entire realms of possibility, Iris learns that sharing a discovery with the people you love can be the most wonderful experience of all. With dynamic comic-inspired style, Lift takes readers on an exciting journey of ups, downs, twists and turns. ~ Asian – Elementary School
Related: 20 Multicultural Picture Books about new siblings
---
Black Is a Rainbow Color
by Angela Joy
"Red is a rainbow color. / Green sits next to blue. / Yellow, orange, violet, indigo, / They are rainbow colors, too, / but my color is black . . . And there's no BLACK in rainbows." Stunningly illustrated Black Is A Rainbow Color follows a young girl as she reflects on the meaning of being Black in this moving and powerful anthem about a people, a culture, a history, and a legacy that lives on. ~ African – Elementary School
Related: 250 Children's Books Celebrating Black Girls
---
Grandmother School
by Rina Singh
Based on a true story from the village of Phangane, India, 
Grandmother School
 tells the moving story of a grandmother who goes to school for the first time in her life. Every morning, a young girl beams with pride as she walks her grandmother to the Aajibaichi Shala, the school that was built for the grandmothers in her village to have a place to learn to read and write. This gorgeously illustrated picture book celebrates family, women and the power of education. 
~ Asian – Elementary School
---
My Rainy Day Rocket Ship
by Markette Sheppard
A rainy afternoon and an order from Mom to stay inside are no match for a little astronaut, who uses everyday household items—a rocket chair, a cardboard box, an old dish rag —for an indoor space adventure. My Rainy Day Rocket Ship is a high-spirited, engaging salute to the imagination of Black boys. ~ African – Elementary School
Related: 50+ Multicultural STEAM Books for Children // 15 Multicultural Children's Books about Rain
---
---
Nana Akua Goes to School
by Tricia Elam Walker
It is Grandparents Day at Zura's elementary school, and she is worried that her classmates will be scared of her grandmother–or worse, make fun of her. Nana is Zura's favorite person in the world but with her West African tribal face markings she looks a little different from other grandmas. But with a quilt of traditional African symbols and a bit of face paint, Nana Akua is able to explain what makes her special, and to make all of Zura's classmates feel special, too. Nana Akua goes to School is a moving story that celebrates cultural diversity. ~ African – Elementary School
Related: 40+ Multicultural Children's Books about Grandparents
---
Lift as You Climb: The Story of Ella Baker
by Patricia Hruby Powell
Long before the civil rights movement of the 1950s and 60s, Ella Baker worked to lift others up by fighting racial injustice and empowering poor African Americans to stand up for their rights. She worked to register voters and organize sit-ins, and she became a teacher and mentor to many young activists. With powerful pictures and poignant words, Lift As You Climb shines a light on one of the most influential female civil rights leaders. ~ African – Elementary School
Related: 55 Multicultural Picture Books About Strong Female Role Models
---
Your Name Is a Song
by Jamilah Thompkins-Bigelow
A little girl tells her mother she never wants to come back to school because her teachers and classmates keep mispronouncing her name. In response, the girl's mother teaches her about the musicality of African, Asian, Black-American, Latinx, and Middle Eastern names on their lyrical walk home through the city. Empowered by this newfound understanding, the young girl is ready to return the next day to share her knowledge with her class. Beautifully illustrated, Your Name is a Song is a celebration of the magic behind names. ~ African – Elementary School
---
I Promise
by LeBron James
NBA champion LeBron James pens a slam-dunk picture book inspired by his foundation's I PROMISE program that motivates children everywhere to always strive for greatness. With upbeat, rhyming text and vibrant illustrations, instant bestseller I Promise is an inspiring picture book that reminds readers that tomorrow's success starts with the promises we make to ourselves and our community today. ~ African – Elementary School
Also available as an audiobook, read by LeBron James's mother and I Promise School supporter Gloria James
---
A Journey Toward Hope
by Victor Hinojosa & Coert Voorhees
Every year, roughly 50,000 unaccompanied minors seek asylum at the US/Mexico border, the majority fleeing the systemic violence of Central America's "Northern Triangle": Honduras, El Salvador, and Guatemala. A Journey Toward Hope is a heartfelt book that tells the story of Rodrigo, a 14-year-old Honduran; Alessandra, a 10-year-old Guatemalan; and Salvadoran siblings Laura and Nando. Though their reasons for making the trip are different, the four children band together, finding strength in one another as they share the dreams of their past and the hopes for their future.  ~ Hispanic – Elementary School
Related: 30 Multicultural Picture Books about Immigration
---
Sometimes People March
by Tessa Allen
"Sometimes people march / to resist injustice, / to stand in solidarity, / to inspire hope. Throughout American history, one thing remains true: no matter how or why people march, they are powerful because they march together. With a spare, inspiring text and gorgeous watercolour illustrations, Sometimes People March is a timeless and inspiring book for young activists. ~ Diverse – Elementary School
---
---
Your Place in the Universe
by Jason Chin
Most eight-year-olds are about five times as tall as this book . . . but only half as tall as an ostrich, which is half as tall as a giraffe . . . twenty times smaller than a California Redwood! How do they compare to the tallest buildings? To Mt. Everest? To stars, galaxy clusters, and . . . the universe? With crisp illustration and intriguing science, Your Place in the Universe introduces readers to the mind-boggling scale of the known Universe. ~ Diverse – Elementary School
Related: 50+ Multicultural STEAM Books for Children
---
All Because You Matter
by Tami Charles
Part love letter, part anthem, All Because You Matter is a poignant and timely ode to Black and brown children everywhere. With rhythmic text and powerful illustrations, this picture book reassures readers that through the joy and wonder of their first steps and first laughs, through the hardship of adolescent struggles, and the pain and heartbreak of current events, they always matter. An empowering and important book! ~ African – Elementary School
Related: 150 Children's Books Celebrating Black Boys
---
How to Solve a Problem: The Rise (and Falls) of a Rock-Climbing Champion
by Ashima Shiraishi
To a rock climber, a boulder is called a "problem," and you solve it by climbing to the top. There are twists and turns, falls and scrapes, and obstacles that seem insurmountable until you learn to see the possibilities within them. From Ashima Shiraishi, one of the world's youngest and most skilled climbers, comes this story of strength and perseverance. How To Solve A Problem challenges readers to tackle the problems in their own lives and rise to greater heights than they would have ever thought possible. ~ Asian – Elementary School
Related: 55 Multicultural Picture Books About Strong Female Role Models
---
No Voice Too Small: Fourteen Young Americans Making History
by L. Metcalf, J. Bradley & K. Dawson
Meet fourteen young activists who have stepped up to make change in their community and the United States! Mari Copeny demanded clean water in Flint. Jazz Jennings insisted, as a transgirl, on playing soccer with the girls' team. Viridiana Sanchez Santos's organized a quinceañera demonstration against anti-immigrant policy. Zach Wahls declared that his two moms and he were a family like any other. In moving poems, No Voice Too Small celebrates the young people who know how to be the change they seek. ~ Diverse – Elementary School
Related: 26 Multicultural Picture Books about Inspiring Women & Girls
---
Dare to Dream Big
by Lorna Gutierrez
Dare to dream. Dare to fly higher. Dare to trust…dare to inspire! Dare to do what hasn't been done. Dare to be second to none! This inspirational picture book encourages children everywhere to dare to dream big, to help others, and speak out for what is right, but also take time for simple joys and to be comfortable in their own skin. ~ Diverse – Elementary School
---
*You can buy any of the books on this site from Amazon USA by clicking on the book titles or covers*
---
---